Good sounds don't come cheap. That is why most of the free earbuds that come with phones and other devices are flimsy and mediocre in performance. Nevertheless, you do not have to chop off your head just to get the best earbuds that can go for as high as $500 or even more because we have tested and put together this great list of best earbuds under $100.
There are different things that should define good earbuds. These include the sound quality, quality of build, fitness and comfort, balance, as well other things that one may also consider important including features and accessories.
While you can get some earbuds for less than $20, most of them are just the same or a little above the flimsy free ones that come factory fitted with your devices. Even in the line of those that are priced up to 100 bucks or even more, you still find some that are just not good.
On this collection, however, we have tried to find some that are not only great but could serve you in different ways. We know there is a possibility that no earbud, no matter the price, will meet every single one of needs, but the best should meet most of them.
For us, the Shure SE215-K tops as the best earbud in the 100 bucks range. While it performs great in sound, it also comes with quality and generous accessories.
If that does not satisfy you because it doesn't have an inline mic, you can as well settle for the 1MORE Triple Driver In-Ear Headphones which we found to be equally good.
Why You Should Trust Us
We can say that we have reviewed audio products more than any other products. We have worked on earbuds under $50, best streaming Microphones, best portable speakers, best headphones under $100, and we are not nearly done.
What that means is that we have come very close to that point of authority when it comes to audio materials.
For this review, as with others, we did not stick to things we knew and things we merely heard, even though that could have been ok. Rather, we have reached out to what users have had to say about these earbuds. More so, we have taken very long hours to understand the stance of different experts and reviewer authorities as regards to various earbuds we considered. And after all said and done, we have reached the conclusion that the make up of a good pair of earbuds are the sound quality (top among other options), comfort, ease of use, durability, and of course, individual needs. It is on these that we have reached the decision that these are the best earbuds under $100.
Best Earbuds Under $100
Best Earbuds Under $100 - Content Map
Here are the best earbuds under $100
Shure SE215-K Earbud
We have come across people who would not use anything that is not Shure. It is easy to understand as the company has turned out to be one of the most reliable when it comes to audio products.
It has survived since from 1925 serving the high audio market. Whenever it makes something for the consumer market, it doesn't fail to beat every other competition in the market. That is the testament of the SE215.
The piece comes with a design different from most others. With a transparent head, the piece is designed to go round the ear at the top and then hang down. It has a removable cable as well as six ear-tips, plus a carrying pouch.
Beyond the fanciful design, it happens to be very comfortable and very fitting. With the amazing design on this, you should not expect it to be among the lightest, even though it didn't end up as the most weighty.
The sound is not one thing that you can take away from this piece so easily. It has strength, detail, and completeness to its overall sound.
While heavy, the bass is consistently not bumpy. Another good thing with the bass is that it doesn't go with the aggression of bringing down the walls of your ear drum. If you have used the Shure SE series, you would see that this maintains the great signature, which is complete.
Better than the bass is the midrange, which happens to be the best part of the earphones. The midrange is warm and well-defined.
Pros
Very good with noise isolation.
The overall sound is of great quality.
Premium quality and looks.
Fairly rich accessories.
Cons
You will need to get a separate cable to get an inline microphone.
Verdict
The SE215 is not as expensive as most others from Shure, nevertheless, it still manages to perform almost in the same manner. The sound is as full and warm as it is with all Shure earphones, and the design promises comfort, quality, and durability.
Thinksound ms02 In-ear Monitor Earbud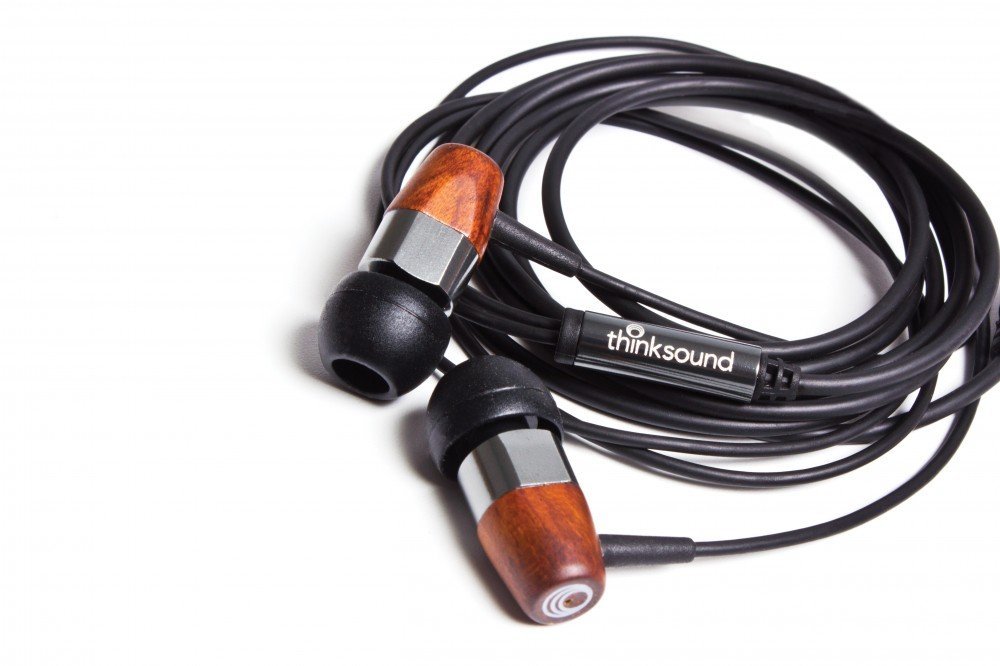 This is a piece from a relatively new company that is not up to 10 years old. So how did their piece end up among the best earbuds under $100? Simply through great construction and performance.
It has a construction that is made of nice wood that should hold for a long time as it does not easily defect even as it is renewable. Apart from the durability achieved with this, there is also beauty and overall sense of well-crafted quality product.
The earbuds are designed to be very slim to ensure that they enter the ears deeper than what is averagely obtainable.
With this, Thinksound attempted to make an earphone that can achieve considerable noise isolation which has been achieved, even though it is only partial.
It comes with 4 additional ear-tips which are of different sizes and both the left and right side of the earpiece has been labeled for easy identification.
What we don't like with this, is the cable. Even though it is obviously durable, it is thicker and less flexible than normal and that can be a little uncomfortable to manipulate. It is at least bearable since the quality is a complete compensation.
Better than its construction and design, the MS02 has a performance that is massively great. The output you get with is both distinct and complete.
The highs you get with this earbud is somewhat soft yet there is accuracy and calmness to it. Moreover, the wooden design makes listening very refreshing. With the mids, you still do not get any load as it comes easy and warm.
The low range is where you get it heavy but ven this, the sound balance is still maintained.
The general sound of this piece is different from those of other products from Thinksound. It is easily understandable why the sound is distinct as it is designed with "sound monitoring" in mind.
Pros
Wholesomeness to the sound for studio monitoring.
Comfortable to use.
Renewable and constructed from wood, it is Eco-friendly.
Quality is the name of the game for this piece.
Cons
We didn't find its cable to be the most comfortable.
No inline mic (although Thinksound also produces in-ear headphones with inline microphone called ts02+mic).
Verdict
This is fantastic for studio monitoring; neither does it perform badly for casual listening. What should draw one to this piece better than every other is how detailed the sound is and material used in its making, as well as how comfortable it is.
1MORE Triple Driver In-Ear Headphones
The 1MORE Triple Driver In-Ear Headphones are made by a company that takes the business of delivering powerful audio output seriously. As such, it came as no surprise when we realized that the piece is one to be liked by audiophiles and those wanting great sounds.
It comes with an in-line mic as well as a three-button remote on the right cable to the ear. With the buttons, you get to control the volume, navigation, and calls.
There happens to be a great balance to the sound, and we found it to be the best when it comes to all round sound performance.
Whether you play at low, high, or mid volume, the bass still maintains its depth and punch. The thing, however, is that with this earbud, just as it does not take out anything, it also doesn't add anything. Essentially, you get what the music comes with.
Better than the bass is the treble it generously outputs. There is clarity and engagement and with the blend of the bass and the treble, what you get is an overall sound that while not exactly natural, is still pretty decent enough to make you keep it.
Complementing the smoothness and spaciousness of the treble is its midrange. Here you still get that completeness even as it lies back pretty well. What more is there to say, than to remind you it's a Triple Driver Piece.
The design may not be as tempting as the sound but it looks ok. Overall, by most standards, the 1MORE Triple Driver performs almost perfect in balance and clarity.
Pros
It is very comfortable.
There is no sound distortion.
Almost perfect in sound performance.
Has a nice fitting.
Cons
Poor isolation.
Not the one to win a beauty contest.
Verdict
If you sleep with headphones, we can easily recommend this for you as the earbud can sit for long without causing discomfort. It will also serve anyone looking for a piece that has an all round performance in sound quality, without any part lacking or another dominating. At the price it comes, it is a valuable purchase and one of the best bargains on the list.
Bose SoundSport In-Ear Headphones
Bose fell into a spree of producing so many earphones over the years that at a point, it seemed like the company went out of ideal names to give the products. The names kept falling as they came without giving you the time to digest any.
The good thing, though, is that the 'phones were not just running on a hit or miss mission. They were indeed hitting the action.
The SoundSport In-Ear headphone is one among its line of greats, which we found to be among the best earbuds under $100. It is interesting how it is designed not to tighten into your ears or even fall off as a result of its StayHear tips.
More to the design, it is obvious that Bose didn't leave anything out in an attempt to make this as rugged as it is stable. It is also sweat and splash resistant, but we would not advise you to go swimming with these.
It comes with a great inline control which you can use to receive and end calls, navigate song tracks as well as play/pause, and increase or decrease volume. It also comes with an inline microphone.
The best thing we noted about this piece is that it comes specifically for Android devices, Apple iOS devices and of course, for general audio use.
As for sound performance, we found that it is mostly alright, especially if you do not want a very strong bass.
With this, what you get is slightly above the bar bass reproduction, which we do not think those who love thick bass would really enjoy. The mids also do not go all the way but the good thing here is that there is consistency which we found very surprising.
The best part of the sound is the treble. Here you get everything almost complete and well detailed. The overall sound should mostly be great for people who love songs that are more treble and less bass.
Pros
Friendly for all weather use.
Comfortable and secure to the ear.
Designed for audio, android, and iOS devices.
Ease of use.
Great sound quality if you love treble.
Good design quality.
Cons
Not the best in isolation.
Verdict
We are unable to find anything better than this for you if what you want is a piece that will not sit tight in your ear. This is because while this does not hold tight, it still remains stable. More so, the sound it produces makes it great for indoor use or outdoor use in not very noisy places. While this has a wireless version, it is more expensive.
Recommended: Best Microphones for Streaming and Gaming

Sennheiser Momentum In-Ear Headphone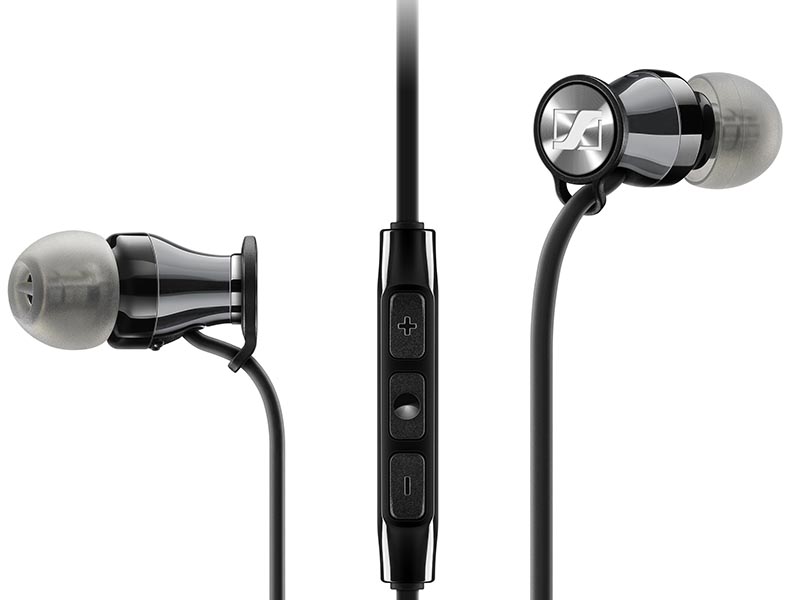 From the momentum class of Sennheiser, this piece comes with the blessing of performance as others in the same class. It delivers what can best be described as a very healthy sound that is both bold and clear.
With the bass, these earphones give a very robust and authoritative performance that should be pleasing to strong lovers of bass. Listening to the Weekend's In the Night, the feeling is very strong.
The fear is for the health of your eardrums if you ar the type that listens to music in the loudest of volumes, as this does not have the problem of distortion.
Other than it's excellent bass, the mids and highs are also decent even though they are not as strong as the bass. The treble, however, is slacking but in the most negligible way.
There is nothing exceptional about the design, but it is beautiful, lightweight, and comfortable. Moreover, because of its shape, it is very fitting.
There are many headphones, even among the very expensive ones that come with in-line control for iOS or Android devices. This is not the case with the Sennheiser Momentum In-Ear as it was designed with separate controls for Android and iOS.
Pros
Rich and strong sound reproduction and details.
Separate controls for Android and iOS.
It is lightweight and comfortable.
Very valuable.
Cons
It can sometimes get too sensitive while listening to some tracks especially with high-pitched treble.
Verdict
This is not one earphone to lay back, hence it will be best for someone who wants an earbud that is all outgoing and exciting. More so, if you want the bass heavy and you enjoy your music loud, your path may meet somewhere with this not to mention if you are in need of complete sound, this is it.
Focal Sphear High-Resolution Earbud
There are certain things that most earphones don't combine, such as being lightweight and sturdy, or being sturdy and comfortable. That is where the Focal Sphear played its beats well to end up among our best.
With this piece, French company, Focal, created something that is lightweight, sturdy, and comfortable. What is even more appealing is the fact that it is stable when worn during physical activities like exercise where you would expect it to fall off easily.
The Focal Sphear High-Resolution sound is crystal clear enough to pick out the faults in a bad music just as it is to point out exceptions in good ones.
As far as this piece is concerned, clarity to sound is the deal. What this means is that if you are a fan of podcasts, TED Talks, online lectures or things like that, or even if you want to get the lyrics of songs clearly, this will be suitable for you.
The only problem you may get with the focal sphear even as you enjoy its clarity is that it doesn't cancel external noise. Hence, you may not enjoy this in noisy places.
With the design, it is comfortable to wear for a long time. The use of stainless steel in its design it gives off a feeling of heaviness, but It isn't. The steel only makes it more durable and appealing.
It also has an in-line remote and mic button which lies on the logo at the junction where the cable splits to the ears.
Pros
The sound produced is crystal clear.
This is great for listening to recordings and online lectures or tutorials.
Lightweight, sturdy, and comfortable.
It fits and sits properly in the ear.
It is beautifully made.
Cons
Too sensitive to bring the flaws in badly produced songs.
It does not completely cancel noise.
Verdict
If you want your earbuds lightweight, with comfort and good sound, this Focal Sphear earbud should be your point of call. It is great for someone who never gets tired of listening to music as it combines everything that should make you enjoy wearing it for as many hours as possible daily.
FiiO EX1 Aerospace Nanotech Titanium Diaphragm In-Ear Headphone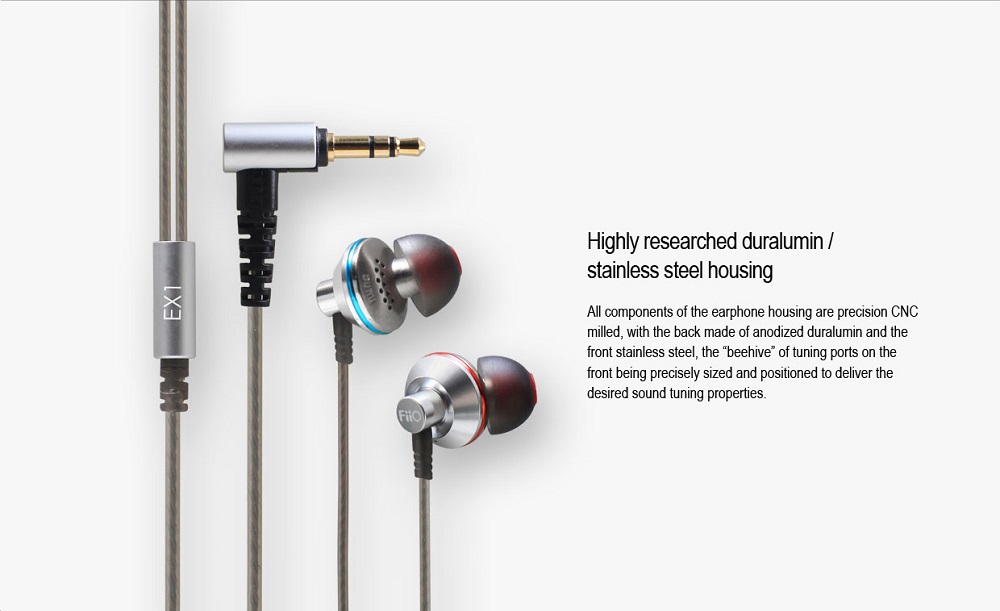 FiiO has placed itself at the forefront when it comes to making audio products that are cheap and of high quality. Started in 2007, the company has risen to make pieces that have caught the attention of many, giving it a spot in the serious realm of sound gadgets.
The most interesting thing about the EX1 which was made in a joint effort between FiiO and Dunu, is that it is able to get the bass and treble mostly balanced. This is one thing that you hardly get with other products.
While we found the bass rather strong and punchy, it is not a shelter for someone who may want the strongest of bass. Nevertheless, it gives it to you as the song is.
For the treble, which happens to be the best thing about the audio reproduction of this earphones, there is a brag of quality and completeness. As stated, the treble is not dominated by the bass, instead, it completes it.
On the mid range, there is also a good representation, just as it is with the soundstage which comes with some form of openness that is modest. The generality of the sound is quite strong and unlike any other on the list.
Looking for a simple design? This is it, simple and strong even though the cables are somewhat bulky. This piece has more sense of quality than comfort. That does not mean it was not made to give comfort because it does.
The FiiO EX1 Aerospace Nanotech Titanium Diaphragm In-Ear was also found to be quite similar to DUNU's Titan 1, so much so that you would be forgiven if you mistake one for the other. Okay, the EX 1 may be better, but the closeness is questionable. We would have loved it if the partnership between the two companies brought in something fresh rather than a replicate of the Titan 1.
Pros
Very strong and good sound.
Durable.
Good price.
Two-year warranty.
Cons
Not in the class of the lightest.
The noise isolation is not the best.
Verdict
If you are into the correctness of song lyrics, this may as well be where your radar leads. If however, you are obsessed with the bass punching your eardrums, this may not be the best option. Nonetheless, we found this to combine affordability, quality, and sound, which are things that can hardly be collected together by any company on a single piece.
Klipsch Image X5 Earbud Review
With the Klipsch Image X5, we found intelligence of design and audio reproduction. Nevertheless, what speaks loudest for this earbud is its noise isolation technology which beats most you can get in the same price range.
We found the design to be lightweight and beautiful. Its lightweight is enhanced by the fact that Klipsch made use of very thin cables for the design. While that is in itself great, most especially if you consider that it makes it not to burden the ear; it also means they could possibly be less durable.
The thing though is that it is not entirely the thinness of the cable that makes it lightweight, but also the fact that it is one of the smallest earbuds we have come across. As such, because of the balanced proportion between the cable and the buds, there should still be considerable durability as there is reduced tension on the cables.
There are richness and consistency to the sound it produces. Just as it is lightweight in size, so also is it lightweight in sound. Don't get this mixed to think it gives out a very shallow sound because that wouldn't have gotten it a place on our list. Instead, while strong, the sound it produces doesn't come heavy to the ears.
Tight and crisp is how you get the bass, while the mids are warm and rich. Overall, you still get the bass strong and the entire sound quality well balanced.
Pros
It fits in securely.
Great sound isolation.
Lightweight and highly comfortable.
The sound is lightweight and very rich.
Generous with extras such as airline adaptor, carrying pouch, ear wax cleaning tool, and up to five silicon ear gels of different sizes.
Cons
The cables are thin, meaning the wires are thin as well; hence one could easily ask how durable they can be, however, it is fairly durable.
No mic.
Verdict
Among others, we feel there are very few earbuds under the $100 mark that can match the X5 in noise isolation. What this means for you, is that if you prefer to play music at low volume and still not be disturbed by external noise, this would sure be your bet. To add to that, there is clarity to the sound and intelligence to the design.
Thinksound TS02 Earbud
The Thinksound ts02 will always be remembered as one of the very first earbuds to go eco-friendly. That is because it chose a wooden cover instead of plastic or aluminum as is mostly the case. Even though the use of wood is somewhat popular with over the ear and on-ear headphones, it wasn't known in the earbud market.
It has an interesting design, which is enhanced by the use of wood for its making. This also means that it is eco-friendly.
The pair features an inline microphone which we found performs with much clarity. There are also controls for mobile use, even though the controls are not the best we have seen.
Like most others, you get up to four extra silicon ear tips. The tips are made for large (L), medium (M), small (s), and extra small ears (XS).
The sound comes with a heavy bass which dominates in a very good way. It is tight and strong and does not lose its cool when it gets too high. For someone who loves strong bass, this will do just fine.
In the midrange, you still find that it is warm and complete. So also with the highs. What this ensures is that you get a natural sound. In all, we love the bass.
Pros
It is an Eco-friendly piece.
Designed to appeal to the eyes.
The sound is great most especially for people who love bassy songs.
It is durable.
Cons
The controls have a problem of being rather confusing.
The bass may get somewhat overwhelming for some people.
Verdict
Because of the sound it produces, we feel that this may as well be the best for lovers of rock, pop, and hip-hop. Also, it should serve anyone who wants sound to be warm and strong even as the bass remains powerful. Considering that it has a very good inline microphone, it will prove a valuable piece for people who receive and make many calls.
Brainwavz S3 Noise Isolation Earbuds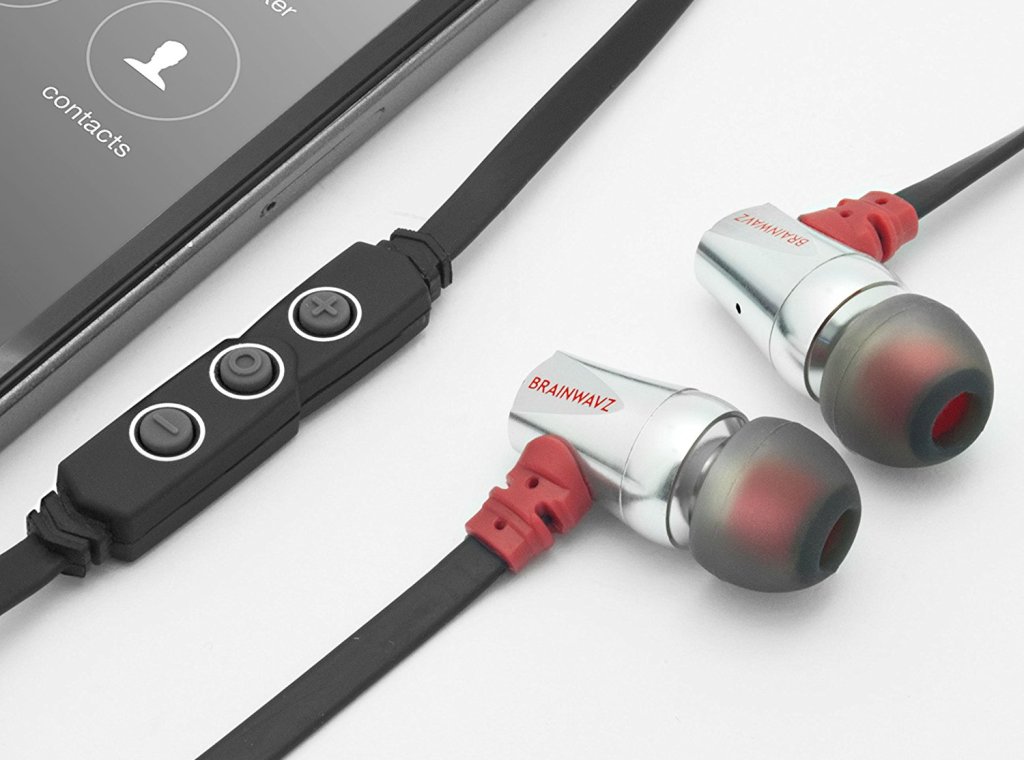 If you are a noise isolation lover or you are reconsidering the Klipsch Image X5 because it doesn't have an inline microphone, you may as well get the Brainwavz S3. Although the two earphones do not have so much in common, they are both great at noise isolation.
Unlike the X5, the BrainWavz S3 is a little bit chunky and has some weight to it. This is mostly as a result of the metallic head and its general build. The flat cable design is pretty smooth and interesting.
It comes with an inbuilt microphone which has clarity to it, as well as controls which are among the best we have seen, except that the full range of functionality is made for iOS devices. The controls indicate clearly where to increase and reduce volume, as well as play and pause. For Android, you can only play and pause.
About the sound, considering the price, it is a nice bargain. It is clean and well detailed. It has a bass that is punchy and strong but may be found a little lacking in completeness and impact.
The mids is what ended up doing justice to the piece. It is warm and the highs are good and in between the bass and the mids.
At the end of the day, the take with the sound is that even as it gets very high, it still maintains its clarity and detail. It may not end up as the best sounding piece on the list, but it is neither one that can be thrown out the window.
Pros
Comes with generous accessories.
The sound quality is above the average.
Good quality and durable.
It has a very intuitive control design.
Cons
The full range controls only work for iPhones with the pause and play working on Android
A little weighty.
Verdict
This is yet another of the great earbuds which we feel should be a good buy for anyone in need of a noise isolating piece. It has good quality sound. We would have loved this even more if its controls worked on Android devices as well. Nevertheless, it is a great piece.
MEE Audio M6 PRO Earbuds
Given the fact that this is one of the cheapest but good quality earphones, from the design to the performance, you get something you won't typically get in the market.
The sound reproduced by this is both powerful and crystal but is mostly at the mid level.
Just okay, is the way that you can describe the bass, as it is not all the way. For its class, however, you may not get anything better. The mids and highs are modest and good.
Finally, the sound does not deny accuracy and details. This is even truer with non-studio voices and recordings.
As it is with the beauty of sound, so it is with the design. It comes transparent in a way that should fit the ear properly and allow for comfort. Moreover, it has two cables which can easily be detached. While one has a microphone and inline control, the other is plain.
As regards other accessories, this comes with six sets of silicon ear-tips and a case for carriage.
Pros
There is the touch of quality to it.
It is quite cheap.
It comes with detachable cables.
Generous with accessories.
The sound is accurate and with details.
Cons
The sound is not the richest
We found one of the best things about it, the fact that you can remove its head, to be a problem for people who are not good at caring for things. This is because considering that it is small; they can get lost easily.
Verdict
At the end of it all, it is still a piece that is inexpensive and does not perform as good as others on the list. Nevertheless, if that is where your budget leads, you can still get this with no apology, as you will have nothing to lose.
Marshall Mode EQ Earphone
Bass reproduction is the one thing that can either spoil a song or fix it when it comes to headphones and speakers. For some songs, you may need that bass while for others you may want it another way. What this brings to the table is bass adjustability which does not come easy on headphones.
That is one thing that sets the Marshall Mode EQ apart from other headphones. It walked in the footsteps of Skullcandy Crusher, but this time it is for earbuds and not on-ear headphones.
Marshall has sustained its name for a long time in the audio market. With its Mode EQ earphones, the company blazed a fresh trail that would soon be followed by many others.
The bass customization is provided for in two modes thanks to its EQ switch. The sound signature on the modes provides for one to be heavy and the other to be more relaxed or neutral.
On both ends of the bass, we found the bass reproduction to be good despite the price it goes for. Whether you are on Adele's Rolling in the Deep, Timberlake's Can't stop the Feeling, or Eminem's Guts Over Fear, you still end with something to take home.
Moreover, it also has a treble which is quite restrained and neutral in a very good way. The entire thing with the sound is that you will find it mostly reproduced the way the original sound is even though there is more emphasis on bass.
Now to the design, the first thing to know is that this is designed with comfort in mind. It is comfortable and sits securely.
At the connector, you will find the control which hides with Marshall's M Logo. The control accounts for pause and play, and on the other side, you will find the EQ switch. It also has a mic on the left cable positioned below the jaw area.
Pros
It offers two different options of bass performance with the EQ switch.
The sound performance is great.
Comfortable and well fitted.
Beautifully designed with considerable quality.
Cons
It does not have the best inline control.
The bass on both sides could still be made better.
Verdict
Among other things, this earphone has a good sound quality at almost all levels. The EQ toggle switch also serves importantly as it makes almost every song enjoyable. For its price, this is definitely a good buy.
Best Earbuds Under $100 – Bluetooth and Wireless Earphones
MEE Audio X7 Plus Bluetooth Wireless Sports Earphone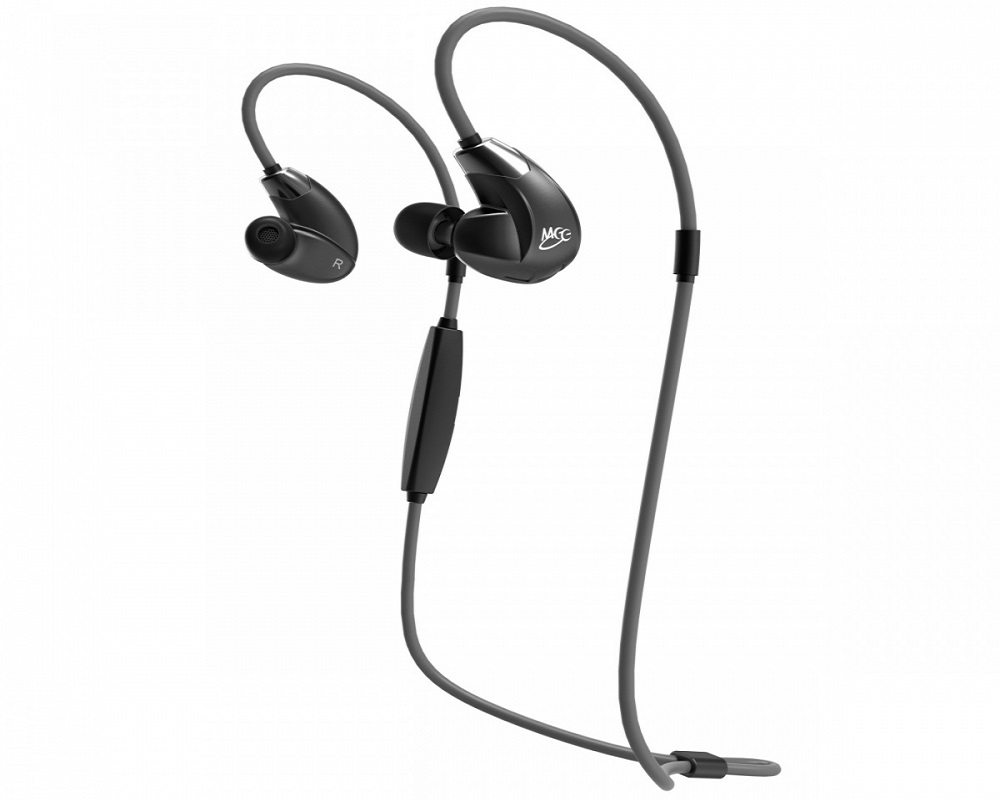 If you are a movie freak or you love the gym or even jogging, what you need is a piece of Bluetooth or wireless earphones; something that will give you much convenience while you exercise or sit far from your laptop to watch.
For that, we have found the MEE Audio X7 Plus to be one of the best. It is one that is wisely constructed and fashioned with impressive sound quality.
With the sound, you can as well define it as largely complete. It has a bass that is full enough to put a smile on your face if you are all about the bass. It is powerful and dominating.
For the mids, you do not get anything that pulls you off the everyday street. It is mostly without any adventure, but it doesn't shy away from giving you something decent and polite.
The treble is not quite as high and good as the bass, but it still gives a pretty decent sound, though the bass has its bite from this.
With an over the ear fit, the design is a little bigger than what you get with most others. We expected that to put a little clog to its comfort, but it still ended up being very comfortable. Its ear tips and general design offers good isolation.
It has an inline microphone as well as three control units for volume and calls. On the control unit, there is a port where you can slot in a Micro SD card.
With 8 hours of battery life, this piece is decent when it comes to sustainability.
Pros
Above the average battery life.
Great for sporting and gym.
It is a piece with high value considering the price.
Stays fit and secure even during activity.
Convincing sound reproduction.
Cons
It is not exactly what you will call very small.
May not be your best if you do not like strong bass.
Verdict
This is a very decent piece that should have no problem satisfying your needs for wireless/Bluetooth earbuds for the gym or for sports. It has a sound quality that is mostly top notch, except of course, if you want something without thick bass.
Plantronics BackBeat Fit Bluetooth Headphones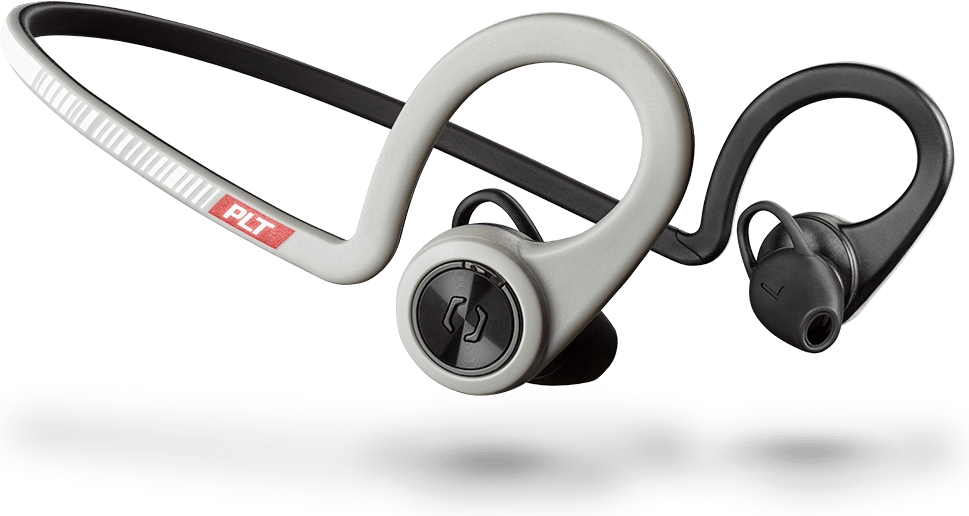 The Plantronics are among the most popular when it comes to sports earphones. The company has made some very interesting wireless earphones such as the Plantronics BackBeat Go 2 which although less expensive, has stood the test of time.
The Backbeat Fit is one of its most versatile ear pieces which you can use for almost every sport including swimming. It stepped in to take a foot ahead of the company's sweat-proof earphones.
Because the emphasis is on sports, the sound is not too loud to shut you off from the world. That makes sense if you are jogging in the morning or evening so you can hear the horns blaring, or even at the gym or during a practice, to hear the necessary instructions.
Judging the sound, we did not find it to be wanting; neither did we find it to give most others on the list any serious competition.
Although punchy, the bass did not attempt to give anything outside the box. You get the response, but definitely, it doesn't have any effect.
The main beauty of the Backbeat fit lies in the technology it features as well as its design. This mostly has to do with its water resistance which can last for up to 30 minutes at 1 meter depth of water.
Unlike most others, it is not designed as cabled earbuds, neither is it designed as regular headphones. Instead, it comes with somewhat rubber material which is firm yet flexible and easy to fold and store.
It has controls for play, pause, navigation, and volume. The thing, however, is that it doesn't come with an inbuilt microphone.
8 hours of battery life is what you get with this. This meets the considerable generous mark of others.
Pros
Battery life is very good
It is very versatile and flexible.
Water and sweat resistant.
Secure in the ears and comfortable.
Cons
The waterproof level is not very deep.
Not for audiophiles.
Verdict
With this, you get one of the best when it comes to wireless earbuds. It ticks almost everything on your list including battery life, sound level and quality, comfort, and water resistance. We may not recommend this for an audiophile, but rather, for someone in need of earphone for sporting activities and exercises.
Onkyo E700MB/27 Hi-Resolution Earbud
High resolution in earbuds is hardly seen, and when you take it to earbuds under $100, it gets crazy. That is what the Onkyo E700M chooses to wrap around your neck as a medal of generosity.
The piece is one which comes with a unique design which while some found beautiful, others found awkward. We found it beautiful. But then, the main things with earphones are sound quality and not necessarily its beautiful design.
Most earphones have a problem of vibration when the song gets really loud. For this, the front housing is made with aluminum casing, which apart from spelling out durability, is designed to be able to control the vibration. The head also comes with 3 sets of silicon caps for the ear tips.
A twisted cable that is obviously of high quality is used on the piece. Apart from the twist, the cable features an inline remote microphone for mobile use. With the microphone, there is clarity during calls and it isn't with chaff or dust as you would find with some others.
How good is the sound?
While everything seems flawless, the bass was found slightly lagging behind although good enough for an average bass lover.
You must give it to the treble though, as it is very smooth and detailed. If what Onkyo wanted to achieve with this is a distant bass that will give the treble a comfortable breathing space, there is no better way of achieving it than what it has done.
Pros
Detailed and complete sound quality.
Even at very loud volume, there is controlled vibration.
Aluminum case and twisted cable promise durability.
It is true to its price.
Cons
The inline control does not come with volume adjustment. Although you can overlook that, we believe it would have completed this piece in a massive way.
Verdict
This is a piece that is great in many ways. While the bass may not win in a serious competition, the general sound of this is very good and devoid of any vibration. Hence this is easily a piece for someone looking for earbud that is affordable, comfortable, and with good sound.
Conclusion
While each of these pieces shares the uniformity of being among the best earbuds under $100 the market can offer right now, each is interestingly unique. The take as always is that the earphone you pick should be able to satisfy the most important needs which we have found to be sound quality, comfort, durability, price and these will definitely beat any other in the market.