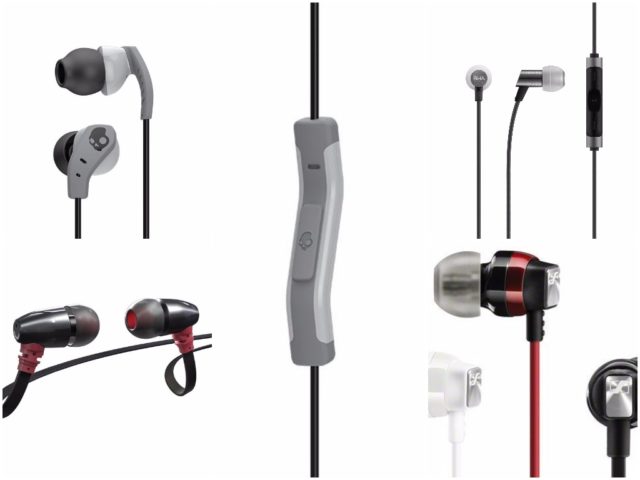 The advantages of earbuds are their portability and the fact that you can practically carry them with you at all times thanks to their size. On the other hand, picking out the best earbuds for you is a totally different case. The options for earbuds out there are just too many and can be quite confusing when you factor in all the price points. This inspired us to come up with this list of the best earbuds under $50.
How We Made Our Selection
We are not exactly sound engineers and acoustic scientists and we didn't base this review entirely on their opinion for the simple reason that while they studied about sounds and audio equipment, what they look out for from earbuds, headphones and speakers are quite different from what we (you and us) would naturally want. Therefore we decided to have a close "natural" look at a wide range of earbuds just the way an experienced music enthusiast would, without the sophisticated graph and data analysis of a sound engineer.
We looked at over 45 of the top selling earbuds you can buy for under $50 and we judged by their sound quality while playing a range of 5 music genre (rock, pop, classical, blues and finally, rap music with banging bass). We believe these 5 genres are the most popular that also capture the widest range of sounds. We also considered portability, quality, convenience and ease of use including the fitting and softness of the buds among other things.
We enrolled some audiophiles who rocked these earbuds to give us their suggestions and finally, we were in touch with other users who had bought and used these earbuds in the past who provided us with their feedback and we believe more than anything, that you should be able to get one for yourself from this collection.
Depending on what you are looking for, the Panasonic RP-TCM190-V In-Ear Earbud and the TaoTronics Bluetooth 4.1 Sport Magnetic Headphones (if you prefer the bluetooth or wireless option) are our top selection for the best earbuds under $50 for you. Not only do these produce great sound quality across various ranges, but they durable and quite comfortable to use over a long period of time. If you are looking for more great options to chose from, we have carefully selected all the earbuds in this list after detailed evaluation so you should be able to find just the one you are looking for and be rest assured that anyone you pick will live up to its promise.
Best Earbuds Under $50:
Panasonic RP-TCM190-V In-Ear Earbud
Skullcandy Method
Sol Republic Relays Sports In-Ear Headphones
RHA S500i
Koss Plug
Symphonized XTC In-Ear Wood Headphones
Brainwavz S0 IEM Noise Isolating Earphones
Sennheiser CX 3.00 earphones
Philips SHE3590BK/28 In-Ear Headphones
Best Bluetooth / Wireless Earbuds Under $50:
TaoTronics Bluetooth 4.1 Sport Magnetic Headphones
iLuv FitActive Jet
SoundPEATS Bluetooth Wireless Earphones with Mic
Panasonic In-Ear Earbud Headphones RP-TCM190-V Review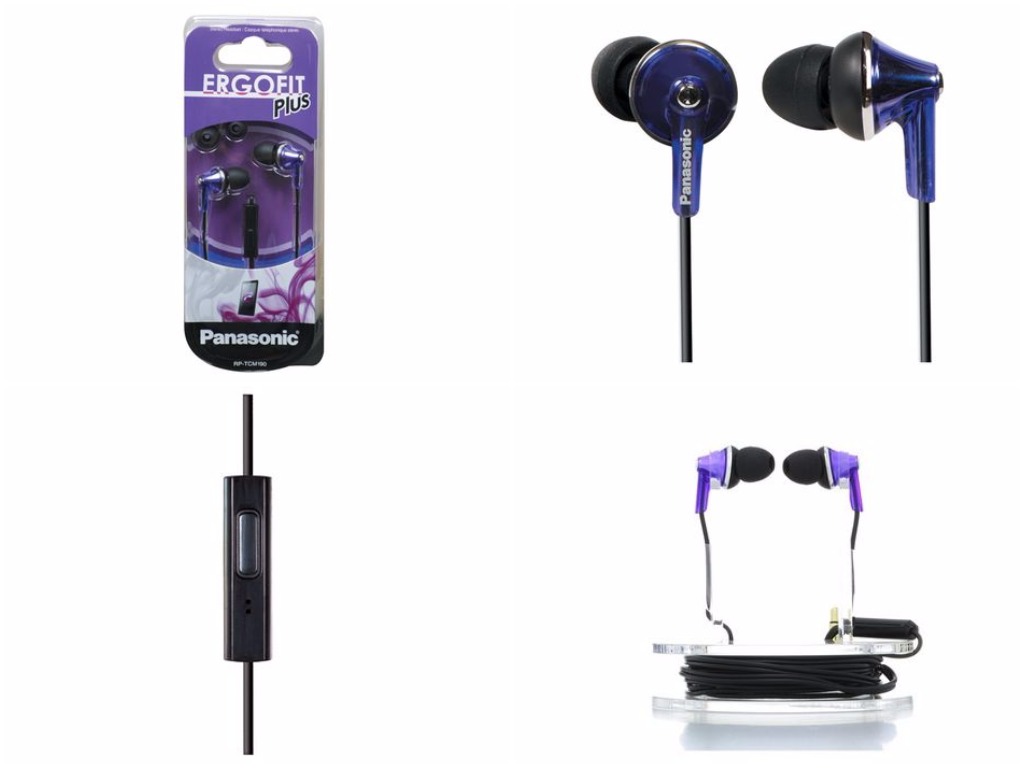 They might look simple, but they are far from simple. The Panasonic RP-TCM190-V In-Ear Earbud Headphones have been designed for that perfect fit and utmost noise isolation ( a feature which comes in handy if you would rather prefer to float away on the wings of the song you are listening to without being bothered by the surrounding sound)
The secure fit, comfort, and noise isolation has been made possible thanks to the ErgofitPLUS with creatively designed elliptical-shaped bud with an extended sound port.
Its elongated sound port delivers powerful bass; the single-button remote and mic are made to specification and in compliance with major mobile phones in mind.
Brand: Panasonic
Features
The Ergofit in-ear earbud feature offers superb comfort and noise isolation.
Integrated mic and remote that is compliant with multiple devices (iPhone, Android, and Blackberry).
The easy cord slider keeps the cord tangle-free.
Small, Medium, and Large earpads are included so you can use the one that offers you a perfect fit.
Pros: 
Durable, Convenient, and Reliable.
Cons:
Might not be compatible with some older Nokia phones and other select models.
Skullcandy Method I

n-Ear Sweat Resistant Sports Earbud Review
The Skullcandy Method is a slick earbud which comes in a lightweight design and uses two technologies (DualLock) for a secure in-ear fit and an issSweat-resistant. Secure in-ear fit is one of the major things to look out for in earbuds especially if you work out and we noticed that they invested considerable effort in designing a secure earbud that stays in place even when you are sweating so long as you use the correct bud for the right ear.
Though it goes a little over the top on the bass, the sound quality still ranks above most earbuds available today and doesn't suffer the wind interference you normally get while running outdoors.
Brand: Skullcandy
Features:
The Skullcandy Method is fashioned with StickyGels technology which boosts in-ear stability even when sweating; it is about 30% more secure even when the body is moist with sweat or under rain.
Sweat Resistant: Welded construction protects sensitive components from moisture that can destroy the microphone and the earbud.
Sound quality: Skullcandy Method features solid sound technology that produces deep, powerful bass; well tuned, natural vocals that is well balanced.
It has a specially constructed low profile, sweat-proof remote with microphone which allows you to always stay in control of your music.
It has an easy-to-use cable management clip which helps you manage your cables especially while working out.
The single multi-functional button works as a remote with mic which enables you to make calls, control the playback options for your music and even shuffle through tracks.
Pros: 
Secure fit.
Beautiful design
Great for working out
Cons:
Bass might be perceived to some as a little bit too much.
Relays Sports In-Ear Headphones Review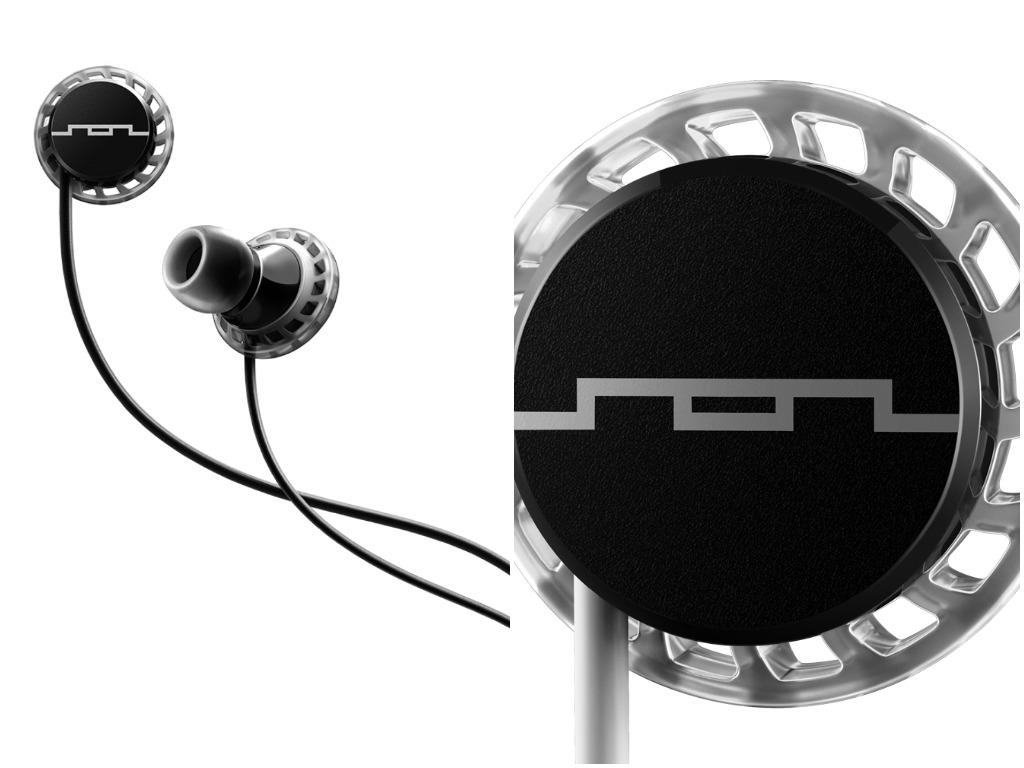 The Relays Sports In-Ear Headphones are what you can call an all round earbud. The design is simple, yet classy and could be effectively used while running, training or even going for a walk with little or no interference from the cables.
It is fit with FreeFlex Technology which really makes it so effortless to use without complicated twisting locks and hooks that irritate your ear over time. It also comes with a noise isolating in-ear buds.
Brand: Sol Republic
Features:
The ultra slim-fit design can stay comfortably in the ear for a long time without hurting or causing pressure discomfort.
The in-ear tips are designed to seal the ear and block out outside noise which it does perfectly well, so you can hear the full sound of your music even in a relatively noisy environment.
Secure Fit
The earbuds are well protected against any damaging effect of sweat
Multi-functional button control which enables you to control the volume, pause, resume, skip music, answer/hang-up phone calls and activate Siri.
Pros: 
Secure fit.
Sleek design
Noise isolation
Cons:
Not the best sound available.
RHA S500i Noise Isolating I

n-ear Headphone Review
The RHA S500i is a compact earbud which goes over and beyond in terms of product quality and sound. It is light weight, has excellent noise isolation capabilities and comes with an in-line remote for easy and fast controls.
Brand: RHA
Features:
It is made from lightweight and durable aluminium alloy which also offers a comfortable fit. It weighs only 14g and offers unremarkable listening experiences to all.
Noise Isolating Design: The RHA S500i earbuds does a very good job at blocking out external noise. This is made possible by a design that fits securely and comfortably in the ear.
The headphone is supplied with seven sets of ear tips which comes in a variety of sizes and styles. While we looked at many earbuds, RHA S500i comes with one of the highest number of of ear tips. This guarantees that you will find an ear tip that perfectly fits your ear.
3-button remote and microphone allows you to enjoy a very convenient control over music, volume and calls.
Pros: 
Good quality and solid build
Beautiful design
Cons:
Great lovely sound that stacks up to $150 earphone, however, some people have reported problem with the speaker pulling out while changing the soft ear tips. This can be prevented by carefully pulling the ear tip from around one corner and gently removing the surrounding part rather than pulling the entire ear tip at once.
The Plug In-Ear Headphone by Koss Review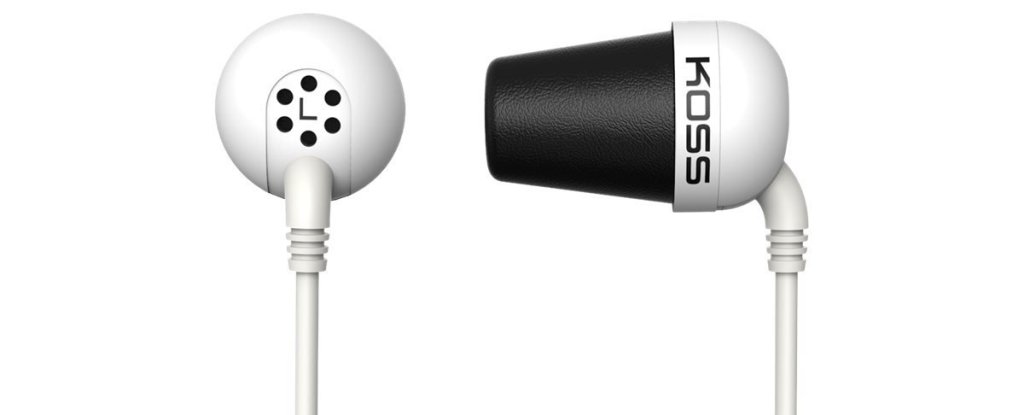 There has been so much said about the Koss Plug, it has been known to be the first of its kind, though it really doesn't come with anything extra as compared to other earbuds.
The Koss Plug has done a good job with its noise isolating performance. The sound quality delivery is superb but the bass can be a bit heavy and will definitely appeal to you if you are a fan of banging music. Due to its unique design, it has a very secure fit, though you still have to select the best bud that fits your ear.
The ear foam is soft, and seems to have an expandable cushioning effect once inserted into your ear to give it a custom comfort fit. This makes it very comfortable to use over a long period of time.
Brand: Koss
Features:
Noise isolating feature: This in-ear headphone offers a perfect way to block out external noise while listening to your music.
They come with a memory foam feature which adjusts to the size of your ear, providing great cushioning and comfort.
The earbuds expand once you push it in for custom comfort, thereby improving noise isolation while enhancing deep bass and treble clarity.
Pros: 
Secure fit.
comfortable even after prolonged use
Cons:
It is bass heavy which may not appeal to some
XTC In-Ear Wood Headphones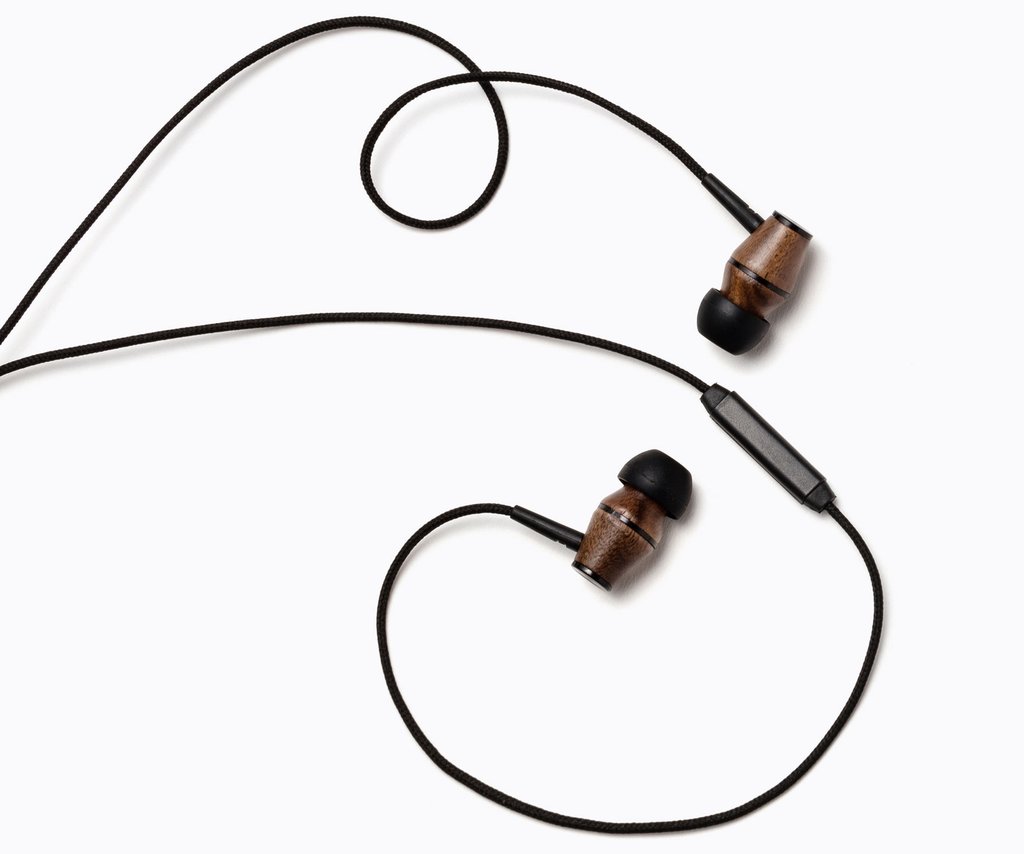 The fact that the XTC In-Ear Headphones has been made of wood is what gives it that extra touch. To add to that, the sound quality is also very good, though due to the choice of cable used, it could give some noisy feedback when the cables rub against each other.
Brand: Symphonized
Features:
Style: Handcrafted with natural wood.
It has a built in microphone which allows you to easily activate Voice Control, this allows for seamless navigation through music tracks and makes response to phone calls a whole lot easier.
It has a great range of compatibility; working on all Apple products (iPod,iPhone and iPad) and on all Android and similar devices.
Noise Isolation: Soundproof earbuds keep your music center stage.
It comes with 6 pairs of custom fit silicone tips which offers a great variety of sizes
Pros: 
Very comfortable.
Good sound quality
Cons:
Noisy feedback from the cables
The bass level may not be sufficient for loud and deep bass lovers.
Brainwavz S0 IEM Noise Isolating Earbuds Review
The Brainwavz S0 earbuds are not just tangle free, but their sound signature is well-balanced, accurate and clear.
The earbuds come with an S-400 comply foam tips available in small, medium and large sizes and provide a very good noise isolation feature. The sound pitch is pretty solid with an enhanced bass feedback especially while listening at medium and low volumes. The earbuds come in different sizes and fit very well but may come off sometimes if you sweat.
The down part is the noise which the cord generates when it rubs together. Other than that, there are pretty decent earbuds coming at a great price.
Brand: Brainwavz
Features:
Clear and well balanced sound
Accurate Sound reproduction at various ranges
Durable with well built sturdy metal casing
Microphone & Remote: Supports all Apple products and Android devices with convenient call control, audio player and volume control.
Included Accessories:
Included are 6 sets of silicone ear tips which are available in small, medium and large sizes.
Earphone hard case which you can carry about.
1 set of S-400 comply foam tips.
1 clip-on for shirts (reduces the cord rub/noise).
A set of Bi-Flange ear-tips made out of Silicone.
1 set of Tri-Flange ear-tips made out of Silicone.
Velcro Cable Tie.
Pros: 
Good sound quality
Noise isolation
Cons:
Sennheiser's CX 3.00 In-Ear Headphone Review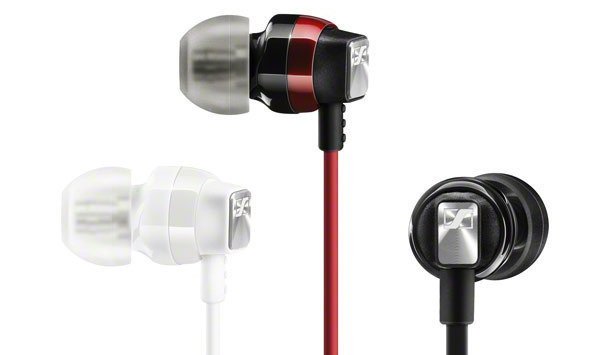 The Sennheiser's CX 3.00 earphones are small but deliver an overwhelming sound output and powerful bass like none other on this list. The simple but creative design takes its noise isolation qualities a notch higher as compared to others. Furthermore, they come with various sets of ear-adapters guaranteed for the perfect fit with four sizes (Extra Small, Small, Medium & Large).
Brand: Sennheiser
Features:
Optimum fit in the ear canals and high reduction of ambient noise.
Earphones with detailed sound quality and enhanced bass.
The cable is tangle-free.
It comes with convenient carry case.
Pros: 
Lovely design
Superb sound quality
Comfortable with noise cancelling feature
Cons:
The rubber tip can come off (This can be prevented by switching to a more comfortable size of ear tip it comes with)
SHE3590BK/28 In-Ear Headphones Review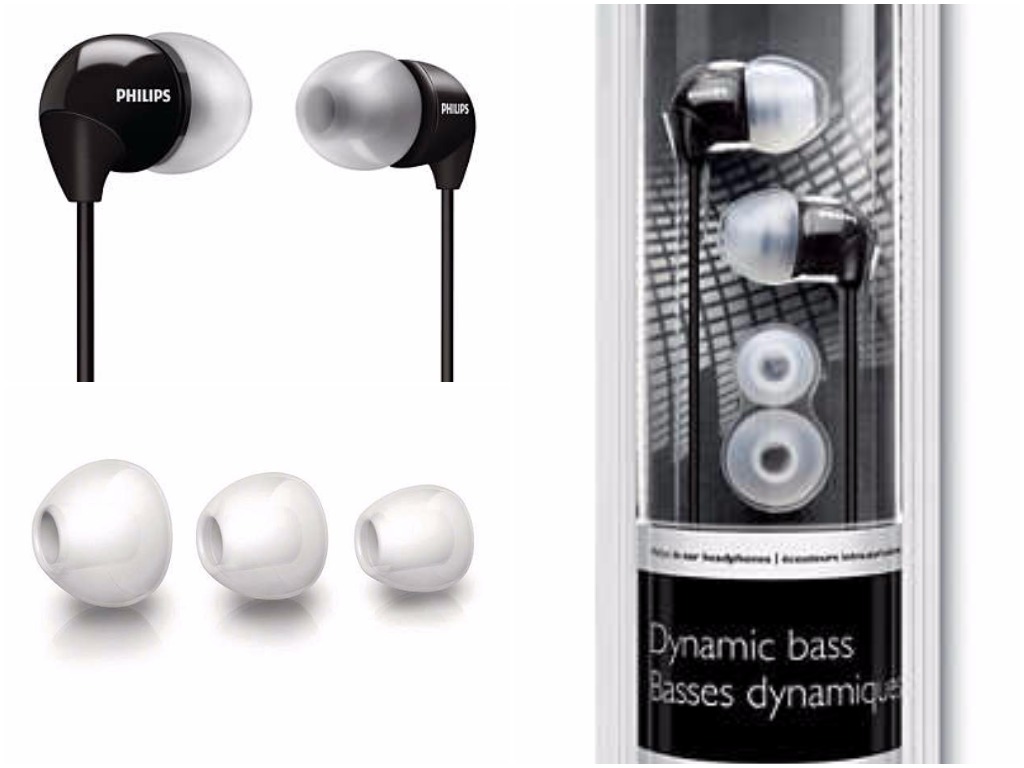 Sometimes simplicity is all that's needed when it comes to product design and performance, that's what the Philips SHE3590BK/28 In-Ear Headphone is all about.
Recommended: Best Bluetooth Beanies for this Year
For a comfortable and compact fit, the Philips SHE3590BK/28 comes in an ultra small in-ear design with soft caps. Though its speakers look small, they are very powerful, producing very clear sound and dynamic bass.
Brand: Philips
Features:
Good Sound Quality: The small fitted speakers are efficient in delivering clear sound with powerful bass.
It comes with various sizes of 3 interchangeable rubber ear caps which offers comfortable fitting for different ear sizes.
The cord is long enough, measuring 1.2m long
Noise Isolation: When the proper ear tip is used, the noise isolation is really good.
The cord cable connection is pretty solid and has been reinforced to withstand breakage from repeated bending and twisting.
Pros: 
simple sleek design
One of the cheapest in the market
Good sound quality
Cons:
Bass sound does not stack up to expectation.
Best Bluetooth Earbuds
The option of having a Bluetooth earbud eliminates the regular tangling problem that comes with a typical cabled earbud. This option is also the perfect fit for those who enjoy listening to their favorite song while going for a run or during a gym session.
Tao Tronics Bluetooth 4.1 Sport Wireless Earbuds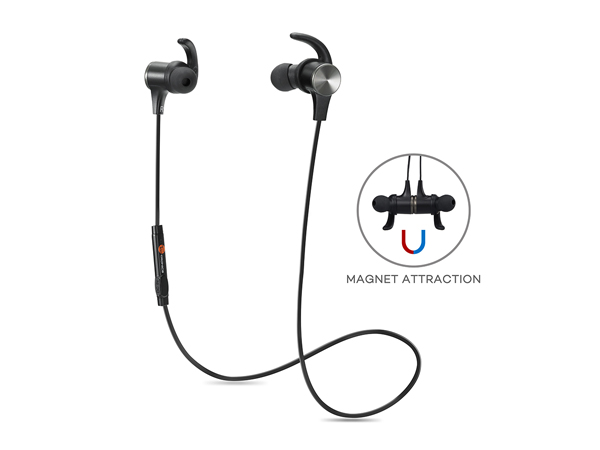 The Tao Tronics Bluetooth 4.1 Sport Magnetic Headphones are well designed and comes with an amazing sound quality. For such a small item, its functionalities and features will leave you nothing but satisfied. They are not just our number 1 Bluetooth earbud for no reason, we've tested it over and over and we still love it!
Not only can you connect your tablet and smartphone all at the same time but the sound is clear with good bass performance which lets you enjoy high quality sounds that are comparable with very high-end headphones.
Brand: Tao Tronics
Features:
Built-in magnets: The magnets let you attach the two earbuds together and wear it like a necklace around your neck. This is an innovative way of carrying your earphones around when not in use.
Secure fit angulated ear design which matches the anatomy of the ear for a very cs comfortable snug fit. We noticed that while engaging in physical activity like running, or cycling, the earbuds stays in place.
One of the best parts of this product is that it comes with a noise cancellation technology that reduces surround noise. This makes it possible to have a clearer microphone sound even while in a noisy environment such as a mall or street.
Latest Bluetooth 4.1 technology makes it super easy and fast when it comes to pairing with various devices.
It lasts approximately 5 hours from full charge if you are talking or playing music continuously and just over a week if left on standby after a single  charge.
With a 3-button in-line remote control, you are able to easily navigate through your playlist (adjust volume, play, pause and change tracks) and make calls.
It has a battery level indicator with which you can easily monitor charge level. This is usually displayed alongside the Bluetooth icon on your mobile phone.
Pros: 
Comfortable over a long period of time.
Great sound.
Lightweight but durable as it is made using beautifully finished aluminum alloy that don't just look great on the outside, but also allows smooth and steady internal airflow.
Cons:
The battery charge level may not work with some phones although this works very well on all Apply phones tested.
Fitactive Jet Wireless Sport Headphones with Microphone
It is without a doubt that when going for the option of an earbud, some sound expectations might have to be limited as compared to that of a full head-on headset however, this FitActive Jet is comfortable, provides some good sound quality and can handle extreme conditions.
Brand: iLuv
Features:
Bluetooth pairing is fast and can work up to 30 feet away from a connected device without causing breakage in connectivity.
It is sweat resistant which is great for athletes.
Superior sound quality with great speakers and optimized bass compartment.
Stress-free music and call controls
Playback time of about 5 hours
Pros: 
Secure fit while undertaking active exercises.
Easy to pair with other Bluetooth devices.
Cons:
A few female users complained that the ear tips are big (even with the smallest size buds)
SoundPEATS Bluetooth Wireless Earbuds with Mic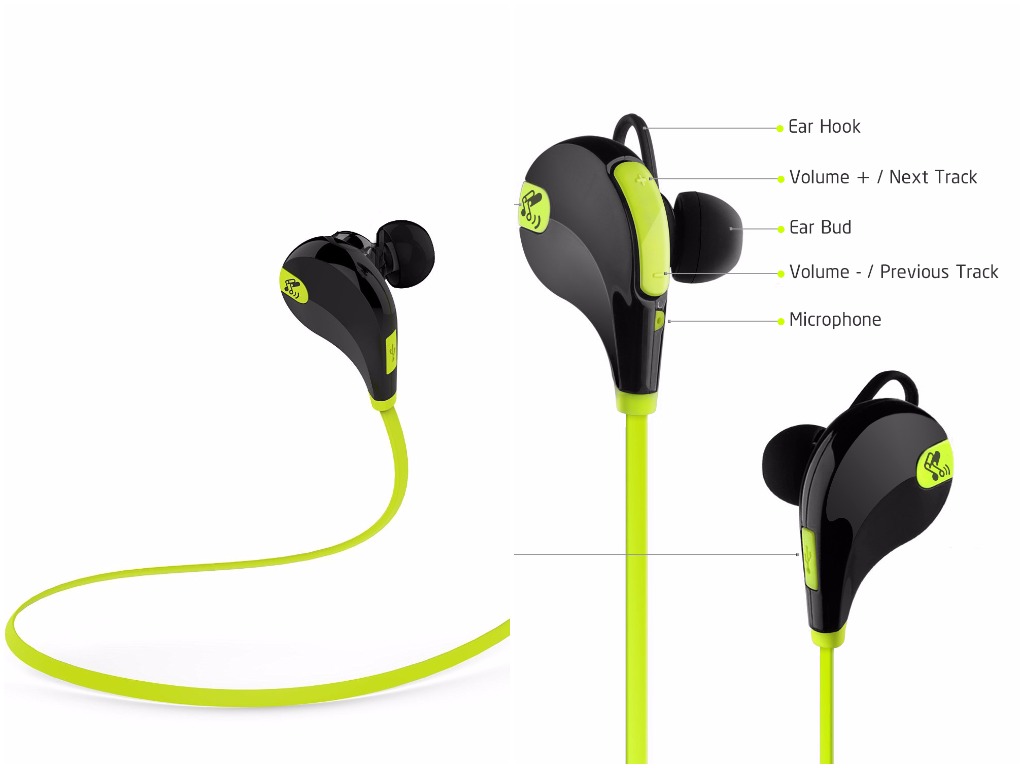 If you are looking for a good quality Bluetooth earbud, with clear sound and even goes the extra mile to provide a number of accessories/functionalities, then the SoundPEATS Bluetooth earbuds are the perfect pick for you.
It is lightweight and sweat resistant (even in the face of dripping sweat) which makes it a suitable fit for someone with an active lifestyle.
Brand: SoundPEATS
Features:
It fits comfortably and securely with several size options for the noise cancelling earbuds.
It also comes with two types of ear hooks to ensure a secure and comfortable fitting.
It takes 1-2 hrs to get fully charged and lasts up to 6 hours talk time / playback time and 145 hours if on standby.
It is equipped with the latest Bluetooth 4.1 Technology which supports up to two connected devices simultaneously without the need for frequent pairing.
Pros: 
Offers a lot at a really good price.
Cons:
You may need to adjust the fitting after every mile or 2 as it may pull out slightly.