One thing with most headphones under $100 is that they make their cheapness a selling point, hence they count on those with low budget to patronize them. However, there are some that while you get them that cheap, they are not cheap in quality and reliability. Our best in that class include AKG Y50, Jabra Move, and Audio-Technica ATH-M30X.
On our collection of headphones that do not necessarily need your wallet to bleed before you can get the right beats are headphones you can use for different things. These include those you can use especially for studio activities, mobile use, laptop use, game use, or other things. They also include on-ear and over-ear headphones.
Content Map
Our Picks
Audio-Technica ATH-M30X
Bowers & Wilkins P3
Creative Aurvana Live!
Sony MDR 7506 
Sennheiser HD 280 Pro 
Creative Sound Blaster Jam
Grado SR80e
Symphonized Wraith 2.0
JBL Synchros E40BT
Sennheiser HD 558
Conclusion
Best Headphones Under 100
AKG Y50 Headphone Review
Type: On-Ear
In all the right places, AKG has got it mostly right with the Y50. At the price they come, the headphones are as great as they can be. This is hardly any surprising, considering that the company has been delivering great headphones for over half a century.
These on-ear headphones are done considering many important things ignored by others in the same price range. These include adjustability, comfort, versatility, and friendliness, making them ideal for both indoors and outdoors use. This is in addition to the fact that the Y50 is very light.
Designed decently, the headphones are portable and quite durable. They can be adjusted and folded for portability purpose. Also, with their closed-back design, they are great enough to keep out noise even as they do not leak much like other headphones in their category.
They feature in-built microphones as well as a one-button remote control designed to aid in picking and dropping calls from the headphones. It also has a detachable cord which can be replaced if something goes wrong.
Pros
Has a very decent look
Very great sound quality
Eliminates noise and has little leakage
Mostly comfortable
It is durable and versatile.
Cons
The bass could be improved upon.
Headband padding would have been great.
Verdict
While these are generally among the best headphones under $100, they may not be the best for you if you need something with very thick bass. However, they give balanced and natural tone. If for nothing, a combination of their versatility and good sound quality, as well as value are enough reasons for you to go for these headphones.
Jabra Move Headphone Review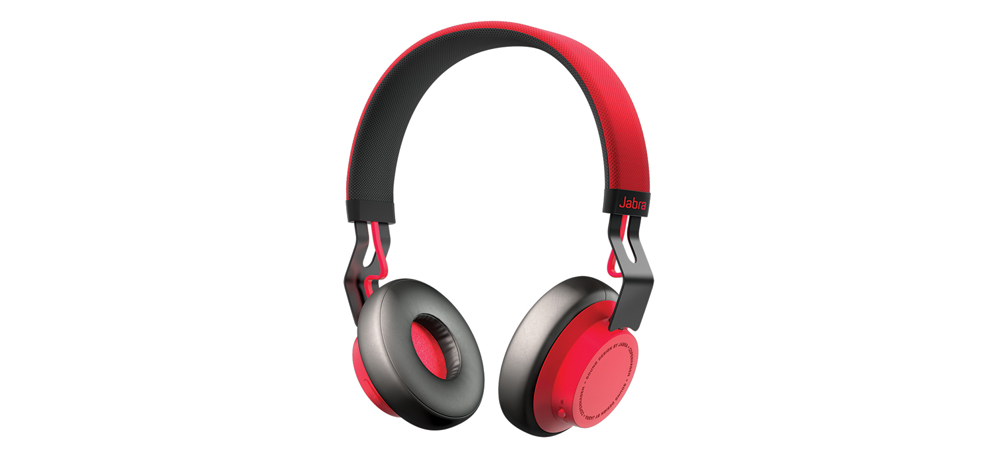 Type: On and Over-Ear
This is a wireless headphone that is definitely matchless by many in the same price range, and even most above. It is an on-ear Bluetooth headphone that mixes design, performance, quality, and value. These are things most headphones below $100 don't come with.
The first thing that pulls you to the headphones is the beauty, and from there, the performance takes over. It performs excellently, sound wise as well as in ease of use and versatility. Its greatest performance comes when it gives bass.
It also comes with an audio cable for wired listening if you will prefer that, as well as a micro USB port for charging.  There is also a multifunctional button that allows you control music and pick and end calls. For the purpose of answering calls, there is an in-built speakerphone which although may not be very sharp, is mostly good to go.
It has a battery life that can last up to 8 hours while listening to music and 12 days on standby.
Pros
Gives audio that is solid
With its plush ear pads and nice headband, comfort is high
Multi-functional and versatile
It has a great Bluetooth connectivity for all Bluetooth enabled devices.
Balanced, clear, and crisp bass control.
Considering its price, it is a very valuable purchase.
Cons
Its battery could be improved upon
You may not be able to fold the headphones to be carried easily.
Verdict
This is the not only one of the best headphones under $100, it barely has any serious competition among the wireless headphones in the same price range. It is also a product that you won't be at fault if you find yourself falling in love with it too quickly. It is for you if you want something with heavy bass, good sound quality, and overall comfort.
Why You Should Trust us
We are not exactly audiophiles and we didn't get them to write this review for us. This is because while we believe they know much about sounds and audio equipment, what they look out for from headphones and speakers are quite different from what we (you and us) would naturally want. Therefore we decided to have a natural look at the headphones.
In the process of this review, we were able to look at more headphones than we could ever have thought existed.  It is from all these that we came about these as the best headphones under $100. We judged by their sound quality, the convenience of use, portability, and quality among other things.
Apart from what we think of these headphones, we have also considered what audiophiles and users of headphones have said about these and other headphones, and we believe more than anything, that you should be able to get one for yourself from this collection.
Audio-Technica ATH-M30X Headphone Review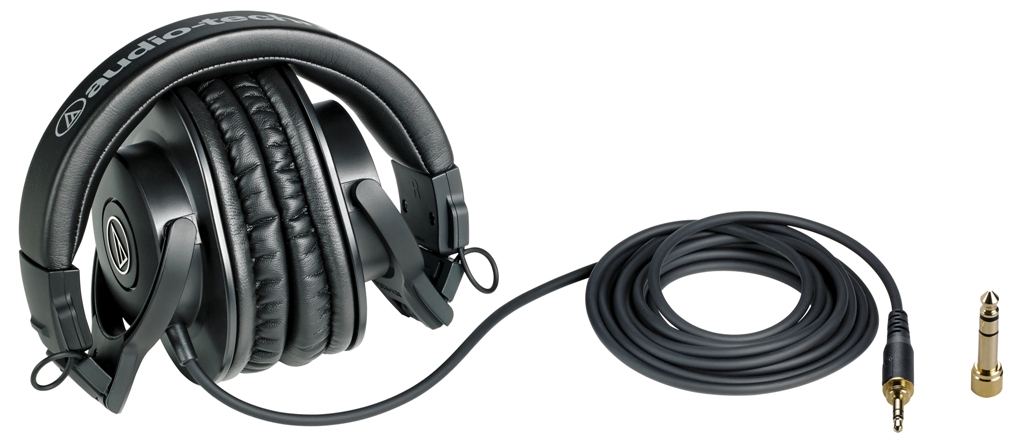 Type: Over-ear
Easily, these Japanese-made headphones are in a class of their own, like most other headphones and other audio related devices from Audio-Technica. It boasts of great sound quality, friendliness, portability, durability, and of course, cheapness (only in price).
With the M30X, Audio-Technica has made a heavy-duty piece that can be used for home or studio use. This is even as it is most suitable as a monitoring headphone. It is, however, short in the area of Microphone, as it is not designed with one.
Nevertheless, among the things that work for the ATH-M30X apart from its great design and collapsibility, are detailed audio outputs, slightly large ear cups for most ears with the aim of giving comfort, and lightness even though it looks quite large.
As regards the sound it gives, the M30X gives an excellent sound clarity. Its bass quality is well above the bar, and we, like most other users, have found it amazing. Another thing is that it has powerful optimisation on the mid-range band for a greater listening experience.
Pros
Great audio quality
Its quality is above the bar, hence it is durable.
Very good for studio tracking, mixing, as well as field recording
Largely minimises song bleeding out
It is portable and friendly
Cons
Has very long cord which is not detachable.
It looks too large.
Verdict
At the end of the day, the Audio-Technica ATH-M30X at the price it goes is a very good bargain. More so, if a monitor headphone is what you need then this should do. It is surely one of the best headphones under $100 for those who work in the studio or those into music production.
Bowers & Wilkins P3 Headphone Review
Type: On-ear
Unless you have not been an audio person, you must have probably heard of Bowers & Wilkins. What you probably have not heard of right now is that they have a headphone among those under $100.
With an impressive design and amazing performance, the B & W P3 does not break from the P5 and C5. What is more is the fact that it is cheaper.
The P3 is designed with aesthetics and comfort consideration. The rounded rectangular earcups are designed with nice padding, and its headband which is plastic made has sufficient cushioning. It is fitted with stereo cable and mic/3-button remote cord
As regards the sound quality of the B & W P3, it has reached the finish line right on time. There is great smoothness and clarity, as well as loud enough sound. More so, while the bass is good enough, the treble is balanced. While it doesn't lose the grip in both high and low frequency, it tends to perform better on the mid frequency.
There is subtle noise control and the sound leakage is little.
Pros
It gives great sound quality
Has much grip on the bass and hardly distorts even when the volume gets high
It scores high in comfort
Portable and mostly friendly
Has built-in iPhone controls
Good quality.
Cons
When the volume gets loud it leaks.
It can tighten for those with slightly larger heads.
Verdict
In almost every way possible, this headphone has met decent marks. The sound is great, the comfort is massive, the versatility is nice, and every other thing is good. It may, nevertheless not perfectly be for you if you want something for rock music, as the sound falls short in this. This is because the treble misses the harshness to go with rock.
Creative Aurvana Live! Headphone Review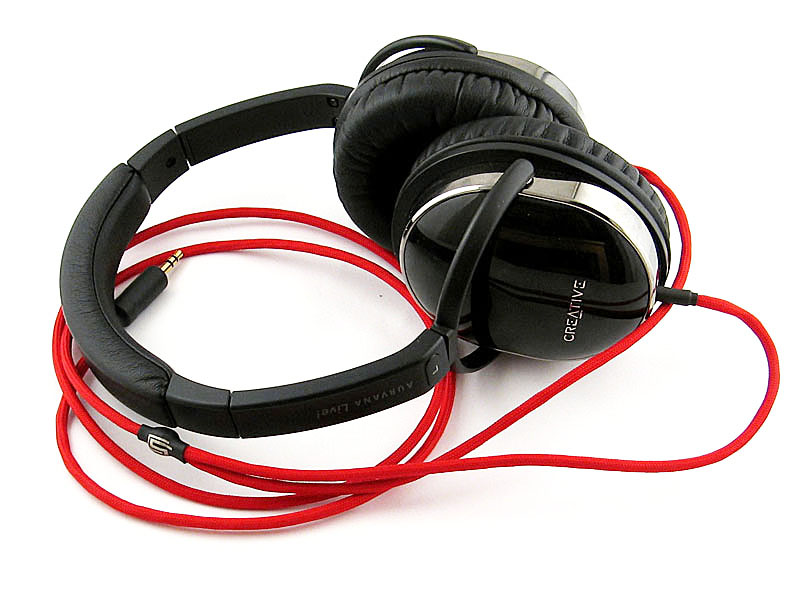 Type: Over-ear
The Creative Auravana Live! is a somewhat stylish headphone which is not necessarily the best on the list, but surely earns its place to be among.
While designed for comfort, it is not exactly portable, with large cups that do not fold. However, it can be adjusted and is well padded with ultrasoft leatherette, which enhances the comfort. Another thing with the design is that the headphone is made to withstand the test of time.
As it relates to sound delivery, the headphone stresses clarity above everything else. We are not trying to suggest it does not deliver good sound quality in other areas, as it does.
Unlike most others in its range, the Aurvana Live! is able to deliver great bass which is neither forced nor distorted. More so, across all genres, you still get to enjoy the rich sound quality it offers. When it comes to balance across the highs, mids, and lows, it does a pretty nice job, except that at the high, it seems to lack a little.
Being an over-ear headphone, it does not keep out noise as much as one may want, and leaking is minimal.
Pros
While it is not exactly the most comfortable on the list, it scales above the average in comfort.
Good and clear sound quality
Comes with useful additions like extension cable and adapter for connection to home stereo equipment.
It offers great bass that is not forced or muddy.
Cons
It is not exactly portable
Although quite attractive, there is a distant feeling of cheapness in the make
Verdict
Although like other headphones this has some things not going well for it, it surely has much going good considering its price. With sound quality that is great and balanced, it is one you can easily go with if you need something for your normal music listening.
Sony MDR 7506 Headphone Review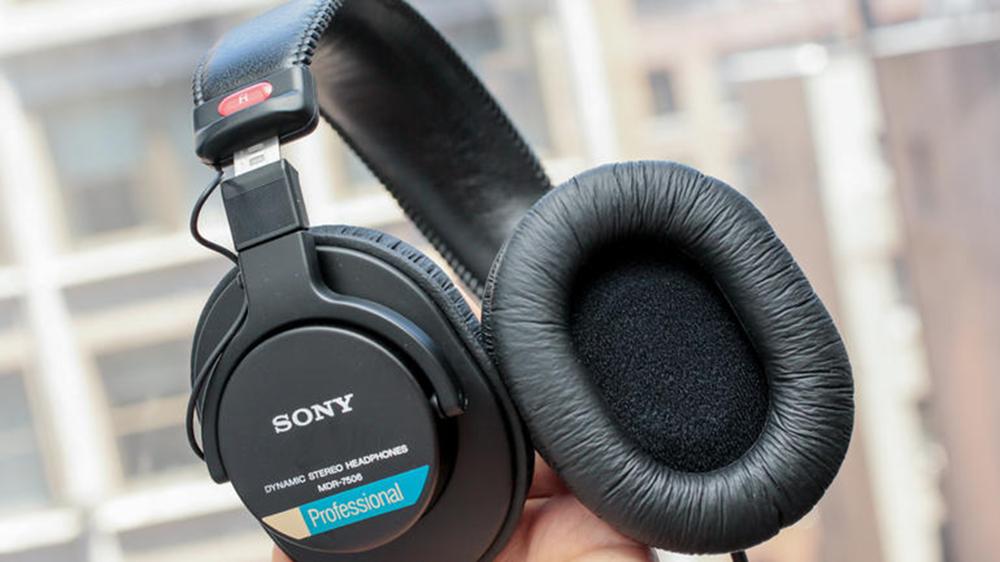 Type: Over-ear
The Sony MDR 7506 is a headphone that has come a long way and has remained the favourite of so many for so long. It is one that gives that professional sound quality.
The MDR 7506 is designed with durability in mind, which accompanies its comfort and nice performance. It has a nice padding for the earcups; however, these do not last for years. The headphone is nonetheless designed with replaceable earpads, which you can easily buy on Amazon and fix them yourself.
The headband is not only good enough to fit most heads but it is well padded for comfort. Its plastic design ensures that it is lighter than most other headphones. Still, that has made it seem a little too cheap and flimsy.
For the purpose of portability, the headphone can easily be collapsed. Being closed-back, it keeps away noise to a large extent just as it prevents much leakage.
As regards the sound, the headphone has a nice quality. It meets the bass quite rightly without overwhelming the voice or causing muddiness. The treble, however, struggles to meet the average mark as it does not consistently hold on. Nevertheless, it gives the best sound performance at the mid-range frequency, where there is an excellent audio quality.
Pros
Good audio quality
Supplies comfort that is above the bar
Mostly light and portable
It has a very good quality.
Cons
Like you will expect from a headphone that has been since 1991, it has a long undetachable cord which makes it not very mobile friendly
The ear pads could do with some improvement.
Verdict
A million things can be said about this headphone; however, it will all boil down to the simple fact that it is a very decent piece. It is the best when you want to listen to music with the aim of analysing, or for recording purposes. This is not to suggest that it cannot serve for your normal music listening, but it is not the best for that on the list.
Sennheiser HD 280 Pro Headphone Review
Type: Over-Ear
The first thing you should know about the Sennheiser is that when it comes to delivering great headphones you will find the company there. And when it comes to providing great headphones that are friendly even to thin wallets, the company is there.
Among the best headphones under $100 is its HD 280 Pro. The headphone is one that is rugged in its way, with great in sound, and great for studio use.
Though rugged, the design of the headphone affords it lightness. Its earcups and headband are well padded.  Just as with the audio cord, the ear pads and headband padding are easily replaceable, adding to the durability of the headphone. More so, with a covered back, this headphone blocks out much noise and reduces leakage.
Another thing is you can easily collapse the headphone for ease of transport. As regards the design, while it is sleek, the quality is surely top notch.
On the aspect of sound, it is loud enough with good sound quality. There is an articulate low-frequency response and it is above the average on other frequencies. Another thing is that it has a measured bass to allow for a balanced audio for proper monitoring.
Pros
Good audio performance
Rugged and durable
It is able to control noise largely
It is comfortable and with nice fit
Light weight and easy to collapse and carry about.
Nice bet for studio use; recording and mixing.
Cons
There is some distortion when its gets really high
It comes with a cable that cannot be detached.
Verdict
Unless what you are looking for is not a rugged headphone with good studio capabilities and versatility, this headphone is for you. Another reason you will enjoy this headphone is that even if you want to use it for non-studio, you will still enjoy it.
Creative Sound Blaster Jam Headphone Review
Type: On-Ear
These Bluetooth headphones would not spend a long time before they draw your attention. If you can ignore the not so beautiful looks of the headphones, its functionality and comfort will hold you for a very long time.
Like the Jabra Move, these are Bluetooth headphones which provide cheap alternatives to the so many others that make it full in the market. It is great in sound, ease of use, as well as friendliness.
This super lightweight headphone has the main controls built on the right ear cup. These controls are for power, volume, Bluetooth connection, audio play and pause, as well as calls. There is also a bass button you can use in boosting the bass.
While it has great Bluetooth connectivity, it can as well be used with a USB cord on computers and other devices. Although the Bluetooth makes use of Near Field Communication (NFC) wireless connectivity for easy one-touch pairing, it does not support iOS devices.
It is designed with an inbuilt microphone which can be used for answering calls. The microphone can as well be used in controlling some noise and echo.
The battery life can stretch up to 12 hours of playtime.
Pros
It has great sound quality which cannot be over exaggerated
Has a very comfortable fit.
Its battery life is quite great.
Boasts of quality.
Very versatile and easy to use.
Cons
If beautiful headphones are your thing, these are definitely not for you.
It may not be the best in making calls.
Verdict
Apart from being one of the best headphones under $100, it doubles as one of the best Bluetooth headphones in the same price range. The Creative Sound Blaster JAM, are therefore headphones you should easily buy if you want very good sound quality headphones that are Bluetooth enabled and that inexpensive.
Grado SR80e Headphone Review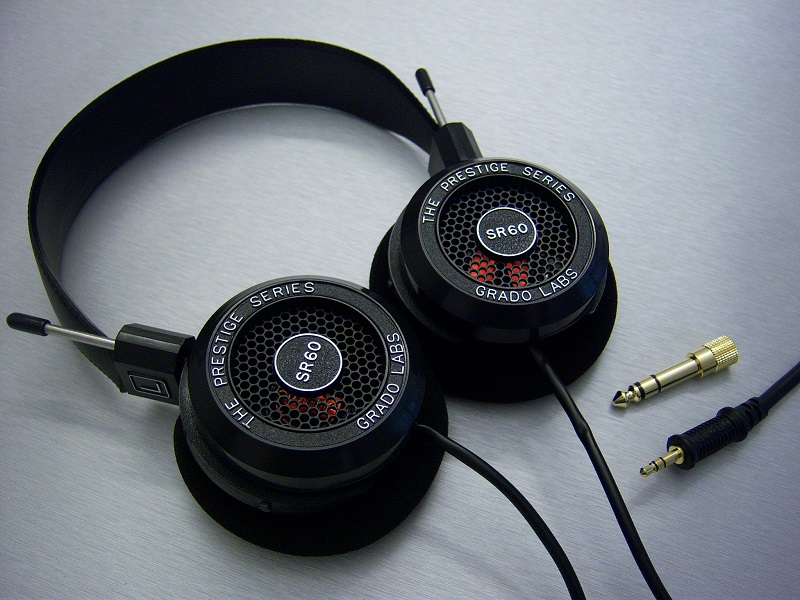 Type: On-ear
This on-ear open-back headphone is an upgrade of the SR80i released years ago. It largely maintains the old design and gives much improvement on the latter.
Among other things, the SR80e has a great sound quality to brag about. It gives a great bass resonance hardly with a thing lacking. Also, at the upper and lower range, there is more improvement, without faults at the mid-range. More than the "I" series, the SR80e has great balance and details.
It has a design that while you may not describe as perfect, is way above the average. The SR80e comes with a double ended (non-removable) cable, which has a jack that is quite bulky. Its design is made for comfort with extreme lightness and ear pads that are meaty enough.
Even as it sells itself with great sound quality, it comes short in the area of music control because it cannot be controlled from the headphones. Also, its open back is another thing not entirely good since you may not enjoy it where people want to be quite, or where it is too noisy. For a headphone at its price, however, it is good.
Pros
Detailed sound quality and good bass
It is a headphone with much value.
Has a high score in comfort
They are able to fit well.
Cons
With its open-back design noise is easily let in and allows for leaking
Its bulky audio jack may not fit in a lot of smartphones.
Verdict
This sturdy piece is definitely one of the best headphones under $100 if you want something for use on your computer. It may not exactly be the best for mobile use because of the jack, or for use in a very busy environment because of the open back. No matter for what you want to use it, however, the sturdiness is a thing Grado didn't gamble with.
Symphonized Wraith 2.0 Review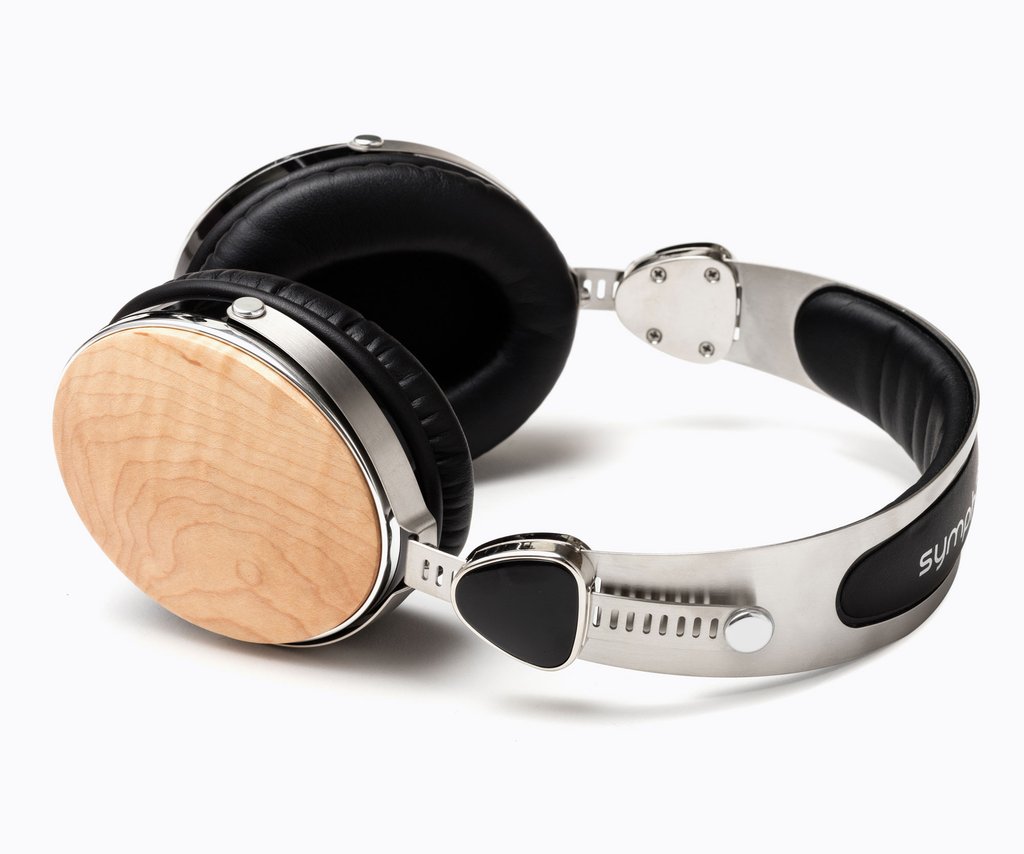 Type: Over and on-ear
The first thing to know is that while you may take it for granted because of the price, this headphone is surprisingly more than its price. This is with its design that stresses on beauty, comfort, and great sound quality.
The headphone is mostly flexible as it is made of metal and plastic. It can easily be adjusted to fit different head shapes. Also, the earcups have great padding and the metal headband also has nice padding.
Another great thing with this is that it comes with two cables; one with a microphone, the other comes without, and both can be put on either ear. It as well comes with a sack with which you can carry about.
As regards the sound, it is mostly rich. The bass is above the average level thanks to the wood added to it. The mid-range is on the average level. Overall, these are more on the studio monitor level.
Although it is not noise canceling, it blocks a lot of the noise but doesn't control leakage to the end.
It is designed to be an over-ear headphone but unless you have very small ears, it may not go over your ears. This is, however, no qualms as being on-ear, the pad ensures it offers no discomfort.
Pros
It has almost premium comfort with its nice padding and flexibility
Great sound quality
Its removable cord can be great.
Strong feel and nicely built
Cons
It could be lighter
The bass is good but it could be improved upon
Verdict
This is almost the premium headphone among those under $100. If you want something with style and sound that you can bet on, then I guess this may as well end your search.
JBL Synchros E40BT Headphone Review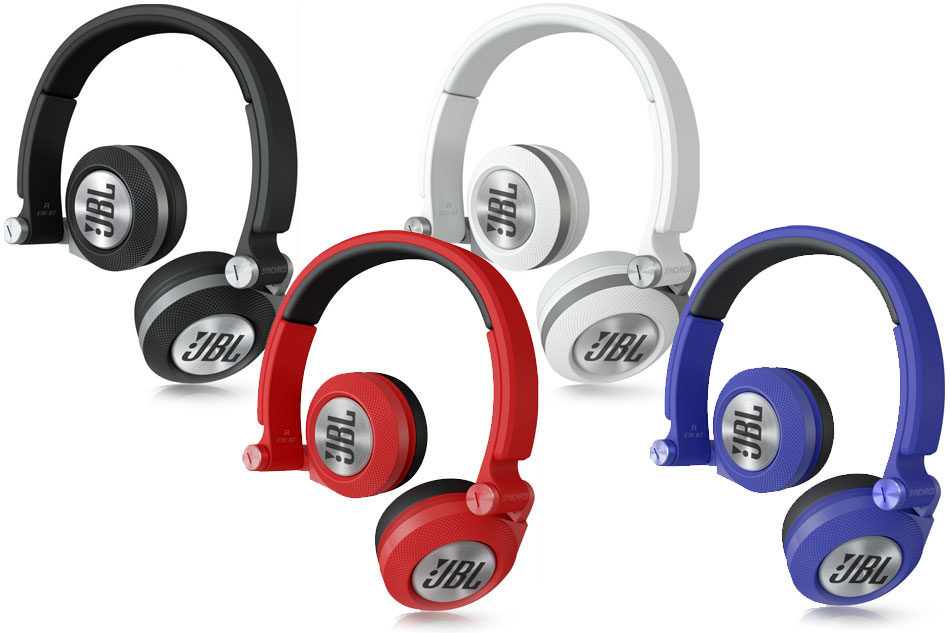 Type: Over-ear
When it comes to audio equipment and accessories, JBL has done a massive job. The Synchros E40BT which is one in the range of its wired and wireless headphones is by no means any sign of slowing things down, most especially in the class of low budget headphones.
The Synchros E40BT has a nice design with earcups that swivel 90 degrees. The cups also have leatherette pads for comfort and noise control. The headphones could as well be collapsed or folded for ease when carrying around.
Among other things, the E40BT is designed for much comfort, with its padded leatherette headband and earcups. The problem, however, is the fact that the earcups cannot be adjusted, they can sometimes get uncomfortable.
It does not leave back great functionality as it has a great sound quality which is solid and powerful in mid-range. For those who may need strong bass, however, it is a little lacking as it lacks high-end drivers. There is a built-in microphone which allows for calls to be answered when connected via Bluetooth.
The headphone comes with a built-in ShareMe technology which allows you to stream music wirelessly to another ShareMe-equipped headphone.
It comes with a built-in battery that can last 16 hours of play and 24 hours of talk time. To conserve charge, it automatically goes off after some time of non-use.
Pros
Has great sound quality.
It has a very good battery life.
Great Share-me technology
Quality and sturdy built
Cons
It can get uncomfortable at some point.
The bass could be made better
Verdict
There are no too many things that these headphones have to display, but they display the ones they have in the right way. The first of course is the massive convenience it flaunts, then its affordability, its good battery, and sound quality.
Sennheiser HD 558 Headphone Review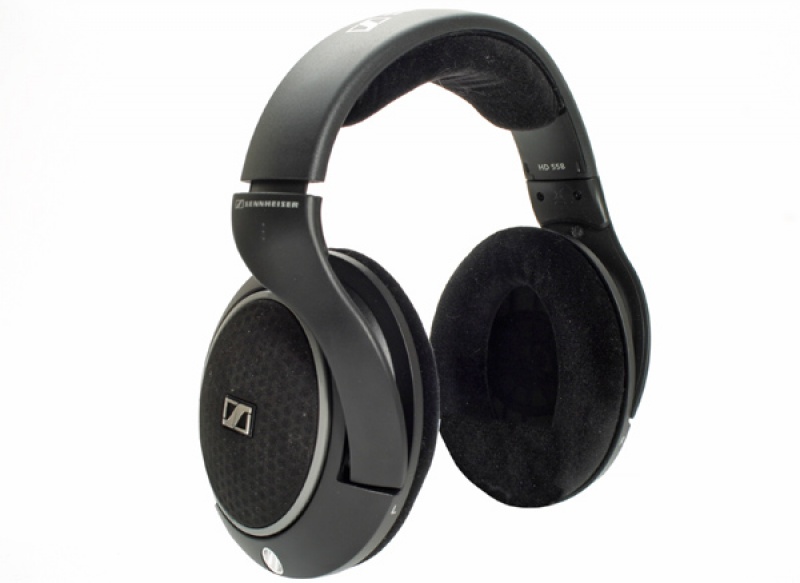 Type: Over-Ear
We said headphones under $100, but can we add this, at $6 higher because we feel it should strongly be on the list? Thanks.
The Sennheiser HD 558 is an over-ear open-back headphone which keeps its promise of beauty to the eye and great sound for the ears.
As regards the design, this headphone is generous just as it is comfort. It has nice padded earcups which join the calm tone produced by the speakers to give great comfort. Also, the headband has its fair share of padding to make it all good. It has a removable cable.
The headphone leaks out music and does not completely provide isolation from external noise.
Although you can adjust the headphone for a proper fit, with glasses on, there could be some discomfort as the earcups could press against the curves of the glasses.
The great selling point of this headphone is its friendly and soft music tone that on one end is not boring and on another doesn't get you tired of listening. This is chiefly as a result of its Internal Sound Reflector which gives rich audio.
We note that where Sennheiser have some shortcoming in the sound is in the strong attempt to make it less aggressive. While they were able to achieve that, they have taken away the roughness in some songs that should actually be rough.
Pros
Great and friendly audio quality
Comfortable in many ways
Nice fit for most people
Decent design
It is a very valuable headphone.
Cons
It doesn't have the best bass
Mostly without any serious adventure
Verdict
If what you want is something quite aggressive, this may not be the best for you. You may as well settle for the Grado SR80e or Creative Sound Blaster Jam. If on the other hand, you want something with the modest touch without losing anything, then you may hop with the HD 558.
Conclusion
The truth about all the headphones above is that while they are not necessarily the best headphones, they are sure the best in the under $100 category.
That is, however, not to suggest they do not have their flaws, as every headphone, even those that would break a thousand bucks from your wallet, has its flaws.