Getting the best 17-inch laptops whether for gaming, video editing, or any other thing can be very tricky. This is mainly because while the market doesn't have so many of these laptops, the few that there are, are made by a few manufacturers and most share similar or the same features.
In fact, they are mostly created for special purposes, such as gaming, and they are made for those who may need replacements for desktops.
However, 17-inch laptops are gradually becoming popular as people are beginning to see the many advantages the have over the regular, such as the ability to endure more, perform better, and even offer more features even as they are more durable. That explains why most are very expensive in comparison to smaller laptops.
In our review, we have come to see that in the line of the best 17-inch laptops, ASUS is dominating, while very few others including Dell and MSI are coming along.
We have reached, at the end of the day, that the Asus ROG Strix GL702VM is the best overall. This is as it is versatile to be used for different things on one hand, while on another, it is durable and highly performing.
For gaming, specifically, we found the Acer Predator 17 X to be the best. The Asus ROG Strix GL753VD and MSI GE72 Apache Pro-003 returned as the best 17-inch laptops for video editing and programming respectively.
Why you should trust us
For us here, our lives are all about laptops and computers. For more than 8 hours each day in the past 8 years, we are either going through products or sticking around computers which we use for various tasking jobs such as coding and programming, image and video editing and of course heavy graphics gaming during leisure hours. What this means is that we have come to fully understand exactly what it means to be a frequent PC user and are able to tell what makes a good laptop in general, not just the 17-inch.
To pick out the best 17-inch laptop, we took the time to go through as much as 27 various 17-inch laptops. We also got feedback from people who have used these laptops for a while, for gaming, video editing, programming etc. It is from all these that we are able to come up with these as the best 17-inch laptops. Apart from the standard expectations like the processor type and speed, graphic card, memory, display, keyboard, and storage, we also looked out for the actual performance of these laptops under intense and regular use, if they heat up with prolonged use, screen resolution (comparing what's on paper with how image and picture qualities were perceived and visualized, weight, ergonomic design and many more factors that make a good 17-inch laptop.
Best 17-inch Laptops
Best 17-inch Laptops for Gaming
Best 17-inch Laptops for Video editing
Best 17-inch Laptops for Programming
Overall best 17″ Laptop
Best Laptops For Gaming
Majority of 17-inch laptops are made for gaming. This, however, doesn't mean that all are actually great for gaming. In fact, some there are some that although carry the tag "gaming laptops," still performed outright bad. Good gaming laptops are supposed to have a good processor, graphic cards, enough space, and in fact, their build should be durable as they are going to become horses for heavy gamers.
The most important in this line is your graphics card. At the moment, the Nvidia has it better than the AMD. For the storage, although you can do with your HDD that is as high as 500 GB, having a very good SSD would be best.

Acer Predator 17 X Gaming Laptop
What is on the mind of veteran gamers right now will be how Acer has emerged with various powerful gaming laptops, as it has no history with that. That too is the question we have been asking.
Nevertheless, since taking it upon its shoulders to delve into the gaming world, it has been somewhat of a predator above most laptops produced by others. That in fact, is the same with the Predator 17 X.
This big monster of a laptop has so many things going for it in features, performance, and of course, beauty and durability. It has an overclockable Intel Core i7 processor as well as a Nvidia GeForce GTX 1080 GPU. With those, you have a laptop that is prepared to take anything you throw at it and you will have a better performance than normal.
Other things it comes with include a 512GB SSD and a 1TB mechanical drive, and a 32 GB RAM which is simply crazy. Even running at 8 GB ram, you will have a great run for heavy applications and multitasking wouldn't be any problem; how much more 32 GB RAM?
For the sound, the speakers are designed with two subwoofers. Although they are loud enough, they tend not to output as loud as we would have loved. Hence headphones or external speakers shouldn't be bad for this.
About the battery life, most gaming laptops do not have the best battery life, and with 3hours of battery life, this one is not so different, even though it manages to be better than some laptops in its category.
Looking at the price and the value, even though this is not the cheapest in the market, it plays its cards quite well. As such the value is quite right if you consider its features and the rock-solid performance it offers.
Features
Processor: 7 GHz Intel Core i7
RAM: 32GB DDR4 Dual Channel SDRAM
Storage :  1TB HDD and 512GB SSD
Graphics: NVIDIA GeForce
Display: 17.3″ Full HD (1920 x 1080)
Operating System: Windows 10
Pros
It is beastly in performance which gives you high-quality desktop build standard.
Excellent and robust build.
Comes with generous and rich features.
Does not easily get heated up as the cooling fan performs very well.
It is a very valuable laptop.
Cons
There is no lightness to it.
The battery life is above the average but could take long to fully charge.
Sound performance is not the best.
Verdict
When you begin accounting for the entire pennies spent on this, none would go out of place. It is one monster predator that ticks every box placed on its way in the form of performance, features, and endurance.
ASUS ROG G752VS-XS74K OC Edition Gaming 17 inch Laptop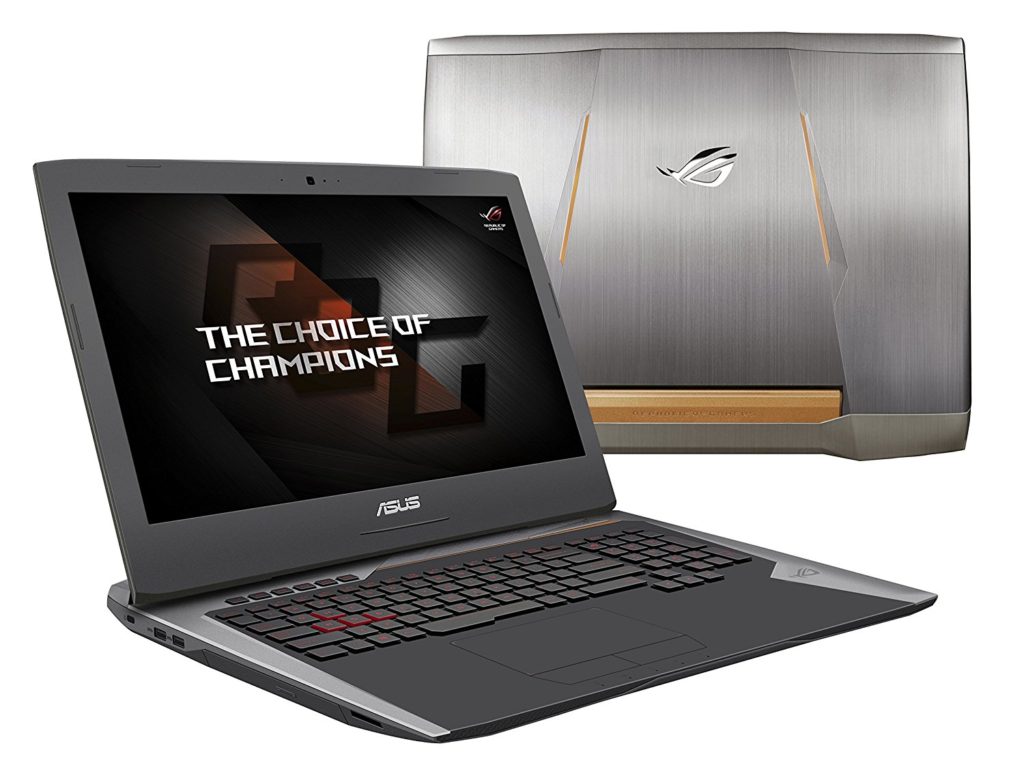 Asus ROG OC Edition emerges as something that cares more about aggressive looks than beauty. In many ways, you can as well define it as very masculine. But even as you can end the short story of its looks with that, complimented by the beautiful LED lighting it has, it is only where it begins with its performance. The laptop performs as heavy as it looks and feels.
It is gaming ready in every way including the build of its keyboard and overclocking Intel Core i7 processor it is fitted with. Also, it has a Nvidia's GTX 1070 graphics card, to give a strong game performance and good 3D gaming experience. It has excellent storage size, just as other features of the laptop are complete enough for heavy duty gaming and intense graphic usage.
Again, battery life on gaming laptops should not be expected to do the unexpected. This only lasts for 4 hours however, it is not only the battery that doesn't entirely please us; the placement of the keyboard as goes way back leaving more than enough room for palm rest.
The good side of the keyboard, on the other hand, is that the keys are nicely spacious enough to ensure that there is comfort and minimal error.
Features
Processor:7 GHz Intel Core i7.
RAM: 32GB DDR4 Dual Channel SDRAM.
Storage :  256GB SSD and 1TB HDD.
Graphics: Nvidia GeForce GTX 1070.
Display: 7.3″ Full HD (1920 x 1080).
Operating System: Windows 10.
Pros
Broad overclocking options that serve as good as a high-quality desktop build gaming PC.
Good for different uses including gaming and video editing.
Solid build.
It maintains its cool temperate even with heavy gaming.
Cons
Even as everything seems to be top notch, the speaker outputs with some level of mediocrity.
The keyboard doesn't have the best placement.
Verdict
Once you can swallow the fact that the speakers are not the best since at least gaming is mostly best with headphones or external speakers, this laptop should be an intelligent buy and you would also be getting something very versatile.
ASUS ROG G752VS OC Edition Gaming Laptop, 17" 120Hz G-SYNC Full HD, Intel Core i7-7820HK CPU, 16GB DDR4 RAM, GeForce GTX 1070-8GB, 512GB PCIe SSD, VR Ready, Overclocked, Windows 10 Pro - G752VS-XS74K
Latest-generation NVIDIA GTX 1070 8GB Graphics Card, Overclocked 7th-Gen Intel Core i7-7820HK Processor, Windows 10 Pro OS
17.3" Full HD 120Hz Refresh Rate G-SYNC Display with Wideview. *Note: Because of technical limitations, IPS panels are subject to some degree of light leakage when used in dark room and high brightness
Asus ROG G751JY-VS71 17 Inch Gaming Laptop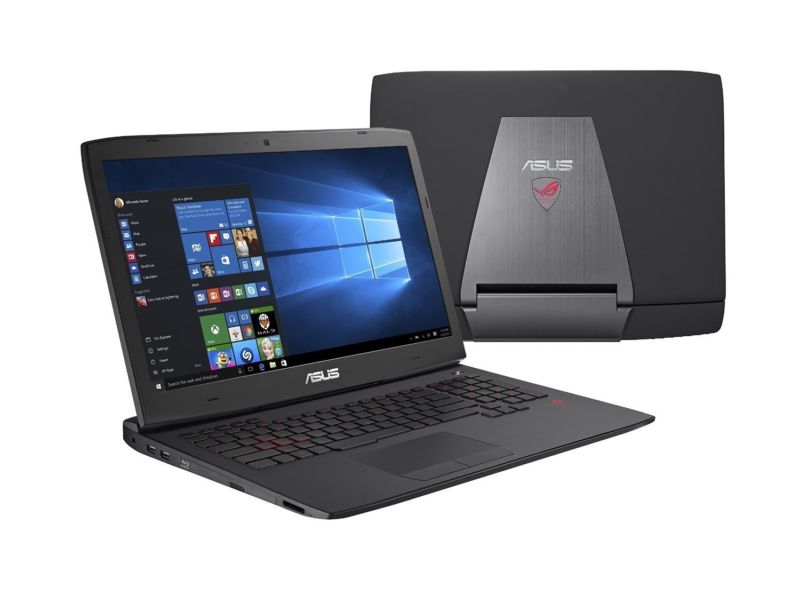 There is a particular uniformity with Asus 17-inch laptops, mostly in looks than in performance. With the G751JY, we have seen another thing that Asus could be. This is even as the bulkiness and weight still remain.
The G751JY is designed with some level of beauty and beastly looks. Better than the looks, it has the promise of good performance.
Thanks to the Nvidia's G-Sync technology, you get better gaming experience as you get a smooth display without any tearing. More so, it has the Nvidia's GeForce Experience which comes with features to help in game optimization, LED control, and battery boosting.
The Laptop has a 32GB of RAM memory, and a Core i7 processor running at up to 3.6GHz in Turbo mode when overclocked. With that, gaming performance is well enhanced. The storage is good at 1TB HDD and 512GB SSD, but if you don't feel satisfied, you can easily expand.
Most of the best 17-inch laptops for gaming do not turn out to be very quiet. It is, however, different with this, as it still manages to hold its peace when it comes to noise.
One thing you may likely reach at the end with this is that although new laptops are spinning out very fast to replace old ones, this is one that may last for a long time before having a worthy replacement in the market.
Features
Processor:7 GHz Intel Core i7.
RAM:32GB DDR4 Dual Channel SDRAM.
Storage : 1TB HDD and 512GB SSD.
Graphics: Nvidia GeForce GTX 980M 4GB.
Display: 3″ Full HD (1920 x 1080).
Operating System: Windows 10.
Pros
It has appealing and strong looks.
One of the best cooling systems yet.
Has great transferring speed.
Comes with generous features.
It is a good replacement for a desktop, and it is something durable.
Cons
Again, we are back to the battery life.
It is heavier than it looks, although it looks large.
The speaker is not the best when it comes to performance.
Verdict
If you want something that can as well replace your gaming desktop, this should do, because we do not see it as the best for carrying around. The performance of this laptop is great not only for gaming but also for things including video editing and other complex activities.
Check Out Best Laptops You Can Get Under $300

Alienware AW17R3-1675SLV 17″ Gaming Laptop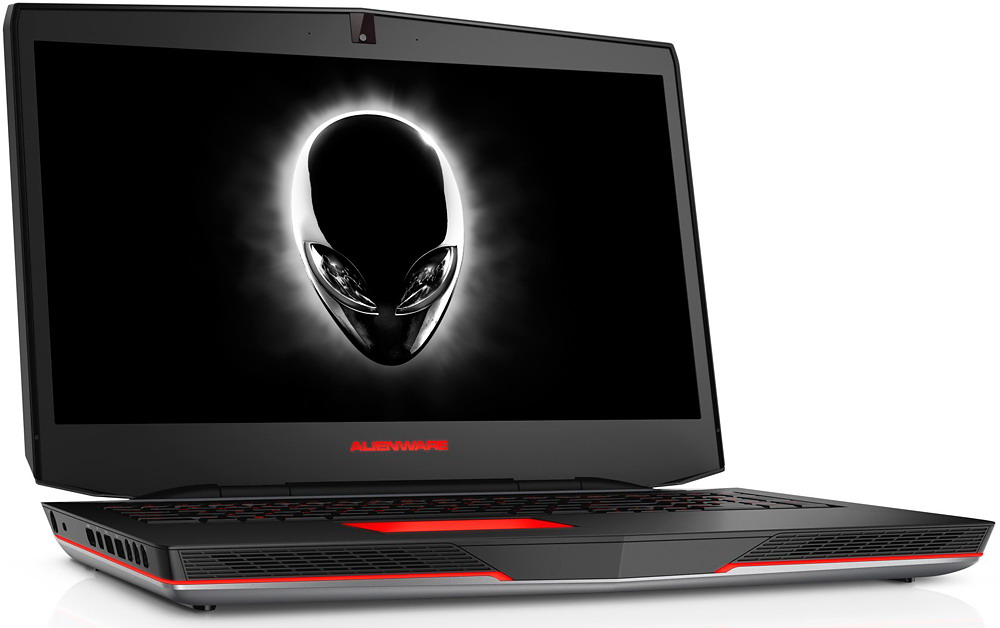 Alienware has, like MSI and Asus, also made a name for itself when considering gaming laptops. Where this hits it very right, apart from enabling you watch your game as you play from different viewing angles, is the fact that it can take on heavy and multiple applications.
With the NVIDIA GeForce GTX, you get realistic gaming experience. You as well get a Full HD 1920 x 1080 resolution as well as 16:9 aspect ratio.
Another interesting thing is that it gives a good performance with its Intel Core i7-6700HQ processor. You also have the backing of 1 TB HDD and 128 GB SSD for storage.
Whether you decide to make use of this laptop for gaming or multimedia tasks, you still end up with another good thing apart from the graphics, and that is the sound performance courtesy of its integrated Klipsch speakers which comes with a 2.1 audio configuration and delivers high-quality sound.
Fully game ready, this notebook is designed with Gigabit Ethernet and Killer 1535 Wireless for online multiple gaming support.
The battery life is much better than most others in this category and runs up to 7 hours when carrying out minor activities such as internet browsing. When it comes to gaming, it may run out on you at 4 hours. Essentially, what you get with this is a fair battery performance.
Features
Processor: Intel Core i7-6700HQ Quad-Core (5.5GHz).
RAM: 8GB DDR4 2133MHz.
Storage: 1TB HDD and 128 GB SSD.
Graphics: NVIDIA GeForce GTX 970M with 3GB GDDR5.
Display: 7.3–Inch FHD (1920 x 1080 pixels).
Operating System: Windows 10.
Pros
Lighter and slimmer than most others.
It is made for heavy tasks and with much endurance.
It has beauty and style.
Great gaming performance.
Fairly good battery performance.
Cons
The audio quality is great but not entirely smooth certain song genre.
Verdict
With this version of Alienware, Dell has done something quite impressive for gamers. From its strong build to tight performance, this is a laptop that we can easily recommend for someone who wants a configurable laptop for gaming. Also, it will serve both light and heavy gamers for a long time, as well as anyone with the need for running heavy tasks.
See Also: Best Gaming Motherboards
Best 17-inch Laptops for Video Editing
What makes a laptop good for video editing is quite different from what you would need for most things, even though so many gaming laptops have turned out fantastic.
Among things to consider is the size of the screen (17 inch is perfect most especially for those who want desktop editing), the multi-core processor (Core i7 processors are the deal right now), good performing ram and generous space, graphics, and importantly, High-resolution display most especially the 4K display would be adequately complementary.

Asus ROG Strix GL753VD Laptop
A Republic of Gamers Laptop, the Asus Strix GL753VD is a laptop that has a lot going for it as a graphics, gaming and multimedia powerhouse suitable for video and photo editing.
Apart from its size, the 178 degree viewing angles for its 17.3-inch display comes handy which is excellent for most especially if you need a laptop for desktop video editing.
The laptop didn't waste too much time in featuring the Pascal mainstream graphics chips which Nvidia released not long ago. Couple that with Intel's new Kaby Lake quad-core processors and what you have is a more reliable and better graphics rendering.
For multitasking, which of course is a thing to consider, this laptop features a 16 GB RAM with a 1TB hard disc, giving you a large storage space for the work done and the raw files.
It operates quietly and has an excellent cooling system which makes the laptop not to heat up easily, even if you are a workaholic.
Normally, we would not advise that you edit films with laptop speakers since headphones are much detailed and better. Nevertheless, if you are tired of having the headphones on, you would not have a problem switching to the in-built speakers as it is better than in most others on this list.
Putting together all the features the Strix GL753VD comes with, it is hard not to see a great performance, as that is what it is all about.
Battery life, depending on the usage, can last between 3 to 8 hours. Activities like gaming consume more battery than others. For video editing, most times you do not have as much problem with the battery life.
Features
Processor: Intel Core i7-6700HQ Quad Core.
RAM: 16GB DDR4.
Storage: 256GB SSD and 1TB HDD.
Graphics: NVIDIA GTX1050 4GB GDDR5.
Display: 17.3-inch Full HD eDP Non-Reflective HD.
Operating System: Windows 10 (64bit).
Pros
It doesn't get unnecessarily hot or even noisy.
Good for multitasking.
Its overall performance is top-notch.
Very good display.
Backlit LED keyboard to enable usage even in the dark/dim light
Cons
Verdict
For desktop video editing, we found this laptop to outperform most others in the market, even as it comes considerably cheaper. It comes fully equipped to have the job done from the start to finish and to deliver well even when you want to combine video editing with gaming.
Razer Blade Pro Laptop – 17″ 4K Touchscreen
There is one person that would not know anything about Razer laptops; someone who has no business with playing games. That is because the company is all about producing gaming stuff. Well, it has attempted to make it out of the circle, but it always goes back to roots.
The first thing that pulls you in with this laptop is its beauty and sleek looks which is quite too much for something you get from a 17". Better than its looks, however, is its performance when it comes to gaming as well as for video editing since it doesn't have the crazy game laptop appearance.
With 4K-resolution display and great graphics performance, this laptop ensures that you have the best of both images and videos. More than that, it has a Core i7 processor which should serve you faithfully. It is even better when you consider that it has a 32 GB RAM and generous storage memory.
With all these features, you would have no problem enjoying games, but we think you would enjoy video editing even more.
Because of its use of the Ultra Low-Profile Mechanical Keyboard, you will get this a little noisy when pressing as with other mechanical keyboards. The thing, though, is that according to Razer, the keyboard is the first of its kind, which is definitely designed to move with the slim shape of the laptop.
Features
Processor: Intel Core i7-6700HQ Quad Core.
RAM: 32GB DDR4.
Storage: 512GB / 1TB / 2TB SSD.
Graphics: 8GB Nvidia GeForce GTX 1080.
Display: 17.3-inch 3,840×2,160 touchscreen.
Operating System: Windows 10 (64-bit).
Pros
This comes very close to what you get with a desktop computer, hence it can replace your video editing desktop.
If you are looking for the best portable 17-inch laptop, you can as well place this in that class.
There are beauty and quality to its build.
It is designed with many good features.
Very versatile laptop.
Cons
It is expensive.
The fan is not the quietest.
Verdict
If you are tired of a desktop but you still want that desktop experience from a laptop, this may just be what to answer to your needs. More than that, it comes as one of the most portable 17" laptops. Sure, it is not cheap in price, but if Razer had sold this any cheaper, many people would have asked many questions.
No products found.
MSI GT73VR TITAN 4K-480 Laptop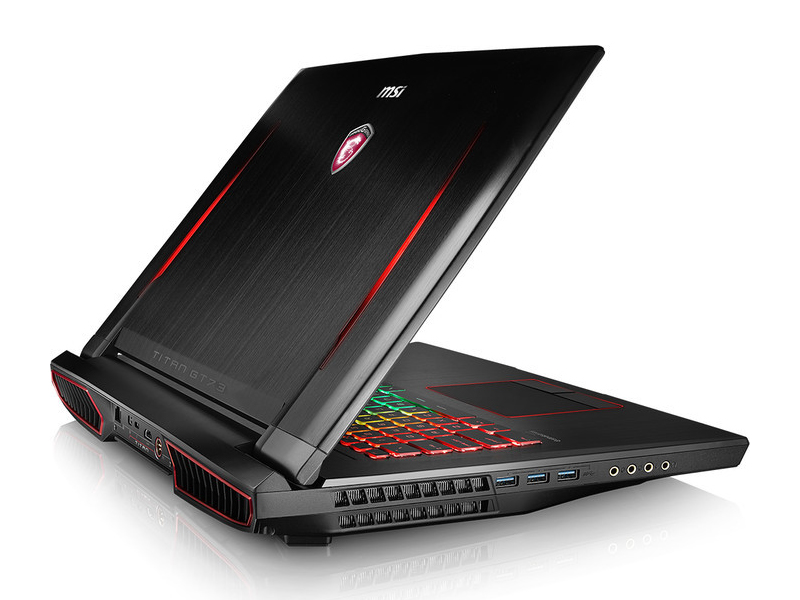 Very few 17" laptops, even among the best, can give desktops that good run for its money; the MSI GT73VR TITAN 4K-480 is among the few both in Gaming and in video editing.
With a unique and strong build, this laptop emerges as a top performing machine that should have no problem as you bully it with unending video editing tasks.
The laptop has a large storage device with a hard drive that goes up to 1 TB. This combines with a good processor, the NVIDIA's Dual GeForce graphic card, and other features to make it complete for editing.
It has 2 RAMs of 8 GB each. You will not be an Oliver Twist if you had asked for more since you can now even get as high as 32 on the 1TB hard drive. Nevertheless, this should be good enough for video editing, and still remain faithful even if you are a heavy gamer.
More so, it combines UHD and 4K display, which automatically gives you a better screen display as you edit to catch every detail and see that every effect is well represented.
One thing isn't as normal with the laptop, and that is its keyboards. It is a little more raised than you get in a regular laptop. While this was supposed to be another innovation, we don't think it has achieved anything spectacularly impressive.
Features
Processor: 9 GHz Intel Core i7.
RAM:16GB (8GB x2) DDR4.
Storage: 256GB SSD and 1TB.
Graphics: 8GB Nvidia GeForce GTX 1080.
Display: 17.3-inch 3,840×2,160 touchscreen.
Operating System: Windows 10.
Pros
Reliable performance.
It ends up being very versatile in handling different things.
Great features.
Cons
It doesn't have the best of keyboards.
For a versatile laptop, the battery could have as well been better.
Verdict
This is a laptop that has turned out to be powerfully made for gaming and yet outperforms many for video editing and other complex activities. It has every needed feature in the right manner which makes it a greatly built performing laptop. As everything is high-end with this laptop, so, unfortunately, is its price but it is well worth it.
ASUS ROG GL752VW-DH71 Laptop
Well, it's another Republic of Gamers, but this time, it performs better as a video editing laptop if you need something to replace your desktop. Apart from video editing, it performs excellently well for multimedia tasks.
With the Nvidia GeForce GTX 960M, this comes ready to deliver very good graphics. More so, it has a 16 GB DDR4-SDRAM that should be good enough for the multitasking works of video editing.
There is nothing too much about its design, but as regards features, it is superb. The laptop's features include a hard drive with up to 1 TB of space, and an upgrade panel, as well as SonicMaster, to give a great audio performance.
Like most other laptops on the list, this is a great laptop, but it beats others when you want something that is that large and still lightweight and even when the workload is too much, this is a laptop that will hardly complain, as it does not easily get hot.
The take with this laptop is that if you decide to later use it for heavy gaming, you may have to get it upgraded to get an optimal gaming experience, especially for graphic intense games.
Features
Processor: Intel Core i7-6700HQ Quad Core.
RAM: 16 GB DDR4-SDRAM.
Storage: 1 TB HDD.
Graphics: NVIDIA GeForce GTX960M 2GB GDDR5.
Display: 17.3-inch Full HD eDP Non-Reflective HD.
Operating System: Windows 10.
Pros
It is one of the lightest 17" laptops.
Very versatile.
It combines good graphics and good audio.
The cooling system is top notch.
Easy to upgrade if need be.
Cons
The battery life is at best only average.
Although you can easily upgrade, we would have loved to see it come with SSD.
Verdict
The ASUS ROG GL752VW-DH71 returned as a laptop that is versatile and easy for multitasking. While it is great for gaming (like all Republic of Gamers) it hits better with things like video editing, photo editing, and other multimedia tasks.
Best Programming Laptops
For best 17-inch laptops for programming, there are certain things you must consider.  While things like battery life and speakers are good, more importantly, are the processor, RAM, dedicated Graphic card, and ergonomic build and keyboard. More so, having a good Hard Drive is key, even as having a good SSD would prove very valuable.

MSI GE72 Apache Pro-003 Laptop
For programming, the MSI GE72 Apache Pro-003 is one among the best 17-inch laptops you can get. The good thing about this MSI product is that while it comes laden with performance features, it is very affordable.
The laptop has a 2.6GHz Intel Core i7-6700HQ processor which means you get to have it fast for the complexities of programming work. This is most especially if you consider that you also have a 16 GB RAM.
More so, it comes with a 1TB hard drive as well as a 128GB solid-state drive (SSD) which both come in handy, although the SSD is not as massive as you may want. Nevertheless, with 1TB hard drive, it is still good to go.
As it is with video editing and gaming, programming also takes a lot of time, as getting those codes right may not be the quickest of things. Hence, the cooling of the laptop needs to be stable and good to preserve its health. That is one thing that is as well good with this laptop thanks to its Cooler Boost 3 cooling system.
The keyboard is also intelligently made with much breathing room and fineness when typing as the response is active and smooth.
Just as with most other 17-inch laptops, the MSI GE72 Apache Pro-003 has good performance for a mainstream gamer. Nevertheless, it may not serve a heavy gamer. Where it excels, however, is in programming.
Where MSI almost missed out on this laptop is as regards the battery life. The battery can hardly give you 3 hours 15 minutes. Based on what you are doing, it may even run out on you before 3 hours.
Features
Processor: Intel Core i7-6700HQ Quad Core.
RAM: 16 GB.
Storage: 1 TB HDD and 128 GB SSD.
Graphics: NVIDIA GeForce GTX 960M with 2 GB GDDR5 VRAM.
Display: 3-inch Full HD eDP Non-Reflective HD.
Operating System: Windows 10.
Pros
It is a very good bargain.
The display is large and clean.
Comes with a good keyboard.
It gives a solid performance.
Cons
Doesn't have the best viewing angles.
Verdict
While this was actually created for gaming, we are unable to recommend it for that, as we find it wanting in that direction. For programming, on the other hand, it meets everything quite rightly, even the keyboard. Whether you want to replace your desktop or you are looking for something for home or office use, this should suffice.
Lenovo Z70 17 Inch Laptop
Another great piece for programming is the Lenovo Z70. Like most other 17 inch laptops, this was as well created for gaming. Nevertheless, we found it very great for programming.
Featuring an Intel Core i7 processor, 16GB RAM, and 1TB storage, this laptop comes ready to replace the former Z70.
We found it very good for hard workers and people who may need a powerhouse in a laptop. Better than that, is how it is able to serve for programming, as it comes with good RAM, graphics card, and even storage space.
You are going to meet people that would try to downplay the importance of a good keyboard in programming; trust us, a good keyboard is a massive plus to a programmer.
What the Z70 offers is a keyboard that is nice to touch and very responsive. The single problem we have with this is that it has no backlight. This means that you may not be able to work with this in the night or when it's dark. Still, the response it gives is good enough not to throw it aside.
Also, it has a battery which can run for up to 4 hours, which is still not the best there is.
Features
Processor: Intel Core i7-5500U dual core.
RAM: 8 GB DDR3L SDRAM.
Storage: 1TB HDD and 8GB SSD.
Graphics: NVIDIA GeForce GT840M 2GB.
Display: 7.3″ Full HD (1920 x 1080).
Operating System: Windows 10.
Pros
Has a powerful performance.
Good keyboard performance.
Features that are right on point.
Not as expensive as most others on the list.
Cons
The laptop keyboard does not have a backlight.
It only has an average battery life.
Verdict
This laptop is one that we found to be good for most multimedia works and gaming and ends up even better for programming. Things to consider more about this are the facts that it has recorded very well in performance as well as the comfort of the keyboard, which are important for a programmer. Unless the price is an issue, this is a nice bargain as it falls between the high priced and the budget laptops.
Dell Inspiron i5767-0018GRY Laptop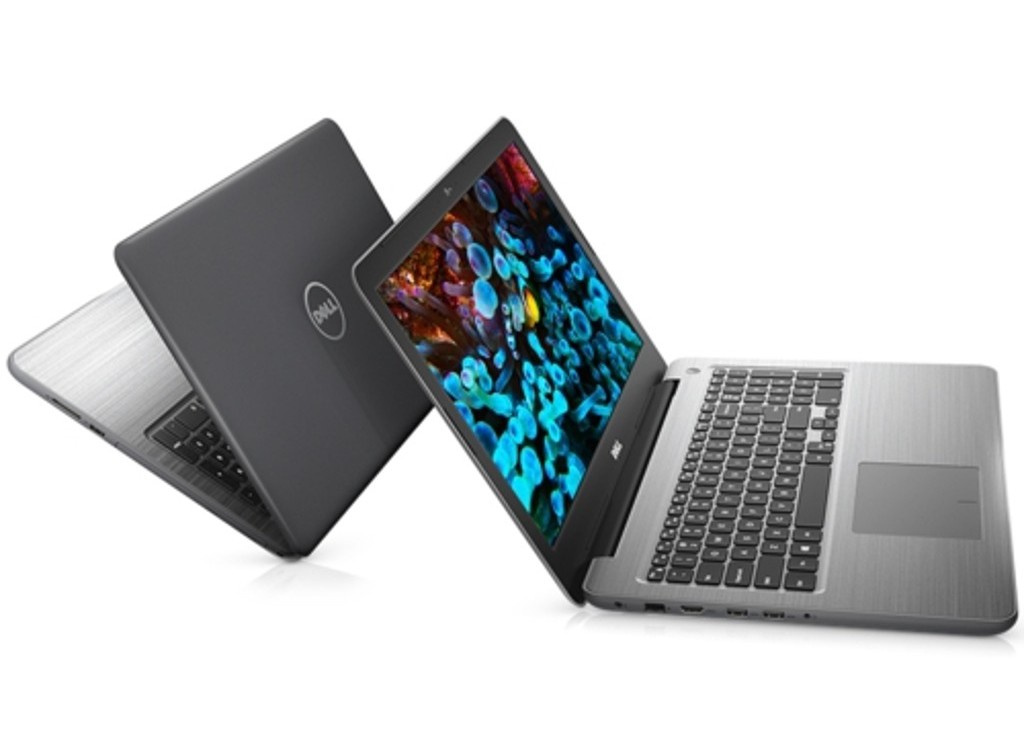 Amongst others on the list, this laptop is pretty new in the market. As massive as it is, it is becoming one of the favorites among people who want to replace their desktops or people who have serious professional work.
One that is easy to love, we have found this laptop to be very outgoing when it comes to programming. On the other hand, for a gamer, it will only give an average performance.
This beautiful laptop comes with an Intel Core i5-7200U processor, 8 GB of Ram, and Intel HD Graphics 620. For programming, the processor and the RAM hit it very right, just as the graphics don't do a bad job.
So far, the 1 TB HDD which is featured on the laptop is becoming the trend. That, however, doesn't change the fact that it is large and generous.
One of the best things about this laptop is that it is light and ergonomically designed. It offers good visuals with the screen, and the keyboard has a backlight and nicely responsive keys.
For those who may even want it faster, you can easily have the HDD replaced with SSD.
Features
Processor: Intel Core i5-7200U.
RAM: 8 GB DDR4.
Storage: 1TB HDD.
Graphics: NVIDIA GeForce GT840M 2GB.
Display: 3″ FHD (1600 x 1800).
Operating System: Windows 10.
Pros
It is versatile.
Can easily replace your desktop for serious projects.
You can have it easily upgraded (if there is a need).
Ergonomically designed.
Cons
It doesn't come with an SSD.
It only has average battery life.
Verdict
This is a laptop that is designed for professionals. For a programmer, it also comes as something that will not fail. This is because while it blends the build and features that a serious programmer would appreciate. The best part is that if you are a programmer who is checking his wallet, this would keep things for you in shape as it doesn't cause any major damage to your savings in comparison to others.
Overall Best 17 inch Laptop: Asus ROG Strix GL702VM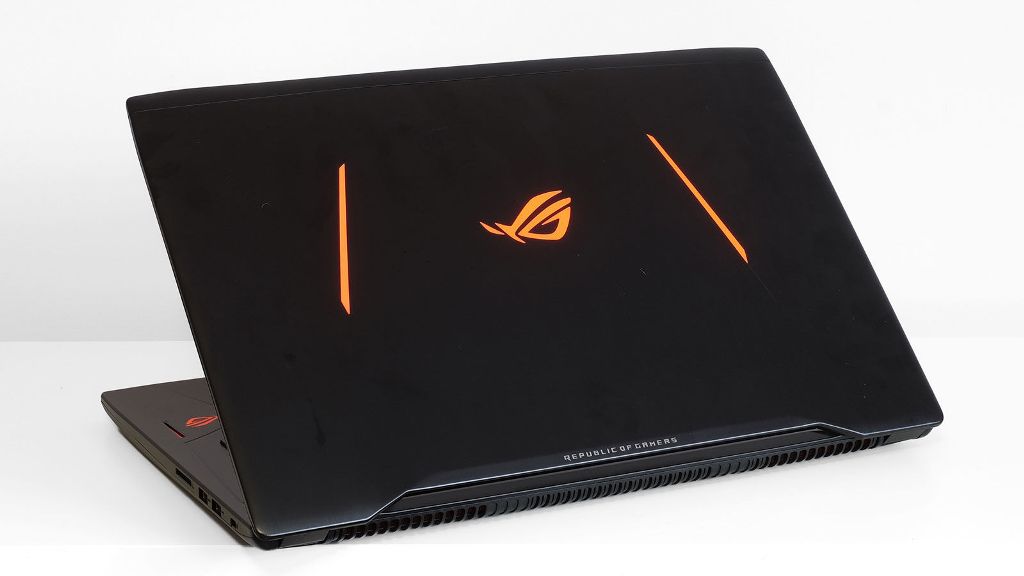 The overall best for us is the Asus ROG Strix GL702VM which has come strong among many others in the market.
A mid-range laptop, it serves most of your needs including gaming needs, video editing, programming, and other things. It is ergonomically designed and lightweight and as such can be classified under the portable class of 17" laptops.
With 8GB RAM, a 128GB SSD and 1TB hard drive; this laptop is a high-performance piece which comes rather cheap. Of course, there are laptops that offer better RAM sizes with storage drives that are even higher, but the overall features of this laptop make it more suitable for different things than just one.
It features the most talked about Nvidia GeForce GTX 1060 graphics card as well as a 6th-generation Intel Core i7 CPU to support heavy-duty gaming.
The design is quite durable, with a black aluminum and plastic cover with added beauty to it, and it is considerably slim and light.
Just as it has a great screen that is good for editing, it also has a very good keyboard. This means that you can keep thumping the programming codes and still feel cool at the end of a long hard day.
More to that, the keyboard has a red backlight, and although nice to touch, it doesn't go as high as most others.
Finally, the battery life of the Asus ROG Strix GL702VM doesn't give anything out of the ordinary. Nevertheless, at over 4 hours, it runs better than most on this list.
Features
Processor: 7 GHz Intel Core i7.
RAM: 32GB DDR4 Dual Channel SDRAM.
Storage: 1TB HDD and 512GB SSD.
Graphics: NVIDIA GeForce.
Display: 3″ Full HD (1920 x 1080).
Operating System: Windows 10.
Pros
It will serve very well if you need a high-performance laptop for general use.
Beautiful and quality build.
With 1 TB HDD and 512 SSD, there is plenty of storage space.
Lighter and more convenient than most.
The performance is very good.
Cons
The click pad is not the best we have seen.
For a general purpose laptop, the battery is only average.
Verdict
If you need laptop specifically for gaming, or something for video editing, or even programming, this may not be the best for you. Nevertheless, if you need one that will give you reasonably good performance for everything, whatever it is, then this should be your companion.
Conclusion
One common problem that most 17 inch laptops, even the very good ones have is the life. Nevertheless, this could be linked to the fact that most times, they are created as replacements for desktops.
Apart from the battery life, most of the laptops well enduring, high performance with a quality build.
Having gone through many large screen laptops, we believe that the above stated are the best that the market has to offer right now. They have excelled in gaming, video editing, programming, and other demanding professional and personal tasks they were challenged with. Therefore, you won't ever go wrong with any of these 17″ laptops.
Thank you for reading!