You must probably have heard people say stuff like "gaming performance has nothing to do with the motherboard." At best, that is misinformed, and at worst, it is outright false.
What real gamers would tell you is that motherboards, or at least the best ones, are the deal to great gaming experience. That is actually what it is, not only for someone wanting to build a gaming PC but also for a mainstream gamer.
So many people easily fall for a motherboard based on its looks or price. From experience, looks have nothing to do with the performance of a motherboard, just as the price, even though cheap ones mostly don't perform well.
Another thing is that although the Kaby Lake is the latest intel processor, it doesn't really mean that it outperforms every Skylake processor since the two do not have a very big difference and it is more than just the processor.
This also means that a good motherboard cannot be defined on a particular thing. Instead, one has to look at different things including its features, performance, quality, and other things. That is what we have done in this review, and we have been able to reach the conclusion that Gigabyte Aorus Z270X-Gming 9 and ASUS A88X-Pro are the best gaming motherboards out there.
Why You Should Trust Us
If you have taken some time out to look for reviews on the best gaming motherboard, then you know how frustrating that could be, as most other reviewers throw around big words and other things that would only make sense to a computer engineer. Meanwhile, you're just a gamer who wants to know what to go for.
That, in one part, is why we have taken upon this review to state everything as clear as it should be, without all the technicalities. At least what you want are the best gaming motherboards and not a degree in motherboards technology. Right?
Nevertheless, we didn't ignore all the technicalities. In fact, we have swallowed them up and in exchange, brought up a more simplified review that you can understand. In doing so, we have gone through what experts have had to say, as well as the opinions of gamers.
Finally, we have brought in our experience with these and other motherboards to bear as we make the reviews.
Best Motherboard For Gaming
Gigabyte Aorus Z270X-Gaming 9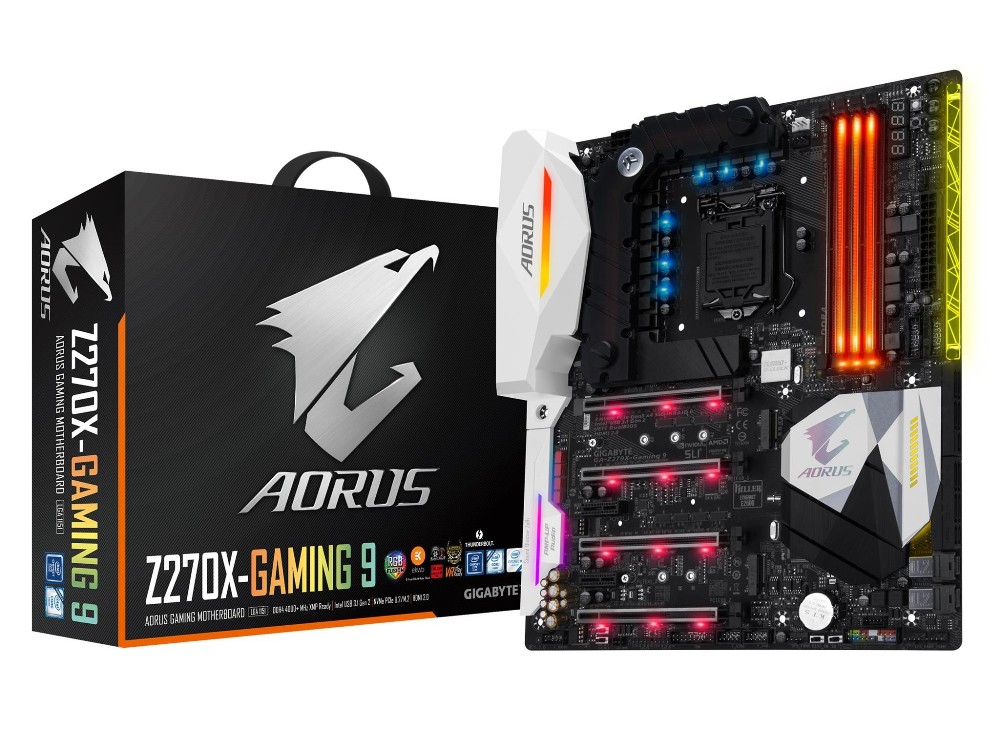 Many people would pass the AORUS with a shove since they do not know anything about the name. Well, it is a child of Gigabyte, and it is adventurous enough to want to shift a little from what we get daily from the mainstream motherboards.
The AORUS Z270X-Gaming 9 is designed as a replacement for the GIGABYTE Z170X-Gaming G1 which performs very good among gamers. As a replacement, we have found the Gaming 9 to be worthy in not so many ways, but rather little yet very important ways.
Nevertheless, this motherboard has emerged as one of the most furnished motherboards compared to other Z270 chipset motherboards. Truth be told, this is a rather big adventure for Gigabyte, considering the responsibilities heaped upon the motherboard as well as the price.
One important thing the AORUS Z270X-Gaming 9 has done is to bring in the Z270 Chipset as well as the Kaby Lake processor which has come to take the place of Skylake processors (remember that Skylake, only years ago, once seemed like the end of the world). To that, the AORUS Z270X-Gaming 9 also has very great protection features.
Support for Intel Optane memory technology, M.2, U.2, SATA 6GB/s, 64GB of DDR4 DRAM, and PCI-Express 3.0., it is designed with various connections such as Thunderbolt 3 port, HDMI 2.0b port, DisplayPort, and five 3.5mm audio inputs.
The first thing you get to notice about this motherboard is its size; it is not one without size. Nevertheless, the large size is not just for nothing.
A million things can be said of this motherboard, and still, it will leave more things to say if the quality of its build is left unmentioned.
Pros
Brings in many new features.
For now, this is the most complete motherboard you can get.
Different and easy overclocking options even for beginners.
Dual Ethernet as well as Wifi connections.
Very strong quality.
Cons
It is not among the cheap ones in any way.
Verdict
This motherboard brings a redefinition to the connectivity of Intel and it is in fact, one of the best Z270 motherboards. Once you can squeeze out and pay for it, there is hardly any serious reason why youg shouldn't go for it, whether as a serious gamer, a new gamer, or even a builder. It has beauty, style, performance, and endurance.
ASUS A88X-Pro Gaming Motherboard
First of all, the place of Asus has been established beyond producing the best gaming boards, to one of the best in computer components.
The ASUS A88X-Pro is one motherboard which we find rather amazing in almost every way. Apart from supporting AMD's latest Kaveri APUs, it comes with features that are not only great but enduring.
This FM2+ motherboard as suggested by its name makes use of the A88x chipset. Better than other Chipsets, you get better overclocking which is both reliable and very stable.
Also, when overclocked, the motherboard can support up to 64GB of Ram at a maximum speed of 2,400MHZ. This is thanks to its 4 DDRs DIMM memory slots.
To its long list of features, the A88X pro comes with Dual-channel DDR3 memory for data transfer that can get as high as 5GT/s. It also features the UEFI BIOS which improves the performance and makes for easy overclocking.
Apart from its much talked about overclocking, it also comes with very generous memory space as well as USB 3.0 and SATA ports. There is better control of power consumption as a result of its dual intelligent processor, which plays to keep the motherboard cool as well for longevity.
This motherboard has emerged top among other FM2+ as it gives better features, overclocking, memory space, better audio codec, more USB 3.0 ports, and in fact, almost everything it gives is better than most you get from most others. Although the price is higher than most others, it is worth every penny it gulps in since you may end up saving even more in the long run with this motherboard considering the features it packs, and for how long it delivers.
Pros
Great data transfer enhancing better gaming experience.
Better graphics display.
It has interesting features to make for better audio quality.
Very good overall performance and speed.
Designed with features to enhance.
Cons
Some may find it rather expensive.
Verdict
Most things about this motherboard point to enhanced performance thanks to overclocking. More than that, it is highly durable and designed to be very reliable. Hence we would recommend this motherboard to a gamer who needs performance and durability, or for someone who wants to overclock. In most things, this motherboard delivers as much as twice of what others promise.
ASUS ATX DDR3 2400 Motherboards A88X-Pro
Dual Intelligent Processors 4 with 4-Way Optimization
4-Way Optimization - One Click and Done! Top-up Performance, Efficiency, Digital Power, and System Cooling
MSI X99A Godlike Gaming Motherboard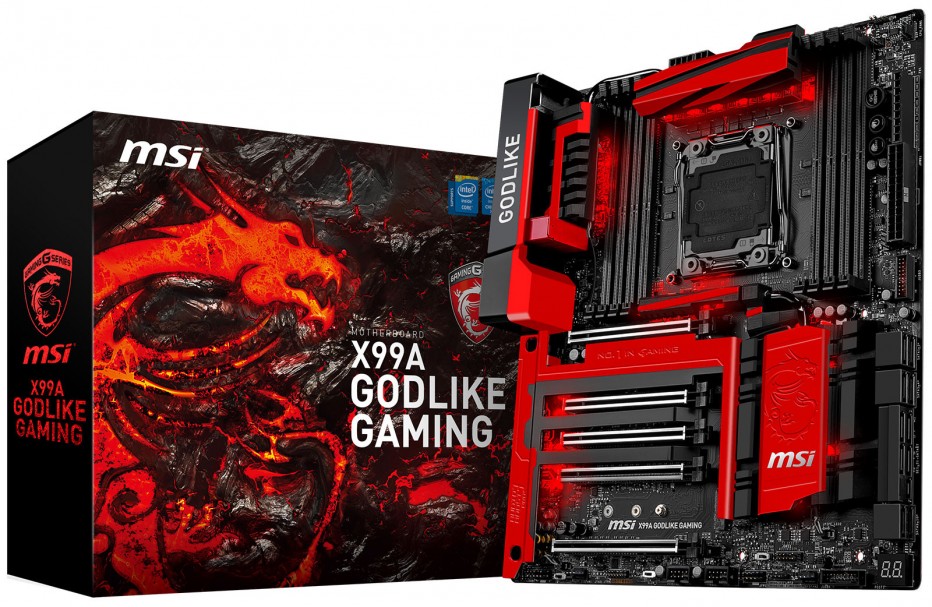 It is one thing for a motherboard to claim it is great and it is another thing, which is entirely adventurous, to claim to be godlike when it comes to gaming. First off, a claim like that is sure to draw attention, and secondly, raise many questions.
MSI doesn't care about that with its Godlike Gaming, which is part of its amazing X99 based motherboards. First things first, if you are among those whose first question is on looks before everything else, the motherboard has a very nice design, with it red and black colors.
It supports the New Intel Core i7 processors Extreme Edition and features USB 3.1 which means you get up to up to 10Gb/s in speed.
The motherboard comes with the features RGB lighting effects which it terms the mystic light. The interesting thing about this light is that it has various options of control including a Windows application and Bluetooth through your phone or tablet 4.0 application.
Too much tweaking options come with easy confusion. This has broken that, as while giving so many tweaking options; it is still very easy to get by. More so, you get very good overclocking with the motherboard.
You get to have great audio experience with up to five different audio amplifiers. These complement its dedicated DAC on top of the Realtek Codec to get the audio business to even another level.
While everything seems to have the green light, what most people would give the yellow or even red light is the price.
Pros
This is one of the most complete motherboards you can get.
Nice tweaking options and user-friendly.
Has more important features than most others.
It comes with both WIFI and LAN connectivity.
Great overclocking.
Cons
It goes at a price not many people can easily cough out.
Verdict
Truth be told, we have given this motherboard a closer look than most others wondering why it appears arrogant. At the end, it has bailed itself easily. Once you can be adventurous enough to break your wallet, there should be nothing to stop you from getting this adventurous motherboard. It is complete in design, performance, and every other thing a gamer may need.
Asus Z97 Pro Gamer Gaming Motherboard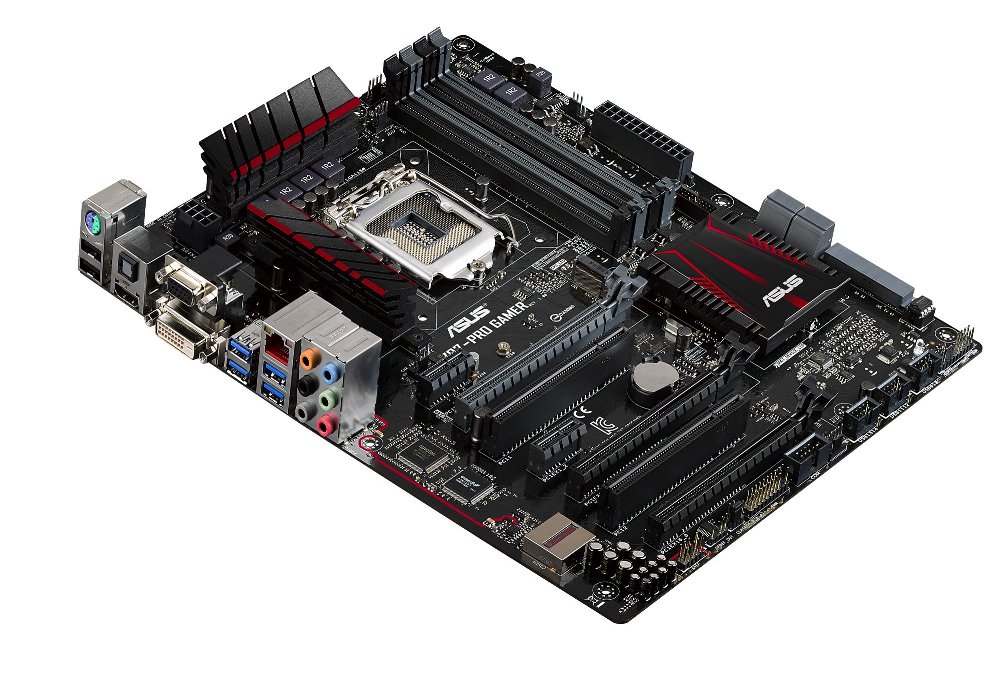 We actually took to the review of this with a very blank mind. This was because we didn't know what to expect as the Z97 Pro-Gamer was the first motherboard from Asus that came in the affordable range. We were wondering if Asus would maintain its quality, or lose it because it wanted to make something cheaper in price than it had always done.
This motherboard comes as part of the company's Intel Z97-based line of motherboards. It features 10 Gibt/s M.2 and SATA Express connectivity. More so, it supports the 5th/New, 4th Generation Core i7, Core i5, Core i3, Pentium, and Celeron Processors.
For builders who want some overclocking, you can do that both through the Advanced Mode in the UEFI as well as the EZ System tuning option which is as easy as can be.
The Audio is enhanced by the SupremeFX audio solution which has always been with the ROG motherboard series to give headphone amplifier, EMI cover, and premium ELNA audio capacitors. There is also the Intel i218V network controller for improved LAN connectivity.
As regards the graphics, the motherboard assists in getting great graphic quality when gaming. This is thanks to the Integrated Graphics Processor. More so, you can have up to 3 displays simultaneously.
It comes with some software features including the Sonic Radar II software for what some consider to be better gaming experience (although we don't), and Game First II branded version of cFOS software to manage your network.
Above all, if you mistook this for one of the ASUS ROG (Republic of Gamers) motherboards in both looks and performance, you are not alone.
Pros
Performance that is above the bar.
Audio quality that is enhanced.
Smartly designed.
Not the most expensive.
It comes with features for gamers as well as for the protection of the board.
Cons
At some point, the audio quality seemed like needing some improvement.
Verdict
If great design freaks you out, you may be disappointed. Nevertheless, while not great, the design is smart. More so, we found the motherboard to be amazing most especially when you consider its price. If the Z97 boards are your thing, this shouldn't fail to satisfy, as it behaves like the ROG motherboard.
Asus H170 PRO Gaming Motherboard
The Asus H170 PRO Gaming is a motherboard which has optimized gaming features. It supports Intel Core i7/i5/i3/Pentium/Celeron processors and comes with Dual DDR4. It also has the H170 chipset and is designed for LGA 1151 CPU Socket.
The motherboard comes with both the USB 3.1 and M.2. More so, it has 4 RAM slots which are at a max of 64 GB. While this is not exceptional, it is as good as most can give. Apart from that, there is as well the RAMCache which caches your hard drive or any storage device and results in the fast launching of games.
It makes use of an 8-Channel SupremeFX audio technology, thereby giving high-quality audio which does not lose its stability. More so, with the help of the technology put in, you get almost a lossless quality with your gaming as regards audio quality.
Now there is something with this motherboard, and that is the Sonic Radar ll. What this does is to tell you the source of threats as you play a game. This includes where a shot is coming from, the direction of footsteps, or what direction an enemy is taking. Some people have found this to be very good but we didn't. Where is the fun of deciphering it yourself?
For a gamer, the best thing about this is the generous features it comes with such as the SupremeFX, RAMCache, Sonic Radar II, and GameFirst which enhances better network connectivity for streaming among others.
Pros
Very great sound quality with minimized interference.
Good overall gaming performance.
Graphics is great.
Super connectivity.
It is very affordable.
Cons
We still hold that with the Sonic Radar ll, the fun of game may be less.
It doesn't support overclocking.
Verdict
The Asus H170 PRO Gaming motherboard is able to collect together many features that any gamer should appreciate. As such, we recommend this to a gamer who wants more than features to his gaming experience, as well as speed and general performance. The good part is that the motherboard is very budget friendly.
No products found.
Asus ROG Strix Z270i Gaming: Best mini-ITX motherboard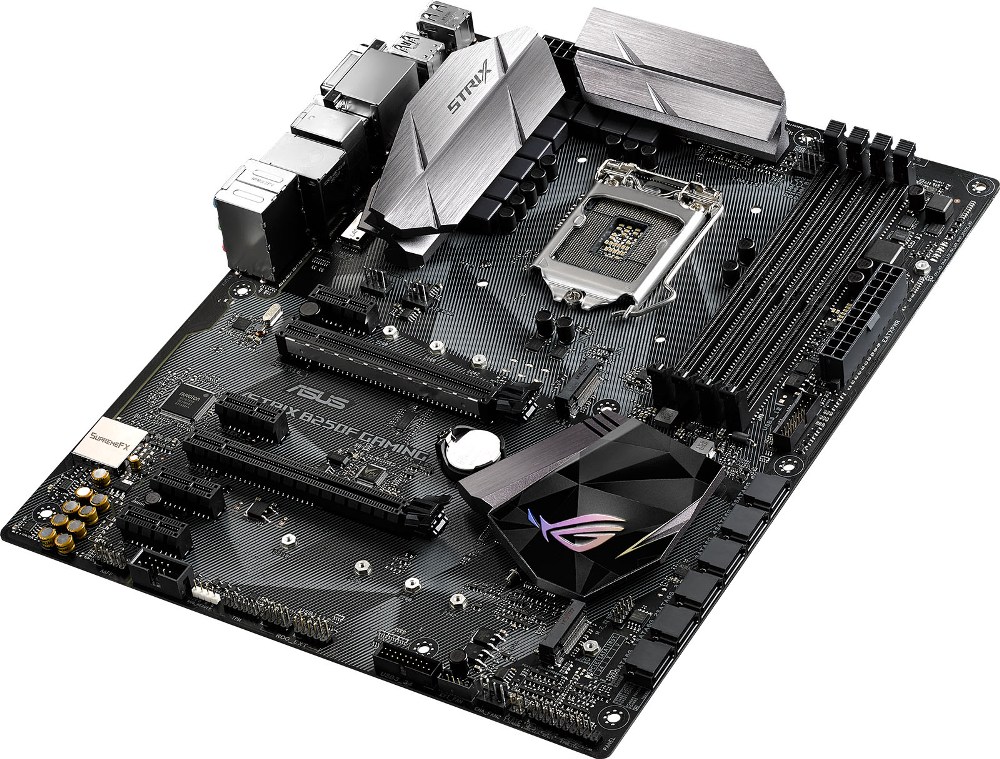 In the books of Enthusiasts, there is the Republic of Gamers (ROG) for a long time. The ROG has maintained the fact that Asus has always defined the direction of the wind when it comes to the best gaming motherboards. One thing that the ROG series, including Maximus, Rampage, Crosshair, and Strix, have is great performance.
With the ROG Strix Z270i Gaming, Asus has opened yet another chapter as it marks the entry of its ITX into the new intel Z270 chipset.
The ROG Strix Z270i Gaming is Asus mini-ITX motherboard. It comes with the Intel Z270 Express Chipset and supports both the 6th and 7th Generation Intel Core processors, which means you have been brought a step ahead of what most other motherboards use.
It makes use of the USB 3.1 controller which runs at PCIe 3.0 x2. This means that you get to have even better data transfer speeds. NVMe SSD RAID is supported by its Dual PCIe Gen3 M.2 for boosted performance.
For the purpose of gaming, this motherboard is designed with various features. These include GameFirst IV, CloneDrive, Overwolf, Lighting Control, Sonic Radar III, Sonic Studio III, and RAMCache II. It also has ASUS CrashFree BIOS 3 which is an auto recovery tool in case your BIOS file gets corrupted, as well as Fan Xpert 4.
Other features that make this up include Intel LAN and dual-band WiFi for connectivity, the AURA lighting technology that allows you to customize.
Pros
Very compact.
Tailored overclocking for maximum performance.
Speedy and reliable connectivity.
Comes with Wi-Fi connectivity.
Cons
You do not get more PCIe x16 slots this is understandably due to the fact that it is a mini-ATX.
Verdict
If what you need is a compact gaming motherboard, this may as well be the best you can lay your hands on at the moment. Its selling point is more than its compactness. Rather, it is how it combines rich features and amazing performance.
ASUS ROG Strix Z270I Gaming Motherboards ROG Strix Z270I
5 Way Optimization with Auto Tuning and FanXpert 4 automatically tailors overclocking profiles to your unique build for maximum OC performance and dynamic system cooling
Patent Pending M.2 Double Decker Heatsink shrouds the main M.2 slot and provides shared cooling for both the M.2 and PCH
Gigabyte GA-Z170X Gaming 7 Motherboard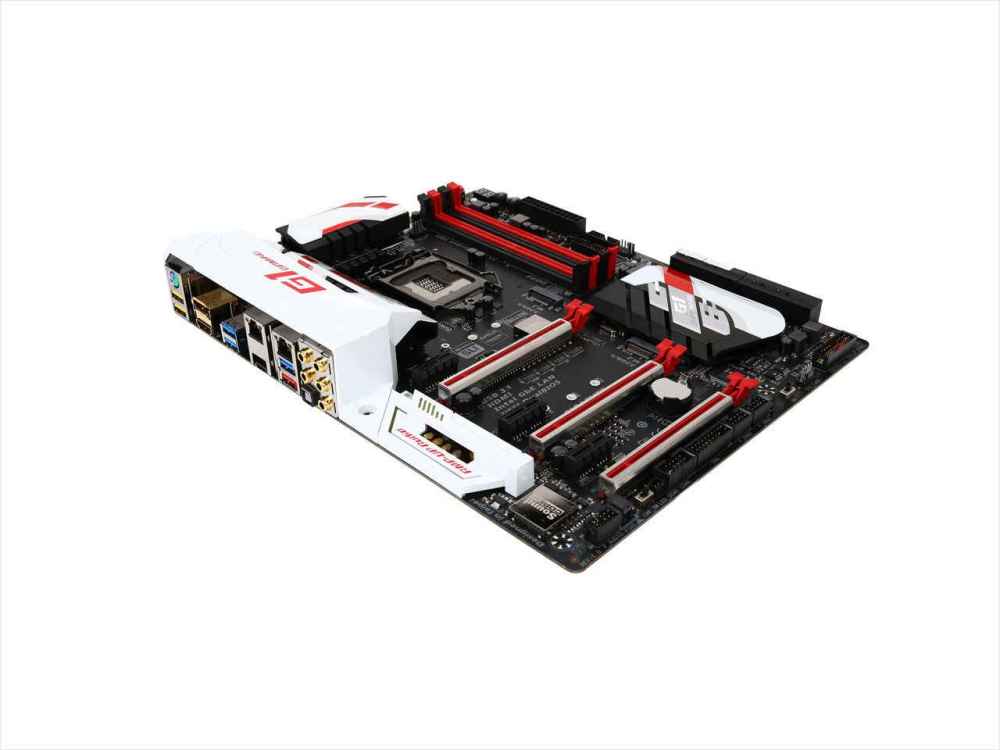 Two things that should pull you to this motherboard are its aesthetics and the fun look it comes with. The thing, however, is that beauty and looks add nothing to the performance or features of the motherboard.
Hence to more important things, the Gigabyte GA-Z170X Gaming 7 gives a run for more money that it goes for based on its massive onboard features and performance.
As to its performance, we found this to be very impressive even as it consumes less power.
It makes use of the Intel Z170 Chipset, which is one of the very best there is, and it comes with 4 DDR4 slots. Also, with the Turbo B-Clock, it comes with, to help in easy overclocking.
We have come across reviews that claimed the audio quality of the Gaming 7 is poor. Well, that is neither entirely true nor is it entirely false. After going through it over and over again, it turns out to us that while the audio is not one of the best things about the motherboard, it is above the average mark. This is thanks to the Creative SoundCore Gaming Audio feature which was used.
It also has a LED lightening system that doesn't just add to the fun but serves when you need to use it with low light.
It comes with accessories such as a door hanger to tell intruders not to disturb, driver CD, cables, and other usuals.
Even as everything seemed to be working just fine for this motherboard, we found it lacking when it came to audio. With its op-amp and Sound Blaster Recon3Di, we have found the audio to be better than a few in the market, but we feel its quality could have been enhanced.
Pros
Killer performance.
It comes with generous features.
It has the audio to beat.
Great design.
Worth every penny spent on it.
Cons
Verdict
While it is not more priced than most, we feel it fairly gives more than most others. This is because it shoots up overall performance even as it comes with as good features as most others give. The motherboard also has an appealing design, hence it is very complete in every way.
Gigabyte GA-Z170X Gaming 6 Motherboard
This motherboard falls among those that are affordable. This doesn't mean that it is lacking in anything that most others on this list have, although it is not as upgraded as the gaming 7. Nevertheless, they have much in common.
More than most things, its overclocking is one of the best things about this motherboard. It is enhanced by the TURBO B-Clock Tuning IC which makes it easy for one to fix the BCLK Frequency where you prefer between 90MHz to 500MHz. This means a lot to overclockers since it breaks the 5 percent barrier, which was the norm.
The motherboard supports 6th Generation Intel Core processors and dual-channel DDR4. It as well supports USB3.1 GEN2, meaning that you get lightning fast transfer speed that beats the GEN1, and the USB 2.0. You can have file transfer of up to 10 GB/s.
Apart from its great overclocking, the gaming 6 is designed with overwhelming features. These include its display port, High-Definition Multimedia Interface, Nvidia SLI Technology, and AMD CROSSFIRE Technology.
All the features perform differently with the aim of giving better experience. With the High-Definition Multimedia Interface (HDMI), you get as high as 5Gb/s video transmitting bandwidth as well as 8-channel high-quality audio which can hardly be rivaled by many others. While with the AMD Crossfire technology, you get better graphics performance after using up to four GPUs in a single computer.
It also comes with some software in its unified APP Center, which act differently towards giving a better experience.
Pros
Generous overclocking.
Quite affordable.
Very good performance.
Comes with overwhelming features.
Cons
It is not the easiest to use.
Verdict
While an upgrade of the gaming 5 and having some features of the 7, GA-Z170X Gaming has turned out with good performance. Considering that Gigabyte took to dropping motherboard after motherboard, you would expect to see some mediocre productions in between. Although it produces some mediocre ones, the Gaming 6 is not one.
Sale
ASUS ROG Maximus IX Hero Gaming Motherboard
The ASUS ROG Maximus IX Hero happens to be that motherboard that is somewhere among the premium motherboards and at the same time close to the cheap ones. It is designed for those who want to get the premium at a price that is not premium.
A part of Asus ROG-series motherboards, this ATX motherboard comes with great overclocking features as well as two 10 GB/s USB 3.1 controllers. It also comes with 4 DIMM slots and 2 M.2 slots.
It has an upgraded ROG ALC1220 HD codec serving to give better audio for gamers. We have found this audio to be appreciated even among audiophiles.
You will get surprised at the kind of testing tools the Hero comes with such as the LED Post which plays importantly in system diagnostics and the MemOK! Button to check memory stability.
Other features it comes with the Intel Optane technology as well as the Aura sync option. What the sync option does is to allow you sync your device to any other that supports the Aura lighting technology.
Like ASUS typical motherboards, this comes with various software including anti-virus, Sonic Studio 3, CloneDrive, and KeyBot II.
At the end of the day, it provides something for someone wanting to have a stylish gaming rig as well as newbie builders. It is a powerful and stable motherboard.
Pros
Very decent and generous gaming features.
Easily customizable.
Comes with various connectivity options.
Great choice for overclockers.
Designed for high-end stability and durability.
Cons
It is not the best when it comes to pricing.
Verdict
This gaming motherboard comes with both premium experience as well as a price which does not break your jaws. More so, apart from the many features it comes with, the fact that it is ROG and hence comes with the Republic of Gamers features is more reason why one should bet on it.
ASUS ROG Maximus IX Hero LGA1151 DDR4 DP HDMI M.2 USB 3.1 ATX Motherboard
Designed for 7th generation Intel Core processors to maximize connectivity and speed with Dual M.2, front panel USB 3.1 and Intel Optane Memory compatibility
5-Way Optimization with Auto-Tuning and FanXpert 4 automatically tailors overclocking profiles to your unique build for maximum OC performance and dynamic system cooling
MSI Z170A Gaming Pro Motherboard
It's either intel motherboards or nothing for most people. If you are in that class, you must have known the reputation MSI has had over the years. It is one of those companies that have been able to evolve with the exact tune of time.
With the Z170A Gaming Pro, MSI has dropped the 6th generation Intel Core/Pentium/Celeron processor at your feet at a budget friendly price. The processor supports LGA 1151 socket.
This Pro motherboard has Intel I219-V controller in place of the Killer NIC which has answered the pleas of many people. It has been stripped of other things such as buttons which featured in earlier versions.
While coming less endowed, that is if you consider those buttons to be important in any way, it comes with better performance and solidity. Still, it has beauty to it and more important features than most others in its class.
This is designed for much durability. That is with the titanium choke it comes with, making it withstand a very high temperature and extreme gaming. More so, there is a provision for easy diagnosis so that you get to know what may be wrong with your motherboard with the EZ debug led.
Since it is the UEFI Bios interface that is used, you get to have a simple click and play even for a novice, as well as better performance.
It features software such as OBS streaming software, SteelSeries software, CPU-Z, Intel's XTU software, RamDisk software, Live Update 6, and Led software which all play differently at giving great gaming experience as well as better motherboard functioning.
Pros
It is highly customizable.
Nicely and beautifully built.
Great gaming features.
Stability, quality, and durability even for extreme gamers.
You don't need to be a pro to install and use this Gaming.
Cons
Not the fastest on the list.
It may not be the best for serious overclockers.
Verdict
If you want a motherboard that you can easily customize, the MSI Z170A should be good to go. More than just the option of customization, this motherboard has many unique and great features for durability and stability. If you want something extremely fast, however, we'd rather you go with the ASUS A88X-Pro.
MSI H110M Pro-D Motherboard For Gaming
Although this is not one of the most decorated motherboards or even one with many features, it does not perform badly for its price or even against others in its class.
The motherboard has the RTL811H gigabyte LAN controller for networking, and it supports four SATA 6Gb/s. It also has 2 DIMM slots for DDR4. More so, it has 2 RAM slots and only 1 PCI-E 16x slot
It features three red LEDs for diagnostic purposes. They serve to check issues relating to CPU, RAM, and VGA. Other features are Guard-Pro which serves to improve protection and power efficiency, Overvoltage Protection, Intel SBB support, and Click BIOS.
Thanks to its Audio Boost, there is very good audio quality as you play.
For its price, we found the performance of this motherboard to be more decent than what others offer.
Pros
Great performance.
It is budget friendly.
You don't need to be a pro to get it going.
It features Diagnostic LEDs to keep in check.
Good audio quality.
Cons
Sparsely designed even with space for other connectors such as HDMI, Display Port, and VGA.
It only comes with 2 ram slots.
Verdict
The thing with this motherboard is definitely the price. It beats it for someone wanting something just for performance, and not necessarily something complex to build on. While it doesn't have many features, the few available are very good. What this means essentially, is that it is not one that will allow you much tweaking options. If that is not what you want, you can go for the MSI H110M Pro-D on a tight budget.
Best Budget Gaming Motherboards
Note: We don't advise you to go for a cheap motherboard just to save a few dollars; it's not worth the headache and the later cost. Here are some, however, that are good even as they are budget friendly.

MSI H270 Tomahawk Arctic Gaming Motherboard
This is yet another great motherboard which comes with very generous features. The motherboard is somewhere between the premium motherboards and the budget ones. It is one of the latest to come on board.
The MSI H270 Tomahawk Arctic features an Intel H270 chipset and doesn't come with much in the packaging. And before we get anywhere, it is important to know that it does not come with overclocking functionality.
This white motherboard supports multiple graphics cards via AMD CrossFire, and comes with DDR4 technology which can get up to 2400 MHz in frequency. Another thing is that it supports Intel's 6th and 7th-generation of processors.
It features four RAM slots which do not go beyond 64GB. In total, it has 3 PCIe x16 Slots, dual M.2 slots, and 6 SATA ports. Nevertheless, it doesn't support SLI.
For its audio solution, MSI made use of Realtek ALC 892 7.1 channel audio. Unless you are an audiophile, this audio solution should do just fine.
The entire design and features of this motherboard is very much like for mainstream gamers, considering that they are okay with a single graphic card and may not need GPU.
Pros
Decent and quite interesting features.
Still fair as regards price.
Good speed.
Hits the bar for mainstream gamers.
Cons
It does not come with overclocking abilities for CPU.
Probably to make it not expensive, it doesn't come with the MSI steel armour except for the sockets.
No SLI Support.
Verdict
If what you want is just a simple gaming PC, you can go with this. If however, what you want is something with overclocking abilities that comes cheap, you can as well go for the Gigabyte GA-Z170X Gaming 6. If you are building a simple white PC, there is hardly a thing to lose with this decent motherboard.
MSI H170I PRO AC Gaming Motherboard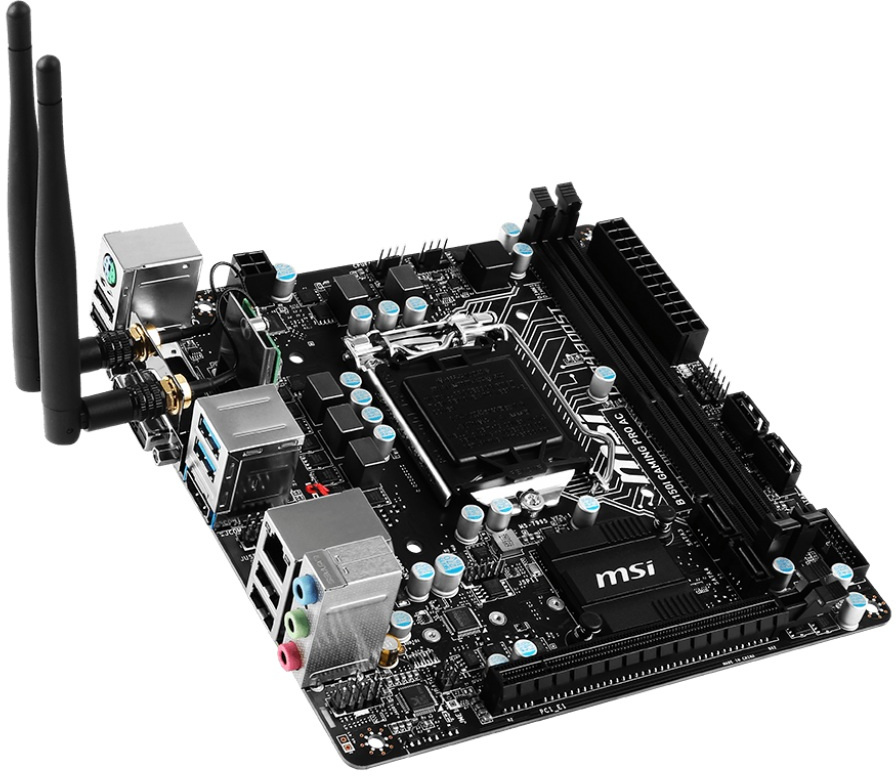 We have found this to be a little different in features from most others. It comes with fairly enough features though not as much as most. Nevertheless, no one would expect to have it all with a mini-ITX board, most especially when you may want to expand.
The MSI H170I Pro AC LGA1151 Mini-ITX Motherboard is designed with Intel H170 chipset as well as LGA1151 socket and supports Intel's 6th-generation of Skylake processors. More so, you get to have two DIMM slots, which can move with up to 32GB of DDR4 2133 MHz memory modules.
For a gamer, the motherboard comes with interesting features such as the Turbo M.2 which is way faster than SATA III. This is important if you want to get your game to load faster. Also, it features Intel Wi-Fi / Bluetooth antennas which support Bluetooth 4.2 as well as for wireless connectivity.
Designed with three audio jacks, Chemi-Con audio capacitors, as well as audio layers, this motherboard gives premium audio quality. More so, there is an isolated audio PCB and a front headphone-out connector.
One of the best things that this motherboard comes with is protection. The most popular of these is its LED Light technology. There is one that indicates if protection has been set to prevent overvoltage and short-circuit damage of components, as well as three LED lights that check if CPU, memory, or graphics are working as they should.
It is provided with different software packages such as the Click BIOS 5, which comes with EZ and Advanced modes for the purpose of a boost in performance, M-Cloud for an easy way of saving personal files in the cloud, and Total Fan Control.
Pros
Has WIFI.
It is built with quality in mind.
It is wise for the budget minded.
Solid protection for the entire motherboard.
Cons
The M.2 slot is PCIe-only.
Not the best for someone who may need to expand.
Verdict
If what you want is a Mini-ITX board that comes with Wi-Fi connectivity as well as great features such as the diagnostic LEDs, this should mostly do. More so, while it doesn't come with every feature, as none does, it comes with the most important features a gamer should need.
ASRock Fatal1ty X99 Pro Gaming i7 Motherboard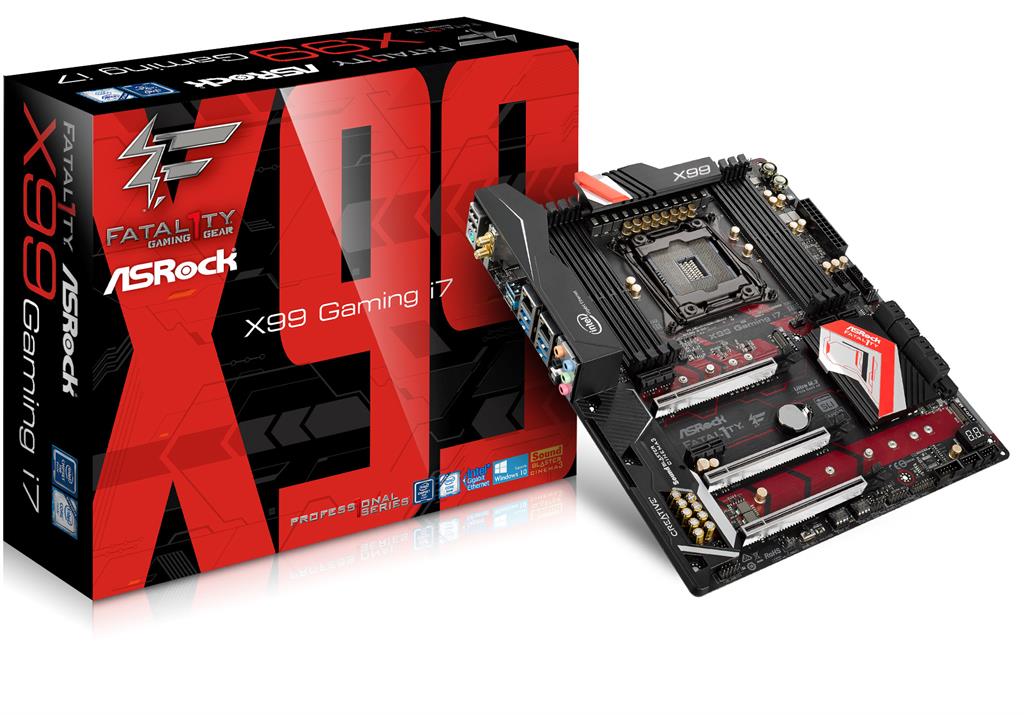 Before now, ASRock is not one of those that many people would run to for things like motherboard. Nevertheless, the company has risen slowly and yet boldly to join on the Intel and AMD platforms. Like any trying to get the market, the company has gripping design and carefully crafted features.
The ASRock Fatal1ty X99 Pro Gaming i7 is designed with Intel's Z170 chipset and equipped with 12 power phases. The motherboard supports the 6th generation Intel Core processors as well as the latest DDR4 memory modules.
What we love most about it is that even as it comes with much features and connectivity, it is among the best budget boards you can get for gaming.
It comes with interesting features such as SATA Express, M.2, USB 3.1, and support for Skylake. It has 2 Gigabit Ethernet Intel NICs and 2 PCI-E x1 connectors, which can take up to four HSIO lanes each.
The graphics and audio are very good for any gamer to appreciate. More so, it doesn't lose out on stability and endurance, thanks to the Extra large aluminum alloy heatsink it comes with. The aluminum alloy plays to take off heat from the MOSFET and chipset. What this does is to allow the motherboard have a stable performance.
When you get to compare this to the ASROCK Fatal1ty Z170 Gaming K4, you will find out that while this looks and feels strong, the other is very light that you get to think it is cheaply built.
Pros
Great and interesting features.
It is an enduring piece.
Very good performance.
Decent power control.
Good for overclockers.
Cons
You may not have the best of connectivity when you want to have different devices at the same time.
Verdict
Of all motherboards in the same price range, the Fatal1ty X99 Pro Gaming i7 has performed very well. In fact, even for some above its price. If you want something at a budget price that can perform almost as good as the high-end ones, and even give many features, this motherboard is not a bad idea.
Conclusion
At first, we were disappointed to have found the best gaming motherboards to be topped by ASUS, Gigabyte, and MSI. Nevertheless, our disappointment later turned to excitement seeing how these companies have been able to largely dominate in a very good way. Finally, we do not believe that the best gaming motherboards should only give you the best gaming experience. Instead, they should as well serve for a good time and should come with great features and even allow for overclocking.