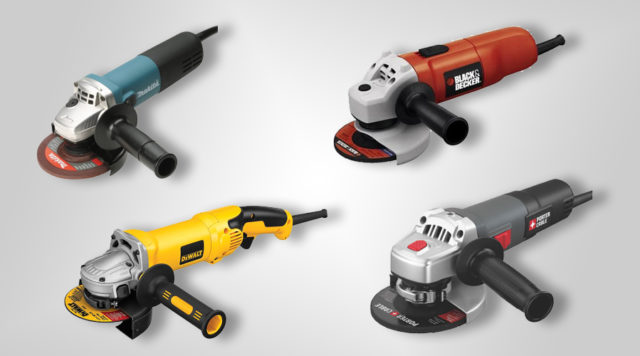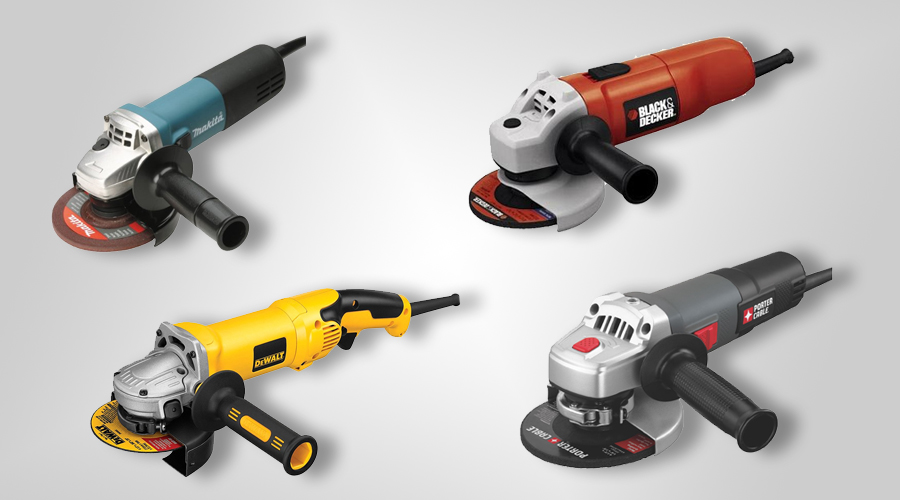 A good workman doesn't quarrel with his tools. This is a popular saying most of us are familiar with and probably agrees to. However, a good workman's effort will be frustrated when he is not working with the best tools, in this case, the best angle grinder.
Whether it is for old paint or rust removal, preparing a surface for painting, tuckpointing walls, carving wood, cutting concrete, ceramics and stones, polishing auto body work, severing bolts, grinding welds to a smooth finish or cutting pipe for plumbing and chopping rebar for reinforcing concrete. Just name it, think of it or imagine it, angle grinders are versatile but the best angle grinder is more versatile, durable and smooth to operate while showing off a neatly done work after each use. They come in various shapes, designs, properties and with different added safety features. Nevertheless, their basic engineering design and use remain the same everywhere. The best angle grinder is made with high-quality disc and motor.
The best angle grinder combines a decent disc size, motor and horsepower. A thorough review of the many angle grinders available in the market saw DEWALT DWE402 4-1/2-Inch 11-Amp Paddle Switch Angle Grinder and Makita 9565CV outperforming the competition. In addition, 3 other products were reviewed here and you can trust they are strictly top rated products worth buying. A purchase of any of these recommended best angle grinders is a smart buy. You can't imagine living without one once you make your first purchase. Angle grinders come in for a variety of uses and are one of the most versatile home and workshop tool every homeowner or workman must have.
Best Angle Grinder
DEWALT DWE402 4-1/2-Inch 11-Amp Paddle Switch Angle Grinder
Dewalt is a respectable brand in the market of best angle grinders, and they offer one of the top-rated angle grinders with the DEWALT DWE402 4-1/2-Inch 11-Amp Paddle Switch Angle Grinder. It is a 1400 watt cord powered device with a wheel diameter of 4 1/2 inches, a spindle size of 5/8″-11 packed into a tool length of 12 inches. A bit long you might say. However, you will enjoy power and performance like never before and save time and stress while working with DEWALT DWE402. It is durable and remarkably has a dust/debris ejection system. A one-touch guard for 360 degrees rotation and a quick change or wheel release for easy wheel removal. This grinding tool was made with every intention to have it last donkey's years for you. I particularly see it as a valuable purchase when compared to other products in the market. It is not too heavy being made of plastic and metal, has a slim comfortable grip which is encouraging for prolonged use. This is a tool every handyman or woman should have.
Pros:
Dust/debris ejection system
Two times brush life with its oversized brushes
Large spiral bevel gear provides long transmission life
Paddle switch with safety lock-off prevents accidental startup
360 degrees one-touch rotation of the guard with a single action
Top mounted and protected spindle lock button for maximum depth cut
Auto-off brushes shut the tool down when the brushes need replacing to avoid tool damage
It spots the next generation 11 Amp AC/DC 11,000 rpm motor which gives the best power to weight ratio
Cons:
Verdict:
DEWALT DWE402 angle grinder offers much more power than most other products. It is easy to use as you can mount the disc on and off without any tools or assistance.  It is also not too heavy as even the lightest hands can work well with it having no complaints no matter the length of usage.
Sale
Makita 9565CV 5″ SJS High-Power Angle Grinder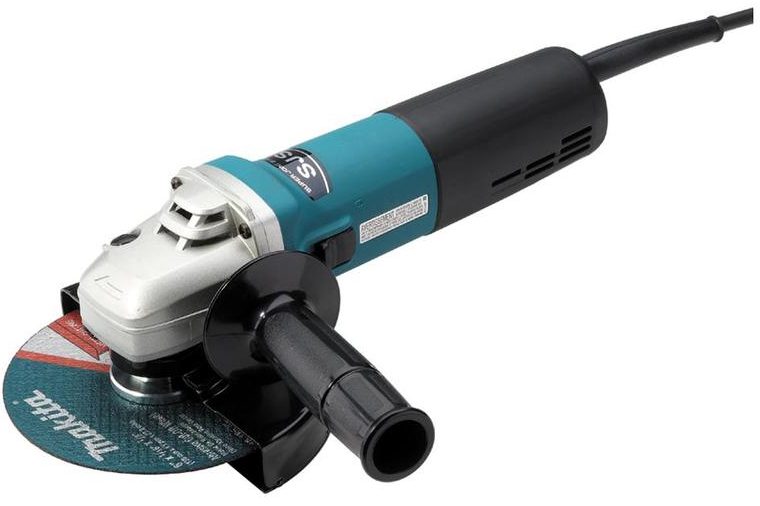 Makita 9565CV 5″ superior joint system (SJS) electric high-power angle grinder is powered by a 12 AMP motor with soft start function for smooth motor start-up. It comes with a protective zig-zag varnish that seals the motor and bearings from dust and debris by creating a barrier under rotation. This device has an SJS feature that disengages the motor should the grinding wheel accidentally catch or bind, the electronic motor reduces accidental motor overload and burnout in the course of usage.
See Also: Best Work Gloves: Buying Guide For Protecting Your Hands
Makita 9565CV has a 5 stage variable speed feature which is ideal for stonework polishing and grinding. It weighs just 4 pounds and I particularly like the fact that the side handle can be installed on either side of the tool. Left-handed persons will find this highly beneficial as most other angle grinders don't come like this. In the course of usage, I also discovered that the tool-less wheel guard adjustment makes clamping relatively easy.
Pros:
Dust and debris protection
Efficient lower speed compared to others
Tool-less wheel guard adjustment for easy adjustment
Compact design at only 11-3/4″ long and weighs only 4 lbs

Electronic speed control maintains constant speed under load

Larger and improved carbon brush material for longer tool life
Cons:
Might shake at high speed
Verdict:
The Makita 9565CV is a versatile and powerful grinder with variable speeds useful for any type of work. In addition to spotting all the essential features of an ideal best angle grinder. You will love the soft start and ease of blade change feature it has. Whether you are a first-time angle grinder owner or you are making a repeat purchase, you will find this product very easy and convenient to use.
Makita 9565CV 5" SJS™ High-Power Angle Grinder
Powerful 13.0 AMP motor delivers more output and variable (2,800 - 10,500) RPM
SJS technology is a mechanical clutch system that helps prevent motor and gear damage by allowing the drive shaft to slip if the wheel is forced to stop
See Also: Best Corded Drill
Ryobi P421 6500 RPM 4 1/2 Inch Angle Grinder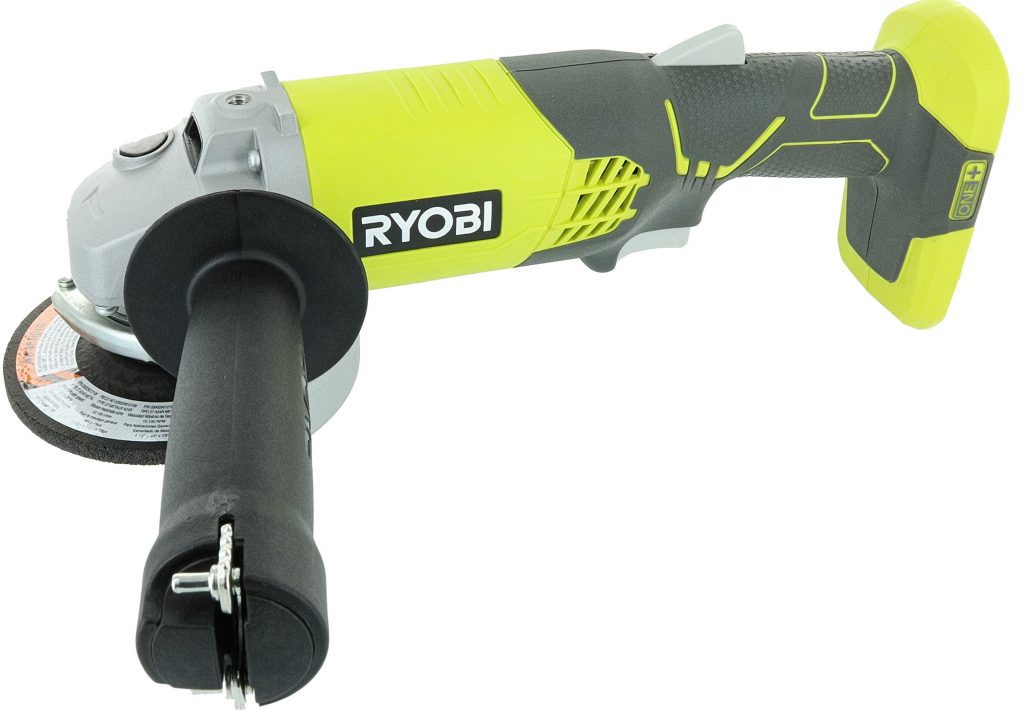 The Ryobi P421 comes with an adjustable side handle in three different positions with the triggered grip rotating 90 degrees so you can be able to fit this tool just about any angle you would need to grind. It was designed to give you a comfortable handling with a rubberized handle, a notched grip near the trigger allows you to firmly handle this tool even if you have some oil or grease on your hands. It weighs a decent 5.4 pounds 
Pros:
Cordless ye powerful enough
Type 27 grinding wheel for metal working
Onboard pin wrench for easy replacing of grinder disc
Cons:
Not ideal for heavy work
You must have a large battery pack to enjoy this product
Verdict:
Great tool for a cordless 18-volt  lithium Ion-powered angle grinder. It is particularly ideal for light works in sharpening tools like a lawn mower, bush hogs, spot sanding, carving wood or light metals etc.However, it can still be put to use for heavier works provided you have a big battery pack to sustain it. It comes with a 4″ 1/4″ thick grinding wheel and the wheel removal/change tools fit into the detachable handle. The flexibility of this tool makes it a recommended best angle grinder.
Bosch 1375A 4-1/2-Inch Angle Grinder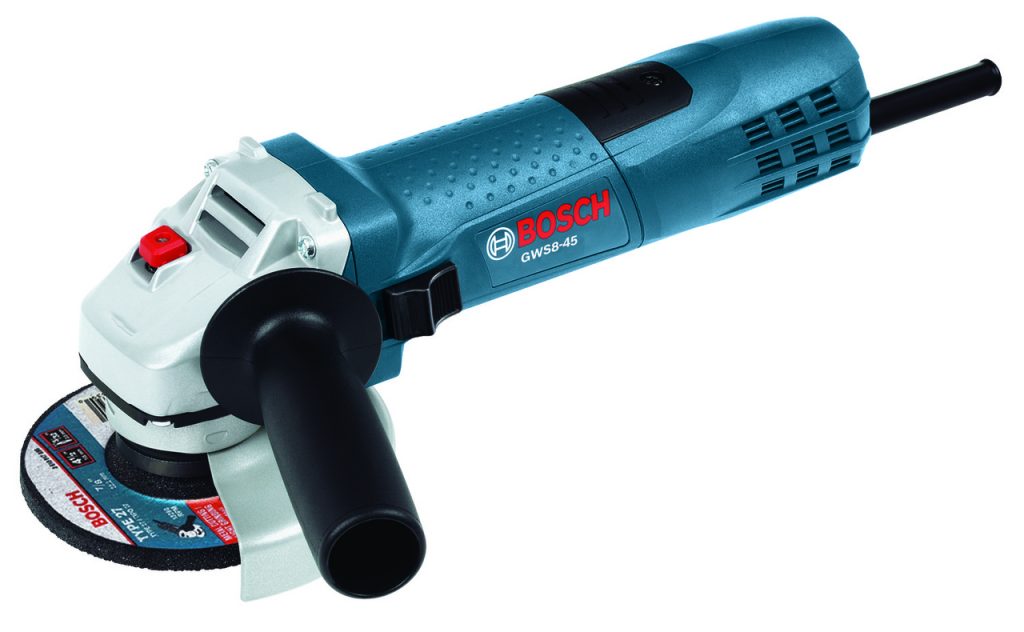 An ideal tool for metal workers, vehicle fabricators, plumbers and anyone in need of constant grinding on a daily basis. This powerhouse tool packs a whopping 6.0 AMP that produces 11,000 no load RMP in a 4-1/2 inches tool length. It gets power from an 8 feet long cord and is an ideal tool for anyone one looking for the best angle grinder that is about 3.75 pounds in weight, offers superior grip, lock-on slide switch and two-position side handles. Grinding with this angle grinder goes quite fast and you will be amazed at the speed you finish working on any surface or material you use the Bosch 1375A best angle grinder on.
Pros:
Very powerful yet quiet
Burst-protection guard – for additional user security
Lock-on slide switch – for extended-use applications
Compact and lightweight with a firm grip for comfortable use
Adjustable two positioned side handles for left or right-handed persons
Cons:
Verdict:
Only the best angle grinder make grinding an easy work for any workman, and the Bosch 1375A is one tool that will make light work of any task you put it to any time any day. It is ideal for right or left handed persons and produces enough speed to enable you to finish work on any surface on without wasting much time. One of the things I like about this product is it's Epoxy-coated field windings that provides protection against abrasive dust.
BOSCH 1375A Corded 4-1/2-Inch 6 Amp Angle Grinder
COMPACT: weighing only 3.75 pounds, the grinder is compact and ideal for metal workers, vehicle fabricators, plumbers and other professionals who use grinders on a daily basis
POWER: features a powerful 6.0 AMP motor to produce 11,000 no load rpm for professional cutting and grinding applications; the efficient motor was designed with an extremely small field diameter, letting the user grind or cut with ease
PORTER-CABLE PC60TPAG Angle Grinder
Weighing 4.1 pounds with a 7AMP motor power, 11,000 RPM, a 3 position side handle which allows for greater handling and control in multiple positions with a tool free guard that provides fast and easy guard adjustment is the Porter Cable PC60TPAG angle grinder. It features an innovative cast metal gear case for increased job site durability and tool longevity. It is one of the lightest, if not the best angle grinder at an affordable price.
One of the lightest grinders on the market at just 4.1 pounds that can be put to a variety of applications and still have it last long enough for you. It offers a comfortable and convenient paddle switch for additional control. This paddle switch shuts off if dropped mistakenly.
Pros:
Spindle lock feature
Slim body, paddle grip
None locking paddle switch
Robust and strong for marathon usage
Cons:
Verdict:
I find this product an ideal buy both for the professional and first-time angle grinder. Provided you replace the thin cut off wheel once it is worn out and replace with a much durable one, the Porter Cable PC60TPAG angle grinder will last you a reasonably long period of time.
Conclusion
Owning the best angle grinder is all about knowing the useful feature each has. When this is established, and you purchase your prefered best angle grinder, you can as well put your tool to a wide range of uses you have needs for. Angle grinders are must-haves for most do it yourself (DYI) homeowners, but the smart DYI own only the best angle grinders that have been reviewed here.
See Also: Best Gas Hedge Trimmer