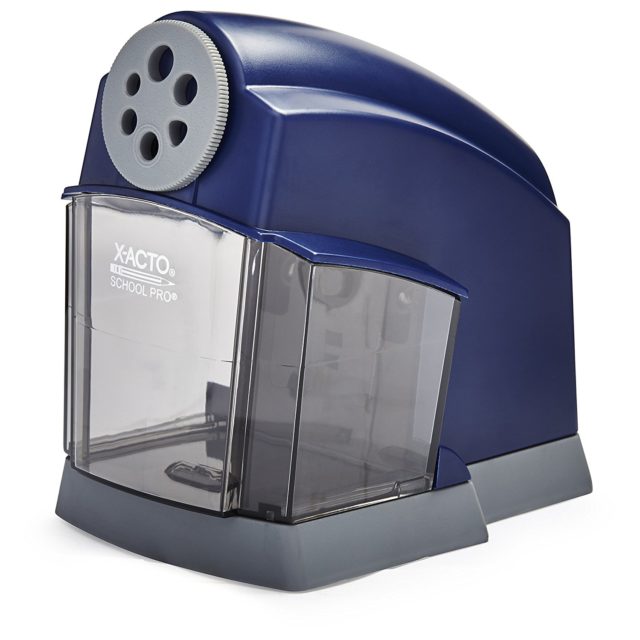 For reasons pertaining to usability, convenience, and control, best electric sharpeners is what you need when it comes to sharpening as many pencils as you would want to. They are versatile and can sharpen all kinds of pencils including graphite pencil, the Dixon Ticonderoga, a variety of colored pencils; Crayola, Prismacolor, Irojiten, Hero and more.
Based on that, we have carried a thorough research that took us days and weeks to guide you through getting quality sharpeners. In the course, we queried a few teachers, office owners, artist and also compared a good number of units having in mind the features that are very crucial to them. We believe the result is dependable and worthy of being followed.
See Also: Best Scientific Calculators For Notation, Fraction, Graphing
What To Look For In Electric Pencil Sharpeners
More and more people are moving over to electric operated pencil sharpeners since its introduction due to its ease of use, efficiency, unsurpassed service and more. Today, it is easier to find different sizes, shapes, and colors of it. But while there are plenty out there, there are things to look out for when buying electric sharpeners and they are listed below:
Heavy-Duty Is Smarter:
Get a Heavy duty pencil sharpener. This will have bigger storage for shavings which will save the stress and time of frequently emptying the wastes.
Again consider a sharpener that has a silent motor. You don't want to deal with noise while trying to do something that requires complete focus and attention.
Overheating is another thing to consider when buying a sharpener. Most sharpeners feature auto-on/off feature to control this. In essence, it is a clever to get an electric sharpener that does not get too hot.
Apart from looking out for one that can withstand the stresses of demanding use, you should also consider electric sharpeners with thermal overload protection. By that, we mean one that can shut off automatically as this will also save the motors life as well as energy. It will also save you from wasting your pencil.
Search For Silence:
If you hate sharpening noise like me, it will do a lot for good to opt for sharpeners that operate in a silent style. Such sharpeners are also recommended in school and office environments where noise can be a distraction to people around.
You Might Also Consider Cleanliness And These Other Features
After the above considerations, you can also take into account the machines that highlight adjustable sharpness setting. This feature allows you to set up the exact point you want. Also, safety and maintenance procedure is worthy of considerations. Most electric sharpeners have in built safe mechanism and also shaving receptacles of different sizes. If you hate to empty frequently, you may go for ones with a larger bin. However, all of the machines can serve effectively alike once you pick the right motor and blades.
Precision Sharpening:
Accurate sharpening is one of the numerous reasons more people are choosing electric sharpeners these days. There are internal technologies that usually make them stop the sharpening process when enough wood has been sliced off.
See Also: Best Pocket Knife Sharpeners
Superior Motor:
One of the features that are reserved to electric sharpeners is their high-powered steel helical blades that can sharpen your pencils efficiently, quickly and quietly. They also have longer service lifetime which lets you sharpen many pencils at a go before overheating.
Best Electric Sharpeners
OfficeGoods Electric And Battery Operated Pencil Sharpener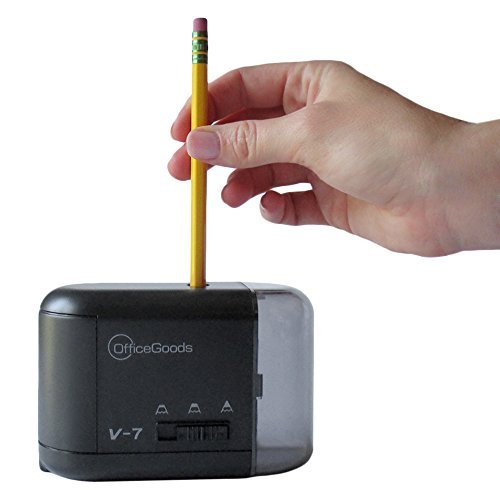 OfficeGoods Electric Sharpener is a high-end sharpener that can tackle any kind of office and non-office sharpening task with ease. What sets it apart is not just about the ease of use but also the clean even tips with no marks or residue it delivers.
More Options
OfficeGoods electric sharpener offers you the options of choosing how your point or tip should be. The options include blunt, medium and sharp – which actually sets it apart. In addition, it features multiple power sources and can be operated using batteries, USB cord, and AC adaptor to save energy.
Pros:
Energy efficient
No tilted or out of the line points
Responsive customer service
It can easily be tucked into a travel bag or stored anywhere due to its portability.
Easily cleaned up.
Cons:
Limited pencil sharpening points.
Verdict:
Whether you like your pencil to be super pointy tips or blunt, rounded, this is a machine for you. It has multiple power sources and offers some sense of safety especially where kids are found by ending sharpening process once the shaving cover is pulled out. It does the job quickly though you can only sharpen one pencil at a time.
X-ACTO ProX Classroom Electric Pencil Sharpener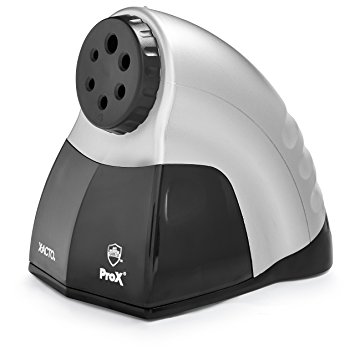 This X-Acto electric is one of our favorite electric sharpeners. It is made to serve big volumes and speaks of one of the best sharpening capabilities in X-Acto list of electric sharpeners.
See Also: Best Angle Grinder For Every Home Owner And Workman
Noise Level and Efficiency:
The sharpener has double helical cutters that can handle most tasks without much noise. The cutters also ensure the results come out clean, smooth and sharp every time with no hassle. It also features auto-reset quality and inbuilt fan that prevent overheating while saving your pencil. The SafeStart technology, in addition, protects the machine which improves durability.
Pros:
Produces smooth finishes
Operates in a quieter way
It extends the pencil life using its pencil saver quality discourages oversharpening
Cons:
The auto-reset feature can slightly interrupt sharpening process.
It may be bulky for someone who would prefer smaller machine.
Verdict:
For anyone looking for a really good sharpener that can sharpen about 6 or more pencils at once, this will go. It has an electric motor for better sharpening power and other great features.
Bostitch SuperPro 6 Commercial Electric Pencil Sharpener Review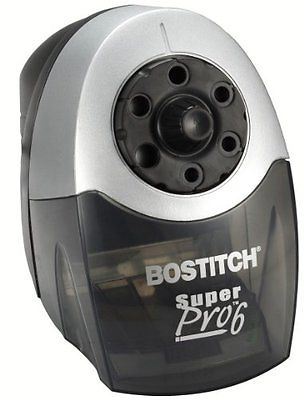 This Bostitch electric sharpener is a technologically advanced sharpener that does a wonderful job. It comes in a moderate size, so saves space for clustered table. It also promises speed of 75 percent faster than most good sharpeners which is time-saving. The unit's Tip Saver technology extends the life of the pencil by not shutting it down automatically when it is down. However, it needs a little more attention so the pencil won't get gulped.
Cleaning:
The machine has a removable bin that is easily removed. Also, there is a safety switch that shuts down the motor when the shaving bin is being removed.
Pros:
Sharpens pencils quickly, safely and quietly.
Saves space on your desk top.
Has an internal fan that cools the motor
Can handle color pencils and more.
Cons:
Some customers have said it hurriedly gulp down the pencil if not watched and controlled.
Verdict:
If you are looking for a sharpener that has a sleek design yet functional, you might go with this option. Bostitch Sharpener will help decorate your table while doing it's job. It is a unit that demonstrated an ability to fix office and even classroom supplies during the test.
School Smart Vertical Electric Pencil Sharpener Review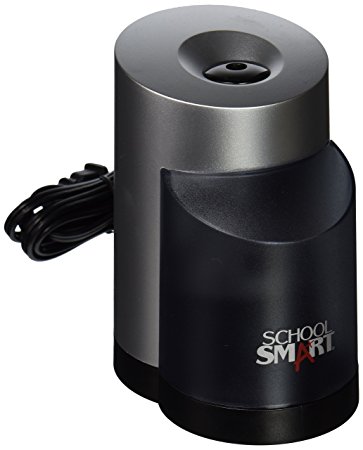 This smart vertical sharpener works for ease of use. It integrates, safety qualities including thermal control and auto-shut down technology so you only sharpen just enough and more. With helical steel blades, you are sure of a fine and very sharp tip. When it comes to cleaning, it has a wide removable bin that catches the shavings and easily gets emptied.
Functionality:
School Smart works like magic and handles bigger tasks. In fact, just like the name rightly implies, the sharpener can comfortably cater for the supplies of a whole classroom. It sharpens both lead and colored pencils. The auto-stop feature automatically ends sharpening but does not cut out the power.
Pros:
Heat overload protection features
Large receptacle allows sharpening for days without having to empty frequently.
It sharpens evenly and quickly
No high-pitched sound during sharpening
It is abundantly durable
Cons:
You can only sharpen one pencil at a time.
Verdict:
For us, this a win win option for schools hoping to replace their electric sharpener with a better one. We like that it is somewhat compact-sized and most likely won't take up too much space on the teacher's desk. Additionally, it is a heavy-duty machine and saves you from foing from one sharpener to another
Westcott Axis iPoint Evolution Electric Heavy Duty Pencil Sharpener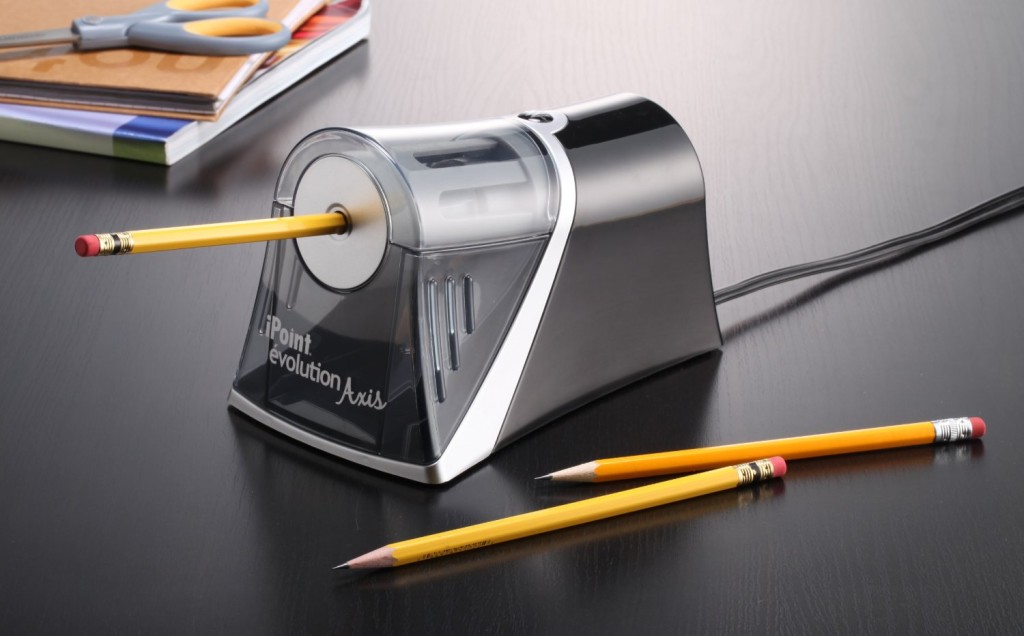 You need this Westcott Axis iPoint Evolution Electric Heavy Duty Pencil sharpener to keep your pencil sharp and ready all the time. It handles high volume tasks and takes it gently on the pencil to avoid breakage. The machine's 10-blade technology ensures a perfect point every time in a dead silence mode. You should never over sharpen again as automatic stop feature makes it inoperative once the pencil tip is properly shaved within minutes. 
See Also: Best Corded Drill: Break Into Tough Surfaces With These Powerful Drivers
Key Features:
Multiple points allow you to sharpen several pencils at once. An extra large reservoir holds up to 50 or more shavings. Cleaning is easy and means simply emptying the shaving reservoir – an act that also cuts off power for safety. Anti-slip base ensures the sharpener stays in place while in use. The unit's cutters are quite efficient and smoothly slices off the petals of the pencil wood
Pros:
Unbeatable warranty
Delivers perfect point without any jam
It scores greatly for its quiet noise operation and auto-stop feature.
Compact design for easy relocation
Sharpened both graphite and colored pencils quickly
Cons:
You may need to pay a little more attention to avoid it chewing up your pencil.
A handful of people have complained of poor customer service response
Verdict:
This is made to help you meet your daily writing needs. With several awards to its name, the sharpener's cutters are of superior quality. More so, many great sharpeners have a good warranty of two to three years but this sharpener's 10-year warranty is absolutely second to none. It is faster to sharpen a box of pencils with it and delivers smooth finish in the end.
Evergreen Art Supply Electric Pencil Sharpener with Adjustable Blade, Black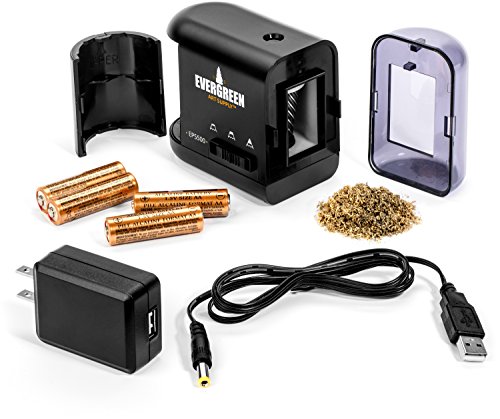 Unsurpassed lifetime sharpening, this Evergreen Art Electric Sharpener retains its functionality throughout its life which is typical of its name. The machine's heavy-duty helical steel blades help you to get to the point. Also, its attractive design and portability make for a better mobility.
Efficiency:
These blades are extremely durable and heavy duty. It lacks multi-hole pencil dial so you can only sharpen one pencil at a time yet it does it more efficiently and faster than good sharpeners out there. Again you can sharpen different sizes of pencils including traditional slim pencils and fatter ones used in Kindergartens.
Pros:
Sharpens all kinds of pencils(colored and standard)
Sufficient shaving reservoir
Stable base keeps the sharpener in place during use
Helps you prevent waste so your pencil can last.
Cons:
No multi-holes, so you have to sharpen one after the other.
Verdict:
This is a highly versatile sharpener that can sharpen a variety of pencils from traditional slim pencils to fatter pencils used in kindergartens.
X-ACTO SchoolPro Classroom Electric Pencil Sharpener, Heavy Duty, Blue/Grey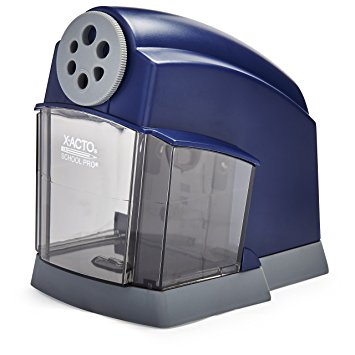 Specially made for classrooms and offices, X-ACTO sharpener is a heavy duty unit with a modern design. Most electric sharpener may produce tiny sound but this sounds a lot quieter. It also has multiples sources where you can sharpen different sizes of pencils. It sharpens evenly and powerfully fast and stops when it's done.
Pros:
It has large bin for convenience
Delivers fine tips
Can take several pencils at a go.
It has a fine design that blends any table decor.
The suction cup at the base ensures stability during use.
Cost efficient and deliver value for the money spent.
Cons:
A little bigger than some electric sharpeners
Verdict:
This is definitely a great deal for teachers and in fact everybody. We stress enough how ideally this is for schools. If you want a quick sharpening machine that delivers nice and sharp pointy, you may want to choose this. No breakage and it can sharpen different kinds of pencils expertly.
Conclusion
A good electric sharpener is priceless to your pencil, so you should keep one handy on your desk. They are both time and labor saving. In addition, they help your pencil last longer by keeping wastes at bay. Choose anyone that is ideal for the task you need them for to get the best value for your money.