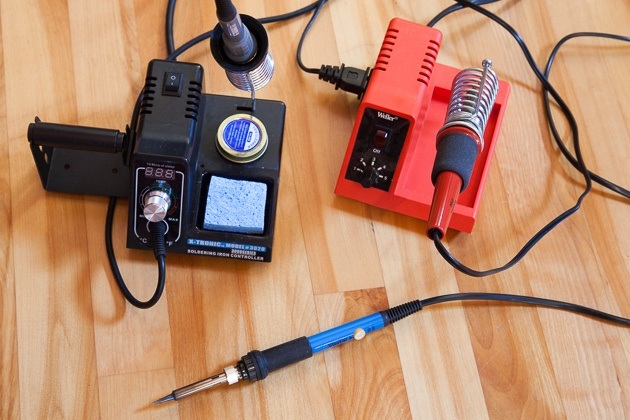 Soldering station is a unit consisting of an electrical power station, a safety rest and cleaning pad, tip and a soldering iron used to form a permanent connection between electronic components and metals by melting solder/filler metals (with a relatively low melting point) on them to form a joint between the two parts. To achieve this, the parts to be soldered are first of all heated using a soldering iron and then solder which is a metallic glue is melted into the connection, creating a joint which also allows free flow of electrical current between the two soldered parts. Soldering stations are considered more comfortable to use when compared to traditional corded iron. The best soldering stations can offer variable temperature and responsive current control for soldering at different heat intensities. They also come with interchangeable irons, ceramic heating element up to 70 watts, easy to read display, tough aluminium iron holders and generally have more power in a small pack for doing more work.
To ensure that any unit you work on functions perfectly afterwards or is held together firmly where the two components met each other, the best soldering stations should be employed for this task. Soldering in itself is an easy process, anyone making a simple repair can easily perform it with basic adherence to instructions on how to use the tool. However, considering the fact that you have to part with your money to own this tool, and the successful completion of your soldering task depends on how efficient and reliable your soldering station is, it becomes imperative that you should purchase any of the best soldering stations that will prove valuable to you at all times.
When you are considering to purchase a soldering station, the major specifications professionals look out for in any brand include its wattage, temperature control feature, display and soldering pencil. Adequate knowledge of these will enable you to spot the best soldering stations wherever and whenever you find them even if it is just one among a group of non-reliable soldering stations. We will go a little further to discuss these specifications and what each should ideally be, then select the best soldering stations we thoroughly scrutinized and recommend as trustworthy products you should outrightly purchase without having to worry whether your pick will serve you well.  Hakko FX888D-23BY Digital Soldering Station and X-Tronic Model #3020-XTS Digital Display Soldering Iron Station came tops as our pick for the best soldering stations currently on sale.
Best Soldering Stations
The wattage of a soldering station is like its heartbeat. Every other thing a soldering station does is dependent on the level of its power wattage. Ideally, the best soldering stations now come in a range of 40 – 60W. At this range, they produce sufficient heat for most soldering tasks both professionals and non-professionals are involved with. Soldering stations with lower wattage less than 30W will obviously produce lesser heat and will also lose heat faster than it can re-heat itself. Thus, we don't have any business with brands offering such maximum wattage category. When you work with such lowly powered soldering stations, your end results will be poorly soldered joints. Secondly, another important feature you should look out for is the temperature control feature. It is what distinguishes a soldering station from an ordinary plug and use soldering iron/pencil. The temperature control feature is found in the power station and with this, you can vary precisely and set the temperature of the iron to what you want it to be while working. With a good temperature control feature, the next feature of importance is a good display board. Well, not every robust soldering station comes with this but most of the modern and robust new brands that passed our test has it. For those that don't, you will be compensated with a quick heating and heat retaining soldering iron pencil that can come with a detachable tip or a non-detachable tip. The power station specifically maintains that temperature on the iron tip.
Best Soldering Stations
Weller WLC100 40-Watt Soldering Station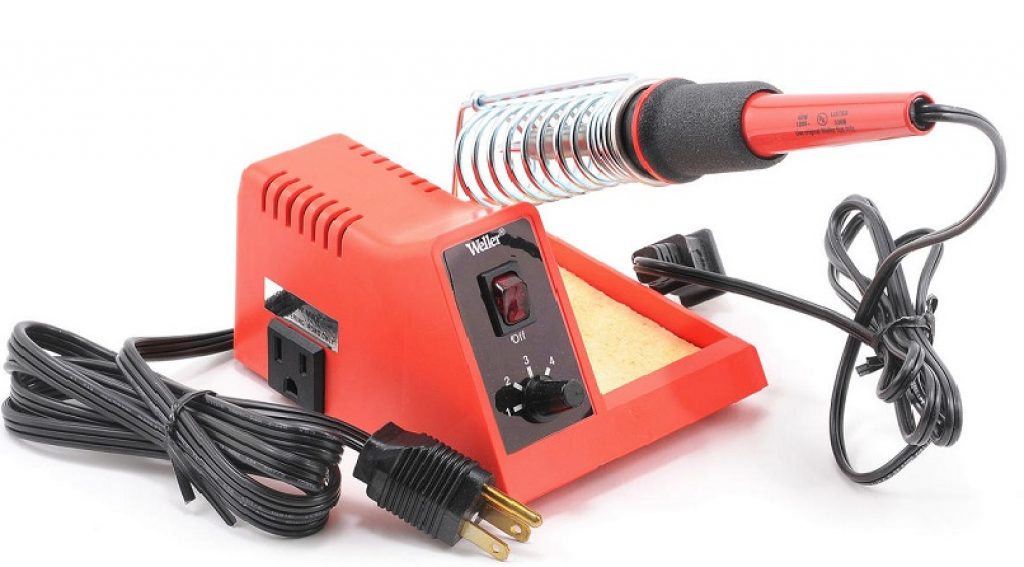 This is a world famous basic soldering tool among professionals and most do it yourself enthusiasts. It is remarkably lightweight as you would want a handy tool like this to be. The handle has a foam grip for comfortable prolonged handling with variable power options between 5 to 40 watts depending on your soldering job. It has a safety indicator light to prevent you from leaving it on accidentally and for mobility, the soldering pencil is detachable from the soldering station which means you don't have have to carry both around when you don't necessarily have to. Weller WLC100 comes with a sponge cleaner for easily removing material build-up on the tip of the soldering pencil. It is remarkable to note that all  Weller soldering iron tips are made of solid copper and plated with iron, as well as nickel and chromium. They also have their tips pre-tinned with tin/lead solder. All these extras fortify the soldering iron tips against corrosion and solder creep.
Pros:
40 watts
Lightweight
Very easy to use
Easy to maintain
Foam grip handle
Con:
Verdict:
Weller WLC100 as one of our best soldering stations is a great choice for beginners, professionals and non-professionals alike. It is a tool made simple and basic for any soldering job. Lightweight, easy maintenance and variable power control are the main features you will enjoy by using this tool.
Recommended: Best Angle Grinder for your Workstation
Hakko FX888D-23BY Digital Soldering Station FX-888D FX-888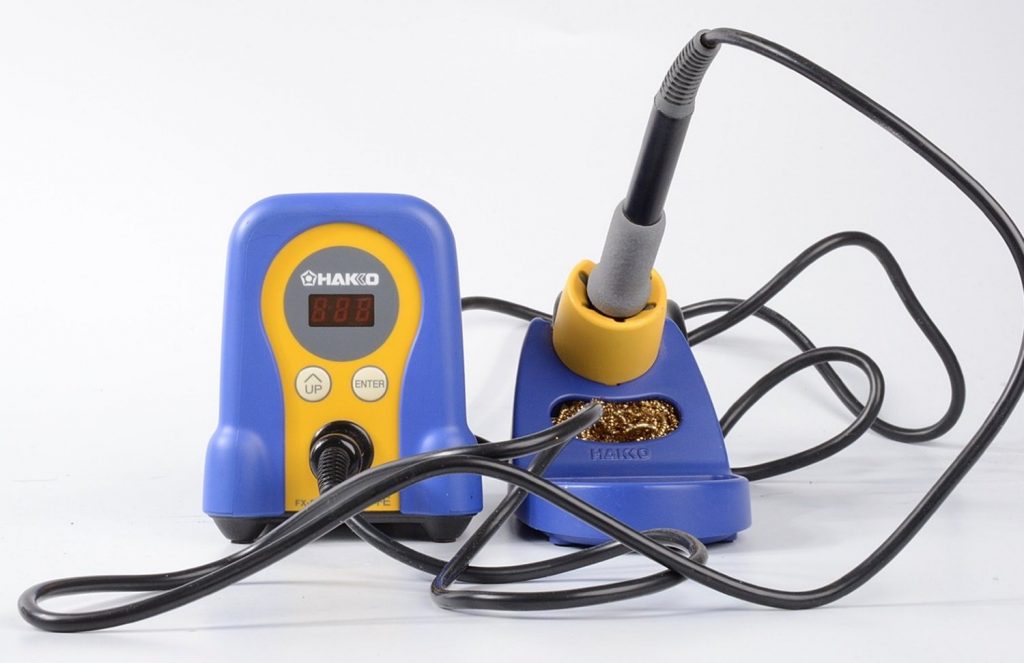 Dubbed small but mighty is the advanced Hakko FX-888D which is an upgrade of its parent version. The Hakko FX-888D digital soldering station as a modern tool comes with many several features meant to make working with this soldering station a fun thing to do. It has a 5 preset temperature storage, a digital readout that tells exactly what temperature the station is on, the temperature is also displayed in Celsius and Fahrenheit for easy comprehension, low-temperature alarm, password protection to prevent unauthorised use and digital calibrations to simplify the setup and operation. In addition to these, some of the other basic features of our best soldering stations were still packed into its small compact design that won't take up much workspace. The holder unit came in a stylish design and still performs a range of functions including a sponge and some cleaning wire to take off build up from the iron tip.
Pros:
70 watts rating
Digital readout
Small and compact
Digital display feature
Two simple control buttons
Quick heating and quick thermal recovery
Cons:
Non-detachable soldering iron
The displayed temperature might not always be correct
Verdict:
When you want to get a lot more technical features in a compact soldering station, then you should go for the Hakko FX888D-23BY Digital Soldering Station FX-888D FX-888 as one of our recommended best soldering station for you. We particularly like the digital readout feature built into this tool. It makes you feel like you have a little smart interactive robot working with you.
X-Tronic Model #3020-XTS Digital Display Soldering Iron Station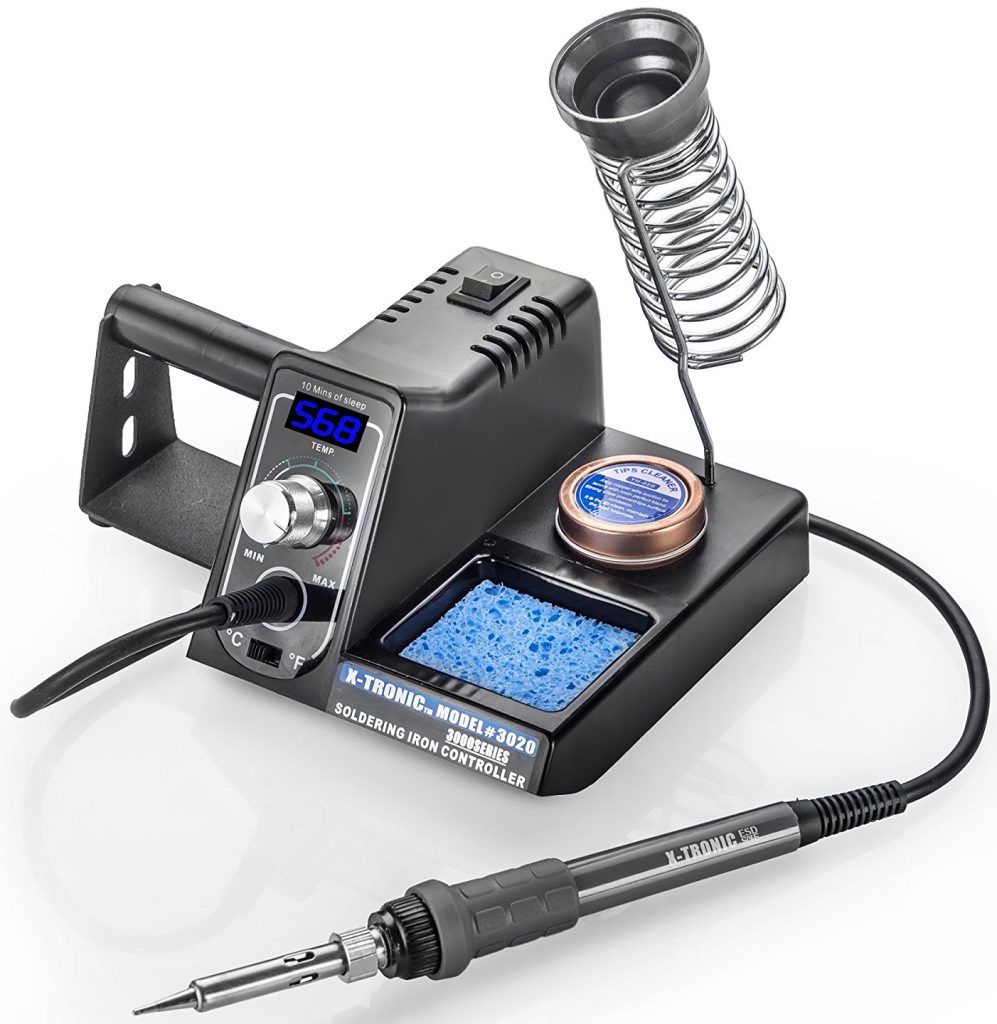 The X-Tronic Model #3020-XTS is another high-quality digital soldering station that comes made with a variety of useful features meant to qualify this tool as a top-rated smart soldering station. It is a 75-watts soldering tool with what is known as a Magic Temperature Compensation Technology or Proportional-Integral-Derivative (PID) Technology to maintain tip temperature stability. Its LED digital readout can be easily changed from Celsius to Fahrenheit to suit your preferences with just a flip of the switch. Some other smart features that should interest you about it are its blue LED readout control module, stainless iron holder and a stainless solder roller holder which are among the best you will find on the best soldering stations.
Pros:
Comfortable grip
Heat resistant soldering iron
Bright blue LED tube display
Quick heating capability and auto cool down
10 minutes auto sleep function when not being used
Adjustable temperature control for different heat needs
Cons:
No memory retention feature
Non-detachable soldering pencil from the base
Verdict:
X-Tronic Model #3020-XTS is a simple soldering tool anyone can easily handle without thinking much. It comes at a price that is very affordable and is undoubtedly one of the best cheap soldering stations one can ever find. The low cost doesn't mean that this tool was cheaply made, rather it was made with the best of the basic materials to ensure you won't spend much buying git or have regrets afterward.
The Original X-Tronic 3020-XTS • 75W Soldering Iron Station • LED • 2 Helping Hands • Roll of Solder • Brass Sponge w/Cleaning Flux • Wet Sponge • °C/°F Conversion Switch • 10 Minute Sleep Feature!
The X-Tronic Model 3020 Digital 75 Watt Soldering Station is a Powerful "Quick Temp" Unit and is manufactured for the Beginner as well as Expert Users and will Definitely Exceed Your Expectations with its Quality & Durability compared to any Soldering Iron Station in its Class. This Unit takes less than 30 Seconds to heat up from 200°C to 480°C (392°F to 896°F)
The Complete Kit Includes: 75-Watt LED Digital Display Soldering Iron Station (60 Watts used for Soldering Iron &15 Watts used for Mini Mother Board in Soldering Iron) with 2 Helping Hands for Propping Up Smaller PCB's right in front of the unit for you to work on. It also Features a Side Mount Solder Roll Holder with a 50g Roll of 60/40 Solder Included, a Spring Style Soldering Iron Holder and Brass Sponge Tip Cleaner with Supply of Cleaning Flux in the Tin plus a Wet Sponge.
Related: Best Corded Drill
Aoyue 469 Variable Power 60 Watt Soldering Station with Removable Tip Design- ESD Safe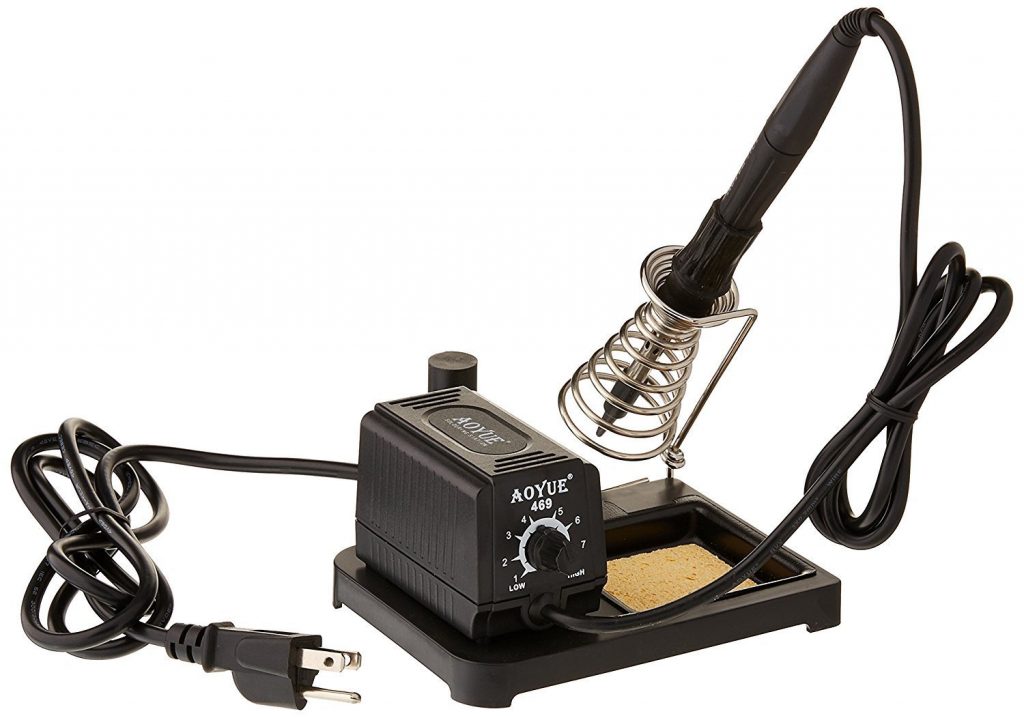 Over the years, Aoyue has made its mark as a reputable manufacturer of choice of the best soldering stations found anywhere. The Aoyue 469 variable power 60-watt soldering station doesn't come short of this quality as it is on its own packed with features that will beat other soldering stations warming up to compete with it. It comes as a 60 watts capacity variable power tool with a life ceramic heat element and robust temperature control capability for working with varying heat intensities. The tip is removable in an easy way making it possible for you to easily change the iron tips as quickly as you want to. It comes with its own custom iron stand and a solder spool and sponge. This soldering station is considerably lightweight at 1.1 pounds and you won't have any challenges using it, whether you are a first time user or a professional.
Pros:
Very cheap
Quick heating
Very lightweight
Simple heat setting
Excellent base and stand
Cons:
No actual temperature gauge
Non-detachable soldering iron
A small LED light is the only indicator when this tool is on
Verdict:
Considering the price, one might tend to imagine that this soldering station won't last a day of standard use. But that's wrong. The Aoyue 469 variable power 60-watt soldering station is a cheap yet highly durable soldering station you won't regret purchasing as long as you use it properly. The major downside, however, is its tiny LED light indicator that shows when the tool is turned on. But carefulness when using this tool on your workstation will keep you safe.
Aoyue 469 Variable Power 60 Watt Soldering Station with Removable Tip Design- ESD Safe
HIGH PERFORMANCE - 70 Watts of system power. 60 watt iron power depending on the type of iron used. There are 50 available soldering tips to fit this station to meet all your soldering needs
DESIGN FEATURES - The portable and lightweight design of the system saves precious desktop space and allows easy packing for occasions where offsite soldering is required. Built-in iron and sponge holder. Temperature range 200-480° C (392-897° F)
Read: Best Corded and Cordless Electric Chainsaws
Aoyue 9378 60 Watt Programmable Digital Soldering Station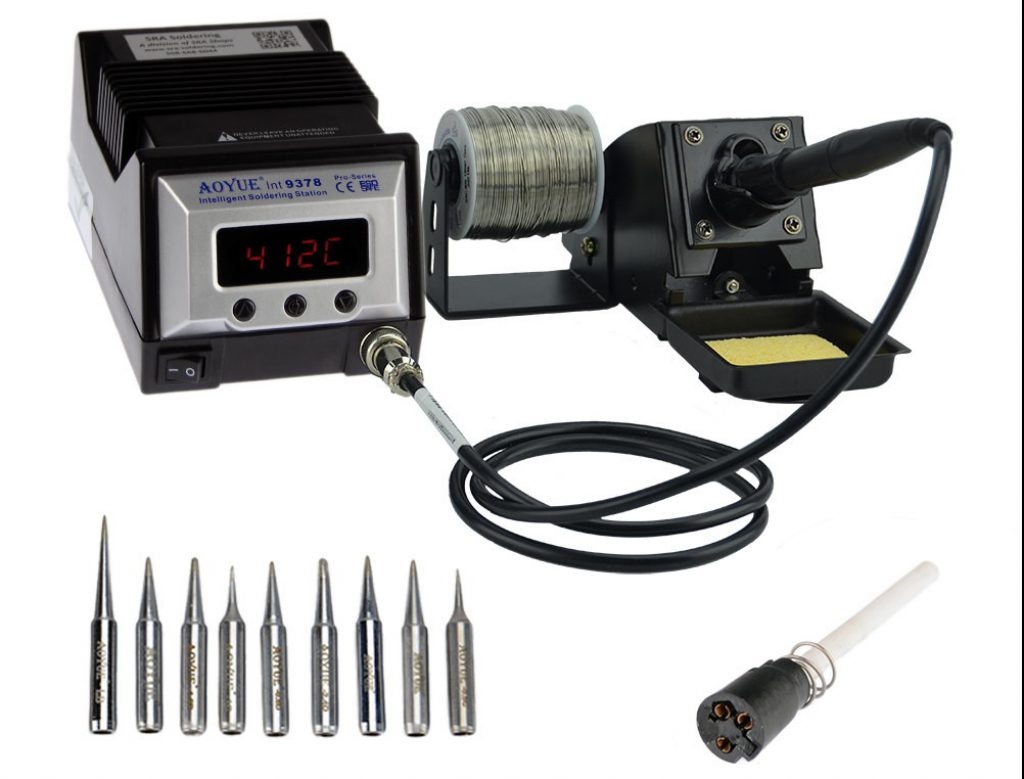 The Aoyue 9378 has all the features and more you can ask for in any reputable soldering station ever made. Since 1962, SRA Soldering Products the manufacturers of the Aoyue 9378 soldering station has been involved in the business of manufacturing, importing and distribution of several soldering and blazing products all over the world. So you are assured of efficiency and longevity if you choose to buy this product as one of our recommended best soldering stations.
Looking at the features, it won't be inappropriate if you desire to see the best soldering station features on the Aoyue 9378 soldering station. The best things you can ever wish for in a soldering station were packed into this 6 pounds and 60 watts power consumption soldering station. It has a vibration sensor in the handle to detect movements, a programmable auto sleep and wake up function to increase tip life and a digital thermostat with switchable readout. Your purchase will come with 10 different tips with 1 installed on it, while over 50 other available tip sizes that can be affixed to it. With this tool, you are not restricted to working with any tip size that will make a mess of your soldering work.
Pros:
Very durable
Quick heating
Removeable tip design
Plug-in heater element
Long life ceramic heat element
2 quick programmable temperature preset
Con:
Verdict:
Good things they say, don't come cheap and the Aoyue 9378 soldering station doesn't come so cheap either,  yet it is convincingly affordable for the value it will place in your hands. It is also not too bulky and can fit into the most moderate space you can make out.
See Also: Best Work Gloves For Protecting Your Hands While at Work
Conclusion
The best soldering stations won't only make your soldering work easier and neater, they will provide absolute value for your money in view of the fact that you won't have to come looking for another soldering station and/or solder parts to replace any or all components of a soldering station you purchased not too long ago. The best buying choices are usually made when value determines your buying decision. The products reviewed here were carefully selected after thorough research, scrutiny and hands-on review of thousands of verified purchases. You should solder right from now henceforth only with the best soldering stations.