A lot of things definitely change when the babies begin to come. One that may as well be the worst, is your mind constantly being unsettled as you wonder how your little one is doing whenever you sneak into your room to take a few minutes rest or rush to the kitchen to make a quick salad.
It gets even harder when there is the lawn to mow, the laundry to take care of, and a little kitchen business to handle while the baby is in the nursery. That is where the best baby monitors come into play. Not just any baby monitor that would take your money and leave you worried and wondering how your baby is doing.
The thing with these monitors is that although most people get to think they are needed for only little babies, we would recommend them for kids even as old as five years of age. The only thing is for you to be able to know which is better for you; video and audio baby monitors, which we would recommend, or just audio baby monitors.
In this review that saw us going through many baby monitors, we have reached that iBaby Monitor M6S 1080p and the Infant optics DXR-8 are the joint best baby monitors. These baby monitors impressed us in features, performance, range, ease of use, and in fact, everything that should make a good baby monitor.
For audio, we found that the Philips Avent DECT Baby Monitor beats others among the best baby monitors.
Why You Should Trust Us
After going through over sixty baby monitors, we can, unfortunately, say the market is filled with many monitors that are at best mediocre and at worst bad in performance even though they have nice looks. A check through the reviews of buyers on Amazon and other forums would prove that to you.
What that does, however, is make it very easy to sieve out the very good ones from the rest. And what we did here is to sieve out the best from the very good.
Like with all our reviews, our simple yet herculean three step process has as well been applied here; we ran through the products ourselves, then we got the opinion of experts both online and offline and finally, we pulled together what those who have used these baby monitors and more, have had to say about them.
See Also: Best Convertible Car Seat 2017
We also took a look at some indoor security cameras which have great potentials of serving as baby monitors. Interestingly, we found that although there were some that were good, the Nest Cam Indoor security camera and Dropcam Pro Wi-Fi Wireless were good enough to be on this list.
The whole process saw us sinking hundreds of hours into going through many baby monitors we could come across. At the end,it was worth it.
iBaby Monitor M6S 1080p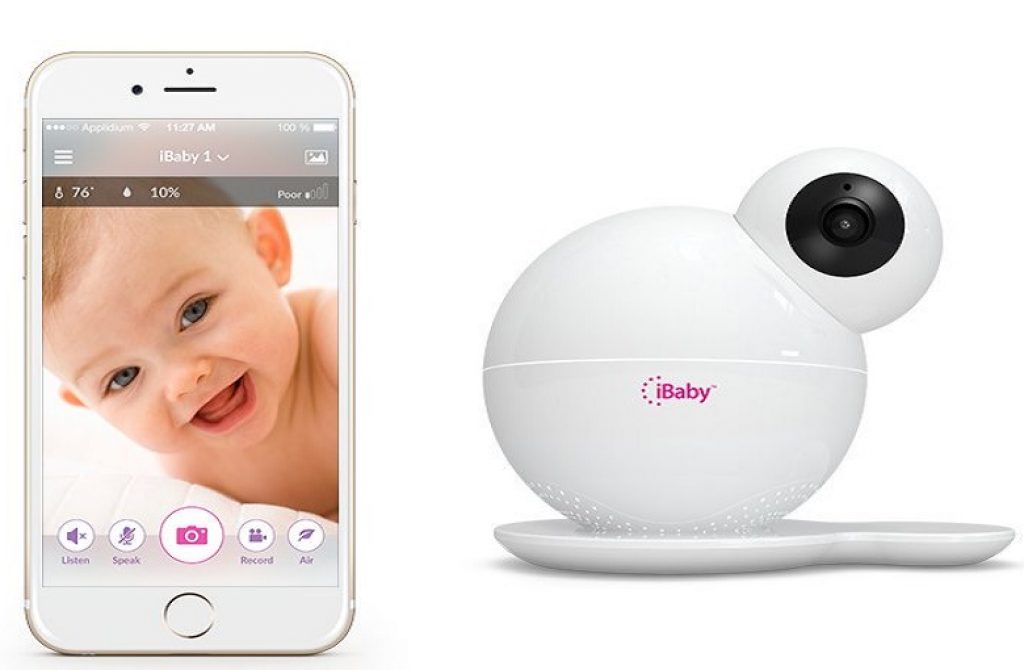 The iBaby Monitor M6S 1080p comes with a rather interesting look that may attempt to satisfy. The problem is that at the end of the day, looks don't satisfy; performance does. That also is something the M6S has.
Like many others on this list and in the market, this has a two-way communication system, night vision, as well as sound and motion alerts. Nevertheless, as stated earlier, performance is the thing that places them in the classes of best and do-not-get.
The first thing you would appreciate with this is the clarity of its monitoring video which runs at a resolution of up to 1080p. You don't get this from any everyday monitoring cameras. More so, it can rotate 360 degrees.
Also, it comes with an app which can be used to monitor the little one from your phone. With the app, you can record moments and snap great pictures of your baby from anywhere.
Now to the range of coverage, you should have no problem with this no matter where you may be, as all you need is an internet connection and you can check to see how your baby is doing. Hence, you can rush off somewhere and still keep tabs on the babysitter or just monitor to be sure that they do not misbehave.
The monitor also lets you know the temperature of your baby's room as well as the humidity and air quality.
Pros
This may just be one of the easiest to set.
It has recorded stories and lullabies even as it allows you to record more.
Gives extended monitoring as it also lets you know how healthy the room in terms of temperature and air quality.
There is great clarity in the video both in the day and at night
It allows for two-way communication, hence you can talk to anyone in the room and have the person respond.
Cons
It doesn't give the best of audio quality
One of its greatest strengths, its sharp sensitivity, is also its weakness. This is because sometimes it picks things that are insignificant to report as sounds.
Verdict
Sometimes you will realize that just having your eyes on that little one is not enough. You will also want to know that the room is conducive enough as the baby sleeps. That is what you get with this baby monitor as unlike others, we have found the temperature monitor of this to be decently accurate.
Infant Optics DXR-8 Video Baby Monitor
An eye on your baby's every kick and yawn is what the Infant Optics DXR-8 Video Baby monitor gives to you. That is thanks to its great video delivery, decent range, and interchangeable lens which the company is the first to introduce.
The monitor comes with three lens options; Normal, Zoom, and Wide Angle which can all be fixed separately. All the lenses give different viewing options with the Wide Angle giving as wide as 170 degrees to capture the movements of your baby that is now grown enough to crawl around.
For the night, it comes with up to eight LED sensors. Naturally, you may not get that crisp video quality with the night vision, but it gets the job done quite right.
The battery life which is one thing to take seriously in the DXR-8 is quite nice. It gives up to 6 hours when your screen is on and gets to 10 hours on power-saving mode.
See Also: 12 Best Baby Carriers, Wraps and Slings for Newborn
Features could just be what makes the line between great baby monitors and mediocre ones. This has rather interesting ones for different purposes. For sound, it has the Sound LEDs which immediately turns on when your little one makes any sound.
Also, it has a talk back option so that you can talk to anyone in your baby's room, or even talk your baby to sleep from your room and the person can as well talk back. When very tired, you can even sing a lullaby to your baby right from your own room. What is the take here? The sound is crystal.
Another great thing is that it comes with a temperature sensor that lets you know the temperature in the room.
One thing that was annoying with this monitor was a beeping sound it made whenever the signal went off. Thanks to its firmware, this has been settled.
Pros
Multiple lens options to serve you broadly.
It is very easy to use.
The wireless range is quite impressive
It doesn't give a million features; just the right ones.
Cons
It could have given a better range.
It would have been great if it was designed with lullabies.
Verdict
It is not every baby monitor that we can easily recommend for your baby from infant stage until your baby begins to crawl and move around. However, we have no problem recommending this, beacuse it comes with other options that seem to answer almost every available question.
Dropcam Pro Wi-Fi Wireless Video Monitoring Security Camera
If what makes the best baby monitors is strictly detailed video and zooming power, the Dropcam Pro would have ended with every major medal. That, however, isn't what makes the best baby monitors neither is it all that this has to offer.
While the standard Dropcam Pro is good, this changes most things about it, most especially as regards functionality and video quality. While the former is at 4X, this goes to 8X.
More so, even as you get a great video light during the day, it becomes better when the light goes low. According to Dropcam, the video sensor is better than what you get with iPhone 5s.
It also has an app that gives you some functionality including zooming, panning, and tilting. If you have used cameras like Compro TN600W, you would realize that their apps do not work on all browsers. This does.
Also, you get to have the Cloud Video Recording which is encrypted, thanks to its app. You will be able to stream live, but to go back and watch some things that have already happened, you would need to subscribe close to $10 every month or $99 yearly.
The set up is as simple as can get. You only need to make the normal pluggings, download the app, and make some simple settings like identifying your Wi-Fi and giving it a name. It's that simple.
You can place this in your baby's room and just relax as it is wide enough to cover a wider area than the standard pro.
The problem we have with this is that the notifications are sent after every thirty minutes. This means that if you do not check in regularly, your baby may cry and you'll get the alert 30 minutes after.
Pros
Great video quality and zooming strength
You can set it to send alert to more than one person.
It is very easy to set up.
One thing it boasts of is the quality it comes with.
The app is very rich.
Cons
For video storage online, you would need a monthly subscription fee that can cover you for either 7 or 30 days.
It is strictly wireless, so you can't use Ethernet cord on this.
Verdict
If you do not like anything tech because you think you are a general novice, this should work well for you as it has a way of making experts of novices as a result of how easy it is. More so, for someone who wants precision, there can hardly be any to beat this thanks to its clear video and amazing zooming strength.
Nest Cam Indoor security camera Baby Monitor
What Nest calls this is an indoor security camera. That in fact, is what a baby monitor is; only that it comes in the name of baby monitor and some come with some specific features.
We have come across people who make use of the Nestcam for baby monitoring and it works just great in features, make, and functionality.
Although without any mouth watering design, it comes with a video that has 1080p resolution, topping with a few others among the best. More so, to ensure that your child is fully covered, it has a wide lens and good audio sensitivity.
More so, it comes with a free app for Android and iOS Smartphone. Through this app, you will get to see what is happening in your baby's room, as well as in other rooms where the camera has been set up. Also, you get to listen to what is happening and even talk back as you watch.
However, the app has a premium service that you only get with a monthly subscription. With that, you will get to access a summary of your alerts, as well as video history and other services including recording for either 10 or 30 days.
More to the subscription is that it gives better detection even to noting facial expressions and capturing accurate sound and body movements.
Pros
Easy to set up and can be connected via Bluetooth or Wi-Fi.
Great video quality and sound.
With the app, you get to have video recordings and pictures saved.
It has great quality.
Cons
It isn't one of the cheapest in the market.
To get the best of it, you will need a monthly subscription.
Verdict
Even with the subscription, we still find ourselves recommending this to anyone with the money to pay continuously. This is as it gives you what most others do not give with its clear video and sound quality. Also, with its wide lens coverage, night vision, and ability to have the video saved for up to 30 days, it is second to none.
Motorola Baby MBP26 Digital Video Baby Monitor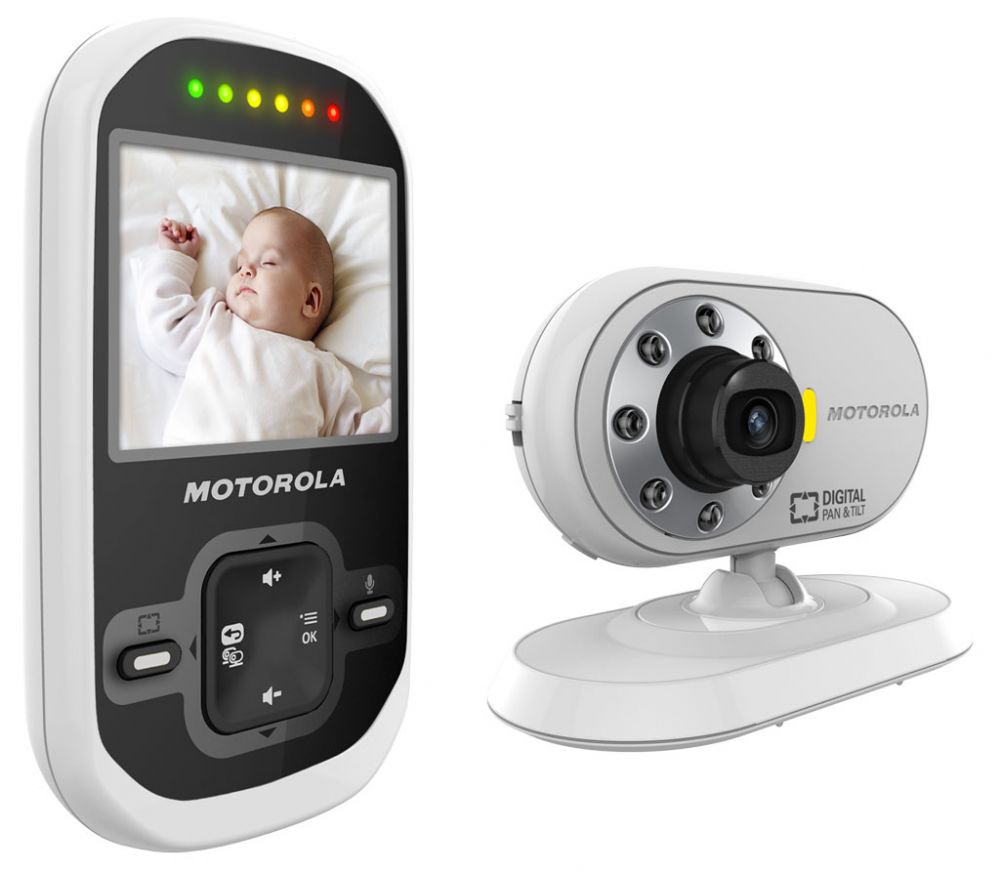 Although a very simple piece, this still makes it as one of our best baby monitors simply because it ended up being able to stand its ground when it comes to the safety of your child.
It comes with a parent unit that allows you do many things apart from monitoring your baby. These include zooming on the baby and tilting to have different views. The unit provides video, sound, as well as other notifications including battery life and baby motion alerts.
Another thing that is even better with the parent unit is that it allows you to control and get notification from four different cameras. That means if you have four kids and each is in his room, you can be on your sofa and still tell each to turn off the light and close those eyes.
There is also the  night vision mode which is enhanced by different LEDs that make you see to be sure that the baby is having a good night.
Even if you decide to turn off the video on the monitor, it has an LED light that lets you know if your child is crying, and how loud. You will need to be alert to catch the light, though, because it is not the brightest.
You may also decide to get the Babysense which comes in handy to monitor the breathing of your sleeping little guy, as well as the baby's movement. The motion monitor can be placed under the mattress.
See Also: Best Diaper Bags For A Trouble-Free Outing
It has a battery life that reaches 8 hours. While this is not the best you can get, it is not entirely bad, since you can turn off the video and get some more battery life. More so, it has a wireless range of 300m range, which is not exceptional.
Pros
It comes with a convenient parent unit that allows for wide control.
With the babysense you also get movement monitor.
It comes with expandability option.
Good for older children in different rooms.
It centers more on the safety of your child.
Cons
It has no temperature sensor.
Not exactly cheap.
Verdict
While we believe this may be great for babies, we feel even stronger that it will serve better if your child or children are a little grown. You can easily use this to keep an eye on them and tell them to stop the rough play, get back to sleep, and easily make them restrain themselves because mummy is watching. For babies, the motion sensor comes very important.
VTech VM343 Safe & Sound Video Baby Monitor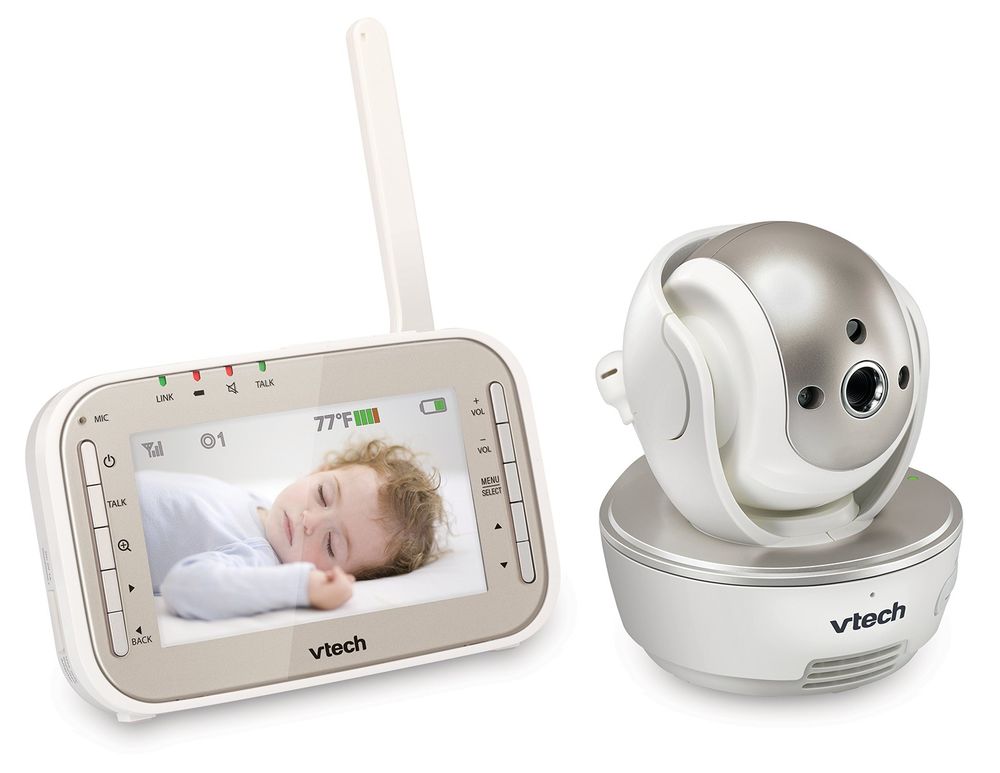 If you look at the fact that this is quite on the high side in price, you would lose out on something that is mostly great from start to finish.
It comes with its monitor which performs almost better than most others that come with their monitors. Just like a mobile phone except a little heftier, the monitor is designed with an antenna to easily recieve signals.
The audio notification is also good, it features up to 9 levels of control. Also, you get the talk back option for communication purposes. This should come very useful when your little one begins advancing in age.
One thing we didn't like much about it is that its battery does not give the best life there is out there. With less than 5 hours of video streaming, we feel it could have done much better. Nevertheless, we were able to find a way of forgiving this as it still comes out top as regards the quality of video while streaming.
More so, there is temperature monitoring through its temperature sensor. This is displayed on the monitor and the good part is that once the temperature gets to an unfavorable range, you immediately get notified.
Some baby monitors can slack when the house is really large. The VTech VM343 easily shrugs that off since it comes with a generous in-house range of 160 feet or 50 meters. Outdoors, it goes up to 1000 feet or 300 meters.
With the vastness of the features this has to offer, you would expect it to be difficult when it comes to using. Actually, it is one of the easiest; just plug and you are good. It is so easy that it features a night vision feature which automatically comes on when it gets dark so you don't have to worry about turning it on.
Pros
It is a plug-and-play monitor
Great expandability that can handle up to four different cameras.
Great video and sound notification, including vibration alerts
Parent monitor goes to sleep when it is quite in the baby's room and wakes with any sound, ensuring that the battery life is saved as much as possible.
Cons
It doesn't come with the best battery life
Unlike Motorola's this does not come with the option of making videos or taking pictures.
Verdict
We didn't want to talk about the video quality here again, but then you can't ignore the video quality you get with this. More so, combined with the great features it comes with, we can easily recommend this to anyone in need of a high-quality baby monitor that you can use for different rooms, even though you may need to buy each camera differently.
Samsung SEW-3043W BrightView HD Baby Monitor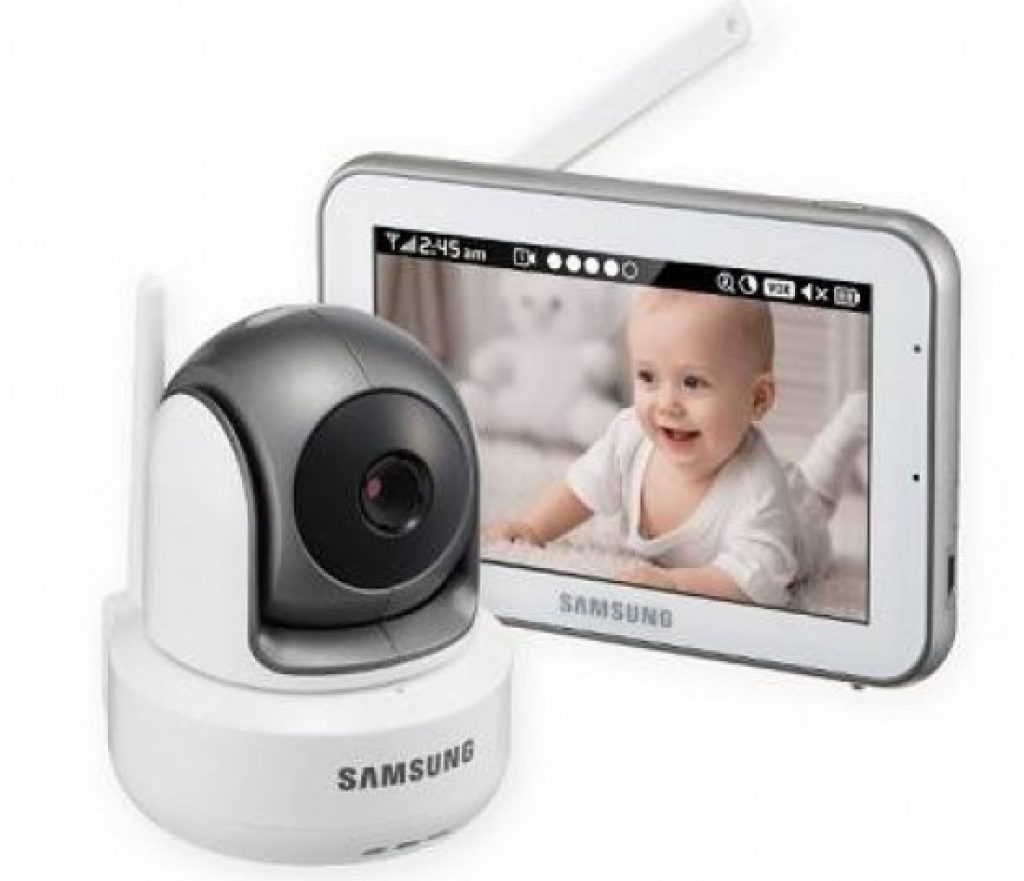 You will be too surprised until you no more get surprised by knowing the number of baby monitors in the market that are easily fantastic but easily lack in solidity. That is where the Samsung SEW 3043W holds the baton.
If solidity is the definition of best baby monitors, this may just top. It comes well built with a 5.0″ LCD Touch Screen Monitor that doesn't fail in the promise of clarity of video and details.
Apart from the video strength, the sound capability is as well great whether for lullaby, notifications, or communication.
We were amazed to realize that with this, Samsung made a baby monitor that has a range of 900 feet indoors, and while the range still holds together, it doesn't suffer from the interference of Wi-Fi signal.
When you get very tired, you can easily select one from the four available lullabies that come with the monitor to soothe your child to sleep. More than that, you can get to speak to your child from your room and hear back everything going on in the room.
You can, however, select the low audio mode which only alerts you when there is a loud noise in the room or when the baby is crying. When you set at a high sensitivity, however, you will get to be notified of the smallest sounds the baby makes.
Night vision is important as we have stated, but the thing is how rushed some seem to be. The Samsung SEW-3043W night vision is not only clear and precise; it does not disturb the baby's sleep even as it covers 16 feet.
The take home with this baby monitor is that once you buy and any part, be it the camera, battery or even cord has a problem, you wouldn't need to buy a complete baby monitor again as each is sold separately.
Pros
Night vision that easily beats the dark in a good way.
Top notch video and sound capabilities.
With the lullabies it comes with, it gives you some free time to fix some things or relax a little.
Great features and customization options.
The video monitor supports up to three cameras which should be good enough.
Cons
Verdict
The main problem with this is that it doesn't come cheap in price. The greatest strength is that it doesn't give a cheap performance so you will see that the main problem is no problem at all. This is a piece for you if what you want is something that touches the right end of quality and standard.
Project Nursery 5" High Definition Baby Monitor
Although this is not a cheap in price, it still pulls a lot of people with great performance and features. It pulls us too, and may just pull you as well.
What this brags of above most others is an arsenal of very good features that serve almost every need that may arise. Okay, there is too much beauty and sleekness to it too.
It comes with an intelligent parent unit which gives you clear video, audio, and the ability to remotely control the camera in the nursery.
Apart from the parent unit, this also comes with a mini monitor which is the first of its kind. We think the mini monitor is well thought of like most things with the baby monitor, as it is a quick and friendly piece that you can carry about in the house.
This baby monitor has a two-way audio connection with 2.4 GHz radio frequency that is consistent. This is on both the main parent unit as well as on the mini-monitor. Also, the mini monitor is very important if you move a lot around the house. Since it is portable, you can move around with it and have a settled mind.
From your sofa or the kitchen table, you can have different views of your child using the remote tilting and panning, thanks to its remote controlled tilting option.
More features that decorate this into one of the most beautiful feature-wise include expandability that takes up to 4 cameras, battery life that reaches 16 hours for the main parent unit and 8 hours for the mini monitor, and inbuilt lullabies.
Pros
It has many features which happen to be very good
Has a very good battery life
Quality that backs the high price
It ensures the safety of your child and gives a very secure connection.
It comes with convenience.
Cons
It is quite expensive (worth every penny though)
Verdict
With this, what you give is a lot of money, and what you get is a premium performance. Even when we still place the less expensive iBaby Monitor M6S above it in general functionality, we respect the uniqueness of this and the fact that it carries extra features that are important than all others. If you are interested in the richness of features, more complete monitoring and quality, maybe this should beat the race.
Motorola MBP 36S Baby Monitor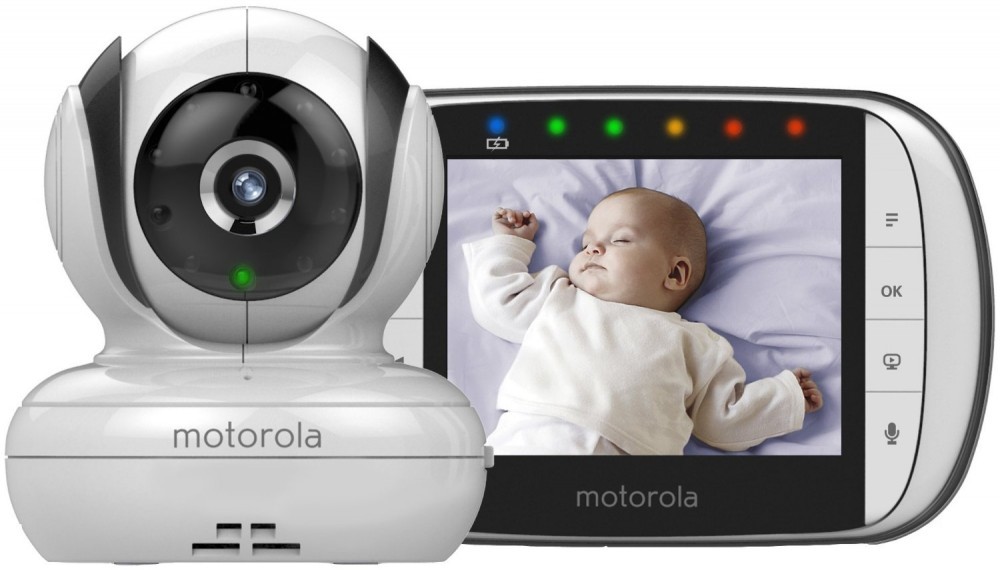 With the Motorola MBP 36S, you get a companion that would allow you mow the lawn and spend some time in the laundry without any worries because you can see that your cute one is still sleeping nicely.
There is only one thing to know about this baby monitor beyond the obvious fact that it comes from a trusted company; it has sustained for quite some time among the best baby monitors.
The wireless piece lets you know what is happening and if the baby is crying or making some sounds, you get to know how loud it is.
It comes with an LCD parent monitoring unit which delivers great video quality so you can see every turn and yawn of the small one. From the parent unit, you can control the camera to pan or tilt in different directions. You can also zoom the lens remotely.
Other things that this gives are temperature monitoring system which displays on the parent unit, night vision so you can have your eyes on your baby at all times including odd ones, and five in-built lullabies like some others.
There is no need leaving the light on so as not to disturb the child just because you want to see whatever is happening. The night vision of the baby monitor comes with LED lights that work well in the dark without any discomfort.
If you have two children, monitoring both shouldn't be a hard thing to do as you can opt for two cameras and place both in different rooms while you use one parent monitor.
Pros
It comes at a good price
You can remote control the camera so as to have a better view by tilting it.
It is compact and can be mounted on the wall.
Your data is encrypted hence no one gets to intercept anything, giving you additional security.
Cons
You may get to experience a little interference
Although too good sensitivity is good, when it gets too much, it is not best.
Verdict
What this baby monitor gives you is a product with great quality, above the average performance, and ensuring that you know how comfortable your child is. This is as while it monitors the room temperature like some others, and lets you know. We would easily recommend this to someone that does not have a very big house as it is best for small to medium size homes.
VTech VM321 Safe & Sound Baby Monitor
Most people that have used baby monitors for some time would agree with us that most times additional bells and whistles on monitors are nothing more than whistles, bells, and noise. With the VTech VM321 Safe & Sound, a statement is made on how whistles and bells should feature.
The baby monitor comes with very important features which add a lot to its functionality. It has a parent unit which allows you to stream and see what your baby is up to. The unit is nerve calming as while you get to see your child, it also allows you to know the room temperatures and even communicate with anyone in the room.
Although the video can be manually tilted to have a different view, this part of the baby monitor would have been complete if it was made with the ability to be tilted from the parent unit remotely.
Even when it's dark, you can still get to have your eyes on the baby with the night mode vision which comes up automatically when the photo sensor senses that the light is low. This uses 8 Infra Red LEDs and the good thing is that your baby's sleep is not disturbed by the light.
Other things we appreciate with this baby monitor is that it comes with five lullabies, expandability options, remote zoom, and a noise filtering technology called DECT 6.0 Digital Technology. What the technology does is to take off background noise as well as ensure that there is no interference in the transmission so that you can clearly hear whatever sound your baby makes.
The battery is quite good, and to preserve it, you can turn it to audio mode only, and the transmission range is 1,000 ft. Generous right?
Pros
Good notification both in video and audio.
It comes with an expandability system that takes up to 4 cameras.
Considering its features and performance, it is a fairly priced piece.
It comes with three language options; English, French, and Spanish.
Cons
The camera of this baby monitor cannot tilt remotely.
Although it comes with lullabies for the baby, the play/stop button is placed on the baby unit and cannot be turned off remotely.
Verdict
It is not the video quality or the range of coverage or even its transmission and battery life that make us recommend this to you. It is a collection of all those that come at a very considerate price.  What every parent wants is a sound performing baby monitor that will keep the baby safe; that is what VM321 Safe & Sound Video Baby Monitor does.
Summer Infant Wide View Baby Monitor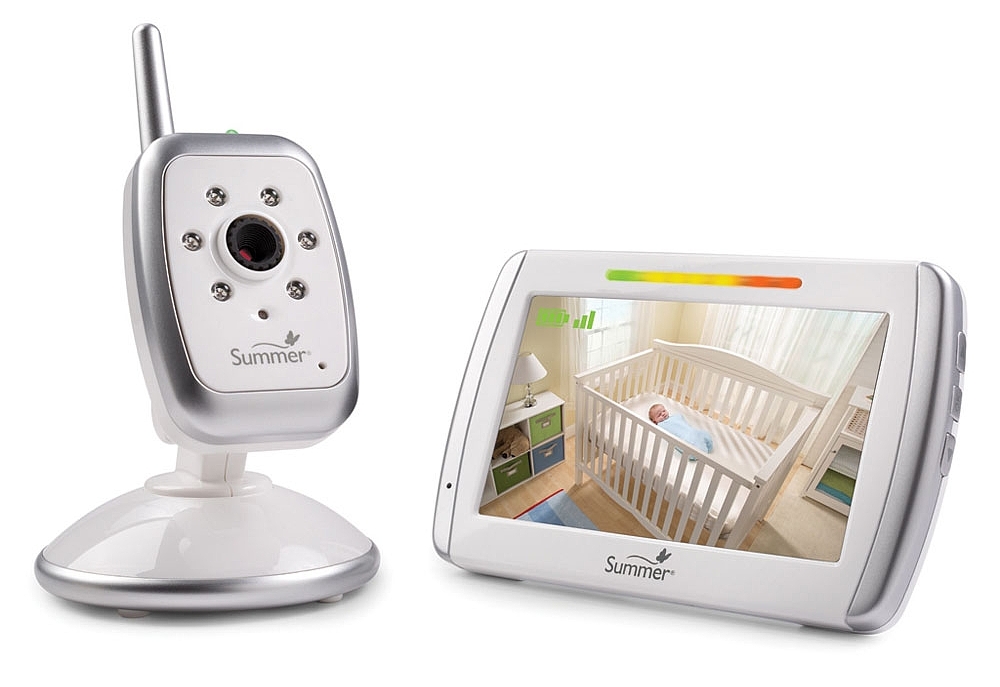 Summer Infant has been above the average when it comes to baby monitors. It is very popular as a result of how faithful it has been in the production of Audio and video monitors that many people have come to love.
The Infant Wide View, is even a better monitor than most ever produced by the company.
It comes with a 5.0-inch portable flat-screen parent unit that allows you see a large part of the baby's room than many others. More so, the unit can take three more cameras so if you have children in different rooms, just get the cameras and this should do for your unit.
Apart from the wide and great video quality you get, you can remotely zoom to see if the baby's eyes are now open or well shut in sleep.
Two-way communication baby monitors have become very popular. This also features the technology so that you can soothe your child to silence before you get to the nursery. You also get to speak with anyone in the nursery.
The range you get with this is on the average, as it does not exceed 600 ft. The good thing, however, is that once you begin stepping out of range you immediately get notified the same way you get when your battery is low.
Like others on the list, this has a nightlight vision that comes up automatically once the light in the room gets low. Although it gives the video in black and white when it gets dark, you do not get to lose anything as it is still decently clear.
Pros
Expandability with up to four cameras
The wireless technology is safe for your child at 4GHz
Easy to install
Because it features a two-way communication system, your baby can be soothed before you arrive
Great for a child already crawling and moving around
Cons
It doesn't have the best range
You do not get to remotely control the tilting of the camera, probably because the camera covers widely.
Verdict
If you need something for your child that is already moving around, this may as well be one of the best. This is because it is wide enough to let you see what your child is up to in what part of the room. More so, with the two-way communication, you can get to tell your child to brush the teeth and be out. For a little baby, there is also no reason why this should fail.
Levana Ayden Baby Monitor
This is a video audio baby monitor that comes with a 3.5 inches screen parent unit which gives you a generous view of your child whether sleeping or just playing on the bed. You can even zoom closer to have a closer look if the baby is lying well.
It is not every time that your baby makes a little noise that you rush to check. Sometimes the only thing the baby wants is a little reassurance that you are not far. This helps you in that situation with its talk-back option, allowing you to tell the little one to go back to sleep.
The transmission range of the Ayden is 750 feet. Although that doesn't beat the best on the list, it doesn't perform badly.
If you easily get worried about the battery running out on you, this gives you some peace of mind with a battery life that can go for up to 48 hours on Power-on/off Energy Efficient Picture mode. What this mode does is to let the monitor and camera go to sleep once the nursery is silent. And no, you don't have to go and wake the camera and monitor when your baby makes any sound, they come alive automatically.
Although without many features, you get to have three in-built lullabies to soothe your baby, temperature sensor, as well as nightlight which you can easily control from the parent unit. The LED that provides the nightlight allows you to see up to 15 feet in the dark. This means that while the baby does not get disturbed, you get to see enough to reassure yourself that all is well and baby is sleeping right.
Pros
It has a good battery life
Average transmission range
Great video and audio quality,
Very easy to use.
It can easily be expanded to take up to four cameras.
Cons
The shortcoming we found with this is that the parent monitor does not allow you to remotely tilt the camera or for panning.
The camera and monitor do not have the same resolution.
Verdict
Among others on this list, this may end up being the simplest. It doesn't take more features upon its shoulders than you would need for a modest monitor. As a result of its simplicity, you get to have a piece that is one of the easiest to use out there. Another thing is that although it doesn't give every feature under the sun, it doesn't fail in decent performance.
Check The Current Price
Best Baby Monitors: Audio

Philips Avent DECT Baby Monitor 
If what you want is to just have audio monitoring, then the DECT Baby Monitor should have you covered. It is one audio monitor that we found to be good enough to take on most challenges that some video monitors should take.
With audio baby monitors, the first thing you must consider is the clarity of the audio you get. The DECT gives you something that is not only crystal clear and sensitive in a good way, but as well without any interference. This is as a result of the DECT technology which ensures that on one hand there is no interference, and on another there is privacy.
Also, what we found to be very interesting is that while it is audio, it monitors your baby's room temperature nicely and reports via the display on the parent unit. For the temperature monitoring, you get the option of customizing it.
To accompany the sounds produced, there are different levels of LED lights to indicate how loud your baby is sounding. As such, you can decide to tune the volume down. Still, you will get notified if your eyes are on it.
Even though we would have preferred it to also make use of electricity, we are compensated by the fact that this cordless baby monitor has a battery that can last for 18 hours without charging.
The moment you step out of range or your battery gets low, you will be alerted so as to have you always connected with your child. The range is 330 meters.
Pros
Sound quality that is unrivaled
It has a talk back option
Has good battery life
Sensitive enough to tell if your baby is snoring or giggling or having a hiccup.
Cons
Although it doesn't consume too much battery, we would have preferred if it was made to operate with electricity and not only battery.
Verdict
With babies, most especially before they reach their first six to eight months, they either giggle when happy, cry when something is wrong, or make sounds when they need something. At that age, a good audio baby monitor should do. That is where the Phillips Avent DECT Baby Monitor comes in, as we found it to be good, friendly, and easy to use.
Angelcare Baby Sound AC420 Baby Monitor
When on budget and you need a good audio baby monitor, you can as well go with the Angelcare Baby Sound AC420, which we found to be decent in many ways.
It comes with a very portable parent unit which does not have many buttons on it. It displays information such as the room temperature, battery bar, and sound level.
One great strength of this baby monitor is that it gives a range that is similar or even better than some that are way more expensive. Although the manufacturers indicated that the range is up to 820 feet, we found it to reach 1000 ft. For indoors, you still get a very good range that it will fit your large home very well.
More so, once you are beginning to go out of range, it will immediately alert you.
When it comes to the sound quality, although sharp, we found this to be crawling behind Phillips Avent DECT Baby Monitor. When you get the volume to go very high, it wastes no time to distort. Nevertheless, it scored some points in the reduction of noise.
For notification, there is also LED light that shows you how loud the baby is crying or making noise.
This baby monitor doesn't come with many features except for the temperature sensor and the nightlight which would have been perfect if you could control remotely.
Finally, we found it to be easy to use and with a battery life that is beautiful, unless you think 20 hours is not good enough.
Pros
Surprising range
Good battery life
It is quite easy to use
It is fairly cheap
Cons
Not the best as regards sound quality
There is no two-way communication
Verdict
When it comes to a budget audio baby monitor, we would easily have this as one of the best baby monitor. It manages to give everything quite generously considering the amount it goes for, including a temperature sensor and good range. If budget is not too tight, we would advise that you shun trying to save and go for the Phillips as we believe you are sure to get more from it.
VTech DM221-2 Baby Monitor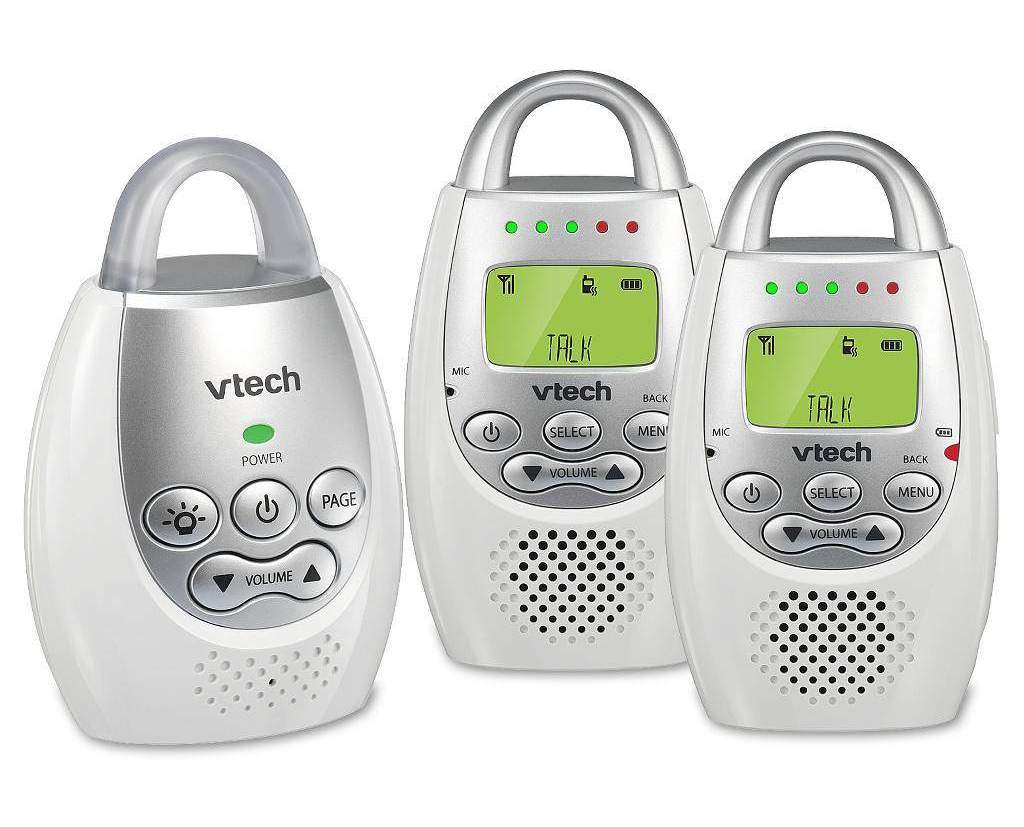 By now it must have been established that VTech is one of the biggest when it comes to the best baby monitors. The DM221-2 from the Hong Kong-based company provides another great digital audio baby monitor that we found to be favorite amongst many experts and parents.
It comes with two parents units and a talk-back option which lets you chatter with your baby or even communicate with your partner who is in the nursery. On the units, you get bars that show you your battery life as well as another that indicates how loud your child is making noise or crying.
As regards the range, unless you are living in a massive 17th-century castle, you should have no problem with the DM221-2 as it offers a 150 ft indoors range and 1000 ft outdoors.
While we found the sound to be great and even better than most others, we found it slightly behind the Phillips Avent DECT. When you want some quiet time, instead of muting the monitor, you can decide to put it on vibration.
If you have ever used an analog audio monitor, you would realize that there is one thing that can be annoying. That white noise! Since this is a digital monitor, you won't get bothered by that.
A soothing nightlight that doesn't disturb your baby, out of range alert, either rechargeable battery option or 2 x AAA batteries are other features is has been designed with.
The final take is that it comes very affordable and with a good battery life that we found to even go a little higher than the 18 hours promised. Once it begins to run out, you will be alerted to have it recharged.
Pros
You get an option of two parent units
Offers a good range.
It eliminates white noise associated with analogs
It comes not as expensive as many others
Because it features the DECT technology, you get to have privacy and no interference.
Cons
If you consider room temperature monitoring important this may not be the best for you
It is not the easiest to use.
Verdict
If you are thinking of a digital audio baby monitor, this should give you a good eye on your baby. It has features that can hardly be exaggerated at a price that seems to be a wave at your wallet. Also, you can get to chose between English language, French, and Spanish.
Conclusion
What we did with the above list is ensure that baby monitors with mediocre performance are left out and the best ones are selected and recommended for the safety of your child and your peace of mind. While the performance of all those above may vary, we are confident that they would all serve you largely. Finally, the market would give you many baby monitor options that are very cheap; avoid them at all cost, unless you are sure they would serve well.