Finding the best diaper bag for your baby is absolutely necessary because baby changing is a routine that happens often so as to avoid exposing them to infections. Simply because it is unhygienic and risky to leave your baby unattended when their nappies become wet and soiled. While these caregiving actions generally seem tough, it is more hectic when you have to do it away from home. However, diaper bag can redeem such moments, literally. This is why you should ensure you get one of the best diaper bags; it should be an easy-to-reach diaper bag that can hold everything you will need whenever you are stepping out with your baby. Go for one that is spacious enough to accommodate essentials like a change of clothes in case your baby's nappy drops, a distraction for your baby in form of a small toy, diapers, wipes, nursing cover, burp clothes, changing mat, snacks, feeding bottles or sippy cups.
With this understanding, we looked at numerous diaper bags to select the best that can suit both moms and dads. Through our research, we considered features like storage capacity and compartments, durability, ease of use and more to arrive at the conclusion that the Skip Hop Duo diaper bag is the best diaper bag for moms.
This diaper bag is highly durable which is cool when you consider that you are going to be using it for a long time. It provides enough space that can accommodate you and your baby's items which is like getting away from nearly all the troubles and inconveniences that you may go through when you are out with your little one. The bag is easily converted to a tote bag with its look which was designed so mothers can practice caregiving in style.
It is fairly priced and not less effective. Nonetheless, if you would prefer a gender-neutral bag which would still save you from all the dramas that come with caregiving outside your home, you could choose Bag Nation diaper bag which is a backpack, or Hip Cup diaper bag or any other bag listed here.
Best Diaper Bags
Why You Should Trust Us
The business of caring for kids is a serious one and as such, one requires all the help they can get to make the right decisions that would make the entire process easier. We have taken our time to compare and contrast diaper bags from various reputable manufacturers, see how much effort was put into making them pretty as well as durable. But that's not all, we have also taken our time to use these bags and experience what you would go through if you choose any of these bags.
But to make our review even more trust worthy, we have taken out time to study mothers and care givers who use 45 different diaper bags, we've seen how much of a difference it made in their daily lives and how it made their caregiving process a lot easier.
More than that also, we spoke to the users of these bags to find out what they think or what they wish the bags could do differently. Through our research, we compared their features including their designs, prices, durability, ease of use, practicality, etc. We got both new and old parents (moms and dads) involved to know which bag satisfied their needs and are still doing so till now.
With all the processes, we arrived at these fifteen diaper bags that are bound to deliver. So if you pick any of the bags on this list, be rest assured that you would not encounter any surprises that we have not already told you of.
New Hip Cub Diaper Bag – Weekender Tote – Designer Canvas W/ Cute Baby Change Pad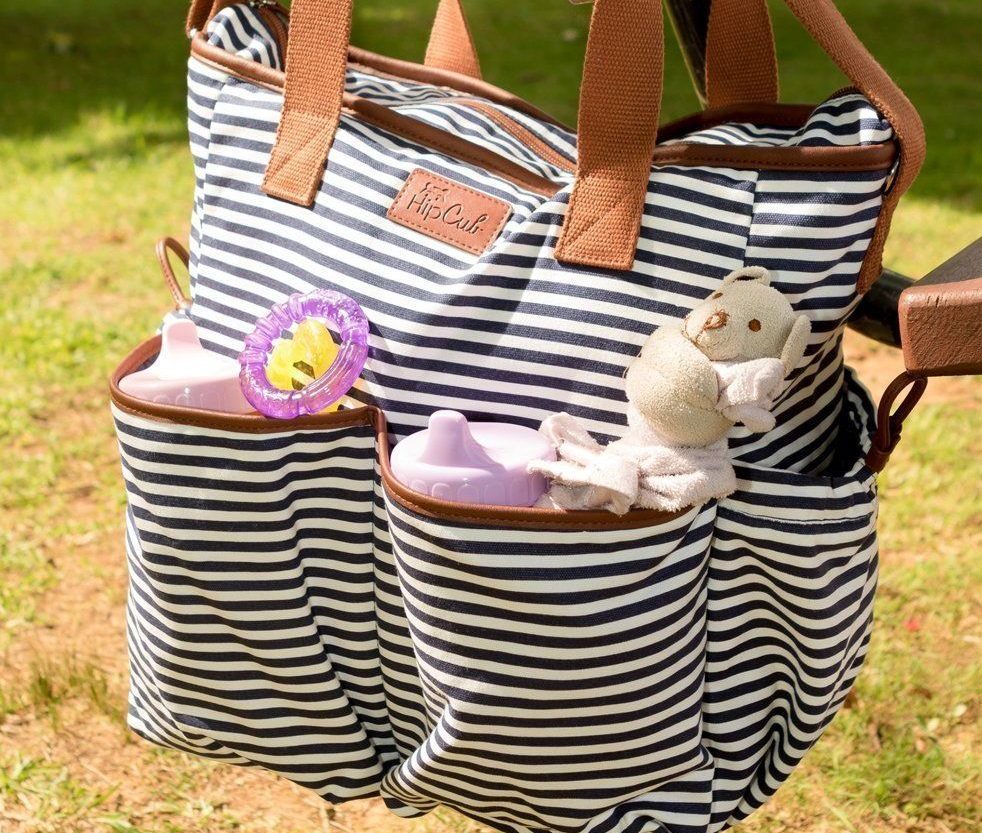 Made of cotton canvas, this tote Hip Cub diaper bag collection offers both style and practicality. What this means is that it adds to your look and yet offers enough space – nine pockets – that can take everything you will need to take care of your baby outside your home.
The nine pockets include main compartment with a zipper for keeping the major stuff, one back pocket closure for keeping dirty stuff, two side pockets for storing bottles, two front pockets offering extra storage spaces and finally two large internal pockets – everything put together gives you unending spaces when packing up your baby's stuff. Durability also played a key role in setting up this bag as it is built with top-notch materials for prolonged usage so you don't have to dump it after maternity.
To clean up, the bag features easy-to-wipe-interior as well as cleanable exterior. This is undoubtedly helpful as handling kids can get messy most times. Also, you don't get to deal with one boring diaper pad or settle for a dull-coloured mat since it comes with a matching diaper mat. Again, it has a stroller strap that can be adjusted to a stroller organizer for more convenience. One thing that got us tripping the more was the fact that this tan accent trimming can go with nearly all shades of outfit you may wish to wear. Note that washing the bag could be harmful, thus spot cleaning the bag with a damp cloth is more appropriate.
One thing that got us loving this the more was the fact that its tan accent trimming can go with nearly all shades of outfit you may wish to wear. Note that washing the bag could be harmful, thus, spot cleaning the bag with a damp cloth is more appropriate.
Pros:
Highly responsive customer service
It is durable
Looks good and can go with whatever color you wear
Very affordable for its size and value
Adjustable straps that offer convenience
Provides enough space for all baby's essentials including clothes, wipes, diapers, etc.
Cons:
It may be too big for one baby
Could get damaged if put through the professional dry cleaning process.
Verdict:
This diaper bag offers you sufficient space more than you'd imagine just so you don't have to struggle with space. It is easy to clean and also has the looks any mom would love. However, there may be no safe way of cleaning the entire bag and as such, you are advised to spot clean with a damp cloth rather than washing it.
Wallaroo Diaper Bag Backpack with Stroller Straps, Wet Bag and Diaper Changing Pad – For Women and Men
This Wallaroo diaper bag is as good as a functional backpack for traveling but made to also help you carry all your baby's daily essentials. The manufacturer paid painstaking attention to the interior space so you don't leave anything behind. The main compartment has a zip top that secures your baby's items from falling out. The interior pocket is generous and can take tablets and laptops within the range of 15 inches. Among the many interior cubes include non-elasticized and elasticized storage pockets where you can store your changing pad. On the contrary, it has less exterior pockets featuring only four (two front pockets with zipper closures and two side pockets) unlike most diaper backpacks mentioned here. But that doesn't mean you don't get a space to put everything you would want to reach quickly. The few outer pockets supply convenience to
Among the many interior cubes include non-elasticized and elasticized storage pockets where you can store your changing pad. On the contrary, it has less exterior pockets featuring only four (two front pockets with zipper closures and two side pockets) unlike most diaper backpacks mentioned here. But that doesn't mean you don't get a space to put everything you would want to reach quickly.
The few outer pockets are convenient for moms who are too preoccupied to start digging through the main compartment for small items. One of the front pockets also has two zippers which not only give quicker access to your phones or keys but also provides more space to keep tiny things. The side pockets are for you and your baby's bottles.
We think this bag does the job well, especially when you're out on a shopping, strolling or a short travel with your kid.
Regarding its overall aesthetics, this nylon polyester is well-stitched. It also has a strong adjustable strap. Besides holding the pressure points tight enough to withstand the weight of your baby's essentials, the strap is made in a way that won't hurt your shoulders. Wallaroo comes in a simple but quality design that is appealing.
Usually, diaper bags with these features are high-end but this Wallaroo bag in all its effectiveness comes at a very low price. We also appreciate the fact that even at such a low price, it comes with grip stroller attachments, diaper wet bag, a comfortable changing pad and everything else a diaper bag user would anticipate.
Pros:
It can be put to many uses (since it can serve as a travel backpack for hiking and other uses)
It is stretchy, so it can take enough essentials
Water-resistant
Can easily be wiped clean
Made with top-quality fabric
It is very functional and affordable
Can serve both men and women
Cons
The changing pad seems small
Verdict:
As a new, first-time mom or even a pro mom, this bag is a good bet for you for many reasons; first of all, it is modern, clean, easy to carry around town and is durable. Secondly, it can contain many items such as baby food, clothes, diaper and all what not. It makes baby changing a lot easier even though the changing pad seems small.
Skip Hop Duo Signature Diaper Bag
This Skip Hop Duo Signature Diaper Bag with Portable Changing Mat gives you a leg up in packing so you pack like a pro. It is improved to include features that are really important to parents like a zip top closure that protects items from falling off the bag, and 10 pockets including side pockets made of stretchable nets that can be adjusted to fit most bottles tightly, all of which make for tidiness. With all the numerous pockets, however, the bag remains a little smaller than the Hip Cub diaper bag especially comparing their main compartments. But we think it is more unisex than the latter.
You have two options for carrying this bag. Either you use the shoulder strap or the stroller handle. The tote straps can also be adjusted to different sizes for many uses. It further has a slip-on shoulder pad that ensures you don't get hurt where the strap is pressing on your body, thus there'll be no need to tolerate pains that may come from the weight of your baby items. More comfortable holdings come from Skip Hop's smaller handles which are quite effective.
Although improved, the bag didn't lose some of its old functional features like shuttle clips that make changing it into a stroll bag possible. More than just storing your baby's items, you can also slide in gadgets like tablets and a laptop of up to 15″ when going on an outing with your baby. In addition, it comes equipped with a cushioned changing pad, it is also healthy and eco-friendly since it lacks BPA and Phthalate.
Pros:
It is a top-quality bag
Quite versatile
Eco-friendly with no harmful chemicals
Has a clean appearance all the time
You don't have to do any washing since cleaning takes only spot wiping
It has a shoulder pad that protects the carrier from bruises
Cons:
Not enough space in the main compartment compared to the Hip Cup
It has many pockets that could be needless
Verdict:
Quality is crucial to a diaper bag and it all borders on the material used. We think attention was paid to these factors in the manufacturing of this bag. The bag is greatly durable, cheap, stable when in use and effective. We love its overall design which is modest and classy. However, it is made for moms who may not need to carry much in the main compartment as it is decent-sized.
Click Here to See Price
Bag Nation Diaper Bag Backpack with Stroller Straps, Changing Pad and Sundry Bag
The Bag Nation Diaper Bag comes at a reasonable price and is brimming with some useful features. It is designed with a top quality material to save you from the worst days of parenting when you need to change diapers countless times. For its plenty space, we think it is most suitable when arranging the supplies of kids younger than six months since they tend to need more diaper-changing.
Furthermore, it has a space for everything from diapers and wipes to pockets that retain food or water temperature. However, you are not off the hook if you have kids older than six months either. In fact, once you have a kid who would still need a change of clothes, a few toys, snacks or food, water bottle, wipes and other necessary supplies, this bag is an obvious choice for you.
The bag is sewn expertly to last with top-quality water-resistant twill polyester, that is more durable than cloth. What's more is that the items (extra clothing, food, and diaper) also stay secure thanks to its very strong zipper. Moreover, it is convertible and can be used for many other purposes.
Its strong padded strap makes it appear less heavy to carry even when filled up, so it is light weight all the time. You can also do yourself the kindness of strapping it to your stroller. It comes with a soft and cushiony diaper mat that allows you to change your baby's diaper whenever it is necessary. Also attached to the bag is an extra sundry bag where you can store smaller items. It lacks BPA and phosphate which makes it healthy.
Pros:
Adequate padding which saves your hand from aching and also leaves them free as it can simply be worn.
Has enough space to help you get through the daily hauls that come with newborns
Its ergonomic design is impressive
The extra bag it comes with means more space
It features 14 pockets
It is versatile.
Cons:
It is a backpack and may not impress some moms
The many pockets may be too much for some parents
Verdict:
You don't want to be caught with not enough diapers, wipes or food when it's time to change your baby outside your home, this Nation Diaper Bag is advised. It comes in handy at this time. It is a bag you may carry with you every day without any hassle.
Click Here to See Price
Maman Diaper Bag – with Matching Changing Pad – Stylish Designer Tote for Moms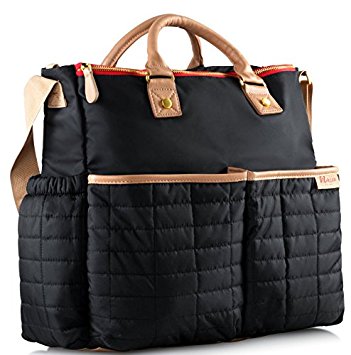 Highlighting current popular style, this Maman diaper bag beats out most tote bags in style and still functions effectively as a baby bag. Maman bag is made with waterproof material so you can easily clean it after messy spills. It has a strap you can put over your shoulder or latch on to your stroller to free your hands.
The bag provides 10 compartments including internal and external pockets. This gives you endless space to store things, so be sure to get all your baby's supplies including his or her favorite toy, socks, diaper, cloth, cap, bottle and anything else that would save you during an outing. There is also an easy-access pocket where you can keep your phone, keys, money and other valuables so you don't lose them while catering to your baby.
Don't Miss: Best Cooling Pillow Reviews
The bag is versatile and serves different purposes including being a normal tote bag and a baby bag. Mothers can also easily change diapers anywhere without much worry thanks to is super-soft changing pad that ensures your kid stays comfortable while changing is on-the-go. Also, it poses no health or environmental risk as it is made with no toxic chemicals.
Pros:
It is easy to clean
It is lightweight, thus easy to carry around
Makes for a good travel bag, baby bag as well as a tote bag
Provides comfort and efficiency
It is well-made with high-quality straps and zippers
Highly affordable for its value
Cons:
It is apparently gendered and suits moms better.
Verdict:
If you are a new mom and looking for happiness in a diaper bag, you might want to think about getting this Maman bag. The bag is a brainchild of a mom who understands what moms really look out for in a diaper bag. Hence, it combines practicality and style. Its color and design ensure motherhood doesn't interfere with looks as it doesn't scream "diaper bag".
Sleeping Lamb Baby 16 Pockets Waterproof Travel Backpack Diaper Bag
Sleeping Lamb baby bag is another bag that addressed many mom's must-haves in a diaper bag. Sewn completely with polyester, this budget-minded bag is the way to go.
The bag is created with all moms in mind, offering up to 16 pockets – the largest we have seen. Among the pockets is its basic compartment that has two net pockets and one note pocket for storing items you need handy. Its handiness goes down to saving you from rummaging when you want to find something.
There is a zipper in the middle that has three insulation bottle holders that can keep your baby's water and food warm until you need them. One of the side pockets has insulation features as well to ensure you don't run out of warm food. There is a place to store dirty diapers, wet clothes, umbrella, wet diaper, hide tissues. In fact, there is a place designed for every single thing you would want to put in the bag including your baby's spoon. This bag makes organization a blissful experience. It is sewn firmly to withstand tear, so you can punish it all you want, it will not rip that easy.
To avoid tampering with your comfort, the bag provides a changing pad and stroller straps. The straps could be attached to your stroller for easy movement. Even if you opt to shoulder the bag, it will not cause you any pain thanks to its padded straps that makes carrying very comfortable.
Pros:
It is comfortable to carry due to its cushy padded straps
Not pricey despite its awesome value
It is tear-proof
Has enough thickness not to slip off your shoulder
It is a multipurpose bag and can even serve as your day to day bag
Holds up stuff perfectly
Does not pose health concerns.
Cons:
Could get a little heavy when filled to the brim
This Sleeping Lamb bag may be bulky if you are handling one baby due to its scores of pockets
Verdict:
If you want a diaper bag that you can easily wipe clean, then this Sleeping Lamb baby backpack might be a clever consideration. It is resistant to stain, stitched firmly and can last for a long time. Plus you won't have to worry about exposing your child to chemicals since the bag is also eco-friendly and healthy to both you and your child. Keep in mind, however, that the many pockets may be much if you are caring for one baby.
Click Here to See Price
Skip Hop Forma Pack and Go Diaper Backpack, Black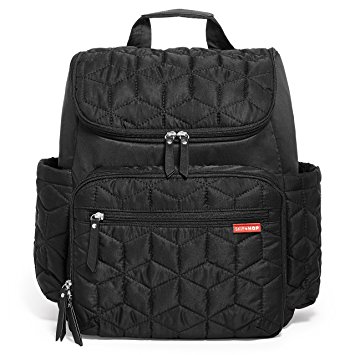 It can be overwhelming when your kid is constantly peeing through diapers or throwing up all over you when you are on the go. At such moments changing could be a headache but what counts is having everything you need to fix the mess. This durable polyester diaper bag is quite roomy to take your baby's food, diaper, wipes, shoes, shirts, clothes, cap, your cell phone, keys, etc. It is lightweight and quilted, thus very comfortable to handle. Skip Hop Forma has a wide interior with a zipper closure for quick access when necessary. The front part of the bag has two large zippers for extra supplies. You can reach anything you want when you want it thanks to its elasticized interior pockets. Just like many bags here,  the side pockets are insulated thus conserves heat.
It is lightweight and quilted, thus very comfortable to handle. Skip Hop Forma has a wide interior with a zipper closure for quick access when necessary. The front part of the bag has two large zippers for extra supplies. You can reach anything you want when you want it thanks to its elasticized interior pockets. Just like many bags here, the side pockets are insulated and thus conserves heat.
See Also: 10 Best Breast Pumps For The New Mom
The Skip Hop bag also has a net provision where you can keep shirts, snacks and other clothes. Overall, it has 11 pockets for a complete on-the-go-organization. It can be attached to a stroller and also worn over the shoulder. There is a place where you can keep your changing pad but when it's not changing pad, you can do laptop as it can act as a laptop holder when you are traveling. Aesthetically, it looks cool with padded straps and quilted skin which we think it's fascinating. It comes with a changing pad and we love that it is gender neutral.
Pros:
Prevents heat from escaping from whatever that is stored in the side pocket.
It frees your hand
Convenient to work with
Durable.
It is stylish and functional
Fairly-priced yet valuable
Can take both essentials and miscellaneous
Ideal on-the-go organizer
Easy to clean
Cons:
We think the straps need to be made longer and adjustable to fit everybody (huge or small)
The bottle holding pockets have no zipper or elastic, which doesn't seem secure
Verdict:
Made with polyester, we found out that cleaning and maintaining this bag isn't a hassle. It can easily be cleaned and it is resistant to water. It is appropriate for casual outings as well light travel. As a woman or man, you can get this bag as it is for both sexes.
J.J. Cole Satchel Diaper Bag Review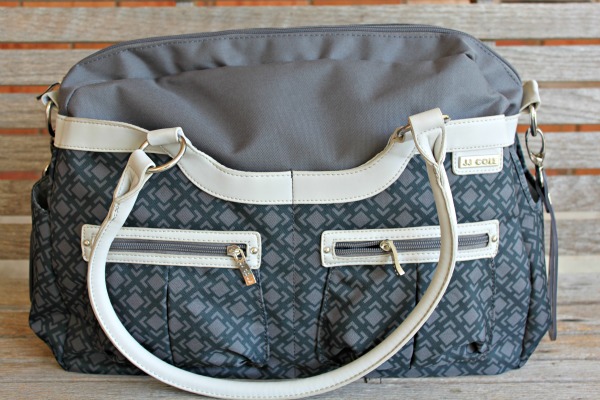 J.J Cole Satchel is an easy-to-clean polyester bag with 11 pockets -7 pockets on the outside and four useful compartments on the inside. The compartments are further broken down to small zippered pockets where you can secure your tiny belongings like keys, pacifier, food and more, it has two large sides pouches where you can keep you and your baby's bottles, a large front pocket where you can fold in the changing pad, and another large back pocket for putting things you would need to bring out more often.
Similarly, the inside provides spaces where you can store major necessities like clothes, diapers, wipes, etc, with one zipper closure. With all these spaces for pro arrangement of your baby's items, we could almost assure you it can take the belongings of more than one baby. Changing is fun with its baby friendly changing pad that comes through in all aspects including size, material, padding as well as quality.
It doesn't have a busy design but is cool and can serve as a regular tote bag. Also, its long detachable padded strap can be adjusted to any size to help you juggle shouldering the bag and looking after your kid. A grab strap is added to its overall design for ergonomic holding when you don't want to place it on your shoulder. Additionally, it comes with a grip stroller that provides comfortable support when fastened to any stroller.
Pros
Has a changing pad that will provide great comfort to your baby
It is easy to use
Simple design yet effective
It fits securely to any stroller
Provides enough space
Several lovely color options to chose from
Cons
The interior design may not sit well with every mom
Verdict
Whether you are a first-time mom or an expert in parenting, this bag is excellent. We found its various interior design and colors outstanding though some moms may want it plain.
Click Here to See Price
Diaper Bag by Hip Cub – Baby Changing Pad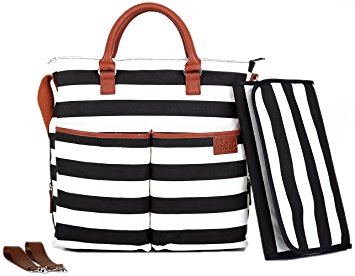 You can't beat a fashionable diaper bag with the perfect white and black stripes. That's what to get from this Hip Cup monochrome diaper bag. Just like other Hip Cup bags, this is designed to be useful rather than just being attractive and that places it in a league of its own. In addition, the diaper bag is perfectly sized and has enough space to contain both your stuff and those of your baby.
It includes a front organizer, possibly for your own essentials like phones and keys or for wet things, the main compartment for your baby's, two side pockets for water bottle, feeding items, and other accessories, two interior spaces and adjustable strap, summing up to seven pockets in all.
While it doesn't have as many pockets as the HSD tactical diaper bag, the bag is a great option if you're looking for a more decent take on the diaper bag. It is a practical alternative that can fundamentally keep your things safe if you don't want to go for a backpack.
Recommended: Review of the Best Juice & Smoothie Makers Under $100
When you are not taking baby stuff out, you can easily store other stuff like your laptop, gym kit, books, electronics, magazines, cardigan and more in it. Despite these unbeatable features, the price of this bag is fair enough.
More than that, the extra-strong bag comes with a matching changing pad and a stroller strap to create a balance between cuteness and effectiveness. The zippers are as strong as the bag's stitching so they don't rip easily. Away from the diaper bag it is, we love that it easily converts to a tote bag or portable bag for short trips.
Pros:
It is made to last
It comes in a stylish colour
It is affordable
Helps you keep up with all the circus involved in caregiving while looking classy
It is not bulky
Cons:
It is not gender neutral as it is specially made for moms
You may need to spot clean rather than washing as it may get ruined
Verdict:
This black and white stripes bag is affordable, safe (free from chemicals that could raise health concerns) and reasonably spacious. It is way more practical than most expensive shoulder bags. It easily converts from a diaper bag to a regular outing bag. We can assure you that this can serve you for a long time as long as you spot clean only.
Skip Hop Chelsea Downtown Chic Diaper Satchel, Black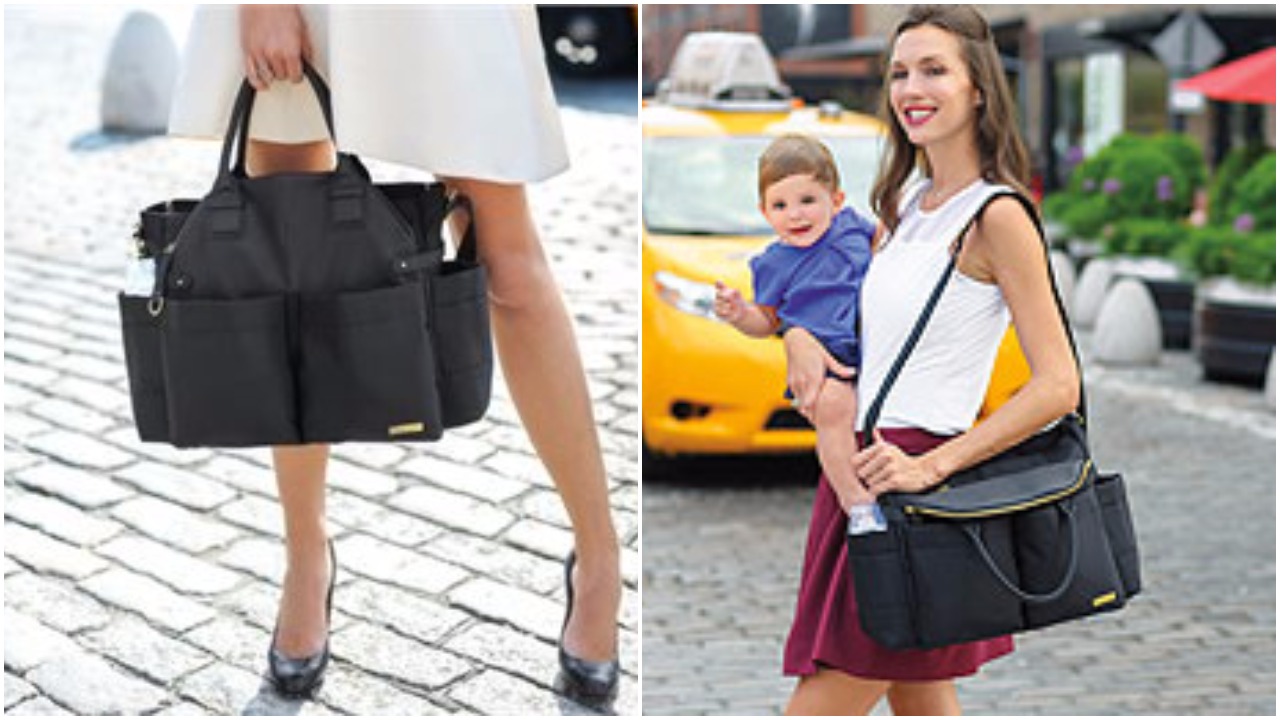 Skip Hop Chelsea speaks of faux leather (which is durable) with gold metal details. The bag is deceptively roomy providing ample storage to accommodate tons of necessities you need to take along with you.
There is no such thing as falling apart as its standard zippers and sewings are done skillfully and neatly, suggesting durability and continuity.
In the matter of style, the Chelsea bag can fit the lifestyle of any mom with a high sense of style as it seamlessly changes from diaper bag to tote bag. The rose gold detail is a beautiful touch and the overall design makes the bag a chic one that can serve as a go-to for baby caregiving and beyond. We love the fact that it takes a lot and yet wouldn't show how much it has so you can tote around with so much without anybody actually knowing.
As you can imagine, the bag has adjustable straps so you can easily free your hands. We love that the straps are soft and comfortable to lift. And yes, if you don't want it on your shoulder, you could strap it to your stroller for more convenience. There are also metal feet shielding it from touching the ground, so no additional mess from wet floor to deal with. Moreover, it comes with a fashionable changing pad wide enough to allow you have a quality changing moment.
Pros
It gives otions that free your hands
It is trendy and durable
It is healthy with no harmful chemicals
Cleaning is painless even after a messy outing.
Cons:
It is slightly on the costly side
May not be large enough to hold stuff for more than one baby
Verdict:
Skip Hop Chelsea bag is for you if you want to retain your classy semblance and yet have all your baby's essentials intact. It is stylish and yet very effective. Again, the bag saves you time and energy since you can reach stuff easily.
Click Here to See Price
HapTim Multi-function Baby Diaper Bag Backpack W/ Stroller Straps- Insulated Pockets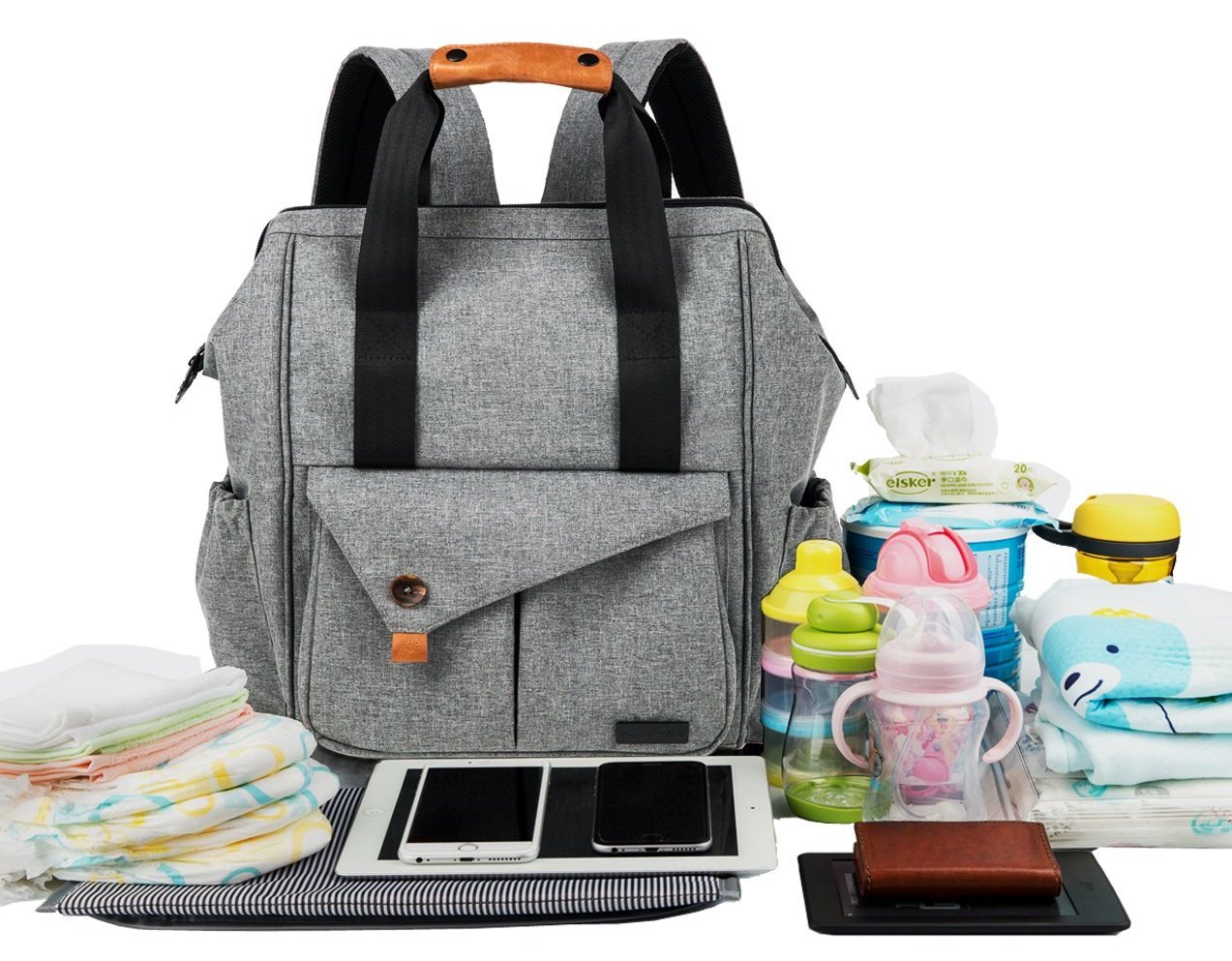 If you have older kids who can carry their backpacks during travel or a newborn that needs more diaper changing than usual, this bag may be your best pick. HapTim diaper bag is convenient to use whether you are the one doing the carrying or a child is.
The diaper bag is sewn to be hard-wearing, dependable, fashionable, spacious, versatile and handy during diaper leaks away from home.
When we said hard-wearing, we are referring to the quality materials used in its innovation like a Nylon garment fabric. The back also features a waterproof Polyurethane coating (superior to polyester) that enhances its life expectancy whereas the waterproof material makes it a lightweight and flexible.
Read: Best Cookware Sets: Your Guide To A Comfortable Kitchen Time
The zippers are made strong to prevent fiddling or having to deal with broken zippers. It boasts of grab handles and padded shoulder straps for stress-free lifting. You also can give your shoulder a break by using the stroller straps added to get you out of a jam anytime. The design is evergreen and trendy, so you can have it for a long time without it going out of fashion.
The HapTim diaper bag provides 13 pockets with a very large main compartment for proper arrangement of all dad and mom essentials. Other compartments include enclosed bottle pockets that prevent the loss of heat. This is used to keep bottles and baby food at a desirable temperature for a long period of time. The front pocket is for storing small items such as keys and phones to avoid scrabbling about in the main part whenever you want to get them out. There are also side pockets where you can store baby wipes for easy access.
It is designed to suit both moms and dads stylishly. Moreover, it isn't just a diaper bag. It is a multi-purpose bag that can easily be converted from a diaper bag to a travel bag or daily stylish backpack.
Pros
It is flexible and can be put to many uses
Highly fashionable
It is gender-neutral
Has enough space
It is resistant to wear and water
Sturdy
Helps you pack items in an orderly way
Cons:
You might have to spare more money to have it
Verdict:
HapTim is made with quality materials and the finishings are top-class. Despite its sturdiness, it remains light and so wouldn't cause you pain when it is filled with your baby items. Although a little on the high side, thoroughness introduced in its creation balances its cost and makes it a great bag when on an outing or on a trip with your kid.
Click Here to See Price
CoolBell Baby Diaper Backpack With Insulated Pockets and Changing Pad – Best Diaper Bag for Dads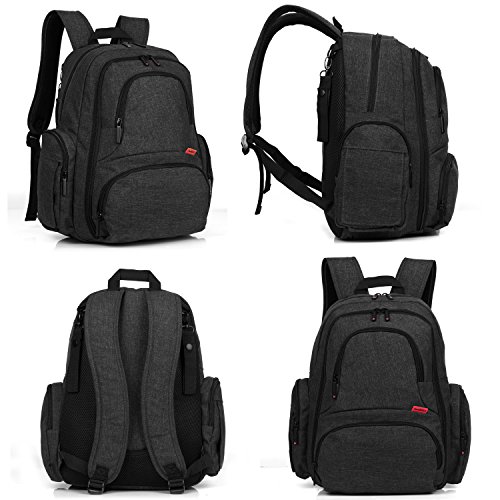 For all the egalitarian dads, here is a chance to do the caregiving responsibility perfectly. The Coolbell baby diaper bag is as cool as it sounds. It is made with a cotton fabric which by all accounts can stand up to wear and stress. It is a versatile bag that can easily be converted from a diaper bag to a laptop bag or a travel bag. As far as we know, it is a backpack so both sexes can use it though it could be dads' favorite.
What interested us the most with this diaper bag is its numerous pockets (about 10) that make orderliness possible including insulated side pouches for keeping the baby's food in the right temperature, waterproof front pocket that can accommodate your baby's diaper and also a compartment for storing wet towels. Your baby's extra cloth, shoes, and more can comfortably be swallowed up by the main compartment. It also has two sides pockets were you can keep the tissue.
However, we think it would have been more convenient if the side pockets were left without zippers or elasticized so moms or dads can easily slide in or access stuff from it rather than just storing tissue in it. This doesn't entirely cancel the fact that the manufacturer considered comfort highly in designing this bag adding stuff like two stroller straps to make things easier.
Sometimes changing a baby seems like dressing an octopus, so CoolBell's manufacturer added a cool changing pad that gives babies a relaxing feel to save you at such moments. Again when using it as a travel bag or as a laptop bag, its straps are designed for efficiency and its cushioned back will make it easier for you to carry it since you won't have to strap it to the stroller.
Pros:
It offers generous space for all necessities
It is well-sewn to last for years
Feels cuddly to carry
Gives a chance to be very organized
Perfect for nursing moms, first-time parents, and egalitarian dads
It is made not to slip off your shoulder
It is affordable
Cons:
The two side pockets have zippers, thus it won't allow you slide in stuff like bottles easily.
Some moms may prefer a tote diaper bag over a backpack
Verdict:
Looking for an all-rounder backpack bag with a trendy look? Then consider this diaper backpack. It is budget friendly and sturdy with all kinds of parents in mind with its design. It is a bag you can trust not to easily fall apart. Well, most moms like tote diaper bags but if you are among the few who like things differently, here is your chance.
Click Here to See Price
HSD Tactical Diaper Bag Plus Changing Pad, Insulated Pockets, Stroller Straps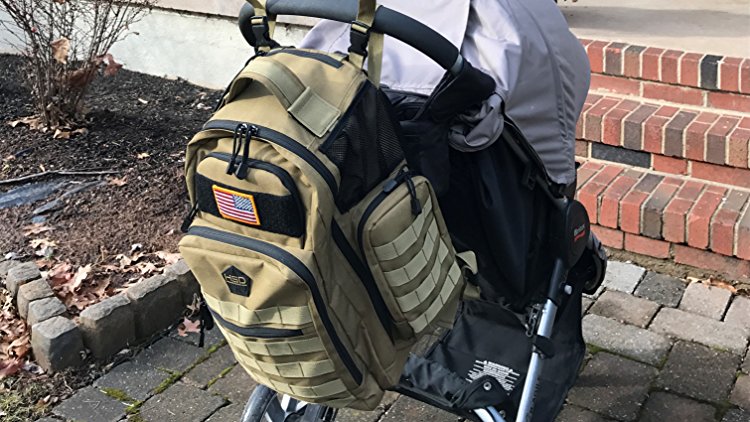 HSB tactical diaper bag boasts loads of functional pockets and is much easier to deal with on the go. The very solid bag features 600D waterproof (a plain weave polyester material with a pvc backing which is waterproof) and long lasting polyester on the exterior while its interior lining is made of 210D polyester. This means it can fully be submerged into the water without water entering inside of it.
Sewn to function, it does not come short in style as well. For us, it is quite different from most backpacks we have seen speaking of the 4 tough rubber traction feet that shield it from wearing out as well as bear the weight of the bag whenever it stands vertically.
HSB Tactical diaper bag as the name implies enhances tactical organization, featuring an interior insulated pocket for storing milk and food that you need either warm or cold; it also has other pockets like the hidden wipe pocket which can be accessed easily, two side sleeve pockets where you can keep small-sized bottles or other belongings. There are more spaces for everything you may need to carry no matter how delicate, including a place for sunglasses.
There are also several interior zipper and velcro pockets where you can keep small items. It comes with three hooks to allow you attach key chains and more. The shoulder straps are adjustable and thick enough to withstand pressure. They are also padded and covered with mesh which allows air in. An extra detachable waist strap makes carrying it more comfortable.
See Also: 11 Best Non Stick Pans and Skillets For Frying and Cooking
The bag can serve as a diaper bag, travel bag or laptop bag accommodating tablets and laptops that are up to 15-16 inches. It also has a rear luggage strap so you can fasten it to other handles for convenience. Quite different is its extra-large changing pad that's almost the size of a baby bed. You can also strap it to your stroller using some hooks that come with the bag.
Pros:
It is easy to carry around
It is both waterproof and weatherproof
The bag is modern and looks great.
Easy to wipe clean
It is roomy
Not just a baby diaper bag as it can serve different purposes.
Highly durable which means no deterioration
Cons:
It is a high-end diaper backpack
Could be bulky for some moms or dads
Velcro can be noisy and easily gather stuff it has no business with like hair, thread, etc.
Verdict:
This diaper bag is our best when it comes to durability. This is because it has a high threshold for withstanding pressure. We love the extra straps that come with it. It is a great deal since it can serve you for years which in essence saves you a lot of money in the long run. In all, we found everything on this bag to be perfect most especially for parents who like to be well organized.
Click Here to See Price
Conclusion
In this review, we gathered the best diaper bags that will make caregiving a walk in the park. They are top-quality, professionally designed and sewn to last. They hold up essentials and their reliability can not be over emphasized. We found that nearly all of them share something in common and that is a consideration for all kinds of parents including first-timers, pro moms and dads and even those who would be looking for a multi-purpose bag. Additionally, they sell at a reasonable price considering the convenience in all of their designs and we love that despite their unbeatable values, they come lower than $100.
Recommended: 12 Best Waist Trainers and Corsets that Really Work