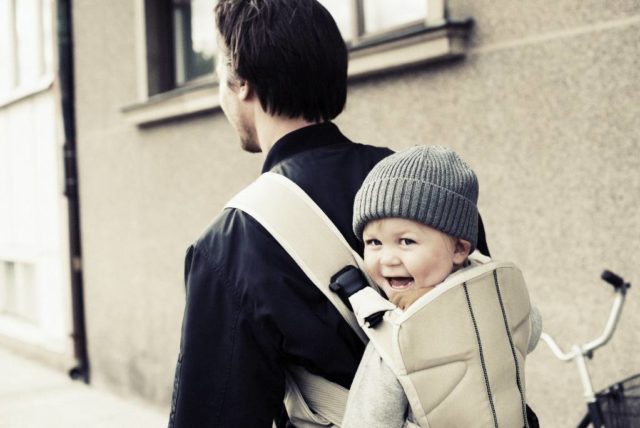 Getting the right baby carrier is not one of the easiest things to do. It requires a lot of considerations such as comfort for your child and yourself, the safety of your child, ease of use, quality, and of course your specific need. We have conducted an extensive research and review of 52 of the most popular and commonly recommended baby carriers and we discovered that Lillebaby COMPLETE All Seasons is the best baby carrier in the market today. Made with 100% cotton and offering 6 carrying positions, it has a lot more useful features than any other baby and child carrier out there. It is very comfortable to use from birth (without needing any infant insert) up till 45 lbs. It provides good lumbar and neck support and is also equipped with sleeping hood which is very useful when your baby falls asleep on the go. It is ergonomically designed for maximum comfort to the baby and the wearer. If you prefer a simpler design, we equally recommend Tula Ergonomic baby carrier. However, you can also choose from these other top-rated baby carriers which we also recommend.
Best Baby Wraps, Carriers and Slings
Lillebaby COMPLETE All Seasons
Tula Ergonomic Baby carrier
Ergobaby 360
Onya Baby Outback
Mountain Buggy Juno
Boba 4G Baby Carrier
Baby K'tan
BABYBJÖRN baby carrier one
Beco Gemini
Infantino Sash Mei Tai
Stokke MyCarrier
BABYBJORN Baby Carrier Miracle         
Why you should trust Us
We have enough time to carry out extensive research and review of the best baby carriers in the market including the over 46 of the top selling and most recommended baby carriers, wraps and slings. During this research, we focused on the overall child safety (emphasizing on how a baby would normally seat), support and comfort of the child and the wearer, padding, pressure points and distribution of weight, type of material/durability, versatility, adjustability and overall ease of use before coming to this conclusion.
As regards safety, we have taken the TICK rule into view, hence we have looked at how the carriers would keep baby Tight, In view, Close enough to kiss, Keep chin off chest, and Supported back.
Apart from drawing a formula for checking each, we have gone through what experts and people who have used these, and other similar products have had to say.
While we have reached the conclusion that these carriers have met the necessary requirements, it is of note that each performs differently, and not all the seats meet the high bar in all these.
Lillebaby COMPLETE All Seasons Baby Carrier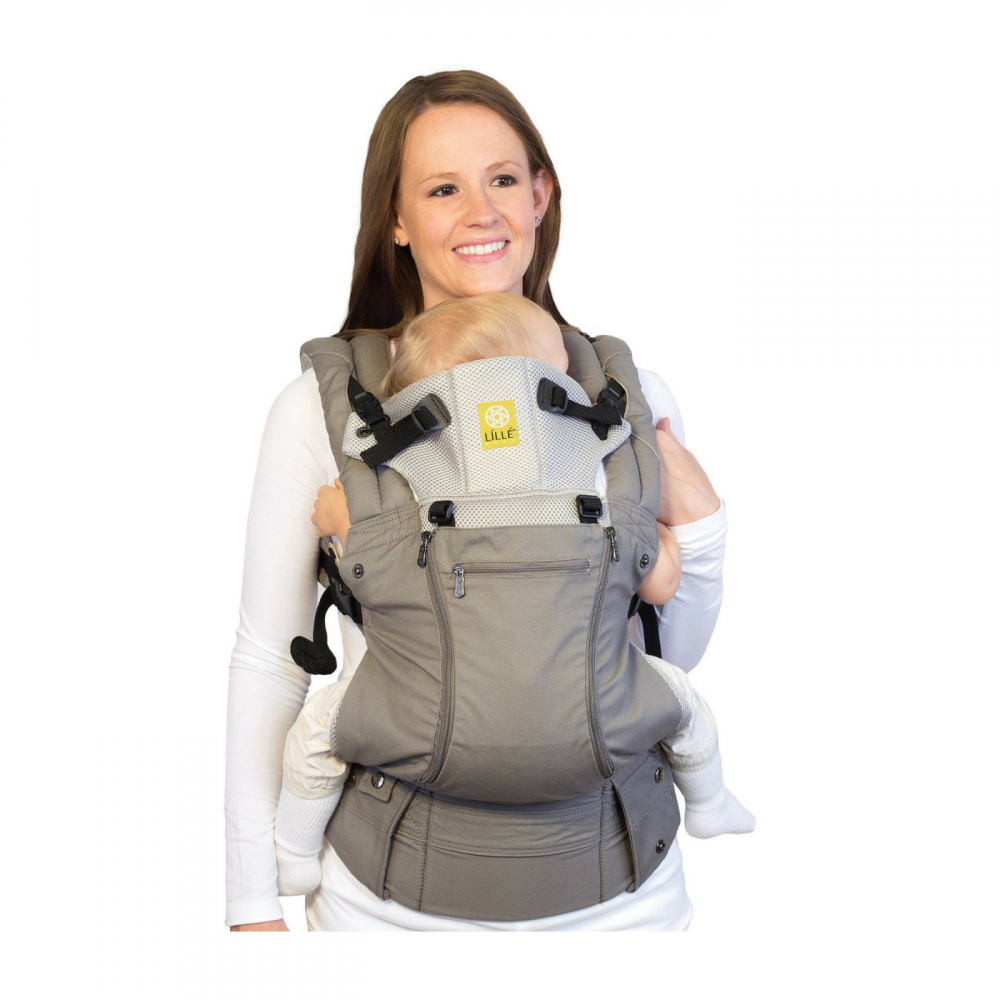 The Lillebaby COMPLETE All Seasons stands itself out from the crowd as being one of the best baby carriers out there because of the great features it has to offer.
Enhanced comfort for you and your child is what you get with this through its unique features which include ergonomic design, full seat adjustability, and padded side straps. More so, it provides safety and support for your child as a result of the technology it uses. This includes adjustable neck support for infants until toddler stage, adjustable straps that keep it all tight and fit, and lumbar support for back support.
The carrier can accommodate a child in the following positions; Front-fetal, Front-infant, Front-outward, Front-toddler, hip, and back. It is worthy of note, that you don't need an infant insert for your little one.
Pros
It is as complete as it promises, carrying your child in six different positions
Can be used right from birth till when the child is between 4 and 5 years (7lbs to 45 lbs)
The carrier has front panel which unzips. This is useful for controlling the temperature of your child. You can zip up for more warmth, or zip down for cooler breath, making it great for all seasons.
It has a removable hood to provide cover and support for your sleeping child
While it offers too much, it is as well very easy to use.
It is machine washable.
Cons
It is heavier and bulkier than most but at the same time, it is packed with more features.
Verdict
What Lillebaby attempts to do here is provide a carrier that is multi-functional, comfortable, secure, and not missing out in style. It has achieved that to a very large extent. It is definitely a go-get for you if you are looking for that seat that would take care of your complete baby carrying needs. This may be the most versatile baby carrier you will ever use.
Tula Ergonomic Baby Carrier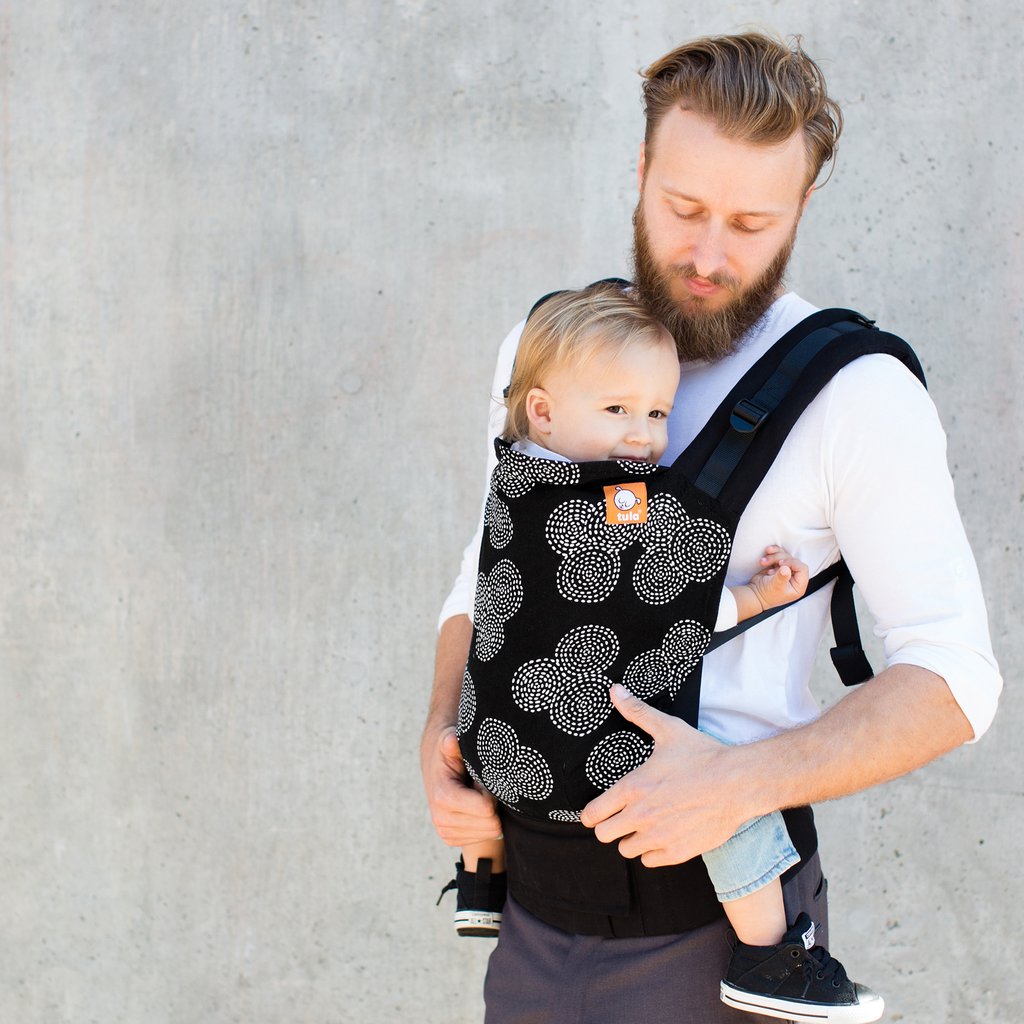 For most parents, this is one of the best baby carriers. The Tula Ergonomic Baby is a very comfortable baby carrier built to impress. This baby carrier is very comfortable, with a simple design, easy to use and durable.
The "carrier" comes in standard (baby) and toddler sizes.
There is enough space for you and your child's comfort and for you too as it ensures that your child is well balanced in the carrier. As regards the safety of your child, it is very secure even for an infant once the Infant Insert is well put in.
Pros
Because of its simple design, it is one of the most easy-to-use carriers out there. You don't need to do anything special to get it on or off.
You can easily and comfortably nurse your baby in it
Provides great comfort for both you and the baby
There is equal weight distribution
It is machine washable, even though it requires to be hung to dry.
Cons
To be able to use for newborn (3.5kg +), you would need an Infant Insert which is sold separately.
It has limited positions for your baby.
Verdict
While this is a product that we have all agreed after this review as one of the very best, it is one I have personally use and also recommend to anyone who needs a baby carrier. More so, it is a carrier that you can easily use for a longer time compared to most others in the market considering the fact that the standard version can take a child from 15 to 45 lbs while the toddler size can take from 25-60 lbs.
Ergobaby 360 Baby Carrier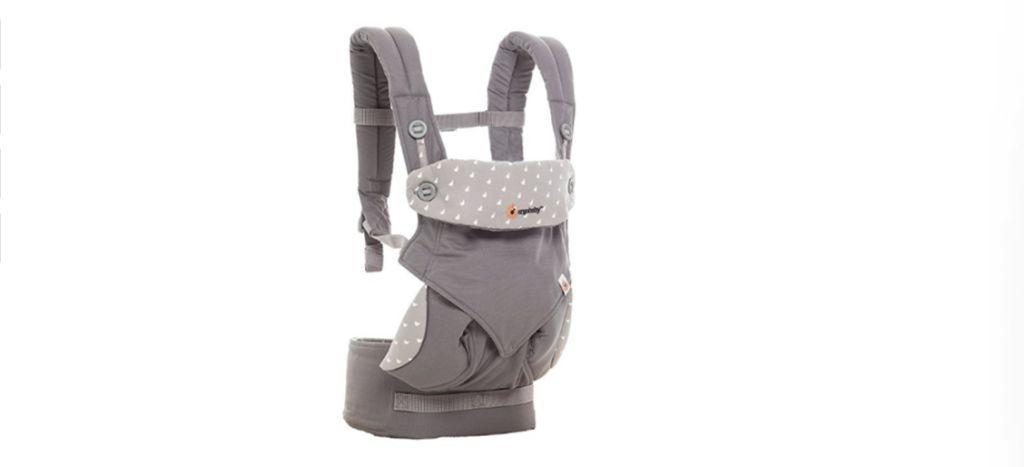 The Ergobaby 360 is a versatile baby carrier which has a structured bucket seat to ensure comfort and safety of your child. The carrier is lightweight and it ensures that even when a heavy baby strapped in, you are still going to be very comfortable as the baby's weight is evenly distributed.
Ergobaby 360 gives you the options to choose how best to carry a child; Front-Inward, Front-Outward, Hip, or Back carrying positions. In all these four positions, the key again is comfort, ease, and safety. It makes use of wide waistband and well padded shoulder straps to provide even weight distribution, comfort and support.
More so, with the bucket seat structure, there is safety which results from the ergonomic frog-leg position that the baby can relax in. This is one thing that seems almost impossible for most other carriers to get right. The seat can easily be adjusted and it has much depth than most others.
It carries children of between 7 and 33 pounds, and it requires insert seat which is sold separately for infants weighing between 7 and 12 lbs.
Pros
Very comfortable for both you and your baby
It's very easy to use
It is easy to keep clean and it is machine washable, however, you will need to dry it naturally
Has hood to give baby covering when asleep, nursing, or against unfavorable weather (eg during windy weather conditions)
The price is quite right for the value it provides.
Cons
Maximum weight limit is a problem since it is not made for babies more than 33 lbs, you may not get to use it for as long some others in the market.
Velcro waistband makes much noise, hence when taking off your sleeping baby, it could disturb and may even wake your baby up.
Verdict
Ergobaby 360 baby carrier offers a lot more benefits than many others around the same price point. It is not only finely made but is also versatile in that you can use it in four different positions and while still being comfortable and safe for you and your baby so it is a baby carrier you need not fear to recommend to anyone.
Onya Baby Outback Baby Carrier for Hiking and Newborn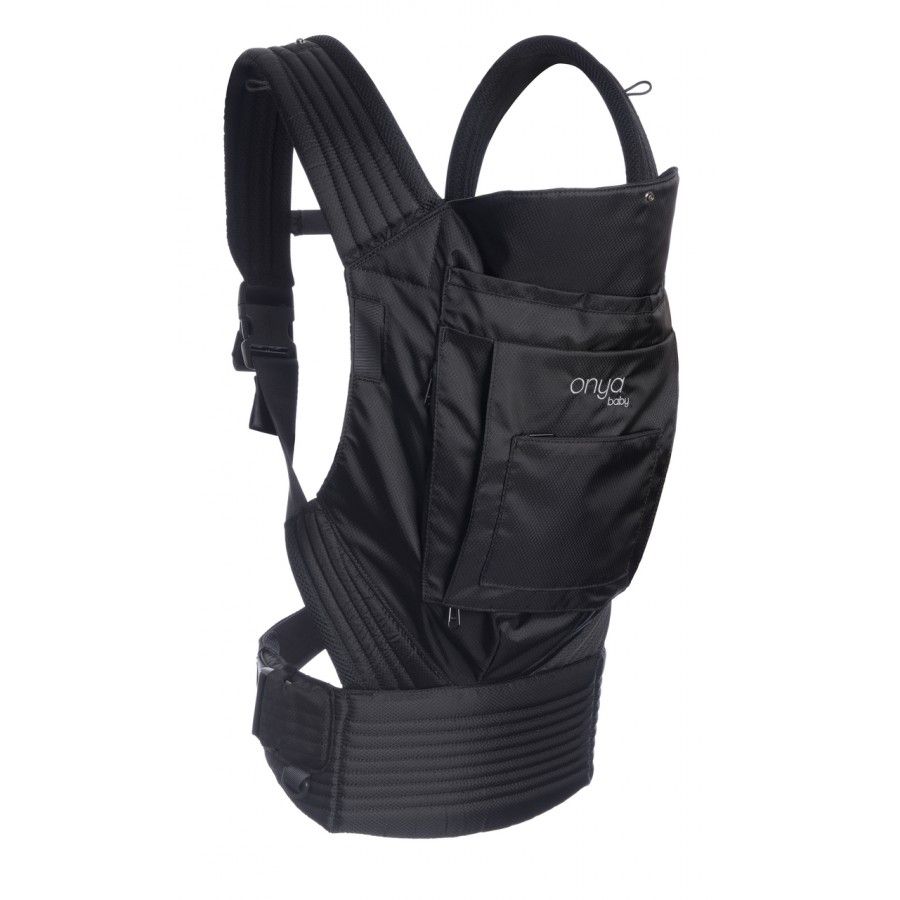 You can easily fall in love with Onya Baby Outback baby carrier. It has various interesting features integrated with it which makes it stand out. It is very durable, versatile, and rugged, making it one of the best baby carriers for men.
This soft-structured baby carrier is strong enough to support activities such as hiking. It has Sternum strap with which the carrier can be adjusted to different sizes, providing even more comfort all the way.
With this carrier you can carry your child in three positions; front, back, and hips.
Pros
Material and integrated features for increased breathability
good for all weather
The carrier has good ergonomic design and it is comfortable for you and your child
You can also use this baby carrier to keep your baby on any adult chair as a safe seat
Scores above the average as regards ease of use
It comes with sleeping hood and pockets which can hold your mobile phone, keys, and other little valuables
It is machine washable, but cannot be placed in a dryer.
Cons
The carrier does not allow you to carry your child on the front facing out position
Because it carries children of between 15 and 45 pounds, you may not use it for your little one until around five months, or until you buy a separate baby insert which can accommodate your child weight below 15 pounds.
It is not as lightweight as most others, however, that is because it serves also as a child seat but at the same time, it is not too weighty to turn one off.
Verdict
The single reason why we would recommend Lillebaby COMPLETE All Seasons or Ergobaby 360 over Onya Baby Outback is because they offer more carrying positions. However, while this does not offer that much position, it is a well-thought out product that you can use even as a safe seat. It goes above many others in comfort, versatility, and durability. You may not appreciate its price, but once you begin to use it you will appreciate its value.
Mountain Buggy Juno Baby Carrier
One among the best baby carriers for men is Mountain Buggy Juno. Designed to be used from 7.7 lbs to 44 lbs, it is a soft structured carrier which can be worn in three different positions. It can be used in front facing out, hip, and back carry positions.
The front facing position is ideal for carrying children from 7.7 lbs to 26.9lbs while the front facing out carry position is ideal from 14.3lbs to 24lbs. Also, the hip position is ideal for children between 14.3lbs and 26.9lbs, and the back carry is for children between 14.3lbs and 44lbs.
It is not as old as most other carriers in the market, however, it has won its place among the top through the features it provides for added comfort and safety to children. It comes with infant insert which gives sufficient head, neck and spine support for your baby. This ensures maximum comfort in addition to the ergonomic positions it offers.
Pros
It comes with a dual mode infant insert for babies from 7.7lbs to 14.3lbs
It comes with other features such as attached hood and pockets.
This carrier is very durable
It doesn't only look great, it is simple to use and adjust
Enhanced breathability and softness
It is both easy to keep clean and wash.
Cons
It is not on the line of cheapest baby carriers.
Verdict
Mountain Buggy Juno is a very friendly baby carrier for both parent and child, both indoors and outdoor. Although its price is on the high side, its quality and durability are top notch and this multi-functional carrier can be used from birth to 48 months, which is more than many others offer.
Boba 4G Baby Carrier For Newborn
What first came to mind after seeing this baby carrier was its simplicity. Make no mistake, though, in its simplicity, it is still a great carrier for comfort, safety, and ease of use. Although it only offers two baby carrying positions: front carry facing in and back carry, it does not disappoint. More so, it accommodates children from birth until 45 pounds, but there is an infant insert for newborn until the baby reaches 15 pounds.
In both front and back carrying positions, the Boba 4G baby carrier ensures your child is securely fastened and provides good ergonomic support. While the seat is deep enough, the material used is soft to ensure the comfort of your child, although, additional padding would have made it more comfortable, mostly around the legs. The comfort of wearer is slightly above the average as it is designed to redistribute weight.
Boba 4G is easier to use than most others. it provides features like dual adjustable straps and chest clips which make it quite safe to use.
Pros
It is very comfortable for both parent and baby
Can be used from birth until 45 lbs
The infant insert provides great support for baby
Extremely user-friendly, and can be easily adjusted with baby on
Cons
Slightly more padding around the legs would have been great.
Only 2 baby carrying positions
Verdict
This is a baby carrier that is good to go in many ways. Apart from its comfort, it is durable enough to serve you all through and even for subsequent babies. From right out of the hospital, it is good till toddler stage.
Baby K'tan Baby Wrap For Newborn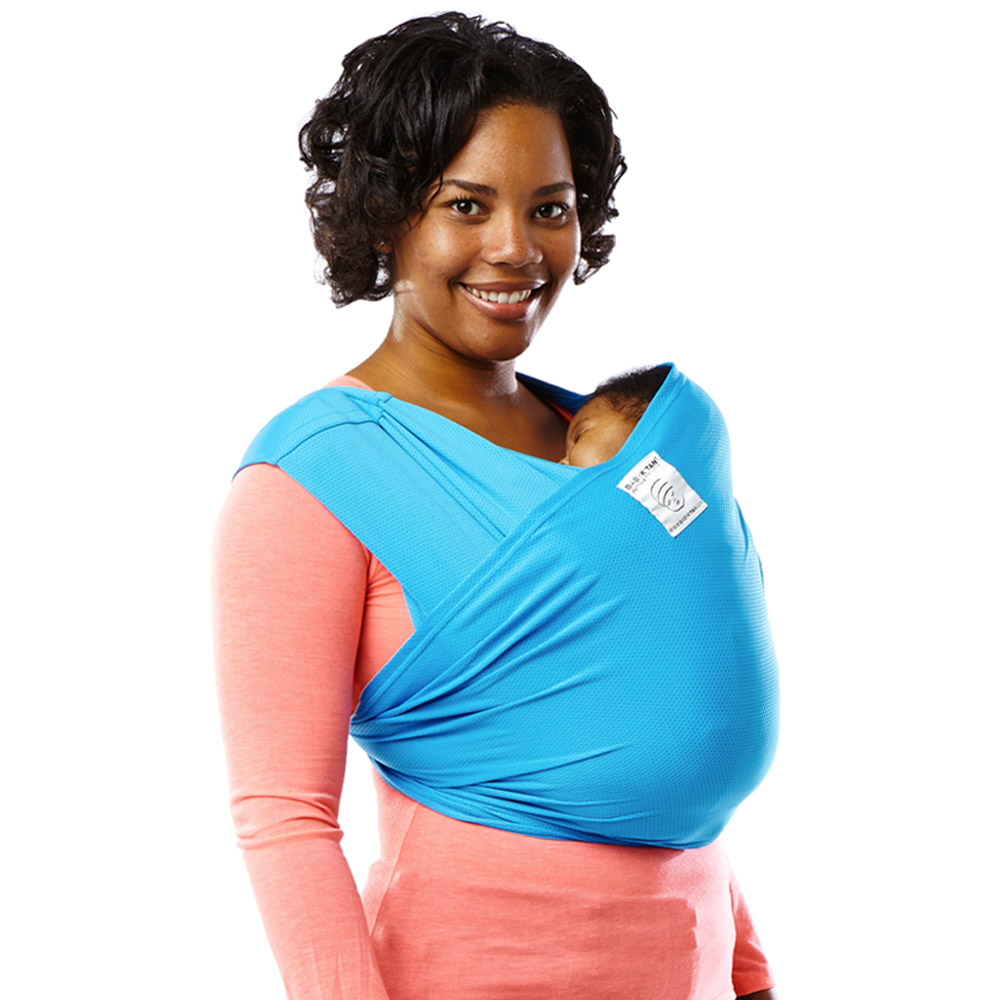 Considered as the wrap without all the wrapping, the Baby k'tan carrier is quite unique in its make. It is a wrap-style carrier which is mostly compared with Boba wrap rather than with other carriers. However, as a baby carrier, it is great in many ways.
Of the so many things working in favor of The Baby k'tan, is its user-friendliness and comfort. In the area of comfort, its fabric is light; hence your baby gets to enjoy cool air. Also, it does not come with buckles, rings, or any of such that can cause any inconveniences or concerns with the straps being securely locked or not. More so, it mostly distributes weight and allows baby to snuggle with maximum contact with the mother or carrier.
As regards safety, it is designed with ergonomics in mind, making sure your baby sits with legs in the recommended "frog" position.
It is ideal for newborns and older babies, but not for toddlers. It can be used in front and side positions. We have come across people putting their babies in a forward-facing position in this however, we do not recommend this positioning in the Baby K'tan due to improper leg positioning with forward-facing.
Pros
It is very versatile
You get a wrap-style carrier, however, it is not as complex as the wrap.
It offers more convenience than most other carriers and even wraps
Budget-friendly
Since it's all cotton fabric, the K'tan is easy to wash and dry
Cons
It comes in only five sizes so getting your right size may be challenging
You cannot adjust it so if it doesn't fit, you may have to change.
Verdict
Once you are right with the size, you would get yourself a unique carrier that both you and your little one would enjoy. This is mostly great if you need something for your newborn, as it will not only fit very well, it promises safety and comfort, as it keeps your baby close enough.
Click Here To Check Price
BABYBJÖRN Baby Carrier One for Newborn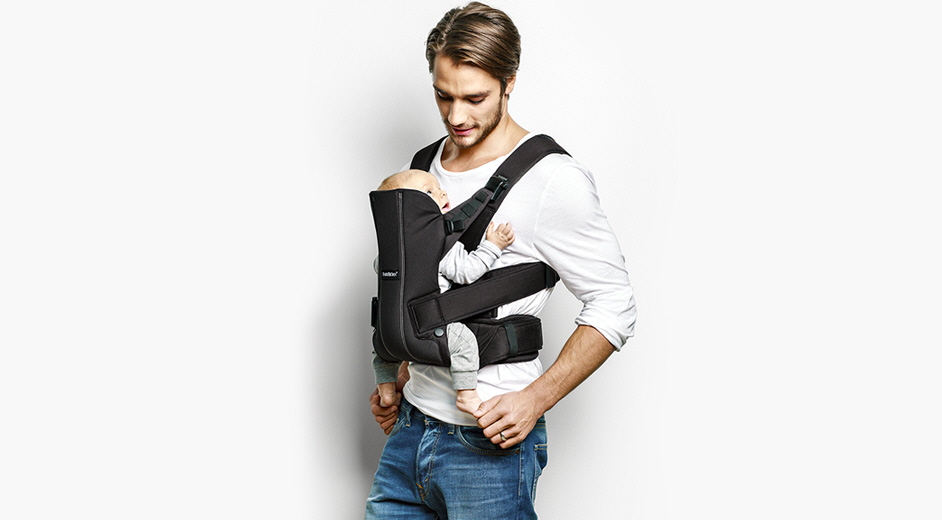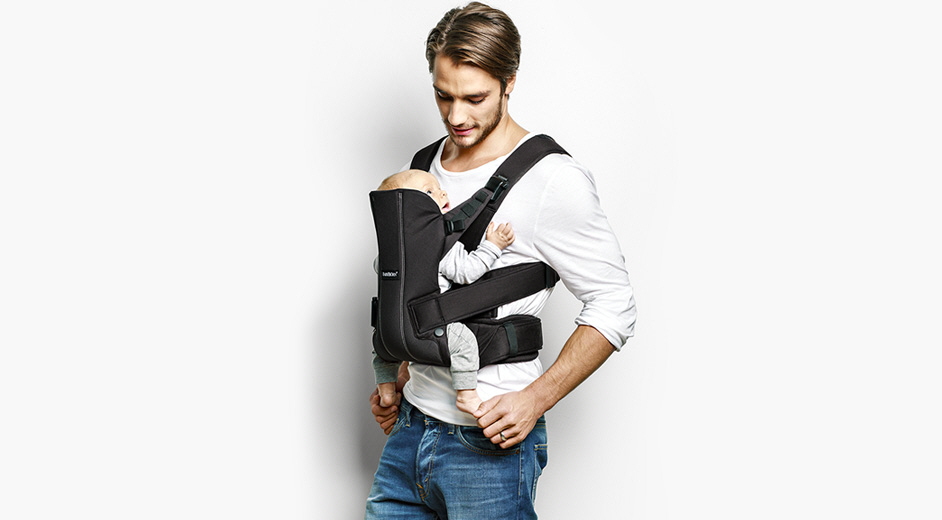 BabyBjorn's is one company that has a say when it comes to making the best baby carriers. While not all of its carriers are too good to go, With the Carrier One, things are largely different. This is a baby carrier with many features that make it really worthy of carrying your child.
The BABYBJÖRN baby Carrier One is made with wide waist belt as well as well padded shoulder straps to give comfort for parents even when carrying a baby for a very long time. It also distributes the weight of baby for the same reason. For the baby, there is a zipper attached to keep adjusting the seat as your baby grows.
For the safety of your child, it has attempted to meet the necessary safety guidelines, including through its use of safe textile materials, secure buckles, and good ergonomics design.
It allows for three carrying positions; front carry facing inwards, front carry facing outwards, and back carry. More so, it is meant to carry babies from 8 pounds to 33 pounds (newborns to 3-year-olds).
Pros
It is intelligently designed to be folded and carried about in your diaper bag easily
Lightweight carrier with great comfort for parent,
Great in distributing weight
Easy to adjust and use
Baby Carrier One is machine washable
Cons
Maximum carrying limit of 33 pounds is lower than some others in its category.
The cost may not be budget friendly for some.
Verdict
This is a very versatile baby carrier that comes with great comfort, safety, and ease of use and its versatility and adjustability are part of what draw people to it which we also like.
Beco Gemini Baby Carrier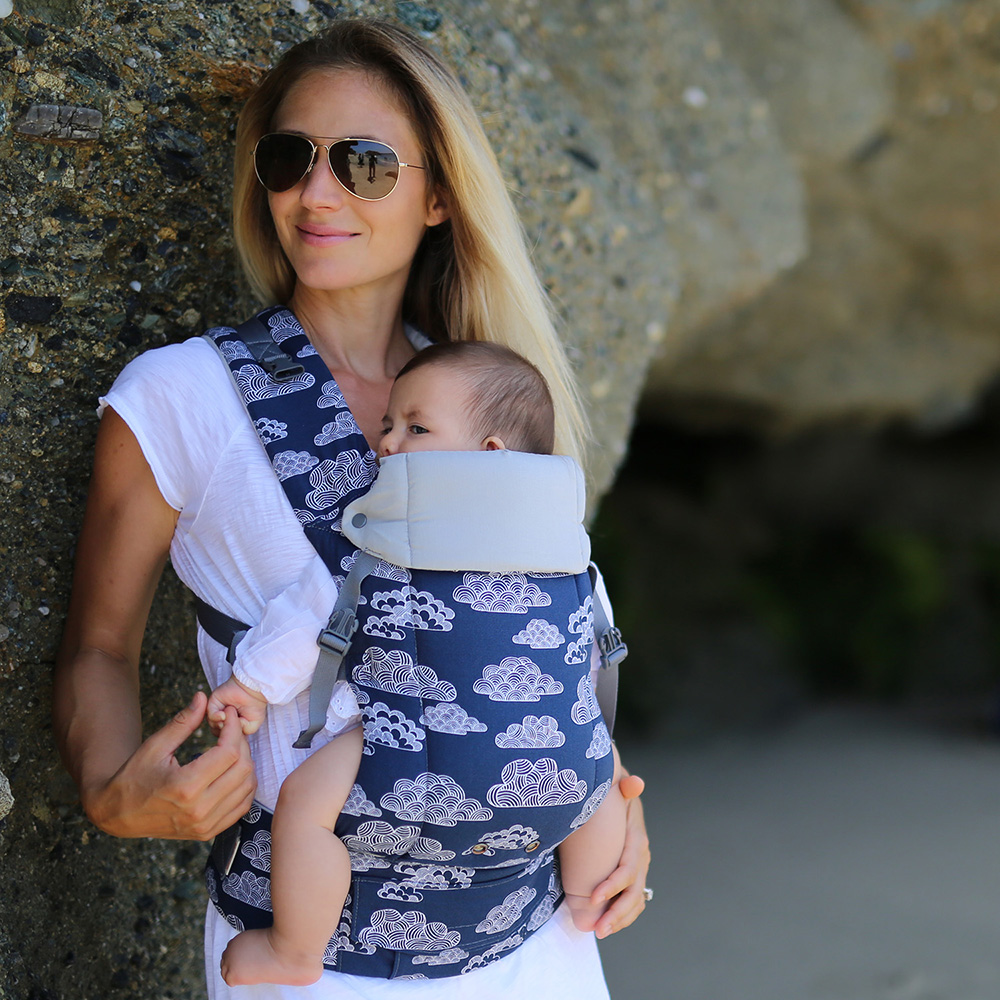 This is a versatile baby carrier which is friendly in terms of comfort, ease of use, safety and being lightweight. The carrier adds interesting features such as adjustable head rest, adjustable straps for added comfort, and elastic bands not to mention its overall outstanding beauty.
For maximum comfort, there are wide padded shoulder straps and waist belt which serve to distribute weight well on your shoulders and waist respectively. To ensure the baby's comfort, the carrier is soft and made of cotton and there are snaps at the bottom for adjustment of width and head support which can be opened or closed.
Designed for the safety of your child are the positioned buckles that can only be opened up with two hands. In addition, the back is designed to provide the necessary support for your child.
The Beco Baby Gemini has 4 Carry Positions: Front Carry Facing In, Front Carry Facing Out, Back Carry, and Hip Carry. More so, it is ideal for babies from 7 to 35 Lbs.
Pros
Seat can be made wider or narrower to fit baby
There is great foot and hip support
It does not need an infant insert as the narrowed-down-outward facing seat is also a newborn seat
It has multiple colors and designs you can choose from
Machine washable, although like most others it needs outside drying
Cons
It does not come with a hood
The adjustment straps are not the easiest to adjust although the design is safer.
Verdict
Beco has not been failing with its products especially with Gemini. While it may not be as exceptional as The Lillebaby COMPLETE All Seasons, it is in their class and keeps to the promise of comfort, ease of use, and safety. Are we recommending this for you? Yes, we are.
Infantino Sash Mei Tai Baby Carrier
If you are looking for a cheaper baby carrier that is less than $50, which is as good as most other high priced carriers, then it may as well be the Infantino Sash Mei Tai. While it is not as good as most others on this list, it is still one of the best carriers out there, and definitely the best among other budget carriers.
It is a lightweight carrier which provides much comfort, for both you and your baby. Why we love this is because apart from its simplicity and ease of use, it is very flexible, adaptable and supportive not to mention cheap. It offers great support and safety when the knot is properly tied, and for comfort, it is made to offer great breathability.
The Sash Mei Tei is suitable for children weighing between 8 pounds and 36 pounds, and can be used in 3 carry positions: Front Carry Facing In, Back Carry and Hip Carry.
Pros
Provides adequate comfort for your baby, and can be fun for both of you
One of the easiest to use carriers you can get
Great support for toddlers
It is machine washable, although it cannot be placed in a dryer.
It's a pocket-friendly carrier.
Cons
You cannot bet on its quality for a long time
Not the best for a newborn baby
Verdict
This carrier is good for you if you are looking for a carrier that is not as expensive as most others but is still good. As said, the carrier is not as good as most others on this collection, but it gives rather pleasant experience and value. We cannot recommend this for your newborn child because it doesn't offer much support for newborns.
Stokke MyCarrier Baby Carrier
This multi-directional carrier is hardly missing in any list of best baby carriers. While Comfort and ease of use are part of the things we love about it, its safety is the main selling point. The carrier has been acknowledged as a hip-healthy baby carrier by the International Hip Dysplasia Institute and medical experts, even when most others are still trying to get the sitting position right.
It can be adjusted easily to provide great support and comfort for your child. Also, it is made of Oeko-Textile material which is very safe for children. Its waist belt is designed quite differently from most others, to give comfort to the wearer.
The Stokke MyCarrier allows for three carrying positions: front facing inwards, front facing outwards position and back carrying position. Also, it can be used for babies from 7.7 to 33lbs (from birth to 3 years of age).
Pros
Great child safety features
Good breathability
Fantastic child sitting position
It is easy to keep clean, and it is machine washable
Cons
It is not the easiest of baby carriers to use, as it comes with different components
May be expensive for some
Verdict
The Stokke MyCarrier is actually a carrier that stands out from all others. It combines different great features of others with its own unique features. That, in fact, is what makes it quite complex for some. It is, however, one of the best carriers for both male and female and is well recommended for proper hip development. If you do not mind its price, you can get this and be very happy with it.
BABYBJORN Baby Carrier Miracle for Newborn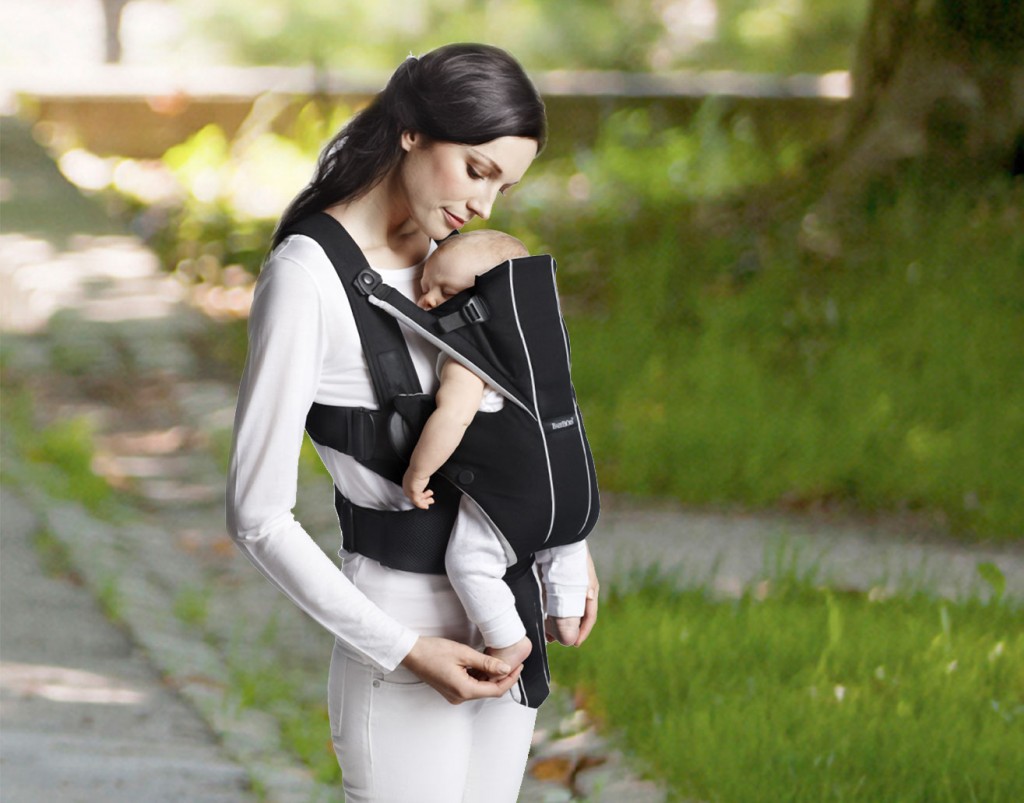 The fact that two BabyBjorn baby carriers are appearing on this list attests to the brand's long standing history of producing great quality baby carriers. Although a few times in the past, while they managed to come up with user-friendly seats, they had also come up with some that were not entirely healthy for the hips of children.
With BabyBjorn's two baby carriers on this list, however, things has changed a lot. The carrier Miracle is designed to correct most of the faults in earlier versions and to provide unrivaled comfort, safety, and ease of use.
With respect to comfort, it is made with good material for breathability and adjustable belts and as regards the safety of child, it has well-made buckles which are not only easy to handle but gives great hold. More so, it is made of Oexo-Tek certified fabric material which is safe for children.
It is durable and goes well above the bar in ergonomics. The carrier is designed with two carrying positions: front in facing, and front out facing carrying positions.
Pros
It is quite easy to use and adjust
Its safety is great, both facing in and out
Good breathability
Can be used for newborns weight 8 pounds without an infant insert
Has great weight distribution
It is machine washable.
Cons
Its recommendation weight range from 8 lbs to 26 lbs, is rather narrow as most others support weight well beyond this.
Verdict
While we recommend this baby carrier for its comfort, ease of use, and safety, we would suggest that you don't use this while hiking mainly because of the dangling leg of children in front with the out facing carrying position.
Read: Best Body Pillows For Support And Comfortable Sleep
Conclusion
Before you get a baby carrier, ensure you fully understand what you are buying. It is to this end, that this review is made, to provide you with the best alternatives and options to chose from and any one of these you chose is designed to provide great comfort, safety, maximum durability and value for money. We do hope you found this useful. Thanks for reading.