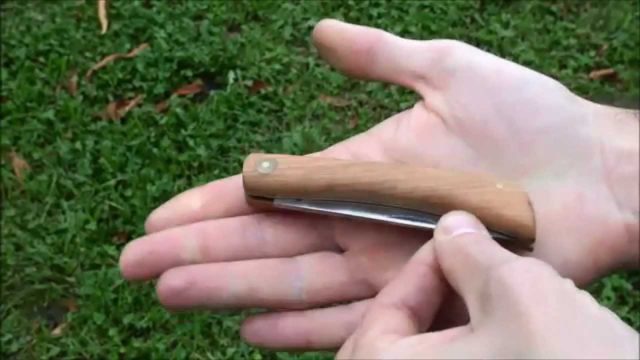 Whether you are a chef or not, you use a knife for one reason or the other every day. You could be using it for combat, cooking, hunting, hiking, tightening loose nuts, home repairs, opening mails and more. But the issue is that no matter how skilful you are at doing what you do with a knife, a dull edge will only slow you down. Besides delaying your work, a dull edge is almost useless to work with, that's why you need pocket knife sharpeners to make you work effectively.
Here, we bring you some great machines that will help achieve this. We did a thorough research to bring you some great pocket knife sharpeners that will help you achieve that very sharp edge.
See Also: Best Wheelbarrows: Everything That Makes A Great Wheelbarrow
Based on our study, we found that there's so much to consider when getting pocket knife sharpeners. Factors like size, durability, cost, portability, and effectiveness. Having all these in mind, we concluded that Smiths Pocket Pal is the best of all pocket knife sharpeners. Not only does it have all the great features mentioned above, it is versatile and dependable. However, if you want something a little more traditional, you could choose Gerber Bear Grylls Field Sharpener. Also, you can choose Lansky Pocket Knife or any other on the list that works just as fine.
Why You Should Trust Us
When it comes to knife sharpeners, we know well enough that a sharpener that shaves blade more than it should is a no no. A sharpener should be able to scrape a blade smoothly and accurately. Again, there are factors that should be critically considered one of which is safety.
We picked sharpeners that allow some good enough work space so you don't cut your hand while using them. Nobody wants to get an idea that wouldn't work or last, so we chose items that had scored really high marks for their efficiency and durability.
Best Pocket Knife Sharpeners (Top Choices)
Best Pocket Knife Sharpeners - Content Map
Smiths 50364 Pocket Pal X2 Sharpener And Outdoors Tool
Victorinox Pocket Knife Sharpener (Clam Pack), Black
Gerber Bear Grylls Field Sharpener
Lansky PS-MED01 BladeMedic
KME Precision Knife Sharpener System with 4 Gold Series Diamond Hones – Base Included
Small Knife Blade Sharpener Tormek SVM-00 – Used to Sharpen Small Knives/Pocket knives Without Damaging the Handle
Wusthof 2-Stage Keychain Picnic Sharpener
Smiths 50364 Pocket Pal X2 Sharpener And Outdoors Tool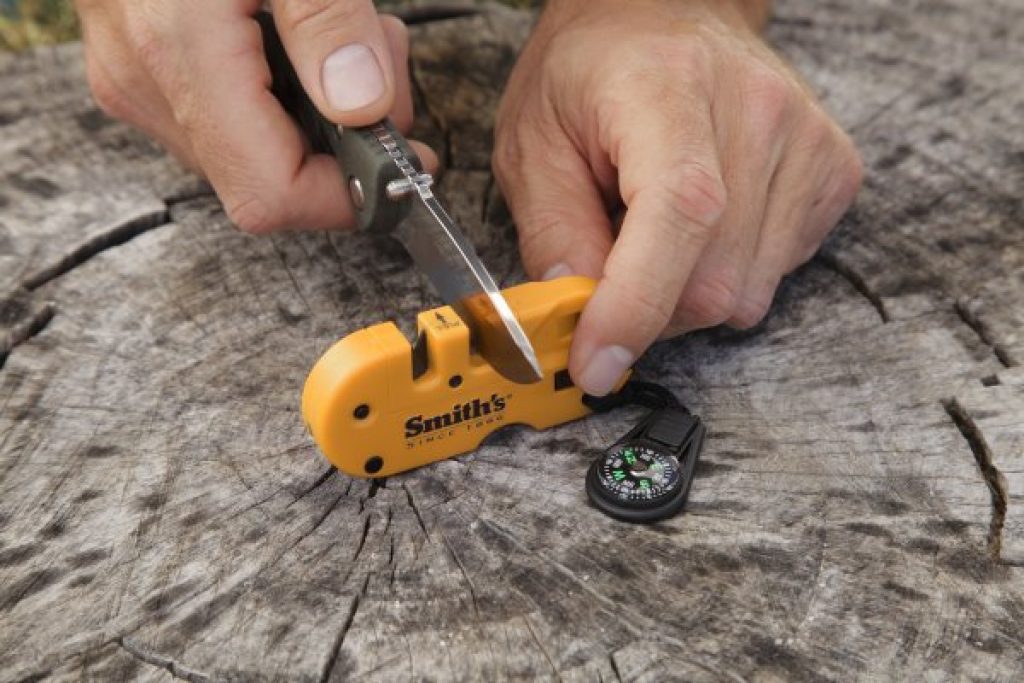 Smith 50364 Pocket Pal X2 Sharpener is a top-notch sharpener for your kitchen. The two-stage sharpener is a basic sharpener constructed to give you a sharp edge for enhanced cutting ability using preset sharpening and fine polishing features for better edges. It has a tapered diamond rod which folds out and allows you to hone both serrated and gut hooks. The machine is durable and does not wear out against any kind of metal.
See Also: Best Toasters That Can Bring Dead Bread Back To Life Again
What We Like:
There is so much to like about this sharpener. It is portable, durable, and affordable. More features include whistle for signalling, fire starter, compass, LED light for visibility and more.
Pros:
It is lightweight and good for toting because of its portability.
Its blades sharpen dull knives within minutes
Does not take up space in your kitchen
Nice design that wouldn't look awkward in your kitchen
Even blade along the length
Cons:
It is mostly for pocket knives
Verdict:
If you have a lot of knives but they all seem to be squashing the veggies instead of slicing them into fine edible slices then this sharpener is for you. We like that besides doing a great job, it offers safety and longevity.
Sale
Smith's - S-50364 50364 Pocket Pal X2 Sharpener & Outdoors Tool Yellow
2 SHARPENING SLOTS – This Smith's Pocket Pal features a coarse and fine sharpening slot for quickly setting the edge of your blades and finishing and polishing the blades. These slots have preset sharpening angles for consistent results.
DIAMOND ROD – Accompanying the sharpening slots is a tapered diamond rod to sharpen serrations, gut hooks, and single-bevel knife blades. This tapered rod can be stored in the bottom of the product to store away for safety.
Victorinox Pocket Knife Sharpener (Clam Pack), Black
Victorinox Pocket knife sharpener wins in quality, design and efficiency. The ceramic oval rod with a hook does medium and sharp edge sharpening fast, effortlessly and precisely. In addition to giving you a really fine edge all the time, you won't have to worry about storage. It is an enclosed technology, thus allows you to store even in your pocket since it won't create holes in it. There is also a clip for a firm grip. It has a V-style pull-thru sharpener that comes in handy when you need it.
What We Like:
Speed is one of the greatest features of this sharpener. Also, apart from delivering a newer or sharper edge, it delivers firm balance safety, protecting you from cuts.
Pros:
It is sturdy
It is easy to maintain and use
Unsurpassable edge finishing
Precise sharpening
Revives damaged pocket knives
Cons:
The V-pull sharpener does not give the sharpest edge.
Verdict:
This is essentially a small but mighty sharpener. It can improve the cutting capacity of a dull knife. Though it is a rod sharpener which obviously does not polish the knife, it gives you an edge that can work effectively.
Sale
Gerber Bear Grylls Field Pocket Knife Sharpener
This GerberBear Grylls Field Knife sharpener excels in flexibility, durability and functionality. It works with all blades including fine edges, serrated and even excessively dull ones. With a hard plastic cover designed to protect your pocket, you can take it with you to anywhere you think you'd need it. Also, the coarse carbide insert ensures you get the best result all the time.
See Also: Best Non Stick Pans and Skillets For Frying and Cooking
What We Like:
This is a multi-functional sharpener that can sharpen any kind of edge including scissors, pocket knife and more. The features that really make this stand out are its life quality and the level of safety it offers.
Pros:
Usage is quite a bliss
Will sharpen nearly all kinds of blades
Fast sharpening
Offers more durability than most knife sharpeners out there
Cons:
It might take a longer time to sharpen a really dull knife
Verdict:
For sharpening your best or favourite pocket knife, choose this option. This is because no ruin will come to their edges with this unit. It has a traditional look that fits anywhere decor.
Lansky PS-MED01 BladeMedic Pocket Knife Sharpener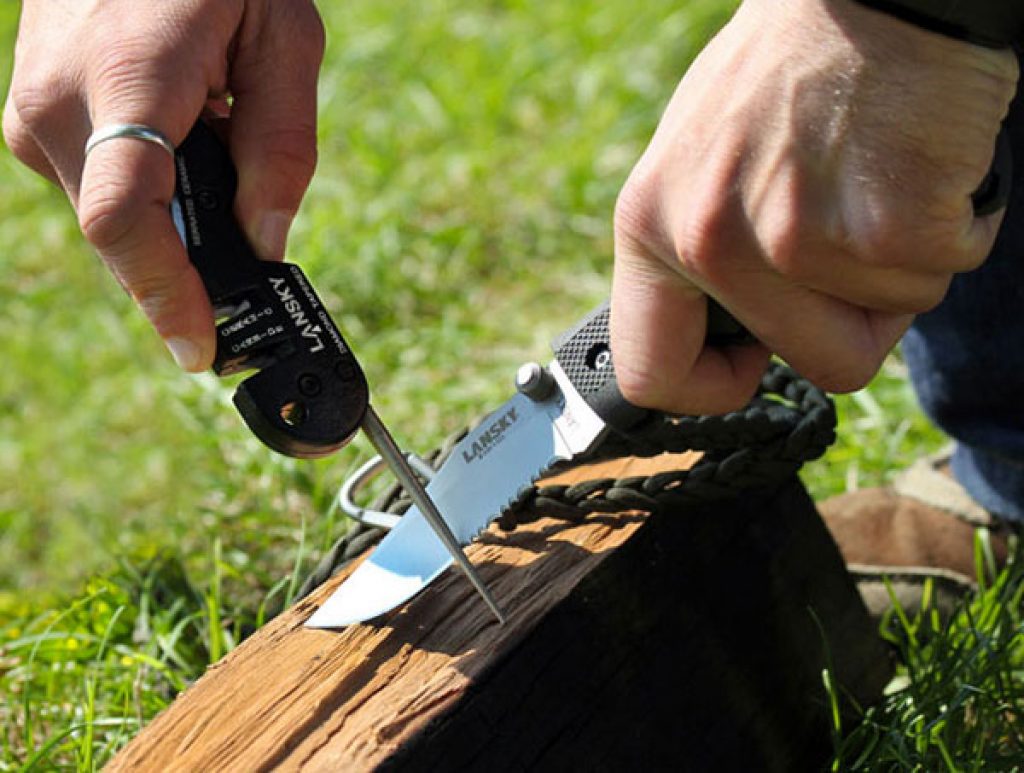 Lansky PS-MED01 goes head to head with the Smiths sharpener. First, they are both portable and really affordable. Secondly, they somewhat share the same design and diamond tapered rod for quick perfect positioning and maintenance. Where we find tiny disparity is in the areas of weight with Lansky seeming heavier than the latter. Also, Lansky has a longer diamond pond which is a great thing for its functionality.
In addition, Lansky has tungsten carbide-three or four strokes which means you not only get new fresh blade twice as often but your edges get repaired as well. It is ideal for serrated or rough-use edged knives.
What We Like:
Lansky is safe, durable quick and easy to use. It is a workhorse sharpener engineered to do the work expertly. Lansky is versatile and can handle both regular or serrated blades, gut hooks, hunting, fishing and more.
Pros:
You have absolute control
It works very fast
Ideal for serrated edges
Perfect to carry for outdoor related events like camping, hiking and more.
It is a budget sharpener
Cons:
May not fit into the pocket due to the weight and size
Verdict:
You wouldn't expect a sharpener with such a tiny price to actually function the way this Lansky works. We think it is most appropriate for those who want a portable sharpener with a great angle adjustment.
KME Precision Knife Sharpener System with 4 Gold Series Diamond Hones – Base Included
Basically, if we were going to sharpen pocket knives that can break pallets of wood and cut them into pieces, this would be it. We would just grab this sharpener for some great reasons especially for the way it handles dull or damaged knives and transforms them to become better performing, plus its ability to polish and withstand stress. Also, aligning to a perfect angle is very easy with the unit's bearing rod guide which has adjustments from 17 to 30 degrees.
What We Like:
What you will typically find in this KME kit are components that will help you sharpen just fine including KME Gold series diamond hones in 4 grits, water bottle, cotton cleaning cloth, a firm base, and a storage case. You are guaranteed the right sharpening angle every time, to boot. However, you will have to pay more to own this.
Pros:
It is great for diversity since you can do pocket, kitchen and even hiking knives
Quick sharpening even for dull blades
Consistent sharpening due to firm base
Distinct design that looks different from most sharpeners out there
Cons:
It is really on a high side
Verdict:
If you want a sharpener that gives you everything you would need to get your edge sharp, then get this KME kit. It has a steady base for easy sharpening on the counter or other surfaces. Also, it delivers firm grip at the base so you can sharpen on all flat surfaces.
Small Knife Blade Sharpener Tormek SVM-00

This unit addresses both instability and challenges of sharpening really tiny blades in some pocket knife sharpeners. We find its hand holder that holds and keeps the knife in place without ruining the handle simply brilliant. Also, the number of small blades you can sharpen with this machine is only limited by your own choice as it can handle even the smallest blade.
What We Like:
We like that it works in conjunction with SVM-45 knife jog for the manufacturer's Tormek sharpening systems, so you can do the task without causing any harm to the handle.
Pros:
Handles blades that may be too tiny for some machines
Saves time
It is easy to use
works perfectly
Cons:
Not the cheapest sharpener on the list
Verdict:
If you have so many really tiny blades and you're tired of ruining their handles anytime you want to sharpen them, choose this sharpener. Its portability, and performance also won our hearts.
Wusthof 2-Stage Keychain Picnic Sharpener

It would be an effortless task when you sharpen with this 2-Stage Keychain Picnic Sharpener. It is a top-of-the-line sharpener that you can rely on for a quick razor-sharp edge sharpening of a dull knife and fine-tuning of an already sharp edge. It works with two slots featuring coarse carbide heads and fine ceramic rods to give you the edge you desire.
What We Like:
The design is sleek and beautiful. It ensures safe sharpening with a non-slip rubber inserts on the top and at the base five you the flexibility of flipping the knife and also to keep it stable working with it. Also, the key chain and textured grip provides a place to place your hand, preventing accidents and dangers.
Pros:
Handles blades expertly
Easy to use
Base feels comfortable
It offers some safety
you enjoy the convenience of two stage sharpening
Storage is easy for its portability
It is affordable
Cons:
Some customers complain that it does not give a quality edge to thick blades
Verdict:
If you are looking for a small knife sharper that gives a lasting edge, we recommend this sharpener. It is a great working sharpener for picnics, hiking, camping and other outdoor activities.