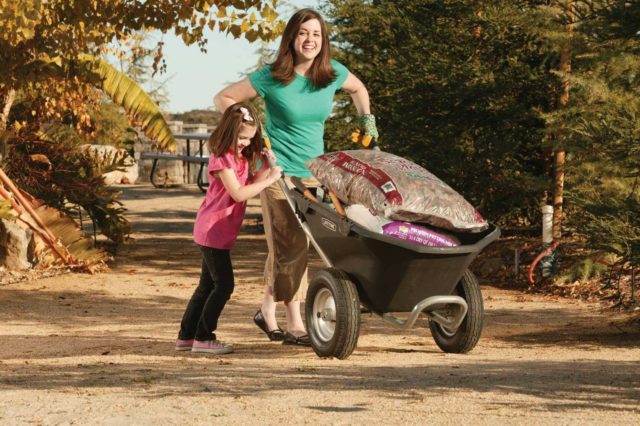 The Best Wheelbarrows are construction and gardening companions that come in handy in different ways. There are so many high-quality wheelbarrows out there, some quite spacious enough to take both small and large materials while others are strictly portable for hauling small materials only. No matter the size you choose to buy, there are factors that shouldn't be overlooked when buying the best wheelbarrows; durability, hauling capacity, ease of lifting, the material of construction and more.
With these factors in mind, we have gathered 10 best wheelbarrows that possess all the necessary features after a thorough research. Based on the study, we concluded that Gorilla cart is the best wheelbarrow in the market right now when you are out to get an effective modern wheelbarrow. We also recommend others like Bosmere Wheelbarrow or Marathon wheelbarrow or any other one on the list that performs just alike.
Best Wheelbarrows
Table Of Contents
Bosmere W302 Folding Wheelbarrow
Gorilla Carts GOR866D Heavy-Duty Garden Poly Dump Cart with 2-In-1 Convertible Handle
Best Choice Products Dual Wheel Home Wheelbarrow Yard Garden Cart
Marathon Dual-Wheel Residential Yard Rover Wheelbarrow
Polar Trailer 8449 7 Cubic Feet Heavy-Duty Cub Cart
Jackson M6T22 6 Cubic foot Steel Tray Contractor Wheelbarrow With Front Braces
WORX Aerocart Multifunction 2-Wheeled Yard Cart, Dolly, and Wheelbarrow with Flat-Free Tires – WG050
Lifetime 65034 Two Wheel Wheelbarrow, 6.5 Cubic Feet Capacity
True Temper Total Control 6 Cubic Foot Poly Wheelbarrow – RP6TC14
Radio Flyer Kid's Wheelbarrow
Why You Should Trust Us
We spent quality time researching on wheelbarrows to know what makes a wheelbarrow good. Besides considering factors that are relevant to the units, we also consulted legend gardeners and some builders (engineers included) who are in regular contact with the tool before putting together our result. In addition to that, our personal experiences in our backyards and gardens helped in making the conclusion that these 10 listed here are just the best wheelbarrows you can find in the market currently.
Bosmere W302 Folding Wheelbarrow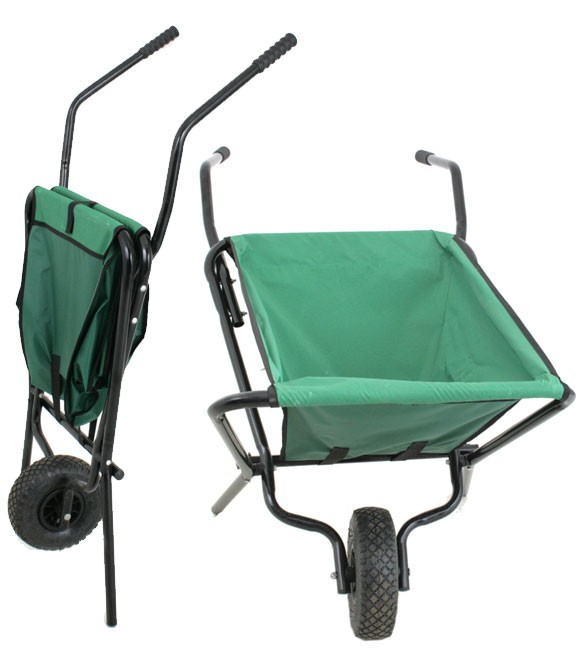 Bosmere is a lightweight garden companion that can fold flat for storage and opens up when in use. It is quite different from most steel built wheelbarrows listed here as the undercarriage is a PVC backed polyester bag with wipe clean surfaces which make maintenance seamless. Despite its folding feature, it has a solid wheel tire that hardly deflates for easy movement. There are pouches on the back of the bag where you can store small farm tools.
Pros:
It is durable
Storage is easy and can be done by simply folding it up
It is easy to use and maintain
Functions perfectly
Cons:
It is made of steel, hence can break when filled with stones or other heavy-duty construction materials
Verdict:
If you want a wheelbarrow that does not take up space in your garage or shed, then choose this wheelbarrow that can easily be folded. We like that is can hold up sufficient load due to its depth.
Sale
Bosmere Folding Wheelbarrow
LARGE CAPACITY – The Bosmere Folding Wheelbarrow opens up to 32" long x 20" wide x 29" high when in use. Great for yard work, moving gravel, and much more.
FOLDS FOR EASY STORAGE – Folds flat to take up as little room as possible in your shed or garage. Folded dimensions are 45" high x 13" wide
Gorilla Carts GOR866D Heavy-Duty Garden Poly Dump Cart with 2-In-1 Convertible Handle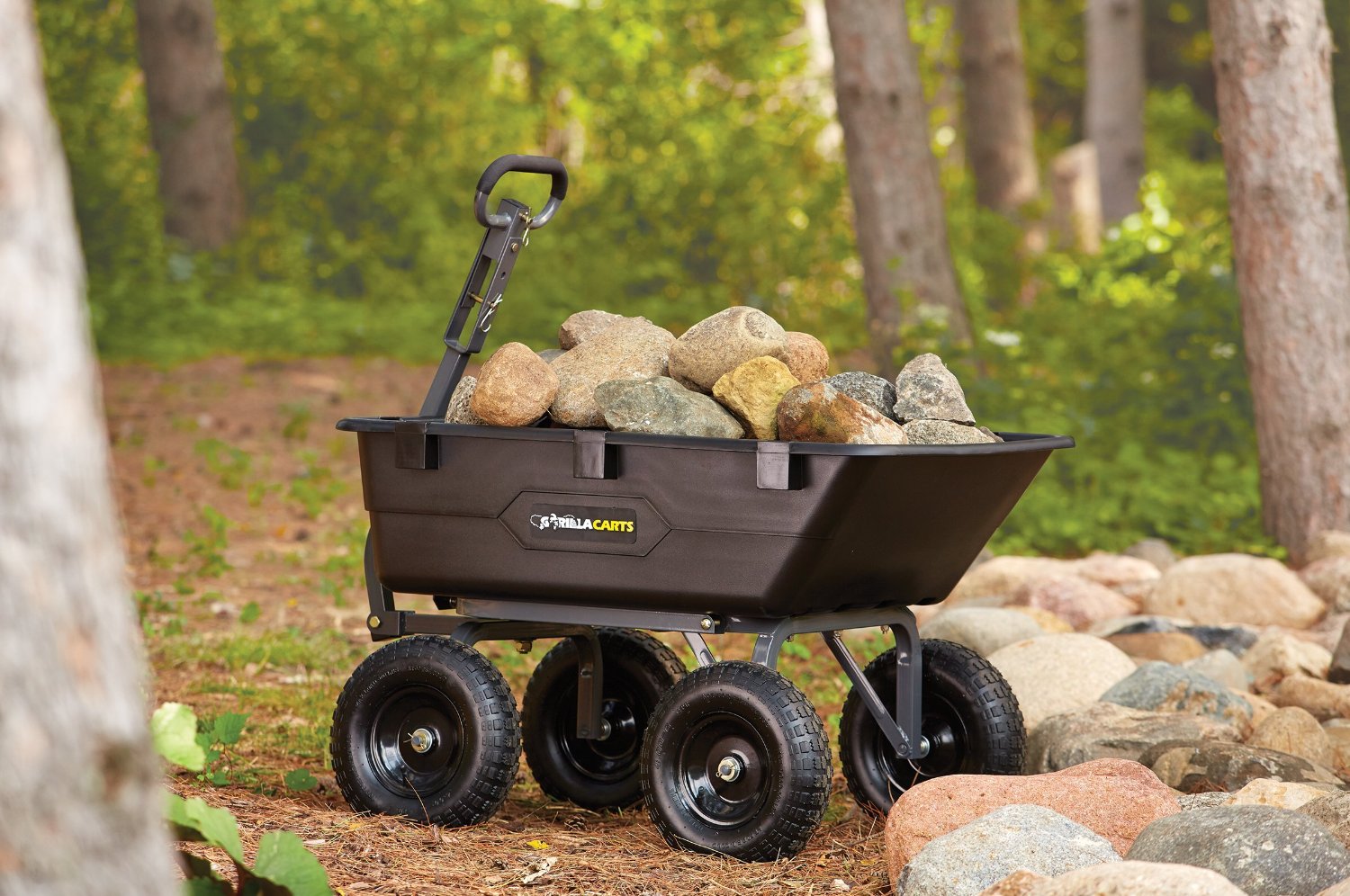 This is a heavy-duty garden cart that allows quick movement of farm supplies. It is constructed with a 40-inch by 25-inch rust resistant poly bed, steel frame and black finish. It has a padded convertible handle which doesn't need much effort to lift. The handles can also be attached to a lawn tractor for convenience. We like that it can comfortably carry massive loads with hauling capacity that is up to 1,200-pound.
Pros:
Sturdy one-piece frame
Unloading is a bliss with this
The 13-inch tires can withstand nearly all kinds of land features
It is easy to move materials (including long logs) from one place to another
Cons:
It may be too big for those looking for smaller wheelbarrow
It is may make a short high-pitched sound when filled with heavier materials
Verdict:
If you are looking for a machine that dependably performs over a long period of time, then we think this wheelbarrow is the way to go. The machine is cost-effective for its effectiveness, comes in the perfect size and is durable. You can also tow with ATV or tractor for more convenience.
Best Choice Products Dual Wheel Home Wheelbarrow / Yard Garden Cart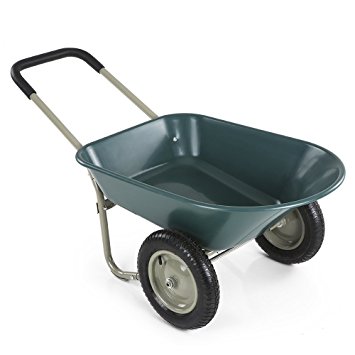 Best Choice wheelbarrow features easy-to-push-padded handles that double as a stand. The unit is sturdy and can take quite an amount of load with its 5 cubic feet
Pros:
It can be used for both tough and easy projects
It is sturdy
It can be moved over any kind of terrain
High-rated weight capacity
Cons:
The tub is plastic and may not be able to withstand heavier loads
Verdict:
This two wheel carriage is something that has to be used to be able to confirm its functionality. It is premium quality, durable and easy to lift. What we found more impressive is the price it comes with despite the matchless balance it brings during load hauling.
Sale
Best Choice Products Dual-Wheel Home Utility Yard Wheelbarrow Garden Cart w/Built-in Stand for Lawn, Gardening, Grass, Soil, Bricks, and Construction, Green
MULTIPURPOSE GARDEN CART: Deep wheelbarrow holds up to 5 cubic feet of soil, bricks, mulch, gravel, and more, so you can conveniently carry out landscaping and other home improvement projects
2-WHEEL DESIGN: Built with inflatable, 13-inch rubber wheels for a sturdy build that makes it easy to steer the cart on various terrains
Marathon Dual-Wheel Residential Yard Rover Wheelbarrow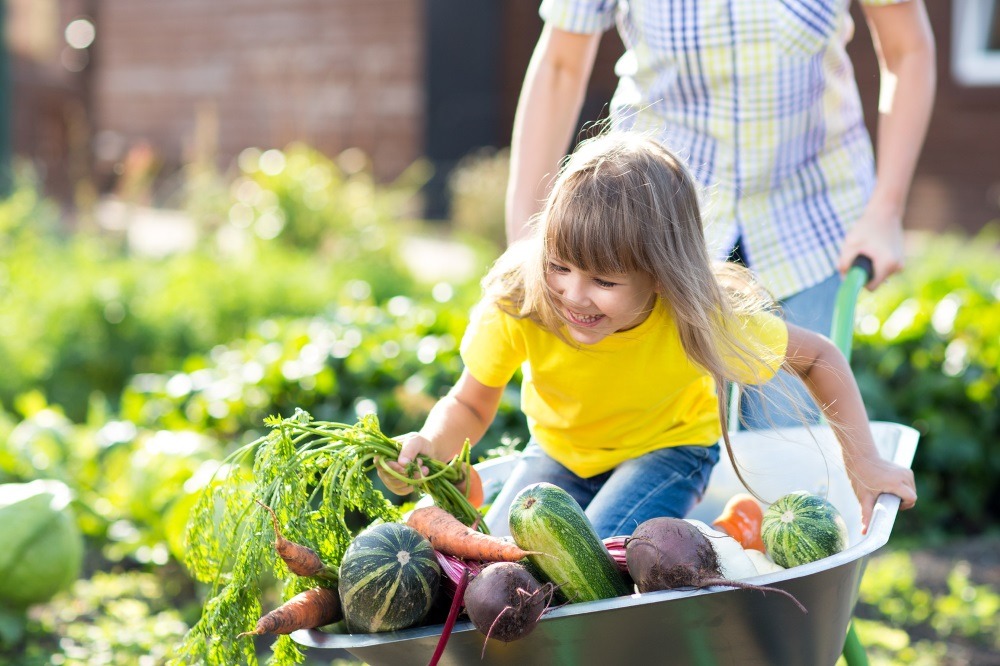 Typical of its name, this Marathon Wheelbarrow is a land traveler and a farm workhorse. It is a long lasting machine capable of doing difficult tasks. What won our heart is its patented quick-release dump feature for fast dumping or offloading. It weighs nearly 25% less than a typical wheelbarrow with only 29 pounds weight – which makes it easy to maneuver. However, it features 300-pound hauling capacity which is significantly lower than that of the Gorilla Cart. But what it lacks in capacity, it makes up for in ease of installation that takes only minutes for a novice to achieve.
Pros:
It does not wobble thanks to its air-filled wheels
Its 5-cubic foot poly tray is rust resistant.
Requires just a flathead screwdriver and a crescent wrench to put together.
It is light weight
It is easy to use within the farm
Cons:
Some have complained that the holes for bolt are not as solid as should be.
Verdict:
This unit does the job even though it is not heavy-duty. You don't have to wrestle for it to stay balanced as it offers matchless stability when filled. We like that it is also affordable compared to the value it offers.
Polar Trailer 8449 7 Cubic Feet Heavy-Duty Cub Cart Wheelbarrow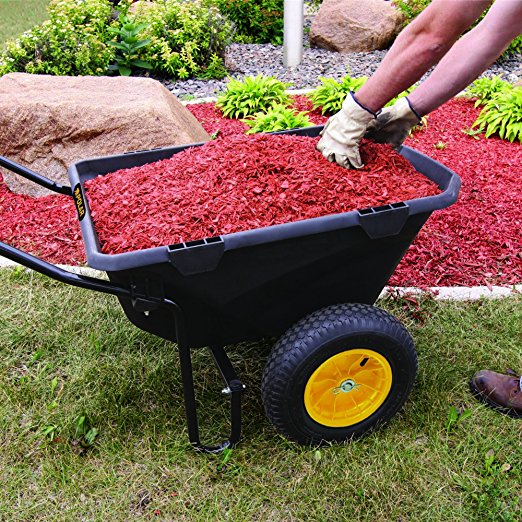 Polar Trailer is a user-friendly wheelbarrow with a near perfect height. It features a wide ground clearance for stability on all terrain including an uneven one. With a load capacity of 400Ibs and load size of 7 cubic feet, you can pack up as much load as you would need to. The high-quality wheelbarrow weighs 35Ibs which is reasonably light for quick movement.
Pros:
It withstands pressure
It is stable so you can place it anywhere without fear of it slipping
Made from improved polyethylene
Top-notch functionality
Cons:
Priced higher than some wheelbarrows on the list.
Assembling it doesn't seem as easy as it was with the Marathon Dual wheelbarrow.
Verdict:
This is a heavy-duty trailer for easy transport within the farm. Its wide rugged rubber tires see that you experience no shakings during hauling. We rate it high in overall functionality.
Sale
Jackson M6T22 6 Cubic Foot Steel Tray Contractor Wheelbarrow With Front Braces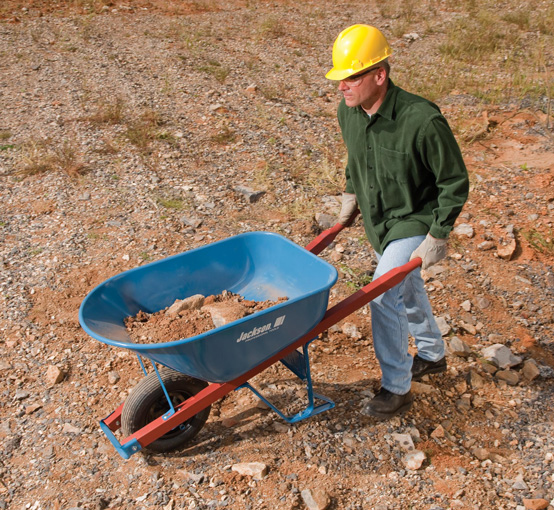 This is a durable wheelbarrow that can stand the test of time. What we found more distinct that separates this from the rest is the fact that its seamless steel tray features front braces. The one tire monster speaks of 6 cubic foot capacity.
Pros:
It features a better, thicker steel tray
Perfectly sized for easy lifting
It is balanced and solid
Cons:
Can be heavy when fully loaded
It is slightly more expensive than most wheelbarrows in the market
Verdict:
If you are looking for a reliable wheelbarrow to give a keen farmer or someone who likes to landscape their homes, here is a great deal. The unit can stand any kind of great pressure and works perfectly. Its durability is something we couldn't get over easily. It is important to know that you may have to pay through the nose to own it but it is worth every penny.
No products found.
WORX Aerocart Multifunction 2-Wheeled Yard Cart, Dolly, and Wheelbarrow with Flat-Free Tires – WG050
WORX is a mid-range priced wheelbarrow for carrying out multiple tasks. The device works excellently from wheelbarrow to dolly and much more – a versatility that we think stands out from the rest. The all-steel unit is easy to use for hauling as it is designed to adjust the center of gravity for balanced lifting.
Pros:
It can easily be converted to work as a flower pot, bag holder, cylinder carrier, and more
The trailer is durable
Makes oversized loads seem light as it is designed ergonomically.
Fairly-priced despite the great value it offers
It is easy to assemble
Cons:
The handle may seem too short for some
It may not be suitable for loads that are too heavy
Verdict:
This is a convertible wheelbarrow that will handle all you may need or require it for. It is durable and designed to satisfy. We found its price fair enough for any buyer. If you are looking for a wheelbarrow that can be used for other purposes without having to use tools for re-coupling, we think this unit is made for you.
WORX WG050 Aerocart 8-in-1 Yard Cart / Wheelbarrow / Dolly
[200 LBS = 17] The Turbo Lift design provides leverage to transport tremendous loads, making 200 lbs feel like approximately 17 lbs.
[8 DIFFERENT CARTS IN 1] It quickly transforms from a lightweight wheelbarrow into a yard cart, bag holder, dolly, extended dolly, cylinder carrier, rock/plant mover & trailer tote
Lifetime 65034 Two Wheel Wheelbarrow, 6.5 Cubic Feet Capacity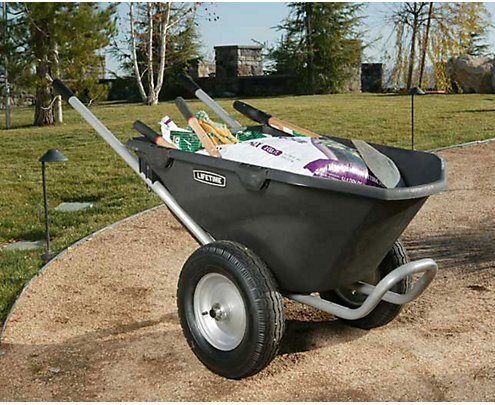 This wheelbarrow is made for quick transportation with a handle that allows for easy pulling along the process. It is designed with a steel frame and coated with powder to resist the effects of the harshest weather though we are not sure it prevents it from rusting. Its wheels ensure stability during lifting. Its tub is deep enough measuring about 6.5 Cubic foot that can take up 550Lbs heap of loads. The wheelbarrow is created to do 85 percent of the job using its wheels while you do only 15 percent.
Pros:
Distributes weight evenly for easy transportation
It knows how to make a heavy load seem so light
Heavy-duty wheels can withstand external pressure
It is easy to dump refuse thanks to its tapered front
Cons:
The tire can easily deflate if it is constantly overloaded.
It may rust with time
Verdict:
This is ideal if you are out to get a unit that is easy to lift and move. The handle is cushioned to avoid blisters and hand sore. We think this is a unit you can count on when it comes to hauling so much load. Keep in mind that the tires may need reinforcement with time.
True Temper Total Control 6 Cubic Foot Poly Wheelbarrow – RP6TC14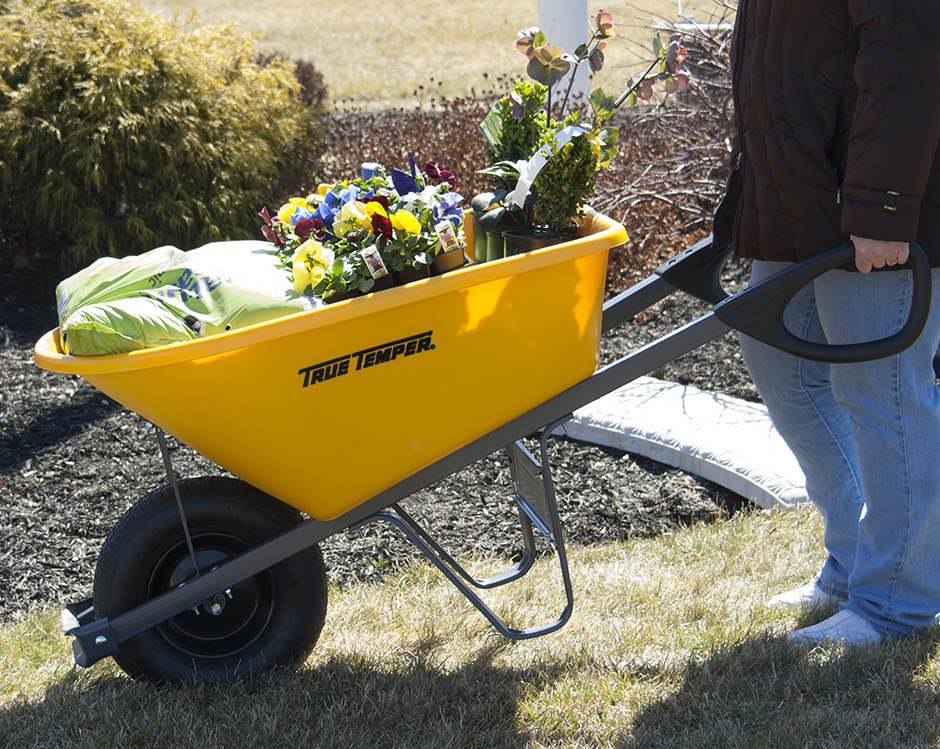 True Temper wheelbarrow is designed for both commercial and residential use due to its sturdiness. It has a stronger tire than Lifetime wheelbarrow but with a more shallow tub than the later with 6 cubic foot poly tray. We were able to assemble the pieces within minutes.
Pros:
It moves perfectly
It is balanced
It is resistant to rust
It allows you gain full control of the machine
Cons:
Steel handles may cause blisters if used regularly
It is not the cheapest wheelbarrow on the list
Verdict:
If you are looking for a wheelbarrow for tougher works, here is it. It is made of a rust-resistant steel which can withstand the elements. It is perfect for carrying heavy materials over any kind of terrain.
Radio Flyer Kid's Wheelbarrow
Radio Flyer Kid's Wheelbarrow is a transportation tool or system that makes moving and dumping a lot easier. It has wooden handles for painless maneuvering. Its wheel is shaped for better rolling. We liked the steel tub which is high-quality where loads are being placed. However, it is not the most suitable for hauling heavy weight loads.
Pros:
It is fun to work with
Improved durability due to its steel undercarriage
It allows you carry materials securely.
Has a lot of stability even while loaded
It is a portable wheelbarrow
The cheapest on the list
Cons:
Not suitable for lifting larger weighted materials.
Verdict:
If you are looking for a wheelbarrow that your kid can use in helping out on the farm or use for their toys, then we recommend this fun wheelbarrow. It has no scratch edges and as such won't inflict harm on your kid. The wooden handles make movement smooth.
Conclusion
These are the best wheelbarrows we (through in-depth research recommend for both garden novice and legends as well as construction engineers for hauling some materials on the site. They passed our tests for being durable, affordable, effective, versatile and more. In all, we advise you give adequate care to the units so as to reap from their improved durability.