We all like to sweeten our day with fine crispy toasts that are tender, delicious and soft in the middle with a crunchy exterior and not ones that taste raw or badly scorched on one side or in the middle. To achieve this, we not only have to get our toppings right but more importantly, use a good toaster. This is because a good toast doesn't just entail spreading with whatever toppings we love but also the machine that does the work.
Having this in mind, we embarked on a research to round up the best toasters that offer results which are exceptionally pleasant and fulfilling. During our test, we considered features that are highly crucial to a toaster including durability, the ease of use, ease of cleaning, ability not to scorch toasts badly, their ability to lift and release toasts as well as ability to lower the toast into the slots.
We used this medium to conclude that the Breville BTA820XL Die-Cast 2-Slice Smart Toaster is the best toaster in the market right now. With it, you won't be let down or go wrong. It's a two-slice toaster that has slots wide enough to accommodate thick slices of bread and toast it to your preference. The toaster is easy to operate and clean yet sturdy. It also features useful buttons and countdown LED digital display that notifies you when your toast is ready.
Nonetheless, if Breville doesn't meet your taste in size, you can go for the KRUPS KH734D Breakfast Set 4-Slot Toaster or opt for KitchenAid KMT222ER 2-Slice Toaster or any other toaster on this list as they all work just as great.
Best Toasters That Will Make Snacking A Fun Experience
Why You Should Trust Us
As broad researchers, our round-up is credible and reliable because we make out quality time, spending weeks to research and come up with nothing but the best. In the course of researching toasters, we considered some factors that are relevant to the toasters. We also considered their prices, energy consumption and more.
We then tested some of the products ourselves and spoke to professionals who use these units for their daily needs. Not only did we find that there's a lot of money to be saved with these toasters, we also found that there's a lot of benefits that can be extracted from them as well.

Smeg 2 – Slice Toaster in Pastel Blue
Smeg products are among the best inventions of all time. The brand builds on its reputation, producing outstanding refrigerators and other Kitchen gadgets. Thus, it's no mystery that this SMEG toaster is worthy of being named here. The toaster is built with ease of use in mind and no matter what you want to prepare with this toaster, be it breakfast, lunch, brunch or snacks, this two-slice toaster cooks up a taste.
It gives life to a dead bread as a bad one gets a chance to be good again. We were amazed at how sour bread came out being good-textured, ultra-fresh and yummy after toasting with this gadget. with slice toaster in pastel blue, you will be able to toss in frozen bread or keep your toast warm while waiting for the water to boil thanks to its standard defrost and warming buttons.
When it comes to size, it looks fearless and daring in your kitchen due to its size. As for the shades, the colour range of this toaster essentially comes in bright and exciting shades; red, blue, green and pink with two bread slots and different useful functions to ensure your toast is cooked uniformly every time. It has a bagel function which offers a new dimension to toasting. Also, all SMEG toasters have extra-large slots for quick access to the toast which is available in different slot models. However, it has only two slots which may only take a few slices in one cycle but is wide enough to take in bagels and other large-sized snacks.
Pros:
It has a defrosting function which means you don't have to wait for frozen bread to defrost.
Superb aesthetics hence it looks good in the kitchen
You can make different types of toast including bread rolls with its multi-function.
Wide slots for fast toasting
Heats evenly and enough for quick cooking.
Fundamentally built to offer convenience and functionality
Cons: 
It has only two slots which aren't the highest number we can get in a toaster.
Verdict:
As lovers of toast, we would attest that this toaster is one that shouldn't be lacking in any home. Especially if you want to make a toast that is to your taste in every way. The extra wide slots are just two but can take more slices than smaller ones.
SMEG 2 Slice Retro Toaster (Pastel blue)
Equipped with two generously sized slots, accommodating a variety of bread types and thicknesses.
Harness the power of six distinct browning levels to achieve the perfect shade of toasty goodness.
Breville BTA820XL Die-Cast 2-Slice Smart Toaster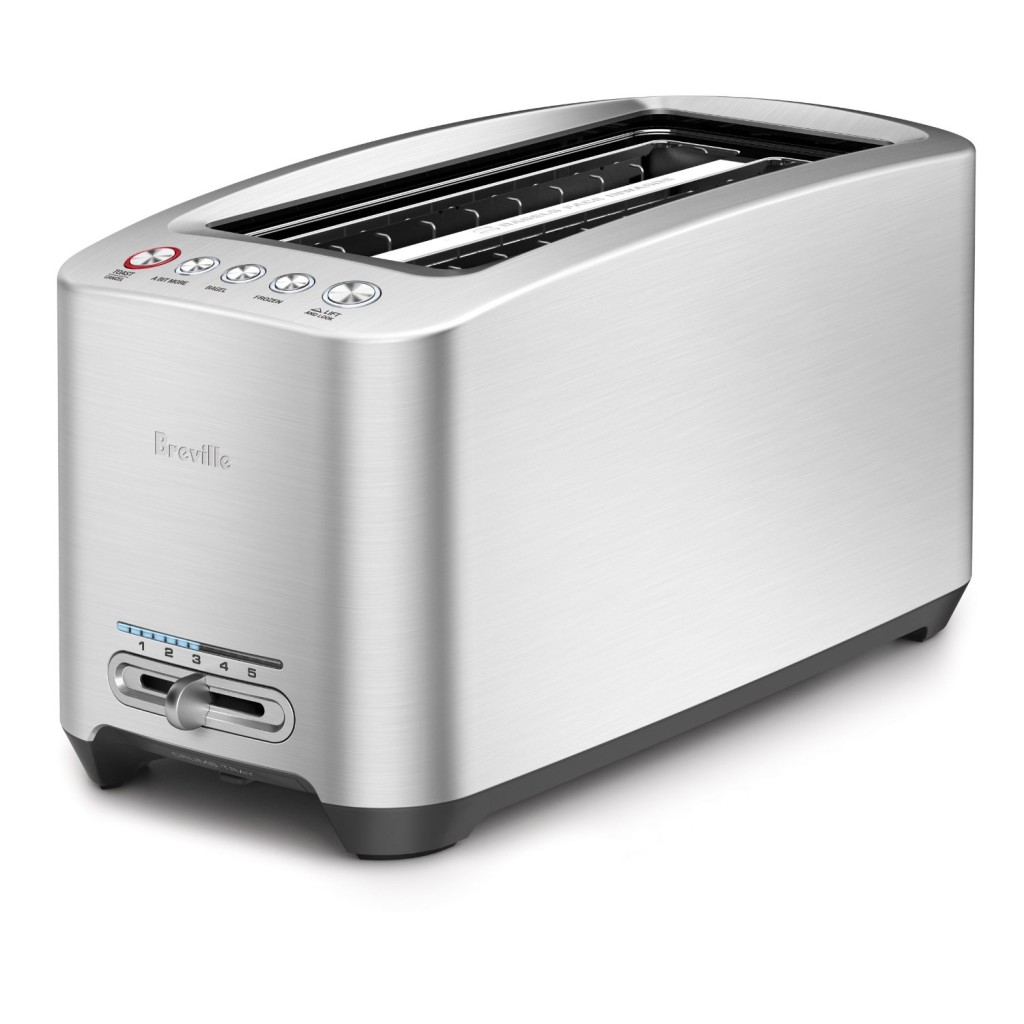 Two slots yet large enough to take wide slices at once, Breville combines functionality and comfort. It takes kindly to the fact that toasting shouldn't be a daunting task and works in a way that makes day to day toasting a lot easier. With its bagel, defrost, a bit more, and lift and look functions, every day is a good day for a bread toast. You just have to spend a few minutes preparing breakfast to enjoy tender and yummy bread. It has a one-touch auto lowering automatic function which adds an appealing convenience to its entire functionality. We were gripped by the way it works, exposing bread to radiant heat, browning it and the consequent enjoyment of awesome taste that follows – now isn't it such a fun way to cook? While toasting, you will notice variable flashes of light from the LED panel based on the function you choose from the browning controls.
And what's the joy if you have to supervise your toaster on regular basis to know when the toast is ready? None I guess. So hey, don't worry about that, Beville has it sorted out. The toaster will notify you with a beep at the end of every cycle. You just have to know the number of cycles that completely toast your bread or gives you a uniform finish. Once the beep goes, carefully pull out the yummy bite from the brushed die-cast metal housing.
Note that wide slots can take large bread or bagel but if it is too thick, it may not toast through. Thus, throwing in a reasonably-sized slice is a good idea. Don't worry if your bread is frozen, you can actually transfer your bread from the freezer straight to the toaster thanks to its defrost function. Having said that, we still advise storing of bread at room temperature.
Pros:
Offers a fully toasted finish at the end
It is fit for make-ahead meals as toast hardly goes stale
Qualifies as a convenient toaster
There is plenty of money to be saved with this toaster
Toasts made with this 900-watt 2-slice toaster tastes delicious with good-quality flavour.
It ensures uniformity across the toast
Cons:
It is on the high side but it is worth the pay
The slots are somewhat wide enough to take large bread but not extra-large bread. Putting oversized bread may cause burning and heating
Verdict:
For a really crunchy treat, we recommend this toaster. Just like other toasters mentioned on this list, Beville will deliver a well-cooked golden brown toast to start your day. It guarantees uniform crispness with no single raw or white patches.
Breville BTA820XL Die-Cast 2-Slice Smart Toaster, Brushed Stainless Steel
The Breville 2-Slice Smart Toaster is a compact toaster that lets you feel in control; One touch automation lets you monitor your toast's progress using "Lift & Look" and add extra time using " A Bit More" to toast your favorite bread types to perfection
INNOVATIVE FEATURES: 'Lift & Look' and 'A Bit More' allow you to check on your toast or add a little extra time without interrupting the toasting cycle; The bagel function ensures even heat for even toasting and unfreeze your favorites using defrost
KRUPS KH734D Breakfast Set 4-Slot Toaster
Imagine biting into a crispy toast and instead of an awkwardly dry taste, you get fresh, tasty and wholesome flavors of your toppings and everything you have spread onto the crust of your bread with the outer part quite crunchier than the middle. This is exactly the experience KRUP offers. We found that it only takes this toaster a reasonable amount of time to achieve that. The stainless steel toaster is a 4-slice toaster with wide slots. You don't have to wrestle to get in large slices because by measurement, its slots are large enough to take other snacks like buns and bagels.
You also get to choose the task to perform using its two separate control panels of five functions; cancel, toasting, defrost, reheat and bagel; 6-level adjustable browning control. In addition to that, this toaster didn't underestimate the importance of a lift lever or toast boost and the impact it can have on the overall use of the machine. The lever ensures easy popping out of the toasts, so you don't have to use a knife to puncture it before pulling it out.
Fundamentally, there is no burning of toasts or constant monitoring with this toaster as it has a blue LED indicator which gives you an idea of when your toast is likely ready for crunching. This also limits the temptation of pressing the cancel button on a steady interval to check your toast's colour which may lead to you forgetting the exact level it is and burning your toast. Don't worry about bits of bread falling through the slots, the removable crumb tray which works to keep toasting tidy and smooth will pick them neatly.
Pros:
The shiny finish adds elegance to your kitchen counter.
Browns bread perfectly without any burnt sections.
Stainless steel finish exterior enhances its durability.
Produces more toast per cycle than most
Easy removal of toast
Moderately priced for the value it gives
Cons:
There have been complaints that toasting with this machine is really slow. But if you don't like rushing through it, this will surely give you a subtle different end result.
Verdict:
Everything about this toaster is go-to and we base this conclusion on the good impression and satisfaction we got from the toaster. It is not just fancy but also efficient as well as affordable. It is one toaster that never disappoints with the result. However, it may require a little bit of your patience to have that unforgettable toast you've always wanted.
Krups Breakfast Set Stainless Steel Toaster 4 Slice 1500 Watts 6 Brown Settings, Defrost, Reheat, High Lift Lever Silver, Matte and Chrome
4 Slice Toaster: Toast upto 4 slices of bread to crispy perfection; dual independent control panels to toast at different browning levels simultaneously; extra large, self centering slots ensure even browning and accommodate a variety of breads, including bagels, buns, English muffins, and more
6 Browning Settings: Choose preferred level of browning thanks to the shade setting dial, ranging from 1 (lightest) to 6 (darkest)
Breville BTA840XL Die-Cast 4-Slice Smart Toaster
Just like KRUPS, Breville BTA840 can accommodate more slices of bread per cycle and is confirmed to be quicker in getting things done. We noticed that with a higher number of slots and slits, you can push in more slices for a complete family breakfast in a short time.
The toaster is quite similar to the other Beville listed here; it has an intelligent one-touch auto lowering functions, LED panel that lights up based on the task you choose on different browning controls, a simple switch mechanism for toast control, defrost, a bit more, bagel as well as lift-and-look functions. Where the dissimilarities come in is in watts and slots. This version is an 1800-watt 4-slice toaster with a die-cast metal finish case. This means that it's twice capable of consuming less energy.
For added internal space and for family convenience, the slots are made wider measuring 1-1/5-inch yet it doesn't take up much space on your counter. You also get notified when your toast is potentially ready with an end-of-cycle beep. Whenever you are determined to get an even, full-slice that is not variegated but is crunchy across the whole surface, use this toaster. It will not only grant the anticipated result but will demonstrate expertise in doing that. Though it may cost you a fortune to own it but once you are able to spare the money, you will experience toasting moments that are from another world.
Pros:
Ease of cleanup after use
More toast for you and your family
Saves Energy
Has a cord storage
Unsurpassable longetivity
Cons:
It is high-priced and may not be affordable for some
Verdict:
Eating something tasty that is healthy too is what everybody wishes for daily. But it doesn't just end there. The ease and pace of making that awesome meal are also a factor. However, this toaster offers all of this. For us, it's a perfection in a unit as long as you can spare the money to have it.
Breville 4-Slice BTA840XL Die-Cast Smart Toaster, Stainless Steel
The Breville 4-Slice Smart Toaster has 4 extra wide slots allowing you to toast your favorite bread types; Innovative one touch automation lets you add more time to the toasting cycle using "A Bit More" and monitor your progress using "Lift and Look"
INNOVATIVE FEATURES: 'Lift and Look' and 'A Bit More' allow you to check on your toast or add a little extra time without interrupting the toasting cycle; The bagel function ensures even heat for even toasting and unfreeze your favorites using defrost
KitchenAid KMT2203CA Toaster – Candy Apple Red Pro Line Toaster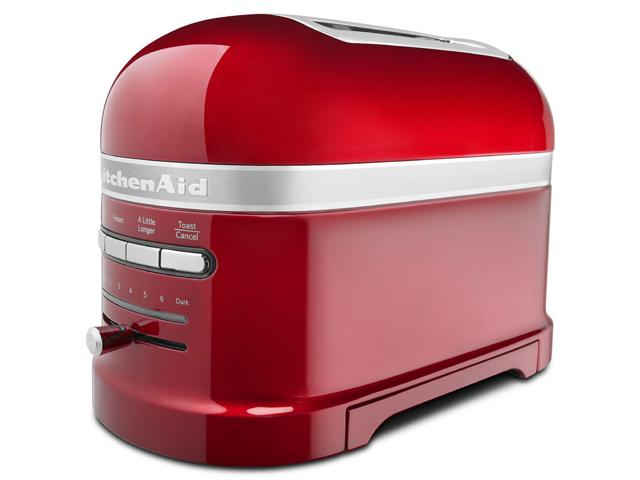 KitchenAid Toaster as the name implies is a great aid in the kitchen, offering basically a remarkable breakfast treat every morning. Some might argue that this toast is too expensive for a toast. Yes, we could have a common line in the middle of that as it is a big budget but the problem could be getting the wrong toaster. Of course, you wouldn't have to put up with the wrong toaster just for cost, would you? That's why we think this toaster is worth every penny. From the build quality which is a sturdy instance to ease of using it and its promptness in carrying out tasks.
Only a few high-end toasters have really intelligent features as this toaster; automatic keep warm feature that keeps toast warm for as late as three minutes, frozen and bagel functions. With regard to beauty or appearance, the design is phenomenal with an automatic lift and lower and seven shade settings that offer the option of choosing the exact colour or shade of the toast. As well as automatic keep warm function, the toaster boasts of five-year warranty – that's longer than anything we know of.
Pros:
It is strong and durable
Toasts virtually all kinds of snacks
Effective features that are quite helpful
High-quality internal construction parts
Features a perfect finish
Has a history of providing toasts that offer exceptional pleasure
Cons
It is a little heavier and longer than standard toasters.
It is high-end
Verdict:
There's much to be said about this toaster but we would concern ourselves with its effectiveness, sturdiness, durability, final result as well as ease of use and maintenance which are from another world. Even though it takes up more space on your counter, it fits correctly. Plus, it's weight which is a little higher than standard for the price will not stop you from starting your day with a slice of an evenly cooked toast, right?
KitchenAid Pro Line Series 2-Slice Automatic Toaster - KMT2203
2 Extra-wide, long slots for the flexibility to toast a variety of breads from bagels, to english muffins, thick breads and more.
Automatic lift & lower feature lowers bread into the self-centering racks upon sensing bread in a slot, then lifts once it has reached the selected shade.
Dash Clear View Toaster

Dash Clear View Toaster is capable of toasting at 7 browning levels and has auto shut-off feature. It is made to satisfy everybody including those whose addiction to a good toast seems overpowering. The unit works excellently throughout the toasting cycles with functions like defrost, bagel and reheat to let you choose a particular programme to run. As bulky as it may sound, it doesn't take fiddling to operate the unit because the buttons are not awkward nor unnecessarily complex but self-explanatory. The large slots can even take in bagels, speciality bread, etc. We think you have endless possibilities with this toaster.
The large slots can take in bagels, speciality bread, etc. We think you have endless possibilities with this toaster. Its crumb tray won our hearts with the way it can easily be pulled out alongside the glass pane for quick cleaning and refreshing. Other perks tagged to this amazing toaster include one-year manufacturer warranty, recipe book and access to the manufacturer's improving database of recipes included.
Pros:
Toasts exactly how you want it
You get to enjoy a good toast every morning
It's long and takes more toast
Convenient to toast with
Has provision at the base for storing its cord
Wide enough to take in anything put into it including toasting the entire bread in one cycle
Highly affordable for its value
Toasts faster
Cons:
Some have complained that the lever doesn't really stay down
Verdict:
This toaster comes in different colours but they all offer the same key thing; great toast. It Pops out toast amazingly and is highly durable. However, don't expect it to last more than the value. At the end of the day, the important goal is to make a good toast and that's exactly what this toaster will help you do no matter your choice of toppings.
Cuisinart CPT-440 Touch to Toast Leverless 4-Slice Toaster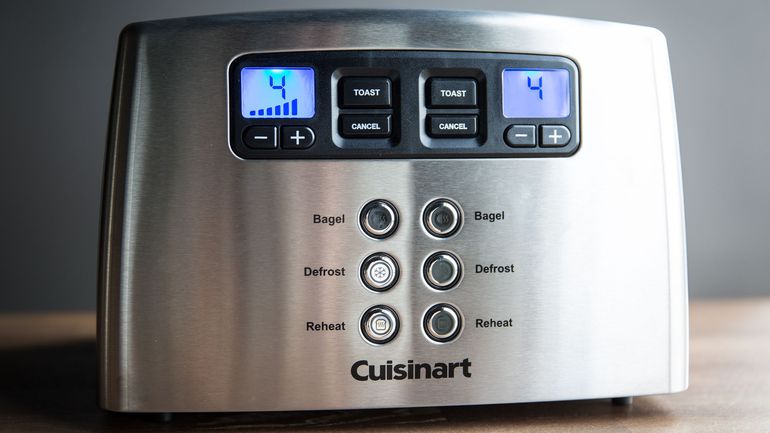 Covered with a Stainless-steel case, Cuisinart CPT-440 has many pleasantly effective features you would least expect from a toaster of its price. The features go from motorized lift that hauls down the toast into the chamber, improved bagel toasting function, to digital control for shades ranging from One (light) to seven (dark) to suit your taste. It also has an LCD countdown feature with a blue backlit led function display which has us tripping for the gadget.
The LCD countdown quality works to let you know when your toast is ready for munching using a set of digital bars that clear off one after the other as the heat on the toasts advances, up until no bar is left, and the toast pops up. While this feature is unsurpassable, the blue-lit led function of the digital clock which emits visible light when counting down is another main attraction that caught our eyes.
Additionally, the toaster will not take over your counter top. It will only take a limited space with an easy wrap cord. Under the bottom is a place to store its cord. The manufacturer's warranty is a long 3 years which is like exercising their full confidence in the product and the willingness to accept flaws if you notice any within this time – now that's unbeatable confidence.
However, keep in mind that some terms and conditions are applied. It is important as well to have in mind that when only one side of your bread gets toasted, it doesn't mean the toaster is flawed or faulty, it only means the bagel button is On. This is because, the Bagel setting only heats up the top half of the bagel for a crunchy top and a supple bottom, exactly how everyone likes a bagel. Nonetheless, if you like both sides crispy, then don't use the bagel button. Switch modes to "toast" simply with a button to start having it evenly toasted.
Pros:
It's 4-slice and offers more space for large family
Toasts evenly and very fast
It's versatile allowing you have your toast just the way you like it
You get notified when your toast is ready without having to deal with some high-pitched sounds but a tiny ping
It is fairly priced for its worth
Cons:
It's lever-less and hence does not have a push button lever.
Bread bigger than 5 1/2 inches (which the size of the slot) can't fit in the toaster's slots. But you can cut them to size if need be.
Verdict:
This toaster is jazzed up with many credible features. We love the softness of bagel made with it as well as the delicious dry toast it makes. It looks great on counter tops and delivers nothing but evenly cooked bread. Despite the features, it works like a charm anytime.
KitchenAid KMT222ER 2-Slice Toaster with Manual High-Lift Lever and Digital Display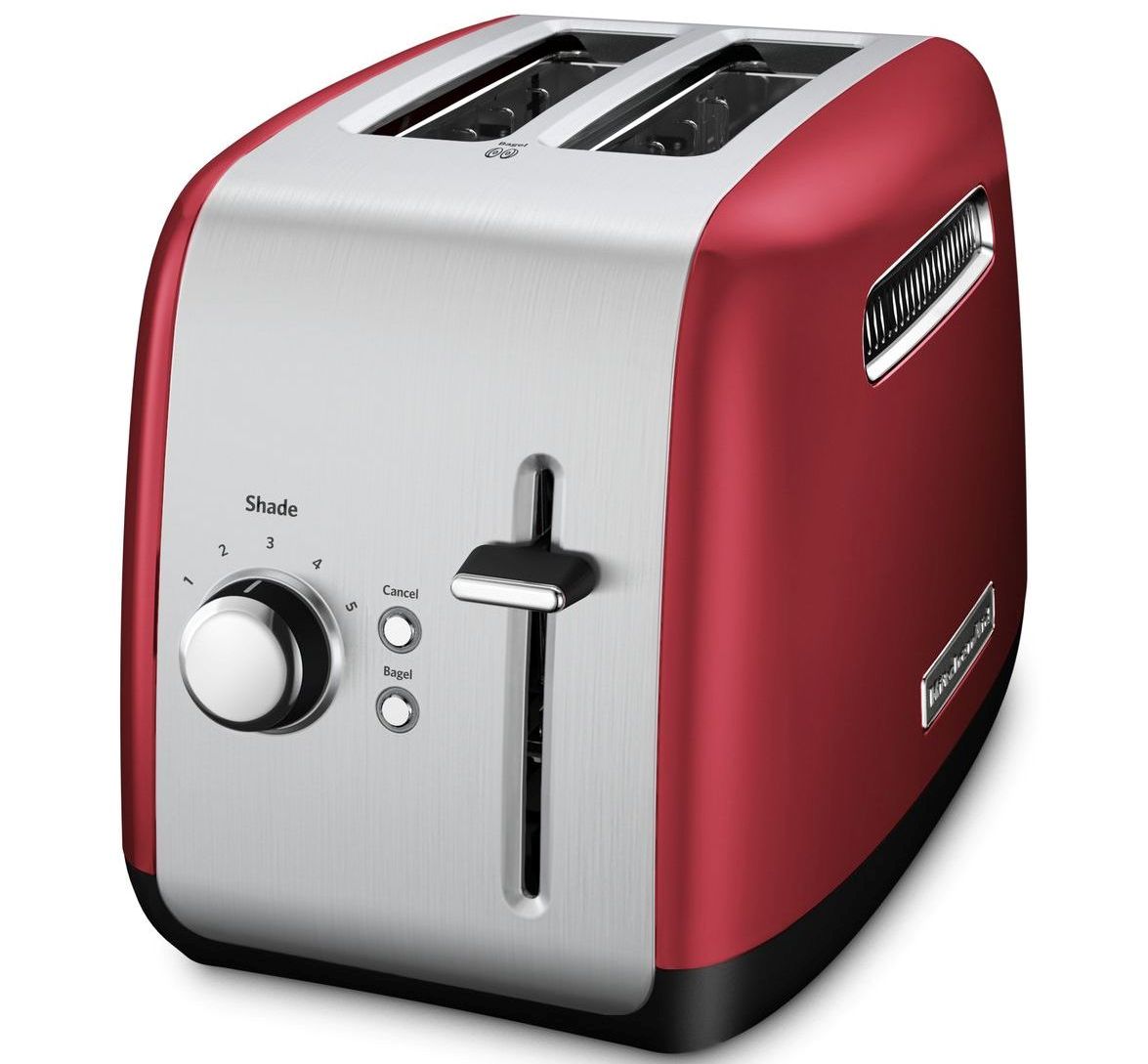 Consider a toaster with two extra-large slots for your ever growing family. KitchenAid has gained a reputation for making great kitchen gadgets that are unique and functional. This innovative toaster housed in an all metal case handles basically every task expected of a toaster and more. It is suitable for bagel and bread heating and changing their shades correctly.
Aesthetically, Kitchenaid combines style and sturdiness. We quickly became keen on its digital selections for the task to be carried out including bagel, defrost, reheat, toast/cancel. Just like Cuisinart, this KitchenAid toaster has a place for storing cord beneath its base. It, however, has a high-lift lever which is lacking in most toasters. The sturdy tray it comes with captures crumbs from toasted bread offering a smooth cleaning time. In addition to that, its shade control setting delivers a complete range of browning options for your desired bread.
Pros:
Produces even toast
The toaster's countdown feature is fascinating
It's durable and affordable
It's a trustworthy toaster that delivers efficiency everytime
The exterior is metallic sturdy and durable.
Cons
Though it has a high-lift lever, there have been complaints that the lever doesn't hold up but aside that, everything else works perfectly.
Verdict
Looking for convenience? It has visible controls that are fine and clearly marked. It doesn't burn toast and it lets you choose your desired shade. The size of this toaster is made to blend and can suit your counter perfectly. And if it is all about looks, it will suit any kitchen decor.
T-Fal 874600 Classic Avante 2-Slice Toaster
T-Fal toaster is phenomenally constructed to let you take pleasure in crunching crispy toasts browned to your favourite shade. The toaster is a two slice toaster with extra large slots that adjust automatically for uniform toasting. When it comes to removing your toast, it is safe and convenient thanks to its slanted edge design. The slant design also makes viewing your toast an undemanding task. The part about this toaster that really captured our toasting yearning is its 6 different browning settings that offer a full range of browning options (from light to dark) for perfect and meticulous result in the end.
Expect no breakfast calamities with the toast's Bagel function that toasts the outside while warming the inside through and through. Our toast came out completely well with no raw or white spots. All you need to do is throw in your bread and watch it toast all the way through. We also experienced a safe removal of the snack thanks to its slanted design. The unit also has a high lift lever and a crumb-door that adds to the ease of toasting. The bottom of the toasting vault as well as its cord storage complete the gadget. However, you need to cut your bread to size as larger slices may not come out perfectly. This is because the distance from the top to bottom of the slots is not that much for long slices.
Pros:
It has an outer part that is safe to touch
Great design and function
High-quality interior and exterior finish
Rewarding browning adjustments
Essentially an effective toaster
Toasts quickly and conveniently
Cons:
Pricey
The result may alter when toasting bread larger than 5 inches due to its short slots.
Verdict:
You may have been encountering breakfast woes just because you have been using the wrong toaster. We all have been there. But T-fal may be a useful tool. It offers you the ability to make a difference with its outstanding functions made to produce good tasting toasts.
Hephaestus Professional 4-Slice Toaster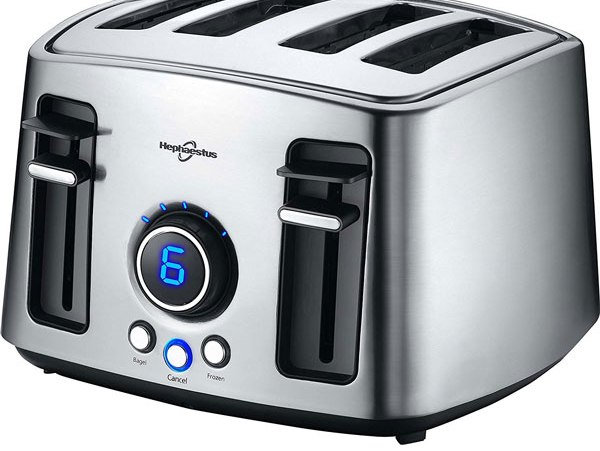 Hephaestus is a 4-slice powerful fascination for chefs who like their toast to be nothing but crispy. The kitchen unit has varying amazing attributes for even toasting including a countdown LCD display, extra wide slots and high-lift lever. As a matter of fact, convenience, functionality, beauty, as well as durability are all combined in this one toaster. In our test, we found that the stainless steel toaster tells you the temperature and the time as the heating progresses via its digital screen. Removing hot food is quick and effortless because of its high-lift.
We couldn't think of a perfect feature than the wideness of its slots which can take in a range of food items from pop tart and sliced bread to broad bagels saving you from having to wait for toast turns when toasting with it. The size of the slots also make it fit for a large family since enough toast can be made in one cycle. The good news for anyone who wants to get this Hephaestus toaster is that it is sold at a cheaper rate than most toasters in the same category.
Pros:
Free access for thick bread
Stainless steel exterior that is resistant to rust
Helpful features for even toasting
It is contemporary  and sturdy yet affordable
You get to enjoy well-cooked bread without losing the flavour of your spread
Easy to clean thanks to its crumb tray
The buttons are plain making operation simple
Cons
It is a 4 slice toaster with deep slots so it may be bulkier than a two slice toaster for some homes.
Verdict
There are countless benefits to using this toaster with the major one being creating a whole new toast experience every morning. It's affordable and durable but you might need to create more space on the counter top for it to fit.
Cuisinart CPT-180 Metal Classic 4-Slice Toaster, Brushed Stainless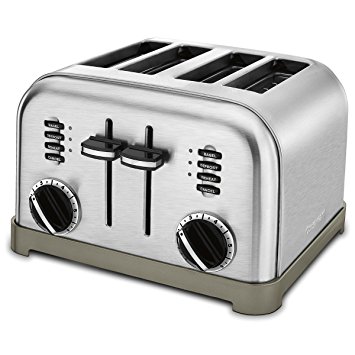 Housed in a polished brushed stainless, Cuisinart CPT is regarded as two toaster in one due to its two control attribute where each part of the toaster (two-slice) has a custom control featuring six setting browning buttons, defrost, bagel button, LED indicators, and dual reheat. Thus you can perform different tasks at the same time and also get to choose the functions to toast to your preference. It gets an extra commendation from us for the fact that the toaster serves everyone's ever-changing and unique tastes.
Also, the packaging demonstrates the manufacturer's commitment to all elements of quality. It has a look that adheres to old-fashioned or traditional which is cool enough to make you feel proud of displaying it on your countertop. It has a crumb tray that makes cleaning simple. Its slots are 1-1/2 inch – wide and it has an extra-lift carriage lever with a crumb tray that makes cleaning after toasting a bliss. You get access to a recipe book that will guide you through making a great toast.
It was constructed to North American Electrical Standards to offer nothing but kitchen convenience
Pros:
You get expected result no matter the type of bread you use
It is motorised and works perfectly
You won't have to deal with burnt toasts as you will be notified when your toast is ready
It is sturdy and consistent from cycle to cycle during toasting.
It toasts uniformly without ruining the flavours of whatever you spread in between
No worries about loud noise as it makes a buzzing sound to signal when the toast is ready.
Cons
Larger-sized bread may not fit ideally into the slots due to its width which may not be wide enough to accommodate it. But once cut into size, will fit perfectly
Verdict
This toaster is a perfect piece of technology for making a great toast. It is not just safe and saves you from burning your hand and the toast, it is sturdy and lasts for a long time serving its purpose. It toasts bread well.
Sale
Cuisinart 4 Slice Toaster Oven, Brushed Stainless, CPT-180P1
CLASSIC DESIGN: Smooth brushed stainless steel housing with polished chrome and black accents to improve any countertop in your kitchen
SUPERIOR OPERATION: With two control panels, two 6-setting browning dials, dual reheat, defrost and bagel buttons with LED indicators make toasting so easy
Breville BTA830XL Die-Cast 4-Slice Long Slot Smart Toaster
Breville provides you with 4 long slots that can take any shape of bread. It is a 1600 Watt toaster that toasts quickly and meticulously through. We found that there is nothing like raw taste in the middle or on one side of the toast when you work with this toaster. You predetermine how you want the end result of your toast to be with its browning settings. Again, its LED digital display is practical and lets you see as the toasting progresses. And if you are busy with other things during toasting cycle, a sound alert is handy to notify you. Even the tone can be adjusted to high, low, or mute, depending on how far you go away from the toaster.
Another good feature of this toaster is its cool-touch polished die-cast metal body that offers a smooth feel during toasting. By the time the toasting is at its optimum, the 'Lift and Look' toasting carriage which momentarily moves up and down on its own will let you see the browning process without interfering in the toasting cycle. Other features include "a bit more" which when chosen means additional time to the toasting cycle. It also has frozen and bagel settings for defrosting as well as for making bagel respectively. The crumb tray which can easily be pulled out makes cleaning a breeze.
Pros:
The smooth brushed metal finish makes it highly durable
Toasts quickly and evenly
Easy to clean exterior making cleaning and maintenance easy
Interior cleaning means sliding out tray to trash the crumbs
The cord storage helps to avoid hazard or harm that could come from metal use
Useful controls
Instead of an irritating noise, it has a comfortable tone to tell you it's ready
Cons:
Very thick pieces may require two cycles.
It is overpriced
Verdict:
This toaster is great to be bought for the home. We loved that it has amazing features from bagel setting, frozen, momentary raise to see progress, a "little bit more" button, and an LED progress indicator to inform when the toast is ready. Though it is quite expensive for a toaster, if you can afford it, you are guaranteed of effectiveness and push-button controls combined in one.
Breville BTA830XL Die-Cast Smart Toaster 4-Slice Long Slot Toaster, Brushed Stainless Steel
The Breville Smart Toaster with extra long slice capacity for bread types that need longer slots; Use one touch auto lowering or lifting for gentle handling, "Lift & Look" to monitor progress and 'A Bit More' to add a extra time to the toasting cycle
INNOVATIVE FEATURES: 'Lift & Look' and 'A Bit More' allow you to check on your toast or add a little extra time without interrupting the toasting cycle; The bagel function ensures even heat for even toasting and unfreeze your favorites using defrost
Conclusion:
These toasters listed herein are all tested and trusted. The units do nothing else other than serve you right. They not only make yummy toasts, they work just fine. Though you may need to spare more than you normally would've for a toaster, they are worth every penny you would spend to have them. Also, the toasters are unique in the way they operate. Toasts get completely toasted and tender to your desired shade which you are allowed to choose.
We got crunchy results throughout without interfering with the flavour of the toppings, so you get to munch on a fun new breakfast. Additionally, a lot of the toasters come with prolonged manufacturer's warranty that promises to repair or replace them if necessary within a specified period of time, so you are protected from unwarranted damages within the speculated time.