Sound quality, mic clarity and comfort are the three things every gamer dreams of when shopping for the best gaming headsets available today. When these three elements are combined, the connection between the gamer and the product is taken to the next level.
After a detailed research and in-depth customer reviews of various gaming headsets available today, we have come to the conclusion that the HyperX Cloud Stinger (for those who prefer the wired option) and the Plantronics RIG 800HS are the best gaming headsets available today!
Best Wired Gaming Headsets
HyperX Cloud Stinger – By Kingston
Crossfade M-100 – By V-Moda
Siberia 350 – By SteelSeries
Elite Pro Tournament Headset – By Turtle Beach
Nash 20 – By Mionix
Ear Force Z60 – By Turtle Beach
Best Wireless Gaming Headsets
RIG 800HS – By Plantronics
Siberia – By SteelSeries
G933 Artemis Spectrum – By Logitech
A50 Wireless Headset – By Astro
HyperX Cloud Stinger Gaming Headset Review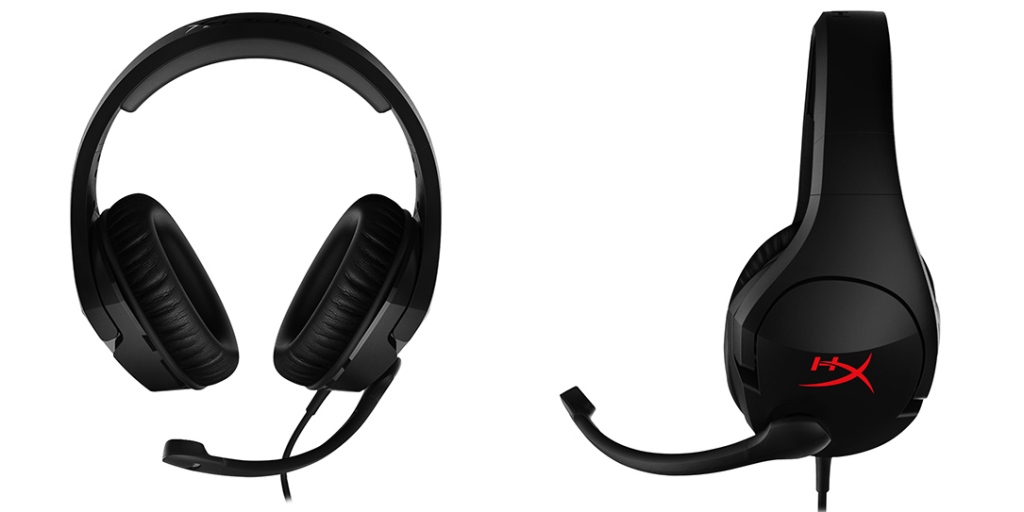 If you are looking for lightweight comfort, superior sound quality, a well-built product, and a headset to keep your gameplay a step ahead of others; then you can't go wrong with the HyperX Cloud Stinger. It might look simple, but this headset is far from simple.
The HyperX Cloud Stinger is an all round gaming headset that is not just comfortable when you have it on but comes with ear cups which rotate at a 90-degree angle for a snug fit. Its 50mm directional drivers position sound directly into the ear for audio precision and gaming-grade sound quality.
It is also fitted with high-quality HyperX signature memory foam for ultimate comfort in prolonged gaming sessions.
Manufacturer: Kingston
Features:
Lightweight headset with 90-degree rotating ear cups
For audio precision, it comes with a 50mm directional driver.
Memory Foam: The memory foam provided is currently the HyperX signature
Spontaneous volume control on headset ear cup
Easy Mute: Swipe up to mute noise-cancellation microphone
Multi-platform compatibility
Flaws:
Non-detachable microphone
CrossFade M-100 Gaming Headset Review
The Crossfade M-100s are known to be the world's first crowdsourced, lightweight metal, noise-isolating headphones. There is no doubt some creative process has been put into the Crossfade M-100, they don't just look good, but the sound quality is amazing.
Crossfade M-100 is the ultimate in versatility for gamers, musicians and anyone who who's selective about the kind of sound they listen to.
Manufacturer: V-Moda
Features:
Mindblowing Sound Quality/Experience: The Crossfade M-100 has a clean deep bass. Enjoy precise vibrations of your gameplay without bloated boom or muddy mids, while Inner and outer rings separate the bass from bleeding into the mids and highs.
Ultra Wide Clarity & Vivid Midrange: Experience lifelike vocals, crystal clear cymbals, and crispy hi-hats.
Speak-Easy Mic Cable: The mic is specially tuned for voice recognition and communication in the noisiest environments.
Optional BoomPro and CoilPro: Extend your functionality with a professional-grade boom mic for gaming.
Noise Isolation: Its analog noise isolation naturally cuts out the distractions of external noise.
Minimal sound leakage: Immersive sound for you without bothering others.
The bliss memory foam cushions naturally forms to your ears to provide supreme comfort and noise isolation.
Flaws:
The price is a little on the high side.
Siberia 350 Gaming Headset Review
The Siberia 350 gaming headset is a well built headset for total gaming engagement. It is Powerful, looks really good and its next-gen SteelSeries speaker drivers paired with DTS Headphone: X 7.1 surround sound delivers detailed sound for enhanced gameplay.
Manufacturer: SteelSeries
Features:
DTS Headphone: X 7.1 Surround Sound
The sound quality is so clear, you can practically hear your enemies before you see them. The Siberia 350 perfectly reproduces in-game audio so you hear every bullet, spell, footstep and environmental cue exactly as the game developers intended.
Retractable Mic: With a retractable mic, you can keep your mic safe during travel or when engaging in activities where the mic is not needed.
Suspension Design: The iconic suspension headband offers an ideal, lightweight, self-adjusting fit. Just place it around your ears and the headset adjusts to the perfect fit.
Memory Foam: Thanks to the deluxe, memory foam padded design, you can game for hours in luxurious comfort.
Prism RGB Illumination: Full Prism RGB illumination with 16.8 million color illumination.
Flaws:
The transition when used with other devices might not be the best.
Elite Pro Tournament Headset Review
The Turtle Beach Elite Pro brags to be the first headset reimagined from the ground up for eSports athletes. It comes with Turtle Beach's ComforTec Fit System which keeps you comfortable through hours of gameplay. The ComforTec System is a revolutionary tension adjustment system that includes AeroFit Ear Cushions to keep your comfort a priority, and a ProSpecs Glasses Relief System which removes pressure on your eyeglasses.
The mic also offers a very clear sound with hardly any distortion.
See Also: Best Earbuds Under $100: 15 In-Ear Headphones That Rock
Manufacturer: Turtle Beach
Features:
ComforTec Fit System – Its adjustable fit system takes comfort to a whole new level.
Aerofit Ear Cushions – This keeps your ear cool and also blocks out external sound.
ProSpecs Glasses Relief System – Thanks to Turtle Beach's patented, pressure-relieving technology, you can comfortably wear your glasses while using your headset.
Pro Gaming Microphone with TruSpeak Technology – Be heard loud and clear with hardly any distortion.
50mm Nanoclear Speakers – Thanks to its signature eSports tuning, you get to hear your teammates loud and clear.
Circuit Pro Cable System – Just one universal connection needed for all Elite Pro accessories.
Flaws:
The Microphone is not the best as compared to others.
Nash 20 Gaming Headset Review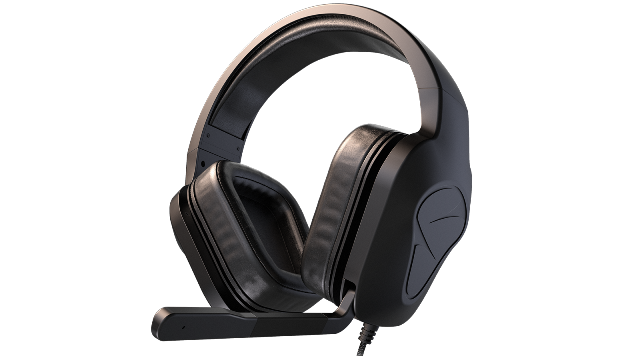 A little bulky, but the Nash has been engineered to get you the full sound experience in a clean, comfortable design. Going for a straight forward and simple design, it eliminates the complexity found in other headsets.
Manufacturer: Mionix
Features:
Flip To Mute Microphone: The Nash is built with a flip-to-mute microphone with instant mute control.
A New Class Of Comfort: The soft viscoelastic ear-cushions adapts to the shape of your ears, providing you comfort over long periods of game play. Furthermore, the padded steel headband creates a fitting seal and a firm fit.
Balanced Sound: The semi closed back acoustic chamber design is engineered to provide air to the drivers to optimize the sound. With this, you get the advantage of more accurate and quicker positioning when playing games.
Flaws:
Might be considered heavy to some.
Ear Force Z60 Gaming Headset Review
The Ear Force Z60 is not left out of gaming headsets coming up with various first technological achievements. They brag about being the first PC gaming headset to unleash game-changing 7.1 channel DTS Headphone:X Surround Sound on any PC or Mac.
They deliver an amazing bass response through PC gaming, an outstanding audio advantage from Surround Sound Audio Modes during game play. The Dynamic Chat Boost keeps your communications above the action.
Manufacturer: Turtle Beach
Features:
Mic Monitoring: Controls the mic intelligently
X 7.1 Channel Surround Sound
Supports DTS HD sound
Audio Connection: USB
Mobile Device Connection: 3.5mm Stereo jack
Removable Microphone
Mic Connection: USB
Flaws:
Best Wireless Gaming Headsets
RIG 800HS Gaming Headset Review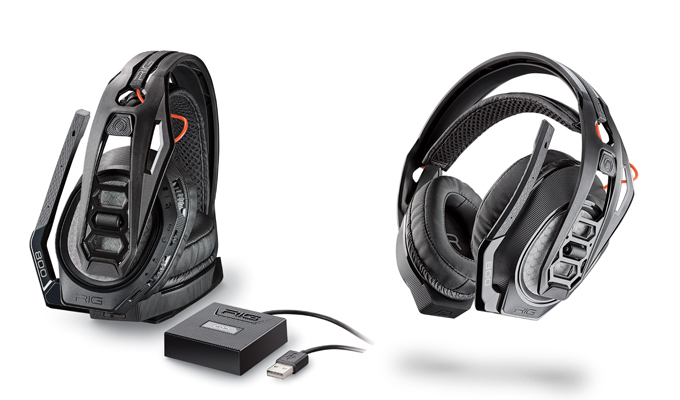 Unlike none other, the fully wireless RIG 800HS delivers up to 24 hours of lag-free wireless audio and lightweight comfort for marathon gaming sessions.
It comes in a lovely design that makes you want to put them on and get right into the action.
Manufacturer: Plantronics
Features:
More Power: From a single battery charge, you get up to 24 hours of game play.
Performance Audio: Bass is reinforced and distortion is limited. Not to mention, you get to monitor your outgoing levels and quality via voice feedback.
Noise-cancelling mic: This ensures your teammates hear you, not the room you're in and you can easily flip the mic up to mute.
Siberia 840 Gaming Headset Review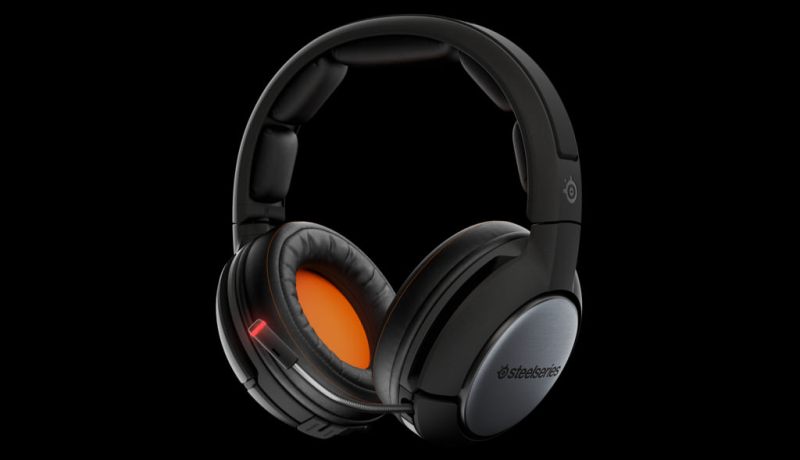 The Siberia 840 comes with a lag-free wireless connection, an OLED display transmitter, on-ear controls, crystal clear mic and Bluetooth connectivity.
You can find just what you need for your game play in the Siberia 840 and it works perfectly with every gaming platform.
Manufacturer: SteelSeries
Features:
No Lag: The Siberia 840 uses continuous frequency-hopping technology to prevent lag between your game and your headset.
Surround Sound: The Siberia 840 features three different types of Dolby technologies, giving you an incredible virtual 7.1 surround sound.
Soundscape: The Siberia 840 delivers exceptionally-tuned audio that is perfect for gaming.
Bluetooth: Bluetooth connection lets you chat via VoIP clients through your mobile devices. You can also take calls and stream music, all without ever having to take off your headset during gameplay.
Transmitter: For those who are keen on always having the right setting, well that problem has been solved. There is a clearly visible OLED display that shows all settings and more on the Siberia 840 transmitter box.
The transmitter displays Profiles, audio sources, battery life, and volume in crystal clear visuals.
Rapid-Swappable Batteries: The Siberia 840 comes with two 20-hour lithium-ion batteries, which can be changed mid-action without the hassle of any cables or wires. The spare battery charges inside the receiver so it's ready when you need it.
Flaws:
Hardly any difference as compared to the previous model, just the addition of bluetooth for an extra price.
G933 Artemis Spectrum Gaming Headset Review
With an Unprecedented audio quality and lag-free wireless or wired connection, the G933 keeps your head in the game for up to 12 hours with the wireless option.
See Also: How To Connect and Use Wireless Headphones for TV
Manufacturer: Logitech
Features:
Pro-G Audio Drivers For Superior Performance: The advanced Pro-G audio drivers are made with hybrid mesh materials that provide an audiophile-like performance.
Multi-Platform Compatibility: Use the G933 Artemis Spectrum on various game platforms.
4GHZ Wireless: The G933 Artemis Spectrum Wireless Gaming Headset gives you the best of both worlds, with the option to play wirelessly or wired.
Programmable G-Keys: Fingertip command and navigation. You can also assign custom commands on the G-keys using Logitech Gaming Software for a flawless gaming experience.
Custom Sound Profiles: Use the Logitech Gaming Software to program the audio equalizer and pre-set audio preferences for games.
Multi-Source Audio Mixing: With audio from up to three devices, no more game interruptions from incoming calls.
USB-Powered Mix Adapter: Use your wired devices wirelessly – Combine an analog input on the wireless mix adapter with a powered USB port to make your analog audio devices wireless.
Crystal-Clear Communication: This ensures you are heard with a crystal-clear noise-cancelling boom mic.
Long-Term Comfort: Soft and breathable materials – The G933 Artemis Spectrum comes with over-the-ear cups which are designed to fit around most ears without applying pressure on soft tissues.
Flaws:
Surround sound requires Logitech Gaming Software.
A50 Wireless Gaming Headset Review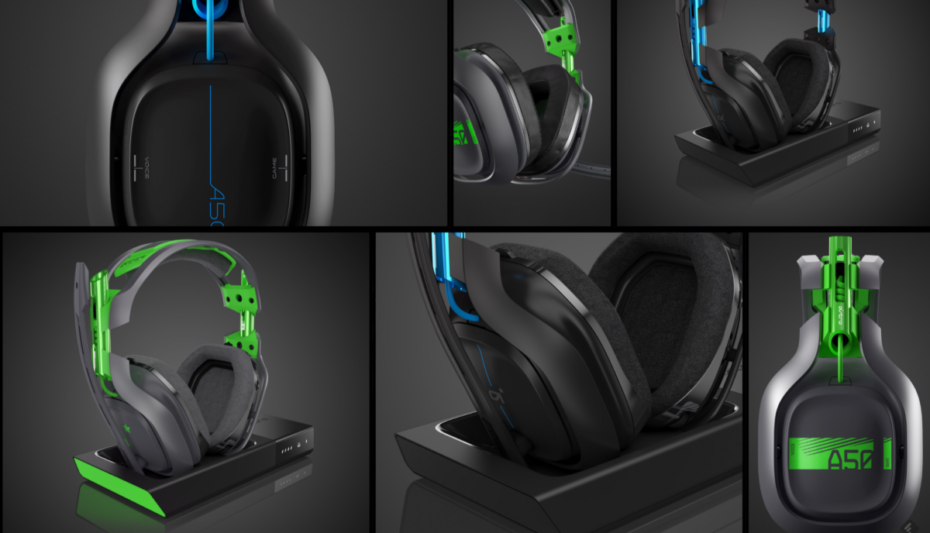 The ASTRO A50 Wireless Headset has been designed specifically for Xbox One, PC, and Mac. It features a 5GHz wireless transmitter that provides clear, low-latency voice communication while making headset pairing and charging simple.
With up to 15 hours of battery life, you get to enjoy long intense gaming sessions in comfort. Hear enemies and objects from all angles with Dolby 7.1 surround sound and with the built-in MixAmp technology, you increase chat levels and game sounds.
Manufacturer: Astro
Features:
5GHZ Wireless Technology: Astro's wireless technology provides robust, low-latency performance by operating at a higher frequency.
Astro Base station Transmitter: For a stress free connection, the A50 headset automatically pairs with the ASTRO Base Station, while magnetic charging allows for effortless docking when the headset is not in use.
Built-In Mixamp: Take control of your audio. Tune both the input and output levels thanks to the integrated ASTRO MixAmp.
Precision Microphone With Flip-Up Mute
Comfort And Durability: The ear cushions feature cloth for maximum comfort, backed with synthetic leather for the best acoustic performance. Furthermore, it is also perfect for those who wear glasses. The A50 features lightweight, yet rugged construction with premium materials for a pressure-free fit.
PC Compatibility And Support: Thanks to the A50's multi-platform compatibility, switching between consoles, PC and Mac modes has been made easy.
Dolby Headphone 7.1 Surround Sound
Pro-Quality Audio: Astro Audio provides a neutral, smooth, and extended frequency spectrum for detailed, true life sound. This means non-fatiguing highs, clear mids, and tight, distortion-free bass for balanced resolution
Flaws:
Headsets are made specifically for selected gaming consoles.