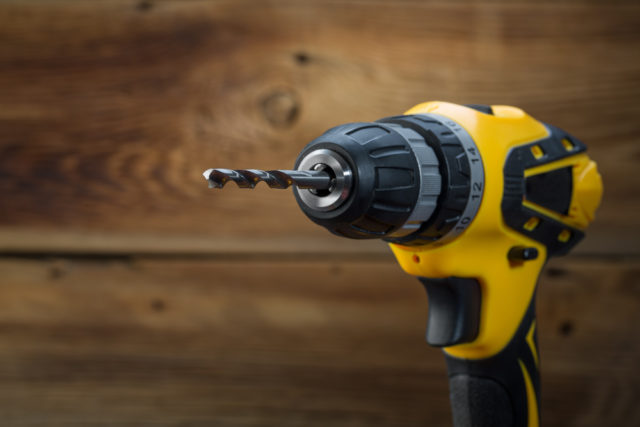 Most Corded drills have full power for any kind of task because they have higher torque. They never have to be recharged as they are mains-operated. In addition, they are easy to handle and pose no storage problem. However because they are corded, they have some limitations one of which is restricting the use to jobs close to an electrical source. That said, there are some features to keep in mind when considering getting quality corded drills.
First is the variable speed trigger which gives you better control over the speed of the bit. Also, it is smart to buy the drill that suits the task for which you intend to use it. This is because too much torque for small tasks can ruin screw heads. This can be determined by the chuck size which tells you the number of bits it can hold or accept.
An adjustable clutch is also important, especially for driving screws. Chuck sizes that are most common include 1/4, 3/8, and 1/2 inch (metric chucks are 6, 8, 10, or 13 mm). For basic home repairs, the 3/8 inch (10 mm) chuck diameter can do the job excellently, but if what you want to break into is really tough such as metal or concrete, you can go for a more powerful one that will provide a superior twisting force.
See Also: Best Gas Hedge Trimmers
Normally, the higher the voltage, the faster you get the job done and the more current it uses. While higher powered drills are best for tougher drilling, which quickly drains a smaller battery, always keep in mind that it draws more current. Well, it is only a matter of time before you get the work done.
Another worthy criterion that most people often neglect is the handle. A good handle shouldn't weigh you down or feel unbalanced. Also, consider the technology that exists in the drill. Some corded drills have drill and hammer mechanisms for carrying out multiple tasks.
With these considerations in mind, we carried out a research, checking out a good number of drills and what customers and users had to say. Based on that, we concluded that Dewalt DWD 112 Pistol-Grip Drill is the best corded drill. It has a drill and hammer technology which offers more options for what you can do with it. You can also choose or Black+Decker DR560 or Makita DS4011 1/2-inch Drill or any other one on this list that are likewise efficient and budget-friendly.
Best Corded Drills Top 3 Compared
Preview
Popular Choice
Editor's Choice
Best Value
Title
DEWALT VSR Electric Drill, Keyless Chuck, 8.0-Amp, 3/8-Inch (DWD112)
Makita DS4011 1/2" Spade Handle Drill
BLACK+DECKER 7.0 Amp 1/2 in. Electric Drill/Driver Kit (DR560)
Capacity
1-inch capacity in wood with a spade bit (1-1/8-inch capacity with hole saw) and a 3/8-inch capacity in steel
wood 5 inch, steel 3 inch
Steel capacity 1/2-inch, wood capacity 1/2-inch
Chuck Size & Chuck Type
3/8" all metal keyless chuck
Prime
Popular Choice
Preview
Title
DEWALT VSR Electric Drill, Keyless Chuck, 8.0-Amp, 3/8-Inch (DWD112)
Capacity
1-inch capacity in wood with a spade bit (1-1/8-inch capacity with hole saw) and a 3/8-inch capacity in steel
Chuck Size & Chuck Type
3/8" all metal keyless chuck
Prime
Editor's Choice
Preview
Title
Makita DS4011 1/2" Spade Handle Drill
Capacity
wood 5 inch, steel 3 inch
Prime
Best Value
Preview
Title
BLACK+DECKER 7.0 Amp 1/2 in. Electric Drill/Driver Kit (DR560)
Capacity
Steel capacity 1/2-inch, wood capacity 1/2-inch
Prime
Best Corded Drills
BOSTITCH BTE140K 7-Amp 1/2-Inch VSR 2-Speed Hammer Drill Kit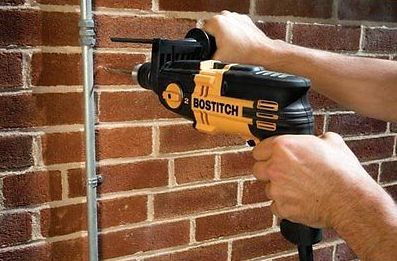 Bostitch BTE 140K 7-AMP 1/2-Inch VSR 2-Speed Hammer Drill Kit is a corded electric hammer that offers a hard-hitting performance without much vibration and noise. It is a tough drill kit that can make a hole in just about anything including concrete in just a few seconds. It uses a 7Amp motor which lends it the strength to drill on different kinds of materials.
See Also: Best Work Gloves: Buying Guide For Protecting Your Hands
It also improves the drill's speed and its general performance. The dual speed transmission offers optimal torque and speed in low and high settings. The drill has a hard-shell case that keeps heat far from the inner components. There is also a side handle with depth rod that supports it during tough applications. The rod also helps in pre-measuring the whole for accuracy.
Pros:
It is a useful tool
It comes with a three-year warranty
It has a powerful motor
It is all-purpose, can handle wood, metal and masonry quickly and easily
Provides efficient transfer of energy which prolongs the life of the tool
It has an ergonomic handle
It has a reasonable keyed chuck size (0.5) which discourages the drill bits from slipping
Cons:
It is lightweight, thus not the most durable on the list
Verdict:
This is a great choice for house owners who always do odd jobs around the house. We think this drill will last for a very long time and is of very high quality. But it will depend on how much it is going to be used.
No products found.
Dewalt DWD112 VSR Pistol-Grip Drill with Keyless All-Metal Chuck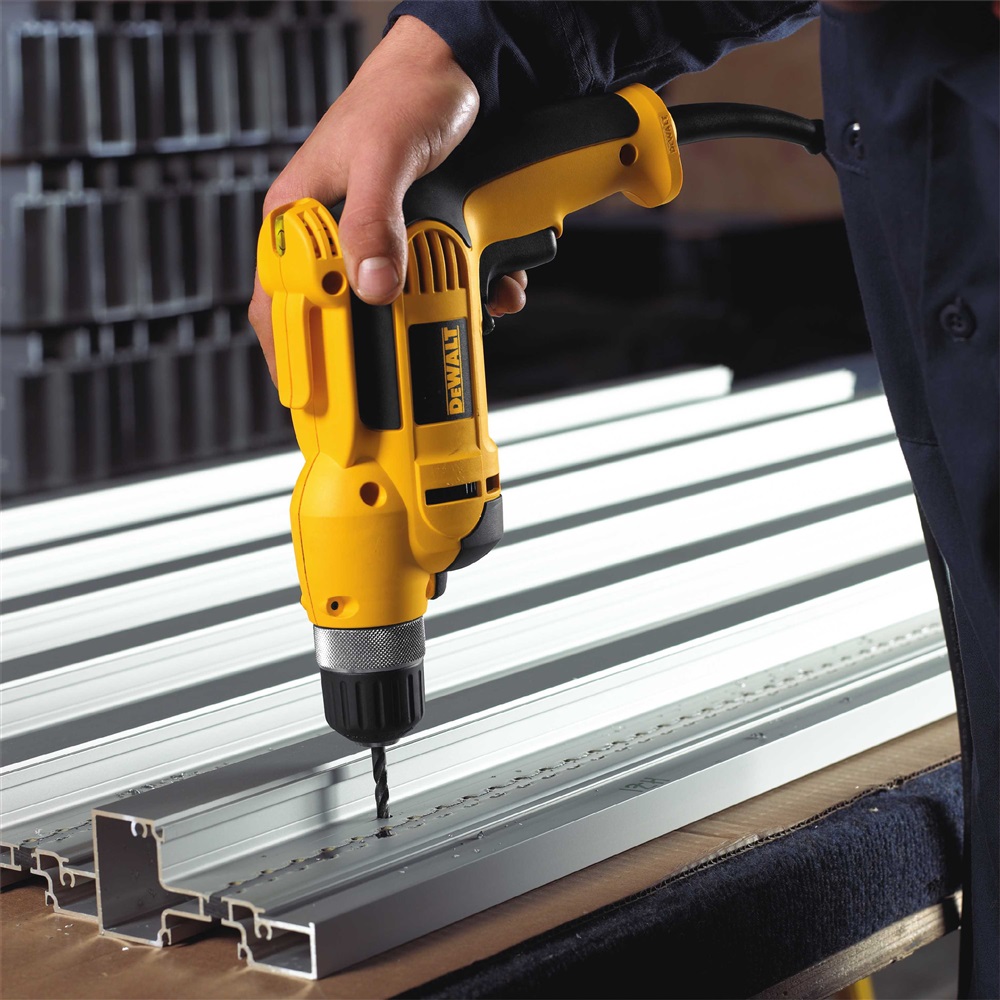 Dewalt DWD112 comes at a cheaper price than Bostitch but has a 3/8″ chuck made from metal and uses an 8 amp motor which delivers greater power. The corded-electric drill scores high for being a versatile heavy-duty drill that can piece through various materials. It also offers a wide range of speed from zero to 2500 RPM so you get to enjoy the flexibility of choosing the rate of speed that best suits the task you want to carry out.
It is lightweight and thus easy to use and store without compromising performance. It has a 3/8-inch all-metal keyless chuck that holds the bit firmly. It has a soft grip handle and allows you to be in full control when carrying out tasks. There is a ball-bearing technology that enhances the drill's durability and lifespan.
Pros:
It can drill intensely
It comes at a very affordable price compared to the value it offers
Offers great productivity with less noise and vibration
It effectively meets different needs due to its versatility
It does the work faster than anyone would imagine
Wear-resistant and user-friendly
Has a 9-day money back guarantee
Cons:
Verdict:
This is a popular choice for professional users like masons, remodelers, electricians who are looking for a perfect balance between price and functionality. It is a reliable tool that is easy to work with. However, it can be a little heavy but that makes it really sturdy.
Makita DS4011 1/2-Inch Corded Drill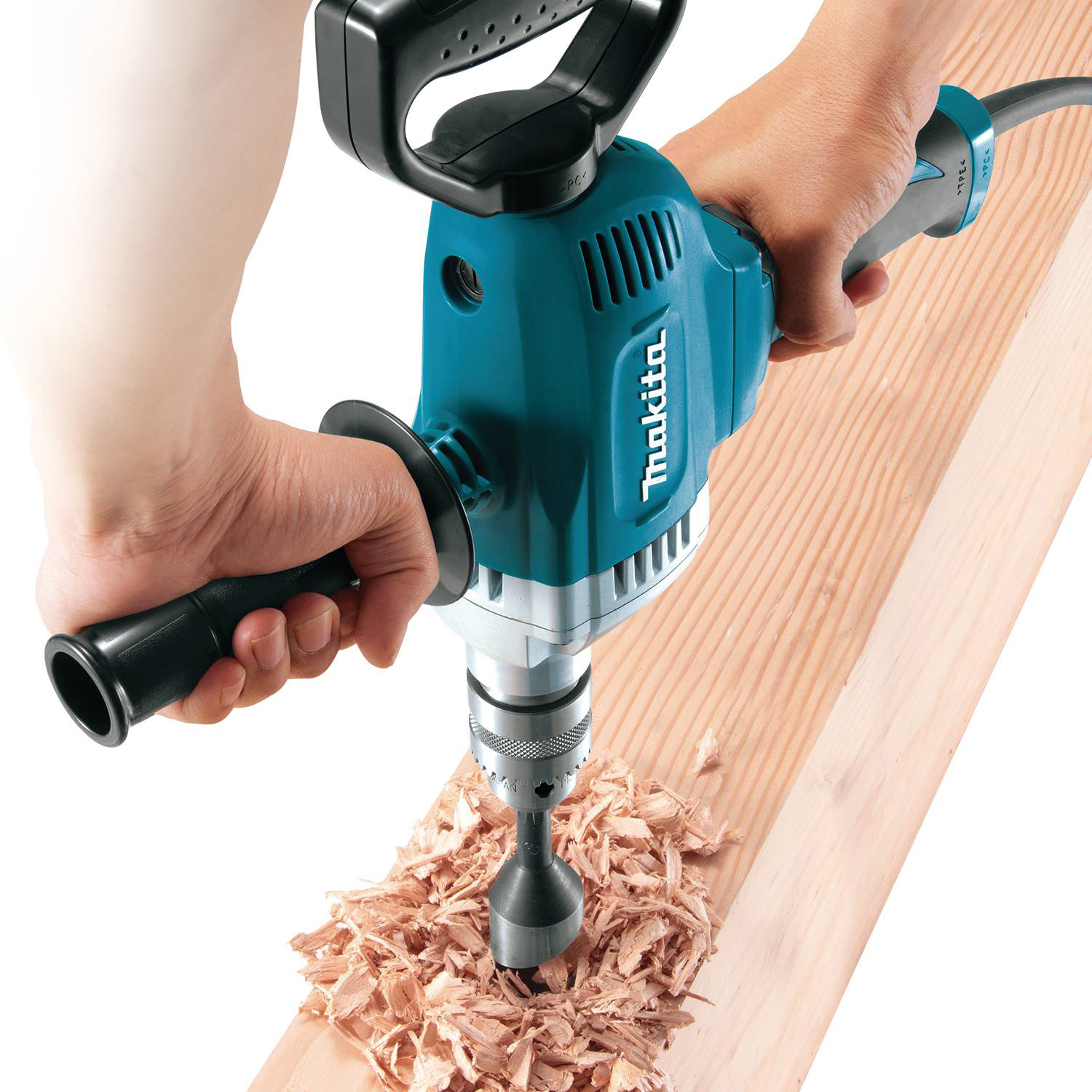 Makita DS4011 1/2-Inch Drill is a high-end drill with a super capacity. The drill uses an 8.5 amp motor which carries out different tasks of drilling and mixing. The tool boasts of a higher drilling speed of 600RPM which is a faster and more convenient way to carry out tasks on different materials including concrete, steel, aluminium. In addition, it weighs only 6.3lbs, so it wouldn't weigh you down when you drill with it. The tool rubber handle ensures a firm and comfortable handling.
We found its ball-bearing construction quite helpful for not just extending the tool's lifespan but also for optimal productivity. The tool has a half inch chuck designed to retain the bit expertly. It also has a chuck key storage or holder that makes changing of bits a lot easier. You can easily switch between forward and reverse operation without any hassle using its rocker switch feature. It works in different positions with its D-handle that can change rotation from clockwise to anti-clockwise, rotating at a 360-degree angle with 24 possible stops.
Pros:
It is a heavy duty tool that will last for a long time
It comes with a bare-tool and one year warranty
Offers improved performance
Features a balanced design in terms of weight
The operation is flexible and can be adjusted in different positions.Advance durability with its
Advance durability with its ball bearing design
Has an effective chuck that retains bits ideally
Changing the bit is a breeze thanks to the chuck key holder
Cons:
No variable speed
No storage space for bits
Verdict:
If you are looking for a drill that can be used to pierce a hole and also drive screws, we think this is a great deal. What we find quite unique is its chuck diameter which conforms with different tools and bits.
DEWALT DW130V 9 Amp 1/2-Inch Corded Drill with Spade Handle
Between handling just about any project it is faced with, variable speed and keyed chuck, this Dewalt DW130V is a tough drill designed to deliver high-class performance. The drill has a speed range of 0-550 RPM which bestows users the chance of being typically in control of the range based on the wood or material used. The feature also keeps air bubble away from the interior components when mixing mud.
We like the soft but firm feel of the tool when it is held even when carrying out heavy tasks. It is designed both for home and professional purposes for its ability to carry out varying tasks. It is a large tool that weighs 7.5lbs, improving output while not straining the wrists and hand. It operates on 9 amp motor and 120 volts which provide sufficient power to take on any job. However, it draws high current. But it makes that up with its three-position side and two rear-handles that can be rotated to your advantage.
Pros:
The speed trigger can be operated easily without any assistance
It can carry out heavy duty tasks, can penetrate nails on the hardwood
It is a useful tool both for home and commercial users
It is comfortable to hold for a long time
This can be used on a diverse range of materials and works including drilling, mixing paint and drywall mud
It is a professional-grade tool built for tough applications
Cons:
It draws big current
It costs more than some drills on the list
Verdict:
For its spade handle, Dewalt DW130V is perfect for tasks that need downward pressure. However, we think it can also suit any kind of application where high performance is required.
Sale
Hitachi D13VF 1/2-Inch 9-Amp Corded Drill, EVS Reversible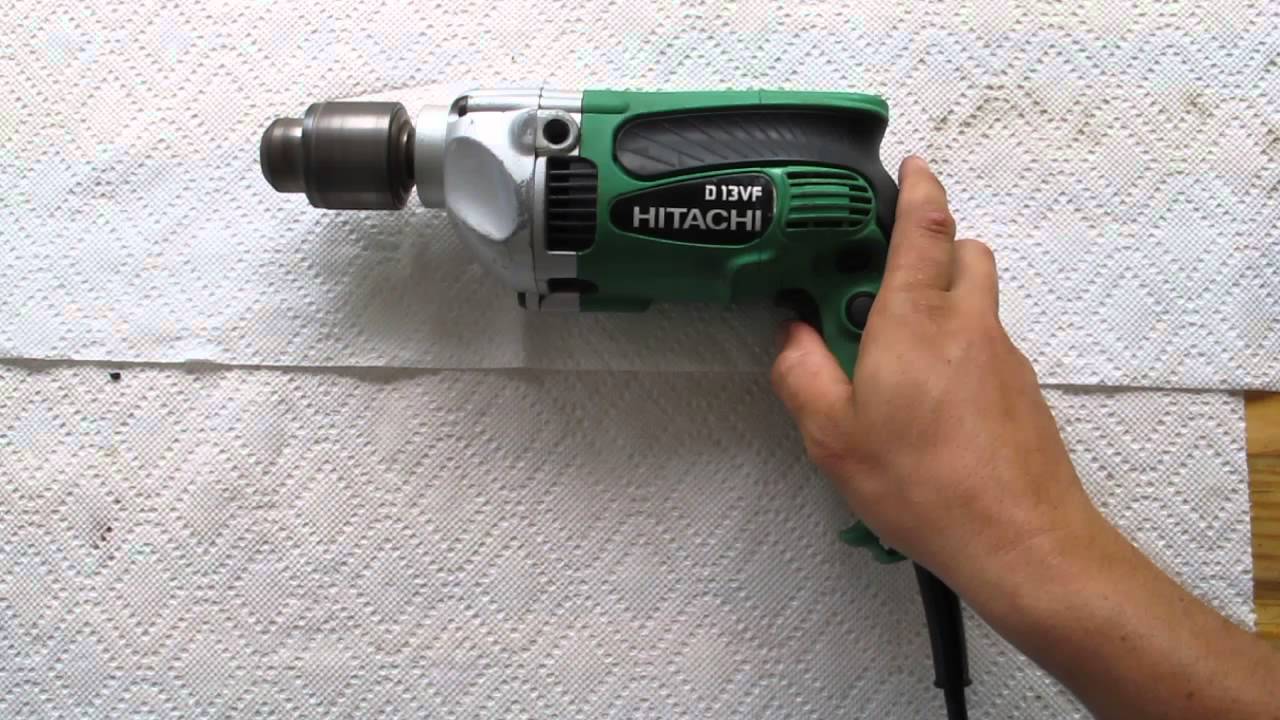 The corded 1/2-inch drill is an incredible power tool with 9 amp motor for heavy-duty hole making and other tough applications like driving a wire brush wheel to remove rust and paint. Hitachi's trigger system permits finger variable speed control which removes air when mixing mud and offers better control when drilling. There is also a lock-on feature that consistently runs the system for a fun work time.
We like its ideal housing made of a contractor-grade cast aluminium gear that dissipates heat effectively as well as protect it from wear. Dual-gear reduction feature, additionally, increases the system's torque while cutting down gear strain. For more convenience, the tool comes with a side handle, chuck key, and carrying case. It also has a soft form-fit palm grip handle that won't hurt your hand while you work. Hitachi's keyed chuck and half-inch chuck plus the inbuilt belt hook offer more convenience.
Pros:
It has a handy reversing switch
A very good value for money
It is cheap
Soft grip handle provides superior comfort
Torque of 416.6 lbs provide user productivity and decreases user fatigue

Maximum torque of 416.6 in-lbs. make easy work for the toughest applications

9 amp motor provides sufficient power for any kind of project
The 850 RPM speed range increases its torque for drilling and mud mixing
Cons:
It draws more current like the DEWALT DW130V
Verdict:
This is a better option if you are looking for a flexible drill for soft projects. Keep in mind that it uses more energy than some drills but then that's as much power as it gives during tasks.
SKIL 6445-04 7.0 Amp 1/2 In. Hammer Drill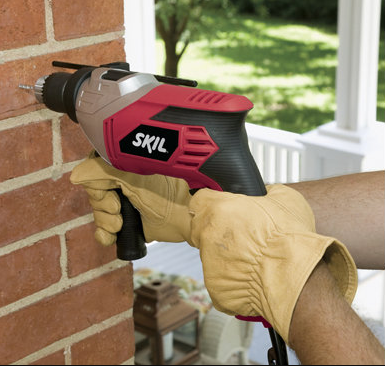 Skil 6445-04 Drill is a heavy duty drill without a heavy duty price constructed for rugged jobs which require high torque and usually drains the battery life in smaller drills. Just like most drills on the list, it offers both drilling and hammering technology. It offers enough dose of motor power (7 amp) that can genuinely suit any kind of application. Its variable speed allows you full control. There is a side handle that is adjustable for improved stability and accurate drilling.
The adjustable depth gauge rod to pre-set drilling depth is a great addition that allows more precision drilling. However, adjustment of this component may have some negative effects on the depth control. Despite its shortcomings, it has enough features to carry out the job effectively. Plus it has a relatively long cord measuring 8ft which gives you enough freedom for movement. With 3000 maximum rpm, you can be sure of fast and steady drilling.
Pros:
It is affordable for its value
It effortlessly drills tough materials
Enhances productivity and reduces fatigue
Great grip/comfortable handle
Cons:
It may not be the best when it comes to breaking into metals
It does not come with any case
Verdict:
This will be a nice buy for casual users w hhoave rugged jobs occasionally. It is an efficient drill for tough applications despite its manageable limitations.
SKIL Corded Hammer Drill, 7.0A
Poweful 7.0 amp motor for tough applications
1/2 in. keyed chuck to accept large diameter bits designed for woodworking and cutting
BLACK+DECKER DR560 7.0-Amp 1/2-Inch Drill/Driver
One of the most irritating things about drills is their tendency to wobble. Which is why Black + Decker offers a solution that keeps its bits from wobbling with a metal keyed chuck for maximum retention. Also, it's pistol handle offers a more soft and firm grip which makes drilling a breeze. For us, the Black +Decker drill does tough jobs efficiently and reliably. The drill uses a 7.0 amp motor and a 360-degree side handle for more flexibility and control while drilling. There is also a reversing brush technology that supplies full power in forward and in reverse. It is an ideal tool for making holes or driving big fasteners through wood, metal and plastic. Variable speed control of 0-900 lets you be fully in charge as well as do the work at any preferred speed rate.
Pros:
The 1/2 inch driver comes in compact which is easy to store
It is convenient to work with
It does major jobs effectively and in less time
Incredible warranty
All metal keyed chuck enhances the drill's durability
Optimal performance in different kinds of materials
It is affordable
Cons:
Uses a lot of currents on 120 volts just like other top-quality drills
Verdict:
Rather than spending so much on a drill for occasional hard jobs, you can get this cheap Black+Decker DR560 that works just fine. It is durable and efficient for whatever you may throw at it.
Conclusion
Overall, choosing any of these drills means getting the value of your money.  They are carefully picked for promising high capacity, durability, effectiveness and more. Their affordable prices despite their value were also found fascinating.