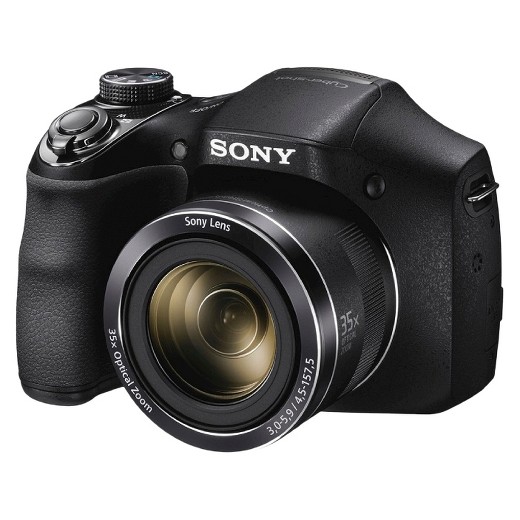 When shopping for best digital camera under 300, you are definitely looking for something that offers a wide range of functions at a comfortable price. If that's you, then you're in luck!
Contrary to the popular belief that a good digital camera should cost an arm and a leg, plus a life savings, we have gone through the market for the best camera for a lean budget, and we have found these machines available for less than $300 or £300. The Olympus Stylus Tough TG-870 is built to work in extreme weather, including under water, while the Sony Cyber-Shot DSC-WX350 is the best for group pictures as it recognizes smiles and selects the best time for shutter release. These and the rest on this list, are perfect examples of quality for a $300/£300 budget.
Whether you're a hobbyist or a professional photographer, we all agree on this one fact: Digital cameras now offer more functionality that we could have imagined then. And for less than $300, you can gift yourself with a classy digital camera fitting all your needs.
See Also: Best Digital Camera Under $200 or £200
Between the high-end DSLR cameras and the compact affordable ones, there are excellent digital cameras offering you the best of both worlds.
But first, why should you trust us?
We are camera junkies ourselves. Yes, we know that being a camera junkie is not enough reason for one to have the final word on cameras. Which is why we took our time with this review.
Having combed through the several products out there on the market, and having checked Amazon reviews and other independent reviews out there, we have come to the conclusion that the products on this list are the best there is under a budget of $300.
We have questioned several industry professionals, everyday users of several cameras, tourists, travel writers, as well as professional photographers. We also checked reviews on retail sites such as Amazon, and we crosschecked these and compared them.
After all these, we have come to the conclusion that these seven cameras on this list are the best there is on the market, for a budget of under $300.
Also, this is not a sponsored post. We do not have any kind of contract with the manufacturers of these products, as this allows us to be objective in our reviews and judgments.
Let's get straight to the point and list the best cameras under 300
7 best digital cameras selling for under $300 or £300
BEST DIGITAL CAMERAS UNDER 300
#1 Canon PowerShot SX530 HS Digital Camera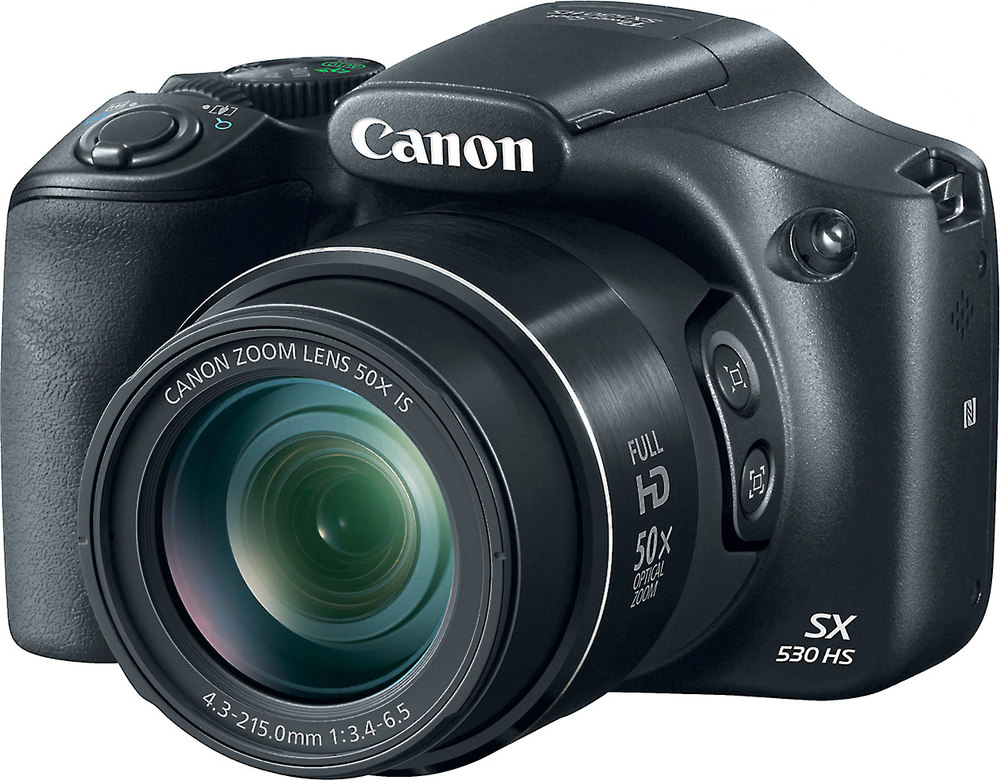 While a smartphone camera takes captivating photos, it only takes them as wide shots. For you to get a close up, try out the Canon PowerShot SX530 HS. With a 50X zoom lens, this camera gets you as close as possible to the action.
If you love going out on family vacations or nature hikes, this portable camera will take great shots and footage, combining traditional and modern features. Its light, DSLR-like body makes it easy on your hand too.
For the more experienced photographers, you will be impressed by the manual controls. You can share photos as soon as you take them on social media platforms through the NFC and WiFi functions.
Night Results/Low Light
When used in low light, SX 530 HS will capture vivid colors and rich detail such as red neon lights, building windows and even the blue skyline. Bright, clear, and sharp images are produced when the camera's ISO is at 1600 and a 1/8 second shutter speed.
For you to accommodate this slow shutter speed and steady the camera, you can lean it on a nearby railing. When in Auto mode, the SX530 HS operates at;
f/3.4
1/20 second shutter speed (this minimizes motion blur)
ISO 4000
To avoid grainy shots, it is recommended to stick to SO 1600. Unlike in other more-sophisticated cameras, (i.e the DSLRs), noise reduction is not adjustable.
Tip: In this mode, the images appear slightly darker with considerable noise, characterized by colored specs.
Image Quality
When used in optimal light, the SX530 HS takes slightly better pictures than the best smartphone cameras. At 16 MP, this matches flagship smartphones; however, these smartphones offer wider apertures, letting in more light.
Perfect for capturing skin tones and bright colors, PowerShot SX530 HS picks up the ruddy facial complexion as well as individual facial-hair strands.
Video Quality
Within its price range, this camera clearly stands out for its capability to record HD video at 1080p and an impressive 30 fps. Apart from keeping all subjects in sharp focus, the videos produced have negligible lag.
Handling and Design
Thanks to the protruding grip and lens, it mimics a miniature DSLR; still, it is incredibly light! At only 15.6 ounces, this sturdy camera won't burden your hands and shoulders.
Ideally designed for right-handers, all controls are conveniently placed and easy to access.
From the mode dial located on its top right corner, you can select from;
Shutter priority
Scene
Auto
Manual
Program
Fish-Eye mode
The shutter button and zoom toggle are located on the top of your grip. This extra convenience makes photography all the more fun!
When buying Canon PowerShot SX530 HS, the 50X zoom capacity is definitely a major compelling feature. It gives you more creative and manual controls unlike the less versatile smartphone.
With an all-day battery and incredible low-light performance, this lightweight camera will appeal to nature watchers, sports fans, journalists and of course, proud parents!
Try it out today for an extra-ordinary experience.
#2 Nikon COOLPIX B500 Digital Camera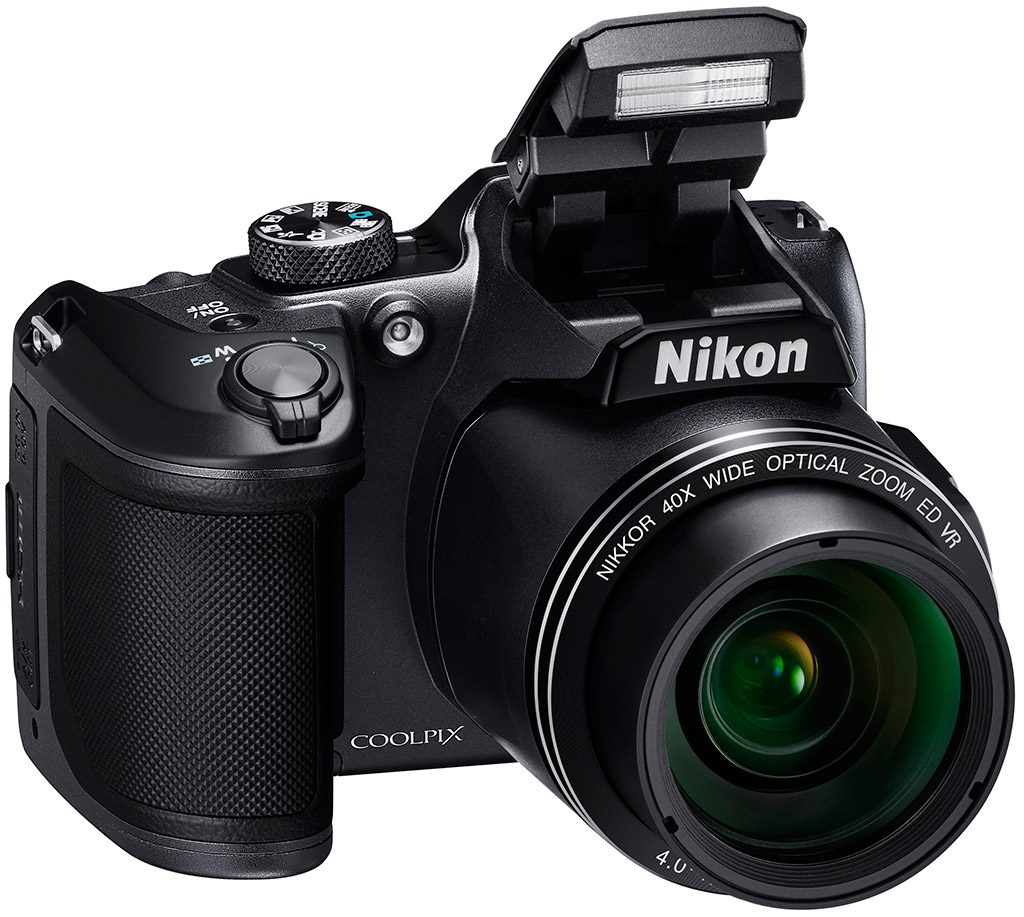 Whether you're recording Full HD 1080p videos or zooming in with the camera's super-telephoto NIKKOR lens, COLPIX B500 feels great and easy on your hands. To make your work even easier when shooting beautiful videos and photos, the camera has;
Len-Shift VR (Vibration Reduction)
Easy controls and menus
16 MP low-light sensor
Outstanding automatic operation
Fun, creative effects
Getting You Closer To The Action
Your perfect shot can never be too far away from B500's 40X optical zoom. Giving you super-telephoto power, the enhanced digital zoom (Dynamic Fine Zoom) doubles to optical reach to an incredible 80X!
See Also: 14 Best Cameras For YouTube
All the while, your shots are kept steady, a crucial factor when shooting at long distances. All details are captured by the backside illuminated CMOS sensor.
Smartphone Compatibility
By installing the latest SnapBridge app, your tablet PC or smartphone becomes compatible with your B500. This opens exciting new capabilities specially reserved for this function.
Constant communication between the phone and camera is maintained through;
WiFi
NFC
Bluetooth low energy (BLE)
Every shot and video taken is automatically transferred to your app, making it even easier to edit with photo apps and share.
FYI: SnapBridge allows you to remotely control your B500.
Easy to Master
COOLPIX B500 is easy to use, making it as ideal for beginners as it is for experienced photographers. When in the Easy Auto Mode, the user enjoys maximum point and shoot convenience.
Even in the most challenging situations, this mode automatically optimizes the settings, delivering the highest-quality photos.
How Creative Can You Be?
In the new Creative Mode, COOLPIX B500 allows you to easily generate high-impact shots. You can choose from the five presets developed professionally. They combine options such as color reproduction, contrast, and aperture, creating stunning results.
By previewing these five high-quality results, you get to include the desired effects before the shoot.
Stereos Sound ad 1080p Full HD Videos
This powerful video camera uses the 4-Axis Hybrid Vibration Reduction to counter shaky hands, creating tripod-steady videos.
A new feature, the Superlapse Movie option, generates captivating fast-motion sequences from a regular video. This makes it ideal for video tours, sports moments, first-person perspectives and so much more.
Effortless Shots
Any situation can be matched with a particular Scene Mode; from Snow to Beach, Sunset to Night Portrait, you shot will definitely look great in one of the 18 modes. Alternatively, the Easy Auto Mode can pick the best mode for you.
For under $300, Nikon COOLPIX B500 is worth every buck. You enjoy stress-free shooting, with all the convenient operations and simplicity featured.
To further improve your photos, SnapBridge allows you to transfer shots to your smartphone; from here, you can use any photo editing app to get as creative as you can be!
Time for you to gear up.
#3 Canon PowerShot SX710 HS Digital Camera
As a perfectly capable camera, the SX710 HS is designed for point and shoot. This travel compact camera features a 30X optical zoom, giving you an incredible 25-750mm focal reach. When using the digital zoom features, the optical zoom capacity is expanded to 60X.
Equipped with NC and WiFi, sharing your photos and videos will be on-the-go. As a unique feature, this camera applies digital filters to captured shots.
Handling and Build
Both beginners and experienced photographers find the SX710 exceptionally appealing. The camera's small mode dial enables you to toggle between semi-automatic and full manual modes. The Scene and Fully Automatic modes do all the editing work for you.
When shooting in the Manual mode, one can alter between the lens aperture and shutter speed simply by pressing its Up directional key.
The camera also allows you to change key settings without going through the main menu. The button in the middle of its rotating dial accesses a quick menu, saving you time and agony!
Shooting in Automatic Mode
When shooting in the Hybrid Auto mode, SX710 HS automatically shoots 2-second video clips before taking each photo. By the end of the day, they are all compiled together creating an amazing video footage.
See Also: Best DSLR Camera Under 500 – Nikon, Canon, Sony, Pentax, Olympus
This feature makes it perfect for parties, holidays, weddings and similar events. That said, it would still do for other shooting modes.
For you to apply SX710's digital filter effects, simply switch to the Creative Shot mode. When you fire off a single shot, five random filters are automatically added. However, you can't control the exposure and the options.
FYI: A dedicated WiFi activation button makes it extremely easy to use; instructions on how to use it are displayed on the screen.
Performance
When used in good light, this camera captures amazing vibrant images and colors; at normal web and printing sizes, they have a commendable impression of detail. When shooting at sensitivities as low as ISO 100, one sees a bit of image smoothing.
As a handy travel camera, images captured at the optical zoom's far reach show a good amount of detail. For majority of the conditions, the all-purpose metering copes produce accurate exposures.
Wrap Up
If you are just after a point and shoot that gives you a long focal length, the SX710 HS will do the trick. The camera's manual control give it the old feel in the all-digital world.
Available to you at a comfortable price, SX710's 20.3 million pixel CMOS sensor (1/2.3″) and advanced Digic 6 processor gives you all the power you need. Wondering how to take your photography to the next level? Try this Canon PowerShot.
#4 Panasonic DMC-ZS40S Digital Camera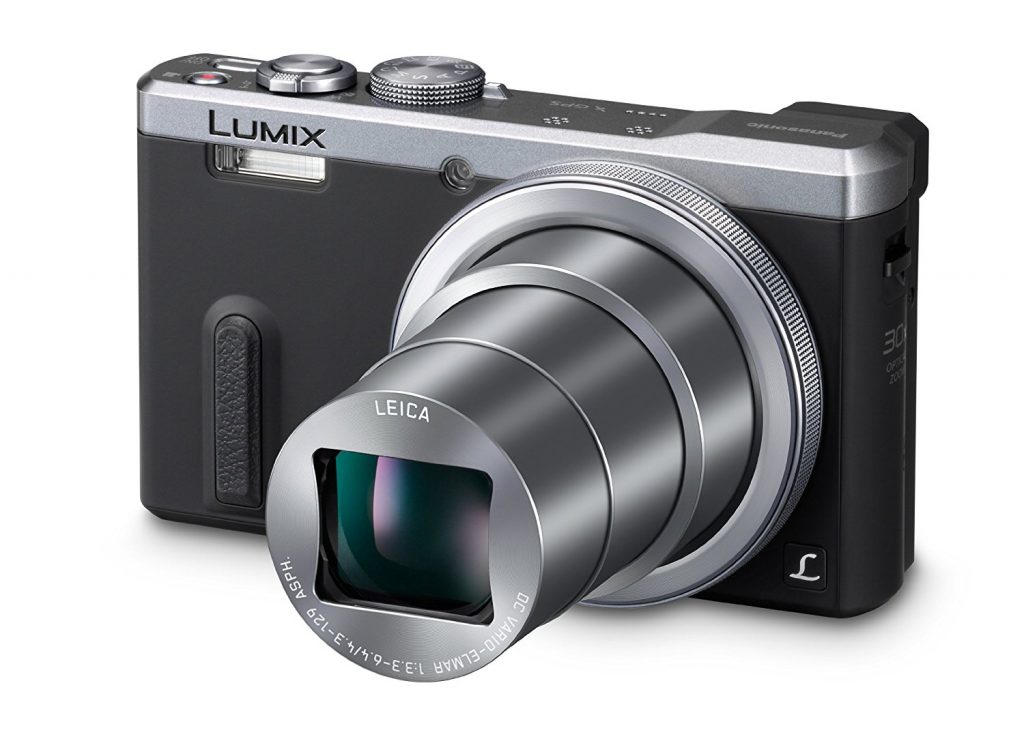 For high-resolution still imaging as well as Full HD 1080p recording, the Panasonic ZS40S is the perfect point-and-shoot camera. Its Venus Engine image processor and 18.1MP highly sensitive MOS sensor.
When shooting in low light, the ISO can be expanded up to 6400 to optimize sensitivity. To complement imaging performance, this camera has a 30X optical zoom lens; the 24-720mm focal range allowing you to work in virtually any situation.
Level Shot and HYBRID O.I.S Function
When shooting at a great zoom magnification or with longer shutter speeds, camera shake appearance is a challenge. The DMC-ZS40S counters this with its HYBRID Optical Image Stabilizer (O.I.S), effectively minimizing the shake.
Realizing lear, sharp, and stable imagery has never been easier! As you record video, the camera automatically adjusts its vertical movements, its horizontal movements, its vertical rotation, axis of rotation, as well as horizontal rotation.
Videos are then rendered in a realistic and smooth manner. In addition, Panasonic ZS40S's Level Shot Function will detect the horizontal line before automatically leveling out when recording.
Built-In NFC & Wi-Fi Connectivity
The WiFi capability not only allows you to share photos on social media but also helps you back them up in another location. If you have a wireless HDTV, you can view them directly too.
Android tablets and smartphones will automatically connect to the camera when the Near Field Communication (NFC) feature is activated. By merely touching the devices, "one touch connection" allows you to easily transfer photos and videos.
Design
The camera's 3.0″ 920k-dot LCD monitor has an anti-reflective coating, allowing you to easily view photos, navigate the menu, and monitor your progress. With a 100% coverage electronic viewfinder, you can set the refresh rate to 60 fps and view fast-moving subjects.
When using the ZS40S, its Control Ring gives you more versatility and intuitive control over the most used settings like Zoom, Aperture, Manual Focusing, Shutter Speed, and Creative Control Filter.
When shooting, the vertical and horizontal lines are precisely aligned by the electronic level gauge, giving you steady shots every time.
GPS Enabled
For refined geotagging, this digital camera's built-in GPS enhances detection accuracy in line with GLONASS requirements. Images taken with this feature display information such as
Country/Region
State/Province
Country/Township
City/Town/Village
Landmarks
This real-time information is sourced through internal data.
Final Word
In the iA (Intelligent Auto) mode, Panasonic ZS40S automatically sets camera exposure settings, rendering the scene at hand and allowing easy composition and shooting. By purchasing this camera manual background defocusing, white balancing, and exposure composition will be a thing of the past!
#5 Olympus Stylus Tough TG-870 Digital Camera
As its name suggests, Tough TG-870 is built to handle rugged out-door conditions. In addition to being crush-proof and shock-proof, this dust-proof camera can operate optimally even when 50ft. under water.
In temperatures as low as 14 degrees Fahrenheit, the camera performs exceptionally well. You won't have to be adventurous to enjoy these benefits though as it can be used at the pool or beach too.
Build and Design
The small size of this purse and pocket-friendly camera shouldn't fool you. Weighing only 7.8 ounces, TG-870 is extremely sturdy and compact. It withstands a fall of 7 ft. or less without any considerable damage.
Read Also: Best Trail Camera For Game, Wildlife And Hunting Camera Reviews
To protect against the elements, the O-ring seals require more maintenance than in other models and keeping them in good shape and clean is worth the effort. The small-sized external controls are easy to use but can be hard to press and rotate with thick gloves on.
FYI: Unlike other waterproof cameras, TG-870 has a high resolution flip-up LCD, ideal for selfies and capturing hard-to-shoot footage.
Performance
When taking standard shots, the camera's performance is well above average. The autofocus feature responds well in good light but its continuous shooting speed is a slow 2.5 fps; this can be stepped up to 7 fps.
If you won't mind fixed focus and 3 MP files, the shooting speed can be exponentially increased to 60 fps. The camera's default settings capture realistic colored photos that aren't overly vivid.
The auto balance works well under water, quickly locking focus on the available light. Before taking shot though, always wipe off any smudges on the lens for the best results.
Video Quality
When shooting with Olympus Stylus, you can use the following video options;
640 X 480
HD (1080 X 720)
Full HD (1920 X1080)
By pressing the movie button, the camera starts recording in the preferred quality, recording incredible pictures and sound quality.
Are You Interested Yet?
You should be! When recording video in normal conditions, TG-870's battery lasts for 90 minutes, an equivalent of 300 shots. However, if it's freezing outside, power consumption will go up to ensure excellent photos.
With the Olympus TG-870, you will go places where most cameras can't. Oh, and it's childproof too! So you don't have to worry about your little children spoiling it. It's built for all of that throwing around that infants do with everything in their hands. What's more? It's the ideal camera for a lazy day at the beach or an adventurous weekend in freezing temperatures; your pick.
#6 Samsung EC-WB350F Digital Camera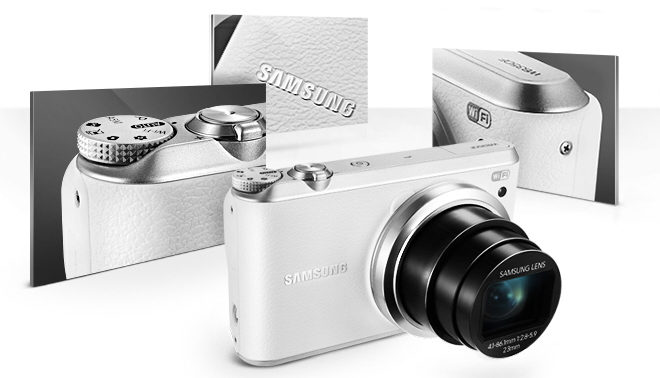 Though everyone is focused on the MILC and DSLR worlds, the massive expansion and new developments in the P & S camera world have captivated others in equal measure. The EC-WB350F embodies these developments and much more.
Its Design and Build
The WB350F is a highly competent imaging device, hiding its advanced features in a mild mannered exterior. This 16 megapixel camera looks and feels like the typical point-and-shoot camera. Its ambient leatherette appearance is as protective as it is inviting; the camera's finish includes dust and moisture seals.
By allowing you to manually control exposure, a lot of creative flexibility, and an advanced feature set. Unlike its much simpler siblings, EC-WB350F allows you a lot of individual input during image processing.
Viewfinder/Display
The LCD monitor is protected from glare/reflections and fading in bright light, by either using anti-reflection/anti-glare coatings or a higher resolution LCD.
As a photographer, it is faster and more convenient to watch a divisive moment coming together on the much larger monitor. Though the camera lacks an optical viewfinder, it is rarely used in most video-shooting scenarios.
When in default display, EC-WB350F provides all the required information.
Ergonomics and Control
While this camera is a touchscreen model, it still has the entire set of dedicated switches, knobs, and dedicated buttons. Apart from being sensibly placed, the controls are easily accessible to right hand users and clearly marked.
The camera's top deck is uncluttered; its classic P & S layout has the Pop-up flash, Large shutter-release button with zoom toggle surround, as well as the On/off button.
To start and stop videos, all you have to do is rock your right thumb back over the dedicated red button. The textured thumb pad to the button's left offers a firm grip for consistently stable footage.
The top deck's beveled back edge has buttons for flash activation and 'direct link' WiFi. Approximately two thirds of the camera's rear deck is taken up by the 3.0″ touch LCD monitor.
What You Get
Samsung EC-WB350F's is equipped with the compass switch (the 4-way controller); through it, you can directly access the Display, self-timer, macro mode and flash settings.
This user-friendly camera also detects the Best Face, an all-inclusive Face Recognition mode.
When using it, you won't have to select the best scene; its Smart Scene mode automatically does this. Samsung EC-WB350F serves all your outdoor needs and still remains classy in other environments.
#7 Sony Cyber-Shot DSC-WX350 Digital Camera
With its 18.2MP resolution, this camera produces clear, sharp, and images. Its Optical SteadyShot Image Stabilization feature is useful when using longer focal lengths in low light.
WX350's 10 fps continuous shooting is ideal for sports photography and other action-packed events.
Intelligent Sweep Panorama 360
This latest addition to Sweep Panorama enables this camera to compensate for motion when taking 360 degrees shots. It accurately picks out faces and stitches them together with minimal distortion.
Once you press the shutter button, the camera shoots continuously at high speeds in one direction, all the while stitching images and automatically adjusting their positions. Creating captivating panoramic images has been made incredibly easy.
Picture and Background Defocus Effects
The Picture Effect allows you to add unique and creative expressions on captured images. By heightening the mood, for instance, you can transform ordinary portrait and landscape shots by emphasizing their attributes.
Background Defocus, one of the best effects to use for portraiture, allows you to blur the image background. It then becomes easier to focus on the subject of interest at the foreground.
Built-in NFC and Wi-Fi Connectivity
If you use an Android smartphone or tablet, this camera can pair up with your device through Near Field Communication (NFC). A simple touch will enable you transfer photos for editing and sharing on social media.
WiFi connectivity not only lets you share your experiences and activities but also through it, you can view shots and videos on your WiFi enabled HDTV.
Smile Shutter, Tracking Focus and Face Detection
For the best shots, Sony Cyber-Shot DSC-WX350 uses Blink Detection and Smile Shutter Technology to know when to release the shutter.
For sports photographers following the action closely on camera, the Tracking Focus feature comes in handy. Clear shots are easy to capture as the camera automatically adjusts in motion.
With the superior Face Detection, WX350 creates better group and portrait photos. To ensure the best facial exposure, this features records up to 8 faces and picks the best adjustment.
Conclusion
As an action and adventure camera, Sony WX350 has been primed with Enhanced Super Auto, allowing it to select the best setting for every situation. By the end of your footage, all the dynamic motion is duly compensated for, the video clip only requiring minimal editing.
For less than $300, you can get a piece of the action too! All your video footage and images can be protected and erased in different modes, ensuring your privacy is not violated.
Have any questions or comments about the reviewed digital cameras? Feel free to drop us a note. Cheers!