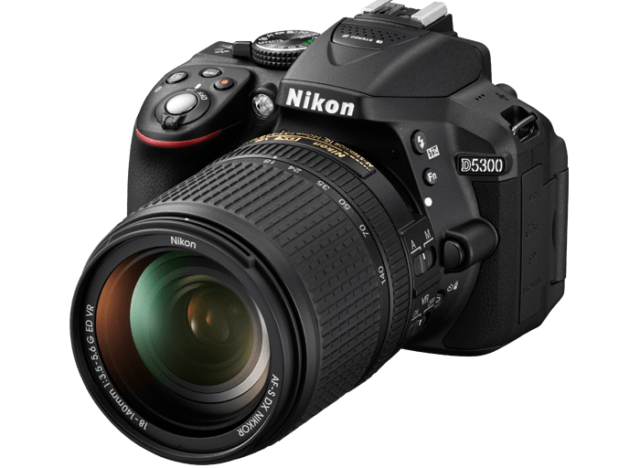 Lately, more photographers have shifted from compact point and shoot digital cameras to DSLR cameras. While the former is considered relatively cheaper, some of the best DSLR cameras command a hefty price but notwithstanding, you can get some of the best DSLR cameras under $500 if you know what to look out for. While there are cameras that have higher megapixels compared to their DSLR counterparts, the outstanding features and overall image quality you get from DSLR cameras are usually incomparable because the sensor size is responsible for image quality, and not the megapixels on the camera; and that is exactly what matters. DSLR cameras have sensor sizes twenty or more times bigger than most compact cameras, giving them the ability to give you multiple clear shots with little to no noise.
Personally, my best feature regarding DSLR cameras is their adaptability. I've had numerous disappointing photo sessions not because the clients were not dressed for the occasion but because of my camera lens. After I had purchased my first camera with a fixed lens, I thought I'd found nirvana, but as my experience grew, I realized I needed a camera that didn't require me to pump my ISO when in low-light conditions.
Also, having different lenses can significantly expand a photographer's creativity. It's like a new level, which of course, only opens doors for more artistic and priceless photography. DSLR cameras use a reflex mirror to show the image on the lens before it's captured. Thanks to the optical viewfinder, these cameras help you see the image you are capturing as it will appear when captured. Another good thing about this is that the lens blurs the image when you zoom in like most fixed lens cameras do, but then you can switch it with a better, stronger lens.
In addition to the advantages above, DSLR cameras also have a larger ISO range, better manual controls, a depth of field, quality optics, and they can truly hold their value. However, they are also considerably heavier compared to non Digital SLR cameras, a little complex to navigate, and are a bit pricier. If you are working with a small budget, still, you can find a good DSLR camera with excellent features and image quality for a price that won't put a strain on your budget which is why we bring you this review of the best DSLR cameras under $500 with the same amazing features.
The Best DSLR Cameras Under $500.
1. Nikon D3400 DSLR Camera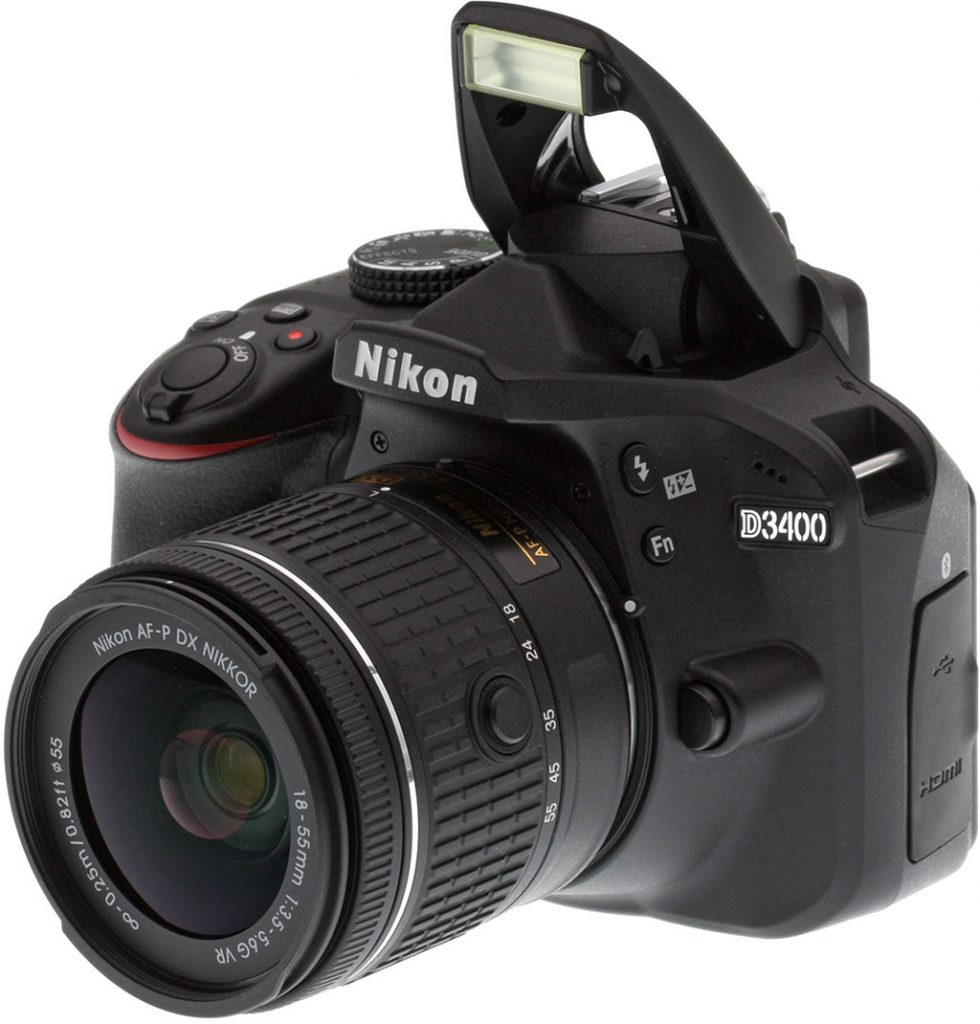 It's no secret Nikon is among the first companies that come to mind whenever someone mentions cameras. The D3400 is among the company's best products, and it comes at an unbelievable price. Neither smartphones nor point and shoot cameras can achieve the level of clarity that the D3400 has or its ability to capture quality images in low light. This camera makes capturing moving objects a simple task while other cameras give you a blurry image with motion blur.
The D3400 comes with a NIKKOR lens that helps you capture graphic and vibrant images. Capturing the simplicity of a situation in a picture adds to its beauty and, from an art perspective, its richness. This camera also gives you perfect low-light photos thanks to its 24.2 megapixels sensor with no optical low-pass filter. With the D3400, you can beautifully blur the background and free fast-action and still capture the intended image with rich quality.
Nikon installed a feature that only cameras manufactured by the company have, called the Nikon SnapBridge. This feature has completely changed the way smartphones and cameras work, to give you the best photos. After taking a picture on your D3400, it is immediately transferred to your tablet or smartphone for sharing. Nikon SnapBridge is aided by Nikon's cloud sharing and storage site (Nikon Image Space). The site also backs up all your photos and helps you to create albums to share with friends and family.
The D3400 not only gives you quality pictures but peace of mind as well regarding the safety of your photos.
Sale
2. Canon EOS Rebel T6 Digital SLR Camera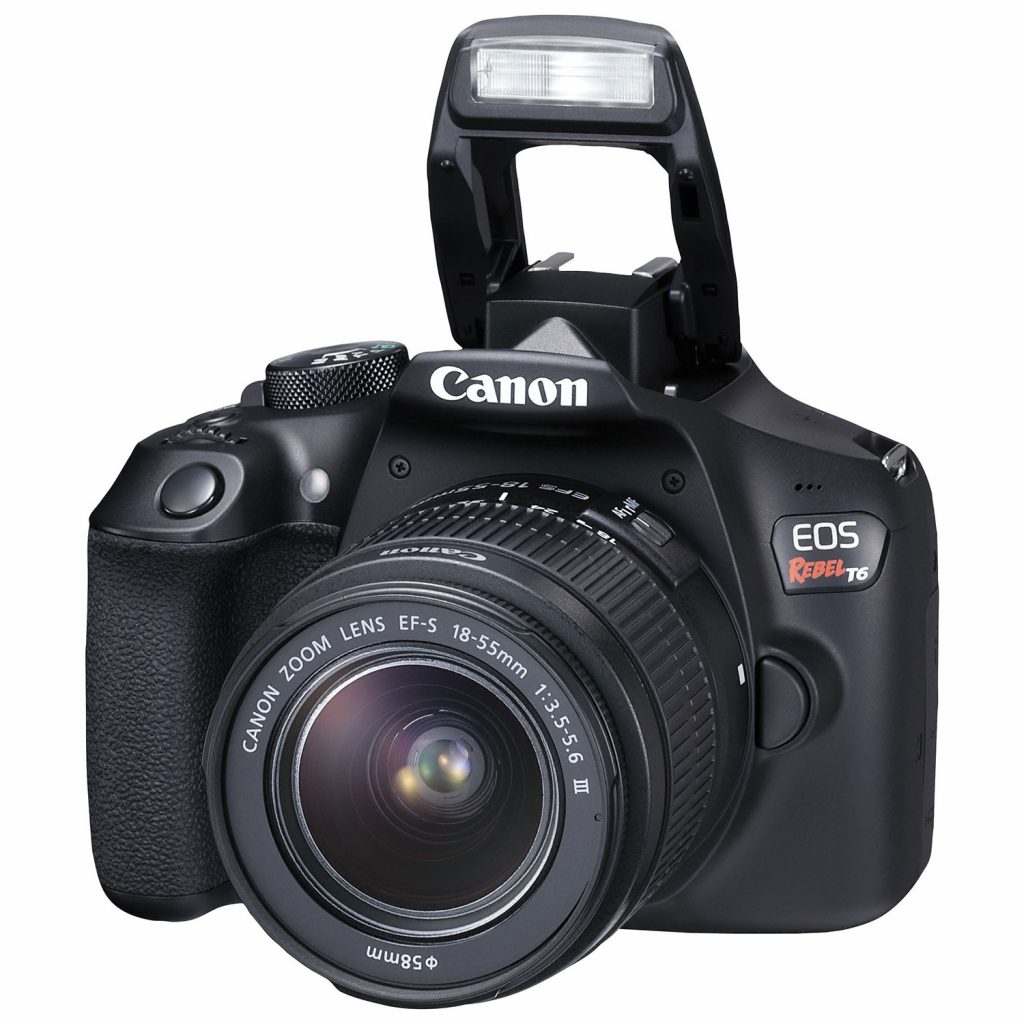 The Canon Rebel T6 is another camera that gives you excellent pictures and makes the perfect upgrade from point-and-shoot cameras or your smartphone. An 18-megapixel CMOS image sensor makes this possible with the help of the DIGIC 4+ image processor. These two features assist the Canon Rebel T6 to capture vibrant and high-quality photos even in conditions where the light is low.
The Canon Rebel T6 also has built-in WiFi and Near Field Communication (NFC) connectivity which helps you share the photos you capture directly to your social media account or with a particular person. Another feature that helps this camera stand out from its counterparts with the same price tag is the scene intelligent auto mode. If you are handling DSLRs for the first time, this feature helps you adjust your camera's settings to suit the images you wish to capture while putting the surrounding environmental factors into consideration.
The Canon Rebel T6 is compatible with the latest version of IOS down to version 7.1 and the latest Android versions down to version 4.0. It also has a free Canon App (Canon Camera Connect App), which can help you share photos directly to the Internet. The Canon Rebel T6 has accelerated processing speed which makes it easy to shoot pictures fast and still capture quality, natural and smooth images.
This camera's wide range of light sensitivity ratings make it one of the few cameras under $500 with the ability to capture quality images in any light scenarios. A beautiful lit night in the city during the summer can be captured with the same ease as a low light winter evening.
See Also: Best Digital Camera Under $200: Cheap DSLR, Point and Shoot
3. Pentax K-50 16MP Digital SLR Camera
The Pentax K-50 is widely known not only for its sleek design but the ability to capture full HD, HD, and VGA videos, as well. When it comes to pictures, this camera is revered by many professional photographers with some admitting to purchasing it as their first DSLR. With 16 Megapixels APS-C CMOS sensor, the Pentax K-50 is guaranteed to deliver quality and natural photos even during a fast paced action.
Not to mention, Pentax's Shake Reduction system makes it easy for correct problems with sloping horizons which can mess up your pictures quality. Pentax K-50 shares most of its features with its predecessor, the Pentax K-30 but it also has upgrades that give it an edge over its forerunner. This camera can shoot continuously at six frames per second and still, provide quality photos, a feat not many cameras under $500 can achieve.
High sensitivity shooting is an issue for most photographers and cameras. However, the Pentax K-50 helps correct that weakness thanks to its Prime M image processor. The Pentax K-50 stores your photos in raw format (DNG). This file format is the actual digital negatives which are captured by digital camera sensors and contains every bit of details exactly as captured by the sensor of a digital camera sensor. DNG files are much smaller than most other file formats, allowing more room for storage and the image data is uncompressed and kept in a lossless state. This file format is widely recognized, and most programs that deal with photos such as Photoshop or Corel draw can open your photos with ease for editing.
4. Nikon D5300 DSLR Camera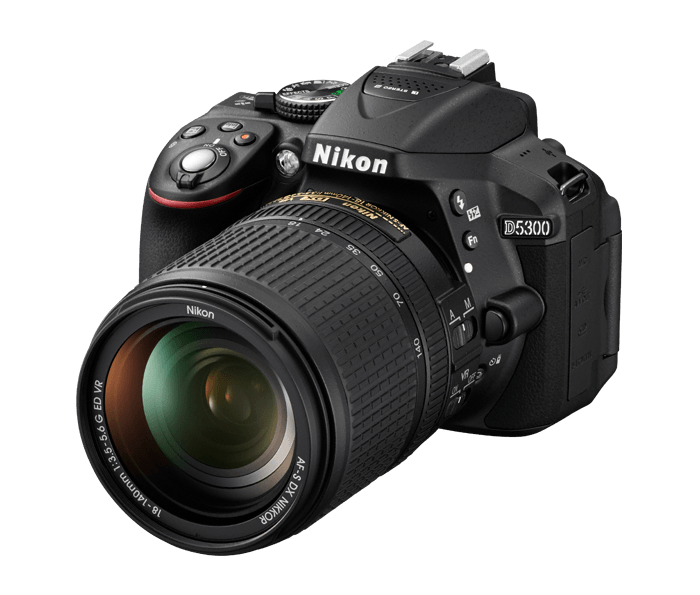 The D5300 is a raw and raw+ JPG format shooting camera that produces unbelievably high-quality photos for a low price. The camera features built-in Wi-Fi technology which makes remote camera control and photo sharing directly to your tablet or smartphone super easy. It might not be the first camera under $500 to have that feature, but it tops it up with GPS and detailed mapping.
The Nikon D5300 also has a 24.2-megapixel image sensor capable of capturing clear images in different light conditions. Not to mention, a big swiveling Vary-angle LCD is in place to make sure you don't miss out on any detail you intend to include in the photo. The Nikon D5300 can be paired with any NIKKOR lens to give you lifelike pictures that will leave people in awe.
There is a certain degree of sharpness that comes with every photo that you take using this camera. Nikon uses advanced technology to enable the Nikon D5300 to capture bright and lifelike pictures in the best possible way. After taking the photos, you can share them immediately from your smartphone to your social media account or with friends and family.
I bet you have at least once in your lifetime tried to crop a picture and couldn't get the best quality after cropping. The Nikon D5300 keeps both the detail and sharpness after you crop your photo to gift you with the clearest of memories. The built-in GPS feature also comes in handy when you are traveling and geotag your shots.
No products found.
5. Nikon D5500 DX-format DSLR Camera
Sometimes, the best inspiration does not come from a motivational speech or a good feeling in the morning, as even the gadgets we use can provide the required motivation.
Such is the Nikon D5500, a camera with 24.2 megapixels of sharpness and a touchscreen Vary-angle display to help you enhance the detail of your picture and operate the camera with ease. That's not all; this camera also allows you to add effects and filters to your shots and you do not have to transfer the pictures to your tablet or laptop for editing as you can edit them right on the camera.
Sharing them becomes even easier when you factor in the built-in Wi-Fi. The Nikon D5500 also has an optical viewfinder and a dual lens kit that provides you with an extra option for every environment. This camera is ideal for the photographer with the desire to try out new ideas and venture into another level of photography.
Sale
6. Sony a55 DSLR Camera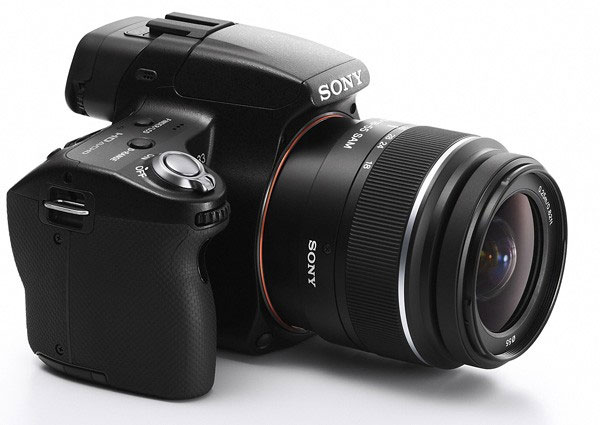 Sony has been in the market for a very long time with some of the best cameras in the game. The Sony a55 is not an exception thanks to its advanced and unique features most of which can only be found on other Sony cameras. Most DSLR cameras use Phase Detection AF to either focus or shoot. However, the Sony a55 handles both tasks simultaneously while delivering high-quality photos effortlessly.
In fact, it is the world's first camera to attain that feat. The Sony a55 also fixes exposure at the first frame then shoots up to 10 fps continuously at full resolution thanks to a fixed translucent mirror. You can also shoot continuously at six fps and get the clearest photographs even in low light while using the Sony a55. It also features a 16.2-megapixel Exmor APS HD CMOS sensor ideal for videos, moving and still photos.
If traveling or on a hike, you can map your journey using the built-in GPS receiver. Have you ever bought one of those cameras that do not capture a big group photo or an expansive landscape and maintain high picture quality when you zoom in? The Sony a55 is unlike such cameras as it is fully equipped with 3D Sweet Panorama mode to help you zoom in and capture expansive landscapes and group photos without compromising on the picture quality.
7. Olympus Evolt E-520 Digital SLR Camera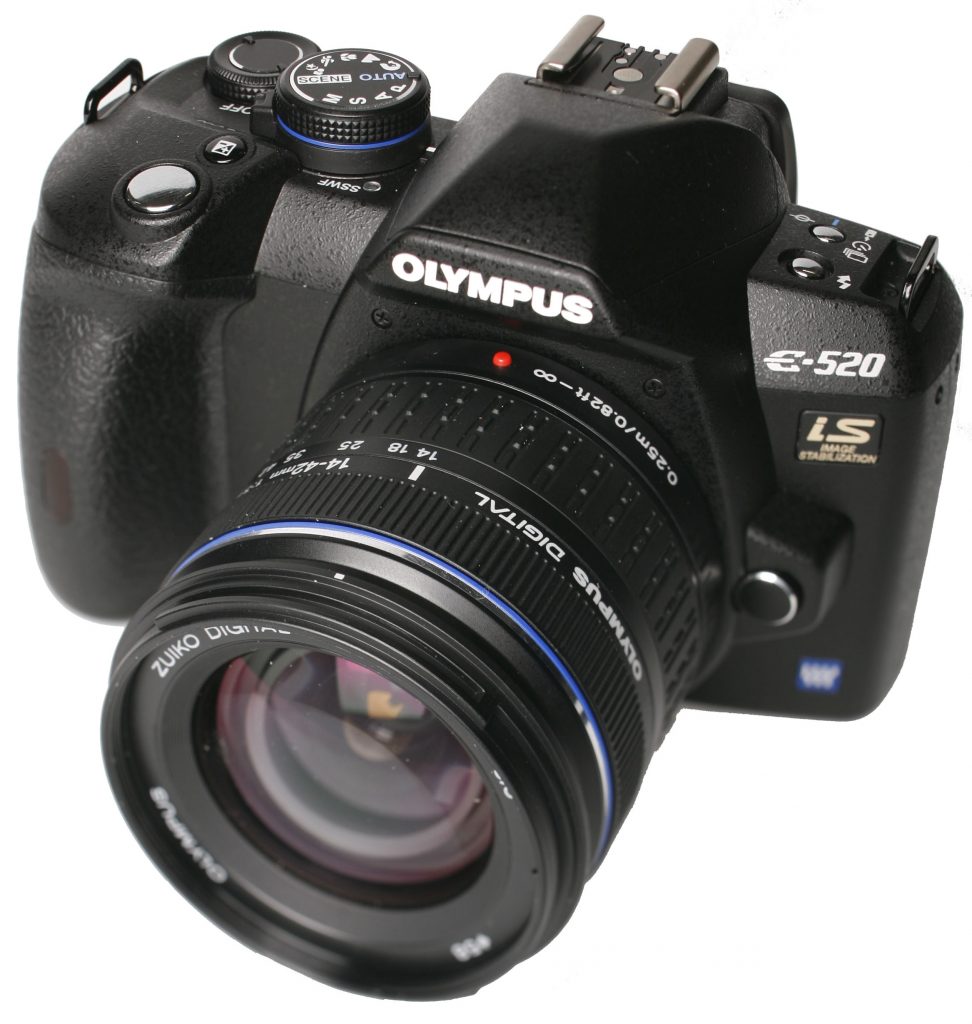 The Olympus Evolt E-520 is a new design on the market, capable of delivering high-quality and blur-free photos with ease. For images to be blur-free, the photographer has to ensure that there is minimal movement of both them and the person or object they are trying to capture.
For that reason, the Olympus Evolt E-520 has modern and high-tech features such as the supersonic wave drive which eradicates all the blur from your photo. Not to mention, face-detection technology to target all faces in the case of a group photo and ensure no one gets the blurry face in the picture.
This camera uses a 10-megapixel live-MOS image sensor to provide you with not only detailed but bright and colorful pictures. You can also crop the photos to whatever size you please without worrying about losing the detail or clarity and can also capture both slow and fast moving object with clarity, thanks to its three in-body mechanical image stabilization modes.
It takes an incredibly good camera to capture something moving as fast as a racecar, still, the Olympus Evolt E-520 does it with ease. Not to mention, you can also compose and bring the racecar into full sharp focus using the camera's HyperCrystal 2 LCD. The 2.7-inch display has new technology that makes viewing easy whether under direct sunlight or shade.
Conclusion
Finding cameras with the same features as the ones on this list is easy. However, finding the same cameras for under $500 is a different story altogether. DSLR cameras have changed photography and continue to do the same on a daily basis. It is only right that these beautiful tools are available at an affordable price to aid budding photographers in capturing the most beautiful photos. Pick any one from this list, and you're good to go.