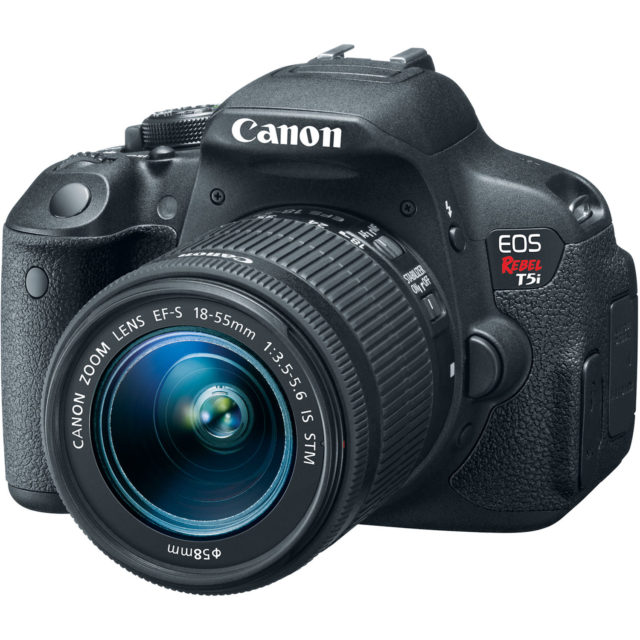 Canon is a household name when it comes to manufacturing very high-quality and durable cameras fully loaded with great features, however, choosing a good Canon DSLR or Mirrorless camera is not an easy task. There are a lot of things that you need to consider. Whether it is the CMOS sensor, the ISO speed, low light sensitivity, intuitiveness of the touchscreen – there are several points that you have to thoroughly check and consider. So in order to help you out with this, we have come up with a detailed insight on the best Canon camera. Here's a list of top recommended cameras from Canon. Browse through the features to find your perfect pick.
Best Canon Camera Reviews
Canon EOS 6D Digital Camera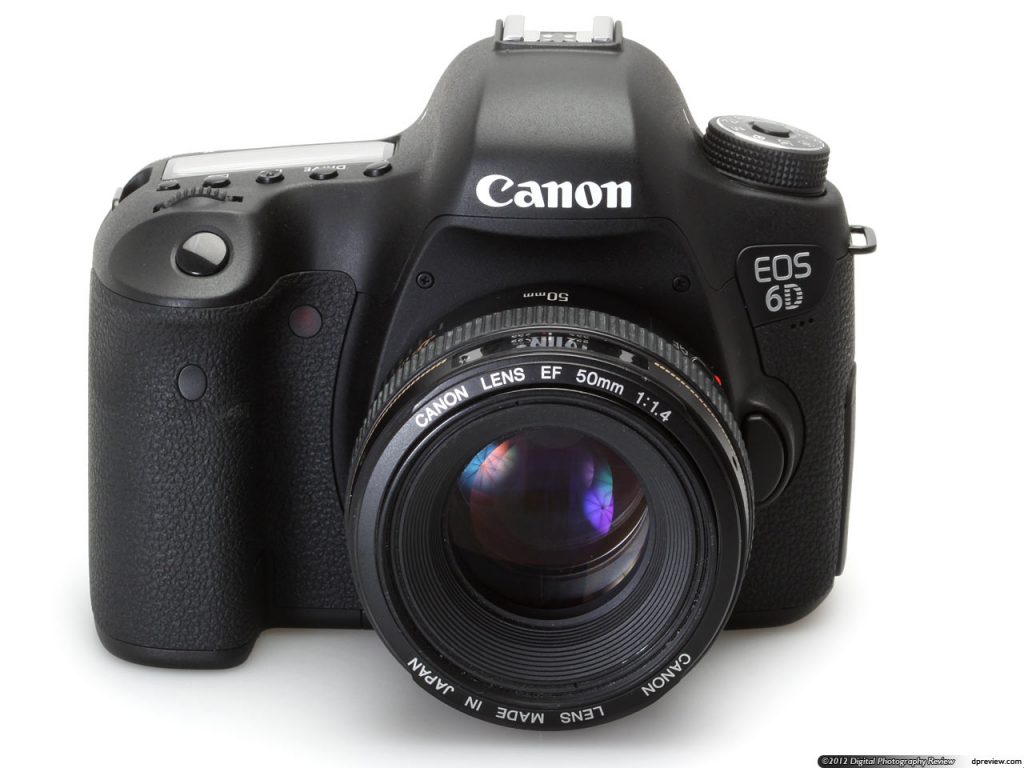 The Canon EOS 6D is the first of its kind, lightest DSLR camera that is not only full frame but also equipped with a 20.2 megapixel CMOS sensor. The precision 11 point AF system and the inbuilt Wi-Fi and GPS support make it one of the best picks among photographers. In case you're planning to splurge on this camera anytime soon, here's a quick scoop on its features.
Features at a Glance
Canon's EOS 6D comes packed with some of the coolest features. To begin with, the high-resolution 20.2 megapixel CMOS sensor ensures that your images are crisp, are detailed, and are of superb quality.
The photodiode structure, gap-free micro-lens, as well as the on-chip noise reduction, further ensure that your data is clean even at the longest exposures and highest ISO settings.
The speed settings of the ISO are also pretty flexible (IS) 100-25600) which can be expanded to L: ISO 50, H1: 51200 and H2: 102400 according to the sensitivity. Whether you're shooting indoors in relatively low light, or on a bright sunny morning on the beach, the EOS 6D will capture the best shots irrespective of the lighting conditions. The JPEG and RAW file output range are pretty good and you will also find a wide number of video control and shooting options.
The control menu is relatively simple and easy to tweak and is equipped with Wi-Fi, so you can access and share your pictures anytime via your tablet or Smartphone.
Final Verdict
Considering these amazing features and if you are looking for the best Canon Camera to splurge on, we would definitely recommend you to splurge on the Canon EOS 6D. The 20.2-megapixel lens, flexible ISO, simple menu and low light sensitivity will truly ensure that your shots are perfect and this is indeed one of the best canon cameras.
Canon EOS 80D Digital Camera
Whether you're looking to set your bars high in SLR photography or are simply looking to have a great time with a versatile and feature-rich camera, the Canon EOS 80 D can be a great option.
The camera comes with a 45-point all cross AF system which ensures that you get the best quality AF in every light condition. To add to this, it comes with an Intelligent Viewfinder, that also provides complete 100% coverage. The image view is clearer and the image data is comprehensive with this tweak.
The camera is solid, well structured and also physically equipped to withstand wear and tear. In case you're willing to know more, here's a quick scoop on its features.
Features
The Canon EOS 80 D is probably one of the best and the most feature-rich cameras from the brand. The 24.2 MP CMOS sensor is further backed by the Dual Pixel CMOS AF which ensures that your shots are crisp and detailed all way around.
The dual pixel AF also makes sure that you enjoy proper and consistent focus even during a live view or movie mode. All you need to do is tap on the touch screen for focusing on a subject that you are looking to track.
The 3-inch touch screen further ensures that you get the best shots even in the most awkward and messed up angles. It comes with the touch to focus tweak which enhances and improvises your candid shots. 80D currently comes with the best dynamic range and the sturdy body of the device helps it withstand any weather constraint.
Final verdict
To put it simply, Canon 80 D may not be the best Canon camera out there but it is indeed a pretty well-rounded camera with its superb construction, versatile features and series of control points. This is a great product for photographers who have just started out and are now willing to raise their game.
Canon EOS Rebel T6 DSLR Camera
Canon EOS T6 is the camera that offers the quality that your shots truly deserve. This camera is ideal for users who are more into point-and-shoot photography and Smartphone photography. This is for all those people who are now looking to raise their game in terms of imaging.
The 18.0 megapixel CMOS sensor backed by the DIGIC 4+ Image processor ensures that your shots are incredibly detailed and truly vibrant.
The best part, however, is the fact that this camera lets you take the most stunning photos even in the lowest light. So whether you're out with your friends for an adventure or are simply snapping candid shots late at night – this is one camera that will never disappoint you.
Features at a Glance
Like most of the other models of Canon, EOS T6 also comes loaded with a series of useful and versatile features. To begin with, the 18.6 megapixel CMOS sensor ensures that you get the best quality shots without putting in much effort. You will get shots with pleasing colours just the way you wanted.
Although the colours may seem slightly over-saturated at times, the RAW shots will provide you with ample opportunities to tweak the saturation and contrast according to your preference. At the same time, the sensor technology despite being old can capture some of the most solid and incredibly beautiful images.
We do admit that there isn't any life shattering new tweak, but it still turns out to be a product worth your money. The camera further comes with inbuilt Wi-Fi and NFC. This will make it easier for you to transfer the shots from your camera to your phone even while you're out travelling.
On a Final Note
So if you're looking for a camera that'll offer you decent shots with the lowest possible effort – this is one product that will never disappoint you.
Read: Best Trail Camera for Game, Wildlife And Hunting Camera Reviews
Canon Mark IV 5D Digital SLR Camera
Canon's Mark IV Camera from the 5D series manages to keep up with the legacy of its predecessors. The camera comes with some truly amazing refinements in terms of versatility, quality of the image and overall performance.
The brand's commitment to imaging is the true soul of this series, as this camera works flawlessly irrespective of the genre of photography you are pursuing. Whether you are a wedding photographer, portrait photographer or even nature or landscape shooter the brilliance of the shots will truly amaze you.
The 30.4MP full frame sensor backed by the 61 point AF system ensures that your shots and 4k videos are captured flawlessly. The dual pixel CMOS AF further ensures that both your live view shots and video shots are equally amazing.
Features at a Glance
The camera offers a power packed performance owing to its superb features. As you take your shots, you will notice a perfect balance of dynamic range and resolution. The full frame sensor further ensures that your images are crisp and of superior quality.
The Mark IV 5D series also comes with the autofocus module that provides quick and really accurate auto-focus in versatile situations. The dual pixel technology helps you to autofocus better in live view. Finally, the robust build of the camera makes it the most, well-sealed SLR from the 5D series.
Final Verdict
Well, considering these powerful features and superb tweaks we would definitely recommend you to go for the Canon Mark IV 5D camera.
Don't Miss: Best DSLR Cameras Under 500 – Nikon, Canon, Sony, Pentax, Olympus
Canon EOS 7D Mark II Camera
The Canon EOS 7D Mark II is probably one of the best cameras from the brand. It comes with a resolution of 20.2MP, backed by its massive raw dynamic range. The electronic front curtain shutter of this camera ensures that the images are sharp and shot in MUP mode. To add to this, there is a mirror mechanism in the device that prevents the image from softening under mirror slaps. The algorithms are extremely refined which further make it one of the best digital cameras in the market.
Features at a Glance
The EOS 7D Mark II comes with many added features that keep it an edge ahead of its predecessors. To begin with, the CMOS image sensor of this camera now comes with more improved micro-lenses that help you in gathering more light while taking a shot. Backed by its 4 image processor, this camera offers much greater performance and a relatively high noise reduction processing. This also means that you will get better clarity in your shots along with a consistent organic LED display that will be easier and simpler to read.
See Also: 14 Best Cameras For YouTube 2017
The body of the camera has also been redesigned and it now features a comfortable and tad deeper grip. You can now hold and control the device better. At the same time, you can also capture smaller improvements with the new electronic first curtain shutter tweak.
Final Verdict
Considering the features, tweaks and the added improvements, the Canon EOS 7D Mark II is indeed worth your money. Go for this camera for crisp, detailed and stunningly beautiful shots.
Sale
Canon EOS Rebel T5i Camera
The Rebel T5i is one of the latest models from Canon, and this awesome DSLR comes with a series of new tweaks and updates. This is a basic entry level camera for photographers who are just getting acquainted and accustomed to using a DSLR camera.
With the 18 megapixel sensor, three-inch LCD screen, and a full video of 1080p HD, this camera is good – if not excellent – in terms of audio and video quality.
Although these are significant upgrades from the T3 version that was launched in 2011, we still expected a couple more features considering the massive advancements that we observed in similar cameras of other brands. It is available at a low price and is excellent for novices who are just starting out with photography.
Features at a Glance
The Canon EOS Rebel T5i camera comes with more or less the same features as its predecessors. There are a couple of tweaks in terms of design and size. The newer variant of this camera is much more lightweight, about 15 grams to be precise. This, in turn, makes it easier to handle and operate. The grip is textured and relatively better. The look and feel of this camera are relatively matted. This gives you a classy vibe while operating it. The handling is quite fluid and tweaking between the various modes and settings is also pretty simple. The design and operation is extremely intuitive and simple. So if you are operating a DSLR camera for the first time, you won't really find the features complex and obfuscating.
When it comes to performance, the Canon EOS is good if not amazing. The images are sharp, detailed and distinct owing to the 18 MP sensors. The video quality also is good with the 1080p resolution. The motion and sharpness of the videos and the pictures are decent and the camera is also quite sensitive to low light. While shooting in low light, you will get exactly the kind of performance you expect from a basic, entry-level camera. It covers a decent ISO range over 100-12,800.
Final Verdict
If you are looking for a basic entry level camera- this is one product that will never disappoint you. The features are basic but completely worth your money.
Sale
Canon EOS Rebel T5i 18.0 MP CMOS Digital SLR with 18-55mm EF-S is STM Lens
18.0 Megapixel CMOS (APS-C) sensor, 14-bit A/D conversion, ISO 100-12800 (expandable to H: 25600) for shooting from bright to dim light and high performance DIGIC 5 Image Processor for exceptional image quality and speed.
9-point all cross-type AF system (including a high-precision dual-cross f/2.8 center point) for exceptional autofocus performance when shooting with the viewfinder and Hybrid CMOS AF increases autofocus speed when shooting photos and movies in Live View.
Related: Best Cheap Digital Camera Under $200: DSLR, Point and Shoot Cameras
Canon EOS M5 Mirrorless Camera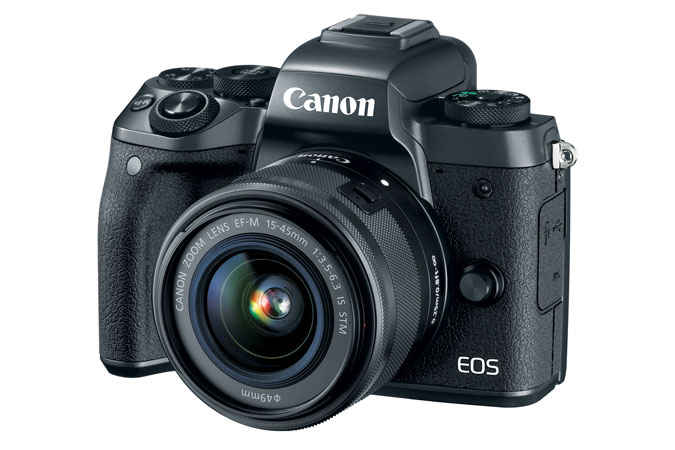 If you're looking for a camera that is compact, powerful and fast, the Canon EOS M5 Mirrorless Camera can be a great pick. This camera offers excellent image quality and lives up to your expectations regarding the EOS line of products. The lightweight structure, portable design, as well as the incredibly fast auto-focus, ensure that you never miss your best moments. The rugged frame of the EOS M5 camera comes with a 24.2 megapixel CMOS sensor that ensures that you get sharp and incredibly high-resolution images. The Dual Pixel CMOS AF will further ensure that your subject is locked accurately. The camera is fast, high speed and pretty easy to handle.
Features at a Glance
Like most of the cameras in the EOS line, the EOS M5 also comes with a powerful 24.2 CMOS sensor that locks your best shots. Backed by the dual pixel AF it will capture the finest shots faster than you'd ever expected. The camera can ideally take about 7.0 frames every second and the Digic 7 image processor will ensure that your subjects are in proper focus. The camera also lets you capture full HD 1080p videos at 60 fps and the digital IS further stabilizes your shots. It is backed by an in-built high-resolution EVF and an intuitive touchscreen with a 3.2-inch tilt based monitor.
Final Verdict
EOS M5 is the best Canon camera for advanced photographers, enthusiasts and practically any individual who is looking to capture the best moments from their regular lives.
Read: Best Digital Cameras Under $300
Canon EOS M3 Mirrorless Camera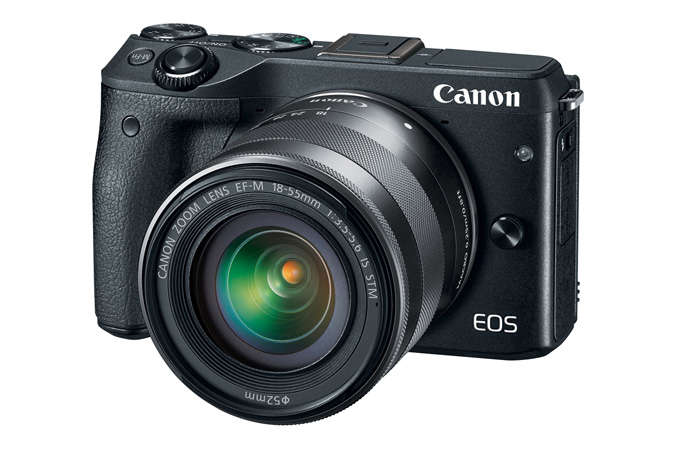 The EOS M3 is probably the most versatile and photographer friendly camera from the EOS line of products. The perfect combination of easy to tweak dials and a simple touchscreen makes this product all the more engaging. Canon has specifically fitted the 80D of the EOS label in a relatively smaller body that works amazingly well for both still and video shots. The dual-pixel autofocus along with the 24 MP sensor, the highly improved dynamic range, simple controls and a mature touchscreen interface makes it one of the best SLR cameras in the market.
See Also: Best Streaming Microphones Gaming and Youtube Videos
Features at a Glance
The 24.2 MP CMOS sensor backed by the Digic 6 image processor helps you to capture pictures and videos with intricate detail and perfect crispness. The camera works amazingly well even in the most challenging lighting situations. While the Hybrid CMOS AF III provides the fastest and the most accurate videos, the front dial and exposure compensation dial offers complete manual control and functions that can be tweaked. The camera also comes with a movie control that lets you capture 24p and 30p movies in MP4 format. The touchscreen is intuitive and the navigation too is pretty simple.
On a Final Note
This is the best Canon camera for anyone who is looking for a solid SLR with advanced features. It is both user-friendly and incredibly powerful in terms of performance.