Cameras have undergone a tremendous transformation in the last twenty years alone compared to the two hundred years previous to that time, thanks to an unprecedented accelerated rate of technological advancements in the field of photography and recording. Coincidentally, the price increases as more work, better technology, design and even stronger lens power go into making better cameras. That being said, you don't really have to lose an arm and a leg to get some of the best cameras in the market today, as we have taken the time to source some really good cameras that deliver superior photo quality and video recording for just under $200.
If you are looking for something small and concealable, you could never go wrong with GoPro Hero Session, but if you're particularly interested in something that can work pretty well underwater and even in negative degrees Celsius, the Fujifilm FinePix XP90 is your companion as it is freezeproof to up to -10 degrees Celsius (14 degrees F) as well as waterproof to a depth of 15 meters.
Why You Should Trust Us
Not only have we a lot of collective and individual experiences when it comes to camera and camera technology, we have spent an awful lot of hours on hundreds of cameras out there, checking in simple terms, the specifications as well as image quality, testing control systems, lens power, video and audio recording quality, compactness, and durability of each and every single one of them.
We can tell you as much about cameras as you can tell us about your thesis in school. That much.
Oh! and yes, we didn't forget to talk to other experts who are actively involved in the regular use of these products. Including ordinary everyday users. We have listened to, analyzed, and compared complaints as well as positive testimonies from several users who had bought these cameras, from mountain climbers and professional cameramen in their studios, to travel photographers, bloggers and yes even YouTube video makers and vloggers who use or once used these cameras.
So, why should you trust us, you ask?
Because we have put in all the hours to make sure we have sieved through all the clutter and have right here, the nine absolute best cameras on the market, for a budget of $200 or under.
Best Digital Cameras Under $200
Table of Contents
Samsung WB350F Smart Camera Review
Build and Design
This 16-megapixel camera looks and feels like the typical point-and-shoot camera. The WB350F is a highly competent imaging device, hiding its advanced features in a mild-mannered exterior. Its nice leatherette appearance is as protective as it is inviting, plus the camera's finish includes moisture and dust seals.
Unlike its much simpler siblings, this camera allows you a lot of individual input during image processing. Allowing you to manually control exposure, a lot of creative flexibility, and an advanced feature set, Samsung WB350F comes in Blue, Red, Brown, Black or White colors.
Controls and Ergonomics
While this camera is a touchscreen model, it still has the entire set of dedicated switches, knobs, buttons. Apart from being sensibly placed, the controls are easily accessible to right-hand users and are clearly marked.
The camera's top deck is uncluttered; its classic Point & Shoot layout has the:
On/off button
Large shutter-release button featuring zoom toggle surround
Pop-up flash
The top deck's beveled back edge has buttons for flash activation and 'direct link' WiFi. Approximately two thirds of the camera's rear deck is taken up by the 3.0″ touch LCD monitor.
To start and stop videos, all you have to do is rock your right thumb back over the dedicated red button. The textured thumb pad to the button's left offers to a firm grip for consistently stable footage.
Samsung WB350F's compass switch (the 4-way controller) allows you to directly access the Display, self-timer, macro mode and flash settings. Like many other travel-zoom models, WB350F has no hand grip.
Viewfinder/Display
Though the camera lacks an optical viewfinder, it is rarely used in most shooting scenarios. As a photographer, it is faster and more convenient to watch a divisive moment coming together on the much larger monitor. To protect the LCD monitor from glare/reflections and fading in bright light, one can use an anti-reflection/anti-glare film coating.
When in default display, WB350F provides all the information needed making it super easy to access all the settings with only a few clicks and considering that it takes just 1.7 seconds from power off to the first picture, this camera will always be ready the moment you need it.
Nikon COOLPIX S7000 Digital Camera Review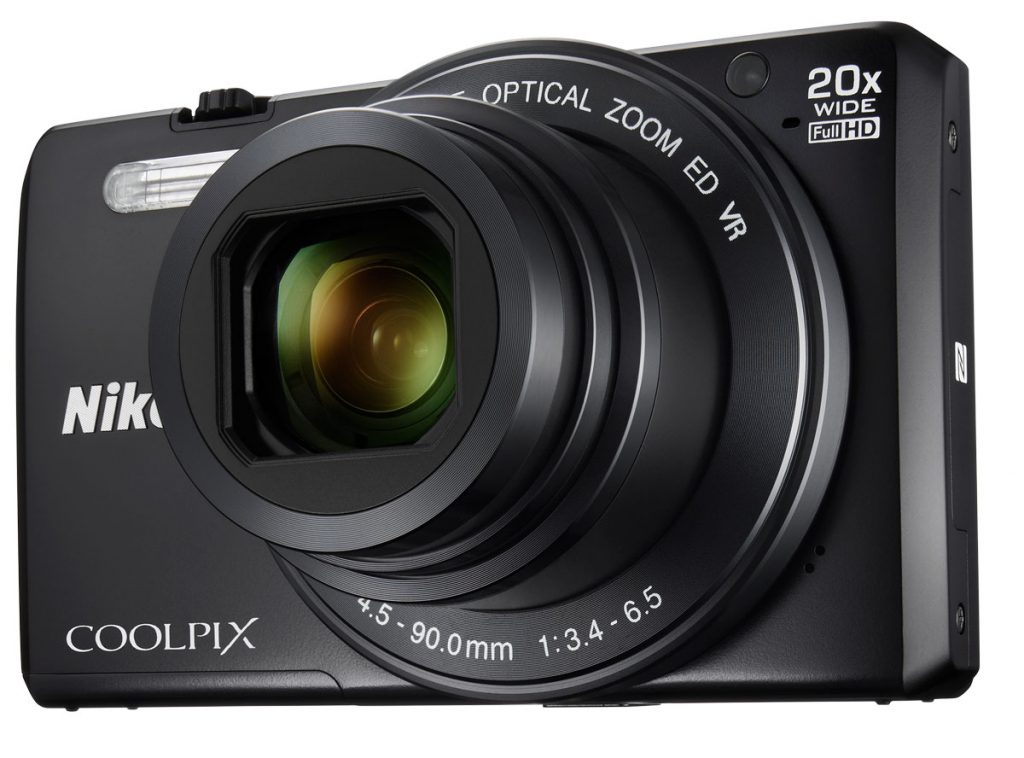 Featuring a 16MP camera with a 1/2.3″ CMOS image sensor, S7000 captures high resolution, full HD footage in 1080p at 30 frames per second, competing with some of the high-end cameras out there. The camera's 20X optical zoom can be doubled to 40X through its Dynamic Fine Zoom feature. When one is shooting using the long end of the optical zoom range, Vibration Reductions ensures consistently smooth footage.
Near Field Communication (NFC) and Wi-Fi with Snapbridge
Being NFC and Wi-Fi enabled, COOLPIX S7000 is compatible with your smartphone or other mobile devices. Sharing your photos and videos, even when in remote locations, has never been easier as Nikon Snapbridge makes this possible and also allows you to control the camera through your smart device.
18 Scene Modes
Matching the moment to a particular scene mode has never been this easy. With the Nikon COOLPIX S7000, you can now choose from among 18 Scene Modes, including Night Portrait, Sunset, Snow, Beach, and much more. If you are creative enough, you can easily alter ordinary shots into pieces of art.
Alternatively, you can just select the Scene Auto Selector option and let the camera pick out the best mode matching the scene.
Target Finding Auto Focus (AF)
S7000's Target Finding AF has been designed to accurately and instantly determine your intended subject before focusing on it and not just merely focusing on the object closest to your camera.
With this you can forget all about the frustration of focusing the camera on the desired subject, capturing it at your first try.
3″ LCD Screen
With an anti-reflective coating, the camera's 460k-dot TFT LCD monitor has 5 level adjustments, makes it easily visible in bright or low-light. When in shooting mode, the screen has 98% vertical and 98% horizontal coverage, with 100% playback mode coverage so if you need a camera you can rely on to produce high quality images and seamlessly connect with your smart devices, this is your companion.
Sale
Read: Review of the Best Point and Shoot Camera Under $300
Canon PowerShot ELPH 360 HS Camera Review
This ultra-thin Canon Powershot has similar attributes with past ELPH model, only that it is much more advanced and affordable. Its easy-to-use design and many solid features make it particularly appealing. Fitting perfectly into your pocket, this camera has numerous special-effect shooting modes.
Build and Design
This basic looking digital camera has a solid body that doesn't have trim colors. The clean and easy design is not cluttered, only having a few buttons for basic control. The four-way control is quite small and requires more care when tweaking. Measuring a mere 0.9 inches in thickness, this compact camera is perfect for all occasions.
The 12X zoom feature is particularly appealing considering that most small cameras have fewer zoom capabilities. The display screen lacks tilting and touch features, however, its settings are easy to maneuver. For sharing moments on bigger screens, the camera supports HDMI and USB connections.
Image Quality
Boasting of a 20.2MP with a 1/2.3″ image sensor, ELPH 360 HS has higher resolution than most other inexpensive cameras within it's price point. When in poor lighting conditions, the small image sensor presents minor anomalies, limiting the image quality.
When shooting outdoors in plenty of light, however, the camera produces excellent images which are vibrantly colored and sharply focused.
Movie Mode and Low Light Performance
As with many cameras that have a small image sensor, ELPH 360 doesn't do very well in low light. It limits you to a 3200 maximum ISO setting. When you set ISO to 1600 or 800 in this model, image noises become more frequent. When one has to use the flash, recording speeds slow down considerably. To get the best out of this camera, it is best used where there is adequate lighting.
Thanks to the camera's dedicated recording button, taking footage is straightforward. And they can also be recorded in full HD resolution.
Sony Cyber-shot DSC-HX9V Camera Review
Offering high resolution and full HD video, the Sony Cyber-shot is a highly versatile digital camera with 16X pocket long Zoom range. With it, you can get plenty of great shots even in difficult conditions. The camera is capable of the following:
High-resolution panoramic mode (most others don't have a resolution as good as this).
Good video quality.
Quick auto-focus.
Excellent optical quality.
Comfortable grip.
These features are snap-oriented, giving you 3D panoramic videos with crisp clear stereo audio. The photo-savvy design gives you automation and performance, making this a more affordable or viable point-and-click alternative to the interchangeable lens systems.
Feel and Look
The camera is relatively thick, and its rectangular design looks like a point and shoot camera with more grip than usual. The pocketable body conceals the lens prowess, making it easy to carry along – avoid putting it in tight jeans though, as the pressure may trigger the power button and potentially expose the camera to damage.
To enhance its ergonomic design, the weight has been evenly distributed around the chassis. Sony allows you to shoot comfortably with one hand by attaching a small piece of wedge rubber on the camera's backside.
The external controls have been conveniently placed across the camera's body, making it easy to use. The dial contains a selection button which selects between Aperture settings, Shutter speed and ISO when in the Manual Mode.
Viewing
With the HX9V, Sony went for size rather than framing versatility. As with many manufacturers, the optical viewfinder in long zoom format is missing. Instead, a large 3.0″ 921k-dot LCD screen which serves as the playback monitor is what you find.
Brightness can be adjusted through 5 levels, allowing you to view clearly through a wide viewing angle.
Modes
This camera provides you with several still capture modes right from basic exposure settings like;
Manual
Program
Intelligent
Scene Selection
Super Auto
Auto
Experimental mode options include;
3D Shooting
Handheld Twilight
Panorama
Memory Recall
Motion Blur
Background Defocus
As a user, you have more incremental control over the camera's shutter speed; you can choose whether to allow a little blur to show motion or freeze a subject which is what makes this camera incredibly good in the hands of a creative user.
Canon PowerShot SX420 IS Digital Camera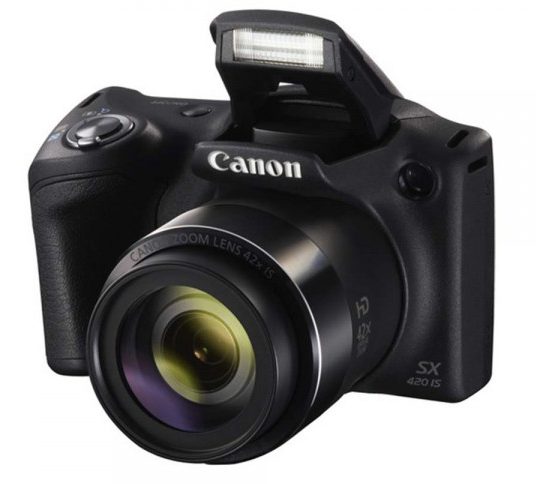 In a market that is currently flooded with smartphone cameras, Canon SX420 IS stands out by having an impeccable 42X Optical Zoom, something that smartphone cameras hasn't even thought of achieving. Weighing a mere 11.5 ounces even with the installed memory card and battery, Canon PowerShot SX420 is laden with features and will work best when used in the automatic mode, although it is quite easy to control even in manual mode.
Design
As among the best ultra-zoom cameras, this model has an effective image stabilization attribute, making it easy to shoot handheld footage without blurring. However, even with its strong image stabilization system, it is still hard to record in low light when handholding the camera.
Image Quality
Just as many basic cameras, the PowerShot SX420 IS has adequate image quality under good lighting. It, however, struggles in poor light, just as any camera with 1/2.3″ image sensors. Though one cannot shoot in RAW with this camera (not sure why you'd want to anyway), the optical Zoom maxes out at 20MP and records video at 720p HD.
Performance
With an easy to use Wi-Fi option, this model features very little manual control. With its Burst mode of 2 frames per second, this camera would not do excellently for action photos and since it has been designed to be used as an automatic control camera, the SX420 lacks a mode dial but by pressing the Set/Func button on the camera's back, you can make minor changes to its settings.
While it is not great for smoothly picking every detail during an action, If you love to capture long-range images with great clarity, this camera is for you.
Nikon Coolpix L340 20.2MP Digital Camera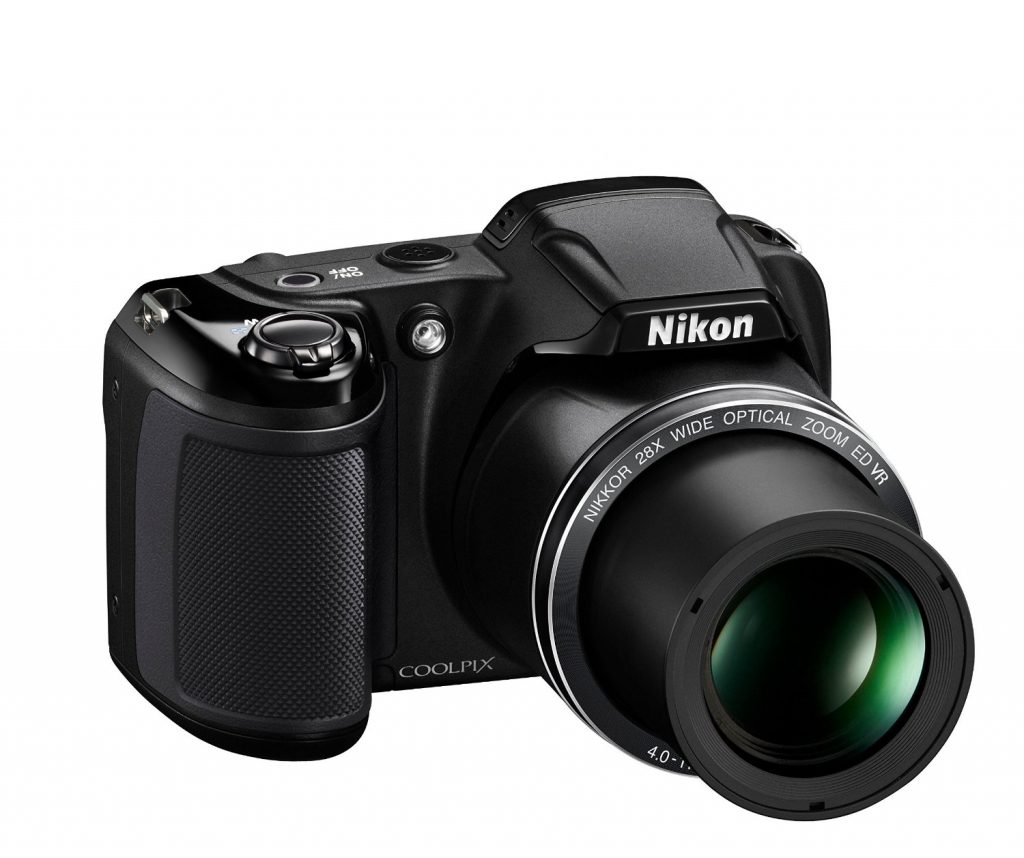 As a low-budget superzoom bridge-style camera, the L340 is a design and performance update from the L330. Its 28X optical zoom range that gives an equivalent 22.5-630mm focal range is a leading selling point which is also the main difference with the previous L330 model.
Nikon Coolpix L340 Features
This camera records video in full HD 1280 X 720, outshining most others in this price point. The effects of camera shake have been effectively tamed by its lens-shift vibration reduction feature. The CCD sensor's ISO capability maxes out at 1600.
As a budget-friendly camera, there aren't as many fun features but the scene-detecting automatic mode is complimented by 6 special-effect features and one interesting bit is that the Nikon Smart Portrait mode flatters images (by softening) and warning you when a person blinks.
Handling
This ready-to-shoot 430g camera is ideal ergonomically designed for easy handling. The rear thumb rest and large rubber handgrip make it easy and nice to hold on to. Those with larger fingers might find the gap between the lens and handgrip less comfortable.
The buttons have been restricted for only essential controls such as macro mode, scene modes, and the self-timer. The zoom ring (around the camera's shutter release) is quite basic with a single available speed. This makes precise focal adjustments a bit challenging.
Battery Life of Nikon Coolpix L340
As a modestly priced camera, the L340 doesn't come with rechargeable batteries. If you want to enjoy the convenience, however, you will have to purchase a rechargeable battery pack and its charger. Even with the non-rechargeable alkaline batteries, you still get an amazing 370 shots before they run out.
No products found.
Fujifilm FinePix XP90 Waterproof Camera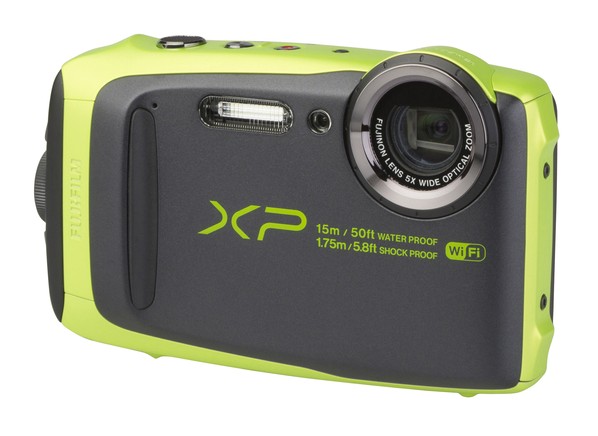 With a rugged appearance and compact features, the FinePix XP90 is ideal for people who enjoy capturing priceless moments outdoors. This rugged digital camera will ably handle all that Mother Nature throws at it. Apart from being freezeproof down to -10 degrees Celsius (14 F), it is fully waterproof to a depth of 15 meters.
The tough, advanced features are built to appeal to a wide range of clientele which we also found really interesting.
Screen
XP90's 920k-dot LCD monitor is incredibly beautiful and clear. It is large enough to show images and footage clearly, taking up a decent portion of the camera's back. Through it, you can view vibrant and clear previews of each shot taken.
Even on the brightest days, the screen's anti-reflective surface allows clear viewing with the screen's brightness automatically adjusting to match the immediate environment.
Image Quality
When you need to fit a lot of diverse details in a photo, the XP90 model has a 5x optical zoom, complimented by a 10x intelligent digital zoom. You can now capture all the intense action from a fair and safe distance, with the camera's zoom lens scaling from 28-140 mm.
To ensure the best is captured out of every environment, the camera comes equipped with a sixteen million BS-CMOS Sensor. Be it the underwater, sunny ski slopes or deep forests, the clarity is unmistakable.
Remote Shooting
You can download the FujiFilm Camera Remote App in your smartphone and use it to control your XP90. From it, you can remotely take shots, use the zoom feature or switch between taking shot to recording videos. If you enjoy wildlife photography, this application will help you sneak undetected and take the most captivating photos.
No products found.
GoPro Hero Session Camera Review
As an attractive waterproof camera ideal for shooting action, GoPro Hero Session has a tiny profile and is compatible with the entire selection of GoPro mounts. The magnificent lens seems like it has been taken from Hero 4, making it particularly appealing in its price range.
Use and Performance
Featuring several shooting modes, the Session ranges from 480p at 120fps to 1440p at 30fps and shoots at 720p100 or 1080p60. The images captured at 8MP has options such as single shot, burst, and time-lapse modes.
Even in the brightest outdoor lighting, the video looks crisply detailed, accurately exposed, and vibrantly colored. The shot might, however, seem lacking in the finer details around small areas.
Audio Quality
As small as it looks, when put against Hero 4 Silver, the Session has better audio owing to its new dual-microphone design, coupled with native waterproofing. Even when shooting in wet conditions, strong audio tracks are recorded.
Unlike the older models which capture muffled tracks, the dual-mic design helps reduce wind noise without eliminating it completely.
QuickCapture Mode
To set it apart from others in its category, GoPro Hero Session uses this mode. Essentially, it is always on and ready to shoot once you press the dedicated button. Once you push the shutter button, the camera starts immediately and starts recording in an impressive 3 to 5 seconds.
If you want to capture life on the go, as fast as it is, GoPro  Hero Session is the indisputable king.
GoPro HERO Session Waterproof Digital Action Camera
Simple, grab and go operation with a compact, waterproof design and weight of just 2.6 ounce (74 grams), Hero session is the perfect camera for first time GoPro users
Easy one button control press the button once to power on the camera and begin capturing video or photos automatically
Fujifilm Instax Mini 90 Neo Classic Instant Film Camera Review
In the mainstream camera market, this is a  force to reckon with among instant photography cameras. Though the standard Instax camera has always been fun to use, it simply looked like a toy. However, this new model is designed to give you a higher-end appeal, with many advanced features.
Using the familiar 2×3" film packs, this camera has a more polished look and still produces instant photos out from the side.
Features
For this Neo Classic, retro-styling is a big draw. Even in the digital realm, Fujifilm still has this together. For a more professional look, the design has excluded the pastel, bubbly, spaceship look accustomed to the regular Instax cameras.
Performance
The Mini90 Neo Classic offers several features contributing to its flagship status. The several exposure modes offered, come in handy during active shooting. To allow in more background light, for instance, the Party mode uses an extended shutter speed. For the freeze action, the Kid mode uses a much shorter shutter speed and the bulb exposure mode will keep the shutter open for as long as the button is held down.
Image Quality
The quality of images seems consistently similar with that of other Instax models, maintaining focus on the need to produce results immediately. For a 2×3" print, the images are satisfactorily sharp. If you scan them, however, they are likely to get a bit fuzzy unless you scan at a high resolution. Close focusing remains a challenge since the viewfinder is offset from Mini 90's lens.
Sale
Fujifilm Instax Mini 90 Neo Classic Instant Film Camera
Automatically Detects The Brightness Of The Surrounding And Adjusts The Amount Of Flash And Shutter Speed To Optimize Photo Quality
Double Exposure Mode 2 Images Are Produced On 1 Film Sheet By Pressing The Shutter Twice; Shutter Release: Programmed Electronic Shutter Release, 1.8 - 1/400 Sec Shutter Speeds
See Also:  Best Hiking Boots For Men and Women – Comfort and Durability Assured
Conclusion
When working with a budget of $200 or less, these amazing digital cameras will not only give you value for your money but also allow you luxuries you would have otherwise foregone. Life's priceless moments happen ever so rarely. Why not be ready and capture them before they wither away?
Thank you for reading!