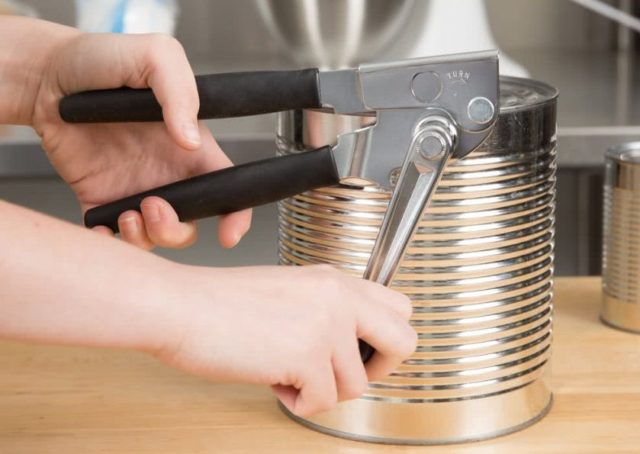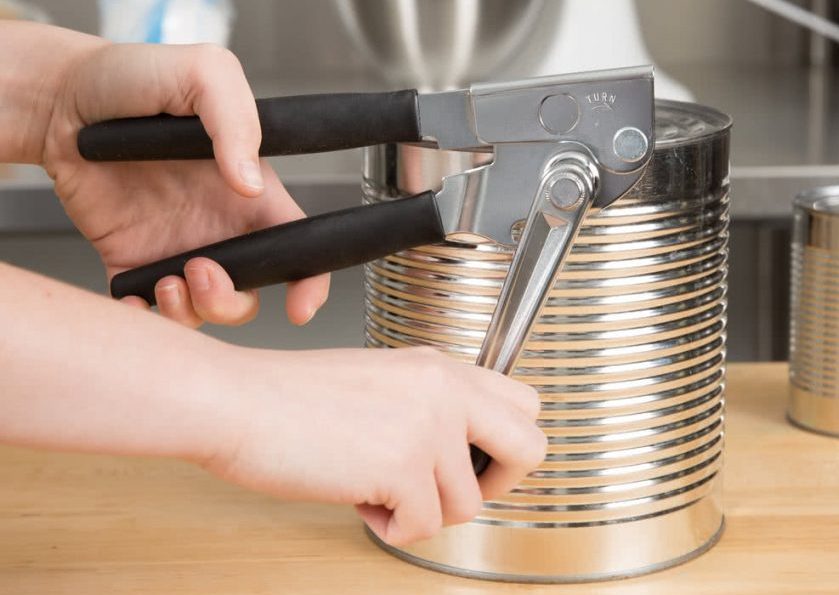 Wondering why you are yet to buy the best can openers? This is because with lots of terrible can openers in the market getting the best ones can be a struggle if you don't know exactly what to look out for.
Can Openers have been an essential kitchen utensil for almost a century now. These utensils formed with a die-cut opening enable bottles and cans to be easily opened with leverage.
A typical can opener also has a curved and pointed end that is used to indent a hole in cans as an air hole as well as cutting a triangular hole in the top of an aluminum can so the contents can be poured out or consumed.
Before going out to shop for can openers, be sure to look out for durable, sanitary, and simple to use ones.
After a comprehensive research into can openers, we evaluated the ratings and experiences of experts and users alike and have chosen our top picks based on their track record of accurate cutting, reliable performance, and price. Check them out.
Also See: Best Cookware Sets: Your Guide To A Comfortable Kitchen Time
Best Can Openers
Table of Contents – Best Can Openers
Rösle Stainless Steel Can Opener with Pliers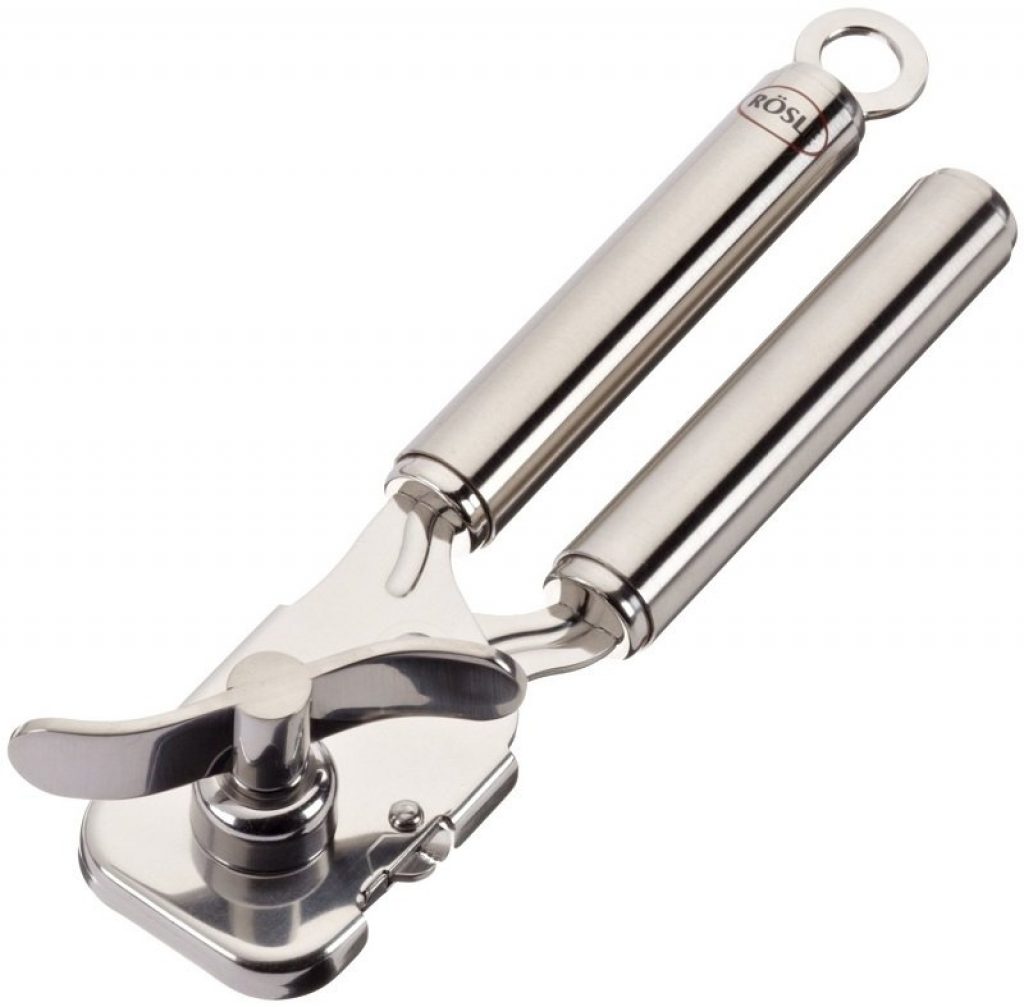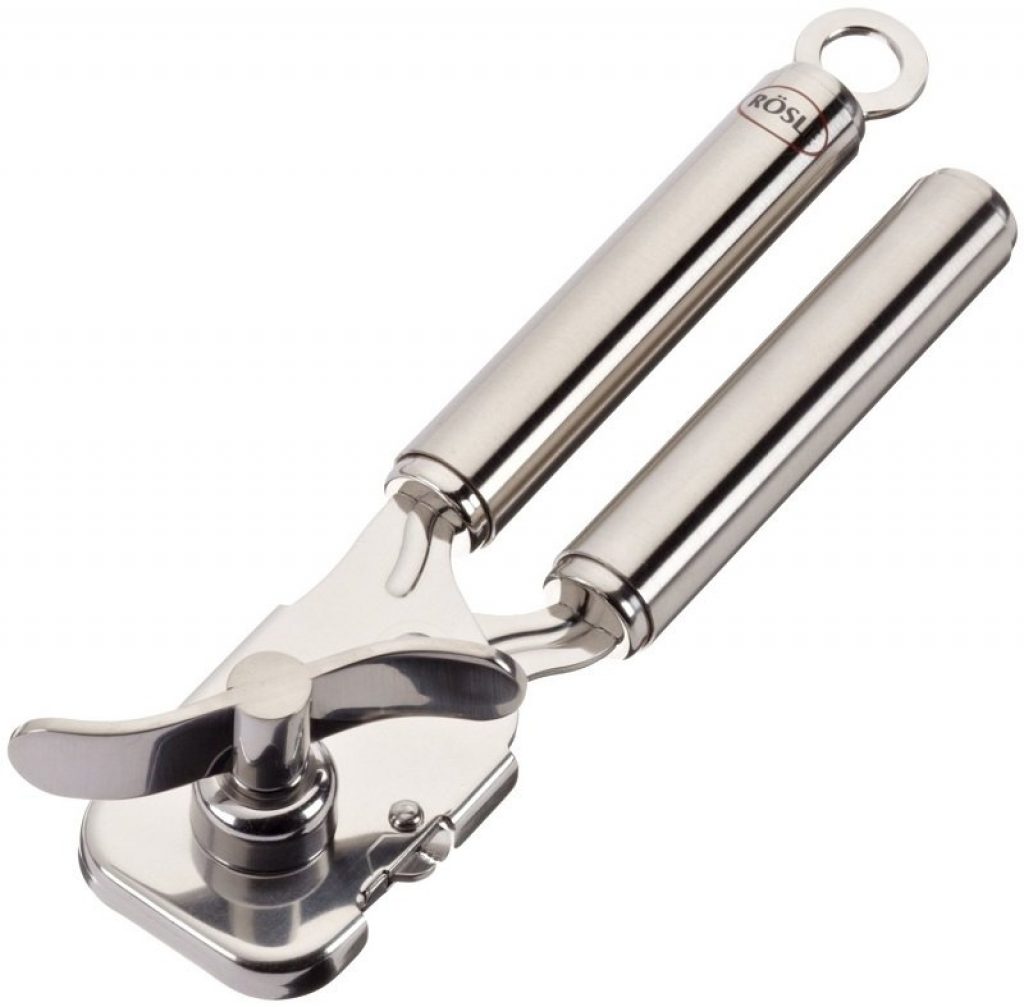 Rösle Stainless Steel Can Opener with Pliers is made entirely of stainless steel, it is one of the best can openers in the market. The handle and thumb-screw are made of stainless steel 18/10, cutting wheel is made of hardened steel, Integrated lid pliers and suspension eye.
This can opener operates from the top of the can instead of the side – avoiding the creation of sharp edges along rim and lid. It cuts cans laterally directly below the rim edge.
Cut lids can be lifted off and subsequently replaced on the can if need be. This opener cuts so smoothly that you can reuse the lid for storage
The ergonomically shaped thumbscrew also comes with Integrated pliers to pull up sticky lids.
Rösle Stainless Steel Can Opener makes smooth and effortless turning possible. It also ensures that your food is hygienically protected as it does not come into contact with contents.
Pros
 Smooth and effortless turning

Lateral cutting leaves no sharp edges that can cut your fingers

Comes with i

ntegrated pliers to pull up sticky lids

Durable and Hygienic

Easy to clean
Neutral to flavors and odors
Cons
Dishwasher unfriendly
Not one of the cheapest around
Verdict
Looking for a can opener that opens any can smoothly and easily and leaves no sharp edges behind and still does not come into contact with contents? Then Rösle Stainless Steel Can Opener is a sure bet.
Sale
Rosle Stainless Steel Can Opener with Pliers Grip, 7-inch
High-Quality Stainless Steel: Made from durable and hygienic 18/10 stainless steel, ensuring longevity and cleanliness
Effortless Can Opening: Easy positioning pliers grip securely onto the top of the can, effortlessly lifting the lid without ever touching the food inside
Hamilton Beach 76606ZA Smooth Touch Can Opener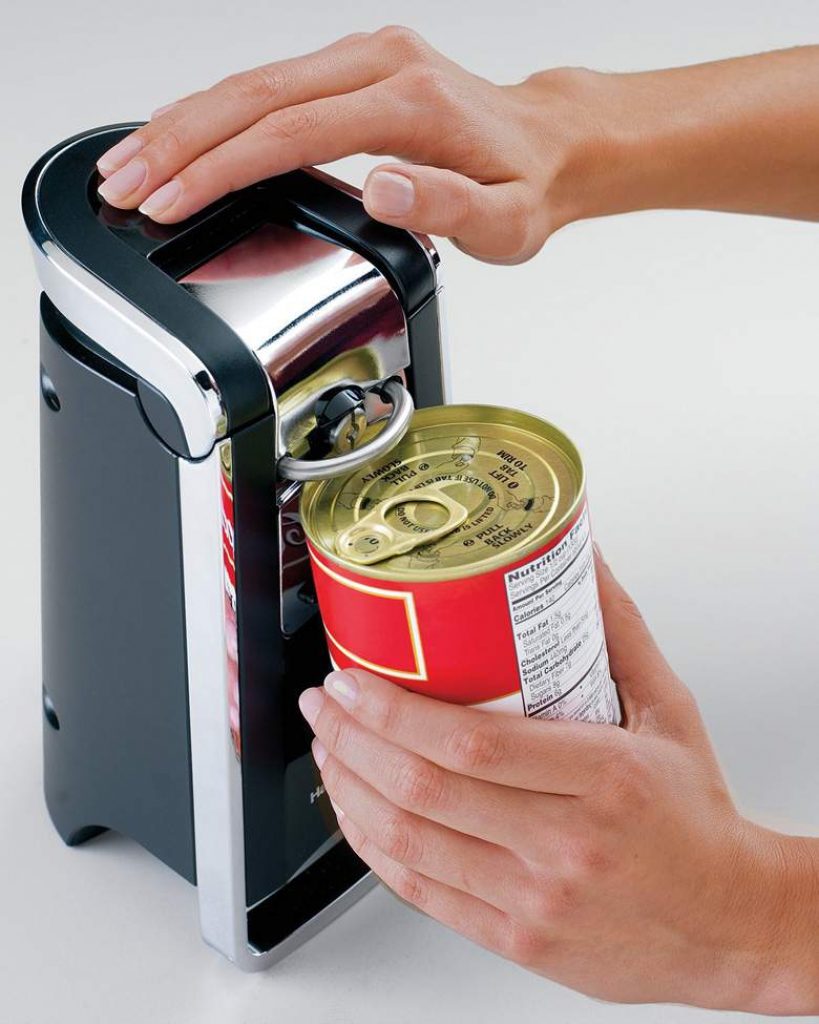 The second on our review list of best can openers in the market is Hamilton Beach 76606ZA Smooth Touch Can Opener.
Just like the Rösle Stainless Steel Can Opener, Hamilton Beach Smooth Touch Can Opener is also designed in such a way that the blade cuts along the side and not into the top of the can. This minimizes the blades contact with food and prevents splashing or seeping out from the top since the can remains closed until you lift the lid.
The result is a mess-free, smooth cut that allows you to remove the top without worrying about sharp edges along the lid.
With the push-down lever, you can be assured of removing both pop-top and regular cans with ease.
However, there have been some complaints about the cord being too short, but this is obviously because many users didn't realize that most of the 26-inch cord is stored within the unit itself, so all you have to do is just pull it out.
Pros
Opens pop-top & regular cans

 User-friendly

Cuts can along the side for smooth, touchable lid

Easy-touch opening lever 

Sleek chrome & black design

Suitable for all can sizes
This can opener is designed to keep your food free of contaminants.
Cons
Requires effort from both hands to function
Requires electricity
Slightly expensive
Verdict
The Hamilton Beach 76606ZA Smooth Touch Can Opener is definitely a smart choice if you are looking for an opener that will help you open a can with minimal mess, effort, and no chance of food contamination,
Kuhn Rikon Auto Safety Master Can Opener
Made of 18/8 stainless steel with a polished finish, the Kuhn Rikon Auto Safety Master Opener is also one of the best can openers you can count on to make the work of opening bottles and cans easy and fast.
The turn knob comfortably holds and turns easily. It cuts from the side leaving the rim smooth, not sharp or jagged.
It comes with pull and pop tabs, threaded caps, and flip tops.
Pros
It is quite handy

Automatically attaches itself to cans

Very h

ygienic – opener never touches the contents of the can.

Leaves no sharp edges 

Dishwasher safe
Open items with little effort
Cons
Not intended for commercial cans
Verdict
When you want to keep the number of tools in your kitchen to a minimum, consider the Kuhn Rikon Auto Safety Master Opener for a variety of tasks.
It opens pop-tops, cans, pull tops, jars, and bottles, (including two-liter pop bottles) so easily without leaving any sharp edges and like the Hamilton Beach and Rösle Stainless models, this device is a side cutter that does not come in contact with the can's contents.
Sale
Also See: 11 Best Non Stick Pans and Skillets For Frying and Cooking
OXO Good Grips Smooth Edge Can Opener
With OXO Goods Grips Smooth Edge Can Opener, you will open your cans without creating dangerous sharp edges. In addition, the sharp, hardened stainless steel cutting wheel stays clean, avoiding contact with can contents, while the lid pliers allow for no-touch lid removal.
Pros
Soft-grip knob, comfortable and non-slip handles
Easy turn
Highly hygienic – cutting wheel never touches the can's contents
Does not require electricity
Durable
Feels comfortable in your hands
Very handy
Cons
Dishwasher unfriendly
Slightly expensive
May need to handle it with care
Verdict
If you choose OXO Good Grips Smooth Edge Can Opener, you have gone for something handy, easy to use and manage, with a built-in bottle cap opener and hygienically friendly.
ZYLISS Lock N' Lift Can Opener
Another one of world's best can openers you can select from is the Zyliss Lock 'n Lift manual can opener. This opener safely and efficiently opens cans of all sizes with ease.
Ergonomically designed for comfort and maximum efficiency, the Lock 'n Lift opener locks onto the side of the can to eliminate hand strain when opening. The Lock N' Lift also comes with a magnet on the front for easy lid removal. The magnet with release lever is carefully designed to lift your lid, and releases it for safe and easy disposal so hands never touch the lid.
The comfortable, soft touch grip and handle helps to eliminate hand fatigue, thus, great for arthritis patients.
Pros
Opens cans in seconds
Soft touch grip and handle
Easy to use
Valuable choice
Cons
Will have to handle it with care
Verdict
You can be assured of both ease and efficiency if you make this opener your choice. A fantastic option for weaker hands.
Swing-A-Way Easy-Crank Can Opener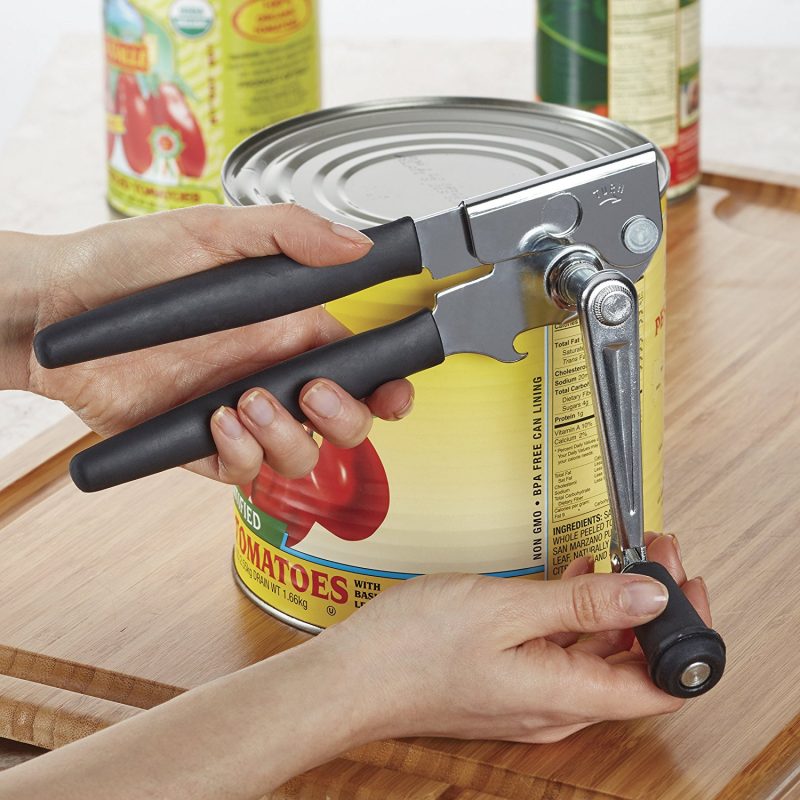 This Swing-A-Way Easy-Crank Can Opener with Folding Crank and long handles make cutting into cans efficient and easy on your hand.
The handle folds for space-saving storage. The Extra large, soft cushion-grips ensure a comfortable grip while opening various cans. A high-carbon gear-driven cutting wheel and skip-proof feed for make for smooth and easy operation.
With this opener, there will be no need to purchase a separate bottle opener, as it features an integrated bottle opener on the side – giving you two kitchen tools in one.
You can quickly and easily remove bottle caps in one swift, it comes with lifetime limited warranty and measures 10.3-inched long.
Pros
Comfortable and easy to use
Long handle
The best option for older folks –  longer handle design provides added leverage, making cranking easier and reduced hand fatigue.
Last longer than most hand help openers
Easy to clean
Very handy
Suitable for all can sizes
Cons
Verdict
Designed with a comfortable, long handle crank, this can opener is easier to operate than many traditional manual ones. With Swing-A-Way Easy-Crank Can Opener, preparing your sautees, fruit salads, and other tasty dishes will no longer a painful hassle.
Swing-A-Way Easy Crank Can Opener, 10.4 Inches, Black
DURABLE ALL-STEEL CONSTRUCTION: This can opener is one you can rely on to get through tough can tops effortlessly. The body is constructed out of extremely durable steel.
EASY TO USE WITH COMFORTABLE HANDLE: The Swing-A-Way Can Opener features an extra-long crank handle for a better grip; helping take the strain and pain from your hands when in use.
EZ Off Jar Opener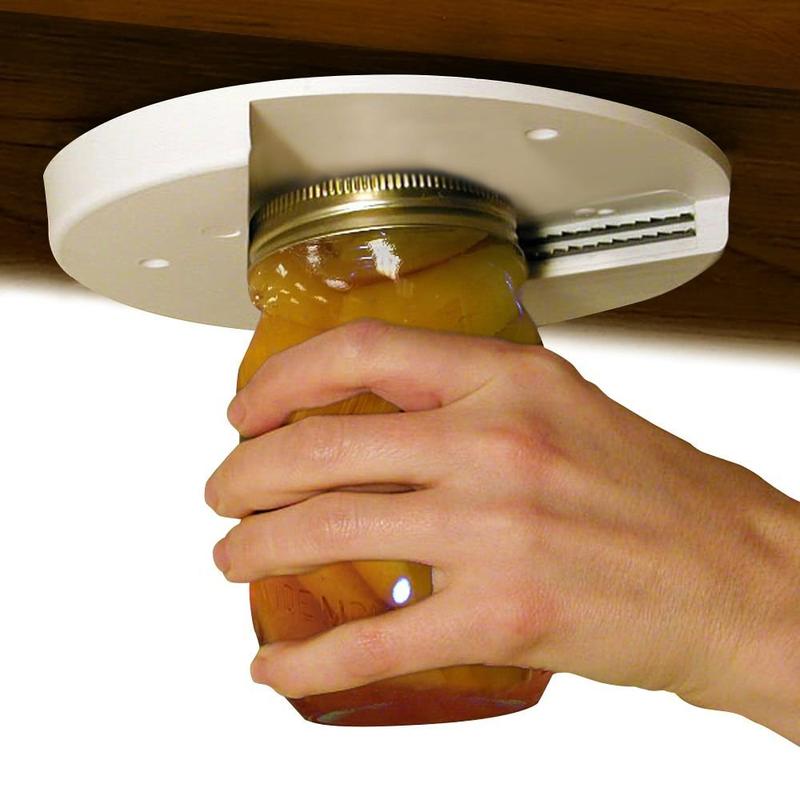 Here we have something a bit different from all the others on the list.
EZ Off Jar Opener is a very handy opener, you can easily mount underneath your cabinet and is held in place with adhesive backing (optional screws for extra strength included).
It opens lids from the smallest size to a 6″ (15.2cm) mouth jar with no greater grip than a handshake, all you need to do is to simply place jar or bottle in the unique V shape then angle and twist and the work is done.
Pros
Opens tough lids effortlessly
Opens all jar lid sizes
Very easy to install and use

Takes no valuable storage space

Perfect for anyone suffering from arthritis, carpal tunnel, and fibromyalgia
Holds the lid tight – it won't slip!
Cons
Verdict
EZ Off is perfect for your kitchen, RV, office, or second home. It easily opens kitchen jars, nail polish, and child-proofing on medicine bottles. It is a best bet and value for your money.
Sale
EZ Off - Under Cabinet Jar Opener for Seniors, Easy Grip - White
Open Any Jar with Ease: Our one-handed bottle opener makes opening even the tightest lids effortless, whether they're factory-locked, vacuum sealed, childproof, or just stuck.
Perfect Gifts for Seniors: Say goodbye to struggling with jars and hello to easy access with our jar openers. It's designed to be easy to use for those with weak hands or arthritis. A good choice as a Father's Day gift.
Also See: 2017 Top 9 Juice & Smoothie Maker Under $100
Conclusion
Whether you are a master chef or only cook once in a while, you will definitely need a can opener and purchasing it a can be much more a delicate matter than it seem or you envisaged. This is why you need to be extra careful to ensure that the opener you buy is easy to hold,  produces smooth/safe edges for your safety, and most importantly doesn't interfere with the can's contents to avoid contamination.