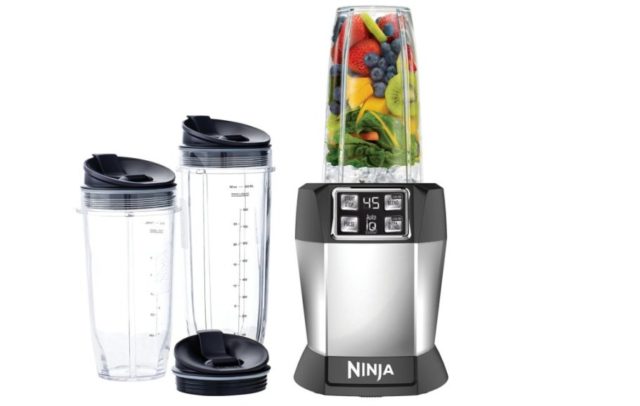 All thanks to smoothies! blenders have become an indispensable household necessity these days. All you need is to have the right ingredients with various fruits and vegetables of your choice and you will be able to churn out high quality and nutritious smoothies and juices in seconds. But making a nutritionally viable smoothie that preserves the value of its ingredients has a lot to do with the type of blender and the process involved in making the smoothie. Deciding on the most effective blender is one of the most challenging tasks since there are numerous brands in the market today, but only a few of them are worth your hard-earned money.
Getting the best blender doesn't have to break your bank which is why after careful review and testing, we have selected these best quality smoothie blenders you can get for under $100. They will give you a perfect chance to create your own smoothies every day without compromising on the quality. If you are in a hurry and don't have time to read about each of these blenders, we recommend that you get a Ninja Professional Blender (BL610) or Magic Bullet NutriBullet 12-Piece High-Speed Blender/Mixer System and you will be perfectly fine but if you've got a few minutes, you can also pick from any of the smoothie blenders below depending on your needs and budget. They are all below 100$
Best Smoothie Blenders
1. Best Blender: Ninja Professional Blender NJ600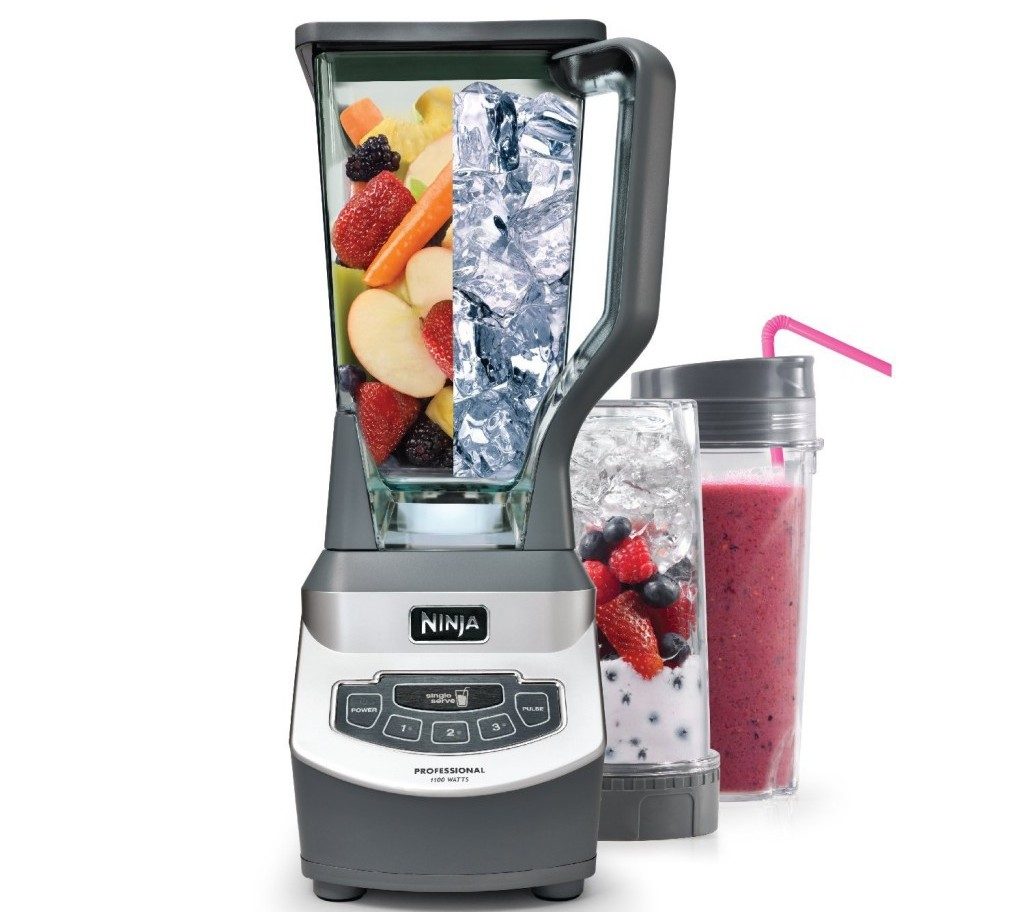 This is one of the best benders that you will find on the market today at a highly affordable price. It comes with a 1000-watt power and a sleek design to help you make your smoothies daily. It is a commercial grade blender that comes with a fully crushing technology which makes blending, processing and pureeing simple than ever before. This implies that you can crush ice, blend vegetables, fruits in seconds. It has a large 72 ounce (2 liter) blending jug meaning it is big enough to cater for the whole family all at once. One of the reasons why you should have this blender is that with it, your smoothies will not spill. This is enhanced by a perfectly shaped pouring spout which carefully distributes your drinks without spilling them. It is BPA free and dishwasher safe hence it is worth considering.
2. Magic Bullet NutriBullet 12-Piece High-Speed Blender/Mixer System
The NutriBullet Blender is that mixer that will go a long way to help you bid farewell to having chunks in your smoothie. It comes with a revolutionary system that extracts each and every nutrient from fruits and vegetables as it crushes and blends into microparticles. This enhances the delivery of a delicious and smooth drink. Are you struggling with a blender that is proving difficult to clean then it is time to say goodbye to such issues with the NutriBullet? Its ergonomic design requires minimal skills and efforts and the 600 watts powered motor easily crushes ingredients within a seconds. You can crush your frozen berries, almonds, kale, chard, and chia seeds without getting the taste of the lumps and seeds. The best thing about this blender is that it is made of stainless steel material and it is completely free of BPA. Take it from us when we say it is worth every dime of your hard-earned money. There is also a more expensive Magic Bullet NutriBullet Pro 900 Blender/Mixer (15 Piece Set) with 900 watts powered motor that uses the same technology. We didn't notice any significant difference in the smoothness of the smoothies when both were tested but the Pro 900 comes with an extra blade and smoothie holder.
3. 

Nutri Ninja Auto IQ Smoothie Maker (BL482)
One thing about this blender that confuses a lot of people is its size. Most people doubt its power by looking at its size. It is fully equipped with a 900 Watt power to easily crush your ingredients and deliver a perfect smoothie. It is simple to use and clean as well hence it will not give you a hard time keeping it in a sparkling condition after use. It typically comes with 1 Jumbo Multi-Serve 32 oz., (1) Regular 24 oz. and (1) Small 18 oz. Cup with Sip & Seal Lids that are BPA free and dishwasher safe. One of the most interesting things about this blender is that its Auto-iQ technology features timed, intelligent blending programs that makes your work easier.
The Auto IQ uses a preset feature that first pulses your smoothie ingredients, it then pauses for a moment in the process to allow the ingredients to be extracted and settle before starting a full cycle blend. Auto IQ allows you to add your ingredients, select the blending programme you want and go do other things only to come back to a perfectly blended smoothie. This is a great feature if you have a very busy lifestyle and don't have time to stand and manually blend and monitor your smoothie.
4. Cuisinart SmartPower Blender CPB-300
This is the kind of blender that makes you perfect smoothies within a short time. It features a pair of ultra-sharp stainless steel blades powered by 350 watts motor. There are several blenders with higher power but the 350 watts are not a limitation to chopping, blending, and grinding functionalities of this blender. The accents are made of stainless steel and though it is constantly exposed to water and air, it cannot rust. If therefore, you are looking for a blender for moderate use or for medium-sized family, this will get the job done.  What makes it stand out from the rest is that features a sleek touchpad that helps you to customize it according to your preferred settings. It also comes with an LED light indicator showing the speed, standby mode, auto-stop, and safety interlock features among others. It is BPA free and features four 16oz to-go cups and an 8oz chopper cup for busy smoothie drinkers.
5. KitchenAid KSB1575CU 5 Speed Blender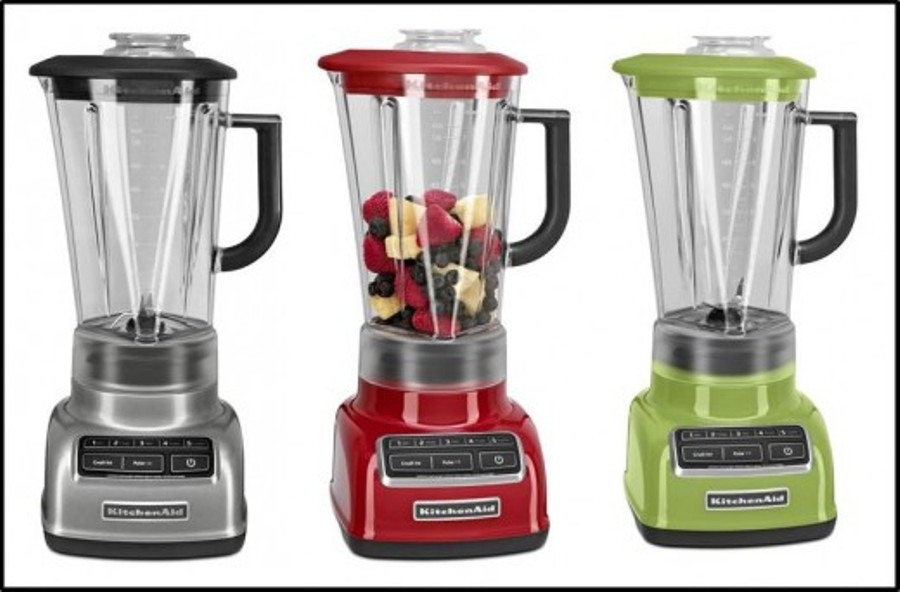 For its price, this classic blender delivers exceptional results. It is powerful enough for smooth and rapid grinding. The sweet spot is that it is equipped with Intelli-Speed Motor Control which senses contents and maintains the optimal speed needed to power through all ingredients to deliver a perfect blend. Its Pulse mode works at all speed levels for staggered blending. The BPA-Free Pitcher is dishwasher safe, shatter-, scratch- and stain-resistant with a capacity of 60-oz. The only downside is that it doesn't come with its own smoothie cups for taking your smoothie along however, you can easily get your perfect smoothie cup for less than $10 because there is no doubt you will definitely love the long term service that this blender will offer to you.
6. Oster BRLY07-B 600 Watt Blender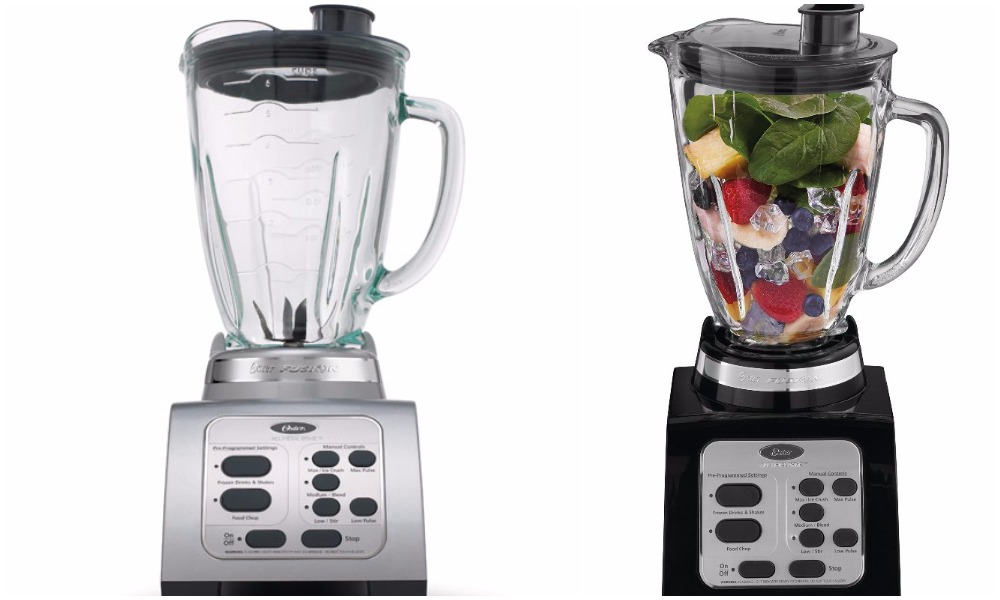 This is an interesting and highly affordable blender that you will love. It comes with an ice-crushing power blade and 600 watts motor. To customize the speed according to your desire, this blender comes with 7 digital speeds that are pre-programmed to move both clockwise and anti-clockwise to prevent clogging. This makes the blender second to none of all those that they are similar. Most other blenders that fall under the $100 category feature only 1-3 speed settings. The blending glass jug can hold up to 6-cups and is dishwasher-safe, scratch-resistant and thermal shock tested to withstand extreme temperature changes. Therefore, with this particular product, you do not need to give up quality for simplicity as it offers both but you will need to have your own cup to take your smoothie on the go since it does not come with one.
7. Oster Reverse Crush Counterforms Blender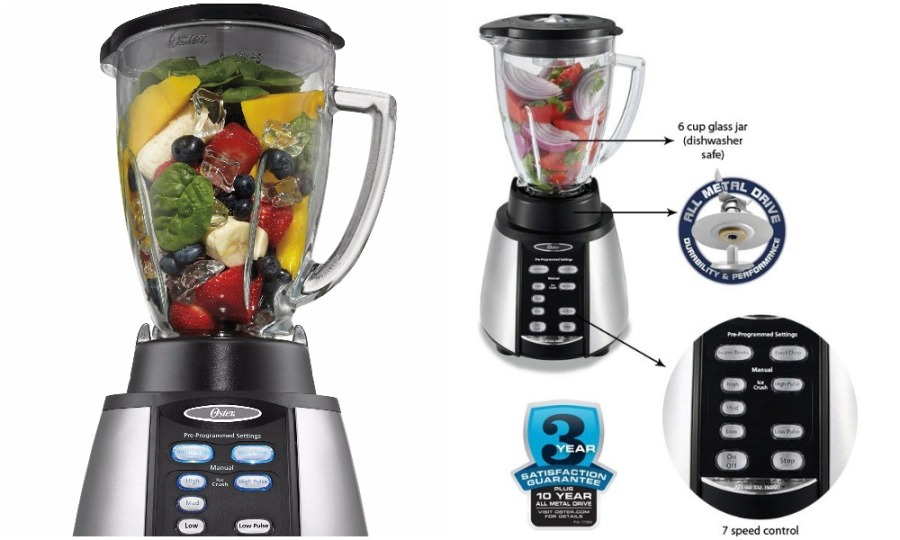 This is a blender that comes from a manufacturer who has made known his prowess in making well known and recommended kitchen appliances. It comes with a design-build that is stunning and has simple one-touch regulators that yield desired results. It also offers a range of incredible functionalities through its smart settings that are pre-programmed to eliminate any guesswork when you are operating the appliance. It comes with a base that is designed with stainless steel and low to high pulse 7-speed settings powered by a 1000 watts motor which pulverizes and chops ingredients with precision. The Dual Direction Blade Technology automatically changes the direction of the stainless steel, 6-point blade to free up itself if there is any form of jamming while blending.
8. Epica Personal Blender and Smoothie Maker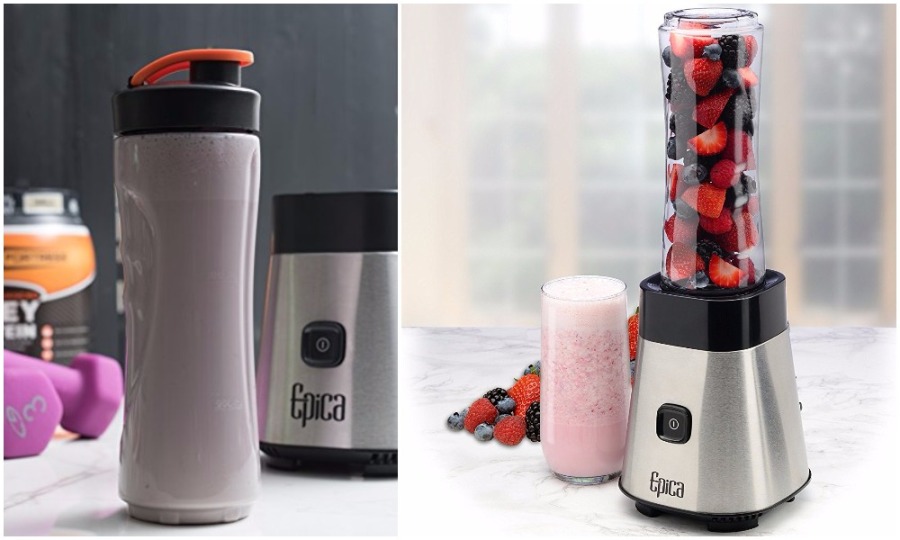 This is an amazing option if you are looking for a blender under $100. The motor is powered by 250 watts and 23,000 RPM (Revolutions Per Minute) which ensures that anything you put in your mini-blender gets well pulverized. The size of this blender is quite small and this may not be the best blender if you are blending for more than one person but what it lacks in size, it makes up for in quality and affordability. Its lightweight dishwasher safe mug comes with a lid that is sealable and can comfortably so, you should not mind about the mug spilling the drink in your car or bag if you decide to take it on the go.
9. MIRONI Personal Blender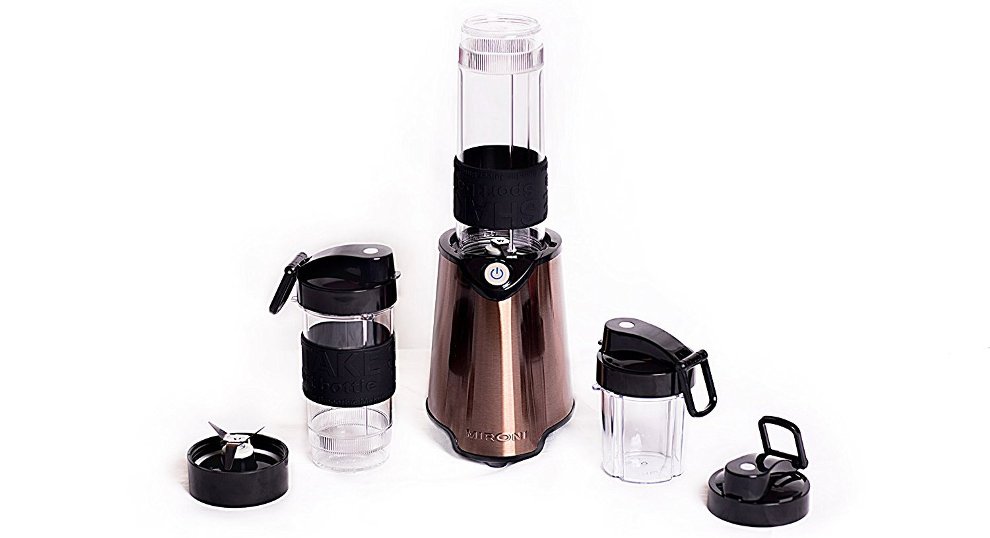 Mironi Personal Blender has amazing features and technology to help you with your smoothies at home. It is one of the kitchen appliances that you should not lack at your home. It comes in four unique colors just to give you options to choose from. The motor is driven by 500 watts of power. It comes with 600ml/ 20 Oz and 400ml/ 13.5 Oz bottles which you can also carry on the go; in addition to 250ml grinding bottle equipped with grinding blade.