Being a mother can be hard work, but getting your hands on the best breast pumps in the market can make some aspects of your life easier. Breast pumps are more than just an addition to your mom paraphernalia – no, it's a necessity.
The simple truth is this – getting a good and superior breast pump will make your life easier as a new mom, and actually help so much more than you can imagine.
So the big question is, which breast pump is the best? The answer to that is a little complicated.
For working mothers, the Medela Pump In Style double-electric pump is generally considered the best option. However, the best portable breast pump is the Freemie Freedom Breast Pump.
The Medela Harmony Breast Pump is the best manual breast pump in the market, according to popular consensus. And when we talk numbers, the best breast pump for affordability is the Lansinoh Affinity Breast Pump.
The most comfortable breast pump goes to Dr. Brown's Simplisse Double Electric Breast Pump, while the Philips Avent Comfort Breast Pump is the most convenient breast pump in the market.
Finally, the best Hospital grade breast pump is the Ameda Elite Breast Pump.
If we're still on the same page, you might want to scroll further down on this review to find which other breast pumps make the cut for the best breast pumps list.
Table of Content – Best Breast Pumps For The New Mom

Why You Should Trust Us
There are many reasons why you should trust our reviews.
Understandably, you will be cautious with all the fake review websites out there but the quality of what you get here should be a testament to our authenticity.
An easy way to spot an unreal review website is in the tone of the content. If it lacks that personal touch and seems to just be parroting things you can easily find online, then yes, the chances of their legitimacy is considerably low.
The truth though, is that while there are a lot fake review websites out there, there are also a lot of valid review websites out there.
Here, we spent days researching and reviewing the items on this list to ensure that every product we endorse is one of the very best available.
We believe in delivering high-quality standard – in both the products we review and also in the quality of work we produce.
Also, you can be assured that this is not a sponsored post. That's true; we're not getting any benefits from the brand names you'll find here. For this reason alone, we come at the reviews with clarity and objectivity.
Besides, we're in a unique position to bring you some brand names which you probably have never heard of which will provide better quality service than brand names you're familiar with.
Why?
Because we are good at what we do.
And to be honest, the primary benefit we get is just the assurance of knowing that you are in safe hands, with us.
Since you're still reading, we'll take this a good sign to go ahead and list the products we think are the best breast pumps in the market.
Best Breast Pumps For A New Mom
Medela Pump In Style Double Electric Breast Pump
This breast pump from Medela is a prime option for everyday use.
Since it is electric, you have the option to either plug it on or use batteries when operating it.
This electric breast pump comes with a 2-Phase Expression technology that allows the mother to rake up a lot of milk in limited time. This is why it is primarily the best option for working mothers or mothers on a limited time schedule.
Your best option would be the Metro Bag version.
With the Metro bag Version, this pump can be taken out of the bag giving different options on how to carry the pump and also where to pump.
Type
Pros
Cons
Dr. Brown's Simplisse Double Electric Breast Pump
With this, you don't have to worry about discomfort. At all.
After extensive research, we concluded that Dr. Brown's Double Electric Pump is the most comfortable breast pump, which is really the best news you want to hear when you're a nursing mother.
This breast pump was designed to enable the pumping experience feel more natural and less technical.
Dr. Brown's Double Electric Breast Pump comes with soft breast cups that literally move to mimic the tongue motions of a baby.
Yeah, we agree – it's a little…interesting. However, it gets the job done.
The Simplisse technology doesn't pull, pinch or tug as much as most of the breast pumps in the market, which is what many are going for. Thankfully.
While it is not the cheapest breast pump out there, it is also not the most expensive…so that's a plus.
Type
Pros
Cons:
Might not rake up a lot of milk in record time, compared to other breast pumps.
Check Price

Spectra Baby USA S1 Single/Double Breast Pump
This is a hospital grade breast pump that not only has the ability to customize but is also affordable for a hospital grade breast pump.
The suction is comfortable which is quite a blessing, to be honest.
Its massage feature is a necessity that makes the cost worth it.
It is good for everyday use thanks to its durability.
The Spectra Baby USA S1 Single/Double Breast Pump is also a prime choice if you have any issues with producing milk.
It is also lightweight which is not common when you talk about hospital grade breast pumps.
Type
Pros
Closed system is hygienic
Quiet
Built in timer that shuts after 30 minutes
Suction control
Speed control
Massage feature
Affordable
Cons
Takes long to charge after initial turn on
Does not come with a carrying case
Ameda Elite Breast Pumps Review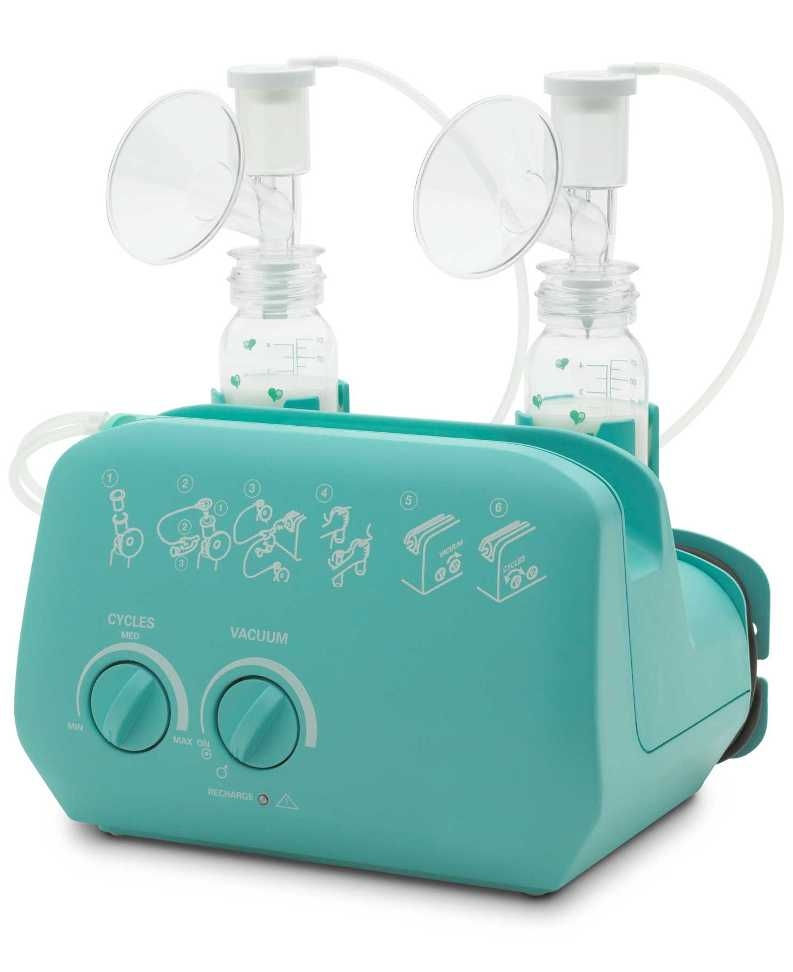 We labeled this the best hospital grade breast Pump for good reason.
The Ameda Elite Breast Pump is a high-quality breast pump that comes at an affordable price as it helps in increasing your milk supply.
It is also a good backup option if you want multiples.
Considering its bulkiness, you should get it if you won't need a breast pump that you have to carry up and down.
It is efficient, lightweight and quiet. What could be better than that?
Type
Pros
Cons

Philips Avent Comfort Breast Pump Review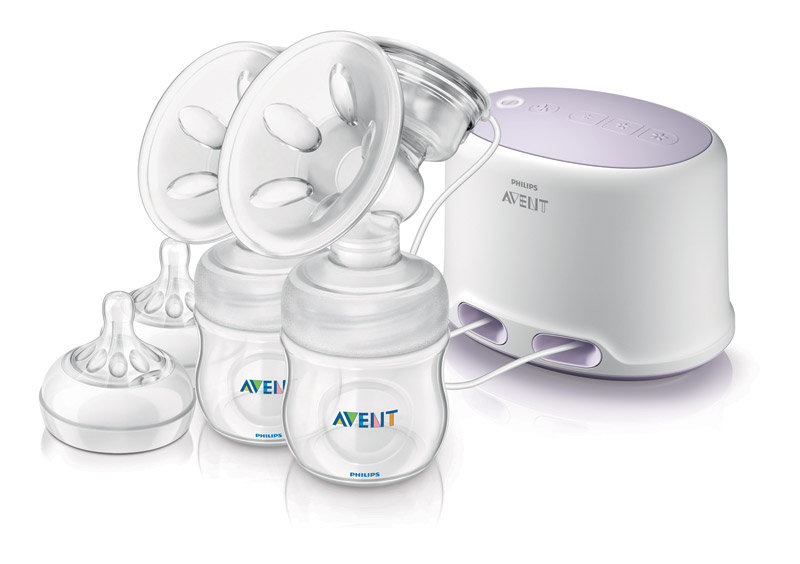 This pump was literally built for comfort.
This is why we awarded it the most convenient breast pump.
Besides being small and light, the Philips Avent Comfort Breast Pump is quite a unique piece.
It was designed for ease, which is why the neck is angled in a position that allows the mother to sit and pump comfortably.
It isn't just about the mother's comfort but the baby's as well. Its bottle and nipples are designed to mimic that of the mother's. This is to enable baby to switch back and forth with ease.
Type 
Pros
Small
Light
Comfortable
Easy cleaning
Quiet
Cons:
Hard to assemble
Needs new Avent bottles to work
Medela Harmony Breast Pump Review
If you're considering getting a manual breast pump, then the Medela Harmony Breast Pump is the best option.
Even if you have an electric pump, this is a good back up.
Maybe you're not planning to pump milk often and need one sufficient for a once in a while use that is cost effective – then this is the right option for you.
The Medela Harmony Breast Pump is actually one of Medela's highest selling breast pumps.
To start with, it comes with a stand that helps prevent spills. With its 2-phase Expression technology, you can produce a large amount of milk within a limited time.
It also mimics the breastfeeding progression with a faster beginning and continual loss of speed from the middle to the end.
Not bad for its price, right?
Type
Pros
Cons:
Rubber parts aren't so strong
Manual

Freemie Freedom Breast Pump Review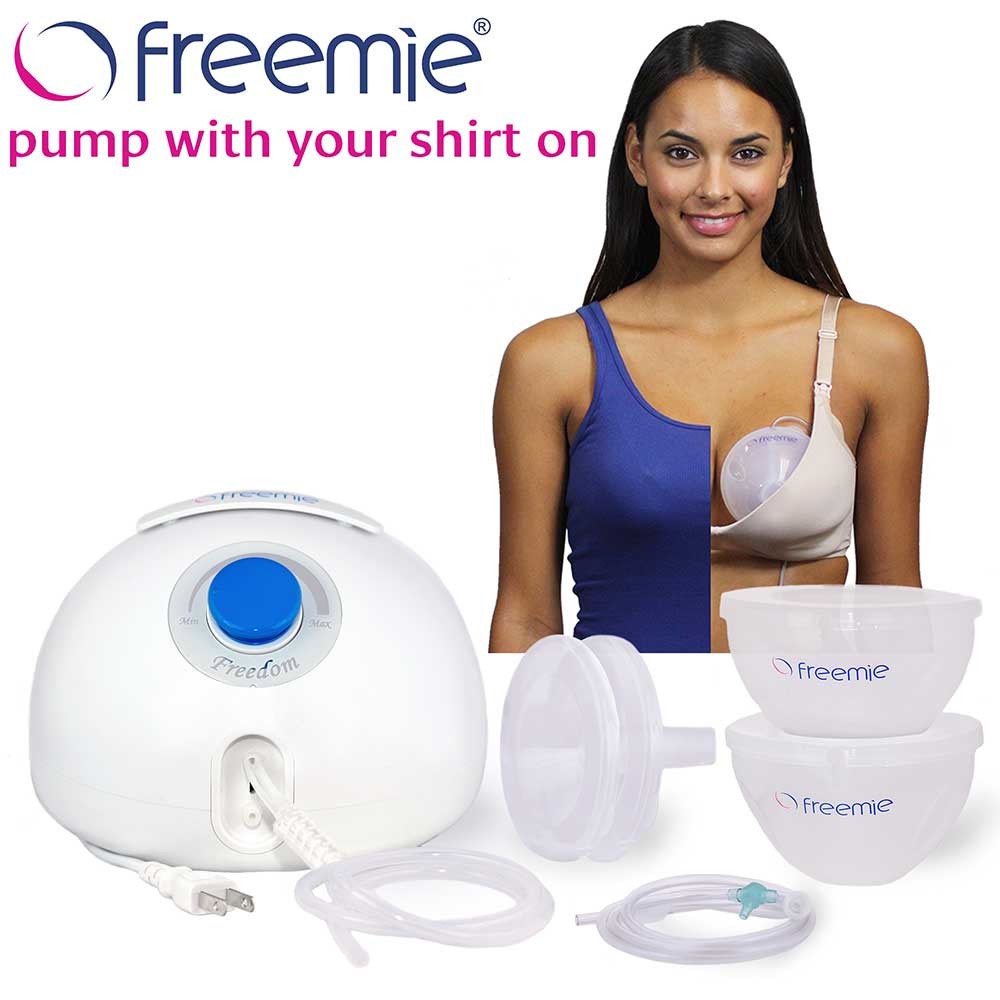 I have to start with the coolest part of this breast pump – not only is it handsfree, it also allows you pump without having to take off your shirt.
All you have to do is slip the cups under your bra and then connect it to the breast pump and start pumping – that's it.
Isn't that cool?
The Freemie cups are not only compatible with the Freemie pump but with the Philips Avent pump, Ameda pump and the Medela pump as well.
Type:
Pros:
Ameda Purely Yours Ultra Double Electric Breast Pump
This is one of the superior pumps out there.
Not only is it quiet, it is also light weight. It comes with a cooler and an ice pack and six storage bottles.
This set also a good option for its price range.
It has an uncommon feature – you can customize the flange size instead of handing to get different sizes, which is what you see with most pumps.
Besides that, you can control the suction and the speed.
But I think the coolest quality has to be the fact the you can plug it in and use battery or even your car adapter to charge it.
That's pretty awesome.
Type
Pros
Good for everyday use
Cost
Cons
Lansinoh Affinity Breast Pump Review
What is most appealing about the Lansinoh Affinity Breast pump is the fact that you can still get all the bells and whistles that come with the higher priced breast pumps.
Is it double electric? Yes.
It also comes with the option of plugging it in or using batteries, if you prefer.
It not only comes with suction setting but it also comes with adjustable speed as well.
The Lansinoh Affinity Breast Pumps also has flexible flanges which aid comfort.
Type
Pros
Cost Effective
Adjustable speed
Suction settings
Cons
No products found.
Medela Swing Breast Pump Review
The Medela swing Breast Pump comes with optional additional accessories.
It is a single electric breast pump best used for occasional pumping.
Of its many qualities, the fact that it is light, portable and easy to carry around is probably its best.
It is cost friendly and convenient.
The suction is quite strong, despite its size, thanks to its 2 phase expression technology.
However, because it is a single electric pump, it is not as durable as the double electric breast pumps.
Type
Pros
Cons
Types of Breast Pump
There are basically four types of breast pumps and you need to know about them if you're going to be expressing milk.
No pressure, honestly. But it is very helpful to have this information handy.
So I'll start with the Hospital Grade Breast pumps.
These little gems are the most efficient breast pumps.
They are of the highest quality and were designed for different uses.
The hospital grade breast pumps are intended for mothers who have a little trouble breastfeeding after birth.
If your milk flow is not enough, these hospital grade pumps mimic a baby sucking so this affects and improves the breast milk's flow.
They are also the best choice for mothers with twins since they are double kit pumps. Double kit pumps express milk from both breasts at the same time.
While they are a little expensive, if you can afford – be sure to make this your first choice as it the most efficient of breast pumps, and the easiest to use as well.
If cost is a main concern, be sure to check out the next category of breast pumps

Manual Breast Pumps
These are the cheapest kinds of breast pumps and are intended for mothers who prioritize comfort and control the supply of their milk – especially if they pump excess breast milk.
Being the lightweight that they are, they don't take up much space.
It is also the best option for infrequent pumpers who need a backup option.
While they are a lot cheaper, they come at the cost of having to do the work by hand.
It is also slower and a lot less convenient.
It is a shame that they do not mimic breast feeding but they are your best choice if price is a concern.
They are silent, which is a plus, especially when in public but they do require both hands and a lot of your attention.
There are also one hand models available.
Because of their size and weight, they are easy to carry about which makes for convenient use.
Mid Range Electric Breast Pumps
These are faster than manual breast pumps.
They are also a good choice because they are affordable and they leave your hands free to do other things.
Mid range electric pumps are the best for mothers who do not express milk often and would rather not do it manually.
Their cyclic rate is low as they are designed for one breast – thus making them slower than the double breast pumps.
But they are lightweight and portable (although not as portable as manual) which is a plus.
They are among the most common choices of breast pumps out there, so you know you get value and efficiency – albeit a little slow.
High Range Electric Breast Pumps
The High range breast pumps, several of which were mentioned above, are for women who have to express milk multiple times a day.
That is why they do well with mothers who have to go back to work or mothers who have to be away from their kids for longer periods.
They come with an impressive cyclic rate and the breast pumps also posses a double kit, which makes pumping more efficient.
A lot of them also come with speed and suction controls which is very helpful – especially the speed option when you have to milk in a public place or at work.
Thanks to their portability; a lot of people tend to favor them over hospital grade pumps.
While they are faster and the handsfree models are quite convenient, one of the best features is that some of the high range electric breast pumps are capable of mimicking breastfeeding in order to encourage milk expression.
These are more expensive than manual pumps but they are also more effective.
They only work with either power or batteries, so you don't want to find yourself without one.
Not all of them are quiet though and if you plan to use these breast pumps only once in a while, then getting the high range breast pump might be considered a bit excessive.
Benefits of Pumping Breast Milk
There are many reason why women choose to pump breast milk.
It varies from woman to woman but there's no denying that pumping breast milk has a lot of privileges.
To start with – it is a godsend for working mothers.
If you're a working mother or find yourself spending a lot of time away from your baby – then this is what you need.
You can just pump milk and store it to be used later to feed your child by the nanny (if that's case).
It is time efficient.
You don't have to always be present during feeding time – with the help of your husband, nanny, siblings, parents, friends, whoever, you could take a break or run errands while your child is being fed.
They help stimulate milk supply.
This really helps when your milk production is a little on the low side.
This is actually recommended by doctors.
And it helps mothers with premature babies or babies who find it difficult to latch.
It also helps to relieve pain if you have engorged, painful breasts.
Pumping of breast milk is perhaps most useful when you want stop breast feeding.
Reasons for stopping breastfeeding vary and pumping of breast milk is very helpful here. As you can just pump the breast milk and feed your child, instead of actually breastfeeding.
Obviously, we could go on and on about the benefits of pumping breast milk but yeah, we'll stop right here.
How To Express More Milk (Helpful Tips)
If you're not expressing as much milk as you think you should, there's no need to worry – many women go through this.
The good news is that there are a bunch of things you can do to increase your production.
Will this be the perfect solution that you're looking for? Probably not.
But they will help immensely.
For starters, you can try taking a supplement.
Recommendation: Motherlove More MilkPlus. I've read this is a good one which has been very helpful to a lot of mothers.
Increase your water intake, this will no doubt help in expressing milk.
Massaging your breasts with coconut oil, many women have testified to this method. To be honest, coconut oil seems to be the cure for everything.
Make use of the double pump feature on your breast pump, if it has it.
Eat Healthy (this always seems to be the solution to everything, doesn't it?).
Maintaining a balanced diet with enough oats, vegetables and protein definitely helps with the production of milk.
Speaking of things to eat, you should definitely give granola bars a shot.
One more thing, it is important to relax.
If you're in-tune with your body, then you'll know stress plays a big part in a lot of your bodily functions including hindering the supply of breast milk.
So it is important to get as much downtime as possible.
Summary
There are many reasons why women purchase different breast pumps.
They vary from women to women but as we have illustrated above, there's so much to a breast pump – categories, types, sizes, reasons for choosing one, pros and cons.
But if you're going to buy any, you should probably go for the high quality ones, as they serve better.
A breast pump is more than just a 'mom accessory', it is what some might refer to as a life saver.