Best walking shoes for men and women will help you get fit, lose weight, and look great but these are not the only factors to be considered when buying one.
To be honest, the truth about walking shoes whether for men or women is that basically, any well-made shoe will do just fine for your occasional walking activity. The complexity in picking out the best walking shoes will see a number of factors put into considerations.
Factors regarding how long you intend to wear these shoes, distance regularly covered, surfaces you walk on, and maximum comfort are what sets various shoe types and brands apart.
A good pick would be the Fresh Foam 1080v7 FOR MEN and FOR WOMEN by New Balance, which takes comfort to the next level; with its extra cushioning.
LIST OF THE BEST WALKING SHOES AVAILABLE TODAY
New Balance Fresh Foam 1080v7 – For Men & Women
Adidas Ultra Boost ST Shoes – For Men
Adidas Ultra Boost Uncaged Shoes – For Women
Nike Dual Fusion X 2 – For Men
Nike Roshe Two Flyknit – For Women
Puma Pulse XT – For Men
Puma Cell Riaze Heather Training Shoes – For Women
Skechers Go Flex Walk – For Men
Skechers Go Flex Walk – For Women
Reebok Walk Ultra V DMX Max 4E – For Men
Reebok Cloudride DMX – For Women
Asics Gel-Foundation Walker 3 – For Men & Women
Brooks Men's Addiction Walker
Brooks Women's Dyad Walker
Best Walking Shoes By New Balance
For Men & Women: NEW BALANCE FRESH FOAM 1080v7
New Balance has a new fresh foam out in stores, the Fresh Foam 1080v7 takes cushioning to the next level like nothing else. To help maximize comfort, there are additional data points which help the plush and ensures a stable ride. There is also a groove design on the outsole which is not just flexible but helps you move freely.
See Also: 10 Best Running Shoes For Men For Stability and Cushioning
The New Balance Fresh Foam 1080v7 delivers a secure fit perfectly made for performance, thanks to the bootie construction and engineered mesh upper with no-sew application. Furthermore, there is so much room to let your feet move naturally and a molded foam collar that gives your ankle the support needed and comfort that lasts hour after hour.
Features
Blown rubber outsole.
No-sew material application.
Bootie construction with external midfoot overlays
Foam collar helps support the ankle.
Outsole flex grooves and engineered mesh are designed from real data to help you move freely.
A soft Fresh Foam midsole cushions each step, and a roomy toe box allows for more natural movement.
NEW BALANCE FRESH FOAM 1080v7 Walking Shoes For Men
No products found.
NEW BALANCE FRESH FOAM 1080v7 Walking Shoes For Women
No products found.
Best Walking Shoes By Adidas
For Men: ADIDAS ULTRA BOOST ST SHOES
The Adidas Ultraboost ST Shoes offer optimal stability with every step you take in them. When walking with these shoes, it feels like hardly any energy is being used. The Adidas Ultraboost ST Shoes comes with a plush boost midsole that makes every step stress free. Thanks to its design, the shoes push you forward making it easier to build speed or cover a longer distance at a reduced time.
A lightweight, adaptive Adidas Primeknit upper and ergonomic heel give you support right where you need it. Furthermore, it has a Stretch-Web outsole that provides a smooth, stable heel-to-toe transition.
Features:
Adidas Primeknit upper wraps the foot in adaptive support and ultralight comfort.
The Boost cushioning is very responsive, for every step you take, the energy sent out is somewhat amplified to push you further.
For stability while you walk, there is a TORSION SYSTEM between the heel and forefoot.
It has an Ergonomic heel structure for added support.
Stays firm and confident in various environmental conditions (Wet or Dry), thanks to its rubber outsole which offers an extraordinary grip.
Thanks to its STRETCHWEB technology, the rubber outsole loosens the underfoot for an energized ride.
For Women: ADIDAS ULTRABOOST UNCAGED SHOES
The women's Adidas Ultraboost Uncaged shoes is Responsive, supportive and flexible. It charges every step with endless energy. The shoes have a full-length boost midsole that works with the STRETCHWEB outsole to preserve and release energy with every step so you can go further with less fatigue.
TORSION SYSTEM in the midfoot pairs with the sock-like fit of the Adidas Primeknit upper to support your foot's natural flex from heel to toe. It is also fitted with a Continental Rubber outsole that provides traction in all conditions.
Features:
You are guaranteed to have an endless supply of fast energy, thanks to its boost energy-returning properties.
The STRETCHWEB rubber outsole in the Adidas Ultraboost Uncaged shoes are lightweight and elastic, they easily adapt to the ground for stability.
To help reduce irritation and for a more comfortable fit, the Adidas Primeknit is carefully engineered to naturally expand with your foot while you walk.
The TORSION SYSTEM offers some sort of midfoot reliability.
For added stability around the heel, there is a FITFRAME 3D-molded TPU that makes walking smooth.
Regardless of the external condition (wet or dry), the continental rubber outsole offers an extraordinary grip.
Best Walking Shoes By Nike
For Men: NIKE DUAL FUSION X 2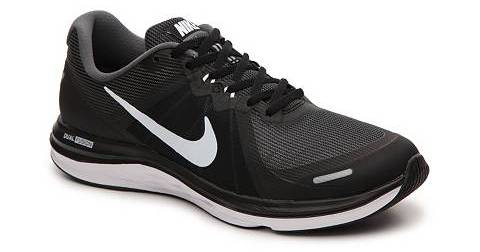 The Nike Dual Fusion X 2 Men's Shoe features a Phylon foam midsole with two densities for cushioned support over any distance. Its breathable mesh upper with no-sew overlays has Flywire cables for dynamic lock down.
Features:
Dual-density Phylon foam for soft yet supportive cushioning.
Flywire cables provide strong midfoot lockdown.
To aid a smooth transition, the outsole has been Pressure-mapped.
A natural range of motion is supported by the Molded flex grooves.
There are some reflective details which stand out in low light.
For Women: NIKE ROSHE TWO FLYKNIT
The aim with the Nike Roshe was to eliminate the complexity found in other shoes, and it has done just that by having simplicity right at the forefront. The story behind the creation of the shoes was said to have been inspired by the practice of meditation and the concept of Zen.
See Also: 12 Best Shoes For Basketball For Outdoor Performance
To add to that, it comes with three layers of cushioning and features breathable Nike Flyknit material for soft comfort.
Features:
SUPPORTIVE FIT: Woven Flyknit yarns integrate areas breathability, stretch and support where you need it most for a snug, adaptive fit.
SOFT FEEL: The newly improved midsole features three layers of foam for an added soft cushioning.
Under Foot Comfort: For enhanced underfoot comfort, the sock liner is made of slow-recovery foam.
Inner Sleeve construction delivers a snug, comfortable fit.
There is a soft, flexible feel provided by the stretchy upper.
Extra cushioning is provided by a Padded collar.
There are moulded traction patterns for increased flexibility and durability.
For reduced weight, there have been some visible outsole cut-outs.
Best Walking Shoes By Puma
For Men: PUMA PULSE XT MEN'S TRAINING SHOES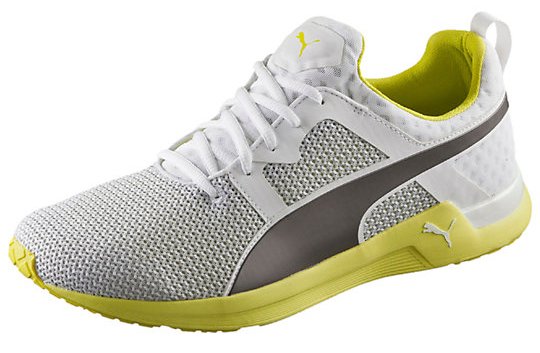 The Puma Pulse XT is a lightweight training shoe, it is geared up with a bold dynamic design that's fast, flexible and ready to really push limits while keeping you cool. It is the perfect fit for all sorts of workout activities. You could use them both indoor on a treadmill or outdoor for long walks.
From the upper to the midsole, the Puma Pulse has focused on comfort and breathability. It features an ariaprene bootie construction which gives them exceptional breathability while in motion.
Features:
Taking breathability and style a notch higher, they feature a mesh upper with synthetic overlays.
For a snug fit, they've gone with the option of a lace closure.
They feature an ariaprene bootie construction for outstanding breathability, comfort, and fit.
For optimal cushioning and smooth ride, they have been made lightweight by the injection molded EVA.
For Women: CELL RIAZE HEATHER WOMEN'S TRAINING SHOES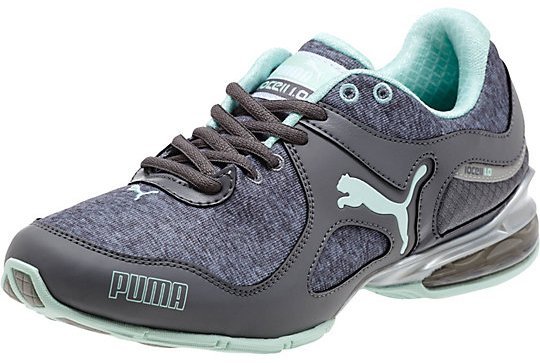 The Cell Riaze Heather Training Shoe is stylish, well-cushioned, and built for a woman. This is the kind of shoe every lady would love to step out in for that walk or that gym session.
A heathery fabric upper keeps the Riaze breathable; while for comfort and shock absorption, a heel cushioning unit has been added.
Features:
They come fitted with soft heathery fabric upper with bonded synthetic overlays.
For optimum fit and comfort, they have been fitted with breathable Eco Ortho Lite sock liner.
Some additional cushioning unit has been added to the heel and some cushioned, bubble technology added midsole for optimum comfort.
Rubber outsole for grip.
Best Walking Shoes By Skechers
For Men: SKECHERS GO FLEX WALK
The Skechers GO FLEX Walk is the shoe that moves with you. It combines mesh fabric and synthetic upper with articulated, segmented flexible sole design. It is designed with Skechers Performance technology and materials specifically for athletic walking, it also comes with the Goga Max Technology insole with high-rebound cushioning.
Features:
Go Flex™ articulated segmented sole design provides anatomically correct ultra flexibility.
Resalyte sole: A proprietary lightweight injection-molded compound with memory retention helps absorb impact.
Goga Max: The Goga Max technology used for the insole provides maximum support and cushioning.
They have a very responsive feedback and high-rebound cushioning.
Combines a proprietary 'SQUISH' component with an exclusive Resalyte material.
For a snug fit, they come with dual side elastic panels.
Stability and durability are provided via its flexible rubber sole.
Soft herringbone textured upper fabric.
The side panels are made of a smooth microperforated synthetic material.
The toe overlay is 3D printed.
They provide a quick-fit portal for easy wear and pull on.
For added support, the top sole layer has been given a Stabilizing fit.
For Women: SKECHERS GO FLEX WALK
Skechers GO FLEX Walk for women is knitted with articulated, segmented flexible sole design. It is designed with Skechers Performance technology and materials specifically for athletic walking, not forgetting its Goga Mat Technology insole with high-rebound cushioning.
Features:
Go Flex: Its Articulated segmented sole design provides anatomically correct ultra flexibility.
Resalyte sole: A proprietary lightweight injection-molded compound with memory retention helps absorb impact.
It features high-rebound cushioning with responsive feedback.
Memory Form: For a custom fit, the shoes have been inlaid with memory foam padding around the heel.
A flexible rubber sole provides durability and stability.
Best Walking Shoes By Reebok
REEBOK WALK ULTRA V DMX MAX 4E WALKING SHES FOR MEN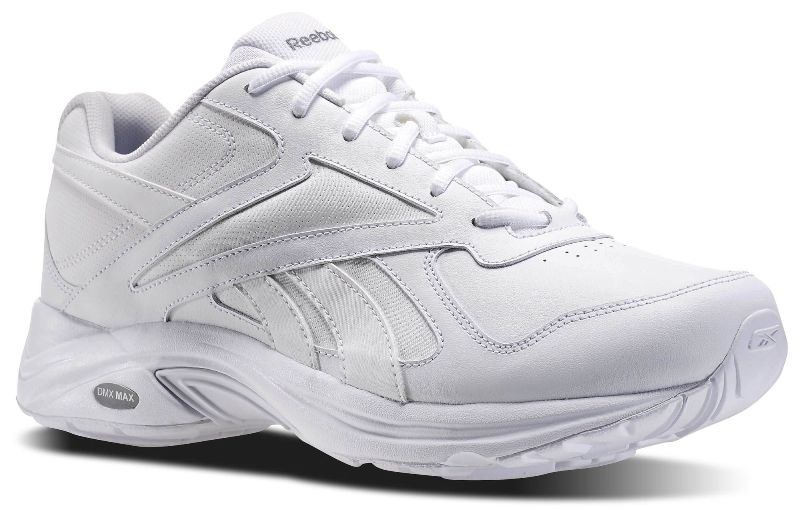 The Reebok Walk Ultra V DMX Max 4E has a specially designed transition bridge that provides a smooth and seamless feel from heel impact to toe-off, while the underfoot flexibility lets your stride flex naturally. Walk in true comfort with Walk Ultra. The DMX Air technology used transfers air with your weight in the right place cushion.
Features:
The upper has been fit with Leather, offering a soft and comfortable feel with added durability.
For better mobility, they have gone with a low-cut design.
Molded sock liner for more comfort from the very first step.
Regardless of your body condition, even when you are busting out with sweat, its Speedwick technology whisks sweat away from the body keeping you dry.
 A transition Bridge for a smooth heel-to-toe feel.
Forefoot flex grooves let the toes splay naturally for better grip.
REEBOK CLOUDRIDE DMX WALKING SHOES FOR WOMEN
Reebok Cloudride DMX introduces a new innovation in walking comfort. They've revolutionized their unique DMX technology to deliver even greater cushioning and flexibility.
Even when walking fast, enjoy the comfort and in-ear security you get, thanks to the addition of a moving air component. For added comfort, they have a special Memory-Tech massage sock liner for. Unlike none other, the CloudRide DMX delivers one of the best feel, comfort and long-lasting solution for your every step.
Features:
DMX moving air component transfers air underfoot for cushioning that adapts to your stride.
Cushioning is provided with its Memory-Tech Massage sock liner.
The padding and internal half-bootie design has been given an extra boost which offers a locked-in heel fit and added comfort.
DMX Flex rubber outsole for flexibility with a patterned tread engineered for traction.
For a breathable yet durable result, an athletic mesh and ripstop material has been used.
For a soft and supportive shock absorption, a VHR foam has been used midsole.
Best Walking Shoes By Asics
Walking Shoes For Men And Women: ASICS GEL-FOUNDATION WALKER 3
With the update of the GEL-Foundation Walker 3, Asics has taken its walking shoes to the next level. As part of its Maximum Support series; DuoMax and Trusstic technologies have been used to provide stability and advanced support.
The upper has been fitted with a combination of both natural and synthetic leather which provides a soft feel ideal for supporting the foot.
Features:
Duomax Support System: With the aim of increasing stability and support, a dual density midsole system is used.
It features a spevamidsole material which gives an added bounce back feel and decreases breakdown in midsole.
Ortholite Sockliner for Moisture management (Ortholite is a registered trademark of ATP Manufacturing LLC).
A personal heel fit collar lining consisting of 2 layers of memory foam line the collar and mold to the athlete's heel.
Durability: A trusstic system technology has been used which reduces the weight of the sole while retaining the structural firmness of the shoe.
ASICS GEL-FOUNDATION WALKER 3 FOR MEN
ASICS GEL-FOUNDATION WALKER 3 FOR WOMEN
Best Walking Shoes By Brooks
For Men: BROOKS MEN'S ADDICTION WALKER
Brooks Men's Addiction Walker is the perfect fit and feel of a running shoe in a casual everyday walker.
Features:
Comes with durable, energy-returning MoGo midsole cushioning.
The upper has been fitted with full-grain leather.
They offer strong support and reliable slip-resistant thanks to its outsole.
This shoe provides sturdy support mile after mile by supporting low arches and keeping pronation under control.
Brooks Mens Addiction Walker Walking Shoe - Brown - B - 7.0
SHOE SIZE: "D" = Medium width, "EE" = Wide width, "B" = Narrow width, "EEEE" = Extra wide width
MAXIMUM SUPPORT: Our Extended Progressive Diagonal Rollbar strategically supports your arch to guide and keep your body in its natural path of motion.
Walking Shoes For Women: BROOKS WOMEN'S DYAD WALKER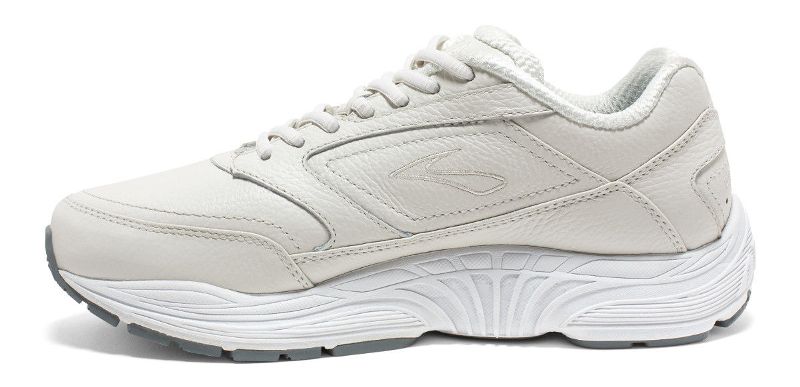 The Brooks women's Dyad walking shoes use a supportive yet neutral platform plus super soft cushioning. The Dyad stable technology offers smooth, stable comfort for long days on your feet. Leather uppers and slip-resistant outsoles add extra durability.
Features:
Biomogo DNA Midsole Cushioning dynamically adapts to every step and stride.
Dual Stability Arch PODS provide extra support during side-to-side motion.
 Conclusion
In conclusion, one of the major mistakes people make when shopping for the best walking shoes online has to do with "size". It is important to keep a keen eye on the type of shoe you are buying; mostly with regards to the specific gender a particular shoe has been made for. There are usually slight differences as regards to the size of shoes made for men and women (Male sizes are usually slightly bigger than that of females).
Furthermore, when it comes to walking shoes, though the big names go over and beyond the regular to deliver the best; things like breathability, cushioning and lightweight construction should be at the top of your list.