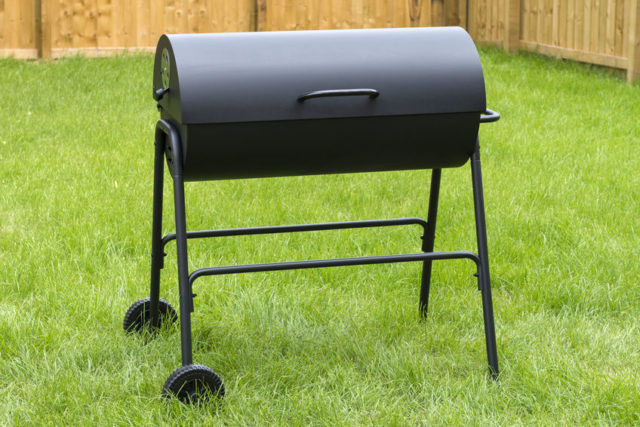 We can't think of anything more uniquely tasty than an expertly grilled meal and juicy barbecue with a down-home smoke flavor. The sweet smell alone is enough to make you forget your lazy days in the beach and probably want to live in the sun for the rest of your life. The reason is not far-fetched; the best barbecues come from nowhere else other than the aromatic fumes of gradually burning hardwood. However, if you have been missing out on this treat, it's not that hard. You only need the right recipe and one of the best charcoal grills. Yes, the questions; what kind of meat to use or what to have on the menu are just as important as the type of grill to be used.
Since charcoal grills play a huge role in the outcome of barbecues, we carried out a broad-based research to find out the best charcoal grill that would impress both a pro and a novice barbecue devotee. And while undergoing the process, we considered all elements or aspects usually held highly in every great grill such as durability, charcoal consumption, maintenance and cleanup, prices, ease of maneuvering, size of the total cooking area, heat conductibility, temperature regulations, tendency of scorching or burning food, appearance, speed of cooking and more.
Having weighed all these factors, we drew the inference that Weber 741001 Original Kettle 22-Inch Charcoal Grill is the king of all charcoal grills. The grill is highly functional and can cook up a storm. It is durable, portable, backyard friendly and more. Nonetheless, if its round design is not something that suits your taste in a charcoal grill, you could go for Kingsford GR1031-014984 Barrel Charcoal Grill, 30-Inch or Char-Griller 5050 Duo Gas-and-Charcoal Grill or any other one on this list that has been tested and is sure to stand the test of time.
Why You Should Trust Us
Our research is one to rely upon given the quality of time we take to study the products. In this very research, chains of factors were put in play such as the longevity and effectiveness of the grills. Also, we clearly understand for a fact what to look out for in a charcoal grill and what shouldn't really matter and then considered as many as 45 charcoal grills before selecting these twelve as the best.
Again, knowing that this research wouldn't be complete without the knowledge of some experts, we posed some important questions to some professionals who have shown great brainpower in rating effective charcoal grills. Beyond that, we considered what people who had bought and used these grills had to say about all the samples before picking out those with great positive feedbacks that surely work precisely without mixing the taste. This is especially because no outdoor food should taste exactly like indoor food.
Best Charcoal Grills
Weber 15501001 Performer Deluxe Charcoal Grill, 22-Inch, Black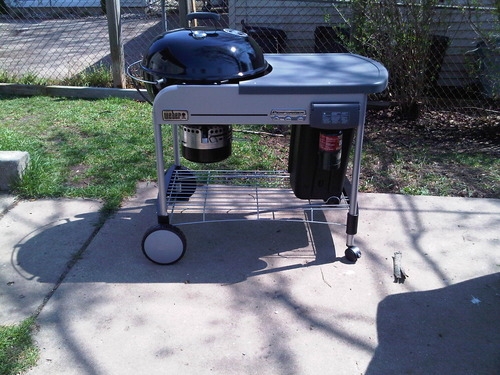 Weber charcoal grill might seem fancy but it has big performing features. The unit punches above its class in the charcoal grill department with amazing features ranging from a movable steel frame cart, a thermometer, large work table, 3 tool hooks, and two charcoal fuel holders and charcoal trays. It comes with a lid that has the ability to measure and indicate the degree of heat. Also, it has an LCD timer that makes timing real simple. One of the most remarkable impressions we had on this apparatus is its overall look.
It stands on a solidly built wheeled work table with a total work area of 363 square inches which is large enough to accommodate any keen cook. We also found the wire bottom quite outstanding. It features a Touch-N-Go ignition system which ensures safe gas start – something you will find nowhere else other than on this unit. Also, the Touch-N-Go system triggers charcoal briquettes exuding the essence of the barbecue just by the push of a button.
Clean up is uncomplicated due to the extra-large detachable ash container that collects dirt meticulously. The fact that fire burns inside the grates (which has an interchangeable center) makes cooking with this apparatus more secure. Using its movable hinged door that can be flipped upward, you can easily rearrange or add more wood for smoke. The cooking surface has ample space to take pizza stones and cooking plates. Its durability is top-notch and we think it is the best bet for those who are fussy about the quality of their barbecue. This is because it not only cooks up a charm, it is also convenient for outdoor barbecue cooking.
Pros:
Consumes fewer charcoals during barbecue
Cooks perfectly without ruining the flavor
It is easy to light even without water
Fitting the components is a bliss
Has a lid which conserves charcoal by limiting the quantity of air
It's easy to add more coal
Also ideal for indirect cooking
Cons:
It costs a little more but if you can afford it, it will deliver the best experience to your grilling
Verdict:
One touch cleaning, ease of use, less charcoal consumption and more are what you stand to gain from this grill. We love that it is of high quality and is fit to satisfy any foodie. It is a wise pick for everyday use and more reassuring is its warranty as well as the responsive customer service.
Sale
Char-Griller 5050 Duo Gas-and-Charcoal Grill Review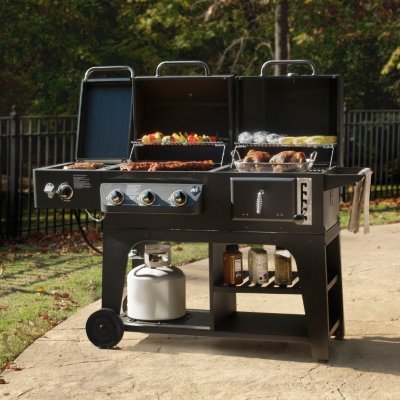 Constructed of sturdy steel, the Char-griller has two personalities – gas and charcoal qualities that deliver spacious cooking areas for dual cooking. So there is no point having two separate grills if you want to own both a propane and a charcoal grill. We were able to cook on the propane side while smoking our chicken and fish on the other side of the grill. Also, we did ourselves some good by using its side burner (cast-iron) that offered more capacity for extra cooking. Besides the simultaneous grilling experience we had, we fell for the grill's cooking grates which are built with porcelain-coated cast-iron. This perfect addition not only offers a distinct strength to the system but also bestows it with unsurpassable heat conductibility.
In addition, the coating makes clean up after every meal as plain as rolling off a log. Being able to adjust the grids to whatever height that suits you is another great reason to choose this grill. We were glad we could control the temperature ourselves which helped to ensure we got the exact result we wanted in the barbecue. Although it left a flavourful memory after the meal, the charcoals didn't drain out entirely. We had some leftovers and cleaning wasn't a hassle due to its dump ash pan made for easy cleaning. The inbuilt stainless steel heat gauges also give a leg to the entire control you have over the grill.
Other major features of Char-griller include three burners and a side burner. More amazingly, storage space is also numerous. The grill's two smoke stacks deliver uniformity in heat distribution. The electronic ignition apparatus also has a spacious cook area with 40,800 BTU output which means you can attend to many people without sticking the behind fire for too long.
Each side of the grill has warming racks that are electroplated with chromium (chrome-plated). The chromed layer doesn't just give it an appealing look, it is also resistant to corrosion and offers ease of cleaning. Assembling of the components is quite simple and takes less time than you'd imagine. Overall, the grill is versatile enough for your everyday need but doesn't come with a side firebox. So you will have to get one if Texas smoking is your thing.
Pros:
It guarantees more options with its dual surfaces
Conducts heat perfectly
Cooks faster and more conveniently
Easy to clean due to its easy dump charcoal tray
Holds up temperature perfectly
Extra piece of stiffening at the bottom offers durability
Affordable for its value
Rust-resistant
Cons:
It might require extra effort especially if you don't like weighty objects as the lids seem heavier or thicker than usual
There have been complaints that the lids leak smoke but if you can get an extra seal to discourage too much leakage or be able to manage it, you can never go wrong with this grill
Requires storing in a secure area to avoid rusting
You will have to spare extra money if all you want to do is smoke
Verdict:
This is an easy way to experience stress-free barbecue, smoking, and outdoor cooking. The construction is superb addressing most issues we encounter in grills. It is highly durable when stored well. The drip pans are well secured making it safe for cooking. Though it is high-priced, you will find it cheap for the value it will offer.
PK Grills, Charcoal Grill Smoker Combo
One thing we couldn't get enough of in this PK grill is the old memories of the 1950s it brings due to its sleek old-fashioned style. The build makes barbecuing and grilling a lot easier and fun. However one downside is that it does not have side burners, so you can't do the vegetables at the same time. But it does have adequate storage space where you can keep your tools and ingredients. It also has adjustable vents and damper that control the heat.
The grill comes with everything a barbecue guru probably will need in a grill including a flip-up cooking grid that allows you to conveniently fuel the apparatus plus a removable carriage. However, let's focus on its aluminum side and the semi-pneumatic rubber wheels that are not only resistant to cuts but also allow easy relocation. The grill is classic and features a sturdy cast construction for optimum heat regulation.
The result of everything we tried on the grill came out with that essential outdoor taste that leaves sweet memories. Another interesting thing we discovered about this grill is the simple way of getting it all ready for the next use since it is not a chore to empty its bottom trays that are precisely useful for capturing the excess grease and debris from inside the cook box.
Again, it is easy to put together and can cook any kind of food including meat, seafood, or poultry in a traditional way.
Pros:
Highly durable and stays the same throughout its lifespan
It is portable and easy to manage
One-touch cleaning system
Useful debris storage options with high volume ash and debris catcher enhance cleaning
Provides efficiency without ruining the taste and flavor of meat
Uniform grilling
Cons
It is basically for small-scale grilling as the work surface is not large enough and may not take lengthy food item
Verdict
If what you want is a portable backyard charcoal grill that actually delivers functionality throughout, then this is the grill to choose. Just like the other ones on this list, it is durable and maintenance is hassle-free. Though it can be argued that it is basically for small families due to its dimensions, it will also go down well for larger homes that don't mind sparing extra time grilling in batches as long as they achieve the highest value they seek in a grill.
PK Grills PKO-SCAX-X Charcoal BBQ Grill and Smoker Combo, Regular, Silver
CHARCOAL GRILL AND SMOKER COMBO - PK Grills charcoal grill with smoker packs a unique capsule shape construction and 4 vents system that make it easy to grill hot and fast or low and slow.
CAST ALUMINUM CONSTRUCTION - Aluminum grills are rust-proof, durable, lightweight, and conduct heat 4x more efficiently than steel charcoal grills.
Dyna-Glo DGN576SNC-D Dual Zone Premium Charcoal Grill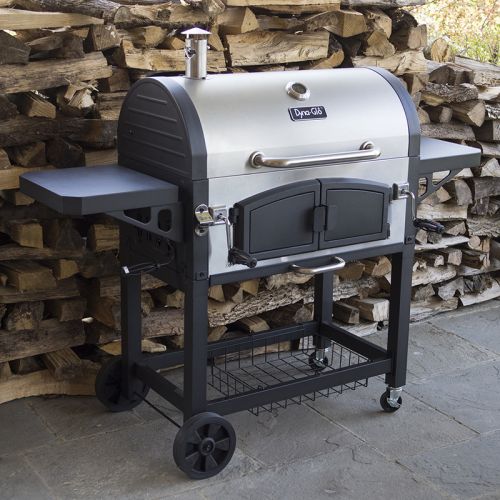 This is a supremely crafted charcoal grill that is cute on the outside and technically endowed within, as opposed to some designs out there, which sometimes appear too formal.
Dyna-Glo Dual Zone Premium Charcoal Grill is the best option when the food you want to serve your guests needs to come in bigger portions as it offers you a vast cooking space of 816 square inches. With such large amount of work area all to yourself, you can comfortably handle about 30 hamburgers at once without any being badly scorched. You get to cook more quickly without tampering on the unique mouthwatering flavor of barbecue. The grill is also known to make tender yummy meats that usually seem like they are falling off the bones in a plain fun way. You won't have to struggle with the cleaning. The grill has the two baskets for holding charcoal and a front charcoal tray that are masterpieces unto themselves.
The grill is also known to make tender yummy meats that usually seem like they are falling off the bones in a plain fun way. You won't have to struggle with the cleaning. The grill has the two baskets for holding charcoal and a front charcoal tray that are masterpieces unto themselves.
We were on the lookout for grills that are flexible with good quality lids as well as grates that can retain heat. And guess what? We weren't disappointed one bit. Particularly because the grill has cast iron porcelain-enameled cooking grates constructed solidly to conduct heat. It also boasts of a warming rack, which means toasted buns can be on your menu. To ensure that cooking with Dyna-Glo Dual Zone Charcoal Grill is entirely trouble-free, the manufacturer went on to add side shelves and a wire basket where you can comfortably place your utensils and plates. Another feature worthy of note is the stainless steel chimney with an adjustable flu cap and side vents.
However, there have been complaints that the dampers don't close properly and that there are too many air leaks which get the fire hotter than you would want. Nonetheless, simple alterations during the coupling which may entail sealing can handle this efficiently. Also, the charcoal basket adjustment tray systems offer appropriate heat control options
Pros:
It only takes minutes to get the components assembled
You can easily carry it around your backyard or anywhere else you might want to have your barbecue
Durable inside out with long-lasting wheels and locking casters
Highly versatile and adaptable
Cons:
May need extra (sealing) to avoid air leaks
Not the cheapest on this list
Verdict:
This grill is the best if space and functionality are all that matter to you. Nothing tastes nicer than meals this grill cooks. It is durable and well-built. You can also give it an extra protection by getting a custom-fit Dyna-Glo premium cover (not included in the price).
Sale
See Also: Best Tea Kettle 2017: 10 Top Rated Electric, Whistling, Glass Tea Kettles
Cuisinart CCG-100 GrateLifter Portable Charcoal Grill Review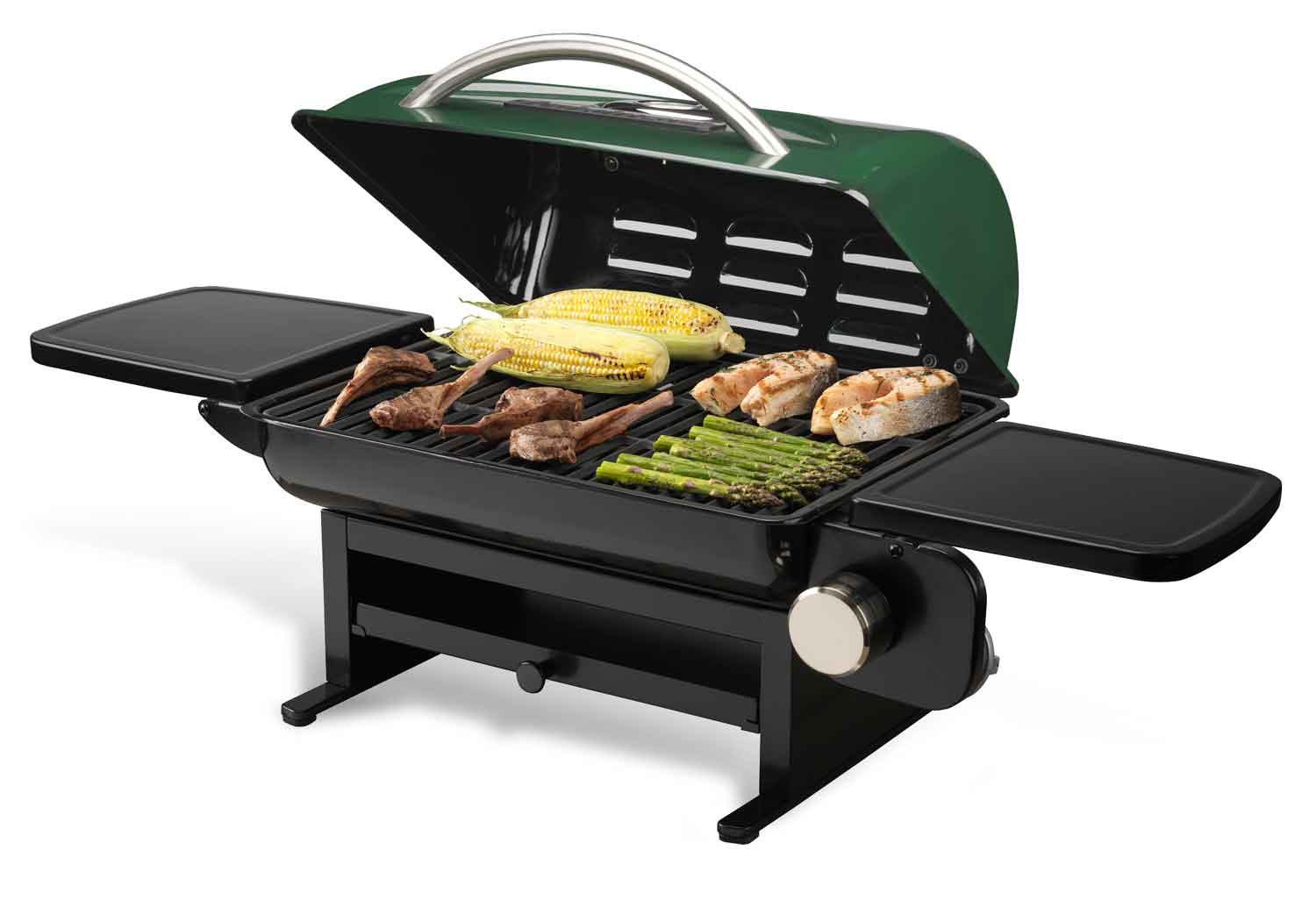 Cuisinart offers you portability, durability, great value and a one-touch lift system that gives you easy access to your charcoal surface without actually coming in physical contact with the charcoal. You won't have to deal with bulky or heavy monsters in a grill form since you can easily move it to wherever you want to have your barbecue or smoking.
Sitting on a seemingly short stand, the grill has an air system which regulates temperature correctly in all details. The temperature gauge is placed on its lid for a meticulous reading of the heat.
The cooking surface may not be as large as that of Dyna-Glo measuring only 240-square-inch but it is large enough to house a decent amount. However, when you have to serve plenty guests, you can go in batches. Of course, that wouldn't be the case if it is just for a small family.
One peculiar thing we gathered about this grill is the ease of cleaning. It is very convenient to drain out oil from the surfaces as well as cleaning up the ash vessel. Also, its firm base made sure we had a steady cook without any shaky experience.
Pros
It is transportable, so you can have your barbecue anywhere anytime
It is affordable for its value
Maintenance is not a hassle
Scratch and dent resistant
In an instant, you can get done with the coupling
Cons
Work area may be too small for a large family
Verdict
This grill is a good beat if you hate bulkiness. It is almost like a pot and cooks amazingly. Plus it sells at a very affordable price considering its value. It is a clever choice if you don't mind cooking in batches.
Recommended: Best Cookware Sets: Your Guide To A Comfortable Kitchen Time
Kingsford GR1031-014984 Barrel Charcoal Grill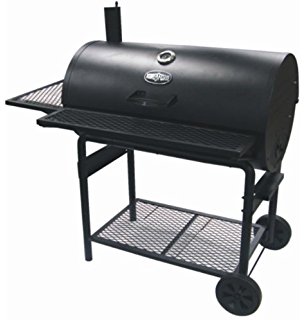 We love this Kingsford charcoal grill for many reasons. Frist because it combines the features of a smoker and that of a grill. Hence you can smoke and grill at once. Again it has a wide cooking surface area for any size of grilling measuring 793 square meters which can accommodate about 35 hamburgers simultaneously. So you're not limited to one slab of meat.
There are other amazing benefits to this grill. For instance, it has a cast iron grate that is well built to conduct heat evenly and doesn't rust over time. Our favorite part is its wheels which allow quick maneuvering as well as the temperature gauge that controls the amount of heat with accuracy. Don't forget, the grill is constructed to withstand the stress of demanding use and as such can serve your everyday grilling needs.
The manufacturer provided side shelves and a bottom storage rack to mitigate the stress. Note that the package comes in pieces but it doesn't take more than a few minutes to gather up into a ready-to-grill apparatus. Although some said the air leaks from the lids, this is a minor issue that can be corrected by proper sealing. Apart from that, the grill is a great choice.
Pros:
It saves time
It is sold cheap given its value
We gladly recommend it for its sturdiness
Efficient and less energy consuming
It produces more result in one cycle of grilling
Cons:
Some customers have expressed their dissatisfaction over the smoke leaks on the lids.
It is bulkier than portable charcoal grills but if what you want is a family-sized grilling machine, then it is a good deal.
Verdict:
This grill is a poster child for a great working grill. Versatility is one great thing about the grill as it can serve different individual barbecue needs. It comes with several useful parts and is easy to clean up after every meal. Overall, it is a big grill and thus needs a good quantity of charcoal to light and heat up. But once it gets hot, it consumes less charcoal thanks to its heat conductivity.
No products found.
Recommended: Best Non-Stick Pans and Skillets For Frying and Cooking
Lodge L410 Pre-Seasoned Sportsman's Charcoal Grill Review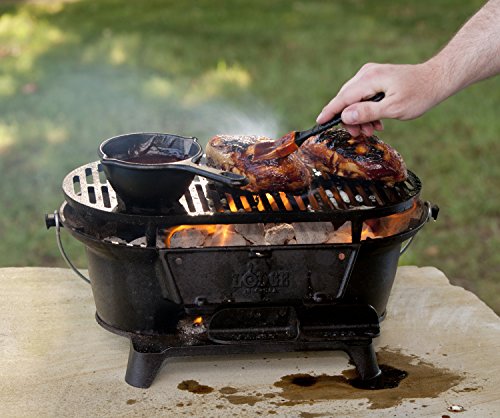 Lodge L410 charcoal grill is pre-seasoned to offer delectable results every time you cook with it. It has a traditional Japanese heating device in style and we liked that the work area can accommodate sufficient meat, fish, chicken or burger steaks to satisfy a little stream of guests. So as you become more proficient in the art of grilling and barbecuing, you can play with the ingredients and experiment with different types of flares.
Built to withstand rough treatment, this cast-iron grill is a classic choice for multi-purpose grilling. From picnic treat and courtyard barbecues to car camping, fishing trips, and tailgating, you will not just get enough of it. Its operation is straightforward and you can easily set it to the height that suits you choosing from two adjustable height.
Another selling point for us is the fact that even though it is quite portable, it combines the features of bulky grills such as a sufficient cooking area, a draft door for controlling the temperature and more. The detachable door also ensures the food doesn't lose its warmth as well as offering you the chance of heating up coffee or tea along while the grilling is going on. There is a second flip down door that allows the user to reach the coal quickly and easily.
Pros:
Proves that grills don't have to be mammoth to be effective
Gives you wide-ranging opportunities to enjoy meals with your loved ones
Can be carried to any gathering
It is highly affordable for what you will get out of it
Hard-wearing and built not to succumb to pressure
Flat and stable grates for even cooking
Doesn't scorch food due to its unbeatable temperature regulation
Cons:
Cleaning with soap can kill seasoning
You may need to place it on some external stand if you have to use it outside
Verdict:
This grill is resilient to harmful external forces. Despite its size, it can adequately serve a small crowd with unmatchable taste due to the pre-seasoning of the grid. The ashtray works magic and you can adjust the temperature by using the front bottom to control the temperature
No products found.
See Also: Best Chopsticks: Eating Sticks That Offer A Feel Of Millennial Asian And Modern Culture
Char-Broil American Gourmet 800 Series Charcoal Grill Review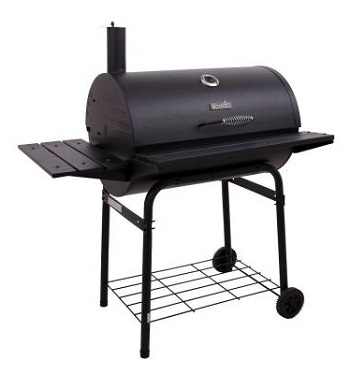 Char-Broil 800 Series is a heavy duty grill that is suitable for both open-fire cooking (grilling) and indirect cooking. There are a lot of possibilities when it comes to the volume of foodstuff you can make as it maintains an even temperature no matter the thickness of the food item or cuts of meat. We think the grill is not a bad idea for those who wish to serve a large number of guests. This is mostly because the grill has a work area that measures 850 square inches overall. The work area is further divided into two including the major one which has a cast-iron grate measuring 580 square inches and a 270 square inches chrome-plated swing-away rack for secondary cooking such as warming or slow cooking food sets this grill apart.
The more outstanding features we also recognized during our test include multiple dampers for professional results, temperature gauge with a bezel that holds it in position for easy supervision of the degree of heat at which your food cooks, adjustable height steel fire grate used for heat and smoke control. All of this put together gives you the chance of being in total control of how your food is cooked.
Other benefits that cut deep during cooking include a full-length front shelf to store your ingredients, two user-friendly folding side shelves where you can also store your ingredients, accessories, 3 tool hooks to keep the cooking tools near at hand during roasting, searing, grilling, etc. The lid also features a cool touch spring handle for swift inspection. You can have a hand-down cleanup after using this charcoal grill thanks to its easy-to-clean surface as well as its removable smokestack that controls smoke expertly.
In addition to that, movement is swift for the wire bottom shelf and wheels that afford more edge to its overall mobility. But you have to make a little more sacrifice than you should when it gets down to the quantity of charcoal to be used before enjoying this grill because it takes slightly more charcoal than portable grills. However, that's not a deal breaker since it has proved highly functional for any kind of outdoor treat featuring different kinds of meat (pork, chicken, steak, smoke stack) fish and more.
Pros:
It cooks thoroughly and fast
Clean up is easy and food doesn't stick on the grates
Great apparatus for both direct and indirect cooking
Holds foodstuffs securely in place due to the stability of its entire stand
Has the power to control heat effectively preventing barbecue and grilling disaster
Reasonably-sized
Priced less as regard value which means you get more than the value of what you pay for.
The cooking grate is cast-iron and thus highly durable
Cons:
The only downside to this charcoal is the fact that it takes more quantity of charcoal before it can get lit up due to its size
Verdict
If you have been getting nothing but disappointments from grills. Then it's time to give this Char-Broil Gourmet 800 series a chance to impress you. It can serve a novice as well as a pro who has a fanatical devotion to barbecuing and grilling. This is because it can withstand any kind of stress. We also love that it has a good price point and has no capacity of setting your wallet back.
Char-Broil American Gourmet 800 Series Charcoal Grill
More than enough room to cook for a large group with 840 square inches total cooking surface area including 272 square inches of secondary cooking on chrome-plated swing-away
With 568 square inches of primary cooking area on cast iron grates, there's enough space to grill up to 20 burgers at once, so nobody has to wait to eat
Read: Top 9 Blenders, Juice & Smoothie Maker you can get Under $100
Weber 741001 Original Kettle Charcoal Grill Review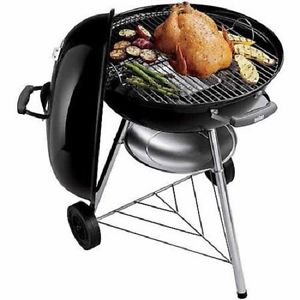 Weber has been in the grill market for a long time now, starting out their first charcoal kettle in 1952. Over time the producers have done wonders. The grill is many things; rust resistant, effective, durable, affordable, portable, and more. Weber Kettle charcoal grill is a top-rated apparatus that features a traditional design reinvented to create the modern style of a good grill. It is suitable for any kind of occasion be it tailgating, backyard treat, camping and more.
We noticed also that it has the capacity of saving you from serving gimcracks or burnt meals to your guests. Its look when it stands in your backyard is a proud display. There are no mechanical stops or problems when coupling the component or tooling. Simply put together the parts and you've got the makings for a truly rapturous grilling time.
Plus, the grill's corrode-resistant wide grate (22-inch-diameter) and durable vents work just perfect.
Other features include porcelain-enameled bowl and lid with glass-reinforced nylon handles, Aluminum ash catcher; Maintenance is cool thanks to its aluminium steel easy cleaning system. However, the total cooking surface measures 363 square inches which may not take too much food item at once.
But its 10-year limited warranty will counteract for whatever you think you might be missing from the decent-sized cooking surface, covering you from any expenses that may arise from repair or replacement of the gadget within this time. However if space is what you want more than anything, you could opt for Char-broiler 800 series or any other one on this list.
Pros:
It is constructed as a high-end grill yet it is quite affordable
Circulates heat uniformly
Resistant to burn and rust
Durable polished surface allows blissful cleaning
Heat is effectively regulated by the damper system
Ideal for smoking
The grill has wheels which aid easy movement
Doesn't bend or burn
Cons:
One downside to this grill is having to go in batches as its entire cooking surface may be too small for some who want more meats in one cycle
Verdict
We think the grill completely understands that the best way to make your guests have a good time is by serving them great meals. All you need is the right seasoning to get a tender and right taste. Cleanup and storage options are available
Sale
Weber Original Kettle 22-Inch Charcoal Grill
Stay true to the modern version of the kettle that started it all—the Original Kettle, invented by Weber's founder, and loved around the world. Its ultra-durable, porcelain-enameled lid and bowl retain heat, while the damperseasily adjust for precise temperature control. With a One-Touch cleaning system for easy cleanup after a long day of grilling, the Original Kettle will always be the grill built for everyone
Holds up to 13 burgers made with a Weber burger press
Marsh Allen 20530 Charcoal Barrel Grill Review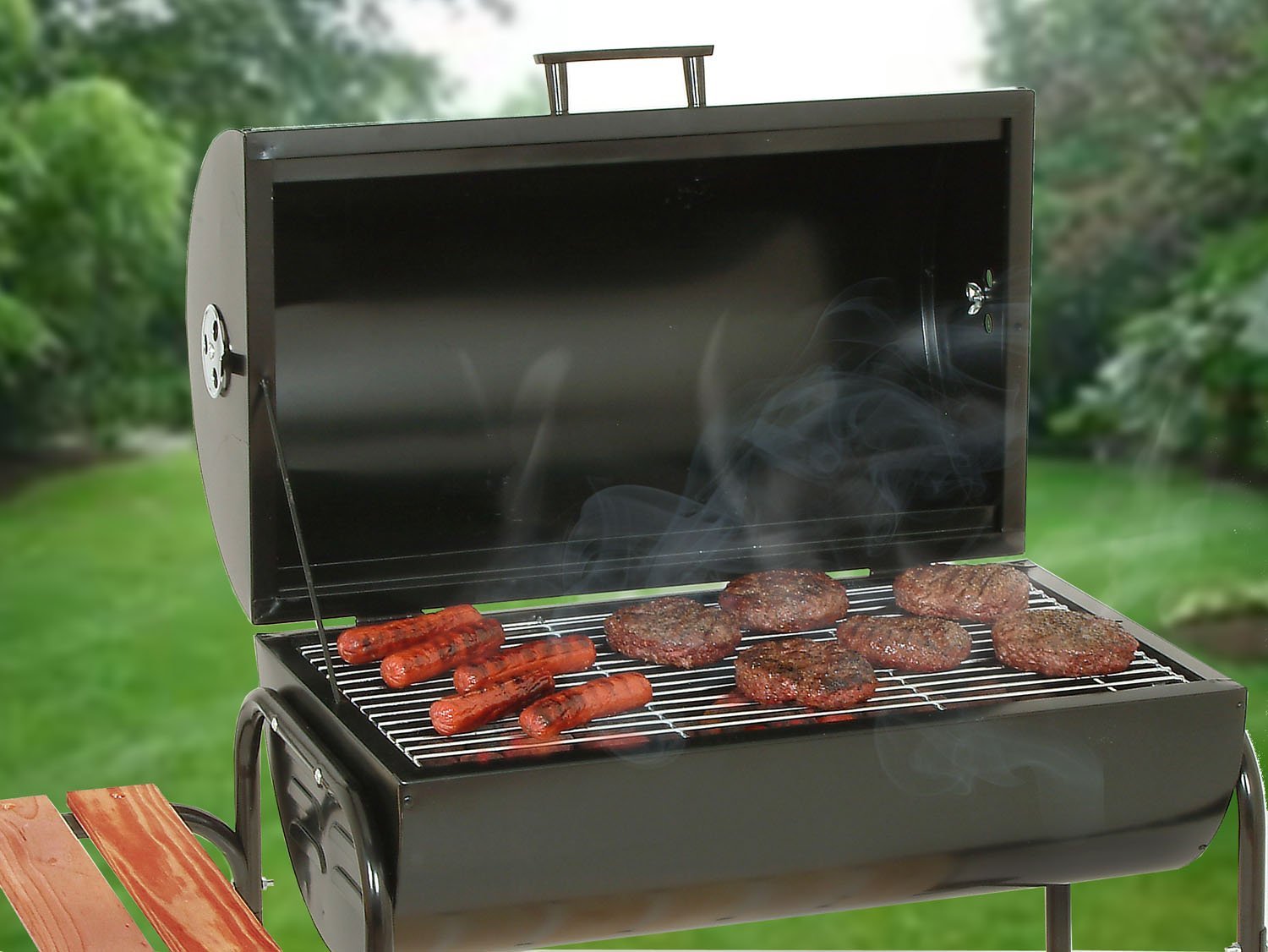 Made of sturdy damped steel, this grill is not just a good technology, it is an experience. With it, the menu is yours to choose while perfecting the meal is the role of the apparatus that is durable, easy to clean, can hold enough heat to make a remarkable barbecue, and heavy-duty. We think it absolutely has what it takes to withstand any charcoal fire. With its high-temperature paint finish, smoking is done without issues. We also considered something fairly basic about it: how firm it stands and as you might expect, the grill is well-balanced on 2 legs with wheels for easy moving.
The grill gives you sufficient space as well as the flexibility you need for indirect and direct setup. Among its many features are a chrome-plated corrosion resistant grid that releases food quickly, wooden side and bottom storage shelves for storing ingredients, wooden handles for safe holding. As for reaching your charcoal, the grill's hinged grid grate grants you easy access. The cooking area is as wide as the Weber kettle measuring 365 square-inch. Cleaning is made to be activated in a simple way.
Just like Weber Kettle charcoal grill, it does not really offer more than enough or superabundant cooking surface, but it has enough space to serve limited delicious meals whenever you are hosting a barbecue. And when it's not barbecue, you could be grilling juicy and tender steaks or any other thing. However, you can make more meals by going in cycles after all the end product is what matters right? And when you are done flipping burgers, searing a steak and basting of chicken and ribs, you won't have to deal with cleanup as food doesn't stick to the grates.
Pros:
It cooks quickly and conveniently
It is cheap and easy to move
Heavy-duty and perfect for long usage, so will survive countless summers
Nearly self-assembled since the instruction is easy to follow
Easy to operate and manage
Features proper vents for temperature regulation
Requires little coal to get light up
Cons:
It is small but good enough to handle your cooking
Verdict:
This grill is made to impress fans of barbecue and grilled meals. More than just serving the best meals, it offers families and friends a time to socialize by making them want outdoor grilling and barbecuing for days. The grill is affordable and durable only that it may not be large enough to make a flush amount of meals at once.
Don't Miss: Best Cast Iron Skillets – Top Frying Pan Reviews
Heavy-Duty Park-Style Charcoal Grill Review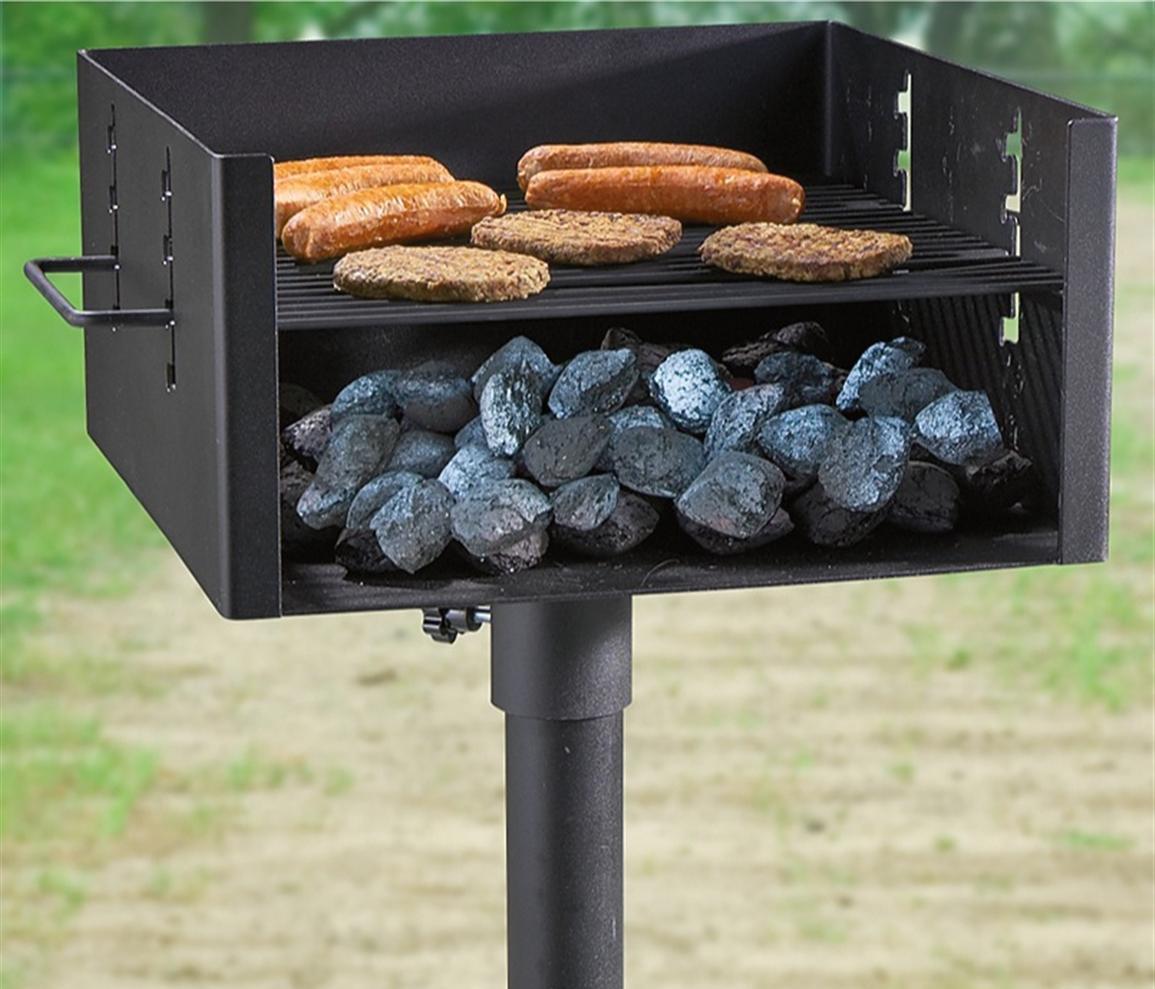 This heavy-duty grill is quite distinct in both features and appearance when compared to other regular backyard charcoal grills listed here. However, they share one thing in common and that is the fact they all deliver effectiveness in the way they operate. Unlike many grills and just like the name implies, the Heavy-Duty charcoal grill is modeled after the grills we usually see in the park, and that being so, brings the feel of the park right into your backyard. On top of that, its cooking grate is heavy-duty plated steel, that can resist rust.
The charcoal build offers everything you would expect in a grill. You can cook at any height you want by simply adjusting it to the level you prefer. That's not all, the grill can also be adjusted to four different levels to suit the degree of heat that should be getting to the food at any particular time.
Standing on a pole which stands onto an 8″x8″ base concrete anchor, it offers stability during cooking. All you need do to get it firmly installed is to dig a hole to the desired distance downward, cement the post making sure it is straight and then join the top. It is that simple. Be sure to have this properly installed so it will be firm.
As for storage, you can take the grill to pieces by removing the top part. Plus, the top of the grill can be easily removed during unfavorable weather conditions. The action not only enhances its durability but leaves it in perfect condition for the next use.
Pros:
Properly built with quality materials
Cooks meals thoroughly every time
Storage is simple as well as installation
The unit pivots 360 degrees, offering convenience during cooking
Long-lasting and can serve for years
Well-priced
Easy to clean and involves cleaning of the top after every grill
Controls temperature ideally
Cons:
It is heavy though not as heavy as those you see in the parks
It lacks a wheel and requires cement installation at the base so can't be easily moved
The grill has no significant lids but can be stored away from harmful weather situations by removing the top.
Verdict:
There is need not to put up with a grill that is badly constructed, and that is why we recommend this Heavy-Duty charcoal grill. It is known to be an expert in carrying out multiple tasks since it allows the user to set or adjust the grate in four cooking levels. The charcoal chamber also catches all the drippings from the food and helps keep your grill clean. Keep in mind that it has no cover. If a cover is important to you, you can choose any other one on this list or get an external cover to serve the same purpose.
Ash & Ember Park-Style Grill, 256 Sq. In Charcoal Grill, 16.5x16x8, Single Post Outdoor Cooking Grill for Backyard BBQ, Camp Grilling Barbecues, Small-Sized Parties, Grill Delicious Meats, Vegetables
GREAT FOR COOKING: The Park-Style Grill is suitable for cooking for small or medium-sized parties. Its sturdy grate is wide enough to accommodate meats and vegetables. Enjoy delicious steak, chicken, burgers, fish, and more on our grill!
STURDY, ADJUSTABLE GRATE: A strong, free-standing post keeps your grill secure and anchored to the ground. Spring handles are attached to the grill, increasing the safety of grilling.
See: 11 Best Single Serve Coffee Makers Most Loved by Occasional And Addicted Drinkers
Char-Broil CB940X 08301390-26 Charcoal Grill Review
Before anything else, this is a heavy duty piece that will certainly last for quite a long time. It is effectiveness and comfort combined. Char-Broil grill features an adjustable height fire pan that ensures you are in absolute control of your food.
Food is placed on its cast iron cooking space with a size of 540 square inches  – quite enough space to take many burgers at once without placing them on top of each other. The lids are made not too heavy for turning of food items quickly when it gets halfway through the cooking time to expose all the sides of the food to the heat.
With its 435 square inch cooking grate which is porcelain-coated as well as a 180 square inch serving as a secondary cooking area, you are set up for a joyful indirect cooking and smoking with this machine.
Coupling of this chrome-plated swingaway grill is simple without any obstacle. The wheels are firm and durable, delivering stability during cooking as well easy movement when necessary. It has a front door from where you can reach your charcoals.
Cleanup is a bliss with its detachable ash pan. Also, you will be allowed to cook at your desired temperature using the grill's two adjustable dampers and temperature gauge for regulating the amount of heat passing to your food.
There are also two detachable wooden side shelves which also serve as cutting boards on which to place some ingredients and other materials. Beneath it is also a shelve that could be used for storing stuff. However, there could be leakage from the lid as well as drops due to the air space in between. This isn't a deal breaker as you could make slight modifications like sealing to start enjoying the unmatchable benefits of this grill
Pros:
Ideal heat retention due to its composite material.
With its cast iron sides, four piece cooking surface and door, grilling is painless
You won't have to place food on top of each other
It is strongly built for long-term use
It cooks evenly
Cons:
There are no racks for tools
The price could be high for some but it is totally worth it.
Verdict:
If your choice for barbecue is hybrid, then we recommend this grill. It speaks of countless great benefits that would impress a pro chef who loves to spend time behind the grill. As for performance, it is highly reliable and has no record of failing any chef's expectations.
Char-Broil CB940X 08301390-26 Charcoal Grill
435 square inch porcelain-coated cooking grate with 180 square snch of secondary cooking area on chrome-plated swingaway
Adjustable height fire pan gives you complete control over your sear
Read: 12 Best Toasters That Can Bring Dead Bread Back To Life Again
Conclusion
Get maximum satisfaction cooking in your backyard with these grills. They are great innovations that actually offer everything anybody would be looking out for in a grill. They are truly durable and heavy-duty. With these, your guests will experience no barbecue fail because they do well in direct and indirect cooking giving tender juicy result every time while retaining that unique outdoor flavor. Most of them feature wheels for easy relocation, lids, and everything that will make cooking convenient. By our experience, cleaning is done without a hassle and they are high-performance gadgets overall. Free free to pick any one of these grills if you want an unsurpassable flavourful result in your backyard anytime the cooking is to be done by smoking up the charcoal.