Running is one of the best exercises you can ever engage in and its benefits cannot be over-emphasized; from boosting your reserved energy and increasing your lung capacity to lowering your blood pressure and improving overall fitness and health, running has a remarkable positive effect on life and longevity. Runners however suffer from certain common injuries like sprains, strains, blisters, sore and painful feet and these are all injuries that can be prevented by a good running shoe. It doesn't matter if you are running for pleasure, to lose weight, keep fit, or taking part in a marathon, once you make up your mind to run, you should be thinking of using the best running shoes to avoid being predisposed to these common injuries otherwise, if you use regular shoes or even those made for other outdoor and athletic activities, you may still end up with such injuries.
While you may simply get good looking running, it is extremely important to note that comfort, fit and functionality should be your priority and what works for one person may not always work for another. This is why we have spend months researching and following up on professional runners and those who are new in the game to figure out the best running shoes, what makes them preferable over hundreds of other running shoes out there. The essence is to help you chose what works best for you, providing the maximum comfort, fit, stability and cushioning.
Through this review, we have come across more running shoes for men than we could ever have thought existed. While some are produced by popular brands, other are made by lesser known companies. After our study, however, we have come up with Brooks Ghost 9 and (if you have a slightly higher budget,) Newton Gravity V as the best running shoes for men.
If none of these 2 appeal to you, we have also carefully selected these other top-notch running shoes below which stood out for us, some of which are on our feet every morning. These shoes are highly comfortable, durable, lightweight, and although the Newton Gravity is not exactly cheap, the others are not expensive, and are is worth every cent. More so, these shoes can be used for various kinds of running so long as there is running involved.
Why You Should Trust Us
The problem with personal opinion is that most times it is subject to the feelings of the person giving the opinion. Now that is different with this review, as we have gone as far as taking out over 3 months to get the data for ourselves. We also considered reviews of fitness and active wear experts, and what people who have used different running shoes have said. This, therefore, is a combination of testimonies of people who have used these shoes and more, experts who know very well about running shoes, and our research into the technology used in making the shoes, the feel of the shoes, and our personal experience with running shoes so any of the shoes you decide on below is proven to provide you with the best possible running experience.
Best Running Shoes for Men
Our Picks
Brooks Ghost 9
Newton Gravity V
New Balance 990V4
Mizuno Wave Sayonara 4
Adidas Ultra Boost ST
Saucony Kinvara 7
Asics GT-2000
Asics Men's Gel Nimbus 18
Hoka Clifton 3
Brooks Ravenna 7                               

Brooks Ghost 9 Running Shoes For Men Review
Brooks Ghost 9 is a shoe that has many things going for it. From its design to comfort and quality, the shoe is a good bet for any runner, serious or otherwise. A lot of bio-engineering has gone into this piece. The sole is quite soft while the forefoot is a bit firm to allow for easy picking of pace. Brooks Ghost 9 has engineered mesh which ensures easy stretching and breathability, as well as Omega Flex for optimal flexibility. It is well designed with full-length crash pad for good landing and easy transition.
If you are looking for a running shoe that offers stability while on the go, this is your companion. It has a 12 mm heel to toe drop. With a plush interior, refined mesh upper, and great sole, what you will get with this pair is balance and a very steady ride.
Pros
It can fit a very wide range of foot shapes because it has enough leg room. More so, its interior is designed to provide unrivaled comfort for feet
It has proper cushioning
Enhanced heel to toe transition which is great even if you have heel pain resulting from plantar fasciitis, Achilles or posterior tibial tendonitis
Better quality such that it does not wear off as quickly as previous versions
Finally, for most other shoes of its quality, the ghost is extremely cheap considering that most other "premium" shoes in its class start from $150.
Cons
It could still be made a bit lighter even when it is weighing 10.60 oz. (301 gr) which lighter than many other great running shoes.
The 12mm heel-toe drop may seem a bit drastic for some people although this is of utmost benefit to runners with plantar fascitis, Achilitis or posterior tendonitis.
Our Verdict
Brooks Ghost 9 is one shoe that is faithful in both short and long distance run. It has a moderate level of cushioning which is comfortable for an average foot.
Newton Gravity V Running Shoes For Men Review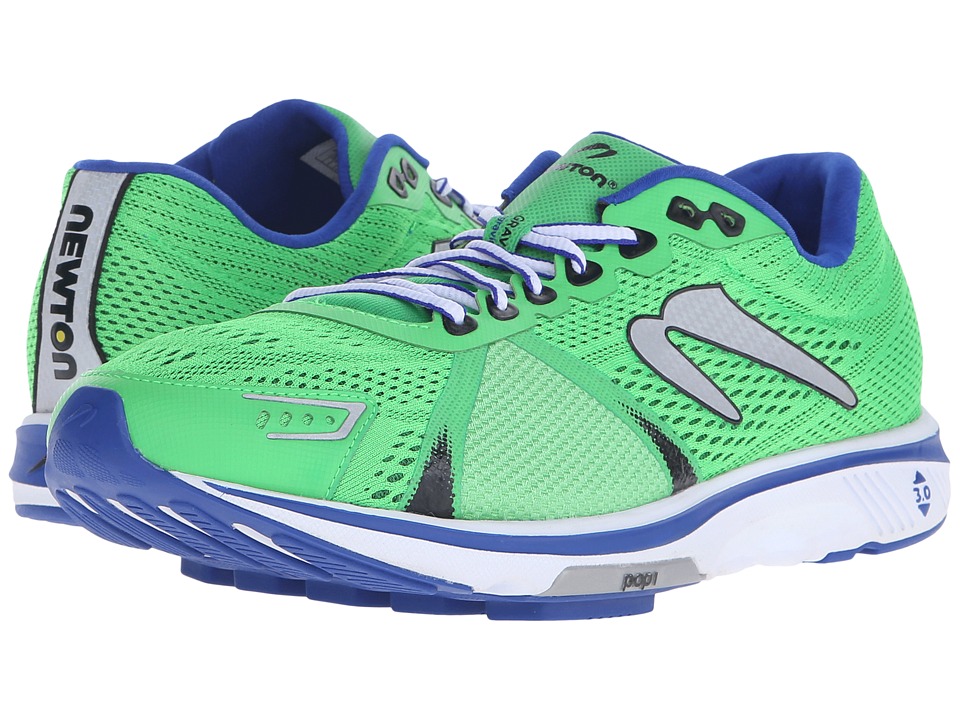 The Newton Gravity 5 is one of the best running shoes ever to be produced by Newton. They shoes are made to deliver so much for daily runners in comfort, breathability, feel, and smoothness of ride. It weighs only 8.10oz (230grams) with a 3mm heel-toe drop.
Newton has through these shoes tried to bring in some unique technology into the Gravity 5 running shoe. For instance, five lugs under the shoes seem to add a lot in terms of responsiveness and flexibility to the shoes.
Other technologies used in these shoes include High-rebound EVA for great cushioning, SHARC outsole  for durability and great performance on hard surfaces, and Biomechanical metatarsal sensor plate.
Pros
This shoe boasts in being  lightweight and comfortable
It has more improved flexibility
Premium cushioning
There is good fitting and comfort.
Hold on for quite a long time, which makes them durable.
The 5 lugs on the forefoot really help keep your form in check.
Cons
It is not available in many colors
These are in no way cheap running shoes. They are, however, valuable running shoes.
Verdict
The Gravity V is a very good shoe for both middle and long distance run and because the shoes actually have great springing, you could as well use them for short distance runs. However, the lightness, overall comfort, and foot protection with forefoot and rear foot shock absorption that it offers, are excellent for your long distant running.
New Balance 990V4 Running Shoes For Men
For a very long time, New Balance has established itself as one of athletes' favorite. Its 990 series remains prestigious among its collection and has maintained its spot in line of New Balance's great shoes.
This lightweight pigskin leather shoes with upper mesh for increased breathability is a running shoe that belongs to a class of its own. The shoe comes in standard shoe sizes with an outsole that is made to be responsive and durable. Its midsole is designed to give stability and support, all of which are definitely above the bar.
The technology used on the 990V4 include ENCAP technology at the midsole which is a core of EVA encapsulated within a shell of polyurethane for added stability and shock dispersion, Dual density collar foam, Blown rubber outsole, and Pigskin/mesh upper. It also has a lace keeper which aids to keep the tongue in place to eliminate the lace nuisance which can be a big problem in other shoes for runners.
Pros
The very first thing that comes to mind with the New Balance 990V3 is the maximum comfort that can hardly be rivaled by any other running shoes. In fact, it is one of the best running shoes for men when it comes to comfort
It has excellent breathability
Richly cushioned
Easy to fit different foot types; wide and narrow
Good lace provision to keep tongue in place
Quality is another thing that this shoe boasts of. This has made it a very durable wear.
Cons
This shoe is quite expensive; however, it is worth every cent.
A major concern for most people is that it is a bit bulky.
It is not as flexible as it could have been.
Our Verdict
Cost is the major complaint about this shoe however, this is compensated with comfort, style, and support. More so, the shoe is brilliant for very serious runners and new runners who want to take that extra step and consistently work towards their goals. We equally recommend this if you want to use a single running shoe for quite some time since they are extremely durable.
Mizuno Wave Sayonara 4 Running Shoes For Men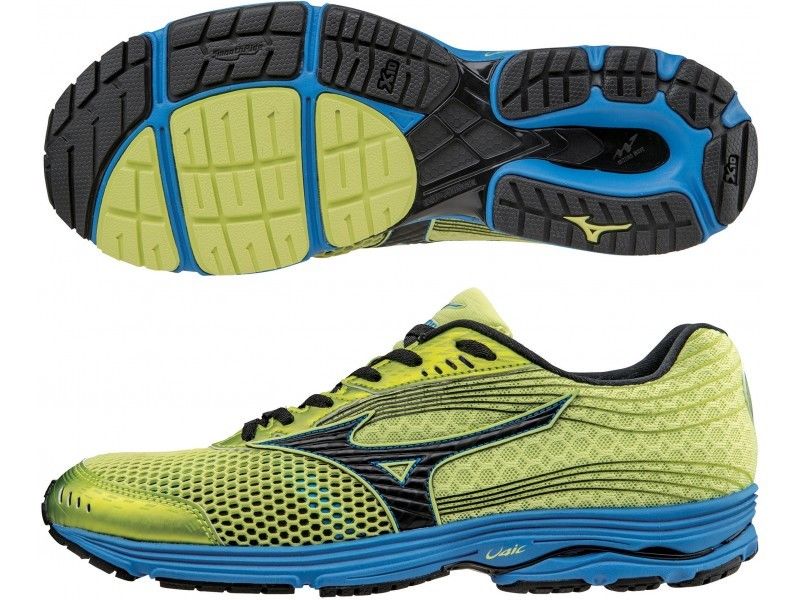 With lightness, breathability, Premium softness, and great technology that enhance everything you need in a good shoe, it is almost impossible for the Mizuno Wave Sayonara 4 to get missing in the list of the best running shoes for men.
Before the Sayonara 4 was released, fingers were crossed guessing how it would stand beside the Sayonara 3 which is not a bad shoe at all. When it finally came out, it didn't disappoint. In fact, it surpasses the former and most other running shoes. The best thing going for this shoe is that it gives a great grip of the ground while you run. More so, while you may notice too quick that the sole does not have much cushioning, it is indeed durable.
The technology featured in this shoe includes U4ic midsole for a soft and responsive ride, parallel wave plate for smooth landing and heel-toe transition, upper air mesh and X10 midfoot landing area for heel and midfoot runners.
Pros
It is a very comfortable running shoe.
Very good breathability.
There is a lot of flexibility.
It is affordable compared to others in its class.
They offer active responsive and can improve your speed.
It goes at a very good price, considering its durability and value.
Light weight as it weighs 8.60 oz. (244 gr.)
Cons
If you are running under rain, it lets in a bit more water than expected.
Our Verdict
These are definitely speed shoes which deliver as much as promised, most especially for neutral runners. Sayonara 4 offers average cushioning, a firm grip to the ground, and with its lightness, the shoe makes an excellent short distance and speed workout accessory. Its design, however, can support medium and long distance running. The shoe is good enough to pull a competition against shoes like New Balance and Brooks.
No products found.
Read: Best Shoes For Plantar Fasciitis: Your Most Complete Guide
Adidas Ultra Boost ST Running Shoes For Men
When you are looking for a very durable running shoe, Adidas Ultra Boost ST shouldn't be too far from your mind. The Ultra Boost ST is an embodiment of premium cushioning, stability, and support.
If you had tried the earlier version Ultraboost you would realize the outer sole had nubs that weren't the best when you ran on wet grounds and were not really strong. Well, it's all different with these pair, as the sole is made of continental rubber which strives to correct much of the problem.
The technology used includes a radial band which is a new tongue feature to keep it in place, Seamless Primeknit forefoot for comfortable stretching, and 8mm heel-to-toe drop. It also provides a multi-density boost.
Pros
Extremely soft and cushy
The outsole is made to provide added flexibility
It provides great support and stability
From its outsole to Primeknit upper hugs, everything is super quality and durable
It comes in different colours, and it is one of the most beautiful running shoes out there.
Cons
With a weight of 314g / 11.1oz. is not as light as one would expect.
The heel pull may not be necessary
This shoe may be on the pricey side for some.
Verdict
The Adidas Ultra Boost ST is the first-ever multi-density boost running shoe, which makes it greatly stable. More so, if you want very comfortable running shoes for short distance, these should be perfect. They are not so light for continuous long distance running but they are quite durable.
Saucony Kinvara 7 Running Shoes For Men Review
Since Saucony began producing the Kinvara in 2010, it has brought together lower heel-toe drop in a lightweight trainer racer. With Kinvara 7, it has not only maintained its lightweight, it as well added EVERUN treatment in the heel.
An improvement of the Saucony Kinvara 6, this shoe is designed to have a better ground contact and a smoother transition than the former. More so, it has more flexible and softer heels. That, however, doesn't mean Saucony has entirely left the features of Kinvara 6 off Kinvara 7. The lightweight and responsiveness among other things have well been maintained and even improved on.
The technology used in this shoe includes the TRIFLEX outsole for good ground contact and flexibility, EVERUN features for continuous cushioning and energy when running, as well as FLEXFLIM which allows for greater flexibility.
Pros
It has quite a flexible outsole
Kinvara 7 is a comfortable running foot wear
The design is done for much breathability and moisture control to keep foot dry. This is not only beneficial to the foot but also contributes to the durability of the shoe
Considering the prices of most other running shoes of the same and even lower quality, the Kinvara 7 is rather cheap
It has up to seven colour variation.
Cons
It is not one shoe with very much cushioning. This is not to suggest that its cushioning is in anyway bad
There have been complaints on the heels being somewhat narrow.
Our Verdict
If you want a running shoe that is halfway traditional without missing the recent technology in running shoes, then I will bet these shoes for you. The shoe is what you can easily call "natural". More so, the shoe would fit more when you have narrow feet. Overall, it is a good runner's shoe.
Asics GT-2000 4 Running Shoes For Men Review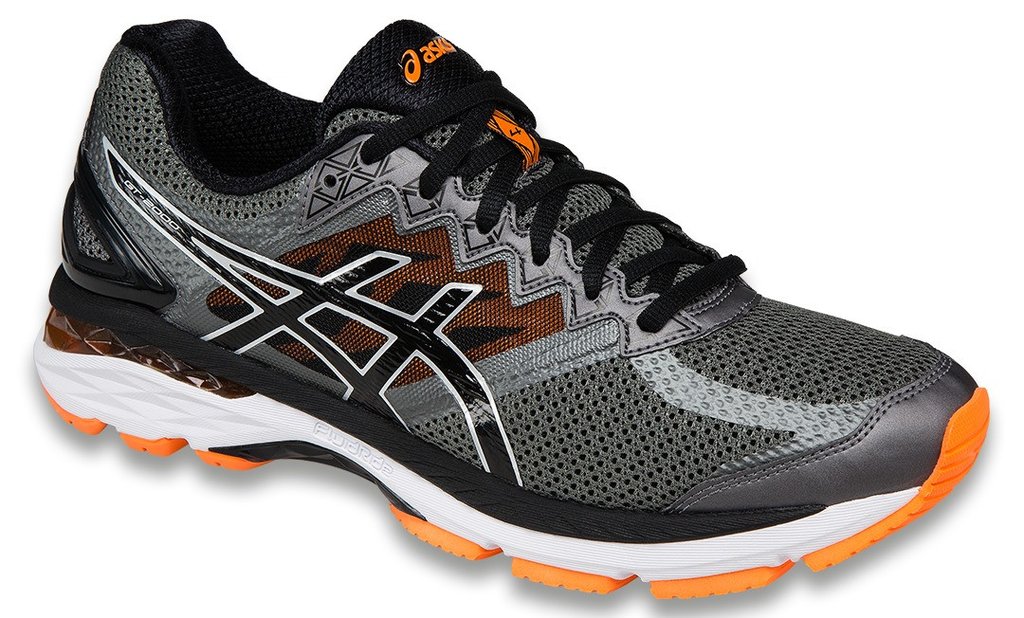 The Asics 2000 shoes have enjoyed a good patronage from runners. The 2000 4 shoes come with some great improvements to the previous versions. Most notable is its ability to improve performance as a result of its mix of springiness and lightweight cushioning.
The technology put into the Asics GT-2000 4 include the Impact Guidance System, Gel Cushioning System made of silicone gels, Double Density Solyte Midsole for even more enhanced cushioning and comfort, and  ComforDry Sockliner and Hot Melt Overlays in the upper part to improve breathability.
Pros
You can hardly over exaggerate its quality and durability
3M Reflective feature ensures great visibility in low light places.
Its Gel Cushioning System has given the shoe very good shock absorption capability
In comparison to most other stability shoes, these shoes are rather light with a weight of 10.70 oz. (303 gr.)
It is made in many lovely colors.
Cons
The flexibility could be improved upon.
Our Verdict
While this shoe like every other shoe has its own shortcomings, we can recommend it for moderate to long distance running. This is mainly because it doesn't have the complete lightness needed for fast paced short distance running. There are people, however, who enjoy short distance running with it and it is best for you if you are moderate over-pronator who places stability, great cushioning, and ultimate comfort above many other things.
ASICS Men's GT 2000 4 Running Shoe, Carbon/Black/Hot Orange, 12 M US
Fluid ride fluid ride provides the ultimate combination of bounce back and cushioning properties with reduced weight and exceptional durability
Dynamic duomax support system this evolution of duomax system enhances stability and support, with reduced weight and increased platform support
Asics Men's Gel Nimbus 18 Running Shoes For Men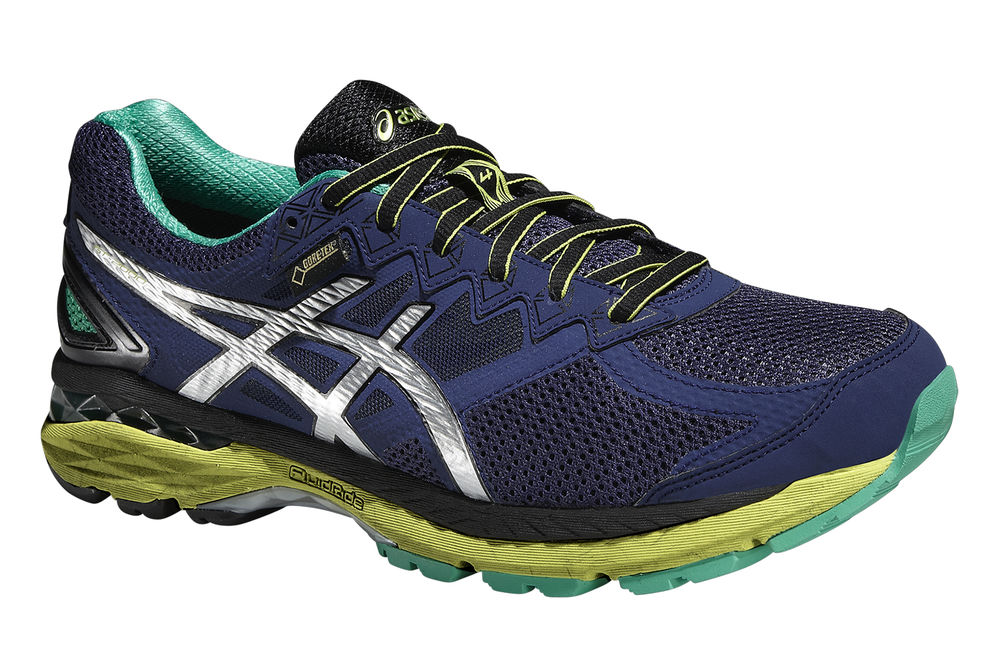 Asics knows their juice quite well when it comes to producing the best grade of running shoes and the company has taken it even further with Gel Nimbus 18.  This shoe which as far as many are concerned is one of the best running shoes for men.
It features improved gel cushioning for comfort and its outsole is protected by a durable carbon rubber from wearing off and abrasion. More so, it is made to be responsive and handle shock properly. Its Midsole is done to offer springiness and adequate positioning among other things.
The technology used in making this shoe includes Gel cushioning system for both rearfoot and forefoot; ComforDry for improved breathability, moisture control and antimicrobial properties; and Fluidfit which helps your feet to fit into the shoes perfectly. Also, the shoe has FluidRide, Guidance Line, and Guidance Trusstic System, which all serve differently to make the shoe hard to beat.
Pros
Great comfort and cushioning
Good support and transition
Durability is assured
A wide variety of colors is offered.
Cons
Not best for long distant runners as it is not very light
Narrower than previous nimbus shoes, most especially towards the toes
It is a bit pricey but it is totally worth it.
Our Verdict
Even as durability seem to be one of the main issues with running shoes, Asics Nimbus 18 is quite solidly built to last so if you want to take your running seriously, this shoe is for you. More so, it is a complete package when it comes to running shoes as it does not disappoint in the major factors to look out for in a good running shoe such as responsiveness, comfort, flexibity, and breathability.
ASICS Men's Gel Nimbus 18 Running Shoe, Silver/Ink/Flash Yellow, 9.5 M US
Fluid ride fluid ride provides the ultimate combination of bounce back and cushioning properties with reduced weight and exceptional durability
Rear foot and forefoot gel cushioning systems attenuates shock during impact and toe-off phases, and allows movement in multiple planes as the foot transitions through the gait cycle
Hoka Clifton 3 Running Shoes For Men
When it comes to maximalist shoes, this is definitely one of the best running shoes for men. The shoe has much cushioning that spreads to the forefoot, which is lacking in a lot of shoes out there and it does not make the shoe bulky or weighty rather, this is one of the lightest running shoes in the market.
Clifton 3 comes with an improvement to earlier Hoka shoes and it maintains little height difference between the front and back of the sole which is usually typical of Hoka shoes.
The technology used in making this shoe includes Molded EVA midsole, well-padded tonguing, and full ground contact design.
Pros
Impressively soft cushioning system
With a weight of 8.60 oz. (244 gr.), it is very light
Most people appreciate this shoe because of the overwhelming comfort it offers
Its breathability is well above standard
It is wider than previous Hoka shoes which makes it more accommodating for different foot shapes
The shoe is very durable
Cons
While it is very light, it is weightier than Clifton 1 which is the lightest and Clifton 2. Although the Clifton 3 is better than the previous two in many more ways.
The width of the shoes could be improved on a little bit more to accommodate wider than average feet.
Our Verdict
If you have never liked Hoka shoes, this is one you can easily like. This is a shoe you will easily enjoy either as your main running shoe or as a spare, and it can comfortably take you through both short runs and marathons.
In summary, this is your shoe if you are interested in light weight, well cushioned, fast and smooth transition shoes.
Brooks Ravenna 7 Running Shoes For Men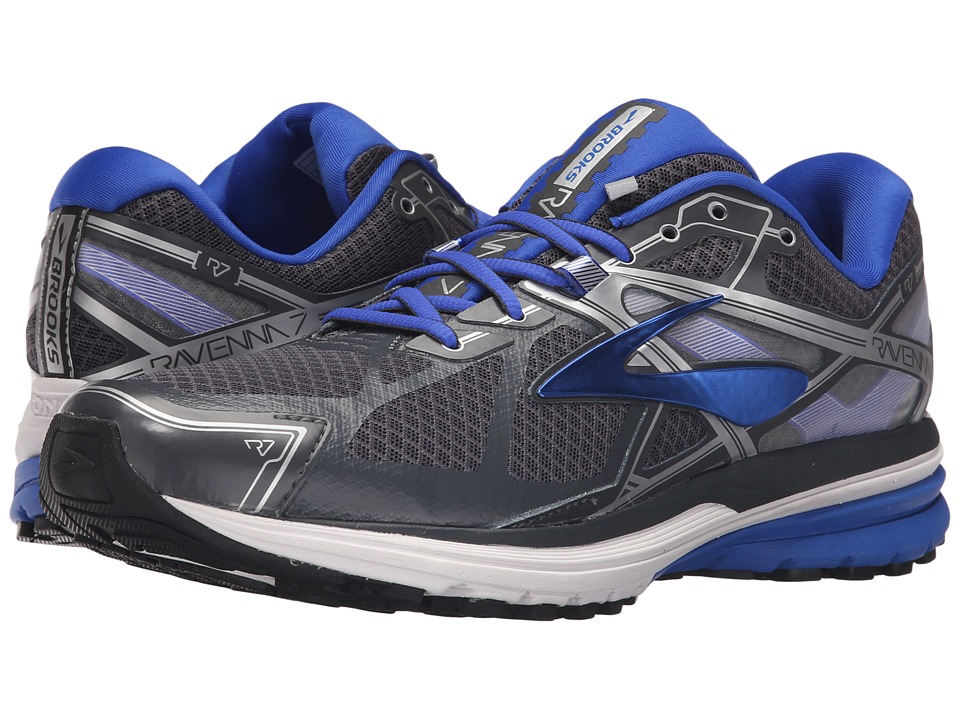 Brooks Ravenna 7 can easily be described as the active runner's shoes. It is an upgrade of the Ravenna 6, which has enjoyed much acceptance in the market. While both shoes look very much alike, they are different in many more ways.
The Ravenna 7 is both light and very comfortable as a result of its DNA cushioning which is found in most Brooks shoes. This shoe is in the balance and support category. It offers more energy while you run than the 6 and the previous Ravenna versions  as it provides slightly more springiness.
The technology used in this shoe includes Biomogo DNA Midsole Cushioning, Omega Flex grooves, and segmented crash pad. All these help in the comfort and proper functioning of the shoe in terms of transition and flexibility.
Pros
The Ravenna 7 has a good arch support
Omega Flex grooves used has given the shoe much flexibility, which is one good qualities things we discovered about the shoe
It offers more than average heel-to-toe transition
Can be used easily for the gym.
It features in different colors.
Cons
The major complaint against Ravenna 7 is being rather narrow. This is mostly for people with a very wide foot.
As regards the comfort of this shoe, it would do with some improvement.
With a weight of 10.70 oz. (303 gr.), it could be made a bit lighter
Our Verdict
Since the main concern as regards this shoe, has to do with being narrow, it is most suited for those with less wide feet. If you are in for long distance running, then this should do because it is highly stable. More so, while Brooks have not specified this shoe for gym use, we have seen that it can as well suit properly. 
Conclusion
Whether you are looking for the best running shoe for morning jogging, training for a big competition, or participating in any running activity, getting a good shoe is where it all begins. This is because running deals with endurance and any form of discomfort is what you do not like and can keep you off for weeks.
We therefore undertook this serious and deep review to give you these best running shoes for men that would allow you worry about the finish line while they do the worrying of comfort, stability, and every other thing a good shoe should take care of.
Thank you for reading!