Our hands are fascinatingly the two most greatly used tools in the workplace. We use them so much we can hardly do without them. Buying the best work gloves is thus necessary for safeguarding these tools from hazardous elements at work.
However, most of the time people lack a complete understanding of why hand protection is required or what to look out for when choosing a glove for their application. This usually leads to getting the wrong gloves for some heavy tasks, which may be a risk to the worker. On that note, we have gathered some protective guidelines as well as the best work gloves that are of superior quality to keep your hands safe at work.
Important Considerations When Buying Work Gloves
The world has changed and so has the technology. You can now get the best work gloves that are lightweight, offer a comfortable grip, perfect protection, and improved dexterity. In getting the right gloves there is a need to recognize some of the most common types of risks around us. It is also important to know the functions of different materials used in gloves making to be able to understand the right gloves to shield you from a particular hazard.
Best Materials For Different Tasks
Most common materials used in making work gloves include fabric, leather, nylon, PVC rubber, or specially designed materials like Micro-Foam Nitrile. There is no best material as different materials take care of different tasks, thus more reason to be careful in selecting the best material that suits what you need them for.
Fabric Gloves
These are the best when you need to do something that requires exactness or accuracy. Usually, they are thick cotton or synthetic materials. They regulate heat better than other glove materials making it a great kitchen option for carrying hot plates or pots and ice. They can also hold firmly materials that are slippery or oily. They also provide a high level of nimbleness.
Leather
Leather gloves are versatile. They protect the hands against most common hazards that could be caused by rough surfaces or sharp equipment. They are perfect for handling electricity, gardening, woodwork and more. Some of the leather gloves are usually coated with materials like spandex fiber and polyester for first-class protection. They can also feature insulated liner which helps when working on electrical power and also during winter. However, they come with a few snags which include not offering complete dexterity as they can be too thick.
Nitrile
Choosing gloves made with this oil-resistant copolymer of acrylonitrile and butadiene has many compelling advantages. The fact that it is a hypoallergenic rubber is just one of them. The synthetic material offers people with latex allergy a reaction free alternative while delivering the same level of protection of latex disposable gloves. They are adaptable and can be used for different purposes including construction works and general labor.
It also offers good grips, especially where oil or grease is encountered. But they may not offer perfect flexibility and strength when it comes to handling small mechanical parts. The glove is puncture and abrasion resistant. Micro-Foam Nitrile is a silicone-free material that is ideal for precision handling.
PVC Rubber
PVC rubber gloves are perfect when you are dealing with chemicals or commercial solvents as they protect the skin from possible burns. It also protects you from biohazards, infectious agents, abrasions, scrapes, and cuts. The material is resistant to wear and tear and remains supple in all weather conditions.
Gloves made of this material can offer a certain level of protection against boiling water and can keep you warm in the winter especially when they feature a soft fabric with sheep wool kind of texture as their lining material. They can also be used where feel and sensitivity are important. Also, they can be used in multiple general handling of applications.
Blend Of Polyethylene, Glass Fiber, and Spandex
There is a trend away from using just one material for gloves. Manufacturers of gloves now blend different materials into one set of gloves. If you need high-level protection, choose a blend of polyethylene, glass fiber, and Spandex. Spandex is stronger than most synthetic leathers, so work gloves that feature the material, which is even stronger than leather, are known to score safety rating of EN388 level 5 cut resistance.
Potential Hazards – Why You Need The Best Work Gloves 
Mechanical or Woodworking Tasks
Most people like to maintain and repair their machines or create their own furniture. If you are one of them, there are a number of risks that could cause serious injuries or cuts to the hands. It could be a cut from a chainsaw, Cutlass, axes or even hammer. It is safe to protect your hands by wearing the right gloves.
Extreme Temperature
Working in extreme temperature whether cold or hot can be harmful. Burns from boiling water or oil can be painful just like extreme cold hands can be uncomfortable to work with. That's why you may need gloves to work in extreme temperatures.
Chemical-related Risks
Dealing with fertilizers, corrosives, acid, or commercial solvents can lead to burning and staining of the skin with long-term health risks. The appropriate gloves to be considered is PVC which is highly resistant to harsh chemicals.
 Gardening:
Everybody gains from gardening. It alleviates stress and takes away some worries since it requires full concentration. But it can be dangerous as well. There can be thistles or sharp branches that can lead to cuts and then there are insects that can bite. As such, you'll need the best work gloves to keep your hands safe.
Kitchen-related Tasks
There could be some domestic risks from sharp equipment like knives and other machines in the kitchen. Here, rubber gloves or other gloves on the list can save you when dicing or slicing.
Electrical Works
Using bare hands to handle live wires is not the best option. Nitrile and rubber gloves are best options during wiring or when handling electricals.
What Makes A Great Pair Of Gloves
Suppliability, versatility, and protection mean a lot to gloves. A good pair of work gloves should be able to provide these as well as comfort. They should be able to deliver a great grip so you can easily feel and handle tasks. While thick gloves may be matchless in terms of protection, you may have to slightly give up on flexibility. It is also a great idea to choose gloves with padding and some form of closure or cuff at the wrist that could be elastic or anything else. This will prevent the gloves from slipping off while providing high-level protection.
More to this, we paid strict attention to all aspects of the gloves' sewing and durability during this research. There are many providers of gloves around the world. But we are certain these gloves make a whole lot of difference for consistency and efficiency.
Best Work Gloves For Professional, Domestic, Garden And Electrical Tasks
5.11 Tac A2 Work Gloves
Featuring synthetic leather, these 5.11 Tac A2 are durable and breathable hand gloves. They offer protection and fit perfectly for jobs that demand proficiency or artistry.
Pros:
Gives you the flexibility to use whatever you want while putting it on
It is effective and comfortable
It is lightweight and easy to work with
It dries fast
Cons:
May not offer complete dexterity
Verdict:
This is an ideal option for people who like rugged looking hand gloves that are protective as well as lightweight. The gloves' neoprene and Velcro wrist closure make wearing them as simple as breathing. There are no seams at the finger for ultra comfort.
American Made Buffalo Leather Hand Gloves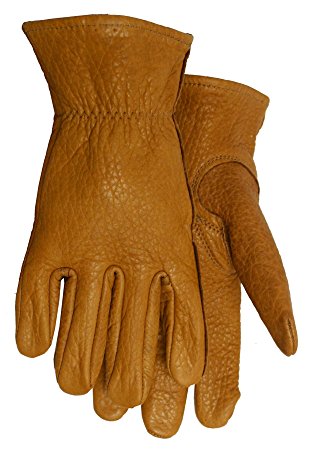 These 100 percent leather gloves are solid and one of the best work gloves. They have sheared elastic border at the wrists that work to safely protect you from all on-the-job-hazards. They offer a good grip and excellent abrasion resistance.
Size:
These smart gloves come in different sizes including medium, large and extra large so you can choose the right size for your hands.
Pros:
Offers a good level of comfort and smoothness during work
It doesn't restrict the movement of the hand or the work to be done with it
Fits perfectly when you get the right size
Loose-limbed yet durable
Cons:
They are not as breathable as the 5.11 Tac A2
Verdict:
If you want all leather gloves that can really safeguard your hands during work, here is a great deal. Its keystone thumb makes working a joy.
Carhartt Men's Grain Leather Work Gloves with Safety Cuff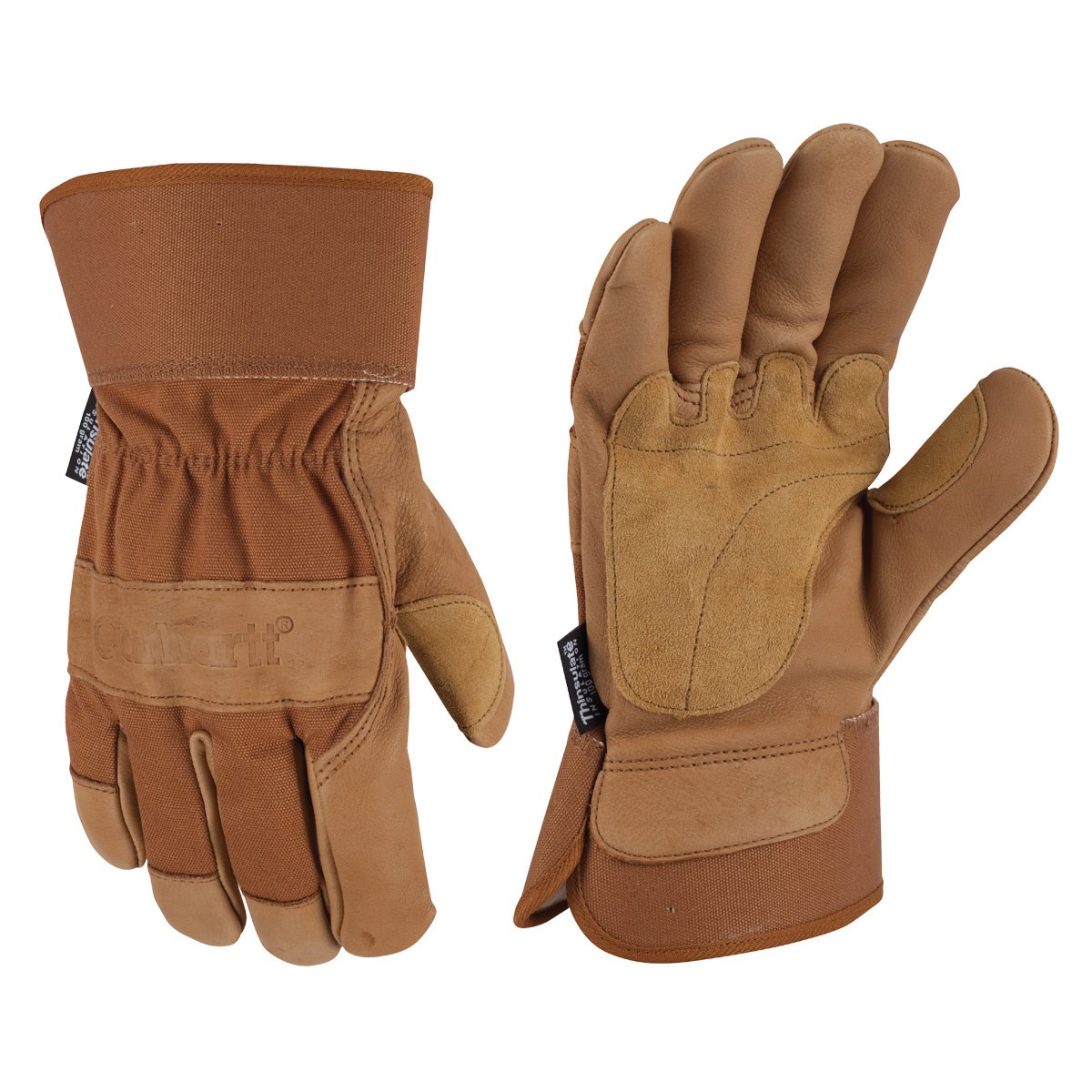 These genuine leather Carhartt gloves deliver superior grip no matter the kind of work you are using them for. They are reinforced at the thumbs and palms, offering quality protection.
Material:
The gloves are developed to handle higher degree tasks. Its fabric type is shell and has an outer layer made of genuine leather and 100 percent polyester lining. It's palm area also features genuine leather all of which makes them modern sustainable protective hand gloves.
Pros:
It can be hand washed
It has safety cuff at the wrist for a more comfortable hold
Makes work easy
It is supple, strong and easy to work with
It finds a balance when it comes to fitting (never too tight or too loose fitting)
Cons:
They are thick, so they may not offer absolute fingertip sensitivity.
They can easily become dirty due to their bright colors
Verdict:
This Carhartt gloves with cowhide knuckle protection offer matchless protection. There is absolutely nothing you can't do with them as they are perfect for hands-on work. We like that they are coated with pure poly lining.
Custom Leathercraft 125L Handyman Flex Grip Work Gloves
With its elastic band and side foam for dexterity, these synthetic leather gloves are sturdy yet comfy to use.
Functionality:
They feature elastic lycra and spandex side panels for efficiency. They have a perfect grip and you can use the wing closing straps to ensure they stay on tight without falling off. There is nothing to worry about when you need to chop the woods or logs with these gloves on, they are snag proof and will work perfectly.
Pros:
They are soft and comfortable
They are flexible and don't shrink
There is no limit to what you can do with these gloves
Offers absolute protection even against sharp-cutting instruments
It is easy to handle any kind of material wearing these
They offer insulation during winter.
Cons:
May not be as easy to clean as leather gloves
Verdict:
As well as protecting your hands against cuts, abrasions and more, we think they are versatile gloves that allow the fingers to move freely.
ATLAS Fit 370 Black Work Gloves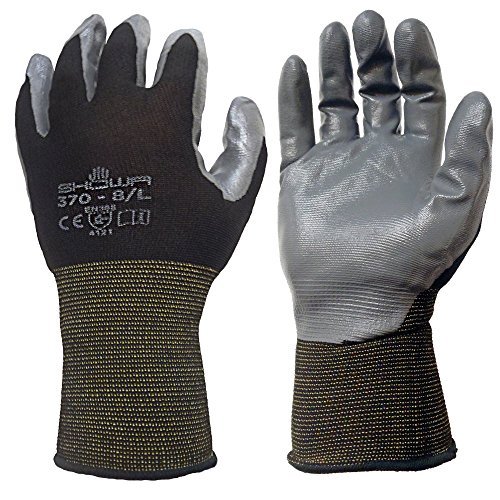 These ATLAS gloves offer lightweight protection. It's perceived gains of being light yet solid, have also made it a favorite amongst gardeners and those working the engineering industries.
Perfect protection performance:
The gloves offer superior protection and dexterity while giving the wearer's fingers greater freedom of movement. They come in different sizes and feature malleable nitrile palm and finger coating over a long lasting knit nylon line.
Pros:
They allow you to be as nimble as you would want to
Prevents mistakes and accidents
Resistance to high cuts and punctures
They are not bulky and offer a precise fit.
Cons:
They are on the high side compared to most gloves named here
Verdict:
These gloves are great personal protective equipment that will shield you from possible cuts and injuries without being a burden. We think they are a perfect choice if you want gloves that seem almost like you are working with your bare hands while getting a better grip and protection.
ATG 34-874/XL MaxiFlex Ultimate – Nylon Work Gloves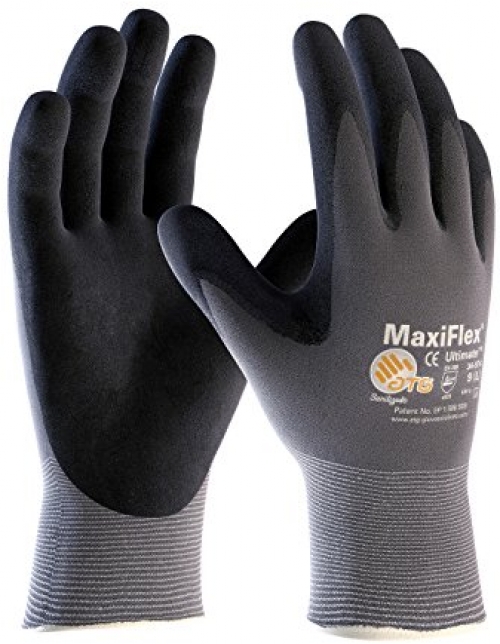 These are breathable and one of the best work gloves that deliver coolness during warm weather and warmth during winter. They are incredibly durable and mould to your hands very quickly.
Protection:
Featuring Micro-Foam Nitrile coatings, this 15 gauge grey seamless knit nylon with Lycra liner, offers great dexterity and sensitivity. It conforms with light oils so it can be used where tiny oily parts or components are being handled. 
Pros:
Ultra shield against blisters, cuts, abrasions and more
Great for carpentering, plumbing, gardening and more
Reduces sweaty hands in warm weather
They grip perfectly

Offers matchless dexterity, sensitivity, and tactility since they are seamless
Cons:
They sell at a slightly higher price
Verdict:
This is for you if you want gloves that actually allow you to have a feel of what you are doing. They are a bit expensive but are surely a good bargain.