What every good driver knows is that sometimes things happen too fast on the road. It may not necessarily be how you drive a little faster than you should sometimes. It just may be how you rake off up to $150 dollars for being pulled over. This is where the best radar detectors (not just anyone), come to play.
It is important to drive responsibly, but as said, sometimes some things happen too fast that before you say jack, red and blue lights are already behind you.
We have no doubt seen review sites presenting certain radar detectors as the be all and end all. But before anything, please note that no radar detector has it all, and if a reviewer points to any single one as having everything that makes a perfect radar detector, please stay far away from such lies. That is because there is none that can do or give everything. More so, there is no luxury in buying a radar detector that isn't the best you can get, since they do not come cheap in price.
After raking through the multitude and more of radar detectors we have reached a point where we can say Escort Max 360 and Escort Passport 9500ix are the best radar detectors in the market. If however, you are looking for a  budget radar detector, we recommend the Whistler Cr90 and the Beltronics V10. Although we have found them cheap in price, there is hardly a thing cheap about them in performance.
Why You Should Trust Us
We have gone beyond the speed limit in the 48 states of the United States where radar detectors are legal without getting a single ticket, thanks to our best radar detectors. Too good to be true? Exactly.
The thing, though, is that while we understand that there is no radar detector that can make you entirely invincible, we have tried to find the best there is out there. In doing that we have tried to ask three questions as we took days to go through tons of radar detectors.
The questions are: Does it eliminate false alarm? Does it detect what it should detect? Does it do the above two effectively? We crowned the question by determining the general features of the radar detectors as well as the ease of use.
We answered the questions by drawing out and testing against the most important features that would make a radar detector achieve favorable answers, such as the signals it is able to detect, the range, its features to minimize or eliminate false alerts, and so on.
More so, even though we depended on the build of the radar detectors to decide those to make our big list, we didn't fail to get the views of experts, and most importantly the opinions of those who have used them.
Also, we tried a lot of them ourselves.
One last thing. This is not a sponsored post. We're not in any kind of partnership with any of the makers of these products. So you can be sure of an objective review.
Enjoy.
Escort Max360 Radar Detector
The Max360 is one of the largest, just as it is one of the most complete radar detectors out there. More than its simplicity of use, it offers an all around protection and it is Smartphone compatible.
This detector is loved by most as it does not only detect laser and all the bands; X, K, Ka, and Ka-Pop, it also provides directional alerts so you know where it is picking the signal from. It does this using the directional arrows which it improves from that of Valentine One by showing if the threat is coming from the front, behind, or sides.
More so, it complements its sharp responses and wide range coverage with GPS which combines with the pre-installed Defender Database for red-light and speed cameras.
One great thing with the Max360 is that it comes with the over-speed alert. With that you can get to know the posted speed limit which comes in handy when you don't get to see the speed limit in places you are not familiar with.
It features an inbuilt Bluetooth to allow you connect to its database with your Smartphone. This allows you access the Escort Live app where you can easily monitor things and get as well as share threats.
Finally, for reduction of false alarm, this detector has the AutoLearn. The AutoLearn feature notes places of false alert so that it filters them out. Hence this radar detector is great at controlling false alerts.
Pros
Swift in response and wide in range of coverage.
Its directional threat indicator is wise and helpful.
You get multiple alerts of up to 4 as well, in the case of multiple threats.
It has a display that gives all the necessary and complete info.
While one of the most complete, it is not the most expensive.
Cons
It is not the easiest to understand for some drivers.
To enjoy the Escort Live, you need to have a subscription.
Verdict
If completeness is what you want, then your money shouldn't be far from this, as you get everything and a little more in its extra features. Also, it gives you a long range of coverage and sharp response, multi-directional alerts and GPS services.
Sale
Escort Passport 9500ix Radar Detector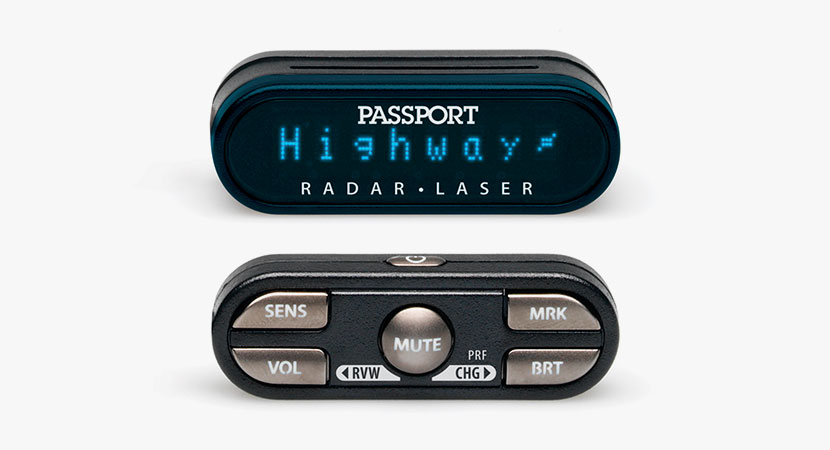 This is another very complete radar detector, which wears the medal of the best among the best radar detectors for so many people. We find it likewise exceptional, except for the price. Nevertheless, it is worth every penny on its head.
With very great sensitivity, the Escort Passport 9500ix is able to detect X, K, and Ka bands as well as multiple lasers. You get to have better sensitivity as a result of its dual antenna.
The detector comes fully furnished to do well and do good in concealing itself, detecting all you want it to detect, and jamming lasers. What this means is that it is well kitted for the road.
It features GPS technology to significantly reduce false alert. Also, it makes use of the AutoLearn to mark places of false alarm and TrueLock Filtering system to filter out false alarms from places that have been marked. It also comes in handy for red light and speed cameras.
Also, it comes with laser jammers which are most effective against light-based technology.
One amazing thing we found with this radar detector is that it makes use of Traffic Camera Defense. This gives additional protection by running through the official database to bring up the cameras in your location.
Once it gets the cameras, it provides you timely warning against them. Normally, these forms of sensors are mostly not detected by normal radar detectors.
More things you get from this detector include a display of vehicle voltage, actual speed, and expected radar detector status. Of these, you get to select one at a time.
Although it is easy to install, we recommend that to enjoy this custom installed detector, make sure after purchasing that it is installed by an expert so as to have it work as it should.
Pros
It is more complete than almost any other you can get.
With its custom installation option, you get to keep it away from being noticed or seen.
Well kitted to take care of false alarm.
The range is very good.
Very good laser detection system.
Cons
It is one of the most expensive radar detectors.
Verdict
If you want a custom installed radar detector which is complete and can be used for a very long time, the Escort Passport 950ix should be it. It doesn't come cheap, but neither does it perform cheaply. Its design, performance, friendliness, and features are all above the bar.
Sale
Escort Redline Radar Detector
In the circle of the best radar detectors, as already seen, you can hardly find Escort missing. This is as while they set bars for others, they set it for themselves as well. More so, they make radars that are not just hard to beat, but also crazy.
That, in fact, is the summary of Escort Redline. The detector performs great in range, detection, as well as in minimizing the number of false alerts. It is fine if you call it your defense against unnecessary "bullying."
The detector rightly brags about very massive range warning, thanks to its use of double Antenna. That is where we find it trashing out almost all others in the competition.
More so, this windshield-mounted radar detector can easily detect K, X, Laser, and well as Ka signals. Its K-band sensitivity is surely top-notch.
As regards its volume, on one hand the volume control is as easy as can get, and on another, the AutoMute feature is superb. It ensures that once you are alerted, the volume automatically adjusts to a preset level. And if you are not interested in this, you can simply turn it off.
The possibility of this detector to be detected has been eliminated by the TotalShield RF Technology, which conceals the RedLine from radar-detector detectors. In the dark, you can switch it to the Dark Mode, so as to prevent any visual alerts or the light showing up in the dark.
One major problem that most people get with radar detectors is how easily they can tip off false alarms. To keep that at the minimal, the Redline comes with the AutoMode.
We are a little disappointed to find that it has no GPS, but with the Escort Live which you download, you can easily link your Android or iOS Smartphone to the detector via Bluetooth, and use your phone's GPS.
Pros
It has one of the longest range you can find in a radar detector (As far as 15 miles away).
The rate of false alarm has been minimized.
Alert system that is as sharp as can get.
It is invincible to radar detector detectors.
Very user-friendly and easy to install.
Cons
Has no GPS.
It doesn't come with over-speed alert.
Verdict
Once you don't mind a radar detector without GPS, the escort redline is definitely a good bet for the road. This is because it is one of the detectors you can surely count on to help you beat before you are beaten, as a result of the range of its radar which is enhanced by its dual antenna.
Escort RedLine 0100025-1 Radar Detector
AutoSensitivity – Allows for superior range of detection and reduces false alarms. You also have the ability to change the sensitivity between highway and automatic settings to ensure you're picking up the most relevant alerts.
Ultra Fast Protection - The Redline detector warns you of all radar bands including conventional and instant-on X band, K band, and Superwide Ka band and POP. Get the alerts faster with this escort radar detector and have more time to react.
Valentine One Radar Detector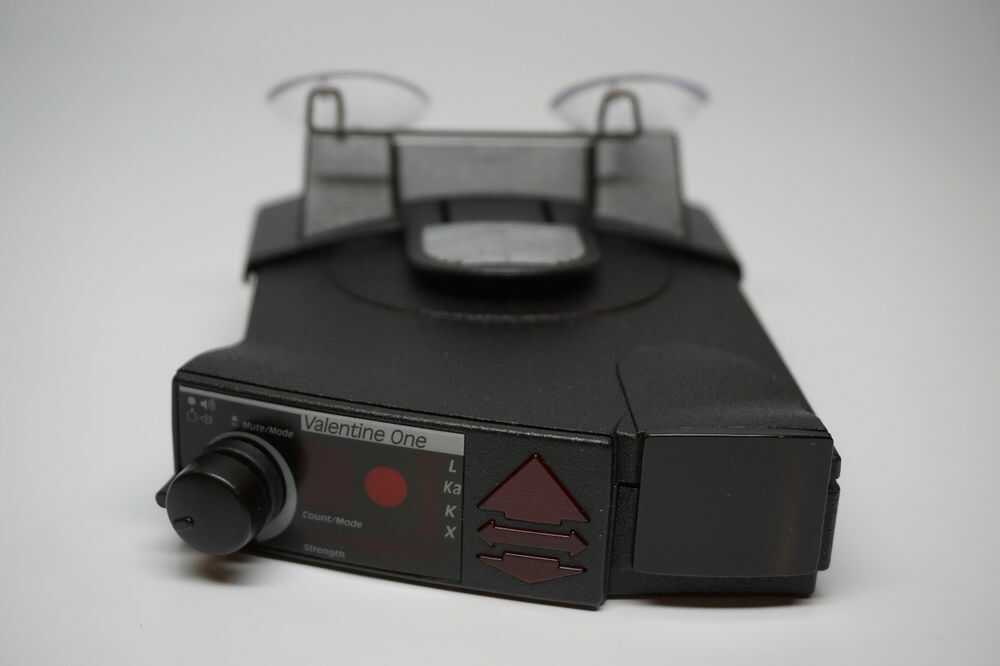 The Valentine One has endured as one of the best in the market for quite a long time and may remain for a long time coming. It is little surprising that it was developed by Mike Valentine who has once worked with Escort as its chief engineer, before deciding to call it quits to start his company.
With a design that has been maintained since 1992 when it first came on board, this radar detector to our amazement happens to be light on one hand, and very strong on another. Its continuous update has ensured that it is still relevant over 25 years later.
It builds a reputation for itself due to its ability to offer an all-round protection against all types of lasers as well as speed gun. This is enhanced by its double antennas with one at the fore, while the other stays at the rear.
Also, we found the placement of the antennas at both rear and fore of the car to be good in offering protection against the trap waiting in front or the one cruising behind you. To know where the threat is coming, there is a display which shows you an arrow indicating the place, or two if it is both in front and behind, and a counter showing the number of traps.
The Valentine one like most others on the list detects the X, K and Ka signal. More than that, it also detects the Ku signal and its strength in detecting and the accuracy is almost matchless. From what we have seen, it can pick signal as far as four or even five miles away.
For the alert, the radar detector makes different beep sounds based on the type of alert it discovers, and the frequency increases as you get closer to the threat.  It, however, doesn't have an auto mute so you may need to manually mute it.
The problem we find with this is that it does not have GPS which could be very important in reducing false alarm.
Pros
It is long ranged.
Fast and excellent response.
Its ability to keep you covered from both the front and behind is priceless.
Easy to install and follow.
It can detect multiple threats at the same time.
Clearly lets you know the type of threat detected.
Cons
It doesn't come with GPS.
Not designed with AutoLearn which would have helped in checking out false alarm.
Verdict
If you are looking for something that has plenty features to display, you may as well go for another on the list. But if you are looking for something for the performance and functionality then this may just be it. And if you want something to keep you clean both in front and behind, then we are guessing the same thing.
Sale
Valentine One Radar Detector
Excellent condition V1 Valentine One Radar Detector
Comes in original box, includes detachable coiled phone cord adapter
Escort Passport 9500ix Radar Detector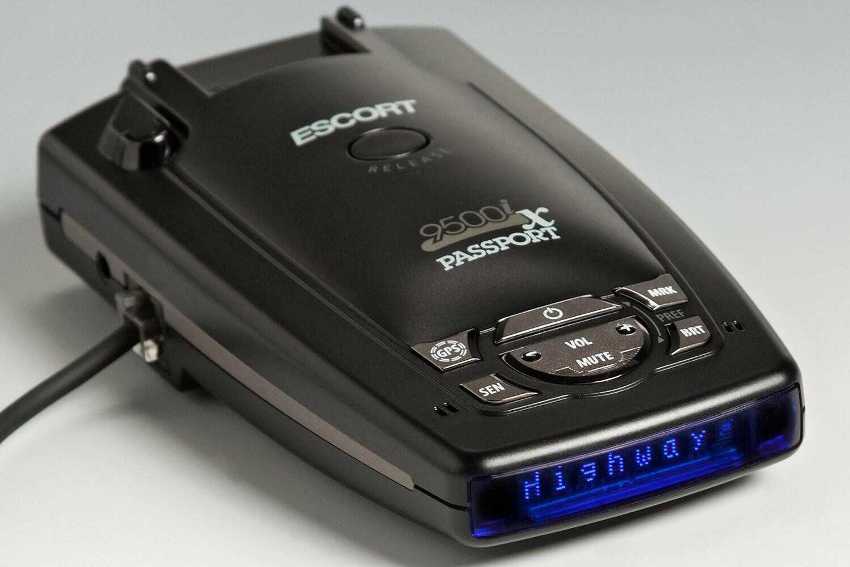 If it were a popularity contest, the Escort Passport 9500ix would have beaten almost all in the contest of best Radar detectors.
Trust us, it is not for beauty that it will outshine others in the popularity contest but for great performance which only a few can stand. As regards its primary function of detecting radar, not even a point is lost by this piece.
The detector is able to detect the X, K, Ka and Ku signals as well as instant POP and laser. With its ability to detect all those effectively, you are closest to being invincible. You can further take down false alerts by turning off bands that are not needed.
It has a Defender database which we found to be good to go as it has so many threat locations. Also, it has the AutoLearn and AutoLock which play importantly in control of false alerts.
These are made possible by the GPS technology which it comes with.
Through our reviews of many radar detectors, we came across not many that came with speed alert feature. The Escort Passport 9500ix was one. Once the detector picks up a signal, it will immediately notify you of your speed so as to know what you are moving against. The notification, however, only comes when you are driving above 15 MPH.
To complement this, it comes with a SmartCord. The cord has a control and an indicator. This makes it all the more convenient to use the radar detector.
Pros
Fully packed with great features.
Defender Database which performs good at providing red-light camera and speed camera locations.
Friendly and easy to use.
Extended false alert control.
Designed with very important features.
Cons
Its price may seem aggressive to the wallet, but for everything it gives, the wallet shouldn't mind.
It doesn't have the overspeed alert.
Verdict
After collecting everything that builds up this radar detector, we are able to have a picture of one of the smartest and sharpest Radar Detector. Its ability to detect broad signals is another great thing about the radar detector.
Sale
Escort Max 2 Radar Detector
The escort max 2 has a combination of accuracy in detection, good filter for false alarm, wide range coverage, and over-speed alert to stand out of the large group of mediocre radar detectors.
Its over speed alert feature which is to us the best thing about the radar detector is great because it calculates the speed limit of the area using its GPS and immediately relays it to you. It then keeps check of your speed to notify you once you move out of the limits.
What this feature does for you is to ensure you do not step off limits as a result of not paying attention to your speed. In fact, we have noted that not paying attention is one of the main reasons why people get tickets for over-speeding.
The detector also allows you to connect via your Smartphone so as to use the Escort Live. With this feature, you get to benefit from the live updates from the app.
More so, it comes with an inbuilt GPS which is intelligently designed to make sure you are checked against red-light and cameras.
One additional thing we find rather amazing with this radar detector has to be the 3 sensitivity settings that can be made on it. While the first, which is the Highway, only alerts you of detected radar band as it turns off all filters, the second, Auto, stresses on accuracy. The third, Auto x, reduces false alerts by turning off the X-band signal.
It detects the K, Ka, and X-bands. It is as well a laser detector.
Pros
Its overspeed feature plays to complement its radar detection by making you drive safe.
It speaks of extended accuracy in alert.
High range of coverage.
Very sensitive and fast.
Has customizable features that are important for convenience.
Cons
It is more with the expensive radar detectors, just as it is with the best.
Those that prefer design over performance may not like it.
Verdict
More than just looking out for threats on your behalf so you can escape that ticket with this radar detector, it also provides caution using its speed alert. More so, it does all these effectively, making it stand out even among the best. Hence, if you need a detector that is miles more than just a detector, Escort Max 2 should answer your question.
Beltronics GT-7 Radar Detector
The Beltronics GT-7 happens to be better for us than the Beltronics Pro 500 which we call the Hulk of Beltronics. This is better because it makes use of the latest technologies. In fact, it is designed very close to the most premium radars from its sister company, Escort. This includes the Max 2 and Passport Max, which they happen to look somewhat alike.
For us, the best thing about the GT-7 is that the moment it picks a signal, it notifies you indicating other information such as the radar band, its frequency, as well as the signal strength. More so, it can detect all lasers and signals on X, K, Ka, Ka-POP and TSR bands.
The strength of its detection is as sharp as the dog's nose. It sniffs good and tries so much in eliminating false alerts. Fairly well, it achieves that.
The radar detector features three sensitivity modes: Highway, Auto, and Auto No X. Each mode changes the detection properties of the radar detector. While the Highway searches for all signals, the Auto keeps adjusting itself to the signals it detects. The Auto No X shuts out the X signal and reduces false alert.
Our recommendation for selecting the sensitivity driving mode is that you ensure to be sure of where you are and the type of signals used before you select any. For example, we would not suggest you select the Auto No X unless you are sure it is not being used around you.
It is designed with GPS which makes use of the Defender database to scan cameras and other red-light areas. Also, it assists in filtering out fake alerts.
Pros
It gives complete and clear info display.
Comes with all necessary features.
Good range and accuracy.
Fast in detecting and relaying.
It gives different driving modes that can help in reducing false alerts.
Cons
The price is not the most wallet friendly.
Verdict
If you are familiar with either the Escort Passport Max or the Max 2, you will be closer to the Beltronics GT-7. The thing, however, is that we have found this to give a better and complete display. Hence if you want something that combines most features of the Passport Max and the Max 2, then it should be the GT-7. Although it is more expensive than the passport max, it is less expensive than the max 2.
Cobra DSP 9200 BT Radar Detector
This petite radar detector really brought a smile to our faces when reviewing it. It is the type of kid who gets on stage and performs better than most of the big guys.
It features the Digital Signal Processing (DSP) technology, which is already promising to be the key in eliminating false alerts and improve sensitivity. The DSP makes use of powerful microchips which analyze signals as soon as they come against police signals. If they don't match, the microchips would cut them away as false alerts.
Just as accuracy is added to this radar detector, its range is as well good. It is able to detect all lasers and radar signals, giving instant notifications most especially on the K and Ka bands.
To improve its accuracy and sensitivity, there is an option of different driving modes. You can either select the Highway, which is the basic and most sensitive, or the City mode which eliminates X signals that are not strong. There is also the City Max mode which is set with maximum filtering.
Also, it comes with Bluetooth connectivity for your Smartphone. With that, you can connect to the Cobra's iRadar Community to receive notifications on red light and speed camera, threat locations, police locations, as well as real-time info on traffic threat.
As regards the display, when Cobra first brought out the DSP 9200 BT, it had one of the worst displays as it was tinted and hard to read. On working on it again, however, they managed to bring out one of the best display which is easy to read.
Something massive we found with this radar detector is how it can silently work and make you forget it is even there until there is a problem it needs to notify you about.
Pros
One of the most affordable.
Stresses on controlling false alerts.
Its size is not shouty.
Very good display.
Good range and response.
Cons
For GPS you will need to connect to its iRadar through your Smartphone.
Verdict
If you need something small and affordable yet big and expensive in performance, you can start by checking out the Cobra DSP 9200 BT. Although Cobra like Beltronics is now under Escort, the DSP 9200 BT has given it the official welcome to the enviable league of Escort and Beltronics.
Cobra Electronics DSP9200BT Radar Detector
Small Size. Big performance - Detects all radar, laser guns and cameras in the industry's smallest footprint.
Revolutionary Accuracy - Reduces the uncertainty and frustration of false alerts with Digital Signal Processing (DSP) technology, the next level of accurate radar detection.
Beltronics Pro 500 Radar detector with GPS Radar Detector 
The Beltronics Pro 500 is not exactly the Hulk of the collection, but definitely, it has earned its place on the list as it emerges the Hulk of Beltronics.
The tracker has made a name for itself with us and the radar tracker community thanks to its fusion of good detection and great GPS tracking.
It weighs in on long-range radar and laser sensors with an accuracy we found to be surprisingly good. With the help of its GPS, one can know how fast the car is moving and the detection of red light camera as well as for fixed camera protection. Its database can easily be updated.
The result of this is that the rate of false alarm is reduced since it has the AlertLock feature to note areas of false alarms.
In addition to that, it offers 360° laser protection and provides signal for the X and K bands. Making this better is the fact that it displays everything as clear as it provides the alert.
The Beltronics Pro 500 also comes with voice alert which although not very important, is not useless.
Pros
Detection that is way over the bar in accuracy, range, and timeliness.
It largely minimizes false alarm.
It is very easy to install and use.
In its class, we find it to be cheaper than most others.
Good alert system.
Cons
It has more buttons on its interface than most, and we find it a little busy and can be confusing.
It doesn't come with a Bluetooth cable, so you may need to buy that separately.
Verdict
The simple story of the Beltronics Pro 500 is that it was born to make driving with less stress of false alerts that can always spoil your smooth ride. Even as it does that, it doesn't fail in rightly sniffing out the traps waiting for you; neither does it fail in indicating your speed to you.
Radenso XP Radar Detector
Before reviewing the Radenso XP, we took a look at the Radenso Pro SE which came before it. It had its ups, but we were more disappointed than not thrilled. This is because we clearly saw that it had great potentials which were left to waste.
Although for a newcomer into the game of radar detectors, even with the Pro SE they have not done badly, we didn't deem it fit to be on our list.
So when we got down to the Radenso XP we didn't expect much. Nevertheless, it ended up giving a very good run until it appears as one of our best radar detectors.
The detector makes use of the low noise amplifier (LNA). This feature significantly improves its sensitivity thereby enhancing its range. Hence, its warnings on the K and Ka bands come right on time even before you reach the trap.
More so, it features Traffic Sensor Rejection which is mostly used by Escort and Beltronics to filter out false alerts. Another thing is that it gives all round laser detection.
It is GPS enabled to provide timely warnings as regards to red light cameras and noting locations of false alert.
For the alerts, the detector has different voice alert messages. It also has a clear display which also gives the exact detected frequency.
Pros
Top notch sensitivity to radar bands and laser.
Speedy detection and above the bar accuracy.
It has built-in GPS.
10 segmentations of KA band.
It has a display which can easily be gulped without having to take your attention off the road.
Cons
It is poor in the detection of X-band which is used by police in some states including Ohio.
The GPS database is not the most complete.
Verdict
If you want something different from the top players, Escort and Beltronics, then you have the Radenso XP. It doesn't just give you something different, it gives something equally good and even better than many others. The good thing is that it does not disappoint when it comes to filtering cars with K-band collision avoidance systems.
No products found.
Beltronics Sti Magnum Radar Detector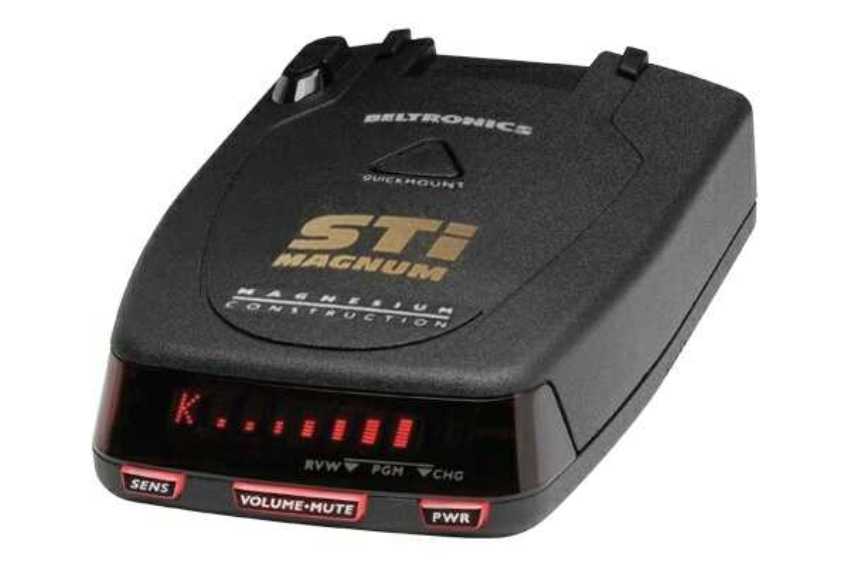 If there is ever a medal around the Beltronics Sti Magnum, it has to be first of all for its range. Then every other thing can follow.
This range detector has a dual antenna which are both forward facing. These are what give it its amazing range as well as precision.
For the dual forward facing antenna, this detector is the first to use the technology. It is as well the first to be designed in a way that it can't be detected by radar detector detectors.
Also, it is featured with the digital signal processing (DPS) which sieves through incoming signals to separate the real from fake alerts. This enables the detector to control fake alerts.
It can be connected to the Escort Live App via Bluetooth. This provides added protection against non-radar threats. Also, this gives it some benefits of GPS-enabled radar detectors especially as regards red-light cameras and speed traps.
Once the detector is in need of maintenance or experiences a minor fault, it notifies you and then it shuts down. What this does is to prevent it from spoiling. Other features it has include the AutoMute to disable voice alerts and the city filtering mode among others.
Overall, this is a very great radar detector which performs great and almost as great as the Escort Redline, both of which look alike.
Pros
The best range you can get out there.
Easy to use and user-friendly.
It is very durable as a result of its strong build.
Clear display and alerts.
It gives warning prompts if it detects any problem or if it needs service.
Cons
It is not among the very cheap radar detectors.
Not the very best in clearing off false alerts.
Verdict
The range of the Beltronics Sti Magnum is one thing about it that can never be talked about in full. As such if you place much emphasis on range, this detector may be your best bet. The only detector with a range as wide as this is the Escort Redline which happens to be more expensive.
No products found.
Best Radar Detectors For Budget
Whistler Cr90 Radar Detectors
When it comes to best radar detectors that are budget friendly and still good, Whistler Cr90 will definitely pop its head.
It detects signals from the X, K, and Ka bands on a long range. It also detects laser and POP alerts. While we did not find the range detection among the most exceptional, we find it better than most others.
To indicate that it is working fine, the radar tracker runs a self-test once it comes on.
It comes with features such as the Stay Alert Feature which works to keep you alert and awake on a long journey. The feature works by beeping twice after it is set on. If after five seconds of the beep going on you fail to respond by pressing a button, a loud alarm goes on.
Although we find this feature very important, we do not recommend that you depend on it too much to respond to your body. We would recommend that when you get tired you rest and when you feel sleepy you sleep.
The Whistler Cr90 gives both audio alerts as well as display alerts.
It comes with GPS. The GPS stands it out from most others as it is built in the detector. Hence it is mostly hidden and it has speed camera and speed-trap alerts recorded on it. This gives you additional protection.
Above most things, we found this windshield-mount detector has a massive sensitivity for a detector at its price range.
Pros
Highly affordable.
While plug and play, it is highly customizable.
It comes with an in-built GPS, good for detecting threats that don't give signals.
Very good sensitivity.
Performs greatly at screening out false alert.
Cons
It is not made with a community threat sharing app.
Verdict
While in performance this radar detector is better than most average detectors we have come across, most of them are more expensive. Therefore if you need something that is more than the average in performance and very affordable, the Whistler Cr90 should complete your jigsaw.
Beltronics V10 Radar Detectors
We have found Beltronics RX65-Red to perform better than the Beltronics V10. However, because it has been discontinued, we have picked another, which is both great and affordable. In fact, it is more affordable than the former.
With this detector, what you get is a lightweight detector which is easy to customize and conceal as a result of its size.
It comes with an exceptional laser detector which can detect laser from a distance with massive accuracy. Its detection is great as it provides a 360-degree protection.
More so, it is furnished with 9 bands frequency, making it among the highest you can get. With it, you can detect the X, K, and Ka signal. The detection can, however, be customized to how you want it.
It features the digital signal processing (DSP) to analyze signal received and eliminate false alerts. To add to this is its AutoScan technology, as well as the driving mode settings which allows you chose between city and highway modes.
Other things the detector features are enhanced Audio Alerts, High Definition Display designed for adjustment both in the day and at night, and other options to increase ease of use.
With the Beltronics V10 you can connect to the Escort Live. This is through Bluetooth connectivity with either Android phone or iPhone.
While we found this rather great, it didn't perform like a radar detector that is above $400. We didn't expect it to.
Pros
The most affordable on the list.
Good customization options and easy to use.
Performs excellently on highway.
It has a generous range sensitivity.
Cons
It doesn't have the best fake alert filter in busy locations. Nevertheless, it offers the best among others in its price range.
Verdict
We would recommend this as not only one of the best radar detectors in affordability, but also the best for the highways. This is because while it may keep getting false alert on busy roads, on the highway it performs exceptionally well. This is even thanks to its 360-degree protection that adds weight to its laser and radar detection.
Sale
Best Cordless Radar Detectors
Escort Solo S3 Radar Detector
This makes it as one of our best radar detectors as a result of its convenience as well as ease of use. It is one of the easiest to use, as well as to move from one car to another because it has no cord.
The Escort Solo S3, which improves on an earlier version, s2, has a sleek design and good display. Also, while it has a good detection range, its radar and range detection is pretty awesome.
Because it comes without a cord you would make use of 2 AA batteries. The good part of this is that we have found its battery consumption to be minimal. It could take over two months before you get to change batteries. To conserve battery, once it is not in use, the detector switches off after the car is not in motion for 25 minutes.
For display and alerts, it has a high-resolution graphic display which can be adjusted. The audio alert is as clear as can be, and it has a volume control. Other alert audio alert settings are the auto mute, mute, and SmartMute.
Another great thing with this is that although it doesn't have a range as good as the Redline, it still has very good range sensitivity. More so, among radar detectors without cord, it has the most excellent range.
It is able to detect the X, K, and KA bands, as well as laser signal.
Pros
One of the easiest to mount and use
Great detection range
It gives timely warning
It is best for travelers
Cons
It doesn't come with GPS or any app for threat sharing
Does not have the best range detection.
Verdict
This cordless radar detector is best for someone with more than one car. That is because you can easily take it off one car and fix in another, as well as for people who travel a lot. Once you will travel and rent a car, you can easily take it off your car and travel with it.
Sale
Escort Solo S3 Cordless Radar Detector
Radar Receiver/Detector Type: Super heterodyne, GaAs FET VCO; Scanning Frequency Discriminator; Digital Signal Processing (DSP)
Laser Detector: Quantum Limited Video Receiver; Multiple Laser Sensor Diodes
Conclusion
At the end of it all, we still hold on to Escort Max360, Escort Passport 9500ci, and Escort Redline as the best radar detectors money can buy. While radar detectors are very important, they are not licenses for driving against the law. More so, their best results are only gotten when you use them properly and without abusing them.