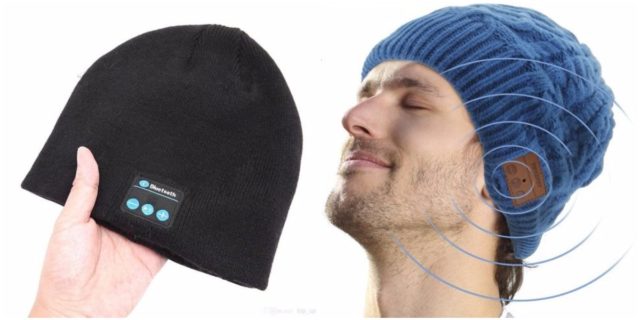 If you told me a decade ago that time would come when technology would be integrated into fashion seamlessly, I would laugh at the idea. The closest that idea had come into implementation was in spy movies, and even then, the spies had wires inside their clothes. Since Bluetooth Beanies entered the market, technology has not only proven me wrong but also made exercises and recreational sports such as skiing, skating, dog walking, running or even a casual walk in the neighborhood much more exciting.
What are Bluetooth Beanies?
Think regular beanies with integrated earphones and a mic. Surprisingly enough, these features do not make the beanies heavier. Bluetooth Beanies come in all colors and sizes. Also, the technology used on each beanie is different with some old designs having durable headsets and some modern designs featuring the latest inventions. Bluetooth beanies are comfortable, and as mentioned earlier, they can be used for a broad range of activities.
Also, you can wear one regularly as opposed to bulky headphones and still keep the same features with an added advantage, warmth. Here are some of the best Bluetooth Beanies currently on the market.
Best Bluetooth Beanies
Rotibox Wireless Bluetooth Beanie Hat Cap
The Rotibox Bluetooth Beanie caps have arguably the most range of colors and designs of all the items on our list and all of these models come fully equipped with a stereo headphone and a speaker mic featuring the best Bluetooth technology. Rotibox combines style and technology thanks to the 100% soft acrylic material that helps this double knitted beanie keep your head warm as you enjoy some great tunes.
The Rotibox Bluetooth Beanie also has one of the best stereo headsets in the game. As such, this beanie provides incredible sound quality at any volume with a range stretching up to 33 feet. Bluetooth V4.1 technology makes pairing this beanie with your music device, smartphone or tablet easy. Also, this beanie has a user-friendly control panel making answering or hanging up calls and skipping songs such a simple task.
The Rotibox Bluetooth Beanie is also fully washable and has a built-in rechargeable battery that can last for up to six hours of music or talking.
Soundbot SB210 HD Stereo Bluetooth 4.1 Wireless Smart Beanie Headset
The Soundbot SB210HD has premium double soft knit to give you the utmost comfort. Also, it has a simple yet classy design which is ideal for mobility and accommodates a wide range of lifestyles. You can be sure to use the Soundbot SB210HD every day without putting your convenience to compromise. Aside from the usual headphones and mic, this Bluetooth beanie also has a high-density rechargeable battery that can last up to seven hours of constant use.
Removing and re-installing the speakers and battery so as to wash the beanie is made easy thanks to its Velcro design and a unique zipper. The process is already risk-free, but the company also issues a one-year manufacturer warranty to guarantee their products effectiveness. The Soundbot SB210HD also features Bluetooth V4.0 technology that can connect to almost all media including tablets, smartphones, and Bluetooth enabled music players with a range of up to 33 feet.
Qshell Winter Comfy Bluetooth Beanie Washable Hat
The Qshell Winter Beanie is perhaps one of the best Bluetooth beanies you can have for the winter. It features many colors, but the 100% extra soft acrylic material and double knitting remains consistent in all the beanies adding warmth and comfort to your ears and head. This beanie also has amazing sound quality thanks to its wireless stereo headphones that are ideal for outdoor sports as well as recreational time.
The Qshell Winter Beanie also features the easy-to-connect Bluetooth V4.1 technology that can be easily paired with most tablets and cell phones for a range of up to 33 feet. Also, it has a conveniently placed microphone and user-friendly buttons that help make skipping tracks or picking and canceling calls easy. It also has a rechargeable Li-ion battery that can last up to six hours, and although the Qshell Winter Beanie is a one-size fit, it is comfortable and fully washable.
Mydeal Washable Bluetooth Beanie Cap
The Mydeal Music Beanie Cap uses 50% acrylic and 50% wool to make the double knitted outfit one of the best choices for a Bluetooth beanie lover. It also features a state-of-the-art Bluetooth stereo headset that delivers quality sound for your exercise regimen, outdoor sport or traveling needs. Equipped with the latest V4.1 Bluetooth technology, this beanie cap is easy to pair with devices and also covers a range of up to 33 meters.
The Mydeal Music Beanie Cap is also easy to use thanks to a user-friendly manual and has a rechargeable Li-Ion Battery that can last up to 60 hours on standby and six hours of constant play or talk time. Also, you can easily remove the headset from the pouches to easily wash the beanie and reinstall them with ease. The Mydeal Music Beanie Cap has a low price and is ideal for running or other sports thanks to its comfortable nature.
Tenergy Wireless Bluetooth Beanie
The Tenergy Wireless Bluetooth Beanie features a simple design that is reminiscent of an old-school beanie. Despite being a basic knit, this beanie houses speakers, a microphone, and has the latest Bluetooth technology which makes it easy to connect with most Bluetooth enabled devices. With this technology, you can keep your hands warm on a cold day when on a call or handle other chores simultaneously.
The Tenergy Wireless Bluetooth Beanie has many uses including skiing, snowboarding, and working out in the gym just to mention a few. Also, in case you need to relax, this beanie can provide warmth and quality sound through its Bluetooth stereo wireless headset. The Bluetooth modules are easily removable making this beanie easy to wash, and its battery can guarantee six hours of unlimited music or talk time.
A faux leather control panel makes this beanie easy to use and thanks to its durable modules, you will enjoy quality music and warmth for an extended period.
Conclusion
Bluetooth beanies might have been introduced as a trendy technology-incorporated fashion statement, but they have gone on to become a part of most people's lives. Seeing how music is a darling to many people around the world, who would deny a chance to have high-quality sound from a beanie, which also keeps you warm? Chose any of these top recommended Bluetooth beanies and have a pleasant time doing what you love and the fact that the gadgets are are removable allows you to wash the beanie as regularly as you please.