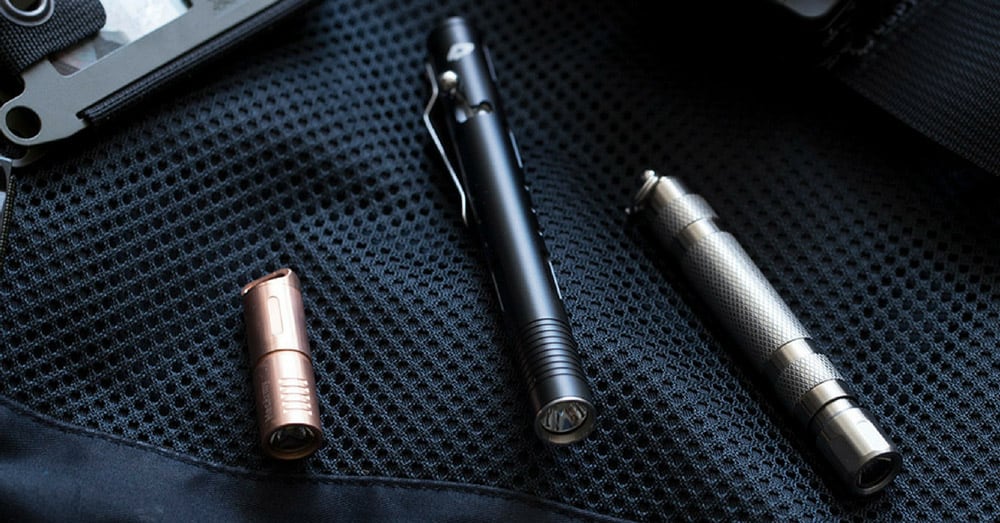 Flashlights that are powered by alkaline AA batteries are typically compact but can be mighty. In fact, in most cases, they offer comparable output to the latest lithium powered units. Besides being adequate performers, they deliver dependable power sources that can be found anywhere. This commonality is the biggest strength and the key reason why a lot of people choose them. But there are other factors that make them really great and they include LED bulbs, multiple modes, lasting power, ease of use, durability, strong warranty and affordability.
With these things in mind, we spent enough time researching the best AA flashlights that offer smart brightness. Based on the research, we drew a firm conclusion that ThruNite TN4A LED AA Flashlight is the best flashlight anyone can find in the market right now. It offers a far brighter light and well-built bulbs. The level of output can easily be adjusted to suit the task at hand.
See Also: Best Christmas Light Projector For Your Home
It has long-lasting power that can last hours even when blasting the brightest light. However, if you are like me and want something that consumes less battery power, you can choose Streamlight 88033 ProTac 2AA 250 Lumen Professional Tactical Flashlight or Nitecore MT2A 345 Lumens LED Flashlight w/ Bonus Premium Holster or any other one on the list that uses only 2 AA batteries as their power source.
Best AA Flashlights
Preview
Popular Choice
Editor's Choice
Best Value
Title
Streamlight 88033 ProTac 2AA 250 Lumen Professional Tactical Flashlight with High/Low/Strobe w/ 2 x AA Batteries
ThruNite TN4A HI flashlight, CREE XP-L HI LED, Max output 1050 lumens, Using 4AA batteries, IP-X 8 Waterproof (TN4A HI Cool White)
Nitecore MT2A 345 Lumens LED Flashlight w/ Bonus Premium Holster - Use 2x AA Batteries
Popular Choice
Preview
Title
Streamlight 88033 ProTac 2AA 250 Lumen Professional Tactical Flashlight with High/Low/Strobe w/ 2 x AA Batteries
Editor's Choice
Preview
Title
ThruNite TN4A HI flashlight, CREE XP-L HI LED, Max output 1050 lumens, Using 4AA batteries, IP-X 8 Waterproof (TN4A HI Cool White)
ThruNite TN4A LED Flashlight Powered by 4 AA Batteries
TruNite TN4A is a new compact flashlight that delivers a massive output of 1150 Lumen using readily available batteries you can find anywhere. There is an orange peel reflector introduced to help improve the quality of the beam. In addition, it uses CREE XPL-V6 LED type which produces light that travels a long way. Also, you can expect the bulb and the flashlight to last for well over 20 years, even with everyday use. Its temperature technology protects it from overheating by automatically reducing the current when the temperature in LED or driver goes up to 80 degrees centigrade.
TN4A also offers a better and friendly user interface with a turn on/off button for easy operation. It also has several modes including strobe (1150 /150 minutes) Turbo (1150/50 minutes) high (550lumens/150) medium (139 lumens/14 hours) Low (15 lumens /93 hours) Firefly (0.5 lumens/80 days). All these deliver the flexibility you need when choosing a desired torch.
Pros:
It is easy to use
It is sturdy and can last for years
Has a very high lumen that gives the brightest of light
Does not heat up or get too hot to handle
Requires electric outlet
It has a reasonably long runtime
has a smart memory feature that starts from the last mode accessed
Has a beam distance of 356 which is quite reasonable
Cons:
It uses more battery power (4 AA batteries)
Some say the battery does not last for too long when switched on turbo mode which is the brightest mode
Verdict:
If you want a flashlight that can throw light in far distances, choose this TN4A. It is easy to operate and comfortable to hold. Despite its tiny size, it produces quality light although it does that with more battery power.
Nitecore EA41 1020 Lumen Cree XM-L2 U2 LED Flashlight Compact Searchlight with LumenTac Diffuser
Nitecore is a dual switch AA flashlight that we found quite fascinating with super bright 1020 lumens. The LED flashlight is an upgrade from EA4 with pretty new features based on feedback from consistent customers and deep-rooted design survey. The flashlight is designed with tough aircraft-grade aluminium, and coated in HAIII Military-grade hard-anodized coating to survive scrapes, smashes and other things. It can also survive water and other debris. Additionally, it boasts of 366 yards beam for first-class visibility and 5 brightness settings with the lowest setting boasting a runtime of 400 hours. We found its three important modes including strobes,
Additionally, it boasts of 366 yards beam for first-class visibility and 5 brightness settings with the lowest setting boasting a runtime of 400 hours. We found its three important modes including strobes, sos and location beacon which is quite useful in emergency quite uncommon. It uses high-efficiency LED (CREE XM-L2 U2 type) and commonly available AA batteries but you will have to get them yourself and they aren't included. It comes with light, holster, lanyard, O-ring, LumenTac (TM) Diffuser Filter. The diffuser allows you to easily change from throw to flood light. It is portable in size and can be taken anywhere.
Pros: 
It is easy to use
It has a portable body design, thus can be carried
It uses convenient AA battery power source
It is lightweight yet tough
Has a friendly interface
It can stand
Cons
It has lesser lumens than TN4A
Does not come with the AA batteries.
It also uses more batteries than average AA flashlights
Verdict:
This is a versatile flashlight that just like the TN4A offers some sense of security while you are out camping or hiking. We like that it offers all quality functions without having to weigh you down.
ThruNite Archer Series – LED AA Powered Flashlight
With great emergency, a sleek design, a memory function that allows you access to the last mode and also momentary-on feature, few flashlights can match up to this CREE XP-L V6 LED EDC in a hazardous environment. The series is one of the most popular flashlights on our list with really loyal users for its efficiency and durability. The series includes 1A V3 and 2A V3 series with 200 and 500 lumens maximum output respectively. They also have a beam distance of 72 yards and 118 yards discretely. It is made of aerospace grade aluminium body and a military grade type III hard anodized anti-abrasive finish which can withstand any kind of pressure. It can also withstand 11/2-meter full immersion in water. The series has a maximum runtime of 408 hours which is higher than most AA flashlights with higher lumens.
Pros:
It is versatile and can be used for self-defence, duty light, camping and more
It is sturdy with prolonged lifespan
Upright stand on rear end
Quality LED emitters for better and brighter light
Lifetime limited warranty
Cons:
Doesn't have the highest lumen
It also has a lower beam distance compared to the first two mentioned
Verdict:
If you want a convenient flashlight with a powerful performance that doesn't really cost so much, this is a great choice. This flashlight has multifunctional applications, for example, law enforcement, camping, self-defense, medical help and much more.
Nitecore MT2A 345 Lumens LED Flashlight w/ Bonus Premium Holster – Use 2x AA Batteries
Niecore MT2A handles more output than Fenix LD22 2015 Flashlight with 345 lumens LED CREE XP-G2 R5 LED system and you will slightly spend less to get it. As you can see, this flashlight uses an absolutely-clear mineral lens with anti-reflective coating. In addition, it offers three brightness adjustments alongside strobe and sos for different possible usage instances. Not only does it have a simple but appealing design, it produces bright light all the time. There is also an aluminium reflector which ensures a smooth and effective beam. The focused beam can reach 166 yards
Pros:
It is sturdy and durable boasting aero-grade aluminium alloy and HA III military grade Hard anodized led
Its removable two-way anti-rolling clip makes it easy to work with
It comes with a lumen tactical premium top cover double loop holster
Cons:
It doesn't come with the AA required to power it
Verdict:
As smart flashlights go, it is hard to beat this Nitrocore with its lot of incredible functionalities. Its aluminium body and design caught our interest too. Also, it has a great output. Note that it doesn't come with the AA battery required for its operation. Nevertheless, you can easily find it anywhere.
Streamlight 88033 ProTac 2AA 250 Lumen Professional Tactical AA Powered Flashlight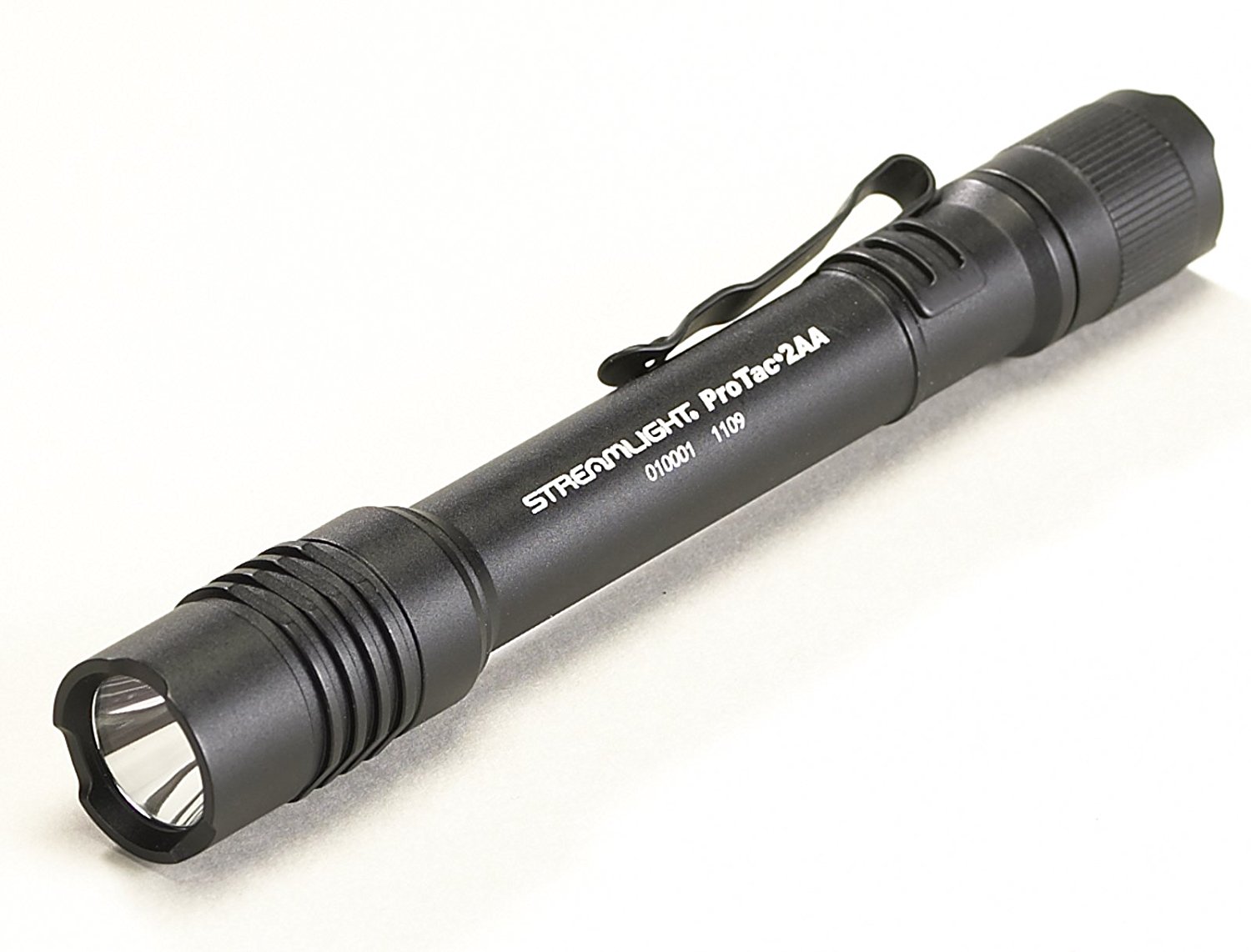 This Streamlight Pro Tac Tactical flashlight is one of my favourite compact flashlights. Constructed from top quality aluminium material is this sturdy LED flashlight that won't disappoint. Although it offers 250 lumens – which falls behind ThruNite TN41, it delivers sufficient light and uses 2 AA batteries as the power source. The flashlight ensures comfort and convenience with its removable clip that makes for easy carrying. It has an intelligent C4 LED technology that makes it shock-absorbent. The attribute also extends its overall lifetime to 50,000 hours of useful life.
One-touch operation with modes of operation including strobe, variable intensity or momentary beam. Other features include anti-roll face cap and waterproof up to 1 meter. It has IPX7 rated design which means even if it drops in water up to 3 feet or faces full water splash it can still function. However, it can stay in water for only 30 minutes. It uses either a CR123A or AA battery for incredibly bright performance.
Pros:
It is easily operated
It has an advanced durability with anti-shock features that prevent the screen from shattering
The clip for pockets is highly useful
Compact and lightweight
 Anti-Roll Facecap
Provides bright light output
Cons:
The flashlight's waterproof feature doesn't last for so long
Verdict:
We find this flashlight incredible for its excellent features and performance at a very reasonable price. It is a great choice if you want a personal carry light that excels in performance.
Fenix LD22 2015 edition 300 Lumen XP-G2 R5 LED AA Powered Flashlight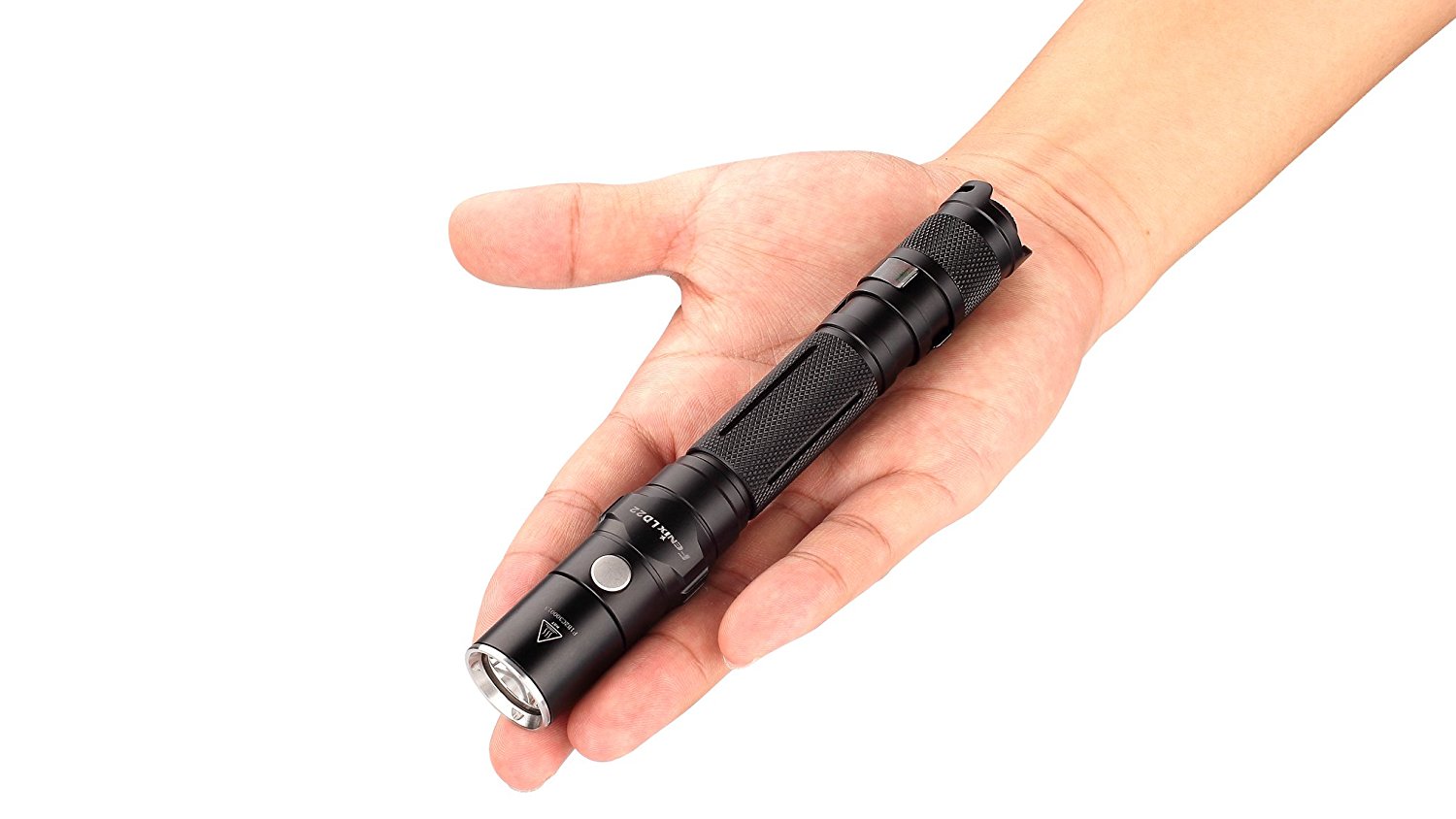 This is a vastly superior AA powered flashlight with amazing features. Most importantly, it offers a brighter light output than Streamlight Flashlights with 300 lumens. Its features include the very clear, hardened-glass with anti-reflective coating and CREE XP-G2 (R5) LED lighting system that has a lifespan of 50,000 hours. It comes with a Holster, Lanyard and 2x EdisonBright AA alkaline batteries. It also features a one-hand tail cap switch for quick function. Default mode include dual operation mode and outdoor mode (turbo, high, mid low, strobe and sos)
Pros:
Smart memory feature that automatically enters the previous brightness mode when switched on
It is durable
Has a better output than some flashlights in the same category
The compact size makes it very easy to carry
Cons:
Verdict:
With its mode memory and a great beam reach, we think this flashlight will satisfy any user. It is convenient and fast to operate/carry about.
J5 Tactical V1-Pro AA Powered Flashlight (3 Pack) The Original 300 Lumen Ultra Bright, LED 3 Mode Flashlight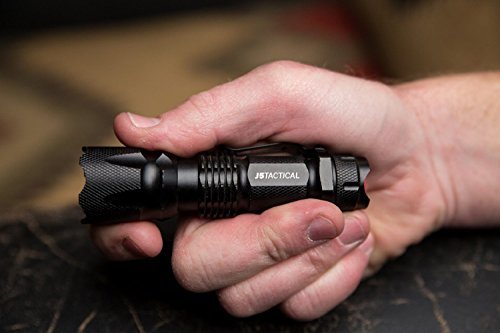 J5 Tactical V1-Pro Flashlight features a powerful LED technology with the same maximum level of output as Fenix LD22 2015 Edition Flashlight. It's 300 lumens ensures superior beam of light up to 600 feet. It is a versatile flashlight that can be powered by either a single AA battery or a 14500 rechargeable battery. Its portability makes it easy to handle and carry around. It is also tough enough to be your most needed flashlight during camping, hunting and more. Additional features include brilliant three settings; high, low, and strobes.
Pros:
It runs on a single battery for hours
Offers wide illumination
It is designed for durability
It is a super intense flashlight made to last
Cons:
It does not come with batteries
May not last for too long since it uses a single battery
Verdict:
If you want something cheap that drives enough mass of light, we recommend this flashlight.
Sale
Conclusion:
Having considered very useful factors anyone can expect in a flashlight, we can conclude that these AA powered flashlights are of high quality, durable and worth it. They are affordable without compromising sturdiness.