Getting rid of dust in the home can be tricky. This is why you need a list of the best handheld vacuum cleaners.
Making the choice of which one to buy and which to leave can be incredibly daunting. Hence, we have come up with a list of the best portable handheld vacuum cleaners to enable you compare the features you would like before you buy one.
Dust can hide in some pretty hard-to-reach and unexpected places that are difficult to reach or even be seen. But with little effort and the best handheld vacuum cleaners, you can wipe out the dust and breathe clean air. We spent weeks looking for portable vacuums that can help reach these confined spots effectively for utter fresh air in homes.
During the research, we considered some relevant elements like their suction power, battery life, whether or not they are cord-free, their overall lasting power, if they are rechargeable or mains powered, what it takes to get them charged etc. These and more are the criteria we used to decide that the Dyson V6 Trigger Cordless Handheld Vacuum Cleaner is the best handheld vacuum for all cleaning purposes.
The vacuum helps you do the overpowering chores of cleaning without much effort. It is durable, reliable and quite affordable compared to what it can do to your home. Regardless, if what you want is a different-shaped vacuum that performs just as well as the V6, you could go for Black + Decker CHV1410L 16V Cordless Lithium Hand Vac with Pet Hair Brush – Cordless or the Shark Rocket Corded Hand Vac or any other one on our round-up.
Why Should You Trust Us?
It is easy to trust a good review, which is what we do. We map out quality time for our product reviews, considering varying brands and factors crucial to them before selecting the best-ranking ones that are truly dependable.
In this very review, we considered about 50 of the best handheld vacuum cleaners, bearing in mind vital features they ought not to lack as well as their durability. We have been able to lay our hands on some of the vacuums to get a direct feel of how they work using some of them to pick casual dirt like pet hair, nuts, spills on the kitchen counter, crumbs, car brakes, cracks or holes, and more. We also reached out to different commercial or professional cleaners to find out which vacuum works best for them.
Also, we compared their battery lives and the time it takes to get them all recharged. As regards the battery life, we made sure to pick ones that work with batteries with no toxicities or ones that will potentially cause some adverse effects. We also compared some of the vacuums cleaners directly by using some of them simultaneously.
With all these procedures, we were able to point out their different advantages and disadvantages, discarding the low standard ones while recommending those that are really worth your last penny.
AEG AG71a RapidClean Handheld Vacuum Cleaner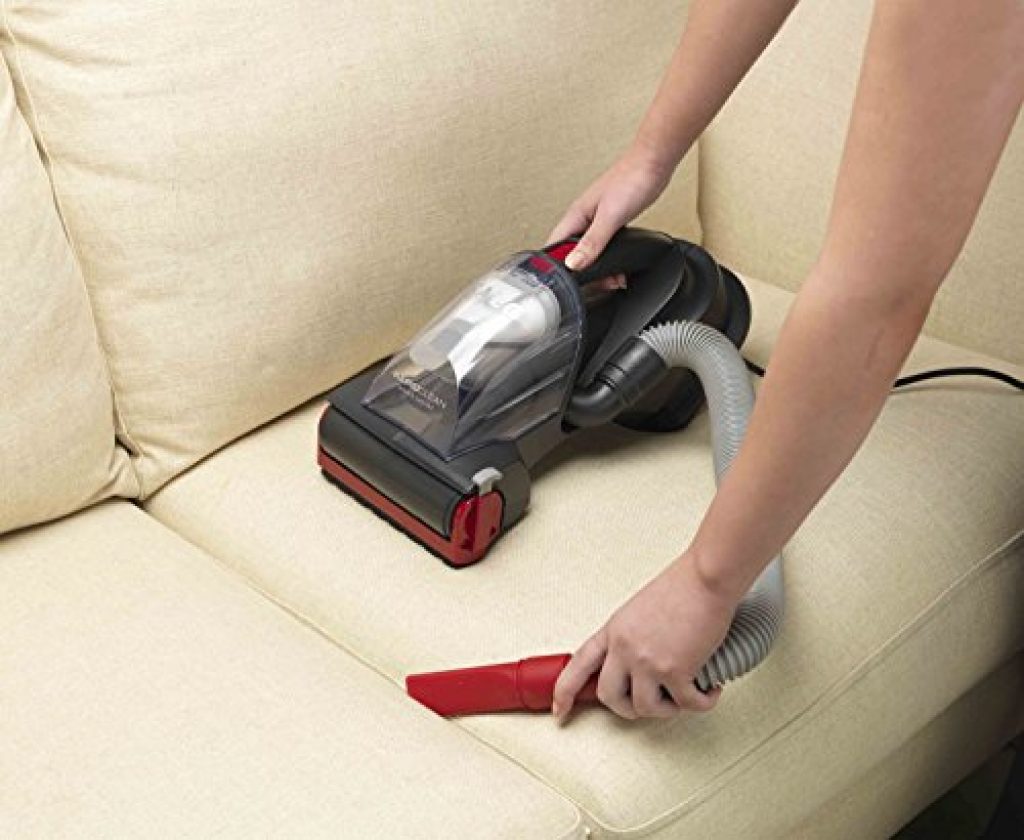 The AEG AG71a RapidClean Handheld Vacuum may not necessarily catch your fancy if size matters to you. Nevertheless, if you can overlook the size for its beauty, you would realize that it is in a league of its own. Like most things from AEG, this highly innovative piece is extremely brilliant in performance and thanks to its light and compact nature, it is comfortable and easy to use.
The Handheld Vacuum got us wanting to embark on cleaning for a whole day. It has a head-strong brush that handles cleaning like only an expert could, leaving no dust in its wake.
Although it is not cordless, it will suit your comfort, style and needs. Even though it is generally a great vacuum, we found that it performs better with cars and stairs.
It gets interesting when you see how this vacuum cleaner is able to handle the tricky corners of stairs and still stay strong enough to clean upholstery as well as the tight areas of car interiors like the handbrake and gear stick.
This cleaner is not just about tracking down dust, hair, and other debris, it can withstand an entire day of cleaning due to its endurance streak.
More than most things you will get, it is highly comfortable to work with. Above that, it can simply be stored by wrapping the pipe around its base. Alternatively, after folding, you can store it in the car or furniture edge. It is certainly not space consuming and storage will never be a headache.
Pros:
It is energy efficient
It is long lasting
Highly versatile and can be used on carpets, furniture as well as sucking up pet hair
It is lightweight, so you don't have to drag
Encourages constant and vigorous vacuuming
Cons:
Verdict:
If you are tired of dust sticking to the contours of your car, then this vacuum is designed for you. AEG AG71a RapidClean Handheld Vacuum sucks up dirt that lies even in the outlines of your furniture. We love that it does not cause carpal tunnel syndrome resulting from steady use due to the weight.
NEW Bissell Best Hand Vac Pet Hair Eraser Cordless Handheld Vacuum Cleaner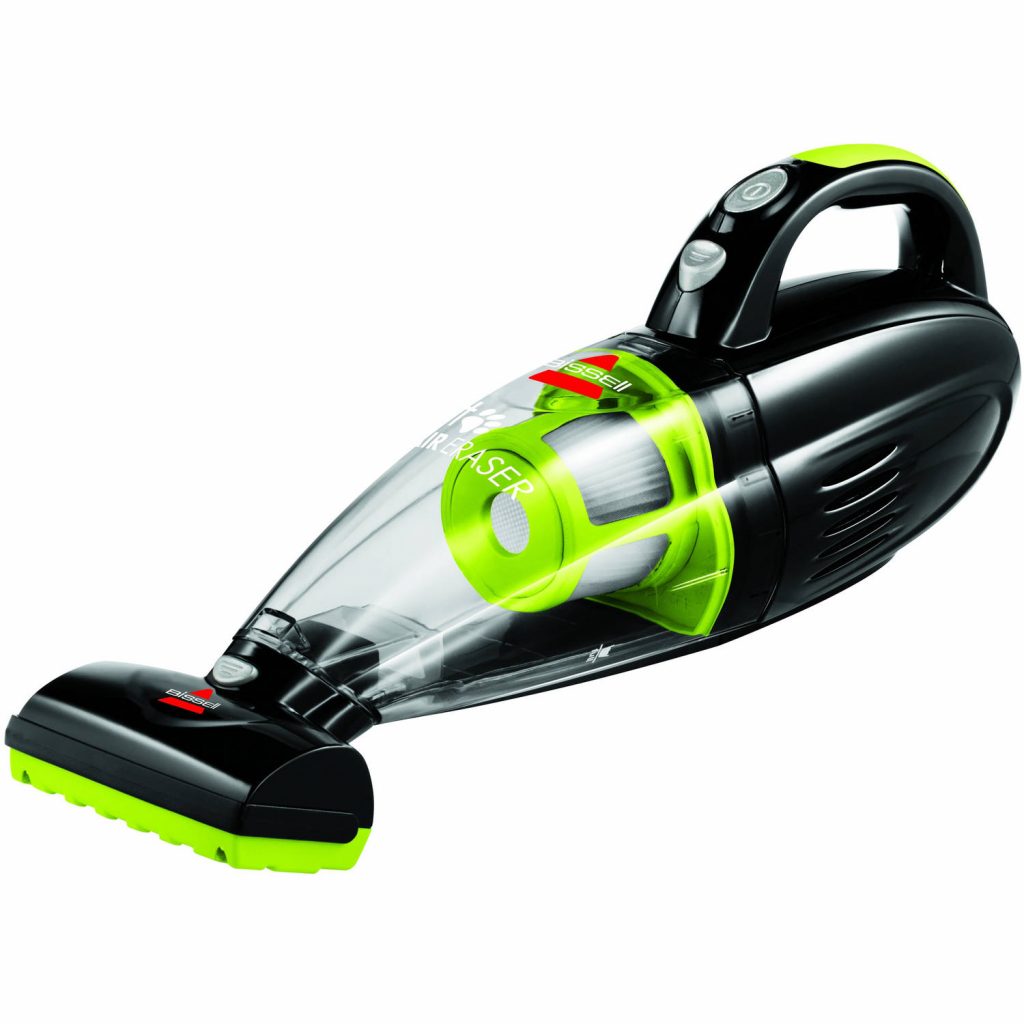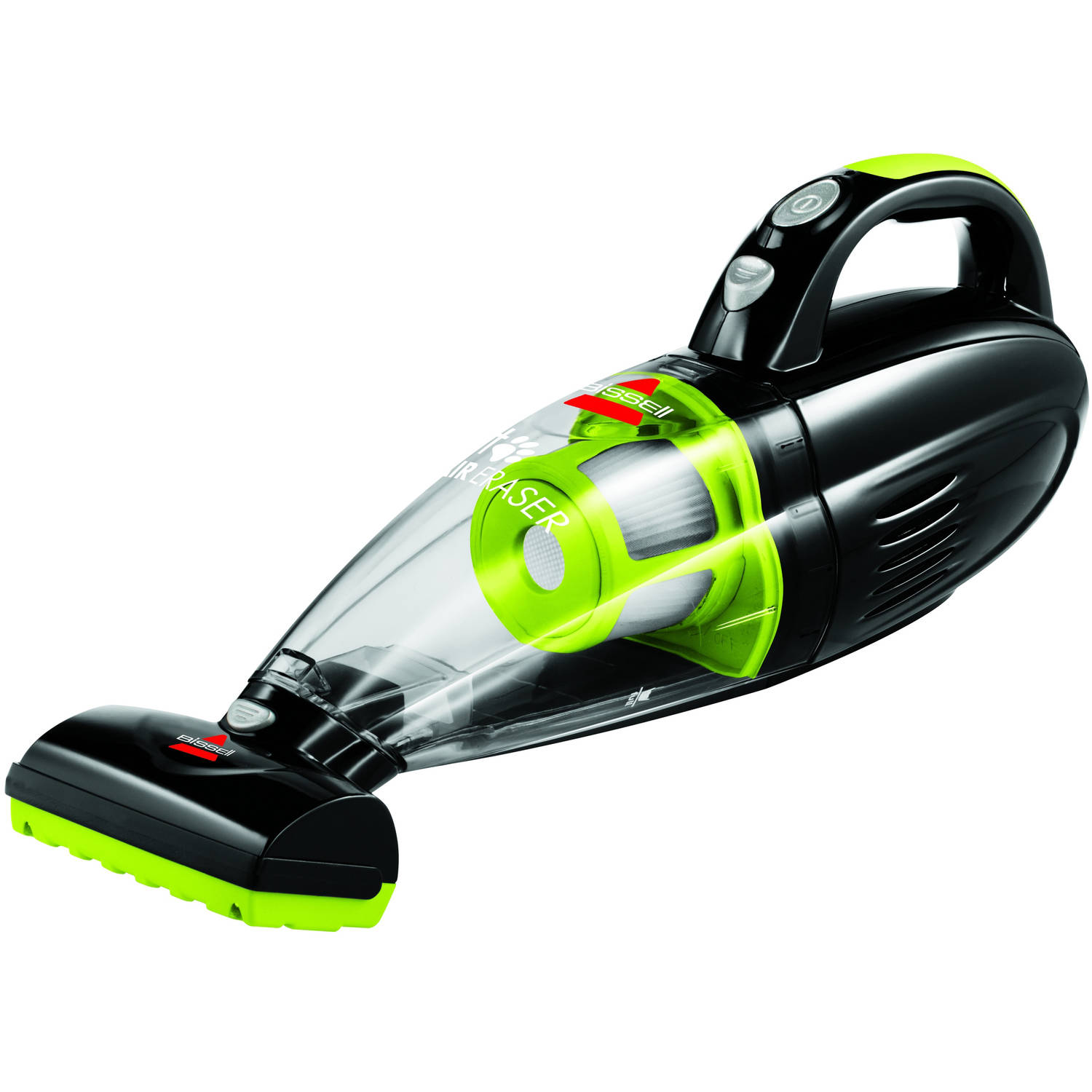 In a vacuum, the nozzle or brush head plays a significant role. It is the first point that comes in contact with the debris before it finally passes into the vacuum. It is nearly the same principle for all vacuums.
With the Bissell hand cleaner, you can easily tell the difference from all others by the way it cleans with extreme care and precision. This is as a result of its removable motorised hard brush nozzle and specialised pet tools which have been designed for cleaning discretely.
The vacuum is a brilliant mixture of effectiveness and portability with different filtration levels whose goal is to leave your air cleaner and fresher. When your environment is clean and fresh, allergens can neither survive nor spread and that will reduce your chances of developing medical issues.
The pet brush offers a level of quality should cost more. The cleaner virtually sucks all kinds of dirt including pet hair around and within the armrests, upholstery, and the entire car interior in a fast and convenient way that will surpass your expectations.
It is cordless, but by our experience, you don't have to worry about the battery life. We've seen it perform magic without a blink for at least for 40 minutes. As a matter of fact, the battery last longer than the average cleanup duration, so you're assured of a long fabulous cleaning time.
See Also: Best Blender 2017 Review: Top 9 Juice & Smoothie Maker Under $100
It comes with a crevice tool and an upholstery tool which adds something extra to the overall cleaning experience you get with this brush.
Pros:
It holds onto its suction power throughout its lifetime
It is light and easy to carry.
Cord-free and less-stressful during cleaning
Battery recharges fast
Detachable roller effective brush head
Quick rinse filter.
Emptying the dirt container is no royal pain
It is almost without sound during cleaning
Cons:
The battery won't last long enough to carry out long-term cleaning.
Verdict:
This is a vacuum to suit all. Its small size means it can fit into any corner of the house or car. It is functional, modern and durable, provided you recharge the battery, clean the filter and don't overuse it.
Get From Amazon
No products found.
DirtTamer Ultima V2510 Cordless Wet/Dry Hand Vac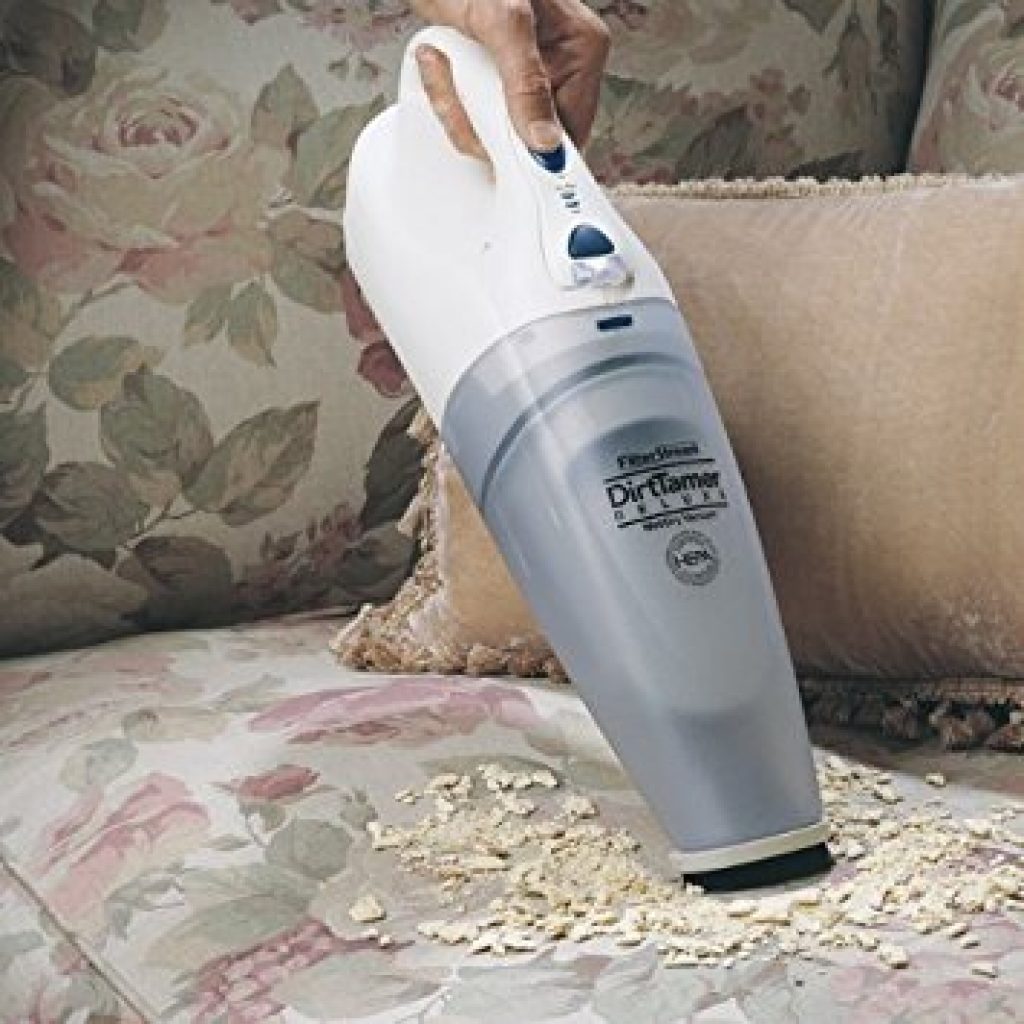 If you think handheld vacuums only pick tiny debris, think again. This very handheld vacuum can pick nearly any size of debris. A brief stroll around the house with this vacuum convinced us that it is easy to find different sizes of flakes of smut. Another thing is that it has a headlight, hence you get to see and pick up every debris even when the room isn't as bright as it should be. The legendary appliance is specially designed to deliver practicality and expediency.
Beyond just allowing you to pick dirt around the house very quickly, the vacuum is birthed to handle liquid spills among other household messes.
Furthermore, it is renowned as one of perfections in a vacuum for its 3-Stage Hepa Filtration. Note that a true HEPA filter should be capable of trapping around 99.97 percent of all airborne particles (including fungi and other toxic dust) bigger than 0.3 microns. It doesn't fail with this cleaner.
Perhaps the most beloved thing we noticed about this vacuum is the 3 handy cleaning tools and easy to unload 9-ounce bowl where dirt get stacked during cleaning. The low battery indicator which tells you when to recharge the battery is another boost to the effectiveness of the vacuum.
Pros: 
It is durable and  poses no risk of being electrocuted
Hepa filters are known as great cleaners
It is effective and works well
It does not take much space and when not in use can be placed on the wall or at the side of your car.
You can easily switch into its wet capabilities when intending to clean up some spills.
Cons:
It doesn't have the best battery life
The wires surrounding the interstice in its net screen may rust over time
Verdict:
Whatever cleaning you are using this vacuum for, we can assure you it is up to it. It suits any kind of environment and the wet capability absorbs spills wonderfully with its two bucket system that separates the liquids from the solids into two different chambers. The price may sound like a lot, but it worth every penny.
Black + Decker CHV1410L 16V Cordless Lithium Hand Vacuum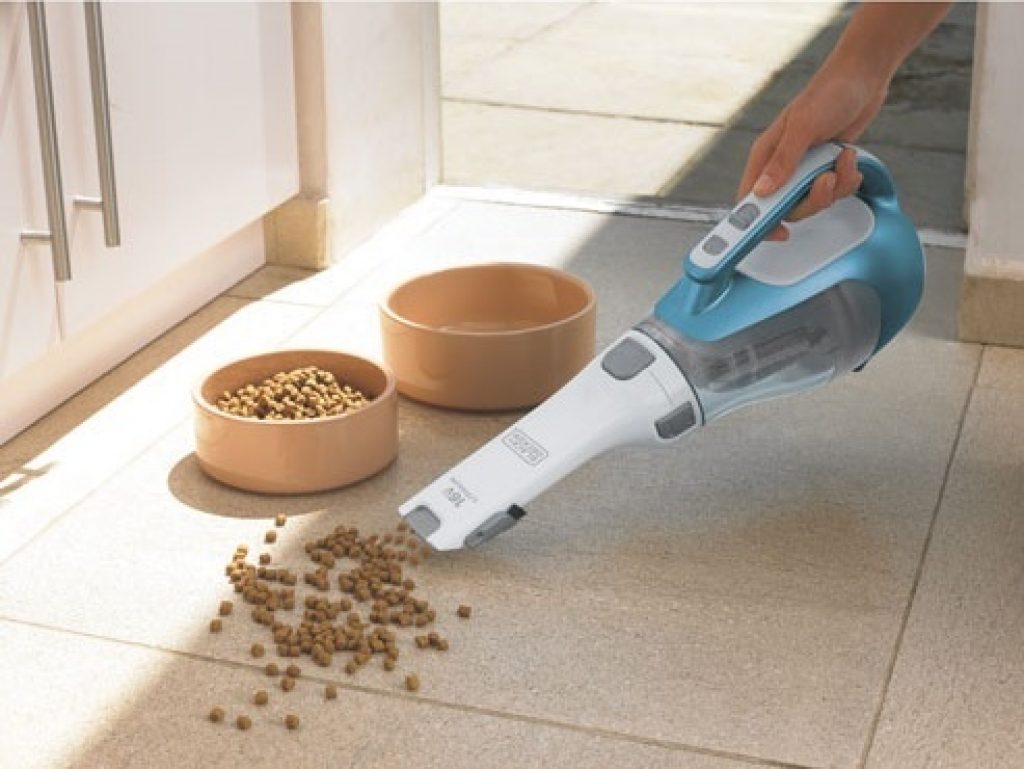 Black + Decker has devised many powerful and advanced household products in the past decades.  To them, innovations mean inventing unique and original things.  Thus, hatching up some time-saving handheld vacuum cleaners as well as other home appliances that are really grand like this Cordless Lithium handheld Vacuum. This vacuum cleaner is primarily designed for heavy duty jobs as well as for household use.
It uses a lithium-ion or rechargeable battery that stays charged for up to 18 months when not in use –  this consistency in holding up a charge is unsurpassable. The vacuum is a solid cleaner and is cordless so you won't have to be concerned about bending too low. Also, it has an onboard extension incorporated into the circuit and this means it won't present an electrocution hazard.
The cleaning vessel has a smart charge tech system that utilises more than half less energy than regular vacuum cleaners. By simply making the air stream spin, the filter gets all cleanup preventing it from getting clogged up.
Also, at one cyclonic action,  after it's done sucking up dust, it's see-through bagless dirt bowl that lets you see dirt can be emptied with ease.
In addition, it has a rotating narrow sprinkler for a different of actions, as well as a detachable, washable bowl and filters for rigorous cleaning. This makes fit for any kind of environment.
Pros: 
It picks the smallest dust that ordinarily would have been missed
It get's recharged easily and can last for a long time.
It is eco-friendly with non-toxic battery
It forces air out rapidly and also draws it in the same way which can help gather dust effectively.
Can even suck up ants and other creepy animals.
It is low-priced for its value
Cons:
The battery can last for only a limited time
Verdict:
With its battery that isn't lazy to retain a charge for a long time, this cleaning appliance can serve your need effectively at any particular point in time. It's all-rounder pick that knows when to suck and what to pick.
Sale
Dyson V6 Motor Head Cord-free Vacuum And Dyson V6 Animal Cordless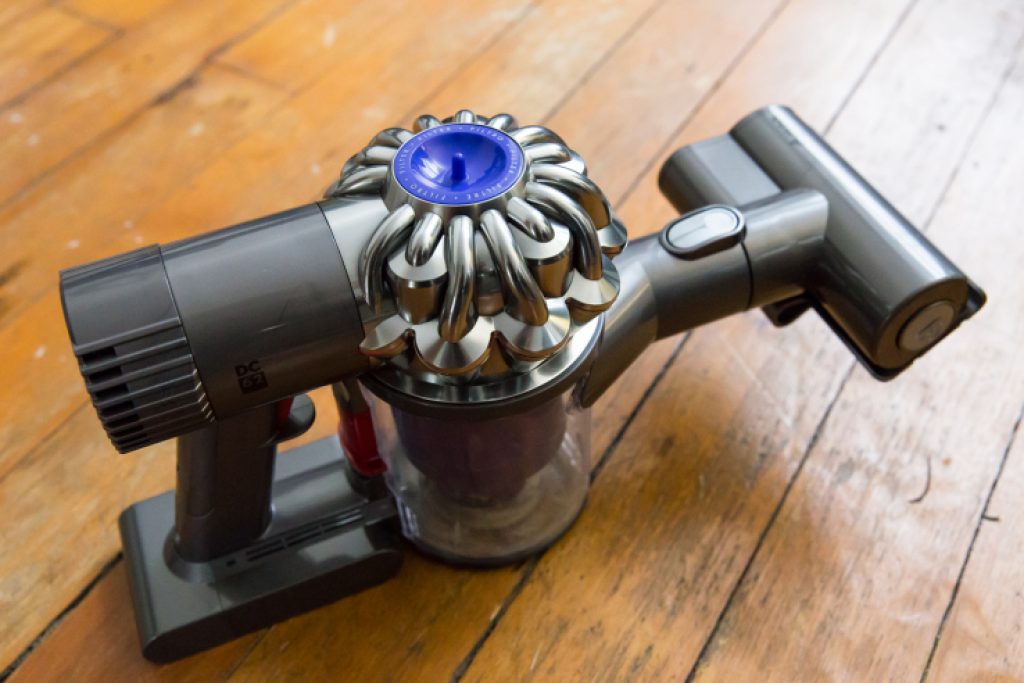 Regarded as one of the most famous vacuums and in our opinion one of the best vacuums in the market right now, this can work on your car and tiny pickups in your house. From picking dust mites, and pollen from outdoors to tiny skin sheds from your pets which usually hide or settle on rugs, wooden furniture, and other unthinkable places, this vacuum offers a well-cleaned and refreshing environment.
We found that the internal part of the vacuum is bagless and this goes to ensure that the airflow is consistent enough to offer perfect suction as well easy disposal after vacuuming. It speaks of 2 Tier Radial Cyclones system which bulks up its efficiency and an internal extension which isn't visible. The unseen cord is not a drag down but makes it different from other vacuums you'd find around.
One of the most outstanding features, for us, is its ability to pick up debris; it sucks three times more than the vacuums in its category. The vacuum's boost mode that enables faster cleanup guarantees short cleaning time. Its brush bar power is more than the DC59 Animal by 75% (which has also made a name for itself in cleaning) and can be converted to normal floor vacuum. 
It features a carbon fibre brush technology which offers a refreshing contrast to most vacuums making it capable of brushing off the most stubborn dust. Attached to it are a nylon bristle ribbons that uproot ingrained dust from surfaces and a dust capture channel that traps dust tightly so they pour back on the surface being cleaned. Just like other Dyson V6 vacuum cleaners, the cleaner is powered by the Dyson digital motor V6 which mean an uninterruptable cleaning time for you.  
Pros:
Ease of use
It's battery last quite long as it drains only during cleanup.
It can withstand tough works like removing soft, padded textile coverings and hidden spaces
It has a reliable battery life
Cons: 
It is costly compared to other vacuum cleaners on the list.
Verdict: 
This vacuum cleaner can easily be carried about to confined spots in the kitchen, laundry room, basement and bathroom where water and moisture tend to linger for proper cleaning.
Shark Rocket Corded Handheld Vacuum Cleaner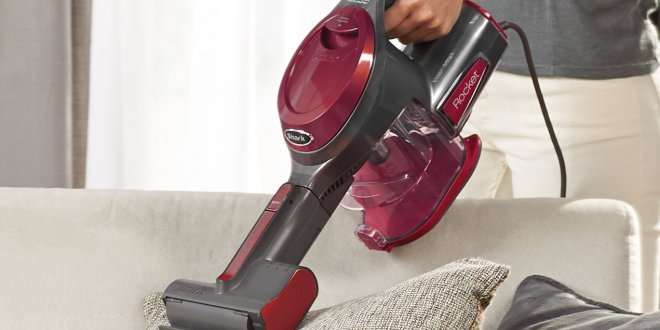 Kicking up dust when cleaning or emptying the vacuum is more than just a problem. It can cause allergic or other health-related issues. Sure enough, with this anti-allergen vacuum, that will no longer be a challenge. The cleaner vessel is constructed in a way that it can suck harmful substances including pollen, pet dander, tobacco smoke and dust mites that are capable of causing allergic reactions.
Another practical advantage of this vacuum cleaner is that it leaves the air clean.
All you need do to experience the awesomeness of this vacuum is simply push a button and the TruePet motorised bush will start picking up just about every loose dust including those in confined areas. Unlike many corded vacuums, it is possible to manoeuvre the entire house with Shark Rocket which is credited to its 5ft power cord and its lightweight. Essentially, it can be used for deep cleaning upholstery, mattresses, or car interiors as well as cleaning the stairs.
Despite its underwhelming appearance, the vacuum is what a typical vacuum cleaner should be. We think it is the best option for those looking for a cut-rate bagless corded handheld vacuum cleaner. The vacuum has a stretchable pipe that is quite useful and links the cleaning tools to the Rocket. No dust speck can escape the wrath combination of its hose, 12″ crevice tool, and dusting brush which are all connected.
See Also: Best Cooling Pillow Reviews
Moreover, its suction ability is superb, picking up anything on both floor and cars without a hassle. However, it can get heavier when it gets almost full, you'll need to empty the dust cup as frequently as you can. As well as being convenient, the cleaner can be kept or carried to any place of your choice since it is portable.
Pros:
It is easy to master and operate
Quite affordable for its efficacy
It easy to maintain with washable and re-usable filter
Cleans the furniture and cars outstandingly
It doesn't monopolise space so it can easily be stored
Due to its size, you can access tight corners without much bother.
Solidly built to withstand pressures from any kind of home
Cons: 
The attachments cannot be used with different versions like the upright shark vacuum cleaner.
It may get a little strenuous for some when used for too long since its handle is at the back
Verdict:
This vacuum cleaner is a brilliant pick if you are looking for a really versatile cleaner. It boasts of many different cleaning skills and can carry out virtually all the sucking jobs you expect. We love that it does not lose its suction capacity except when clogged up by dirt. This is why we recommend a steady disposal of the dust chamber during cleaning.

BLACK+DECKER BDH2020FLFH MAX Lithium Flex Vacuum – Cordless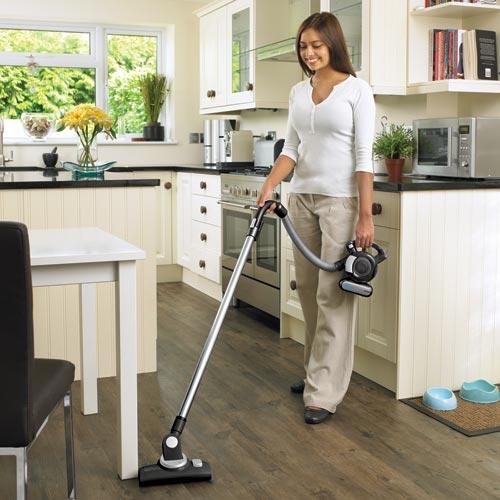 With 20V MAX Lithium battery, unmatchable suction capacity, easy to maintain, easy to recharge and painless storage, this vacuum is a good pick is no matter what the baseline for comparison is.
Somewhat similar to Black and DeckerBDH2020FL Flex vacuum, it comes with a 4 feet hose and long crevice, 2-in-1 brush tool, stick vac floor head, pet hair brush for thorough cleaning. You will get out pretty much from its charging base which lets you charge as well as fold up its pipe.
Black and Decker hand vacuum is literally suitable for all types of surfaces such as hardwood floors, carpets, tiles. It can even clean ceiling fans using its multi-surface head with a brush roll.
We were all about the fact that this vacuum cleaner can reach far under narrow spots, unlike many average vacuums.
It is a high-grade machine and can serve you for a long time, retaining its suction power. If ever there is a case in which you skip any tight spot, this vacuum is great for last minute forgotten dust.
Since it is a cordless vacuum, it saves you from some troubling restrictions of corded vacuums.
We fell in love with its Pet Brush and floor extension that makes weekly and daily cleaning less of a chore.
The cyclonic action gets rid of dust from the filter for vigorous cleaning without extra work on your part. Maintenance is painless and simply entails emptying and washing its detachable bowl and filter after use. As for storage, the battery powered vacuum cleaner is small, so you can easily store it anywhere of your choice with no bother about the space it takes.
The 3-Stage filtration system sees that the vacuum remains consistent in line with the reputation that Black and Decker has amassed over the years as a manufacturer of dependable products.
Pros:
You can enjoy limited vibrational noise
Cleaning is labour-free.
Suitable for cleaning wide spaces as long as the tank is emptied anytime it gets filled up.
Allows swift cleaning of highly overlooked areas in homes like under the fridge and washing machine.
Offers deep cleaning of carpets and floors
Prolonged efficiency
Incredible suction power
Cons: 
Different cleaning attachments for different needs (up to four), after cleaning may be stressful to some
It is relatively on the high side but if you can afford it, then it's a great deal.
Verdict: 
Everything is wonderful with this vacuum cleaner. It is durable and can do both simple and partially tough tasks. Though it is not the cheapest vacuum on this list, it is undoubtedly a satisfactory choice if you can spare the cash.
Hoover BH52160PC Air Cordless Handheld Vacuum Cleaner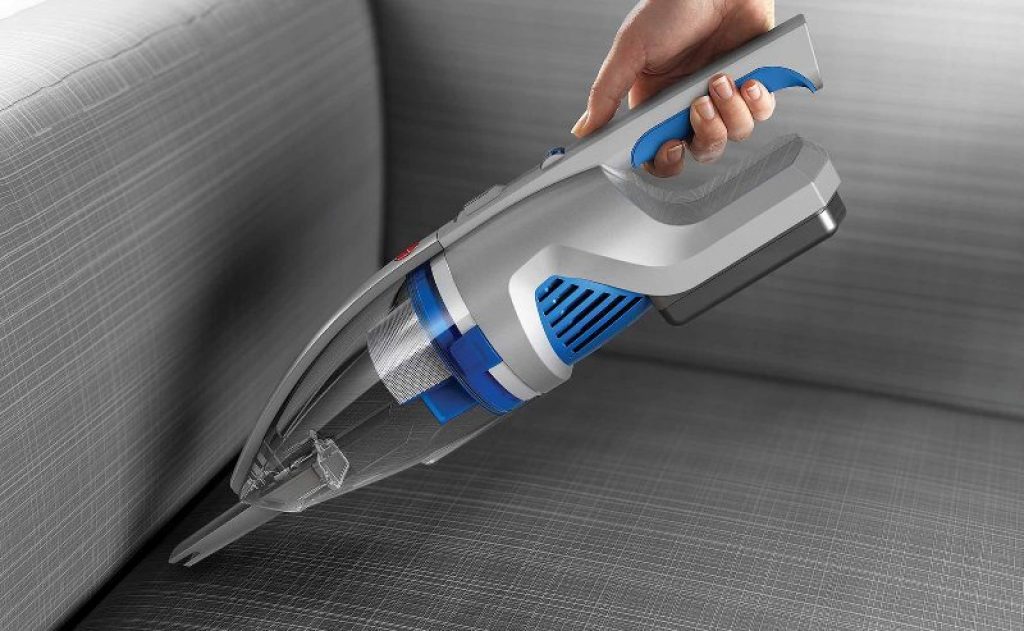 Hoover BH52160PC weighs less than 4 lbs yet it can handle heavy-duty cleaning, sucking more than 90 percent of dust and unwanted debris. Its adaptability is unsurpassable and far on in development.
The vacuum differs from others because it can sense the load of work and adapt to it automatically to maximise result. We were amazed to find out that the portable cleaner could be fit into an air Cordless 2-in-1 to clean hard floors and carpets. That's a high level of adaptability.
Its 20 Volt Lithium-Ion battery lasts for about 40 minutes and can be used to power any machine that is LithiumLife battery system. Isn't that way outstanding?
The cordless unit also features a washable filter that can be used more than once and is easy to rinse and maintain. With a battery fuel gauge that shows your battery life, you know when to plug it for a recharging to avoid being let down during cleaning.
More so, the vacuum air path is arranged to allow more air pass through for profound cleaning. It shocked us to realise that it actually expels more air while picking up more dirt. This action goes a long way in leaving all areas clean and fresh including hidden spots harbouring harmful levels of bacteria.
Another added advantage are the tools accompanying the product such as crevices tool that can effortless access tight corners of furniture with its angled tip, a powered Turbo tool that sucks dust from stairs, the interior of cars, etc.
Pros: 
Filters the dirty-air absolutely
You get to enjoy unmatchable versatility
Remarkably lightweight and easy to push around the room yet strongly-built
Strong suction attribute
Less swinging or turning during cleaning
It's economical and offers greater value than its price
Cons:
You are required to keep the filter clean to retain its suction power
The machine is somewhat more effective for small jobs.
It is not the cheapest handheld vacuums but it is worth its price.
Verdict:
This vacuum cleaner is suitable for you if you are allergic to the faeces of hundreds of microscopic dust mites and other debris on your furniture. Especially because it is capable of picking the slightest dust in the air. While it is cheap and works amazingly, don't expect it to work like a floor vacuum.
BLACK+DECKER BDH2020FL 20V Max Lithium Flex Vac with Pet Hair Brush – Cordless
On the strength of its filtration system which is three times more solid than most vacuums, this hand vacuum cleaner can do just about every cleaning job. It is designed to offer exceptionally intense cleaning of stairs, furniture, and cars with long lasting 20 Volt max lithium-Ion battery tech.
Other standout features apart from its performance include its 4-foot hose that can be adjusted to different heights to reach different heights (high and low areas) and the ability to remove lingering dirt using its solidly-built pet hair brush that has the potential to uproot stubborn debris.
The cleaner is durable and by our discovery, continual use of this vacuum got nothing on it. Along with that, its motor is designed to perform to a high standard and also to offer quick cleaning. Its suction strength remains the same throughout its lifetime and can pick debris of all sizes.
The portable vacuum has a base for charging as well as storing the components. Its 20V MAX Lithium battery can be recharged through this same base. Dust gets whirled off the filter through a cyclonic action for painstaking cleaning. Therefore, maintenance only requires emptying, rinsing of bowl and filter, and it is ready for use again.
In one box, you will find a 2-in-1 brush tool, a long crevice tool, a charging base, and a washable filter (model PVF110) for convenient and stress-free cleaning.
Pros:
It can swiftly be carried from to room for pickups due to its light weight
Rechargeable battery
Reusable and easy-to-rinse filter and bowl
Capable of picking big debris including road grits and even cheerios
It can work competently for long
Cons:
Its Lithium battery requires some waiting to be recharged when it drains off
It produces sound during cleaning
The price may be on the high side for those who want something cheaper
Verdict 
This is a suit all vacuum for occasional and regular cleaning. It is efficient and weighs almost nothing so it won't strain your fingers or palms. However, the drawbacks of this construction if used for consistent cleaning will probably be emptying its decent-sized bowl anytime it gets full. This is because the bowl is quite small which may affect its suction power when it overfills. However,  if you can deal with that, it is going to serve your purpose since it engages larger than anyone would imagine and picks sufficient dirt.
Sale
Hoover Platinum Collection LiNX Cordless Pet Handheld Vacuum Cleaner, BH50030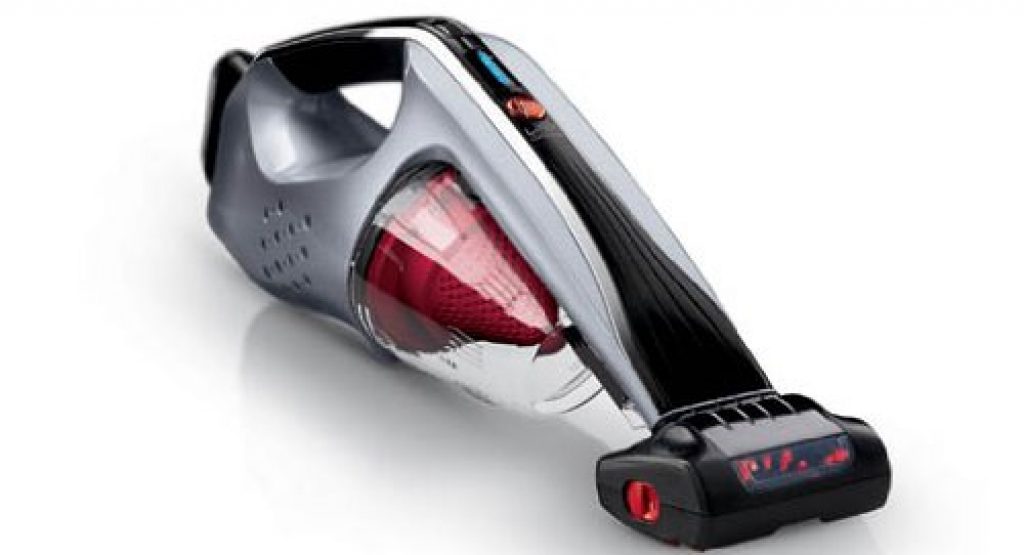 Hoover Platinum Collection Linx Handheld Vacuum Cleaner is a super powerful vacuum that uses an 18 Volt Lithium-Ion Battery for its performance. The battery is not just rechargeable but can also work interchangeably with other hoover cordless vacuums just like Hoover BH52160PC vacuum. This feature is quite unshared when compared to other vacuum cleaners.
The cleaner is quite portable, yet greatly effective in waste-sucking especially if you are in an animal hair mess. For its dusting brush that is also good for delicate surfaces, nothing will be missed during vacuuming.
Simply set it on by a touch of a button and it will wipe every unwanted pet hair and food clutter. Its vibrational noise level is recommendable as much as its fair size that suits counters, corners, or in the car interiors. Hoover Platinum Collection Linx also has no cord so you can easily move to every part of the room.
Among the many exclusive characteristics that we analysed of Hoover Linx is its attachments that pivot 25 degrees, nearly touching the surface while spinning forward and backwards on the dirty surface. A pet Upholstery tool that accompanies it provides a three blade design for ultimate pet hair cleaning. What's more, the battery indicator shows you the battery life as you work with it.
The Cordless vacuum is versatile and it's elegant versatility means it can be used on everything from hard floor and carpets to stairs and cars. However, you will need to empty it occasionally as it has limited space for dirt.
Pros:
There is no restriction to how much you can clean because it is easy to move around
It is as light as a feather yet durable
Short recharge time
Comfortable designs makes cleaning faster and safe for your wrist
Affordable for its worth
It does not require serious mental effort for its operation
Cons:
You may need to put in some extra effort in cleaning it to avoid hairs sticking to the brush which may alter its suction power.
You need to empty it regularly as it has limited space
Verdict:
If you can follow all the useful rules, and you are looking for a machine that can totally clean your pet's mess, then this is your surest means of getting your desire come alive. This vacuum is light in weight and the way it moves swiftly around the dirty area is so much joy. It cleans the mess ideally when employed.
Drita 111 Drink Coasters Mats, Blue
Removes stubborn pet hair with the freedom of no cord Per ASTM F2609
Features a Lithium-Ion interchangeable battery that provides fade-free power
Housmile Anti-Dust Mites UV Handheld Vacuum Cleaner
Designed to be practical and useful, rather than just being attractive and portable, this vacuum cleaner is different from all the other vacuums mentioned on this list because it works quite differently. It's is an anti-dust mites UV vacuum cleaner which saves you from health issues that dust mites could cause by ideally defeating them from right inside your mattress and bedsheet. It can also clean holes and cracks perfectly. It is lightweight and offers comfort during use. It works wonders when you run it over your mattress, picking up things it detects as dirt and tiny living organisms.
The machine captures debris as tiny as 0.3 microns while expelling fresh air thanks to the HEPA filtration that grabs dirt. You can go hard on dust as long as you would reasonably want thanks to its activated carbon filtration attributes. The filtering method means it uses a bed of activated carbon to wipe out pollutants and impurities, using chemical absorption.
The entire package has double filtration capacity as the air vent on the base is built with twice the activated carbon filtration to shut out twice the impurities without flaws. Its case is designed in a well-detailed way which we deem as a bonus. It is not weighty, measuring only 2.81Ibs with a space power of 160ml, hence a norm to take as many contaminants as the size of its dust cup.
Having said that, the ultra compact vacuum has twice the suction competency as regular vacuums using 8.5KP to pull up dust and mites on the surface and inside. When this is done, it then sucks them into the vacuum. We assure you that no dust mite or microorganism would survive after going through the vacuum's vibration, suction, UV sterilisation and drying on the bottom.
But it is worthy of note that this vacuum is specially innovated to suck in dust mite and not necessarily to mop up the dust. Thus, it makes use of 253,7nm UV tube sterilisation and 55 high-temperature hot air which has nearly 100% chances of getting all mites, bed bugs, microorganisms and other harmful bacteria killed.
Pros:
You won't have to worry about dust mites and other allergens anymore
Leaves your home sterilised
Unlike many handheld vacuums, this one comes with an extra filter and user manual to guide you through the cleaning
Easy to use
Reasonably priced
Portable
Cons:
For a more regular cleaning, the vacuum may not be the best.
Verdict:
If you've been sharing your bed with dust mites for too long, then this hand vacuum will no doubt be a refreshing change. No matter how long they have been hiding deep in your mattress, this ceaner can get them all killed with its limited hot air of 77.99. It can be put to different uses including cleaning tight areas, couches, bed, pillows, etc.
No products found.
Black+Decker BDH2000PL MAX Lithium Pivot Handheld Vacuum Cleaner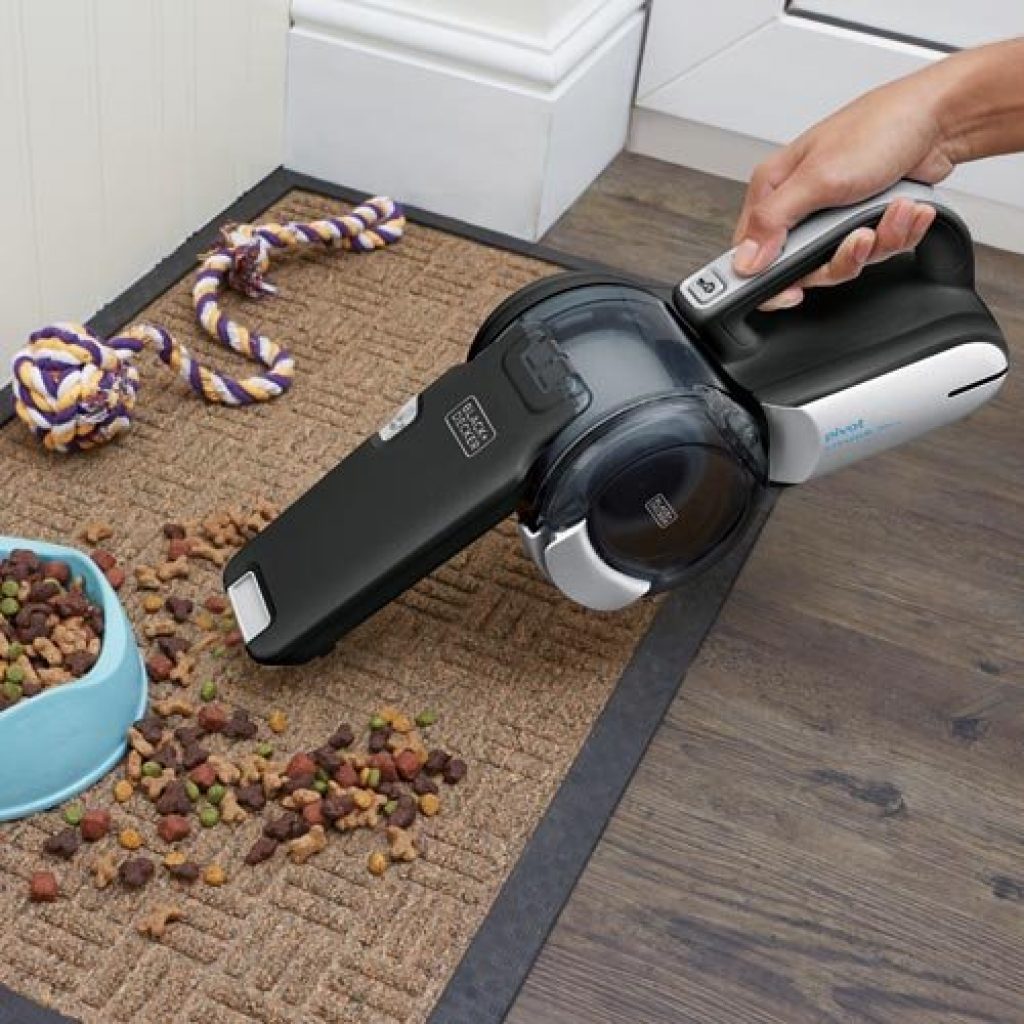 Built with you in mind, this brand is best known for its potentness and strength in sucking debris. This vacuum cleaner is an investment you can't go wrong with especially for its unique hard and pivoting nozzle that can suck up dry mess like kitty litter, pet food, pet hairs, as well dust in cars.
The pet hair vacuum cleaner is lightweight and energy-saving. For something super similar to floor vacuum cleaners but in a compact size, opt for this clesner, it won't disappoint.
It offers fade-free power no matter the life of the battery and the cyclonic action makes cleaning a bliss, spinning dirt far off the filter so as not to tamper with its suction capacity. It posesses a strong motor and three-stage filtration system that delivers upper-level cleaning ability.
It's Lithium Technology adds a formidably impressive edge to its entire functionality. Our favourite part is mainly its portability and ease of manoeuvring. We also found that it doesn't work by halves when it comes to sucking up unwanted materials
With a pleated filter design, you get nothing but a clean air after cleaning as it filters greatly. It scrapes out big debris using its wide head. To clean upholstery or tight corners, you just have to turn the brush to clean upholstery or stretch out the crevice to reach narrow places. Just like other Black and Decker, this unit also has a base that offers quick charging of the vacuum as well as a store for the accessories.
One box of this vacuum comprises the vacuum itself, washable filter (model PVF110), pre-filter,  brush, crevice tool and charging base.
Pros:
It cleans accurately
It keeps fresh air circulating
Affordable yet it works better than most cheap handheld vacuums.
Can keep a charge
It can easily be stored
Cons:
You may need to clean the joint of pivoting nozzle after vacuuming to avoid sand
You need to recharge the battery and as such it is not suitable for prolonged cleaning
Verdict:
If you have a tight budget and you are searching for a vacuum that can be really helpful, look no further. This vacuum mops up dust and debris impeccably. Again, its versatility is by all standards incomparable. It is a real investment that you won't regret. However, don't forget it's only a handheld vacuum and may not be very fit for intense cleaning.
Sale
V6 Trigger Cordless Handheld Vacuum Cleaner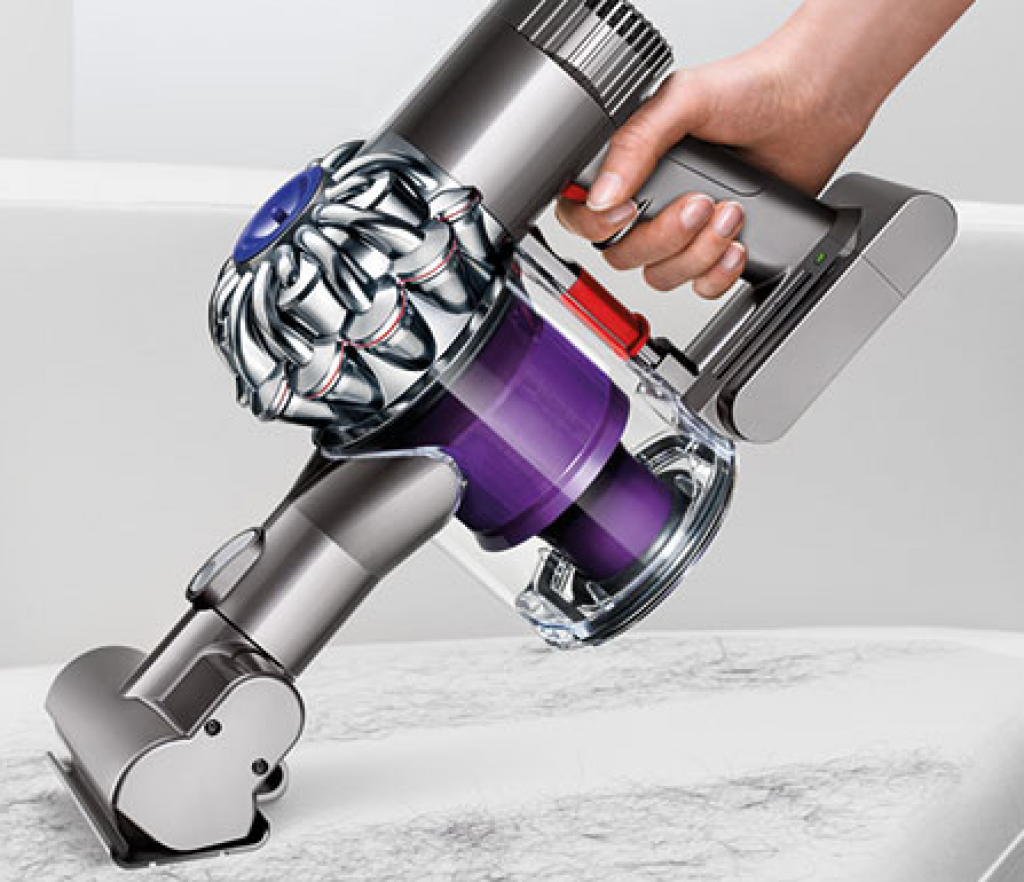 Primarily known as super handheld vacuum, Dyson V6 Trigger Cordless Handheld vacuum Cleaner captures more dust than you'd imagine. With its rebuilt fade-free battery that has 1.5 more strength than regular handheld vacuums, it can clean for minutes without stopping.
The hand cleaner also boasts of a system that allows increased air circulation for picking dust in larger quantity. This works with 15 cyclones organised over two tiers which work side by side. It is as light as air and its Max Power mode hits a mark, offering six minutes of intense suction for handling tough tasks.
Powered by Dyson V6 digital motor, the vacuum is easy to hold and comfortably suits the shape of the hand with the center of gravity found close to the grip. The really good news is that you could empty the bowl in a hygienic way by simply pushing a button after cleaning
It works perfectly when cleaning problem areas such as armrests, automobile interiors, under the car seat and upholstery.
Pros:
It's handy and you don't get the stress of lugging out your floor vacuum for every cleaning you need to do
It uses a rechargeable battery
Easy to operate and more comfortable to hold than typical vacuum cleaners
It is light and can be transported around the house with ease
Easy release and rinse canister
Designed to suck up even clingy and large debris
Cons
The battery life is not the best there is
It requires a little diligence in knocking the dust loose.
The bargain is relatively expensive.
Verdict
If you are more interested in suction power than anything else, then consider this vacuum. It has its own flaws but they are not dealbreakers. It can match up to its other competitors in our round-up in picking up debris.
Click Here to See Price
Black and Decker Platinum BDH2000SL 20-Volt Max Lithium Ion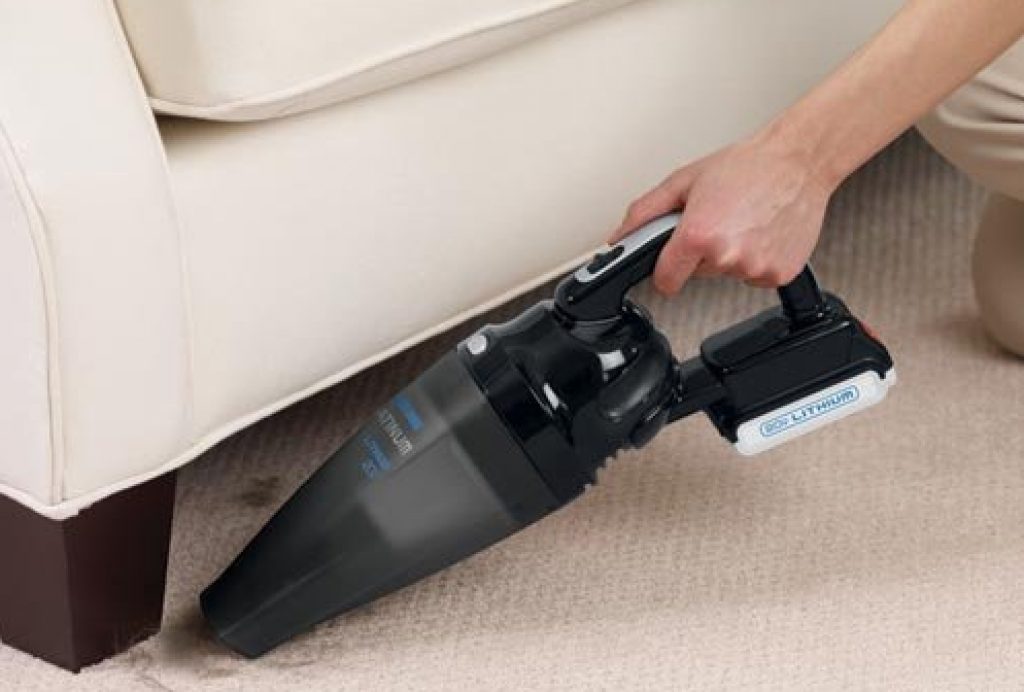 The Black and Decker Platinum BDH2000SL 20-Volt Max Lithium Ion is not one of those that comes with so many things only to end up achieving close to nothing. Instead, it has a handful of features and technologies which play greatly for its functionality and convenience.
Like other vacuum cleaners on this list, this has very good suction power. It gets better than most others as it is able to pick most things that are able to pass through its nozzle.
Although it comes with a crevice tool, do not count on this for thick rug and pet hair, most especially when you want a thorough Job done.When it comes to upholstery and other hard surfaces, however, the story is that of performance that beats so many others.
See Also: Best Ironing Board Reviews
The most obvious and important part of this vacuum cleaner is its lithium-ion battery. Apart from the fact that it can easily be removed, it has a life that can span for between 15 to 30 minutes, which is quite decent for what is available. More so, this vacuum charges for only 5 hours, which we find to be quite interesting.
Pros
• It is very effective in tackling hard floors
• It has an average charging time
• Easy to use and friendly to move around
• Average battery life
Cons
• Not the best for carpets and pet hair
• It doesn't have the most pleasant sound
Verdict
As stated, this is not about the bags of needless features. It is strictly about performance. If what you are looking for is a very simple cleaner that would take proper take care of your hard floor, then the Black and Decker BDH2000SL may as well be what you are looking for.
Dirt Devil Quick Flip Plus Cordless 16 Volt Lithium Ion Bagless Handheld Vacuum Cleaner BD30025B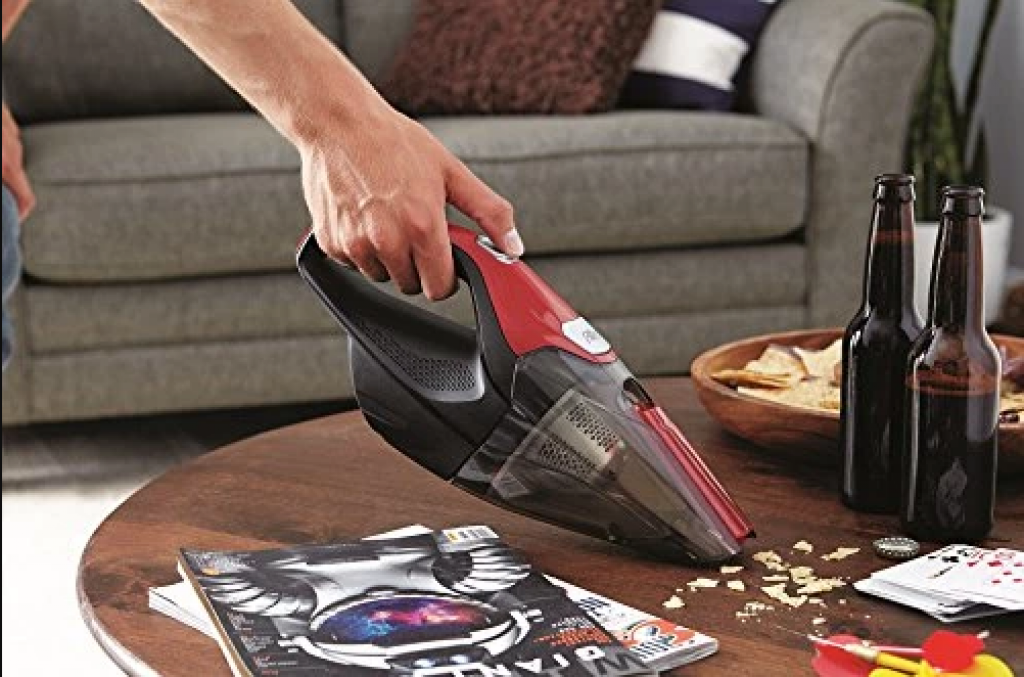 This vacuum has several good things to its name, among them are its price which is the best on the list and its battery capacity. Even though more volt doesn't essentially entail stronger suction ability but it makes for a starting line for a great cleaning, it's 16 volts is a good addition.
The Lithium battery system charges twice faster than that of other vacuums of the same system so you don't have to wait too long to get started. It can last for as long as it will take you to get done with soft cleaning to boot.
Another gripping and convincing reason to consider this vacuum is its ability to slide into hard-to-reach places like windowsills, shelves and of course car interiors using an unusual, if not unique, quickflip crevice tool it comes with.
The compact vacuum also comes with a turbo tool that cleans stairs and upholstery. It is battery powered and can hold charge for quite a reasonable time. Another good plus, is a power indicator which alerts you on the battery life and when it needs to get recharged.
Dirt Devil handheld vacuums are available in varying designs but we think this one is specially designed to suit different tasks including quick picks.
Pros:
It recharges faster than most handheld vacuums
It is constructed to offer convenience during cleaning
It can handle varying roles
Budget friendly
Excellent suction power
Greatly affordable
Cons:
The dust bowl is easy to empty but needs to be emptied frequently depending on the amount of dust it picks at a time.
Verdict:
If what you want is to get a functional cordless handheld vacuum without having to spend much, it might make sense to just get this Dirt devil Quick Flip Vacuum. We think it is a good investment and a unit that shouldn't lack in any home.
Sale
Conclusion
We noticed that most of these vacuums, if not all are best known for their portability, handiness, durability, powerful suction capacity, energy-saving and more. They offer comfort and convenience during cleaning. Plus, they can pick all sizes of debris as well as dust confined in the tightest corner. What's not to like about them? Our guess is absolutely nothing. However, keep in mind that these vacuum cleaners can not fully replace the roles of floor vacuums. They're basically designed to suit quick clean ups like cleaning the stairs and cars. Unfortunately, there is no such thing as perfect vacuum cleaners and each of them has its own tiny flaws.