For anyone who loves bowling be it a recreational or professional bowler, good bowling balls matter for certain reasons. First to avoid hand injury, and second to reach the full potential of their bowling skills. Achieving this begins with choosing a ball that fits your status as a beginner, a versatile player or someone who takes straight or hooks shots. Again you need to consider the weight of the ball. A bowling ball should weigh 10 percent of your body weight (up to 16 pounds), so you need to consider one that won't weigh down your body. This will help you spare some weight to the ball. Average finger holes are also a factor to keep in mind as well for premium experience as enough space in between the fingers makes for an ideal throw.
On that note, we spent quality time examining these factors along with other crucial factors including the type of coverstock, durability, speed, lane conditions to help you make the right choice. Following our in-depth research that compared a good number of bowling balls, we found that Hammer Black Widow Legend Bowling ball is the best versatile bowling ball in the market now. The ball has several unique features that allow for smooth rolling and more. However, if you are a starter and want a beginner's ball, you could opt for Pyramid Path Bowling Ball or Columbia 300 Nitrous Bowling Ball for a premium experience. You can also choose any other bowling brands listed below which also perform much the same with the three named above.
Best Bowling Balls
Hammer Black Widow Legend Bowling Ball
Hammer Legend Bowling Ball is an upgrade from Balck Widow line of Hammer Bowling balls. The ball makes use of NBT Hybrid, an aggressive cover which includes solid and pearl reactive covers in a bid to reap the benefits of both types of coverstocks. The cover along with its sturdy legendary GAS MASK core supply superior backend movement through the pins. The core also has flex-resin and carbon-fibre which makes it one of the most resilient balls that can stand the test of time. The bowling ball is backed up by the best 3-year warranty! The recommended lane condition is medium-heavy-heavy oil.
Pros:
Carbon fibre makes one of the toughest bowling balls on earth
Delivers advanced strength and durability
Its reaction is strong to mid-lane with massive backend
It works well on oily lane
Cons:
It can hook uncontrollably on some lanes
Verdict:
If you were crazy about Black Taboo, Black Widow, Vibe Jet Black, this will win your heart. Although it shares some similarities with these balls, the Legend offers a minimum of 2-3 more backend with a more solid break point than Black Taboo.
Ebonite Maxim Bowling Ball, Black/Purple/Gold, 10-Pound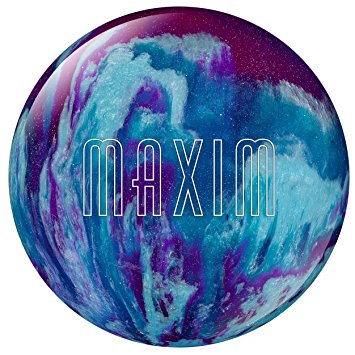 Ebonite Maxim Bowling Ball is a plastic or polyester bowling ball. Generally, when you hear plastic, you probably would expect a low-performing ball. That's not so with this Ebonite Maxim that wins both in design and performance. It is a great bowling ball that can be your strike ball on a dry lane. It works on oily lanes too but you may need to do finger-position adjustments between the time you move trying to hit the pocket and when trying to pick up a 10 pin. This tells you how much of a multi-skilled ball it is. However, it is a three piece core ball made especially for entry-level bowlers and for recreation. Also, we recommend a dry lane as the perfect lane condition that unlocks this ball's full potential.
Pros:
Ebonite Maxim Bowling Ball makes you bowl in grand style
Has a perfect movement that a beginner can handle
It is versatile and durable
It rolls consistently which makes it fun to bowl with
Cons:
It is a little slower than Hammer Black Window Legend whose speed is at 300 RPM
May not work perfectly on an oily lane
Verdict:
If you are a starter, this is a great ball for you. It hardly hooks, plus it looks cool rolling down any lane.
Brunswick Rhino Bowling Ball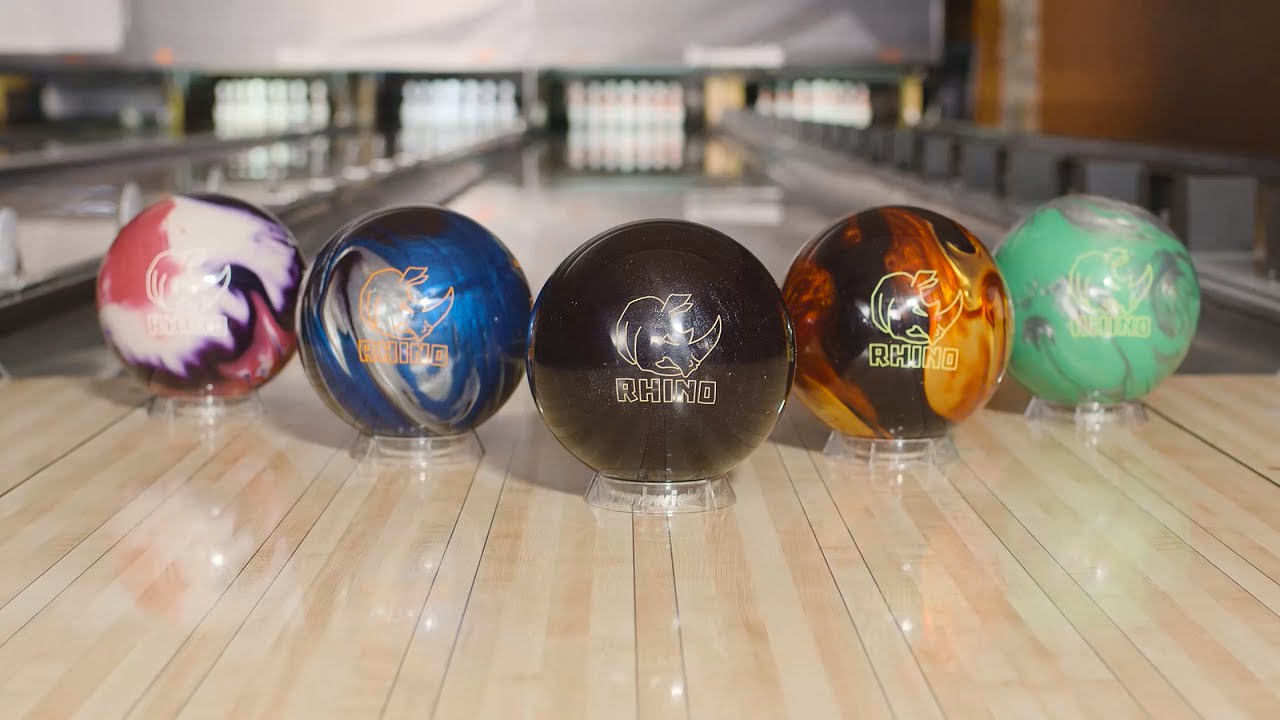 For a bowler who wants a powerful and controllable bowling ball, Brunswick Rhino is engineered to bring a perfect balance between these two. It is a reliable versatile bowling ball that works on any lane condition. With its pearlized R-16 reactive coverstock and light bulb core shape, you get perfect backend hook motion and amazing pin action for greater scores.
The new R-16 reactive coverstock describes our latest formulation that provides a perfect balance between power and control. The R-16 formula produces easy length and backend hook motion without extreme sensitivity to the dry and oily parts of the lane. The highly polished ball provides bowlers with steady ball reaction across the appropriate weight range. It has an RG of 2.5 and differential of 0.030.
Pros:
It is an excellent entry-level ball
Works amazingly on dry lane conditions
Consistent motion
It is affordable compared to the value you will get
Smart speed rate
Not too reactive on dry or oily parts of lanes
Cons:
Seems a little heavier than Ebonite Maxim
Verdict:
This is a smart beginners ball for everyone who needs a powerful bowling ball. We like its simple design and the gloss finish which looks great. Although it may seem a little heavy with a weight of about 15lbs 4 oz, it is something anybody can handle.
Pyramid Path Bowling Ball
Pyramid Path Rising Pearl Bowling Ball is a high-performance Pyramid technology perfect for all bowlers of all ages and skills, from stroker to two-handed. The ball is made with polyester coverstock to enable precise shots. It is a ball that allows you achieve a great performance and score on different lane conditions. There are 9 different colors with contrasting designs available for you to choose from, so you can choose any one that matches your taste. What's more is that you get this at a very affordable price.
Pros:
The ball is smooth and long
Perfect roll every time
It reacts smoothly and amazingly when thrown
Versatile and quality ball motion on different lane conditions
Highly affordable
2-year warranty
Cons:
Some customers said it looked a little different from the picture
Verdict:
Throw this ball for the first time and you would fall in love with it. For the price and efficiency, you can't go wrong with this Pyramid Path Bowling Ball.
Brunswick Nirvana Bowling Ball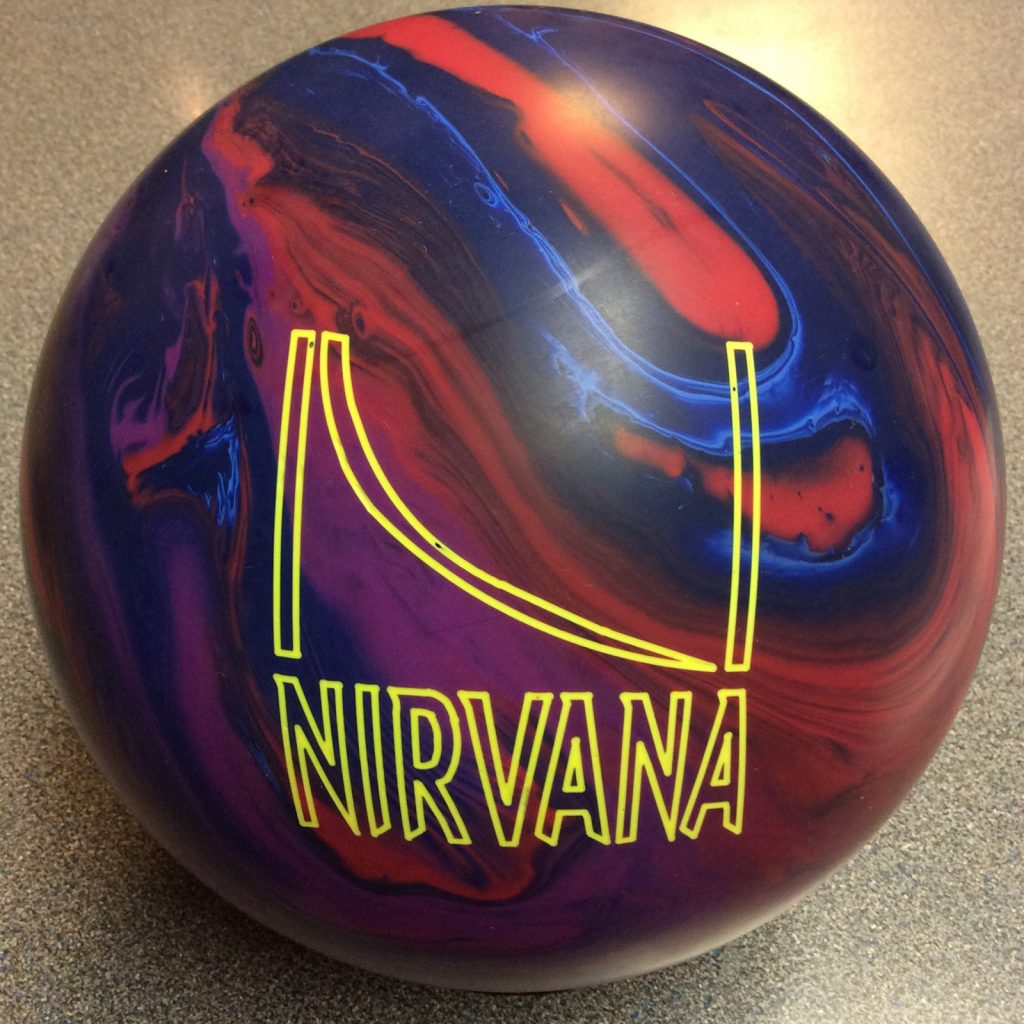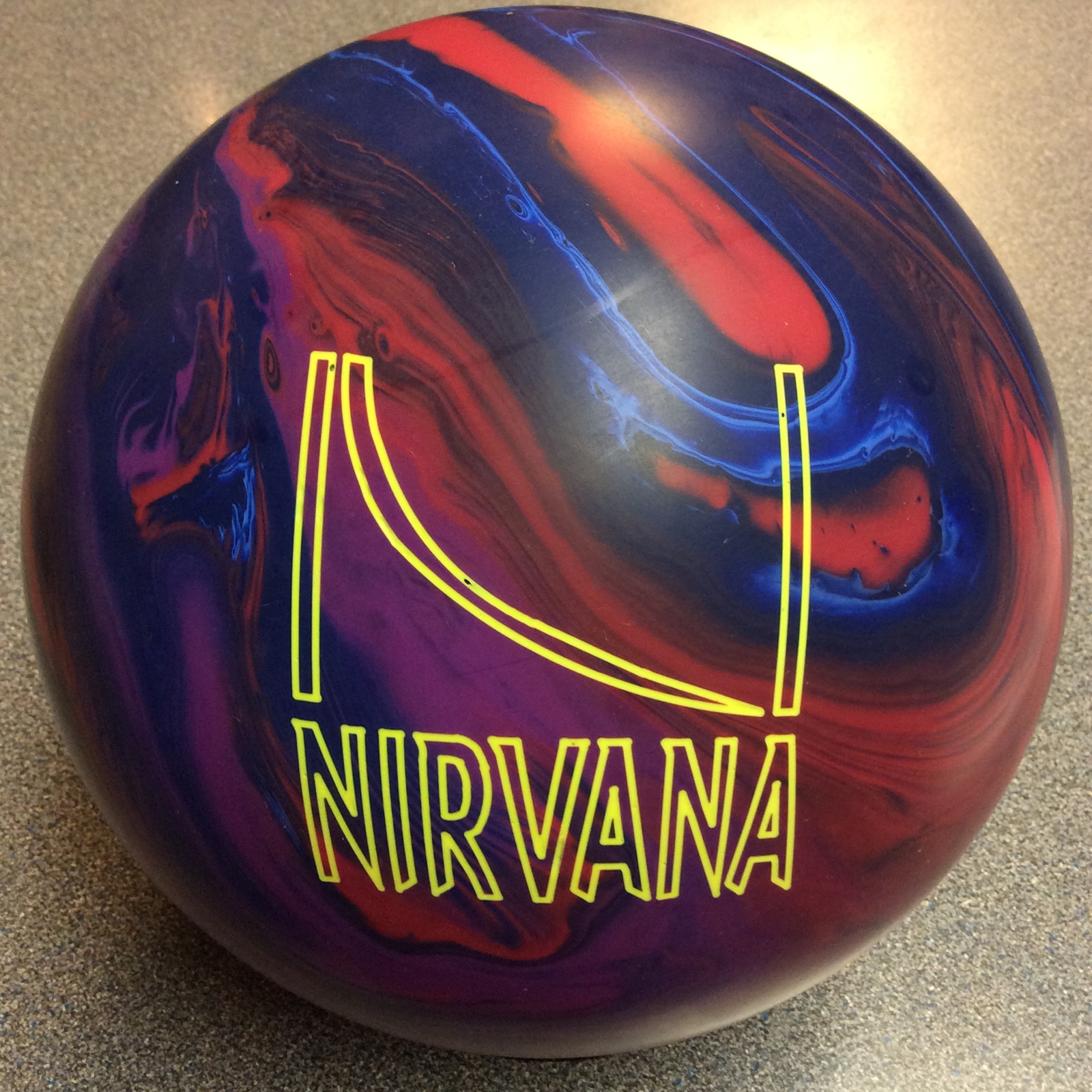 Brunswick approach in the construction of this Nirvana Bowling ball is highly creative. The manufacturer introduces ECS (Enhanced Composite Segmentation) coverstock technology for high performance. The idea is to boost soft segments of the polymer chain for better friction and wider sweet spot resulting in fewer adjustments. This not only enhances a faster refresh rate, it enhances the durability of the coverstock. The new Nirvana Ultra Low RG Asymmetrical core has a density rounded elliptical inner core introduced to increase ball motion with a variety of drilling options. It also increases pin action and performance.
Pros:
It is a lightweight ball
Wonderful mid-lane traction
Boasts of 1500 grit Siaair Micro Pad finish for great backend on medium oily to oily lane conditions
Serves every bowler expertly
Cons:
It is a little bit pricey
Verdict:
If you want a bowling ball that can let you exhibit all of your skills, consider this ball. It is a versatile ball with a nice motion and control for everybody. Although you may need to pay a little more, it is worth it.
Columbia 300 Nitrous Bowling Ball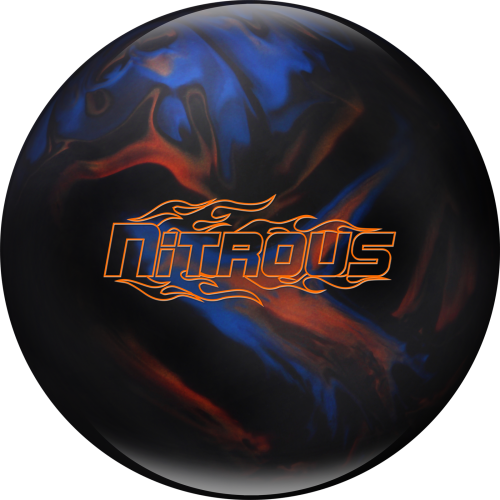 Columbia 300 Nitrous Bowling Ball firmly falls into the mid-range price but features next level properties for fast strikes. It has a two-piece Nitrous core design which delivers predictability without tampering with its hitting power. Also, there is a new Boost/R cover that provides enhanced gripping power for perfect motion on medium to light oil patterns. And you don't have to worry about your irregular bowling pattern, the ball's Nitrous line can give it a direction. It is an entry-level reactive ball which gives bowlers nice backend reaction and total hook.
Pros:
It easily goes down on any lane
 It boasts of 500/2000 Abralon finish for swift motion
Great for all bowlers of different skills and ages
Ideal for low-mid performance symmetric
great backend reaction
Cons:
Not the prettiest bowling ball on the list
Verdict:
If you don't place priority on design but want a quality bowling ball that won't make you perforate a hole in your wallet, Columbia 300 is a great deal for you. It plays well on lightly oiled lanes and is ideal for any kind of bowling skill or style.
Conclusion:
A very critical bowling mistake you should always try to avoid is getting the wrong bowling balls. However, both beginner and long-time bowlers make this common mistake. That is why we have gathered a dependable list to help you avoid this common mistake of most bowlers. These bowling balls are not just dependable, they are durable and efficient balls that will soon turn to your best striking balls. We also love to tell you that despite the value you stand to gain from the bowling balls, they don't sell at a shocking price.