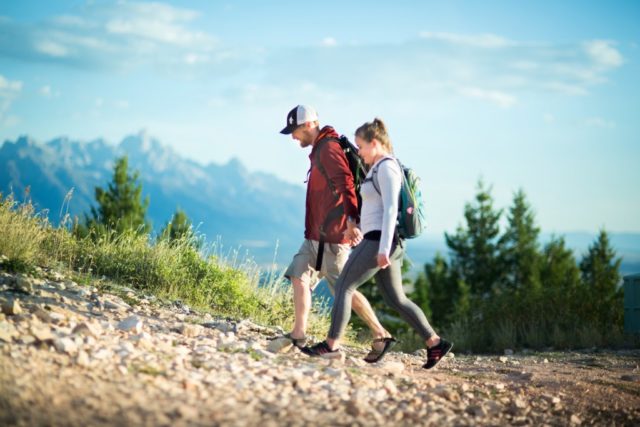 There is hardly anything that spoils a good hiking experience like bad shoes. Bad shoes either come as good shoes that are not meant for hiking, or shoes that are supposedly meant for hiking but have failed in many ways. The spoiler is that there are a lot of such shoes in the market.
Although some people may have different things they consider before deciding what can be their best hiking shoes, we believe that a great hiking experience should be the hallmark of any great hiking shoes.
To have that, different things come to play such as the weather in which you are hiking and where you are hiking. However those may be, a good hiking shoe must be fitting, firm, offer support, protection, comfort, and have nice traction.
After our reviews of many shoes, including ultralight trail shoes and mountaineering shoes, we have decided that for men, The North Face Ultra 109 GTX is the best hiking shoe. It is an all weather shoe, which is faithful in comfort, support, traction, and in fact, everything you would need in a good shoe. For women, it is the Salomon Ellipse GTX, which is also faithful in all weather and everything needed in a hiking shoe.
Why You Should Trust Us
By now you must have known that getting the best of anything is more than just going into a store and demanding to be given the best. It is as well more than price and looks.
This, therefore, means that getting the best of anything greatly requires a more closer look than one would normally do, and looking more carefully than you would on a normal day. That is exactly what we have done.
To make this review trustworthy, we didn't settle on what we think about each shoe after trying out, but also what users have had to say, as well as what experts think about each. This is because while our personal understanding is important, expert views cannot be left out, and the end users are those whose opinions matter most at the end of the day.
What we have done in this review is to get the best hiking shoes for different weathers, all weather, and of different types including boots and sandals. For the best hiking boots, however, we have done a different review.
15 Best Hiking Shoes and Sandals for Men and Women
The North Face Ultra 109 GTX Hiking Shoes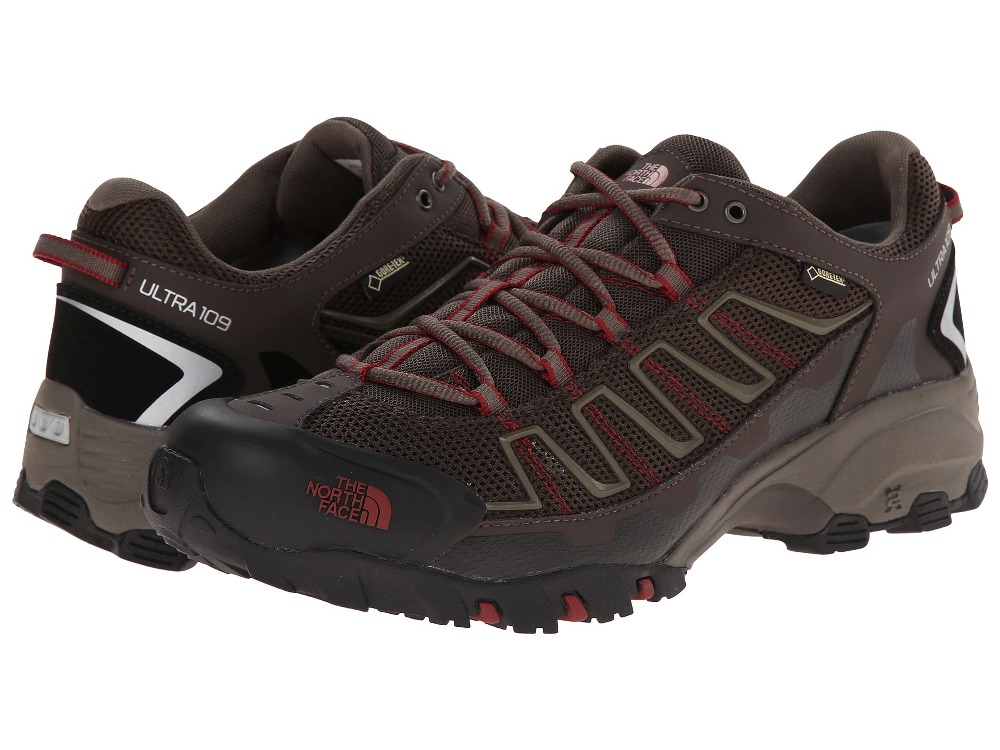 What The North Face wanted to do with this shoe is to make a trail running shoe. That achieved, the shoe turned out to be exceptional in our checks as a hiking shoe. This is because of the way it manages to collect almost everything needed quite rightly.
While lightweight, the shoe is both sturdy and stable. The top is made of breathable mesh which gives comfort on sunny days and it is waterproofed for rainy days. So on both ends, you get the same comfort and protection.
Also for the comfort which comes in handy as you walk, the shoe utilizes the UltrATAC rubber outsole and Compression-molded EVA midsole. Both of these enhance comfort by ensuring that there is controlled impact as you hit the ground as well as very good responsiveness. This is mainly because the soles combine softness and lightness even as it is sturdy.
One more thing we like about the shoe is the protection it offers with its traction and the TPU toe cap it features. More so, there is the PU-coated leather fit at the upper midfoot for support.
As regards the fit, which is a problem we have found with most shoes (not just hiking shoes), this shoe has kept that well in check. Hence, while there is hardly a thing exceptional about the fit, it hasn't failed.
According to The North Face, the shoe will offer subtle pronation correction. Well, we have found this to be true as claimed, mainly as a result of the support you get from the shoe.
Pros
Lightweight and sturdy.
It is very versatile for different outdoor activities.
It is very fit and comfortable.
It comes in different colors; hence you have plenty of options to choose from.
For its price, it is a valuable shoe.
Cons
It is not one of those shoes that would last you forever.
Verdict
This hiking shoe stands out as more than just a hiking shoe. Hence if you need something that is versatile enough for more activities than just hiking, even as it is complete in every sense of a hiking shoe, then you can start with The North Face Ultra 109 GTX.
Click Here To See Price
Vasque Grand Traverse Performance Hiking Shoes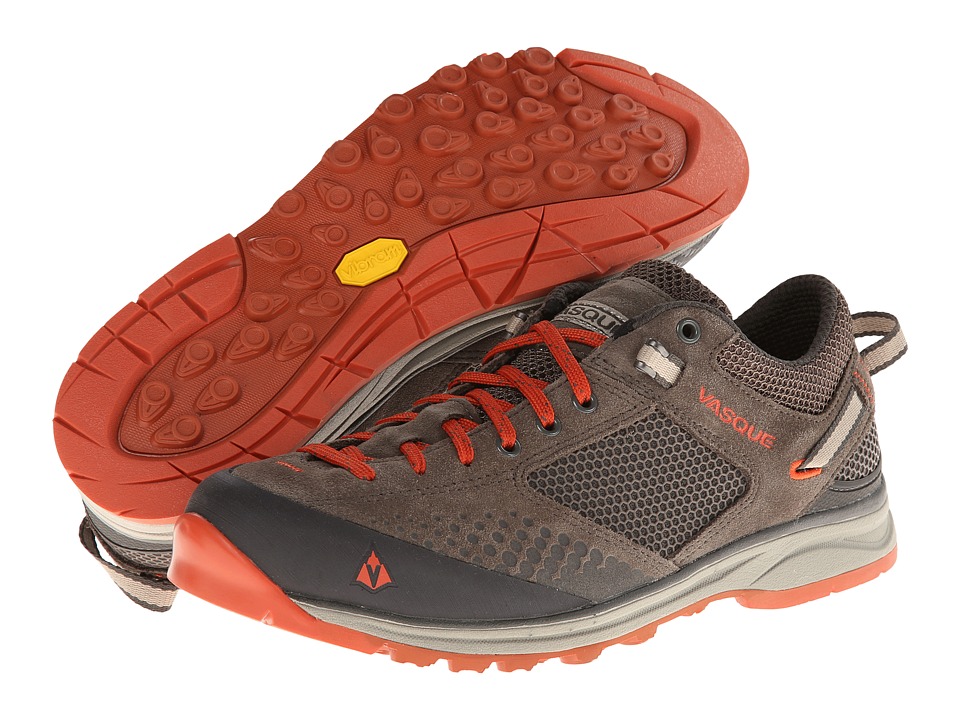 The Vasque Grand Traverse does not look like what it is; a mountain shoe that can take on rocks and is stable for good hiking. The best thing we love about the shoe, however, is its comfort.
It is lightweight and may be the best for a very fast walker. The materials used in all parts of the shoe; the top, midsole, and outsole, enhance lightness and durability.
It has an upper that promises comfort to complement its durability. That is due to the suede leather and breathable PU-coated mesh used in its making. This allows proper ventilation which in turn, ensures dry feet.
For the footbed, there is Dual-density EVA cushioning and EVA foam for the midsole. A combination of these gives your foot the needed cushioning. More so, it forms according to your foot to ensure support.
We have found its use of Vibram sole quite intelligent. This is because it gives considerable traction on one hand, and on another, it makes a statement for comfort and durability.
For protection, the abrasion-resistant toe cap does it quite rightly, just as it has fairly good arch support.
If you bring together its comfort, traction, durability, lightweight, and responsiveness, what you get with this shoe apart from hiking is something that is versatile for different uses including walking and trail running. It can also be worn as a casual shoe.
Pros
It is one of the most comfortable hiking shoes out there
Very lightweight
Good ventilation most especially for sweaty foot
Durable enough for moderate hiking
Very versatile
Cons
Not the best for heavy extended hiking on large rocks
Verdict
This shoe is best for anyone who does little or moderate hiking. For someone who does hiking that involves climbing large rocks, this shoe may not be the best. Nevertheless, it has massive comfort as its selling point even as it doesn't fail in all other necessary things for hiking.
Click Here To See Price
Salomon Ellipse GTX Hiking Shoes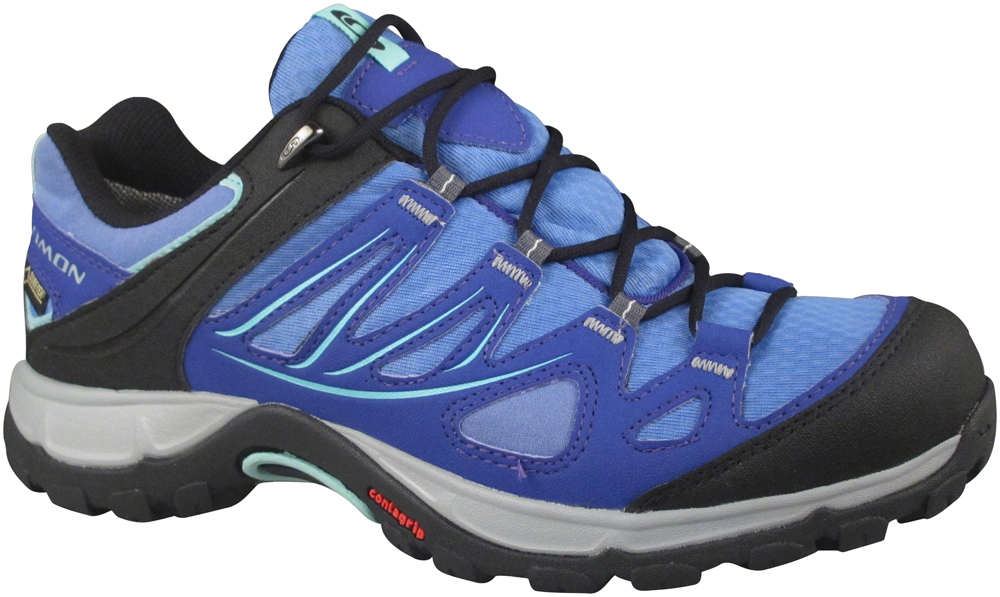 For women, there is hardly any hiking shoe that can beat the Salomon Ellipse GTX. In fact, the shoe doesn't just give the best of hiking experience; it is versatile enough to be used for other things.
We love it more because it is an all-weather and all-terrain hiking shoe. What makes it this way is the breathable mesh that its upper is designed with to allow for nice ventilation in hot weather, and the strong water resistant material it has for rainy periods.
It comes with the EVA midsoles and you do not need time to break it before you enjoy its feel. Once you step into it, it is good to go. Also, it has a well-padded ankle area to give comfort and avoid the hard top rubbing against your ankle.
Were we surprised at how much support you get with this shoe? Considering how light it is, yes, we were surprised. But that is what one should expect with the Contagrip rubber outsole it comes with. Apart from the support you get from the outsole, there is fluid transition enabled by the OS Tendon thermoplastic urethane frames that run through it.
As regards the protection it offers, you have your toe covered from rocks by its heel and toe cap, and it has a protective mudguard.
Pros
Highly water resistant
Great traction and support
Can also be used for long walk
Comfortable and fitting
It is a very sturdy and duurable shoe
Cons
Some people have complained that it doesn't pull tight as a result of the absence of a pull strap. This is reasonably true, even though the shoe has a great fit.
Verdict
Salomon Ellipse GTX for women offers everything quite differently and mostly complete. Hence if what you want is a hiking shoe that is not mediocre in performance, and generous in versatility, then this may be it. More so, if you have sweaty foot, you can try this to keep your feet dry and comfortable.
View Amazon Reviews
KEEN Targhee II Hiking Shoes
One problem you may find with most hiking shoes is that a particular type or model may be good for men, but not for women. It is different with the Keen Targhee II which we found to be good for both men and women.
The shoe concentrates on three things mainly; comfort, support, and very good traction. This doesn't mean it ignores other things such as breathability, responsiveness, and durability.
The upper part of the shoe features leather as well as polyester material. It is both breathable and better water resistant than most others. This is because while most others use the GORE-TEX, this makes use of the KEEN.DRY for its membrane which is much better. This is not to suggest that the GORE-TEX is not good in any way.
You will need to wear the shoe for a short time before you get the comfort it offers after breaking in. From the midsole, which is made of Dual density compression Eva foam, to the footbed which also features dual density EVA technology, the shoe is very comfortable.
However, the footbed could use some additional arch support.
The shoe's outsole is made of non-marking carbon rubber which is made with multidirectional lug design for very good traction. The toe cap is well raised to give better protection than most others.
More so, we have found the shoe to be both light and stabile.
Pros
It gives good support and protection.
Nice traction for different grounds.
Very comfortable and responsive.
Breathable and water resistant.
Great hiking shoes for both men and women.
It is very valuable.
Cons
It could do with some additional arch support.
It is not the best for very heavy usage.
Verdict
No matter what side of this shoe you look at, what you may likely see is support above every other thing. Closely beside that is comfort and traction that are all the way. As such, if you are looking for a hiking shoe that will keep you covered in all seasons and at the same time give support, traction, and comfort above all, this may be just be it.
Click Here To See Current Price
Ahnu Sugarpine Air Mesh Hiking Shoes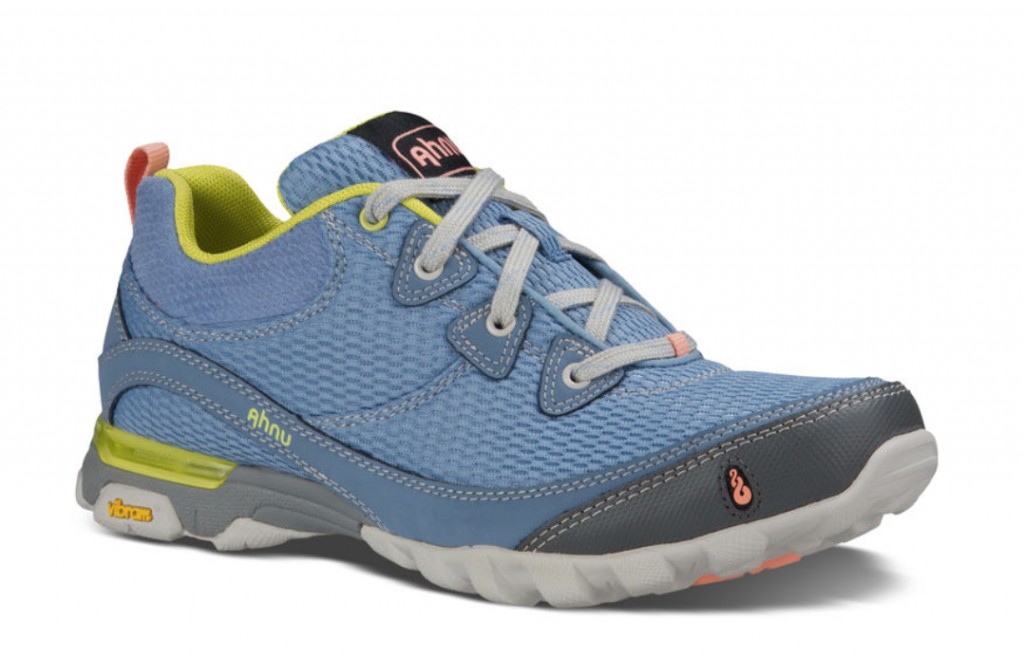 Sugar sweet and simple design is the first thing with the Ahnu Sugarpine Air Mesh. Its looks are quite hard to ignore, but thats not all.
The general idea for most is that hiking shoes should look more like tractors for your feet. Although that idea has been dispelled by some shoes, the Ahnu Sugarpine does it better.
The shoe is one of the best you can get most especially when the weather is hot. More than any other thing, it gives enhanced breathability, this is thanks to its upper which features breathable mesh and leather. For the rains or hiking in swampy areas, the upper also has a moisture-wicking mesh which means it is waterproof.
It also has a Dual-density EVA midsole to give you comfort through generous cushioning and support. To add to the support is the nylon shank it comes with for the support of your arch. For traction, it has nicely made Vibram rubber which provides enough grip for the murky and rough paths.
We find the shoe to be rather very comfortable. The best thing about this is that you don't get to wear it forever before you can get the comfort. Once you wear, you will immediately get the responsiveness and comfort.
Pros
Simple and great design
It is good for all weather
Has good grip.
Comfortable and nice fitting.
Not as clunky and rigid as most other hiking shoes.
Cons
We think with only three holes for lacing, it may not tie nicely.
Verdict
For women, we definitely recommend this hiking shoe. That is if what you want is something with enough breathability for either the hot weather or your sweaty feet. More so, the fact that it is also water resistant and has enough grip for wet and murky grounds makes it good for all weather.
View Amazon Reviews
Vasque Breeze 2.0 Low Gore-Tex Hiking Shoes
If your definition of the best hiking shoes has anything to do with support, durability, and comfort, this may be exactly what you need. But those are not the only things you get with this shoe.
The shoe is designed with the assurance of ventilation with its nubuck leather top which has mesh material as well. There is also the Gore-Tex lining added to ensure water resistance and breathability. As a result of the breathability and water resistance, it gives another option for all weather use.
The midsole is designed with customized Eva sole that provides shock absorption. The footbed as well is designed to complement the midsole. It comes in a dual-density cushioned insole and adds some support to your feet.
To offer stability and support, the sole of the shoe has the thermoplastic urethane stability plate which acts just fine. We also noted that there is a bumper cup at the forefoot to keep the toe area protected against rocks.
The outsole has a high-grip Vibram rubber which is made to offer nice traction. More than that, there is responsiveness and durability. Within a few days, you will perfectly break into the shoe.
Pros
Both the men's and women's are good for hiking, although we have found it to perform better for men.
Very stable shoe
Good enough for serious hikers
Very good ventilation
More than decent stability and support.
Cons
It is not the lightest on the list.
Verdict
If you want a hiking shoe that will provide support, comfort, traction, and breathability, this is it. Moreover, it gives all those without breaking your bank nor giving you something that is not valuable. We have found it to be among the most complete hiking shoes.
View Amazon Reviews
Salewa MS MTN Trainer L Hiking Shoes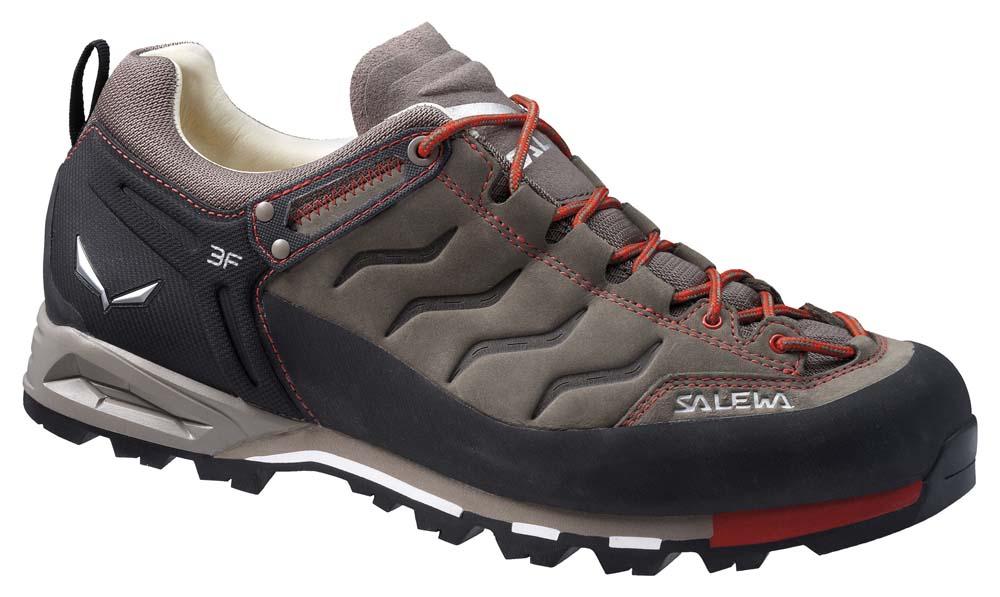 Among the best hiking shoes you can get, the Salewa MS MTN Trainer is a beast in both looks and performance
Made in Italy, this hiking shoe has one thing that stands it out from the crowd; its construction for long and heavy use. Although the shoe is a little beastly, its performance is worth it.
The top of the shoe comes with a 360° full rubber rand, as well as highly wear-resistant nubuck leather. These features make the shoe durable and comfortable to the feet.
More so, it features a full-grain leather lining. It comes in two versions; one which is not waterproofed with full rubber rand and another which comes with Gore-Tex, and as such, is waterproof. This means that if you prefer the waterproof and breathable shoes then you can have that as well.
The outsole is like most others made of the Vibram sole, hence you get to have a great experiennce as you hike.
As regards comfort, you may not get the best of this shoe unless it is on a rugged terrain. We found that it is not in the line of the softest, in fact, we found it to be stiff, but that works just fine for the purpose of its design.
The number of shoes that allow you as much options and customization as this are very few. This is mostly because the shoe features the MFF multi-fit footbed which you can adjust to fit.
Pros
Great quality and durability
Quite more versatile than many others
Offers extended support
Fantastic traction
It comes in two types
Beast-like performance.
Cons
Not the most comfortable unless its a rough and rugged terrain
It is not among the cheap ones.
Verdict
Like we have stated earlier, this is the beast of the best hiking shoes. If what you need is something that can endure long and rough abuse as your hike gets rough, you may as well settle with this. You don't need to fear if that would damage the shoe, since it is designed with durability in mind.
Get it Online
Merrell Moab Ventilator Hiking Shoe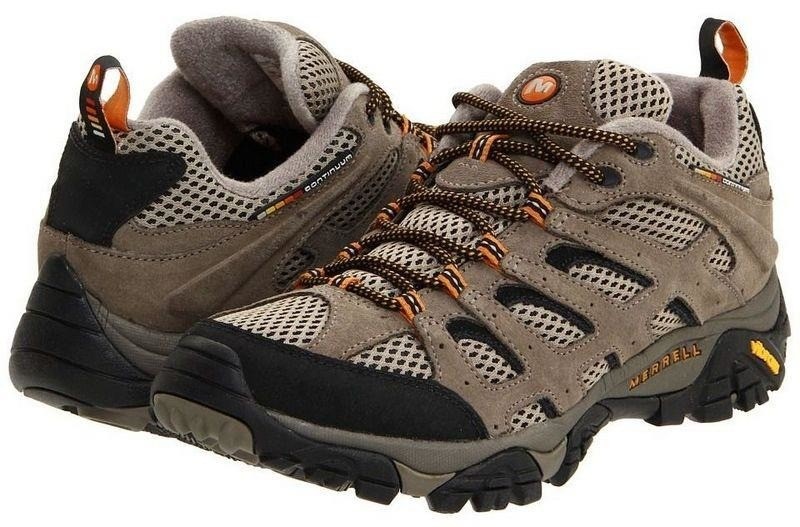 The Moab Ventilator actually looks like a really trendy hiking shoe. It is one of those that we fell in love with at first sight.
Most part of the upper is designed with breathable mesh to let in air. This is important in keeping your feet dry and adding lightness to the shoe. The remaining part of the upper is made of leather strappings.
For the air cushioned midsole, this shoe features the EVA midsoles; as such you get necessary comfort and response. It also absorbs as much shock as possible while you walk the rough paths. Nevertheless, the general foot support is not the most exceptional we saw.
While durable, we find the outsole to be comfortable and responsive as well as with great traction thanks to its Vibram rubber outsole. A bumper cover protects the toe against rocks.
We have found it complete in most ways, but it is quite disappointing that it isn't what you may need for hiking in the rainy seasons as it does not come waterproof.
Pros
Highly designed for hiking
Great breathability
Although it looks as though it would be heavy, it is very light.
Good tractions
Very affordable.
Cons
Not the hiking shoe for all seasons
Except for hiking and a little biking, it is not versatile enough for other activities because it is not the most flexible.
Not the best in support.
Verdict
If you are looking for a hiking shoe for summer, the Merrell Moab Ventilator is just perfect. This is the main reason why the shoe is designed. If however, you are looking for something for all seasons, you may as well get the Ahnu Sugarpine Air Mesh because this does not come ready for the rains as it is not designed with waterproof.
View Amazon Reviews
Columbia Grand Canyon Outdry Hiking Shoes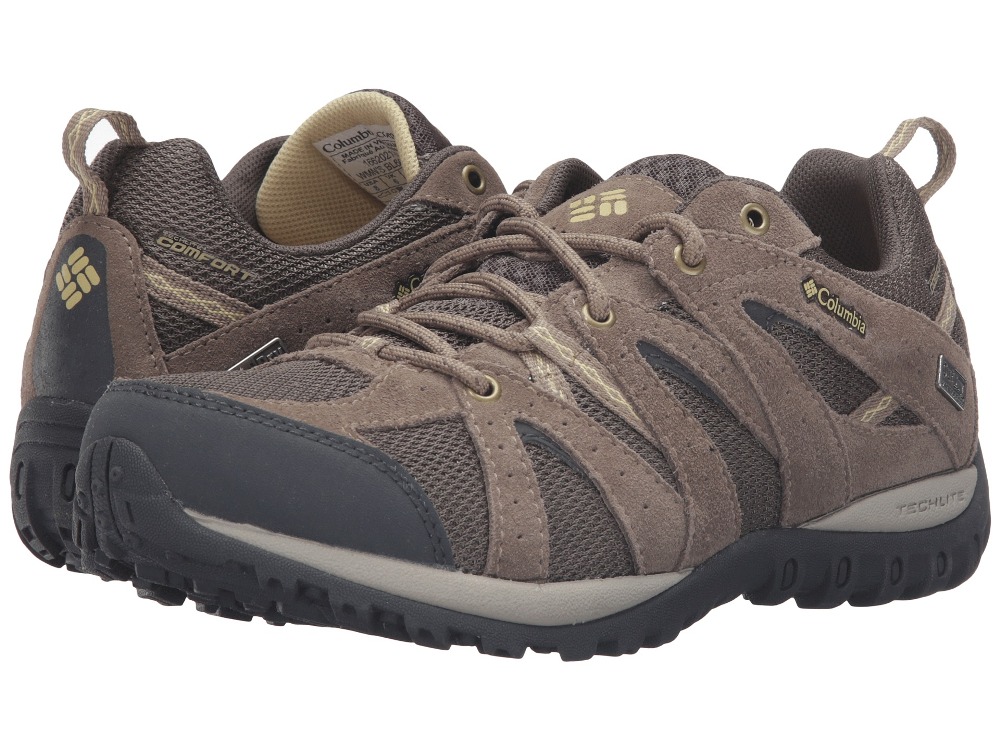 For best hiking shoes in terms of all-weather use, we found the Grand Canyon Mid OutDry to beat most in the market. The shoe while mostly complete, offers above everything else, a comfort that hardly betrays and traction that is mostly all the way.
The upper of this shoe is done in an interesting manner. It brings together suede leather, mesh, and rubber overlays. On one hand, the shoe is completely water resistant, and on another, it is highly breathable. And with the upper designed this way, the winning bet is more on durability than looks.
The midsole is designed to offer flexibility and lightness. That is thanks to the TechLite technology Columbia makes use of. What the TechLite technology does is to ensure there is enough cushioning to return energy, give comfort, as well as absorb shock or impact.
For the outsole, it features Omni-GRIP rubber. For this reason, while it is flexible, it still retains the firmness needed in hiking shoes. Another thing with the sole is that it ensures generous traction for different grounds. In fact, it is here that the Omni-Grip rubber plays greatly.
With the nice features incorporated into the making of this shoe as well as the way it is built, there is good promise of durability, so we don't see any reason why the shoe shouldn't keep.
The shoe is designed as a hiking shoe, but it can as well be used for different things including being worn as a casual shoe and as a walking shoe.
Pros
Very flexible and responsive
Great breathability and no less waterproofed protection
Strong statement of durability
Both the men's and women's perform very good as hiking shoes
It has very great traction
Cons
The support it offers could be better.
Verdict
Massive comfort, average support, full waterproof, and generous ventilation are what this all weather shoe offers you. In fact, if you need a hiking shoe for the rains you may go with this. This is because it has nice traction and is waterproofed enough to survive any water except if you decide to wear it for swimming.
View Amazon Reviews
Salewa Ultra Train Hiking Shoe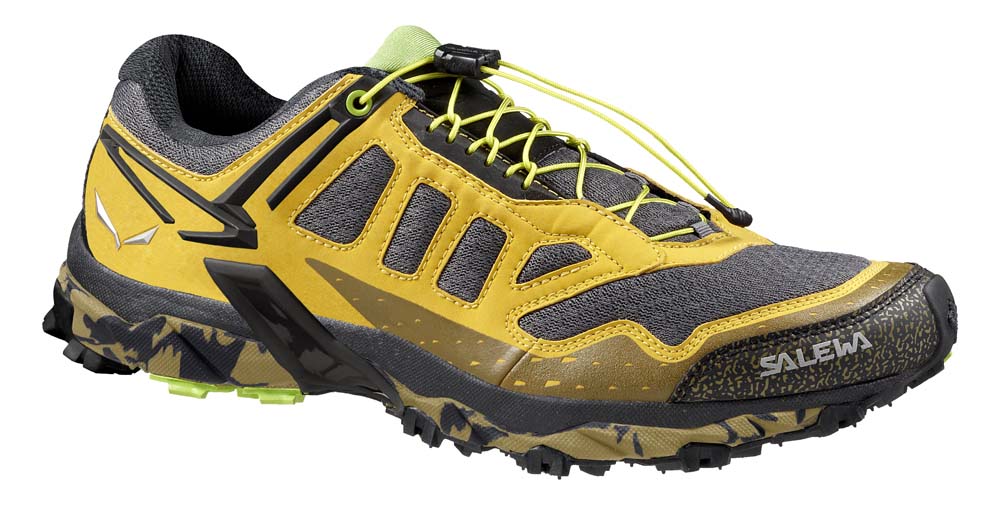 The Salewa Ultra Train is designed to be a trail running shoe on one hand and a hiking shoe on another. In fact, it was Salewa's first as regards trail running shoes.
The fear with most of their ardent fans was that the new shoes could affect their known quality. The fear turned out to be needless since they partnered with MICHELIN for the sole. And what Michelin did with the outsole was to give something that is both durable and sticky enough for traction. The remaining part of the shoe remained Salewa standard, so any question regarding the quality is practically unreasonable.
Its upper is designed with breathable and stretchy mesh as well as synthetic material. The mesh allows air in easily, and it dispels moisture when it gets too hot to keep the feet dry and comfortable.
The best part of the shoe is definitely the cushioning it gives. This is mostly enhanced by the midsole which is designed with the Eva foam. The end result is that there is good responsiveness and a comfortable feel.
Since it is as well designed for mountain running, the shoe has great traction for different grounds, and it is rugged enough to give you a run for your money on the mountain. The only problem we had with the traction is that it doesn't look deep. Nevertheless, since it is Michelin, we have no fears of the outsole chopping off the traction.
Overall as a debut shoe, Salewa has done close to a miracle with this shoe. And if you love backpacking, it could be a very important asset.
Pros
It is very versatile
Wide enough to fit almost every foot type
Generous responsiveness, comfort, and speed
Good for rugged/rough use
Nice traction
Cons
It is not the lightest shoe you can get
We cannot bet on its durability.
Verdict
If you need a shoe that can serve you for trail running, water activities, and more importantly for hiking, then you can consider the Ultra Train. It should serve you some more if you need something that is both comfortable and responsive, without denying stability and support.
View Amazon Reviews
The North Face Hedgehog Fastpack GTX Hiking Shoes
As regards the best hiking shoes, The North Face Ultra 109 GTX will for a very long time remain the shoe to beat. That, however, is not the only great shoe The North Face has been able to give hikers as its Hedgehog Fastpack GTX Shoe also leaves a statement.
This lightweight hiking shoe is not one that can be ignored when it comes to performance, great design, and durability.
The upper of the shoe is uniquely designed with polyurethane leather as well as breathable Gore-Tex membranes. Ventilation of the foot and waterproofed shoe is guaranteed. Therefore with it, you get something for all weather. Another good thing with the upper is that it is Abrasion-resistant.
It has a midsole which makes use of Dual-density and compression-molded EVA. The best thing about the midsole is not the comfort it comes with, but the support it gives. It also has the Thermoplastic urethane shanks at the rearfoot to add protection to the foot against sharp objects as you hike the rough paths.
For the outsole, The North Face makes use of the Vibram rubber which is popular for mountain and outdoor use. This is possible beacause its traction is well designed. Also, there is the Cradle heel-stability technology which absorbs impact and stabilizes you.
Pros
Features great technology for stability and comfort
It has good traction and stability
Generous responsiveness
Very versatile and good for all weather
It is good for both men and women
Cons
Not the most comfortable of hiking shoes.
Not as complete as the Ultra 109 GTX, but definitely better than most others.
Verdict
It is more than the name of its makers that helps The North Face Hedgehog Fastpack GTX to sell, although once the name pops up, everyone with any idea tries to have a look. It is rather, because of the completeness of the shoe. For both men and women looking for a good looking shoe that offers comfort, protection, and general performance for hiking, this shoe should appear better than the shortlist.
View Amazon Reviews
La Sportiva Synthesis Mid GTX Ultralight Hiking Shoe
When it comes to mountaineering shoes, La Sportiva has always had a say. And by always, we mean since the World War 2 when they made boots for soldiers. Even before then, they were around, and their expertise has never been brought to question.
With the La Sportiva Synthesis, what we are given is one hiking shoe that beats almost all others when it comes to water resistance and breathability.
The upper of the shoe features the Gore-Tex Surround technology which makes it waterproof and highly ventilated. More so, it features a new technology known as the Nano Cell which improves it's breathability.
One thing that is interesting about the shoe is the midsole. It is designed in a way that it will join the upper part so that there is good lockdown and stability for the foot. The midsole features the compression-molded EVA and TPU inserts which means there is more support and decent cushioning.
It has a very rugged and aggressive outsole designed with the Vibram sole. Apart from the durability that comes with the sole, the great traction and impact protection has no rival thanks to its Impact Brake System.
Did we state that La Sportiva has a culture of taking even the tiniest of things which others may take unserious serious? For example, they have given time to make a premium footbed which adds comfort to your foot and a fast lacing system that you just have to pull and watch it tighten.
Pros
Among the best in water resistance and breathability
There is enhanced stability
Can be used for both hiking and running
It is great for both men and women, although the men's is better
Made for the convenience of use
Cons
It could do with some more cushioning
Verdict
Some people find it fashionable, but we don't. Nevertheless, both us and so many others find it to be great in fit and performance. If, therefore, what you want is not just performance and fit, but also durability, water resistance, and the best of breathability because of your sweaty feet, throw your dice and this will pop up.
View Amazon Reviews
Best Hiking Sandals
Teva Omnium Hiking Sandals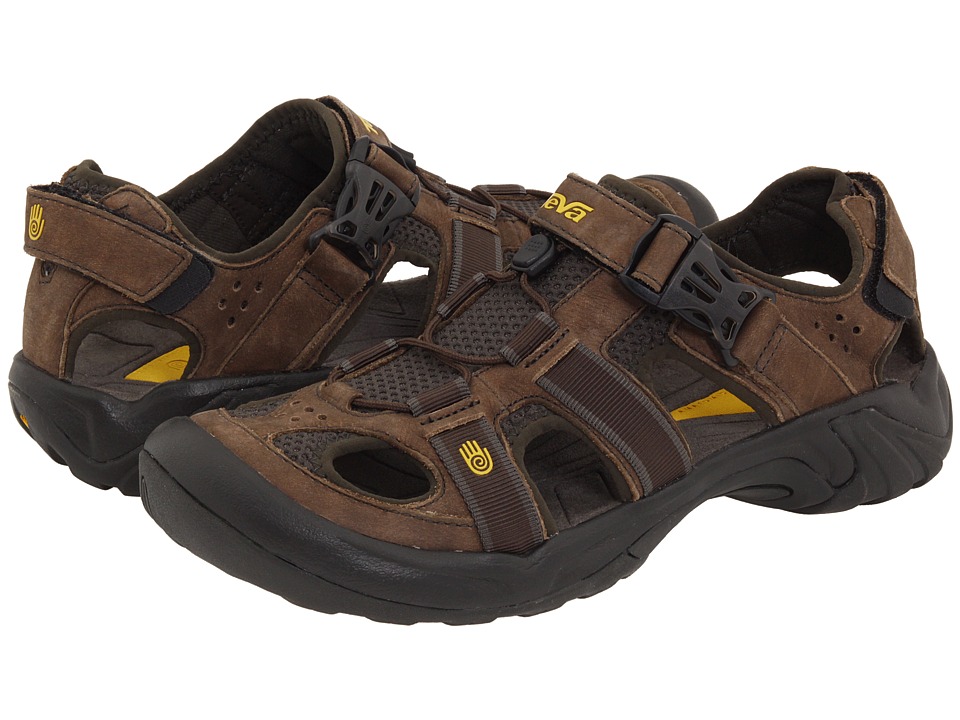 Men's Teva Omnium is one sandal which we have found to be great. It is one of those very few that while very affordable, are also very great in performance.
Although designed to be an all-purpose sandal, it can also be used for hiking as well as some wet purposes. More so, one interesting thing about the Teva Omnium is that based on its design for almost every use, it is made to be highly durable.
The upper is designed with synthetic leather and soft mesh lining. The featured leather makes use of quick-dry technology. It also comes with a closed toe which protects your foot, but since it is a sandal, water can get in and increase the likelihood of smelling.
This is where its quick dry technology and odor control technology comes to play. Microban antimicrobial technology is used to prevent the growth of stinky bacteria for the anti-odor control.
For the midsole, injection-molded EVA was used to give considerable cushioning and comfort. Nevertheless, we didn't think it has given all the comfort it could have been made to give.
The Teva Omnium comes with Spider Original rubber outsole. With this, there is longevity and respectable traction on different grounds.
If you want to use it as both for hiking and casual purposes, you may get the best for hiking, but not exactly the same as a casual wear because of all the technologies it features.
Pros
It is a very versatile sandal
Highly durable
Healthy for the foot
Easy to adjust, hence good for different foot shapes
Cons
Not the most comfortable sandals out there
Because of its make, when you walk in water for so long it can easily get your foot smelly
Verdict
This hiking sandal is one of the best you can get if what you need is one that can be useful to you for a very long time. More so, it is a very wise bet, not only as regards how long it can last, but also how well it can serve as regards versatility.
View Amazon Reviews
KEEN Whisper Sandal For Hiking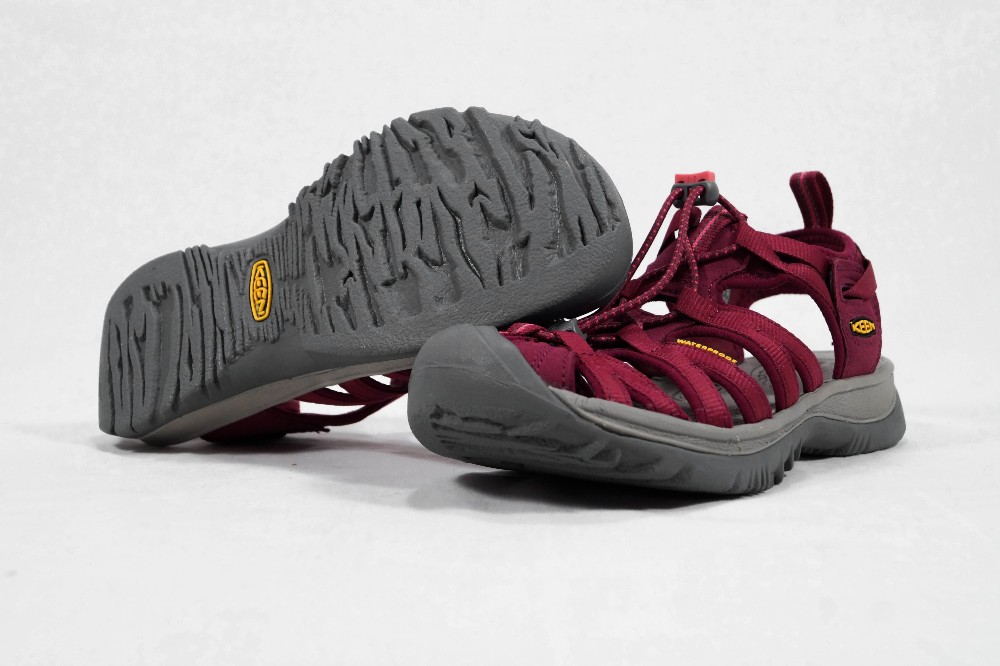 If you want them to be exceptionally beautiful before you can use, you may as well go on to the next review, because this is not your beauty. It is not ugly enough to be your beast either.
Nevertheless, for a hiking sandal, the Keen Whisper Sandals does not perform as bad as it looks. In fact, it performs very good to make it one of our best hiking sandals.
This closed sandal is designed with washable polyester upper and footbed that gives support and stability, and is designed with odor-reducing Aegis Microbe Shield to ensure that it doesn't smell even when your feet gets wet.
Since the sandal itself was designed with water resistant properties, it is meant to serve you if you prefer hiking in the rainy period. Another thing is that after washing or after it takes too much water, it doesn't take too long to dry off even though the dry time is not exceptional.
More so, what we found really impressive about the sandal is the level of comfort it so generously and easily offers. This is enhanced by the Compression-molded EVA midole which is great for shock absorption and responsiveness.
The outsole is made of Non-marking Rubber. It is durable, responsive, and adds to the comfort of the shoe.
Even though we loved most things about the sandal, we found its traction lacking. The traction performed great on some grounds, but not so great on others. While the multidirectional lug pattern should have given a nice grip, it was not aggressively done, and as such, it doesn't take its grip to the last.
Pros
Highly comfortable
One of the most versatile as it can be used for hiking, water activities, and as a casual wear.
It is a very durable sandal
Fits true to size in an amazing way
Cons
Verdict
As regards hiking sandals, there is hardly any that will beat this, most especially for women. Although it was mainly designed for water use, we are recommending it more for hiking in dry areas, this is because while we found it good, its traction may not hold very well for water use.
View Amazon Reviews
Chaco Z/2 Yampa Sandals For Hiking
We considered Chaco's Unaweep before we settled for this as the best open sandals for hiking, both for men and women. While the former has much going for it, we found it to be too heavy, and not performing as good as the Yampa Z/2.
The Yampa Z/2 comes with so many promises, however, it has to top when you talk about durability, support, and versatility among hiking shoes.
The sandal is fully adjustable and has a polyester strapping system to keep it fit on your foot. You don't have any problem going out in the rain with this because while it is durable enough to last long even when always in water; its polyester is easy to dry.
We found the outsole to be aggressive. It features the Vibram Yampa nonmarking rubber, which although heavy, is also durable and comfortable.
Pros                                                       
It is very durable
Extended stability and support
More comfortable than the Unaweep
Because of its great adjustments, it is fitting for most feet
Genuinely versatile
Cons
Although it is an improvement of the Unaweep, it still ended up heavy
It doesn't have the best of footbeds
Verdict
There are no many open sandals out there that you can use for hiking. It gets bad that among those that can be used, many are either completely not comfortable or ready to snap and be thrown away at any time. However, the Chaco Yampa comes with one that answers most questions on hiking and open sandals rightly. For us therefore, the search for best hiking sandals can end with this one.
View Amazon Reviews
Conclusion
One thing that all the shoes above have in common is their ability to see you through a great hiking. While how good they are may not be all the same, they are the best hiking shoes the market has to give. Like we have always said in our reviews, there is no single product that can give you everything you need except you don't want everything like most of us, and there is none that is exceptionally great in every way.
That said, with any hiking shoe on this list, you should enjoy your money's worth.