Luxury heated toilet seats are constantly evolving and with that comes all manner of intelligent innovations that can help you safe guard your comfort in and out of winter. While the choice is vast when it comes to choosing one for yourself, from ones that actually offer comfort to ones that don't, we have carried out a thorough research to get you the best heated toilet seats out there. Based on our research which considered important factors, TOTO Washlet S350e Toilet Seat Bidet is the best at warming up the seat and supplying a refreshing feel. With it, you get countless value from the varying temperature to self-cleaning benefits. Similar to TOTO Washlet bidet are BB-600E BioBidet Ultimate Electric Bidet Seat and GenieBidet Seat with spray washers that deliver just as much convenience and functionality as the TOTO Washlet. Others on the list also offer varying degrees of satisfaction and comfortable treat.
Why You Should Trust Us:
We spent days and weeks examining quite a good number of heated toilet seats considering vital factors to get you nothing but the best. Some of the factors we considered include self-cleaning ability, user-friendliness, soft closing features as well as ones with spray washers. Moreover, we didn't overlook temperature changes, picking out ones with adjustable water pressure and temperature to allow users vary their preferred warmth or temperature.
Many also offer a warm air dry feature to help dry after washing, much like a warm air hand dryer. Another great feature we considered is a heated seat, which can come in especially handy during winter. Other user-friendly options examined include self-rinsing nozzles, built-in air deodorizers and remote control that can be mounted wherever is most convenient for users.
Best Heated Toilet Seats
BB-600E BioBidet Ultimate Electric Elongated Toilet Seat
The BB-600E BioBidet electric Toilet seat is a top quality electronic appliance that is packed with useful and advanced features for comfort and cleanliness. Designed with plastic bidets, the elongated seat has a clever design that is sure to impress. With a dual nozzle technology that can suit all homes, you get to improve hygiene in your home using its basic modes; posterior wash and feminine wash. Endless hot water heater keeps you warm when you need it.
If you need a water massage, its water massage system with pulsating bubble infusion has got you covered. The adjustable heated seat and water offer sheer comfort during use. What's more is its great warranty deal that not only covers you for 2 years but also caters for any repair labour and parts cost done within the first 24 months of purchase.
Pros:
Keeps the user safe, clean and dry
Eco-friendly and child-friendly
Durable and great customer service deal
It cleans easily and sufficiently fast
Cons:
You may need a little getting used to before mastering the instructions
Verdict:
This elongated heated seat is a fun and easy-to-use system that works just amazing. It sells at a budget-friendly price yet offers high-grade service.
Sale
TOTO Washlet S350e Elongated Toilet Seat with Auto Open and Close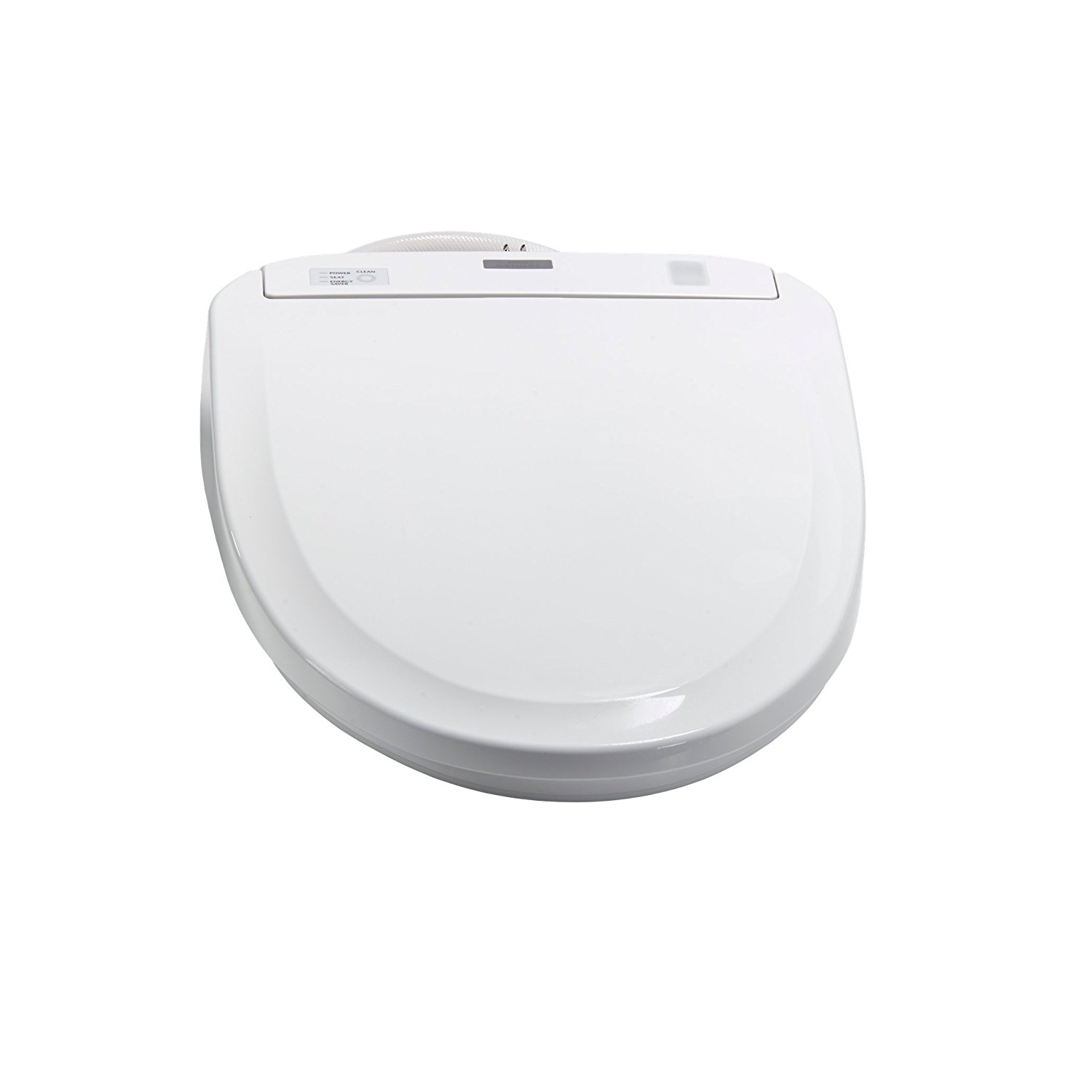 We love this really high-end heated toilet seat because it offers you everything you'd expect from a toilet seat and more. It is tank-less which means there is no limit to the amount of warm water you will get. However, you will get a cold splash with the first spray before warm water follows within minutes. Feel free to choose your preferred temperature and water pressure by the click of a button.
Controlled by a remote, TOTO Washlet S350e needs a 110V power source at least with a max power consumption of 835 watts to function. Its smart auto/close feature senses the presence of a human body as the lid will automatically open when someone comes close to it and will close 90 seconds after the presence of a body has left. In addition, it has an ewater feature which on its own sprays water after 8 hours of idleness to help maintain freshness.
Pros:
You actually do nothing as this opens and closes automatically
There is nightlight feature for visibility
Pulsating cleanse
Sleek design
Instant water heating
Highly hygienic with automatic cleansing ability after every use.
Cons:
It is the most expensive on the list
Verdict:
If you don't mind the price, this is a really satisfying toilet seat you should get. It is feature-packed and is of premium quality.
BEIR – Advanced Bidet Seat (BR-300) – Smart Heated Toilet Seat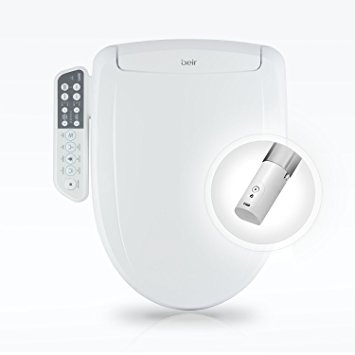 We like this Beir Advanced Bidet Seat for having some really high-end features. It has a water heating feature with three settings to deliver your most preferred temperature. The self-cleaning stainless steel nozzle makes cleaning quite labor-free. Hygienically, you are covered by the system's five wash modes as well as oscillation qualities. And getting you all dried isn't a problem. The Beir heated toilet seat has warm an air dryer that handles it in a refreshing manner. Comfort is a thing with its side arm control panel for one touch button operation.
Pros:
Automatic power on/off which saves energy
Eco-friendly
Eliminates bacteria
It has a safety sensor
Cons:
Some customers say it is a little noisy
Verdict:
This is class, functionality, durability, and value for money combined into one. We recommend it if you need to use differently shaped toilets in your house. It has the ability to fit both round and elongated ones.
No products found.
TOTO Washlet C100 Elongated Heated Bidet Toilet Seat
Built for luxury, this TOTO Washlet Bidet Toilet seat offers you endless first-class options with a side arm control panel featuring useful modes such as water pressure and temperature. There are also pressure self-cleaning nozzles which ensure you choose a precise temperature as well as a spray for intimate cleansing. The Pre-mist function of the Washlet wets and takes off waste from the bowl before providing you with the best hygiene system you can think of. Other benefits include deodorizing and energy-saving features for gentle aeration and avoiding energy wastage.
Pros:
Blissful cleaning and maintenance
Removes wastes ahead of time
Operation is easy
You enjoy matchless hygiene system
Circulates air expertly
Cons:
Slightly loud deodorizing fan
The price is a little more upscale than BB-600
Verdict:
If you want a portable companion for chilly winter days, this would be it. Though its fan motor seems small, there is no limit to what you can get from this product.
Brondell L60-EW LumaWarm Heated Elongated Toilet Seat with Nightlight
While this doesn't have all the additional features like some of its rivals, it warms you up ideally. Powered by standard GFI outlet, this seat is compatible with all standard toilet fixtures. More features worthy of note include a shining LED light that helps you see things easily, three temperature settings for preferred mode, gentle closing seat and lid.
Pros:
It is versatile and fits tightly to all fixtures
Installation and maintenance requires no special skill
Offers a comfortable and soothing feeling
It is fun to work with due to its LED that floods the entire fixture with light
It is sturdy and durable.
It is budget-friendly compared to some others
Cons:
The narrow opening or crevices may require a lot more effort to clean
Verdict:
Assuming you don't have the money for all the fancy high-end ones with side arm control panel, choose this. We like that it keeps you warm and not much else.
Sale
GenieBidet Seat – Dual Self-Cleaning Heated Toilet Seat
This GenieBidet Seat is the cheapest of the bunch, but definitely not the least functional. It works just fine at giving you a smooth warm surface which will make you feel almost like you are being pressed into someone's bosom. This is because it delivers you temperature settings that relate to your immediate environment. However, it can only fit snugly on elongated toilets. More on its gain include the ease of getting it cleaned up and its eco and kid-friendliness. If you want an electrically heated toilet seat, look somewhere else on this list because this is non-electricity and needs no wiring, thus even safer.
Pros:
It has a thinner and elegant design
It is easy to clean
Push-button control
Soft closing-lids and seat
Cons:
Works only on elongated toilets
Verdict:
If you want to enjoy a heated toilet seat but are not in for all the vague designs, this non-electricity heated toilet seat with simple design and great efficiency will serve you well.
Sale
SmartBidet SB-1000 Electric Heated Toilet Seat for Elongated Toilets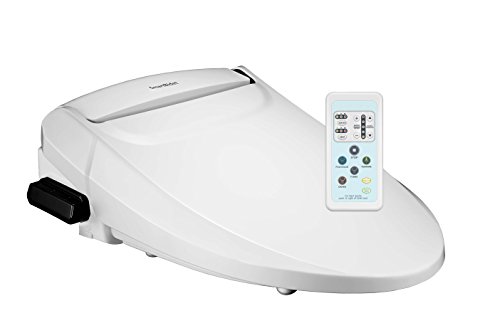 One of the top-rated heated toilet seats in the market has to be SmartBidet seat. It is a soft close type of seat and is of premium class. It is equipped with air dryer and remote control that makes functions seamless. Although it is at a relatively expensive price, you will get your value in days.
Pros:
No need for toilet papers
Saves energy
Installation is a bliss
Remote control gives you operational convenience
Cons:
Not the cheapest on the list
Verdict:
This is a great performing heated toilet seat you can find around. We love the design. It has a nice aesthetic look that can match any toilet.
Lotus ATS-500 Advanced Smart Toilet Seat Bidet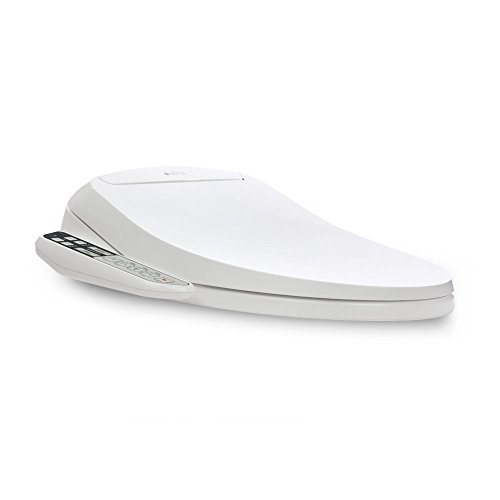 This is another cool all-rounder model out there for us. It is compatible with both elongated and round toilets – something that we find exceptional. One thing you get from using this seat is that refreshing and warm feeling and a soul that is calmer due to its warm air dryer and warm seat. Plus, the chances that it will fail or deteriorate are rare as it is engineered to last. Cleaning is so easy and effective, we give credit to its self-cleaning nozzle.
Pros:
Nice temperature control
Incredibly simple design
Offers a win-win warranty
Highly dependable and comfortable
Cost:
Some customers have complained about its cord which seems short
Verdict:
Want a versatile toilet seat that you can swiftly switch from one toilet to another, consider this. We like its incredibly sleek design and the fact that it sells reasonably affordable despite being a beast.
Guide To Buying Heated Toilet Seats
Getting a heated toilet seat to keep you warm during the chilly weather is a hit because cold toilet seats can suck out the fun in life during cold winter. But it doesn't just end at getting a heated toilet seat, it also involves getting the right one. There are things to consider some of which include shape, material and more to pick the best out there.
Material:
Choose a heated toilet seat that is sleek and comfortable. Plastic and polypropylene are among the common materials to choose from.
Shape:
Toilet seats do not come in sizes, rather they come in two different shapes which are either round toilet seats or elongated toilet seats. Each of them match up with the two different toilet bowl shapes. Round toilet seats are popular in some homes while elongated ones are growing in popularity. Therefore, you need to consider the shape of your toilet before you start looking for the perfect heated toilet seat to get you all warmed up.
Great Functions:
Heated toilets seats come with a wide range of configurations such as temperature control, deodorizer mode, bidet mode and seat heat. They also have self-cleaning features which mean you don't have to struggle with its crevices during cleaning. This saves time, effort and also delivers a better hygienic experience. Their soft-closing technology which gently closes the toilet after use makes them easy to use. In addition to that, it prevents the seat from banging on the bowl or on the water tank.
Precautions:
Heated toilet seats can spray water several meters in the air, so it is advised that you to turn it off when you are still seated and vice versa.
Conclusion:
While there are many options out there for one who wishes to buy a toilet seat, we have picked out the best ones you should consider if you truly seek effectiveness and convenience. They are affordable compared to other higher priced ones and they provide you with matchless durability and everything you expect to get from a quality heated seat.