Whether it's a hiking trip or a small ride around the block, the need for cycling mirrors is undeniable. They can play a significant role from improving navigation to potentially saving your life. Cycling mirrors are available in an array of size and enclosed in a different casing, but they more or less serve the same purpose. With an astonishingly large number of mirrors to choose from, they can be molded onto different locations on the bike as well. Mirrors can be placed on handlebars, end plugs of handlebars, brake lever, glasses and even on helmets. With each different position comes an additional purpose for the mirror to serve. Additionally, apart from location based advantages and disadvantages, there also comes numerous styles in which the mirrors can be oriented in.
Importance
In many cases, the position of mirrors is decided based on personal preferences. Some people debate about whether or not there is an actual necessity of using a cycling mirror. However, regardless of opinions, common sense states when looking ahead on a busy road it is an unfavorable decision to physically turn one's head around in order to see the object approaching from behind. The use of mirror becomes more of a necessity rather than a luxury when strong navigation skills are required on heavy traffic lanes. Additionally, keeping your eyes on the road helps in avoiding accidents and staying safe. Cycling mirrors have an important role to play in ensuring just that.
Selecting a Cycling Mirror – Mirror safety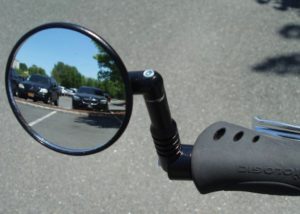 Safety first, for you and the mirror you have selected. While safety in terms of using mirrors is understandable, safety or mirrors is rather a puzzling concept. When selecting a mirror, consideration should be taken of whether the mirror upon serious impact can shatter to cause serious damage or not. Hence while dealing with scenarios like these, mirrors should be selected on safety measures such as edges, sharpness & exposed wires.
Selecting a Cycling Mirror – Weight
Another variable that comes into play when selecting the optimum cycling mirror is weight. The purpose of cycling mirrors is to improve navigation – not to add weight. Hence selecting a heavy mirror becomes a conundrum for the user, especially if he/she is using glasses or helmet molded cycling mirrors. For the sake of a comfortable ride, the weight of the mirrors should be kept as down as possible.
Verities of Cycling Mirrors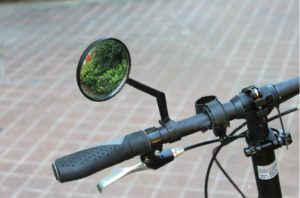 After looking at the qualities which the mirrors should possess, the next step is determining which type of mirror serves the best purpose according to the rider. Initially, there are four verities available in the market. Handle bar mirrors are designed to fit on the end of your handle bars and stick out further than the widest part of the rider. While on the other hand, Helmet mirrors come in two initially different types. One system follows mounting the cycling mirror on the hard shell, usually with a screw clamp arrangement. While the other recommends using a glue patch. Furthermore, eyeglass mounted mirrors attach to the temple or bow of your eyeglasses or cycling glasses. Lastly, the final type of mirror is an on-lens mirror. It is high-quality mirrors that attach directly to the inside of your eyeglasses.
See Also:
EVT Safe Zone Bike Mirror Review