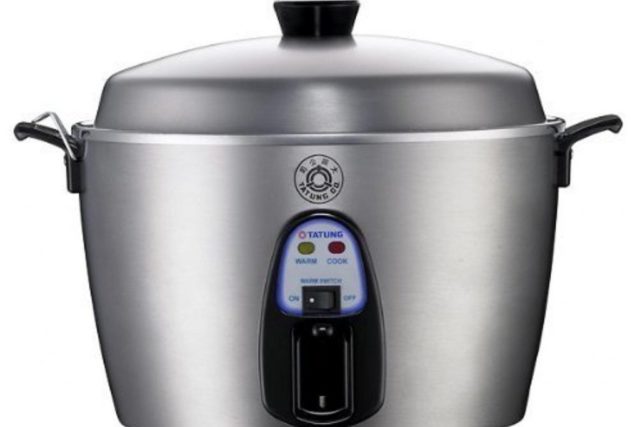 The best rice cooker should be able to cook delicious and flavorful short-grain or medium-grain white rice evenly throughout the pot every time. It should also be able to handle additional tasks that ranges from steaming veggies and protein to simmering soups and stews, or cooking other grains
For many of us, rice is a staple on our menu: it's an indispensable part of our food ritual, a food we can't do without and it doesn't matter whether you enjoy it with a bowl of stew or any other kind of spiced and seasoned casserole, having a plate of flawlessly cooked rice is always a good idea. On that note, we chose to embark on a research in search of the best rice cooker that will perfect any kind of rice grain from white to brown rice. In doing so, we spent weeks researching on beautifully crafted, practical rice cookers while keeping the needs of chefs in mind.
Need for rice cookers that are simpler to use, practical, cooks faster, long-lasting, the overall functionalities, as well as ones that provide optimum result during cooking. Thus, after careful review and evaluation, we have concluded that the best rice cooker is Instant Pot IP-DUO60 7-in-1 Multi-Functional Pressure Cooker, 6Qt/1000W which makes flawless rice cooking a cinch. With its innovative technology which allows different tasks to be carried out with it, the final result of food cooked with this cooker is not only wonderfully rich but also moist and highly tasty. The cooker is packed with amazing features and is designed with sturdy materials. Its heat distribution attributes stand out amongst other things. Apart from spreading out heat uniformly across each grain of rice, it cooks food faster than you can imagine.
However, if a different cooker that is induction friendly is what you like, you can try Zojirushi Induction Heating Pressure Rice Cooker & Warmer 1.0 Liter, Stainless Brown NP-NVC10 or VitaClay VF7700-6 Chef Gourmet 6-Cup Rice and Slow Cooker that offers all-natural clay cooking pot or any other ones on this list. What we can assure you is that all the rice or pressure cookers mentioned here offer nothing short of a crusty-bottomed rice that is downright wonderful.
Why You Should Trust Us
As dependable as this report is informative, you can trust our reviews always to choose the best products as we spend quality time on researching the best products some of which we borrow for a closer look, others we purchased to tender a careful review. We dedicated not just enough time to this research but also tried some out ourselves and ensured that proper investigation was carried out while factoring in more than 45 other rice cookers. And as kitchen gurus, we know what to look out for in Kitchen appliances over others such as the overall functionality and mechanics. We went through some reviews and also got the opinions of normal people who are not necessarily professional chefs. Again, we spoke to other like minds and other professionals including food connoisseurs during the research before finally drawing our most unswerving and genuine conclusion.
Preview
Top Choice
Editor's Pick
Best Value
Title
Instant Pot Duo 7-in-1 Electric Pressure Cooker, Slow Cooker, Rice Cooker, Steamer, Sauté, Yogurt Maker, Warmer & Sterilizer, Includes App With Over 800 Recipes, Stainless Steel, 6 Quart
Zojirushi NP-NVC10 Induction Heating Pressure Cooker and Warmer, 5.5 Cup, Stainless Brown, Made in Japan
VitaClay VF7700-6 Chef Gourmet 6-Cup Rice and Slow Cooker
Top Choice
Preview
Title
Instant Pot Duo 7-in-1 Electric Pressure Cooker, Slow Cooker, Rice Cooker, Steamer, Sauté, Yogurt Maker, Warmer & Sterilizer, Includes App With Over 800 Recipes, Stainless Steel, 6 Quart
Editor's Pick
Preview
Title
Zojirushi NP-NVC10 Induction Heating Pressure Cooker and Warmer, 5.5 Cup, Stainless Brown, Made in Japan
Best Value
Preview
Title
VitaClay VF7700-6 Chef Gourmet 6-Cup Rice and Slow Cooker
Best Rice Cookers
Zojirushi NS-LAC05XT Micom Rice Cooker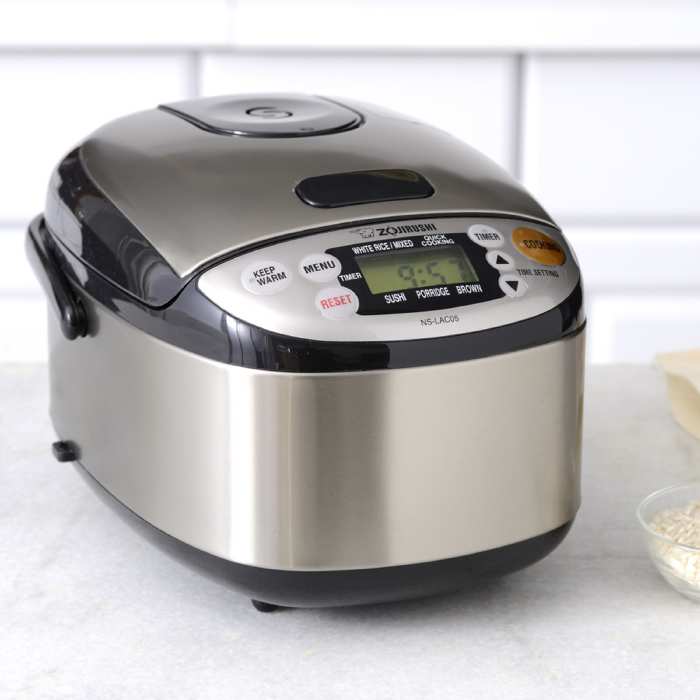 Zojirushi NS-LAC05XT Micom Rice Cooker is one way to fix a long-term woeful rice fail in your kitchen. From offering ease of use to having easy digital controls that can be understood as a brief look, this rice cooker is one of the pioneering kitchen technologies. The brand has been producing rice cookers for over four decades now so it's no mystery why this one seems so perfect in everything. We learned that it's a slow cooker, pressure cooker, steamer, rice cooker, sushi maker, browning device and even a porridge maker all in one. The interior of the kitchen gadget speeds up cooking more than twice using less energy and cooks rice uniformly with some measuring lines to help the user have a clear-cut clue of the level of ingredients.
Its stainless-steel exterior finish is designed to enhance the shine and durability of the cooker as well as make it not just easy to clean but also suitable for any kind of kitchen decor.
Overall, the cooker features varying built-in settings like a simple LCD control panel, reheating cycle, an incorporated retractable power cord and black inner pot, automatic and prolonged keep-warm setting and a delay timer with twin settings that can let the cooker think out when to switch on as well as let you know how much time is left until your meal gets ready.
And for every type of rice you can picture, be it mixed, white, brown or even sushi, it gives nothing but a desirable result.
Another perk of the cooker is that rice cooked with it appears lighter and more delicious than usual due to its automatic keep-warm interior that holds up temperature until food is served – something we don't see when cooking rice in a pot on a stovetop.
Its maximum is 3-cup but can convert 3-cups of raw rice into 6 cups of flawlessly cooked rice each time. Have in mind that its capacity is calculated in the approx. 6 oz. / 180mL rice measuring cup, using raw short grain white rice. Other grains could be calculated in different ways using varying scales.
Pros:
The cooker is easy to use especially for its removable cover and the interior doesn't retain stains.
The interior of the kitchen gadget heats food amazingly, changing the nature of each grain of rice while the exterior stays cool during cooking
It's cooking properties are so beautifully varied including the ability to be used during white/mixed, sushi, porridge, brown, and quick cooking.
It speeds up cooking, reducing the time of cooking.
Temperature is properly regulated to stay with the safe and specified level for its construction.
Rice appears soft for easy digestion.
It comes with a measuring cup
Cons:
The measuring cup could be undesirably small for those from large families.
Verdict:
With this kitchen gadget cooking, rice is so much easier than it has been. Besides making cooking rice less of a royal pain, the machine is highly durable and can last for years. If you are looking for a portable rice cooker that can cook rice perfectly well and make it retain its softness for a reasonable length of time, then this your best bet.
Tiger JKT-S10U-K IH Rice Cooker with Slow Cooker and Bread Maker Stainless Steel
Tiger JKT-S10U-k IH rice cooker is a four-in-one automatic electric pressure cooker that steps up rice cooking to a whole new level. We found that they work efficiently for rice cooking, Synchro-Cooking, slow cooker, bread baking.
The cooker features eleven electronic cooking menu settings with two 24-hour timers adjusted beforehand to facilitate use. The timers work for delayed cooking and ability to measure temperature rightly to know when to make necessary adjustments during cooking.  The interior of the microcomputer is made up of 5 layer metal and 3 layer coating giving a total of 8 layered inner pot. Its characteristic stay-cool handle also adds an edge to the entire unit.
More than that, we like that food doesn't stick at the bottom of the interior after meals since the inner can be detached and cleaned up properly. Another perk is its outer and inner washable covers that can also vent steam.
It's a great choice if you want to go all out in having more than one meal as the cooker comes with a cooking plate (BPA Free) that allows you cook two dishes concurrently as well as one cookbook for beginners.
Pros:
It has a preset keep-warm interior that retains heat for a long time ensuring this rice remains fluffier.
It doesn't produce noise or leak steam
There is no risk of exploding unlike some pressure cookers
Cooking requires limited time
It takes up less work surface space than many others.
Cons: 
The price is a little bit on the high side compared to other pressure cookers, but once bought you will get the values in ten folds.
The inner paint may scratch off if not taken proper care of.
Verdict: 
If rice is a staple food on your menu whether semi-brown, short grain white, short grain semi-brown, long grain white or just plain white or brown rice, then this is specially made for you. The cooker makes all kinds of rice come out very awesomely in taste and appearance. Also, it makes rice cooking so effortless.
Aroma Housewares NutriWare 14-Cup Digital Rice Cooker and Food Steamer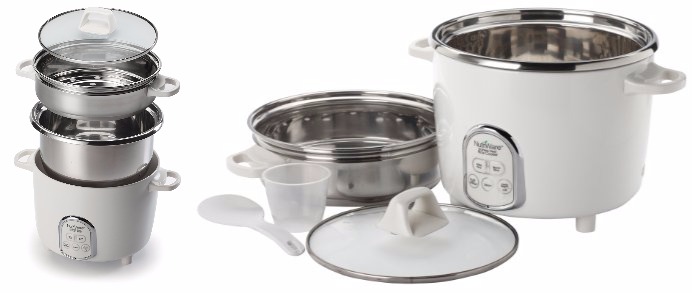 Aroma Housewares Nutriware rice cooker is an outstanding example of its kind particularly in terms of quality, size, and luxury. The brand is widely known throughout the US as a top-notch cooker with a sole aim of satisfying customers needs.
Featuring a cooking pot and steam tray that are constructed of surgical-grade 304 stainless steel, the unit can last more than expected. Rice cooked with this cooker comes out nice. Other than cooking rice, the cooker could be set to make several other delicious meals.  Particularly because it has controllable digital buttons for white rice, brown rice, saute-then-simmer, steam and finally the keep-warm button that ensures the food stays warm.
On the far side of rice cooking, the cooker wouldn't be taking up much of your counter space as its footprint is very little.
And for its cooking capacity, we observed that the cooker can comfortably produce 4 to 14 cups of well-cooked rice. But you must have to measure with the accompanying cup that is included in the product.
Pros:
Made of high-grade stainless steel, the unit doesn't rust or corrode
Easy to use and manage
Automated regulation  of energy
It will likely fit your budget as it is low-priced compared to others on the list.
Ease of cleaning and cooking.
Cons: 
Though it elevates cooking, this unit can make rice unappealingly soft if not well set. This means that before use, you need a thorough knowledge of how the device works.
Verdict:
If what you want is a first-rate cooker that not only cooks perfectly but also doesn't let food stain its surface, then we recommend you choose this unit. However,  that's not all to gain from using it; the cooker is highly affordable and durable.
Sale
Aroma Housewares NutriWare 14-Cup (Cooked) Digital Rice Cooker and Food Steamer, White
Health-conscious design – Our NutriWare series is made with an inner pot composed solely of food grade 304 stainless steel. This avoids nonstick-coating cooking and offers a more health-conscious approach to your favorite recipes such as soups, stews, chili and more.
Capacity & Dimensions – Our NutriWare multicooker has a spacious 14 cup cooked capacity made with Surgical Grade stainless steel and a beautiful tempered glass lid. The dimensions are 9.5 x 12 x 12.4 inches.
Rosewill RHRC-13001 Rice Cooker and Food Steamer
Rosewill rice cooker makes digital cooking refreshingly simple. The rice cooking friend has automatic cooking and warm-keeping functions. Other remarkable cooking functions we noticed during our research include; meticulous cooking, fast cooking, reheating, steaming as well as being suitable for making soup, porridge, soaked rice and more.
Among its greatest features are an 8 preset modes such as Regular, Quick, Cake, Porridge, Soup, Steam, Brown(Clay Pot rice), Reheat – which make up for all kinds of cooking, literally. The 700W cooker is by scale 1.0L which means that it can contain 5.5 cups(Uncooked) measured with the cup tagged along with the product
On the plastic body of the Cadillac cooking machine,  we found an LCD display and a digital control that can swiftly be operated by even a beginner.
Above that, the cooker is designed to prevent spills and to control steam effectively. It is also burn-proof, anti-sticking, wear-resistant, and the interior nonstick coating help easy cleaning.
Pros:
It doesn't allow the leakage of energy for being a  good heat conductor and quick cooker.
It's easy to operate and clean
It's safe, durable and eco-friendly
stewing small pot rice, small quantity rice cooking
It is portable enough to add splendor to your kitchen.
It doesn't come with a heavy financial burden
Cons:
Due to its size, it especially suitable for stewing small pot rice and small quantity rice cooking which may not be enough for making bigger meals.
There have been complaints of it not having a retractable cord.
Verdict:
If you are looking for a premium stewing small pot rice, small quantity rice cooking that is living up to its name and expectation by making life easier for all chefs and cooks, then this cooker is yours.  The incredible cooker makes the best rice that will push you into consuming as much as you can possibly could at every serve of it.
No products found.
VitaClay VF7700 Chef Gourmet Cup Rice and Slow Cooker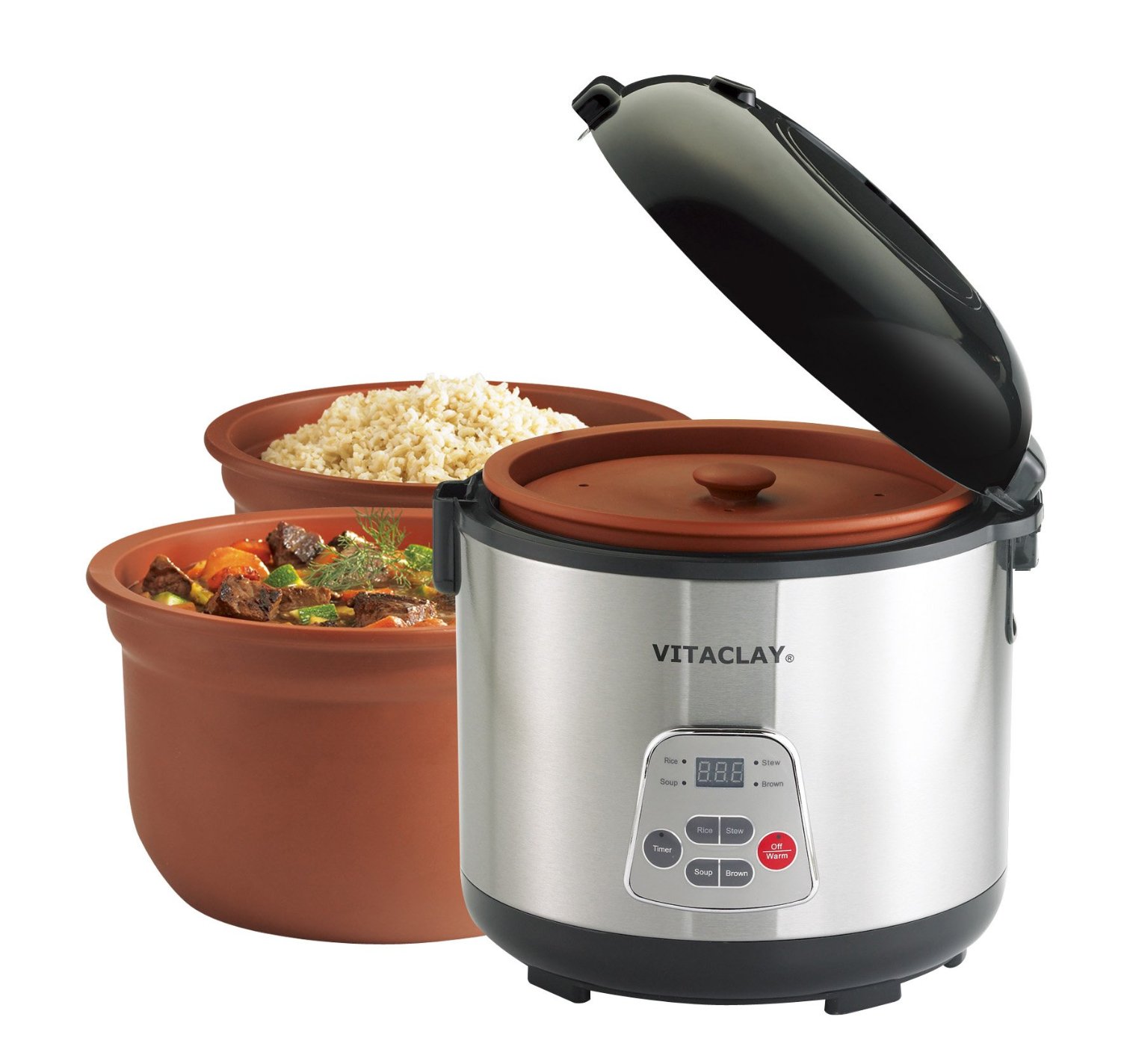 VitaClay VF7700 Rice and Slow Cooker cooks impeccable and healthy rice using heat and steam control technology. The cooker is a cutting edge when it comes to offering one-pot convenience with its slow cooker, rice cooker, and pressure cooking settings -living up to its name.
With multiple sensors and a microprocessor, VitaClay cooker uses artificial intelligence to perform some tasks, which means you don't need to spend your entire time monitoring the food. It also enables you to choose from varying cooking settings like white rice, brown rice, soups, and stews (and extendable for beanpots, porridge, etc)depending on the cooking method thanks for its multi-functions.
The cooker has a clay pot known as Zisha clay (a type of clay from the region close to the city of Yixing in Jiangsu Province, China, used in Chinese pottery) that is rich in natural minerals. The fact that its coating is entirely organic makes it one of the healthiest. Besides that, the cohesive earthenware or baked clay pot is naturally porous and has a low thermal conductivity. This means that VitaClay absorbs heat while sustaining constant temperature, hence pre-eminent for rice or slow cooking.
The unglossy surface of the coating also improves the taste, feel and overall quality of the food cooked with it.
Equally, the top-of-the-line-digital clay-cooking technology is great at conserving energy using nearly 50 percent less energy as its double lid design grants micro pressure.
Pros:
It is one of the healthiest cookers in the market for being coated with purely organic materials.
Great for precise cooking, slow and fasting cooking
Different control for cooking various grains of rice flawlessly
Controls steam, preventing leakage as well keeping the rice moist.
It best at making nice yoghurts
Easy to use
Cons:
Its capacity may sound like a lot as it's a 6-cup cooker, yet the size of cup tagged along the product could be too small for some who might prefer bigger capacity. Nonetheless, if you are cooking for yourself or small family or can cook in batches, then you should consider it.
Verdict:
There are so many plus points to this pressure cooker. From not allowing the burnt layer of rice stuck to the bottom of its interior pot to even cooked rice and the flawless final result, we can't simply exhaust them all. What's more is that the one memory lapse can't ruin the entire cooking as the cooker features timer that thinks out how much time it would take to get your food ready. Though we suggest you keep an eye on your food carefully
Instant Pot IP-DUO60 7-in-1 Multi-Functional Pressure Rice Cooker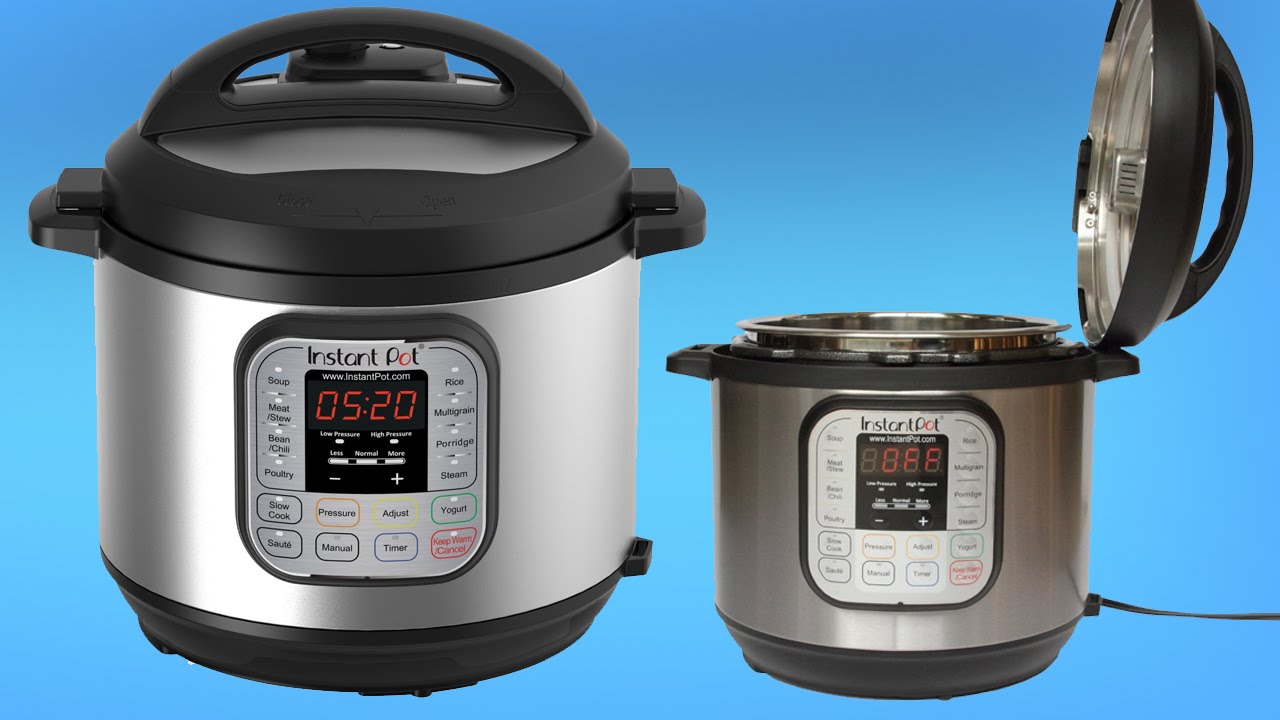 Who says rice cooking has to be strenuous or require great effort and care? Instant Pot IP-DUO60 7-in-1 Multi-Functional Pressure Cooker, 6Qt/1000W is where efficiency meets luxury in rice cooking. It is named the best in all parameters that we can possibly use in measuring the most supreme of rice cookers.
This 7 in one rice cooker is all about everything you would expect in a cooker, slow cooker, pressure cooker, yoghurt maker, warmer, steamer and of course rice cooker. It is highly labour-saving and gives a boost to cooking by two or 3 times using 70% less energy, and, more so than anything else, it supplies or puts together healthy food in an easy and steady style.
We easily recognized its control panel which has a 14 function that appears easy to operate for all cooking methods.
The multi-functional cooker also has a 3 layered stainless steel on the bottom of the interior pot.
As well as the stainless steel bottom, the cooker comes with a stainless steel steam basket with a handle to hold up meals over boiling water so that they can steam cook and well-detailed manual and recipes written in different languages.
The cooker also offers a number of other health benefits when used for cooking rice, as its nonstick contains no harmful chemicals.
In addition, it has twin pressure for quick and trouble-free cooking, automatic keep-warm and three temperatures for sauteing and slow cooking.
The cooker also heats rice uniformly and perfect. Apart from having no undercooked bits, the pot can contain as much rice can be enough for a small family. However, keep in mind that the high-pressure button requires you to cook without filling up the inner pot over 2/3 full. On the contrary, with non-pressure cooking programs, the pot doesn't have to be filled beyond the max line. One of the best things about cooking with either of these pressures is that for the high pressure, the overall cooking time is reduced significantly by up to 70% while the low pressure helps prevent overcooking delicate food.
Pros: 
Inner pot nonstick coating offers easy cleanup after cooking.
As with good quality rice cooker, Instant Pot IP-DUO60 7-in-1 Multi-Functional Pressure Cooker, 6Qt or 1000W is not known to suffer burns on its bottom during cooking.
For its value, it is reasonably priced
The steam rack makes cooking multiple cooking feel great
Easy to use and manage
Cooks rice perfectly ensuring the grains stay separately apart from one another
Neither undercooks nor overcooks
Zero potential of exploding
Cons:
Though it could be easily be cleaned, it can't be cleaned as a regular bowl in your kitchen.
You may need to read the manual very carefully and not puzzling it out yourself. That notwithstanding, the cooker can be operated comfortably
Verdict: 
This electrical gadget is not only versatile especially for coming with a steam rack for perfect vegetable steaming and the likes, it can also make for a speedy cooking time. We found everything about it worth its price ( though not very high). More importantly, it may not be the largest cooker ever made, but we think the size is amazing. However, if you need a bigger size cooker, you could choose other ones on the list or resort to cooking in batches with this cooker.
Instant Pot Duo 7-in-1 Electric Pressure Cooker, Slow Cooker, Rice Cooker, Steamer, Sauté, Yogurt Maker, Warmer & Sterilizer, Includes App With Over 800 Recipes, Stainless Steel, 6 Quart
7-IN-1 FUNCTIONALITY: Pressure cook, slow cook, rice cooker, yogurt maker, steamer, sauté pan and food warmer.
QUICK ONE-TOUCH COOKING: 13 customizable Smart Programs for pressure cooking ribs, soups, beans, rice, poultry, yogurt, desserts and more.
Zojirushi Neuro Fuzzy Rice Cooker and Warmer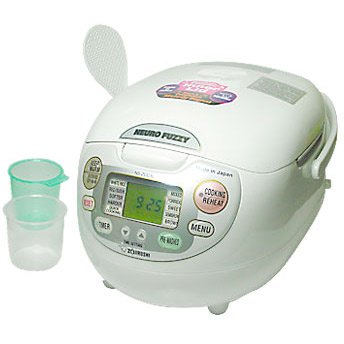 Set up in 1918, Zojirushi cooperation began producing different home brands under the name, Ichikawa Brothers Trading Company in Osaka. Over the years they have changed names taking up Zojirushi a few years later. However, the company didn't stop at just the changing of names but also went deep in advancing their brands, emerging as one of the first Japanese companies to construct a rice cooker. The company has since remained a pioneer in rice cooker productions with countless practically useful ones out there. And as it regards Zojirushi cookers known for their unmatchable qualities, this Zojirushi NS-ZCC10 5-1/2-Cup (Uncooked) Neuro Fuzzy Rice Cooker and Warmer, Premium White, 1.0-Liter represents a more developed version in Neuro Fuzzy logic technology. Known for its outstanding performance, the cooker has all the senses of greatness you would ever think of a cooker.  Again, its eco-friendliness is unsurpassable and just like the name implies, the cooker speaks of varying features including automatic keep-warm, strung-out warmer and reheat cycles.
It caught our interest the more knowing that it doesn't make rice over moist or soft and ensures it stays pleasantly fresh for days – now that's quite unbeatable.
Ball-shaped, the inner pan boasts of a strongly-built nonstick surface for proper distributing of heat across the rice and other meals when cooking. It has LCD clock and timer for timing when to stop heating. Plus it is hard-wearing and can withstand scratch and other threatening external forces.
It also comes with many features that make it more friendly and wholesome in performances like detecting the weight and level of water in the rice and to switch off or automatically enter into the warm mood when it feels the rice is good to be served.
We can not leave out the fact that getting this cooker means getting not just a rice boiler, but also getting 2 measuring cups, recipes, rice spoon holder, nonstick rice scooper or spoon for perfect serving after the kitchen time.
Pros:
Has a retractable cord which is practical for household use
The cooker is multi-purpose and can be put into different uses.
Add a leg up to the cooking process
It is highly durable, staying new throughout its use
Cons:
It is not the cheapest rice cooker on this list. Though it is a clever choice if you will be able to meet the expense of getting it.
Verdict:
If you are looking for a rice cooker that can both jazz up your rice cooking time as well as fulfilling several other cooking needs then you have found the best cooker right here. The cook quite literally cooks rice in an excellent way than you'd expect.
Sale
Tatung Multi-Functional Stainless Steel Rice Cooker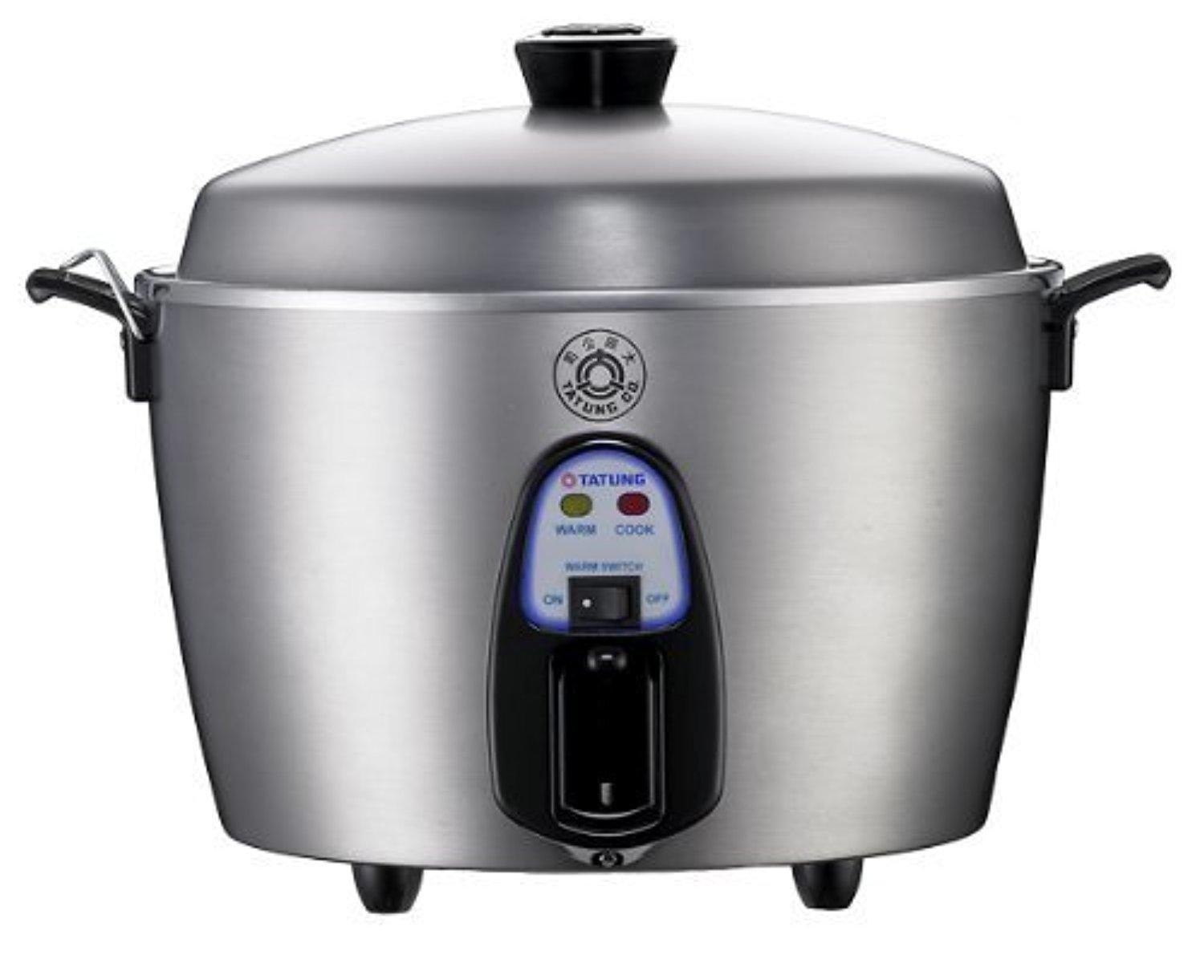 Tatung Tac-11 KN(UL) 11 Cup Multifunctional  Stainless Steel Rice Cooker, Silver Gray reigns supreme by capacity. The cooker can take about 11 cups of raw rice which in the end gives 22 cups of amazingly cooked rice – a task that most rice cookers can hardly perform. Keep in mind that Tatung Tac has different sizes of rice cookers with various capacities example, 3, 10, 11 cup size cup and all of them can serve you satisfactorily only that you have to choose the exact size most suitable for you and your family.
That being said, the cooker is constructed to ensure that users get the best of their meals with its multi-menu for stew making, steaming, boiling, porridge making and rice cooking whether brown or white.
Smartly built with 18/8 or food grade 304 stainless steel which is among the most common grades of stainless steel used for food preparation and dining, the cooker is highly resistant to corrosion and food safe. This allows you get the value of wherewithal you part to own it.
Again it unreservedly produces no odd smell, not too much heat in the kitchen allowing you do other things while cooking, no spills, no steam. Though it can cook up to eleven cups of rice, it doesn't take up unnecessary space, reducing the chances of making it throw your kitchen into disorder.
Besides being a larger culinary machine on the list, this rice cooker retains warmth both when on or off switch.
The rice cooker does not have multiple elaborated menu or function selections since it has only two buttons which are cook and warm. But has a way of doing the tasks indirectly while cooking.
The Tatung TAC-11KN is good for cooking white, sweet, brown rice and porridge or congee. With the steaming function, it is so versatile that you can cook, steam, simmer, and stew just about anything and everything.
Attached to the cooker are steaming tray, User Manual, Rice Spatula, Inner Pot Lid, and Steamer Plate and finally measuring cup.
Sure it might cost you a little more than it would if you get a pot but you gain a lot from using this cooker than you would if you cook in a pot.
Pros:
Highly durable; can last more than two decades looking and working as new as when it was bought.
Helps hygiene as it is easy to clean
Once measured with the right cup which comes with the product, rice won't boil over in the pot.
It heats properly and never destroys the nutrients or ingredients in the food.
Cons:
It does not have retractable cord
For you to enjoy the special benefit of cooking three dishes at the same time you will have to buy the INPT-6S inner pot along with the TAC-S02 double stacker steam separately.
It does not come with any visible timer button which some people may find important.
Verdict: 
If you hate too many buttons and love really functional few buttons, then go for this rice cooker. They work incredibly good and are highly durable. Some chefs told us they have had for more than twenty years. We love that many things could happen in such a short space of time as the cooker can allow the cooking of different meals at the same time, saving both time and energy.
Tiger Corporation Slow Rice Cooker and Bread Maker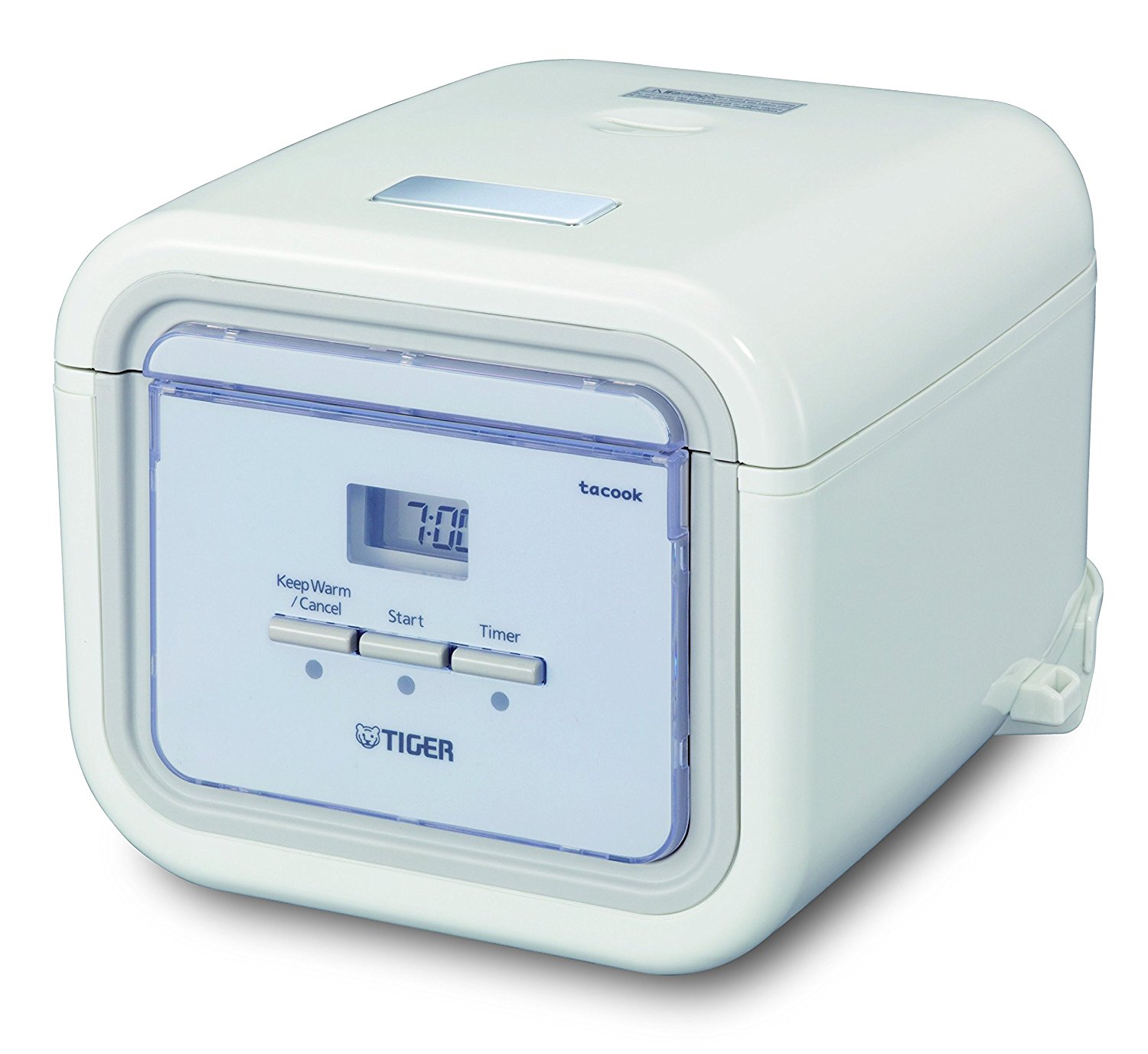 Tiger corporation has built a reputation for meeting the needs of chefs around the world in consumer electronics and vacuum flakes and this cooker was established on the same principle. The cooker is a vigorous opponent of the improper ways rice can come out when cooked with the wrong pot or rice cooker.  It, in fact, grants nothing short of outright enjoyable or pleasurable result is gotten.
With its synchro-cooking function, you could prepare two dishes (main dish and rice) concomitantly using the "tacook" cooking plate.
When cooking with this cooker, you get to choose out of 8 push-button cooking menus the task to perform including; quick rice, synchro-cooking, stew or soup, plain rice, mixed rice or sweet rice, risotto, brown rice, and more outstandingly cake baking.
What's more into the bargain are its features counting 2 pre-programmed timers that control how long the rice cooks and the point in time it becomes beautifully soft to stop cooking and switch over to warming – what else would you be looking for in a rice cooker? Plus it doesn't get rice scorched and it's almost self-cleaning due to the inner pan's nonstick coating.
Another resoundingly amazing benefit we discovered is the additional components it comes along with inclusive of a nonstick spatula, measuring cup, a BPA free cooking plate and a recipe for better cooking plus use of a synchro-cooking button.
Pros: 
It offers a new style of rice cooking with its unique box shape.
Creates well-cooked rice
It's healthy to use
Excellent for making fresh bread
Removable inner lid, adding a leg up to cleaning
No negative impact on the flavor and texture of food.
Cons:
Lacks a detachable cord
Not the cheapest on the list
Its capacity may be too low for a large family, but if you don't mind cooking in batches, then go for it.
Verdict:
Have you been eating unevenly cooked rice? If the rice you've always cooked turns out to be unexpectedly bad, you can easily get this rice cooker to counteract your past lows. We believe the cooker will compensate for all the years you've had flawed rice. Alo, it is highly durable, it is also greatly manageable.
Tiger JAJ-A55U WS 3-Cup (Uncooked) Micom Rice Cooker with Slow Cook, Steam, & Cake Bake, White
Synchro-Cooking function using "tacook" cooking plate to prepare two dishes at the same time
8 computerized cooking menus: Quick Rice, Synchro-Cooking, Plain Rice, Mixed Rice/Sweet Rice, Risotto, Brown Rice, Stew/Soup, and Cake Baking
Elechomes LED Digital Display Rice Cooker Steamer and Warmer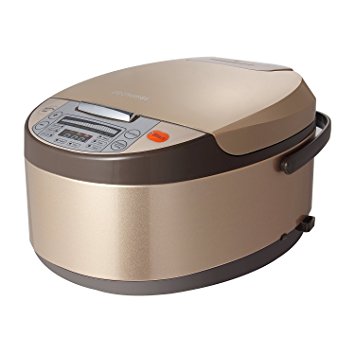 Using the wrong cooking vessel to cook your rice could make it look unkempt, gluey and less attractive.  But with this cooker, you have all these checked. Elechomes CR501 LED Digital Display Rice Cooker Steamer and Warmer is a 7-in-one multi-purpose cooker – a tally that is considered quite high in pressure or rice cookers.
There is something we think marks it out as different from others and that is its sturdy golden honeycomb tank that conducts heat exceptionally. Aside from heat conduction, the tank is also durable and can resist physical attacks like deformation or warping. Again the golden honeycomb's tight lid preserves heat sublimely and can form micro pressure inside the pot. The lid also ensures that the food remains moist without losing its flavours or nutrients – hence stimulating the ingredients and ensuring they stay fresh throughout the time.
The micro computerized fuzzy logic tech also keeps food warm automatically and has automatic reheating cycle. The cooker never overheats rice or undercooks or even get them burnt at the bottom. In addition to these features, it also has an extended keep warm qualities as well as automatic reheating cycle.
The general cooking operation involves five ways which are a low flame, big flame, high temperature, consistent temperature and keep warm.
Finally, you get to own a spoon, soup scoop, measuring glass, steamer, power line, user manual as well as a warranty card for getting this cooker
Pros:
Rice comes out correct at any point in time with this cooker.
No need of being afraid of scratching off its surface as the pot releases food quickly
Cleaning will not present a problem again
Has very necessary features to make a great pot of rice
It is low-priced yet gives more value in relation to the task it performs
LCD control panel that is clear to read which makes operation simple
Cons
There is no removable cord
Verdict:
This appears to be one of the cheapest yet a well-built rice cooker in the market right now. We recommend this if what you want is a good-looking, durable and effective cooker that can add a shade of cuteness to your kitchen.
Elechomes CR501 Rice Cooker 6-in-1 Multi-Use Cooker
6-in-1 multi-function: multi-functional cooker means you can use that one same Pot as a vegetable steamer, rice cooker and to whip up a comforting stew
Micro computerized fuzzy Logic technology. Capacity: up to 10 cups/ 1.8 liters
T-fal CY505E 12-in-1 Programmable Electric Multi-Functional Rice Cooker
T-fal is always on the cutting edge of home appliances and T-fal CY505E 12-in-1 Programmable Electric Multi-Functional Pressure Cooker with 25 Built-In Smart Programs / Ceramic Nonstick Cooking Pot and Stainless Steel Housing 1000-Watts, 6-Quart, Silver is another great invention from the company. The manufacturer knowing that feeding healthy is just as important as the air we breathe incorporated the incredible 12 in one cooker for tasty healthy meals just in minutes.
We found the 12 uses (rice cooking, oatmeal making, reheating, soup making, baking, yoghurt making, steaming, sautéing, browning, pressure cooking, DIY, and keep warm) to which you could put this highly versatile masterly 6-quart stainless-steel electric pressure cooker quite distinctive. Of course, we didn't think a rice cooker could be this versatile with over twenty different cooking program selections.
Besides being an all-rounder pot that can perform multi-cooking skills like, we also figured in an instant that the cooker has preset timers ( 5minutes to 12 hours) 24-hour delay start for regulating cooking time.
Among many other remarkable features is the four-layered ceramic coating of its inner cooking pot which is 1.8mm thick with a tight-fitting lid. On top of that, the 1000 watts powered cooker comes with a steam tray, measuring cup, spatula, trivet, cooking book as well as tongs.
Pros:
Suitable for both large and small family.
Exceptionally long lasting just like other T-fal products.
Ergonomic design makes management easy
Highly Economical
Functional nonstick coating for quick food release
Cons:
Some users complain that it takes extra effort to understand the manual which seems ambiguous. However, if you get familiar with its operation, it will serve you well.
Verdict:
We recommend this rice cooker for all those whose souls are ready to welcome rice that's cooked properly without having to watch over the food. The is because this cooker allows is nearly self-operative and performs many useful tasks automatically. Again, it is highly versatile and as such can be put to many uses.
T-fal Pressure Cooker, Pressure Fryer, Programmable Pressure Cooker, 25 Programs, 6 Quart, Silver
QUICK COOKING: 6-quart stainless-steel electric pressure cooker for healthy, delicious meals in minutes.
12 AUTOMATIC FUNCTIONS: Rice, Oatmeal, Reheat, Soup, Baking, Steam, Sauté, Brown, Pressure Cook, DIY, and Keep Warm.
Gourmia GPC1000 Smart Pot Electric Digital Multifunction Rice Cooker
Preprogrammed pressure control, secure locking lid, detachable inner plate, Gourmia GPC1000 Smart Pot Electric Digital Multifunction Pressure Cooker is sure to make a cook or novice want to cook every single minute of the day. Apart from being exquisitely crafted, the cooker delivers professional-chef approach to all kitchen as well as wholesome and well-cooked gourmet meals. The all-rounder cooker also offers everything to make a perfect rice and other kinds of meals including for special occasions.
It is designed with 10 Quart Stainless Steel with basic objectives of offering safety, convenience, and reliability.
And whether you want to use it for, breakfast, lunch, dinner or dessert, there are wide-ranging cooking options to choose from due to its 13 cooking modes. The different smart cooking program combinations include meat, poultry, rice, timer, preset time, soup, steam, saute, slow cook, dessert, beans, porridge, warm.
We also noted that it comes with a steam rack, free recipe book and cooks 70 percent faster when compared to regular pots. The detachable inner pot coated with non-stick finish makes cleaning easy as well as its stainless steel exterior.
Furthermore, it has 24-hour delay timer and it comes on its own after power loss.
Pros:
Unique preset functions that offer nearly every cooking options.
Vibrant nonstick coating that ensures fast cleanup
It does not scorch rice on the bottom
Cons:
Requires you to grasp the operating the instruction for proper usage.
Verdict:
To win at cooking perfect rice, we recommend Gourmia GPC1000 Smart Pot Electric Digital Multi-function Pressure Cooker, 13 Programmable Cooking Modes, 10 Quart Stainless Steel, with Steam Rack, 1400 Watts. We think you would like its well-detailed cookbook. Though it has all the anticipated features brightly combined, it is, however important that you follow the guidelines in the manual to get a long-lasting result.
Gourmia GPC1000 Smart Pot Electric Digital Multifunction Pressure Cooker, 13 Programmable Cooking Modes, 10 Quart Stainless Steel, with Steam Rack, 1400 Watts- Includes Free Recipe Book - 110V
13 IN 1: LED display with custom time control, auto keep warm, 24 hour delay timer, and a huge variety of one touch cooking presets- including rice, steam, slow-cook and more.
10 QUART: Designed with a sleek stainless steel exterior, extra large nonstick pot, and secure lock lid with an easy-grip handle & adjustable airtight/exhaust valve.
Aicok 7-in-1 Multi-Functional Programmable Electric Pressure Rice Cooker
There is no question about it –  cooking with Aicok 7-in-1 Multi-Functional Programmable Electric Pressure Cooker, 6 Quart / 1000W ensures you don't lose that rice glamour which is often stolen by the use of wrong pots. The simple to use cooker is known as a pressure cooker, porridge maker, brown rice cooker, warmer, steamer, soup/stew, slow cooker,
Other than delivering an abundance of incredible dishes, Aicok has an inner pot with a capacity that is scored 6.3Qt / 6L for the full size while the maximum capacity of cooking rice is 10 cups – suitable for larger families.
Perhaps the most important part is its multi-functional attribute such as built-in smart programs like high pressure, automatic keep-warm mode, and 3 temperature which makes all kinds of cooking processes plain-sailing.
As for timing the food, the cooker has a 24-hour delay timer that allows its user set up when to begin cooking and similarly to stop on its own and start warming the food until when it is set to be served.
We were well pleased with the way the cooker represented various textures of food for different times including, Fragrant, Standard, Full Cyclically. Full cycling mode is selected when you want the rich flavor, to prolong the overall cooking time. Then in such a case when the cooking time is to be short, the Fragrant option would be selected.
In the same vein, the cooker has options for cooking all kinds of meats under different pressures.
Also, its High-pressure settings for fast and flexible cooking while reducing cooking time by up to 70% and 24-hour delay timer which allows the user to program cooking to begin at a later time, you are sure to eat your food when you want to.
Pros:
Aicok pressure cooker is built to reduce tiny errors that usually inflict harm on the food.
Offers extremely comforting foods in the end
Anti-burn, anti-scratch and above durable
It feels like you don't even have to cook since the unit is nearly self-operative
It mixes seasoning properly into the meal that is being cooked
It is budget friendly
Cons:
You may have to think out how some of the functions work by yourself as everything is not really clearly stated in the manual.
Verdict
If you have been searching for a multi-cooker that can allow you to simply throw a few ingredients into it, press a button, and then watch it do the hit-it-and-forget-it thing and finally see a perfectly decent result that emerges, then you should go for this. Yes, it is as good as it sounds, the cooker is not just multifunctional but most of its features are automated. However, you have to have a clear understanding of the functions before you can enjoy it and sometimes to rely solely on its manual may not be the best idea.
No products found.
Tiger JAY-A55U-CU Rice Cooker and Warmer
Tiger Jay-A55U-Cu3-Cup Micom Rice Cooker and Warmer offers a one-pot convenience with both slow-cooker and pressure-cooker settings (as well as rice-cooker and even yogurt-maker settings). We discovered that the rice cooker yields superior results than regular pots as it does not weaken the potency of ingredients no matter the alternative you choose. Its nonstick features (Far-infrared ray coating) makes washing the pot easy without having to go that extra step of scrapping to get it all done. Its removable interior lid also adds a leg up to clean up. The inner pan also cooks each grain evenly with its spherical bottom. As well, the rice can be washed right inside the inner pot which is faster than having to do it elsewhere. The sensor under the cooker trigger off the cooking process setting at one click of a button. Also, you don't have to watch over rice to find out when the water flows over the edge nor rushing around the kitchen to time your meal – what can be more reassuring than this?
Beyond displaying when the warming and cooking time elapses, the cooker requires slight preparation and zero monitoring thanks to its Micom chip that does the supervisory works, ensuring that the temperature at a given time is appropriate enough to make a great meal.
The stainless steel and beige finish are suitable for all kinds of food and good enough, they do not alter the flavor of the food.
Pros:
Optimizes the rice texture making it glossy and flawless
It is suitable for modern kitchen due to its stainless steel and beige finish
Thick inner pans ensures heat is spread across the grains of rice
Its nonstick features offer easy cleanup so scratching the surface.
It is not high-priced compared to its value
Easy to operate
Cons: 
It is unsuitable for bigger families.
There have been complaints that its magnetic power connection is weak.
Verdict:
This is an effortless way to cook that perfect rice you've been craving. We love that the cooker can adjust its heating methodology to the level that will best suit the rice at a particular time. It can also be used in cooking other delicious items besides rice just by the use of its setting buttons.
Zojirushi Induction Heating Pressure Rice Cooker & Warmer
Zojirushi induction heating pressure rice cooker and warmer is precisely crafted from some of the highest quality materials in the market like platinum particles. This feature alkalizes water thereby allowing water spread out into each grain for softer and properly cooked rice.
In the presence of water and heat, the 5.5-cup cooker breaks down the intermolecular bonds of starch molecules enabling the hydroxyl hydrogen and oxygen to be more involved in water thanks to its enhanced gelatinization features. This further breaks down the starch particles in water in such a way that can not be altered, unleashing the rice's sweetness and freshness.
With its varying menus, you can cook any kind of rice you would ever desire including cooking commands including settings for white, mixed, sushi/sweet rice, porridge, brown, GABA brown and quick cooking, it also has Umami setting that extends soaking and steaming time for wholesome rice. 
One of the most remarkable attributes of this made-in-Japan cooker is that it has a steam-reducing setting that cut down the steam by almost half less than the regular setting.  Another great feature is its Advanced fuzzy logic technology with AI (Artificial Intelligence) that transitions the succession of cooking for expected result all day every day. This also allows you do other things without necessarily having to monitor the meal.
In addition, it has a rare setting named "scorch"  that sears rice into a fluffy golden brown delicacy that is downright suitable for any kind of serving. Besides timing food automatically, the rice cooker chooses from 3 pressure settings on its own based on the option selected.
Pros:
It is highly versatile
Intensely beautiful, this rice cooker also has a durable resistance to damage.
They are comfortable to cook with.
Its nonstick coating is  healthy
It is dependable and easy to use.
It does not produce unnecessary noise
Cons: 
The price could be over for some
It is reportedly unfit for making pinhead oats which may choke up the filter.
Verdict:
If you've ever eaten a well-cooked rice, you know they're incredibly sweet and a bit glossy. Yes, not over-moist. That's surely what this cooker offers. It works with your sense of desire, literally to carry out tasks on its own. However, you need to study the manual accordingly to keep off avoidable mistakes.
Conclusion:
Having explored a good number of rice cookers on the market before reaching these recommendations, we believe we have done justice to our ultimate goal of easing of the confusion in getting the best rice cooker such that no matter the one you choose from these cookers listed herein, they all have no equal in the market right now. Some may seem to be high-end cookers but with them, making rice can be as elementary as putting rice and water or stock together and pushing a button. In fact, they just about operate themselves. Besides being high tech they are also durable and trustworthy.