Truth be told, to get the best mountain bike under 1000 dollars, may not be the easiest of things to do. But if that is what you have to spare, who says you can't ride the mountains? Over the years, because of competition, very few companies have changed the game to design very affordable and yet very functional bikes.
Questions may be raised as regards the overall performance of these cheaper bikes, but if you only look close enough, you will find some that should have all the boxes checked.
For a great mountain bike, you need to get one that has great suspension because you are definitely hitting a rough terrain. The thing though, is that at under 1000 bucks, it will be hard to get a bike with an excellent suspension. Not impossible though.
There is a need to find a bike with great tires as well. You don't only need one that will offer you durability, but also one that is large enough to dominate the rough paths. 29 and 27.5-inch bikes are more preferable.
Other things that are important include the weight; the lighter the better, stability, sturdiness, and comfort among other things.
That said, having been a devoted mountain biker for over 12 years, I have come up with this review which should help you get the best mountain bike under 1000 dollars that you are looking for.
Best Mountain Bikes Under 1000
Raleigh Bikes Kodiak 1 Mountain Bike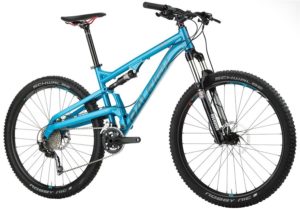 A very strong bike, this bike is stunning in appearance and at the same time, very functional. It is one of the very few that have refused to sacrifice performance or even great features on the altar of affordability as with many others.
With the dual suspension, this mountain bike is a very stable beast even on a very rough trail. It has a 27.5″ wheel which gives you good traction.  One more thing with the suspension is that it gives you up to 120mm of travel which is good.
It comes with an aluminum frame which is quite light, even though it is not the lightest mountain bikes out there. Nevertheless, it is sturdy and has an SR Suntour XCR 32 Coil fork which will help you handle all the crazy bumps you will encounter along the way.
For the brakes, you get the Tektro Auriga Hydraulic Disc brakes, Shimano front derailleur as well as the back derailleur which has the Shimano Acera. Again, it has Shimano SL-m310 Shifters that give you as much as 24 speeds
With the suspension, its handlebars that are high enough and well designed, as well as the good pedaling system, you are sure to get a very comfortable riding this bike.
Finally, the bike comes almost completely adjusted, leaving you with little to do in the assembling.
Pros
It has great traction and stability
Offers you a dual suspension.
Very responsive and comfortable.
Easy to assemble.
The general features are of top quality.
Cons
Verdict
With the looks of a premium bike, this bike is simply amazing when you put side by side, what you give and what it has to offer. The bike is steady, durable, with good features, and very functional enough to be the best mountain bike under 1000 bucks for many people.
Diamondback Bicycles Line Hardtail Mountain Bike
Diamondback is the single company that beats many if not all others when it comes to dishing out strong and high-performance mountain bikes at very affordable prices.
The Diamondback Bicycle's Line Hardtail attests to the quality, stability, performance, and comfort that these bikes come with.  And yes, the build is very solid.
Considering that it has 27.5 inches DB SL-7 Double-wall wheels, it makes use of a single stone to kill many birds, if you would allow. There is durability to it, comfort, and the ability to take on even crazy trails. The fork used is an SR Sun tour that has 120mm travel, taking care of the suspension needed.
Under the Hook, Line, and Sync'r model range, the Hardtail is also good geometry because of the low slung frame it has. According to Diamondback, the physics behind the frame is so that your gravity is lowered enough to keep the bike well-grounded and ensure that you are stable at any speed.
As it is very stable, so too is it easy to maneuver, and if you are counting on it to hold you, the Hydraulic disc brakes are very responsive.
Pros
Great stability.
Very easy to maneuver.
Good front suspension.
You get value for your money.
Cons
It is somewhat heavy.
It doesn't have the best chain guard.
Verdict
If an all-rounded mountain bike for less than 1000 is what you are looking for, then the Diamondback Bicycles Line Hardtail may just be your king of the mountains. Not only does it help you dominate the trail, but it also lets you do that comfortably and with ease.
Diamondback Bicycles Recoil 29er Full Suspension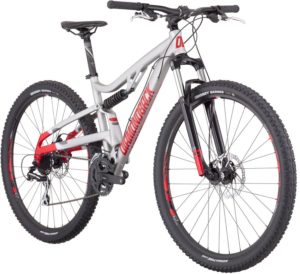 Diamondback has made it seem rather quite untrue that you need to dig very deep into your pocket to get a good mountain bike with the Recoil 29er which is the budget bike on the list.
As you would guess rightly from the name, the bike is popular for its T-6 aluminum alloy full-suspension 29er frame, which has kitted it up for the trails. A major thing you will find out with this is that it ensures that the bike is stable and durable.
A lightweight bike, it is designed with single pivots that give you good center gravity. It has an SR Suntour XCT fork that is 100mm fork and coil spring rear shock that are may change your MTB experience completely for the better.
With a Shimano 3×8 speed drivetrain it offers 24 gears, it features Tetra Aires mechanical disc brakes. Although they are good when it comes to stopping you, I wouldn't bet more than I care to lose on them.
Pros
It is very durable and strong.
Nice suspension.
The overall components are above the bar.
Good control and very stable.
Very affordable.
Cons
May not serve you if you are a pro biker.
Brakes are not the best so you may need to upgrade.
Verdict
For someone who is beginning to hit the mountains and not willing to sell an arm to do so, this bike provides a good choice. It may not be the one to give you the icing on the cake, but it will take care of your mountain biking needs effectively.
ANCHEER Folding Electric Mountain Bike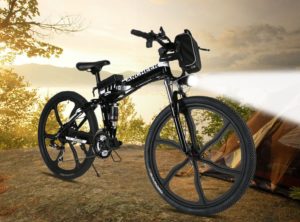 If you are all about going electric, the best bike under 1000 dollars for you may be the ANCHEER Folding electric bike.
The bike is a very strong and sturdy one that is made of a complete aluminum alloy frame while the fork is made of carbon steel.
One problem with many electric mountain bikes is that they are very lazy. No, this is on the different terrain altogether, as the performance is simply good. It has 21 total speed and to enable you to stop just when you need to, it has disk brakes both in front and at the rear. The bike has front-suspension and a 26-inch alloy wheel.
With the battery, it is a 36V, 8AH Ion lithium with which you can get up to 25-50 km when fully charged. More so, it comes with a 250W high-speed brushless gear motor. While all these are very good, the speed may not be the best you can get compared to some of the best electric bikes.
While they are expected like others to also be light, you can forgive electric bikes because they come with batteries even if they are made to last longer and it is no different with this, as it is also heavy.
Pros
It offers great convenience.
Beautiful looks and strong build.
It has good functionality.
Easy to assemble.
Features that beat the price.
Cons
It is a heavy bike.
Not the fastest.
Verdict
If you want an electric mountain bike under $1000, there are hardly any choices that will offer something better than the ANCHEER Folding Electric Mountain Bike. It comes with convenience, good looks, affordability, and above the average performance at its price.
Recommended: Best Bike Helmets For Professionals and Beginners
Diamondback Overdrive 29 Hardtail Mountain Bike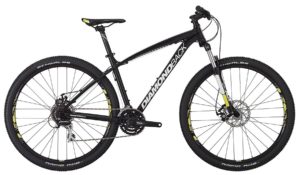 Another that has followed in the very affordable collection of Diamondback mountain bikes that still deliver in performance and functionality is the Diamondback Overdrive 29 Hardtail.
This bike is built with the aluminum alloy 29er hardtail frame which has come to be trusted most especially as regards being both lightweight and strong. It also has balance and stability.
The components of the bike are well above the average in quality. There is an SR Suntour XCT 100mm fork that offers a good response especially if you consider the price of the bike. Its Tektro mechanical disc brakes provide an adequate stoppage, but it may not afford you the strongest hold.
Importantly, the bike comes with 29-inch wheels which is great for the mountains and Shimano 8-speed drivetrain for shifters.
Finally, the bike is rather very easy to assemble since it comes almost ready for the trail from the box.
Pros
Strongly built with stability.
Above the average components.
Excellent 29″ tires.
Very affordable and valuable bike.
Cons
The brake may require a bit more hold to achieve the strongest grip
Verdict
Still, in the line of affordability, this bike is a very good one most especially for someone who isn't a very serious mountain biker. It will see you through the trail giving more than average comfort, stability, and the suspension is quite good. As an entry bike, this meets it rightly.
Conclusion
As stated, getting the best mountain bike under 1000 dollars may not be the easiest thing. Nevertheless, there are a few that you can rely on to have the best experiences with which we have put together in this review. Now, although it is not automatic that most of those that come more expensive would perform better, it is mostly that way. Whether you need one that is excellent, or one that is cheap, or even an electric mountain bike, we've got you covered.