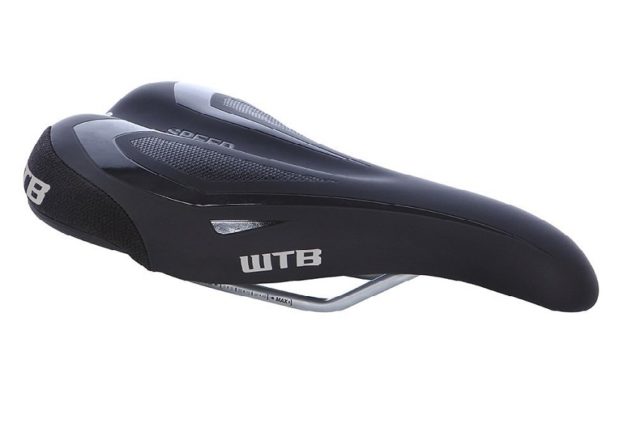 Whichever way you choose to look at it, figuratively or literally, uncomfortable mountain bike seats are a pain in the butt. In spite of the constant dismissal of saddles as an ordinary component of a bike, many are increasingly being taught – the hard way – that they are of great significance and are an essential part of bicycles. While this is an easily verifiable claim among riders of other kinds of the pedal-driven, single-track vehicle, it is truer for mountain bikes. This is so because mountain bikes are built for more. They are created for rough terrain and are typically ridden on mountain trails and unpaved surfaces.  As such, it's crucial for the rider to sit comfortably. This attributes additional emphasis to the need to have and use the best mountain bike seats.
Frankly, picking the perfect mountain bike seat can be tiring and frustrating. We found that our butts are a factor to not neglect in choosing the right mountain bike seat. They are unique and different just as the saddles are. What works for Troy Brosnan may be unsuitable and inadequate for Steve Peat. It's totally possible for Brosnan to have the best, comfortable ride of his life in a particular brand of a saddle which Peat blames for his most distressing, painful and irritating ride.
Meanwhile, it is a must to go for saddles specifically designed for mountain bikes. With the crouching, perching and varied position that comes with riding through mountain trails and rough terrain, one is obligated to seek out such saddle designed to absorb all the hit before it gets to the butt and as well, offer enduring comfort when they are spontaneously sat on through the ride.
Based on an extensive scrutiny of mountain bike seats, here are the ones we believe are the best available in the market right now.
Best Mountain Bike Seats
Bikeroo's Padded Mountain Bike Saddle
Crafted with a good quality fabric base leather, this saddle married padding with stiffness to improve comfort and at the same time, offer support and increased efficiency. The seat built for mountain bikes, indoor cycling and hybrid bike riding was designed to suit the male anatomy with abundant padding and soft cushioning well-placed to absorbs all the shock that would've struck the lower back.
With a central-pressure relief channel installed, this Bikeroo's saddle confronts the riding pain issue associated with mountain bikes. This benefit can be extended to other types of the human-powered bikes like hybrid and fixed gear. Thanks to its adapter and universal standard rails system. 
Pros
Has an excellent shock absorbing technology;

Offers desirous comfort for long rides; 

Perfect for riders experiencing scrotal pain;
Very durable and versatile;
Works fine as a road bike saddle;
Very easy to mount;
And incredibly inexpensive.
Cons
It's specifically designed for men
Verdict
The extent to which the Bikeroo's saddle resists deformation in response to applied force is remarkable. Coupled with its palpable extra padded and soft cushion, the seat extraordinarily takes up and reduces the effect and intensity of shock to negligible and inconsequential levels. Its varied suitability is only an additional advantage, it would definitely make a smart saddle purchase.
OWNLY 

Professional Road MTB Seat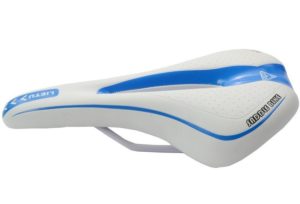 With a human shape design, this OWNLY bike saddle was fashioned for gel comfort with the right extent of cushion padding in order to exert a soothing feel for long rides. To remain moderately cold and maintain a comfortable freedom from heat, the mountain bike seat got its hollow carve. This ultimately ensures that the saddle's thick elastic isn't only comfortable but as well, breathable. 
Beyond that, the lightweight mountain bike saddle was created to sustain maximum firmness and serve as a brilliant shockproof which would protect sensitive parts during extreme rough rides.
Pros
It works for other kinds of bike;
Very easy to install;
Has a fantastic shockproof;
Lightweight, breathable and 

moderately

 

cold;

Comes in different fine colour combinations;
Very durable.
Cons
The colour does rub-off with time
Verdict
It's pleasant when a saddle is able to make one comfortable for long time cycling. The OWNLY Professional Road MTB Gel Comfort Bicycle Seat's soft cushion, firmness and shockproof technology are well-meshed with its hollow and human-shape design to offer the physical ease and freedom from pain or constraint greatly desired for rides over rough terrain.
Read Also – 5 Best Mountain Bike Chain Devices
Codream 

Carbon Fiber 3K Mountain Bike Seat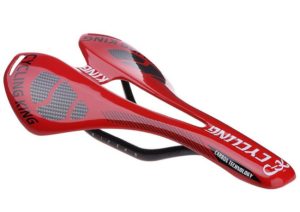 Uniquely created to advance anatomic relief, this mountain bike saddle made of Carbon Fiber Sheet has an exceptional strength that resists vibration and as well, function as a shield for absorbing shock so as to reduce the danger of interaction between the mountain bike and the rider. 
With a mid-section styled to admit air to the skin and to allow sweat to evaporate, the saddle's nose shape design is well proportioned to fend off pressure against the perineal artery and other nature of organ oppression. More to that, it allows a better circulation of blood, thereby shutting out numbness.
Pros
Unbelievably comfortable and 

suitable for other kinds of bikes;

Very easy to mount 

and disassemble;

Has a good 

buffering performance;

Offers incredible anatomic relief and organ protection;
Very light, strong and surprisingly comfortable and durable;
Attractive and finely-shaped;
Cons
It has no padding;
Not the most comfortable on the list.
Verdict
Although this mountain bike seat has severally been regarded as imperfect for having no padding, it is astonishingly comfortable, exceptionally resists vibration, has a good shock absorbing performance and meticulously protects the organs from harm. It is indeed created for anatomic relief and, you wouldn't mind recommending it to friends.
See Also – Best Bike Helmets For Professional And Casual Use
SQlab 611 Race Titanium Mountain Bike Saddle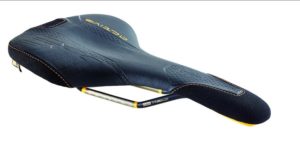 SQlab has always been innovative in making mountain bike seats. For instance, the company is reputed to have been the first saddle manufacturer to develop a system for measuring the sit bones and calculating the optimal saddle width. Its 611 Race Titanium Mountain Bike Saddle was designed to allow some level of movement just like in the normal walking motion. While this largely eliminates the pressure directed at the sit bones, it increases comfort thereby tranquilizing the stress to the spine.  
Also, the saddle's longer nose offers more control and allows the free movement suitable for advanced dynamic riding. With a rear and wings crafted to have more surface area for better and soothing contact with the butt, SQlab's 611 Race Titanium Mountain Bike Saddle can only offer a welcoming relief to the pressure at sensitive areas.
Pros
The saddle longer nose enables increased control;
It's fantastic for steep ramps;
Has a good rearward support;
Affords awesome perineal relief;
Enables decreased pressure on the sit bones;
It comfortable, lightweight and fits right.
Cons
The price is a little on the high side.
Verdict
If you've been severally let down by mountain bike seats that failed dismally in providing protection to pressure directed at sensitive area; and refused to bring cheer to the agonies of the spine and sit bones, you would be glad you parted with your cash for SQlab 611 Race Titanium Mountain Bike Saddle.
WTB Speed Comp Mountain Bike Seat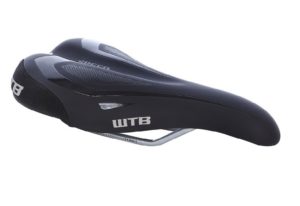 WTB saddle technology is known for its incorporation of several anatomically-friendly features designed to maximize sit bones support and relieve pressure from sensitive areas. The Speed Comp Saddle made for the mountain, commuter and recreation road usage has a single density soft foam padding which assuages the pain of riders suffering bodily pain from contact points.
Designed with the WTB shock-absorbing, dual-compound saddle base, the mountain bike seat reduces trail vibration to insignificant levels; thus enabling a solid suitable platform for efficient pedaling. Ultimately, soft-tissue relief is made possible and the body is protected from unwanted pressure.
Pros
Very strong and comfortable;
Soothing to 

pressure in the crotch area;

Offers remarkable support to sit bones;
Positions the body for efficient pedaling;
Has uncommon ability to withstand damage.
Cons
It isn't the most comfortable on the list, especially for aggressive and rough riders.
Not the lightest on the list.
Verdict
You would agree it's uncommon to find a padding that retains its shape and structure after a series of long rides. While this is a testament to the durability of the WTB Speed Comp Saddle it is an express assurance of long-term comfort. Every rider deserves a saddle that would eliminate pressure in the crotch area and also, grant satisfactory performance, efficiency, and supportive feel. The WTB Speed Comp Saddle is a good deal. 
Check Out – Best Mountain Bike Under 1000 Dollars: Full Suspension and Hardtail Mountain Bikes
Conclusion
To a great extent, the personalness of bike seats are very paramount. Most of the saddles on sale were designed for varying riding styles, physiques and shapes. This is even more peculiar to mountain bike seats. Unlike other bikes, mountain bicycles are exposed to rough terrain and surface. Thus, they have features like stronger rims and wider tires designed to enhance durability and performance.
It's only ideal for their saddles to also, be distinctively fashioned to suit the roughness mountain bikes are made for.
Sadly, this hasn't always been so. Riders have persistently suffered numbness and pain in the nether regions for using saddles which are unsuitable for mountain bikes and anatomically-unfriendly. While it's essential for cyclists to go for saddles better suited for them, the ones listed in this piece virtually check-marked all of the elements to consider in picking the right mountain bike seat.