Chopsticks have gained more acceptance in the globe and are now in regular use in the Western world. If you are on the bandwagon already or want to join the trend of using the best chopsticks rather than fork and spoon, choosing right will be of great importance. There are some considerations to keep in mind including the experience of who is using it and their preferences. This is because there are chopsticks for an experienced user and a beginner, just like some people prefer blunt tip chopsticks over pointed tips.
On that note, we have carried out a research that took weeks of comparing a good number of high-quality and the best chopsticks to help you make the right choice when are ready to buy. The research also goes to guide you through prioritizing the features that make great chopsticks.
Chopstick Material:
Chopsticks can be made from different materials including bamboo or wood, plastic, steel, metal, titanium and more. Bamboos are found naturally in big number throughout Asia and are usually used in making traditional chopsticks. Wooden chopsticks are often more affordable, easy to use, heat-resistant and speak of good aesthetics. They are lightweight and are usually coated so that they are not permeable.
See Also: 15 Best Rice Cookers To Set Right Your Kitchen Woes
However, the surface finish or coating, especially for the colored ones, could wear away over time. The disposable ones are not easily cleaned which is why they are made for one-time usage. But the reusable ones feature some coatings that allow for easy cleanup.
Metal chopsticks are similar to stainless steel dinnerware. They are usually regarded as a great choice since they are easy to clean and sanitize. Nonetheless, they can be heavier and have lower heat conductivity than ones made of wood. On the other hand, plastic chopsticks are also good.
Some other decorative woods are also used to make chopsticks, and the rich often have their chopsticks customized using bone and precious metals, which are always exceptional. In all, choose a pack of chopsticks that are easy to use, efficient and durable above anything else.
Body And Tip Shape:
It is also a good practice to identify the shape of the best chopsticks since they come in different shapes and length. They could be pointy or rounded with a blunt end. Highly pointy chopsticks are great for picking tiny grains of rice but we think they may not be the best for vegetables and other slippery food. Slightly pointy or blunt ones are most likely easier to pick anything. Sometimes ridges or cuts are introduced on the tip for easy grip.
Again, some have round or squared ends. Squared ones are either joined or separated at the top with no sleek surface so they can grip food tightly. You can rub them together on the corners of the eating end to smooth out and knock off those pieces of wood without having to deal with splinters. However, both allow for tight grip and convenience.
How Long Can Chopsticks Last?
Some chopsticks are for one-time use only (disposable) while others are for repeated use (reusable). The former is usually referred to as disposable chopsticks while the latter is widely known as reusable. While reusable chopsticks can be highly durable and stay months and years at your service, the disposable ones are also good when you are expecting guests. They are good for events and occasions as they save you from the stress of washing them. We mean there's really no need to buy 10 or 20 sets of high-quality ones when you may never use them again.
Price:
Cost is always a non-issue when it comes to the best chopsticks. Though some like steel or metal may cost slightly more, you still get others like Bamboo, wood, and titanium at affordable prices.
Best Chopsticks:
Reusable Chopsticks Titanium Square Shape with Soup Spoon for Japanese, Chinese, Korean & Asian Dishes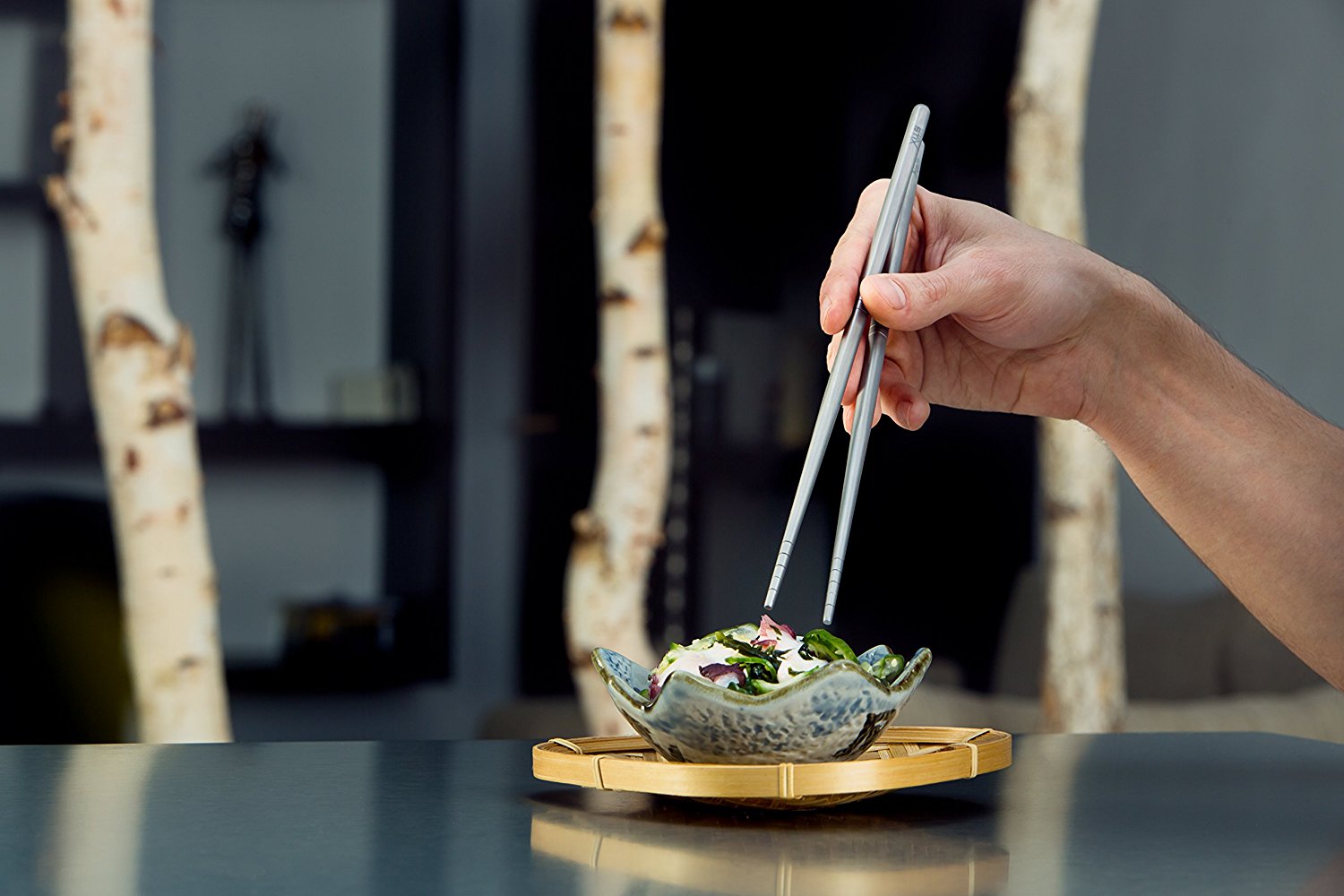 Crafted only from Titanium, this chopstick is designed to meet the modern standard in a traditional style. It offers precision eating and flexibility. With the chopsticks' slightly textured surface and ridged tips, you'll get an extremely firm grip.
See Also: Best Oven Mitts: Great Way To Stay Safe In The Kitchen
Features:
It is made with quality material better than steel or metal. For its neutral color, we think it is suitable for regular domestic use since it can match all varieties of table decoration. Though most metal chopsticks are heavy, this is not what you get with these ones. They are as light as a feather and wouldn't weaken your hand.
Pros:
It serves several purposes including cooking, eating and serving
It has a square design which speaks of elegance
Offers perfect balance as it allows for a firm grip
Does not take up much space as Western silverware
Corrosion resistant
It is lightweight, durable and reusable
Cons:
Absorbs heat easily
You'll pay slightly more for the two chopsticks
Verdict:
If you are searching for long lasting metal, stainless steel or titanium chopsticks that are food-safe, durable, lightweight comfortable to handle yet break-resistant, then go for this titanium chopsticks. The chopsticks offer a combination of what those materials would but in a lighter weight. We like that they are portable and can fit anywhere. You may have to pay more for two chopsticks but it promises the value of money spent.
FinessCity Titanium Chopsticks with Aluminium Case – Grey
Featuring elegantly curved handles, FinessCity chopsticks are ergonomic, simple yet stylish. We like that it is thoroughly made to offer the feel of the historic qualities of typical Asian culture while servicing modern needs.
Durable And Functional:
Featuring titanium, these chopsticks are well-made and are long-lasting. They are nice to feel and not slippery. They are lightweight but very strong.
Pros:
Does not rust
They are lightweight and comfortable to use
It is reusable and eco-friendly
It can go into the dishwasher
Cons:
They may not offer as much grip as bamboo chopsticks
Verdict:
This is a great chopstick for people from all walks of life not just Asians. They are ideal for all kinds of jobs and will fit into your kitchen decor. They offer a firm grip but not as much as Bamboo Chopsticks.
Royal Premium Disposable Bamboo Chopsticks
These Royal Premium Bamboo Chopsticks make picking anything including grains of rice quite simple. They do not roll between the fingers and are thus easier to grip than most chopsticks. They are lightweight and arguably the easiest to use without much practice.
What We Like:
The chopsticks' surfaces are smooth and sturdy enough not to break or crack. They have perfect heat conductibility and do not get hot like metal chopsticks. They odourless and efficient at doing the job.
Pros:
They are excellent at picking all sizes of food
Greatly affordable for the value they offer
They are untreated, so they have no harmful substances
More than enough chopsticks to use both at work and home
Deliver typical traditional chopstick features
Cons:
Verdict:
If you want to use more chopsticks than a fork for picking food, here is a bag of excellence for that dream venture. They are not decorated or coated with colorants or any harmful substances. The chopsticks are of superior quality and don't crack easily.
Chinese Natural Bamboo Chopsticks
These are another Bamboo chopsticks that won our hearts. Crafted for multi-purpose uses, these bamboo chopsticks are a must-have if you are looking for versatility, durability, and quality. They are made with just bamboo and as such might come with a slight odor. However, this can be controlled by using hot water or storing in a disinfected cabinet.
See Also: Best Cookware Sets: Your Guide To A Comfortable Kitchen Time
Picking Made Easy:
The chopsticks are made of natural material (a natural iron tree which is ecologically a green alternative to wood) to offer the traditional feel as well as functionality. They are strong with a squarely thicker end.
Pros:
It is free of splinters
It is healthy
Does not absorb water or expand
Ideal for hot pot or food
They are Eco-friendly and durable
Cons:
Comes with a slight odor that will phase out gradually
May be slightly heavy for beginners
Verdict:
If you prefer convenience over aesthetics, then these may be the best Chopsticks for you. These bamboo chopsticks are as well washable and reusable so you don't have to deal with iron when you want bamboo all because of that ability to be used more than once. However, it is a healthy practice to replace them every 3 to 6 months. This may not be the best for starters as the thick ends may appear slightly heavier than Royal Premium Chopsticks.
Totally Bamboo Twist Chopsticks
Everything is excellent with these chopsticks. They only require washing, drying and most likely storing in your silverware to get them serving you daily, hence perfect for regular eating. In addition, the chopsticks are lightweight and offer you more options as they come in 5 pairs. You won't have to deal with splinters hanging off since you won't have to break them apart to start using them. However, they may not be the best option for a novice because of the little less textured surfaces caused by the coating. But a pro can go down to picking even grains of rice without a hassle.
Totally Bamboo:
The chopsticks are made purely of bamboo which is ecological and a natural alternative to wood. With perfect design and quality, you'll have them for longer than you'd imagine. We like that they don't absorb water, this extends their shelve time. The chopsticks also have thick squared ends for better grips.
Pros:
Great length which makes it convenient to eat with
They can be used more than once
Strong yet lightweight
They are adaptive and can be used for different cooking and eating purposes
Eco-friendly and made of high standard bamboo
Cons:
It is sometimes criticized for being lightly coated with lacquer or varnish
Verdict:
If you are planning to get a pair of chopsticks that will serve at a sushi party as well as for daily use, then pull the trigger on this. They don't absorb water thanks to the ends which are shielded with resin against water intake. But they have slightly blunt tips which may not suit a beginner in the art of using chopsticks.
Happy Sales 5 Piece Crane Chopstick Set with Rests MC, Assorted
This is another pack of handcrafted bamboo chopsticks made for perfection to offer a touch of multi-cultural class and culinary awareness to anybody who likes the traditional aspect of chopsticks. They are of superior quality and have a surface finish of natural material to suit all kitchen decor.
See Also: 11 Best Non Stick Pans and Skillets For Frying and Cooking
What We Like:
The fact that these chopsticks do not have the same shape all through is interesting to us. The spiral end makes for a better balance when picking stuff. They are reusable as well as durable. These chopsticks are simply elegant and classy. Apart from being classy and good-looking, the chopsticks are easy to use.
Pros:
They are affordable
Offers a good grip
A well-made surface that is not slippery
Cons:
Everybody may not like the fact that it lacks uniformity in shape
Verdict:
If you are planning to have a sushi party at your home or maybe planning to make some kind of oriental style dish for your family, friends or guests, we think these chopsticks can do the job to perfection. They feature a spiral end just like Totally Bamboo Twist chopsticks that helps them pick food expertly.
Conclusion:
Chopsticks are fun to eat with. They give both the modern and traditional feel which makes eating any kind of food fun. We advise you pick from our selections rounded up based on proper research and knowledge so as to reap completely from the quality experiences chopsticks offer. They are carefully selected for their qualities, durability, affordability, effectiveness and more. We are certain they will deliver matchless services expected from well-made chopsticks.