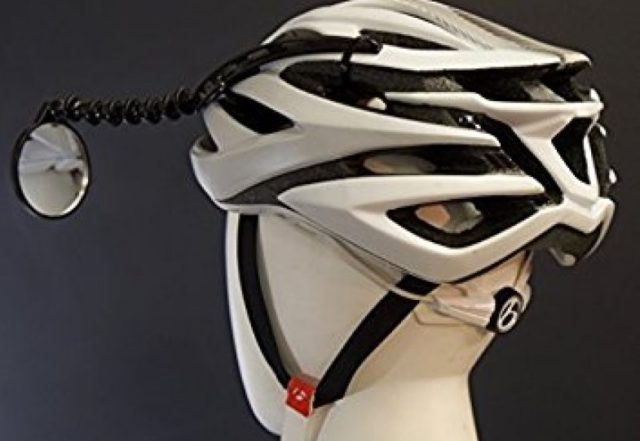 Considering the wild motorists that you get to find on every other road these days, as a cyclist, it is your responsibility to take the necessary precautions before you take your bike for a spin. A bike helmet mirror is certainly one of the best accessories that you must have to keep your cycling experience safe and sound. With a wide range of such products available in the market, it is understandable for an average customer to be baffled when it comes to choosing one. Therefore, we have taken the liberty of accentuating the top 5 bike helmet mirrors this year in order to make the choice simpler for you.
Life On Bicycle Adjustable:
This helmet mirror for cyclists offers a lightweight, yet sturdy polymer frame that is made up of aluminum. The adjustable rotating mirror is built right into the sturdy frame. The overall quality is highly suitable for regular use. However, considering that the mirror is attached to the helmet on the inside, it may be a little uncomfortable for a few of the customers. Life on bicycle adjustable helmet mirror weighs only 12 grams and extends reasonably from the helmet for convenient utilization. It is backed with a lifetime replacement guarantee.
CycleAware Reflex:
If you are used to bicycling around the curvy or narrow streets, the CycleAware Reflex helmet mirror is a must-have accessory for you. Thanks to the flexible construction that it offers, you can conveniently adjust it in all possible fashions as per your demand. The tiny base that attaches itself to the helmet ensures that it doesn't fall off. The best part is that it offers a remarkable depth of field while being smooth and convenient to rotate in all directions. You can also snap the mirror on and off with ease.
EVT Safe Zone:
If cost isn't necessarily a factor for you and you are looking for an industrial-grade helmet mirror, then the EVT Safe Zone is the ultimate choice for you. Thanks to the 2-1/4-inch acrylic mirror that it offers, it offers the widest view compared to its competitors. It further offers different ways in which it can be mounted without the use of any adhesive. The EVT Safe Zone offers a five-year warranty and an impact-resistant glass.
Bike Peddler MI1000:
Bike Peddler MI1000 is unique in a way that it offers three different pivot points. The benefit is that it makes it more convenient to find the perfect angle. Thanks to the frameless mirror, it doesn't only offer a great view but also makes it convenient for it to attach to the visor without the issue of unnecessary vibrations that is common to a variety of other similar products. Manufactured in the USA, Bike Peddler MI1000 is available in 2 sizes and can be attached on either side.
Third Eye Pro 119032:
If you are looking for a bike helmet mirror that offers premium quality at an affordable price, then the Third Eye Pro 119032 is your best bet. While it may be a little small for a few of the users to have a good view of the road, it offers a unique benefit due to its pivoting design that enables you to move it out of the way while you are clicking a picture along the way. The hinges are absolutely tight to prevent all sorts of unnecessary movement, however, the adhesive included in the packaging isn't the best quality that you can expect. The mirror itself, though, is of high quality that offers crystal clear view of the road behind you.
Now that you are aware of the top bike helmet mirrors, all you have to do is choose the product that you deem suitable for yourself and you are all set to get the most out of your bicycling experience. So, what are you waiting for? Choose one from our list and rest assured, you won't have to be disappointed in making this decision.